This garlic butter shrimp skillet has a rich lemon butter sauce you'll love to dunk fresh bread and peel and eat shrimp into. Based on the popular sloppy shrimp recipe from Lulu's Buffet but made easier for home cooks.
I love coming home from vacation with fresh ideas for new recipes.
During a trip to Myrtle Beach, we visited Jimmy Buffet's sister Lulu's restaurant which serves tons of delicious seafood.
I picked up her cookbook in the gift shop before we left and my daughter and I were immediately drawn to her recipe for something she calls Sloppy Shrimp.
It is a peel and eat shrimp skillet with a rich lemon garlic butter sauce that is ladled into bowls for serving almost like a soup.
Serve it with fresh crispy bread for dunking into that heavenly sauce and have plenty of napkins on hand.
This recipe is simply to die for. It's been my birthday dinner and special occasion meal for a couple of years and my daughter begs me to make it every time.
Jump to:
❤️Why This is the Best Recipe
As much as I love shrimp scampi, this dish is a little bit different in that it uses peel and eat shrimp cooked in the garlic butter sauce.
You will love it because:
Quick Recipe: The hardest part is just prepping all the ingredients for the sauce. The actual dish comes together in just minutes, super fast!
Easy for Beginners: Even if you've never cooked shrimp before, this recipe is super easy. You're going to feel like a restaurant chef by the time you're done.
Restaurant Quality Shrimp at Home: This flavorful shrimp sauce is the difference between a regular home recipe and a restaurant quality one. If it is good enough for Lulu's restaurant, it's going to be amazing at your table.
Pairs Well with Bread: Got a new bread machine? Fire it up and make some Italian bread for dunking in that AMAZING garlic butter sauce (but I've got other easy suggestions listed below, too.)
Tender Shrimp: The cooking method will give you very tender, very flavorful shrimp.
Flexible Recipe: If you want a less-messy way to eat the sloppy shrimp and don't want to get your hands covered in butter at the table, you can substitute peeled shrimp and serve the dish over pasta or rice.
If you'd like to check out more recipes from Lucy Buffet, don't miss her awesome Lulu's Kitchen cookbook here.
🥄Ingredients
The most important ingredient for this recipe is the raw shrimp.
You can see more notes below on how to pick the best shrimp, but no whether you choose fresh or frozen, peeled or not peeled, it is crucial that the shrimp be raw.
You don't want to add pre-cooked shrimp to the skillet or they will become tough and rubbery.
In addition to the shrimp, you will need:
Butter
Olive Oil
Chicken Stock
White Wine
Minced Garlic: I use the jarred minced garlic for ease but you could use fresh garlic cloves if you prefer.
Lemon
Worcestershire Sauce
Hot Sauce
And to season the sauce, you'll need the following spices:
Dried Rosemary
Paprika
Salt & Pepper
Onion Powder
Cayenne Pepper
Crushed Red Pepper Flakes
🍤The Best Shrimp
The best shrimp to use for this skillet recipe is fresh, raw, peel & eat shrimp from a seafood market.
But not everyone is lucky enough to live near the coast where fresh shrimp are readily available.
If you need to buy frozen shrimp, just be sure to look for ones that are RAW. If you try to add pre-cooked shrimp to the skillet they will get overcooked and tough.
It can be tricky to find frozen peel & eat shrimp, so it is absolutely ok to substitute frozen peeled and deveined shrimp. You can learn how to thaw frozen shrimp properly here.
The benefit of the peeled and deveined shrimp is that it will be easier for you to use the recipe as a base for a pasta or rice dish if you want.
But there's just something extra fun about getting your hands a little messy when you eat them with the peel & eat shelled shrimp at the table.
🧂Prep the Seasonings
The most time consuming part of this recipe is preparing all the ingredients before you start to cook.
It is really very important to pre-measure all the spices and sauce ingredients before you warm your skillet because the recipe is cooked so quickly you won't have time to stop and measure anything.
Measure all the dried seasonings: rosemary, paprika, salt & pepper, onion powder, cayenne, crushed red pepper flakes.
Set them in a bowl near the stovetop.
Then be sure to measure the white wine and chicken stock, they get added at the same time so you can put them in the same measuring cup to save on dirty dishes.
Zest the lemon and consider juicing it before you start. It gets added very quickly at the end.
Set the bottle of hot sauce, Worcestershire sauce, and the prepared garlic near the stove.
🧈Make the Garlic Butter Sauce
Place a very large skillet with a handle over medium-high heat.
Melt the butter with the olive oil, this will help prevent your butter from burning.
When the butter begins to sizzle, add the garlic and stir. Then add your pre-measured seasonings and stir them for just 5 seconds.
Pour in the measured wine and chicken stock and use the handle on your skillet to briskly move the pan to combine the sauce.
This is a more effective way to emulsify the sauce than simply stirring it with your spoon.
Keep the sauce moving and bring it to a boil.
🍳Cook the Shrimp
Add the shrimp and cook for just 2 - 3 minutes or until they all turn pink.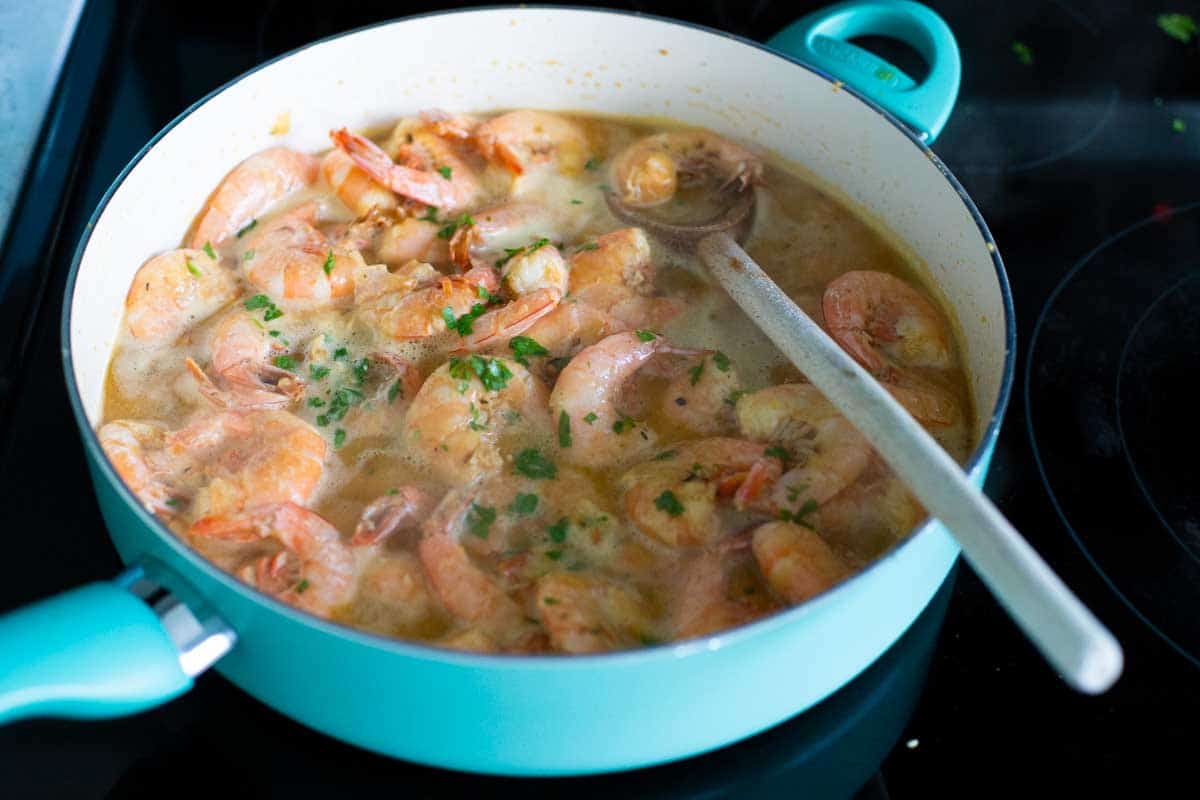 Add the hot sauce, Worcestershire sauce, lemon juice and zest and stir for just 1 more minute.
Serve the shrimp immediately. If they sit too much longer, they may overcook.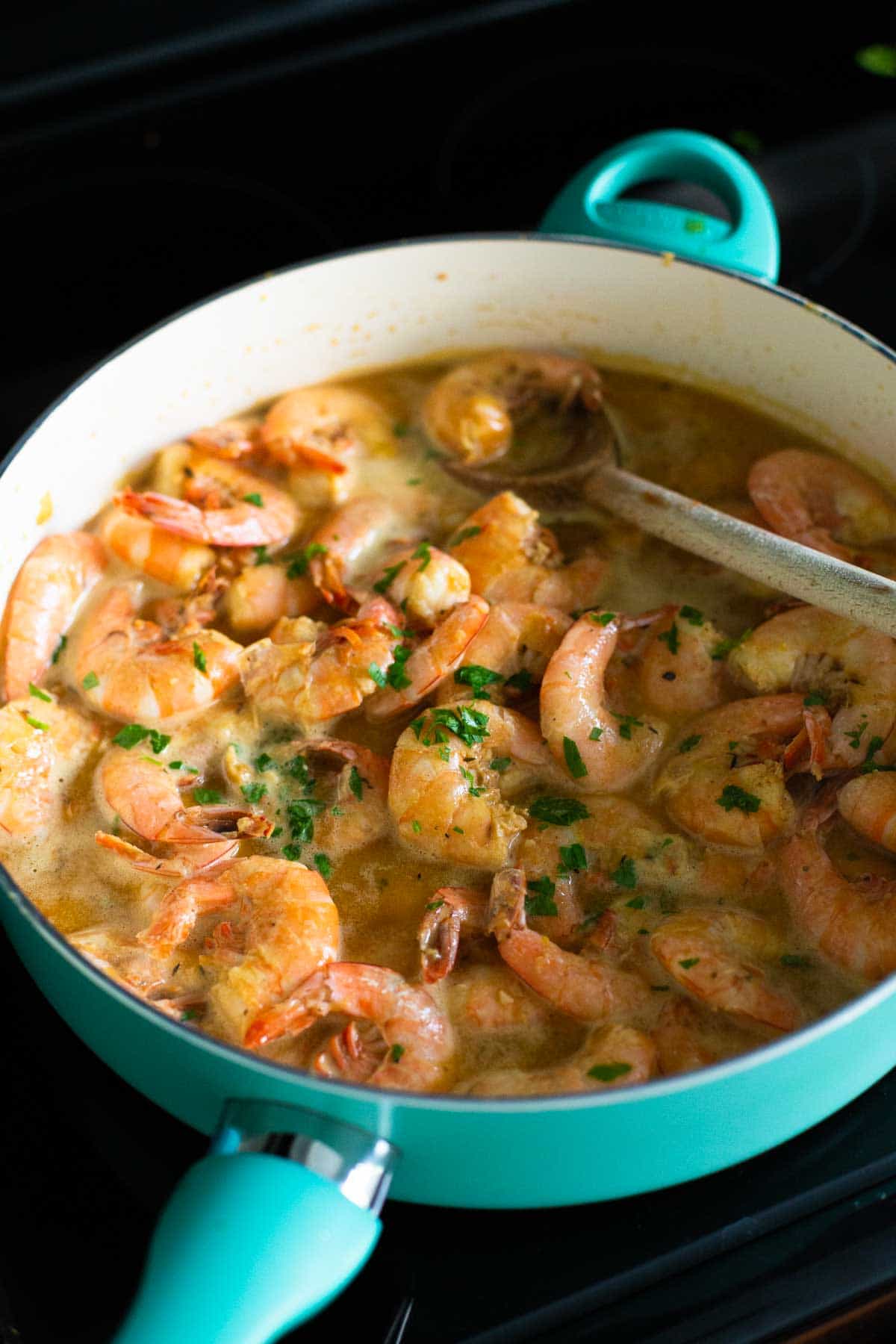 🍽️How to Serve the Garlic Shrimp
You may be surprised at the end to see just how much garlic butter sauce this recipe makes.
Lulu suggests that you ladle it into serving bowls, almost like a soup.
As you peel and eat your shrimp, you can dunk them into the butter sauce but it also works great with fresh toasted crispy bread chunks. Soooooo yummy.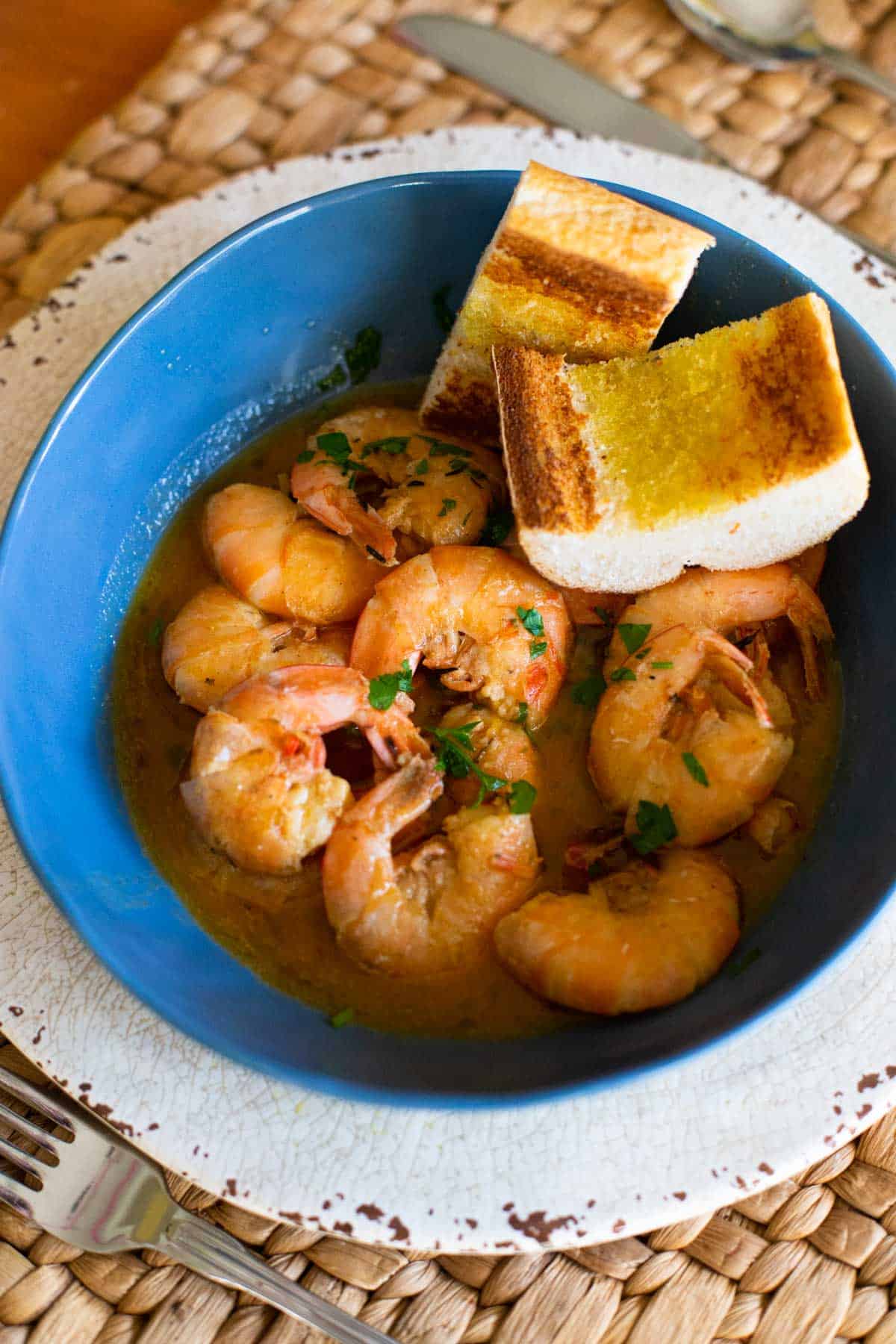 Sometimes I'll pick up a baguette or fresh loaf of bread from the bakery department of the grocery store.
Other times I plan ahead to make our own homemade bread for dunking.
My Italian bread recipe is the perfect texture for cutting into thick slices but the ciabatta bread is better if you want to make homemade crostini.
🔁Easy Variations
If you want to turn this garlic butter shrimp skillet into a fuller meal, you may want to serve it over pasta or rice instead of with bread for dunking.
Garlic Butter Shrimp Pasta: There is plenty of sauce from this recipe that you could simply add in any cooked pasta shape you love. A thin spaghetti or penne would be my choice.
Garlic Butter Shrimp Rice: You could serve the shrimp with sauce ladled over a bowl of easy jasmine rice for a gluten free version of the dinner.
In either case, my roasted cherry tomatoes would make an excellent side dish or addition to the serving bowl.
Roasted peppers and onions would be a great complement to the recipe, too.