This 10-minute easy crostini recipe makes enough buttery toasts for your next party appetizer in a pinch.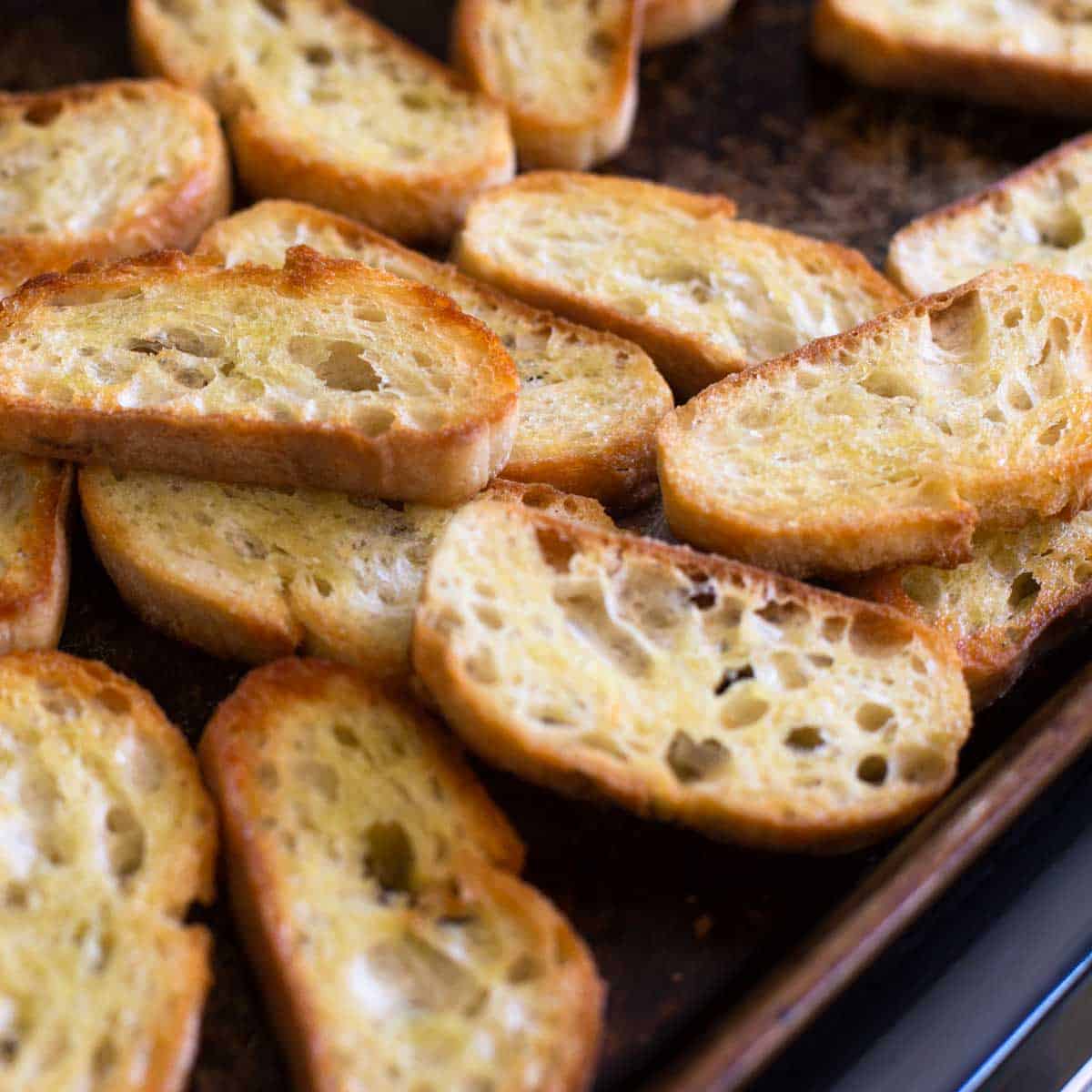 One of the easiest ways to level up your party appetizer is to provide homemade, fresh-from-the-oven toasted crostini.
Your guests will think you've gone gourmet but the secret is just between us:
A simple grocery store baguette is sliced, brushed with a little olive oil, and toasted in the oven for 10 minutes.
This simple appetizer idea couldn't be any easier!
Yes, many stores sell premade crostini, but the homemade kind have a more tender crunch and aren't so hard on your teeth. This is one of those party hacks that are absolutely worth spending the few minutes more it will take you than the storebought shortcut.
How to Make Homemade Crostini
Grab a French baguette or any long and skinny fresh bread from your grocery store. Try to find one that isn't already sliced.
Using a serrated knife, slice the bread on a slight angle for longer pieces or perfectly perpendicular for smaller pieces. Each slice should be roughly ½ inch thick.
Pour a little olive oil into a bowl and brush it onto BOTH SIDES of each piece of bread. Lay them in a single layer on a cookie sheet. Do not overcrowd the pan, if the bread slices aren't in a single layer they won't toast properly.
Preheat the oven to 375 degrees. Bake your prepared bread slices for 6 minutes and then flip them over. Bake another 5 - 6 minutes or until the crostini are perfectly golden brown and crispy.
Serving Suggestions
These delicious appetizer recipes are perfect for pairing with crispy crostini:
Variations
Want something a little more unique? Try these flavor twists on classic crostini:
Rub a fresh cut garlic clove over each toast before baking
Sprinkle with salt & pepper
Sprinkle with roasted red pepper flakes
Sprinkle with thyme or rosemary for an herby bread
Sprinkle "Everything but the Bagel" seasoning from Trader Joe's