This easy cheddar cheese snack board is perfect for a date night at home, last-minute cocktail party, or book club meeting.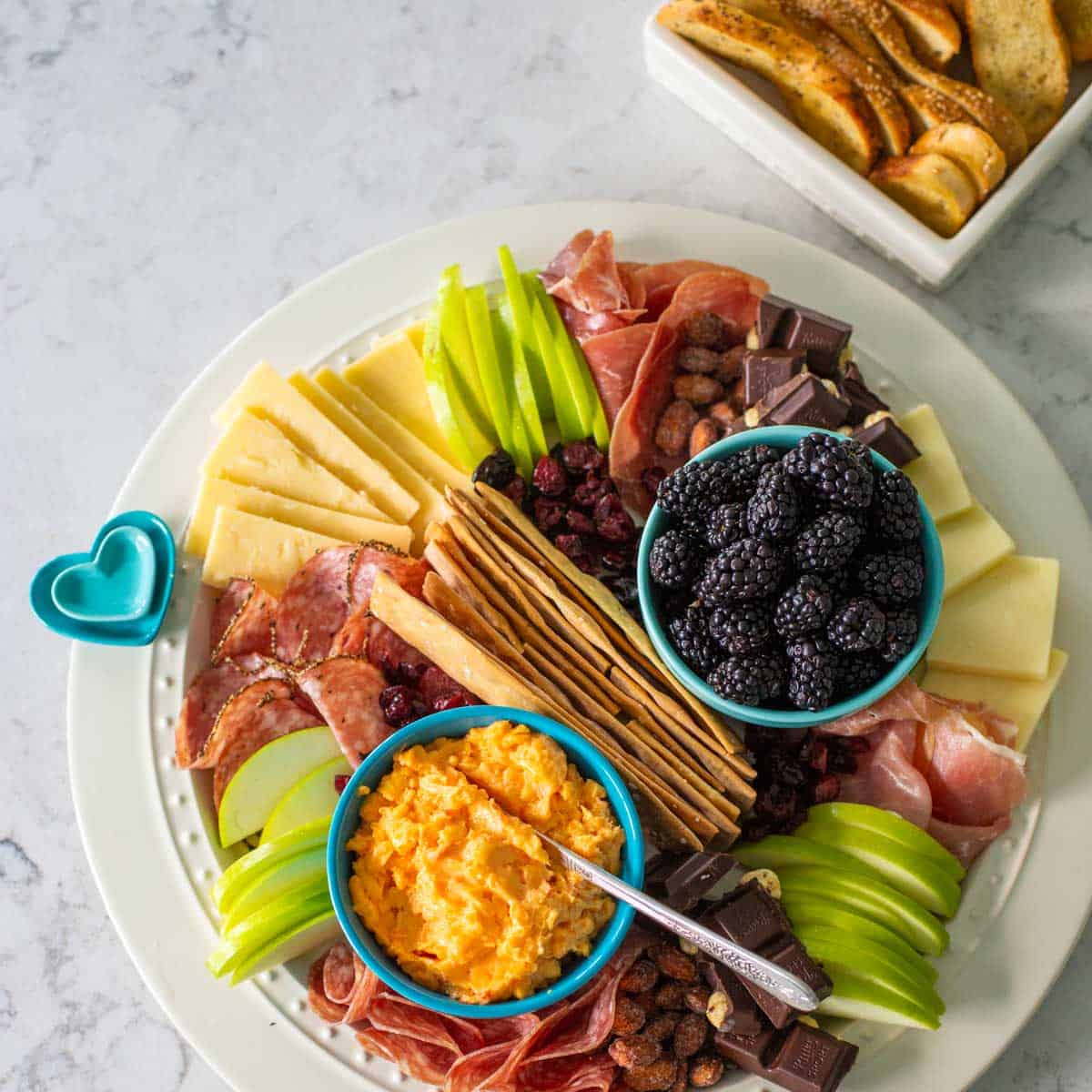 I've been totally enamored with those drool-worthy snack boards all over Pinterest for the last year or so. I simply love the idea of an adult "nibble plate."
I tried making one last summer and it didn't quite go as planned. Arranging the goodies on the snack board takes a lot more finesse and strategy than I imagined. My platter looked like a hot mess of jumbled up foods rather than an enticing snack tray.
Then I found out my friend Chrissie over at Off the Eaten Path was writing a new cookbook called Stunning Spreads.
She is the Queen of Snack Boards and the pages of her new book are filled with breathtakingly EASY ideas for creating delicious cheese trays you will absolutely love.
Chrissie sent me an advanced copy of the book so I could check it out. One flip through and I was immediately drawn to her Ultimate Cheddar Snack Board, but honestly, it was her beginner tips on how to layout the foods to make a stunning spread that were beyond helpful!
Below I'm sharing some of my favorite tips from the book and an easy to match cheddar snack board you can make for yourself.
P.S. Be sure to check out the pre-order gift Chrissie is offering. When you buy a copy of Stunning Spreads, you'll get a free copy of her Perfect Pairings! Get all the details here.
Jump to:
Ingredients
4 oz medium cheddar cheese
4 oz sharp cheddar cheese
4 oz sharp cheddar cheese
½ - 1 cup Marinated Olives
4 oz Pimento Cheese
10 oz salami
1 green apple
2 bunches green grapes
Handful of dried or fresh figs
½ cup roasted red peppers
½ cup dred cranberries
½ cup marcona almonds
½ cup Cinnamon Sugar Walnuts
½ cup dark chocolate
assorted pretzels and crackers
NOTE: If you wanted to add a keto-friendly element to this snack board, you could make these homemade keto crackers or these easy fried cheese balls.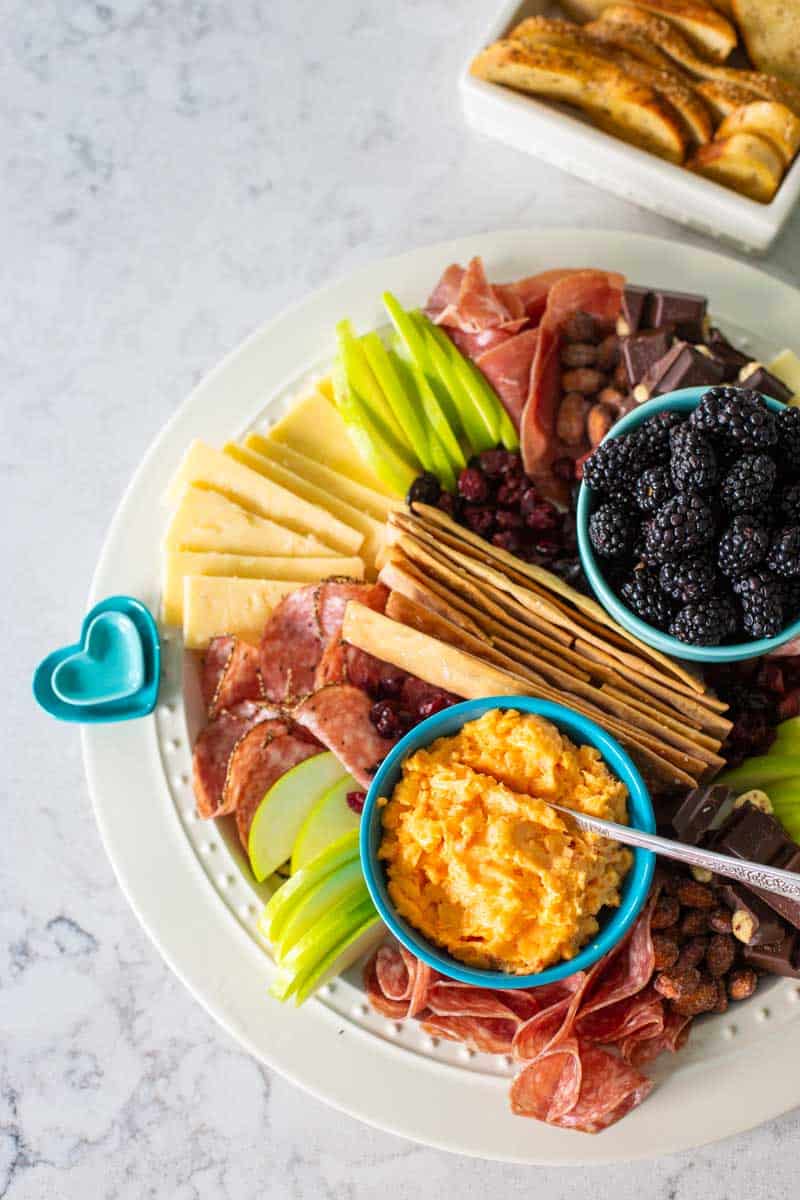 Since I was serving the snack board for our at-home date night and it was just the two of us enjoying it, I took quite a few shortcuts with the ingredients list and it still turned out amazing.
You can easily make the swaps and cuts you need to customize the board for your own tastes.
Tips from Stunning Spreads
Step 1: Add 2 - 3 Bowls to 1 Platter
Pick the largest platter you have in your home. I started with an oval-shaped platter, but quickly discovered it wasn't going to have enough room. Thankfully, I had a large round one on hand.
You can read more about my favorite serving platters here.
Now add two to three small bowls in a triangular pattern onto your board. You can fill these with whatever you like, it is more about the placement for composition that matters here.
Step 2: Add the Cheese and Meats
I added the pimiento cheese to one of the little bowls with a spreader knife.
Lay out the other cheddar slices around the snack bowls in a fan pattern. Work in triangular areas of the platter as you go.
Add the meats to the platter near each section of cheese. I ruffled the salami by hand and laid out the prosciutto in a ruffly pile. The fluffy piles of meat are far more attractive than a flat pile.
Step 3: Add the Fruits
I thinly sliced the green apple and tossed it in some lemon juice to keep it from turning brown as it sat on the snack board.
I piled up the blackberries in the other snack bowl.
Carefully add the slices of apple into open spaces on the board, still working in a triangular pattern.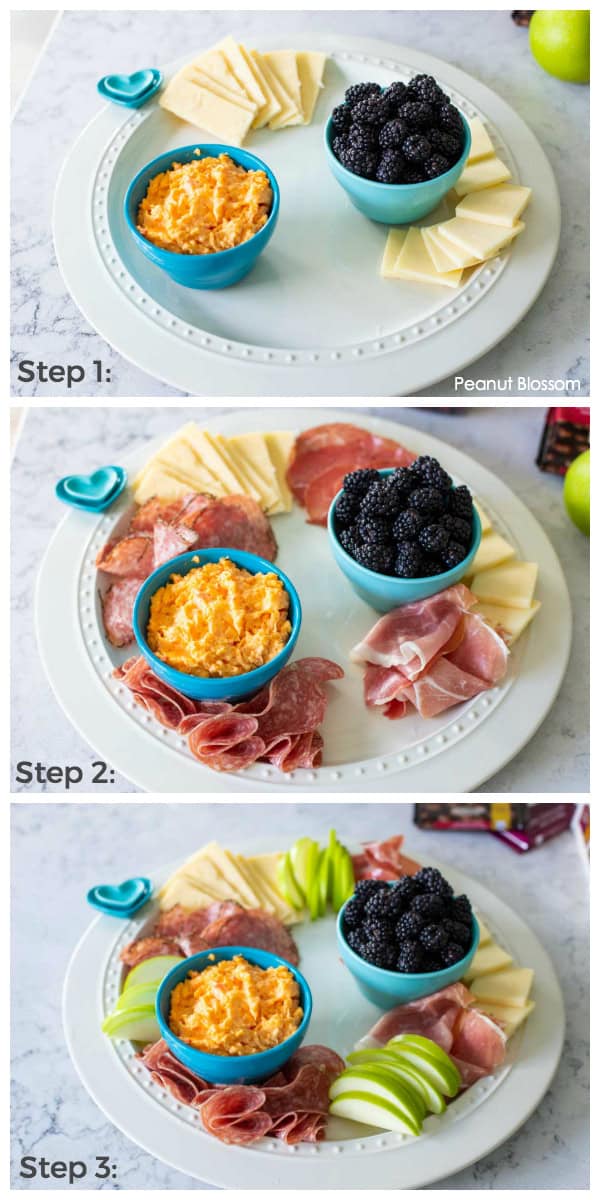 Step 4: Fill the Open Spaces
By this point, your platter is going to look really full but it will still have some open spaces here and there.
I added flat crackers to take up the largest space in the center and then filled in all the other open spaces with chunks of dark chocolate, candied nuts, and dried cranberries.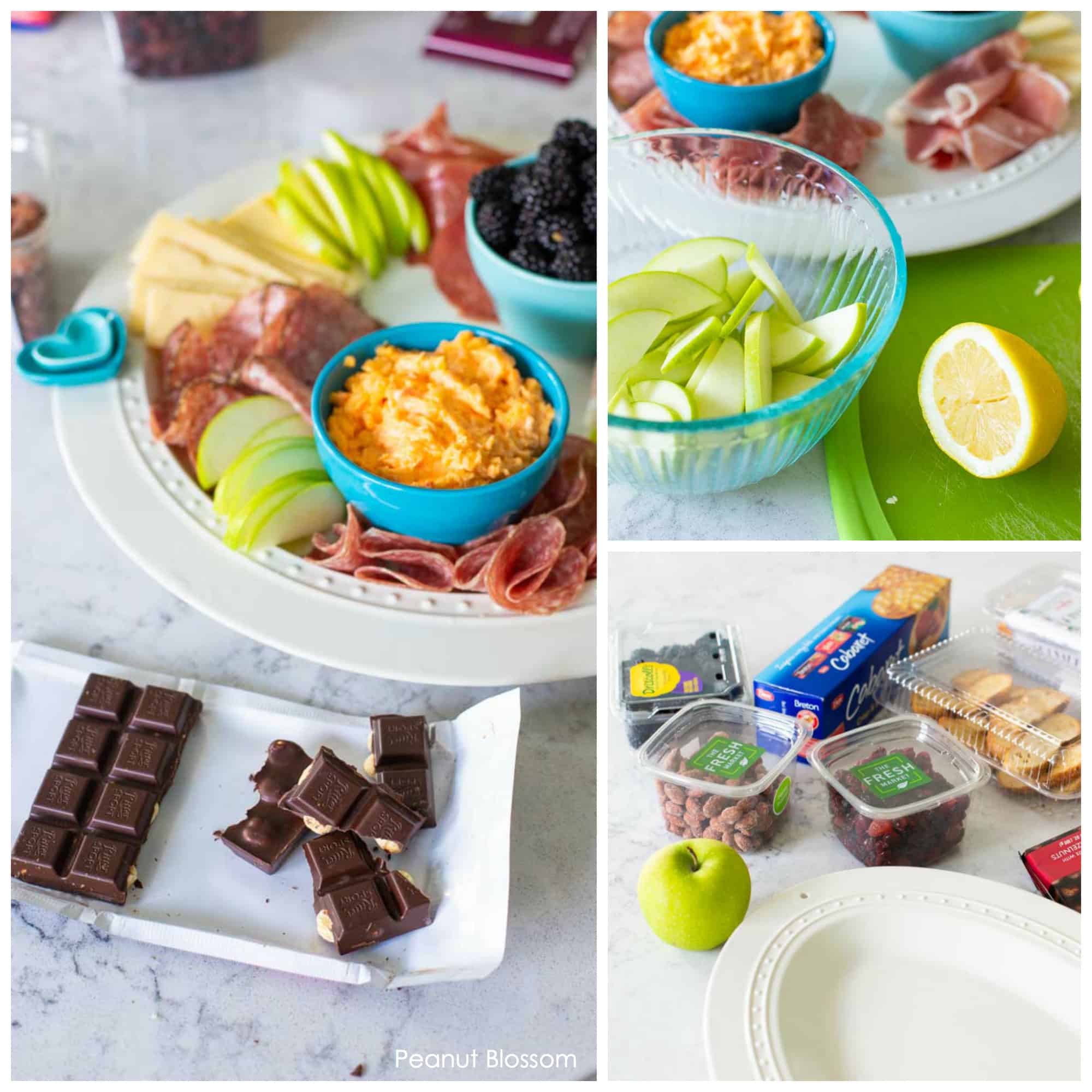 My husband and I thoroughly enjoyed this snack board as part of our date night at home. The kids were so jealous, I'll absolutely be making more snack boards this summer as family treats.
We had plenty of leftovers for me to enjoy snack board lunches for another couple days, too. It was heavenly. I highly recommend you check out Chrissie's book and get busy snack board creating soon!
Sweet and Spicy Honey
Honey pairs so well with cheese boards and charcuterie platters. I suggest trying a classic sweet honey but also offering a spicy hot honey.
You can read more about my favorite hot honey recipe ideas here:
More Easy Snack Board Ideas
Looking for more easy nibbles to add to a fun snack board for your party?
Here are some of my favorite nuts and small bites:
📖 Recipe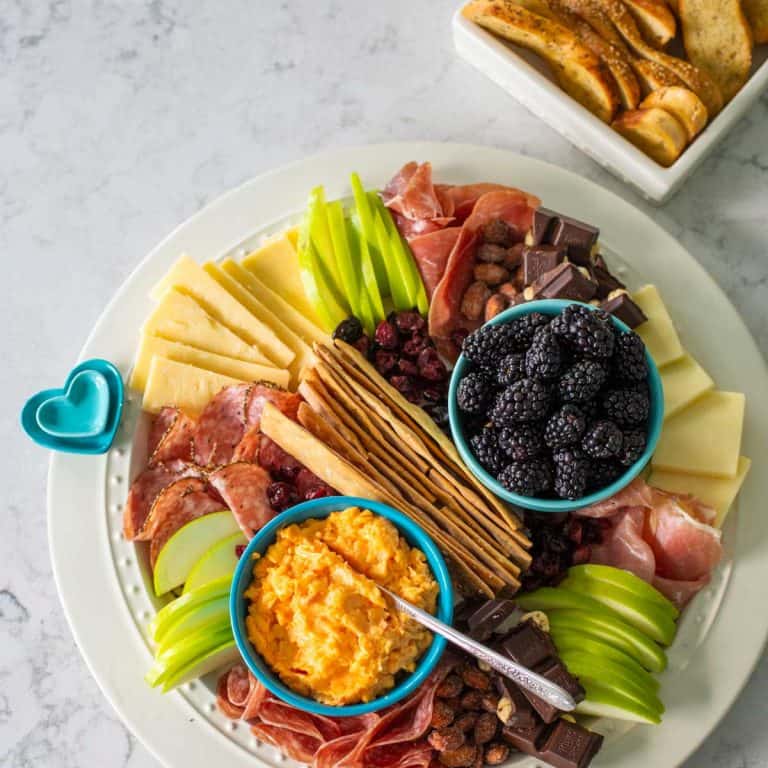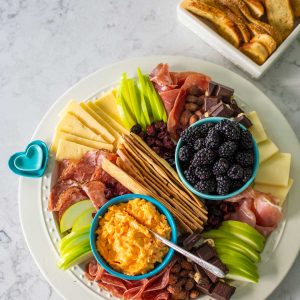 Cheddar Snack Board
Ingredients
4

oz.

extra sharp cheddar

sliced

4

oz.

sweet cheddar cheese

sliced

4

oz.

pimiento cheese

1

pint

of blackberries

4

oz.

salami

sliced thin

4

oz.

prosciutto

1

green apple

1

lemon

1

dark chocolate bar with chopped hazelnuts

We used Ritter Sport

1

pint

of dried cranberries

1

pint

of candied nuts

Assorted crackers and crostini
Instructions
On the largest platter you have, place 2 snack bowls. Fill one with the pimiento cheese, one with the blackberries.

Add the sliced cheddars in a fan pattern around the bowls.

Ruffle each slice of salami and create 3 small piles of meat on the platter. Place the prosciutto in a fluffy, ruffled pile.

Thinly slice the green apple and toss it in lemon juice to prevent it from browning. Add the slices in three neat little piles near the cheeses.

Fill in the open spaces on the platter with little piles of dark chocolate broken into cubes, the dried cranberries, and spiced nuts.

Serve with assorted crackers and crostini.
Recipe Notes
Make-Ahead Tips:
I created this board an hour before we served it and just stored it in the fridge with plastic wrap covering everything. If you plan to make it ahead, simply leave off the crackers until just before serving or the moisture from storage will make them soggy.
The cheese is best-served room temperature.
HELPFUL TOOLS
Save This Recipe to Your Recipe Box
Find this delicious recipe next time you visit by saving it to your very own recipe box on my site. All your favorites stored in one easy place!