Easy New York-style candied nuts are a perfect appetizer for your next New York-themed party!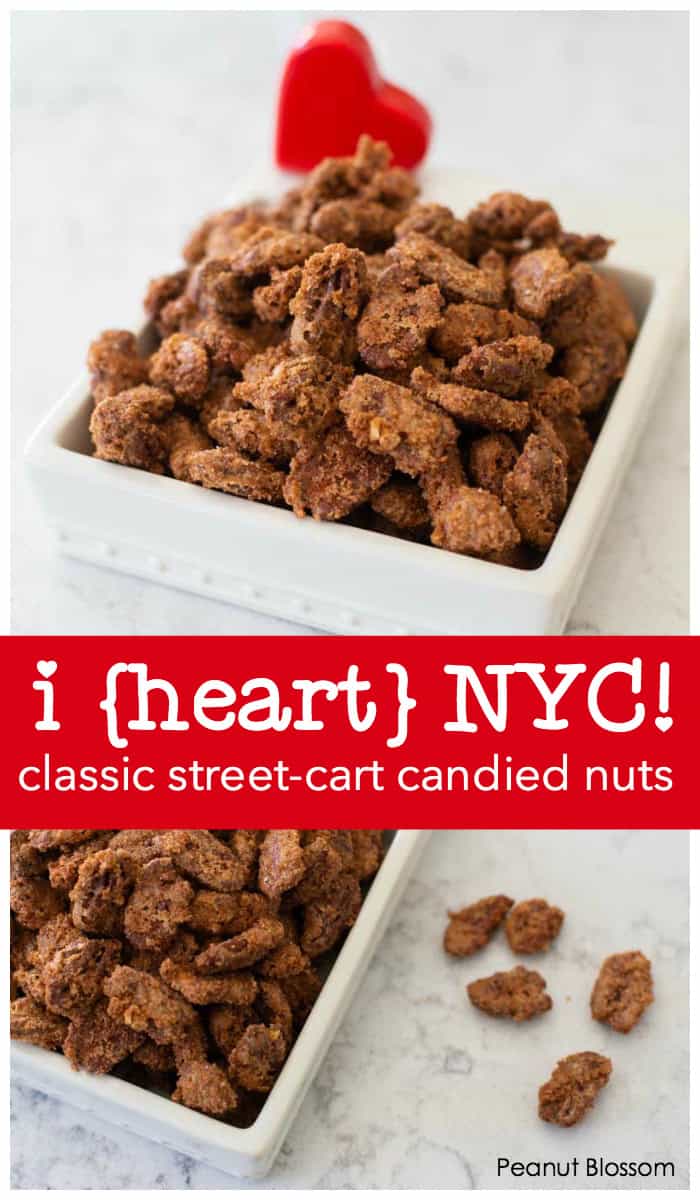 The first year that Tim and I were married, we took a trip to New York City just before Christmas. It is one of the more romantic trips we've taken in our almost 20 years of marriage.
We didn't do anything particularly amazing, just took in the typical tourist sights:
Saw the Christmas tree at Rockefeller Center
Visited the Empire State Building
Toured the Metropolitan Museum of Art
I also remember him being such a wonderful sport and standing in line at the local Barnes & Noble to grab the latest Harry Potter book release. We got some snacks to take back to our hotel room and he just laughed while I dove headfirst into reading the book that very night.
Yep, that's the kind of girl my guy married -- spending a weekend in New York City with her brand-new husband and she's reading Harry Potter with a big bag of candied nuts from a local street cart.
But those candied nuts. I mean c'mon. Those are worth the trip to New York all on their own, aren't they??
When I decided to pull together a complete menu of New York-themed party foods for our January book club party, those nuts absolutely had to be on the menu.
How to bake super-easy New York-style candied nuts: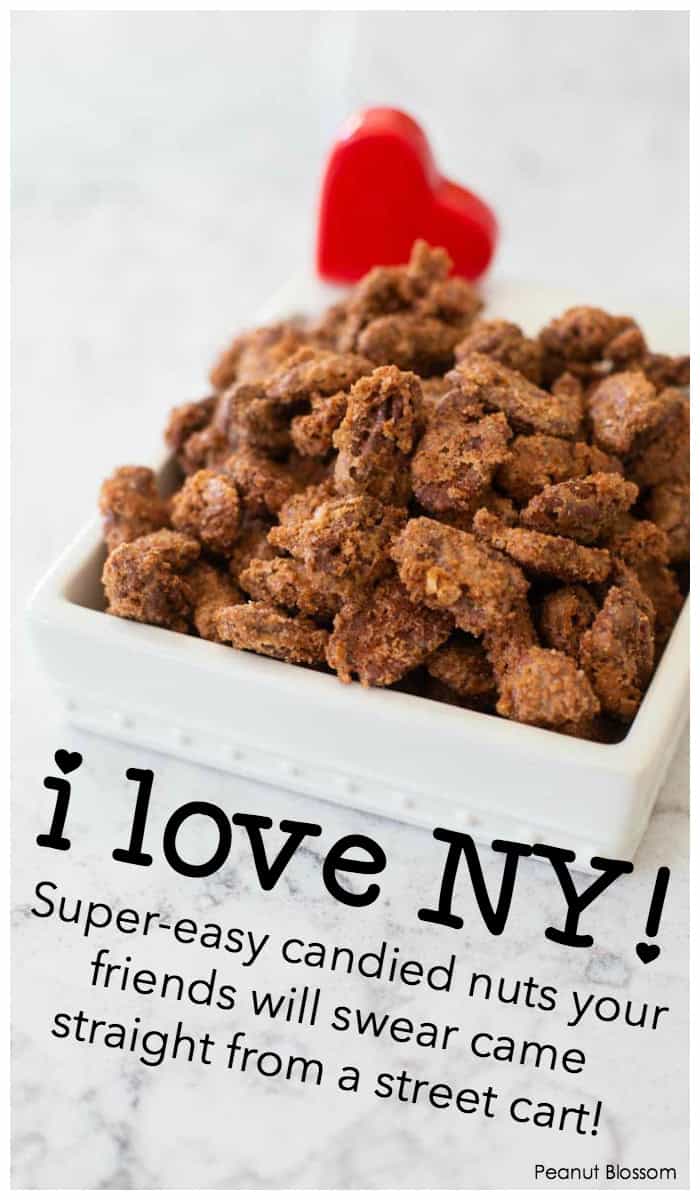 The real trick to these candied nuts is the crunchy coating. Most candied nuts are just tossed in a brown sugar mix with spices but to get that extra thick crunch, you need a secret ingredient.
Step 1: Toss your pecans in a single egg white
That's right! I know it sounds so weird, but that egg white will coat the nuts and give just the right amount of thickness to the seasoning.
Step 2: Mix up the spicy-sweet sugar coating
The candied nuts from the New York nut carts are sweet but not overly so. All I know is that you can never eat just one. The trick to ensure they are totally addictive is to add just a pinch of cayenne to the mix. This keeps them from being too-sweet but never so spicy that your kids wouldn't like them.
Step 3: Toss and bake!
Pour the sugar mixture over the egg white-coated pecans and use a spoon to toss them together. Spread them in an even layer on the baking sheet and bake for 40 minutes. You'll want to toss them 20 minutes in to make sure they cook evenly and don't burn.
That's it! Easy-peasy candied nuts for your party with just about 5 minutes of prep time.
Looking for more New York-themed party foods?
Don't miss the entire party menu I pulled together with simple New York classic recipes that are easy to make at home. It would be just perfect for a book club or romantic night in for Valentine's Day. Get all the NY recipes here.