These New York themed party foods are super fun for a romantic night in at home or for a fun theme for a book club party!
Valentine's Day with kids can be a little tricky. How do you balance a romantic evening with your sweetie but enjoy the night with the kids, too? I think I've found the perfect answer.
If a date night out at a fancy restaurant isn't in the cards, how does a trip to New York City sound instead??
Ok, so plane tickets may not be in the budget, either. Instead, I think you should totally skip the cliche heart-shaped everything and prepare a simple taste of New York City that you and your family can enjoy right at home!
I think New York is one of the most romantic cities in the world. It's the perfect theme for a Valentine's Day dinner. You could share it with the kids or save it for when they're in bed.
Or, channel your inner Sarah Jessica Parker and schedule a fun Galentine's Night with your best girlfriends. Cosmos included!
There are so many fun things you could do with a New York party theme. The original inspiration for this menu came from our latest book club party.
The book of the month was set in New York City and the main character nibbled on many of the items listed on this menu. You can read more about the awesome January book club pick right here.
Or if you're planning something for the kids, how about picking up a few of these fun children's books about New York City?
No matter what your special occasion is, I hope that you have a ton of fun with this party menu!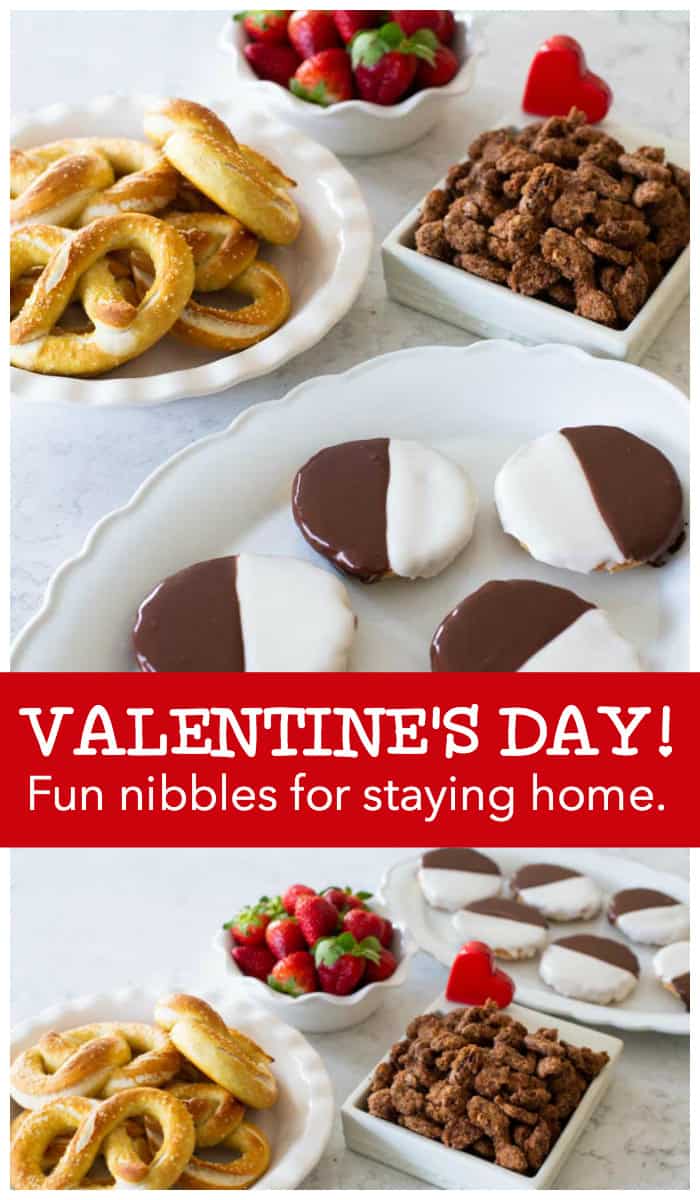 Easy New York-Themed Party Food
I had so much fun brainstorming the New York foods for our party menu.
I tried to remember the things that Tim and I enjoyed most from our visits to the Big Apple and I took heavy inspiration from the pages of our book club book.
Here are the easy New York recipes that made the cut:
1. Sweet and Spicy Candied Nuts:
Inspired by the street cart nuts you find on every corner in New York, these candied nuts are totally addictive. I dare you to eat just one. They only take 5 minutes of prep time and are the absolute easiest thing on the entire menu!
Get the candied nuts recipe here.
2. Soft and Fluffy Homemade Pretzels:
Another street cart delicacy, twisty soft pretzels are easily found in the city. My kids absolutely loved helping to make these and the whole recipe only took about an hour and a half (including clean-up!) This recipe is an absolute winner.
Get the easy pretzel recipe here.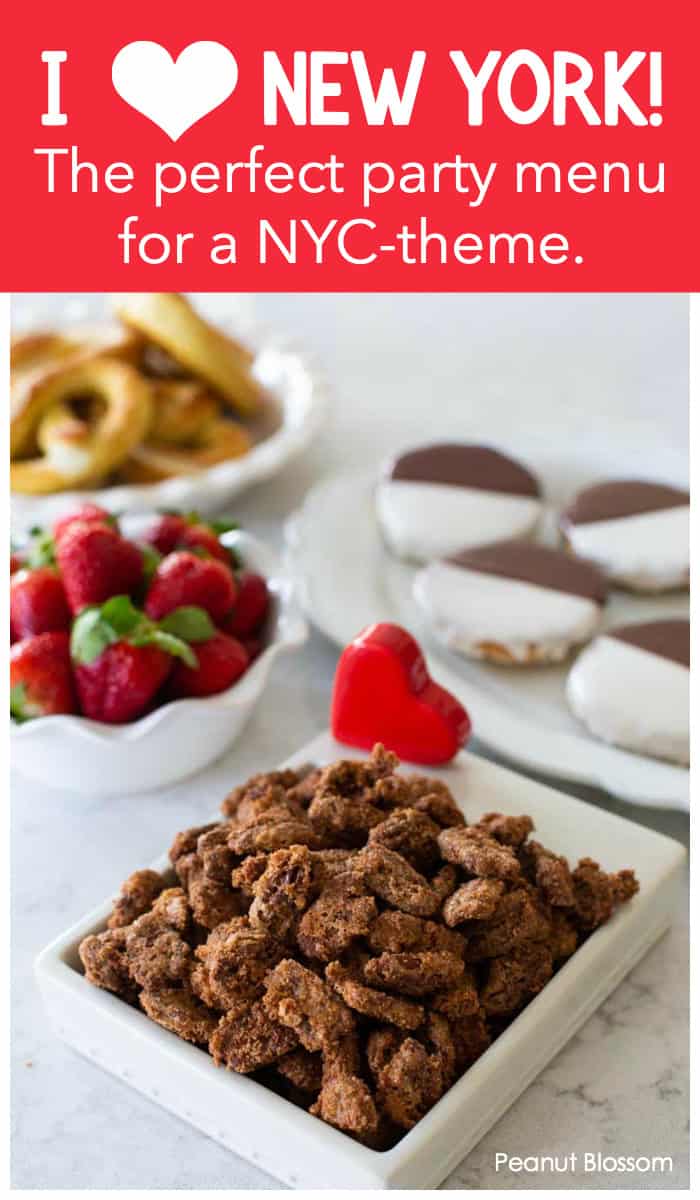 3. Classic Black and White Cookies:
I thought for sure these gorgeous cookies would be nearly impossible to make at home. I was totally wrong! I discovered a few great tricks for beginner bakers to make the stunning classic New York cookie right at home. We will absolutely be making these again!
Get the black and white cookies recipe here.
4. Fresh Strawberries:
The same bright red color as the classic I Heart New York logo, fresh strawberries are just a super-easy thing to fill out the party menu. Pop a big bowl of them into the display for color and sweetness.
I used my favorite Nora Fleming serving pieces with the red heart mini for flair.
5. Cosmopolitan Cocktails:
Adults only, obviously.
This classic cocktail is the perfect solution for book club or for sharing with your sweetie for Valentine's Day.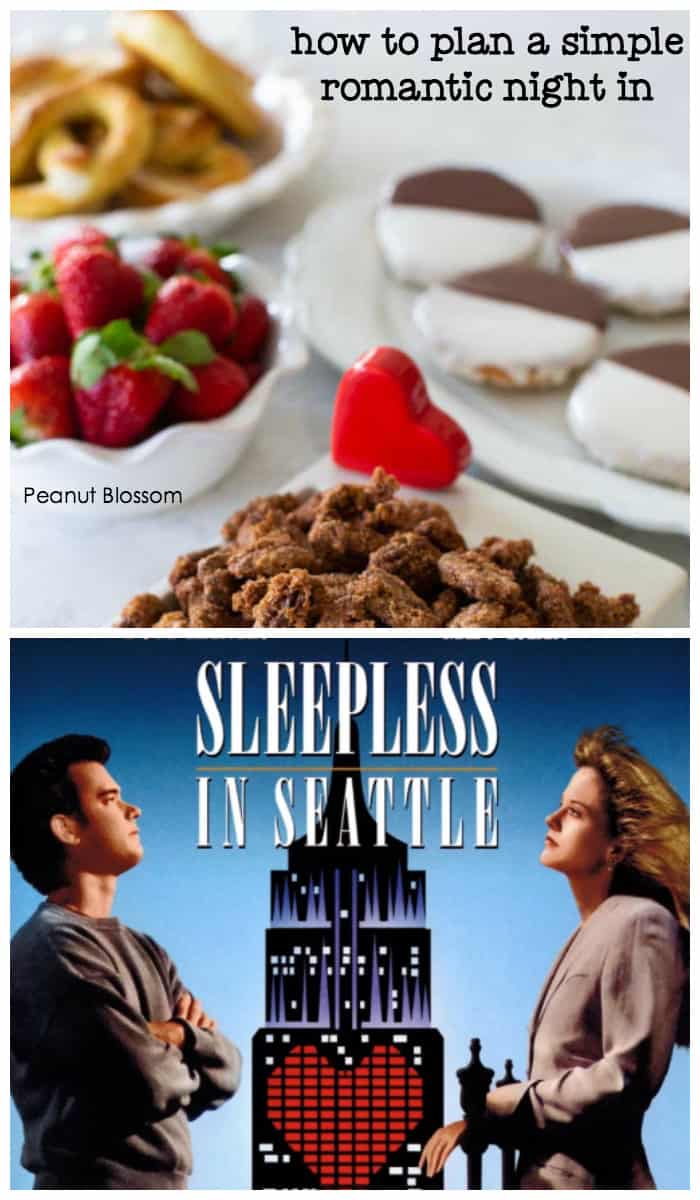 Fun Ideas for Hosting a New York Party:
Now that you've got the food all set, it's time to set the mood!
Here are some great ways to make the evening special:
1. Watch a New York themed movie:
My personal choice would absolutely be the Tom Hanks & Meg Ryan classic, Sleepless in Seattle.
2. Turn up the tunes:
Music is the key to any party. Whether you crank up Old Blue Eyes himself and listen to some classic Frank Sinatra or create a playlist of your favorite Broadway melodies, you'll swear you're in Times Square in no time.
3. Set the dress code:
I always laugh when I hear New Yorkers say that they can spot tourists simply by the fact that they are the ones wearing anything but the color black. Considering my closet looks like a rainbow, I'm obviously the most toursity of tourists.
Have everyone at your party come dressed all in black. Audrey Hepburn pearls totally allowed, obviously.
More Romantic Party Themes
Plan some themed party snacks and pair them with the perfect movie for a fun Valentine's Day night in: