Classic New York-style black and white cookies look so fancy but are actually super easy to make when you use these simple tricks.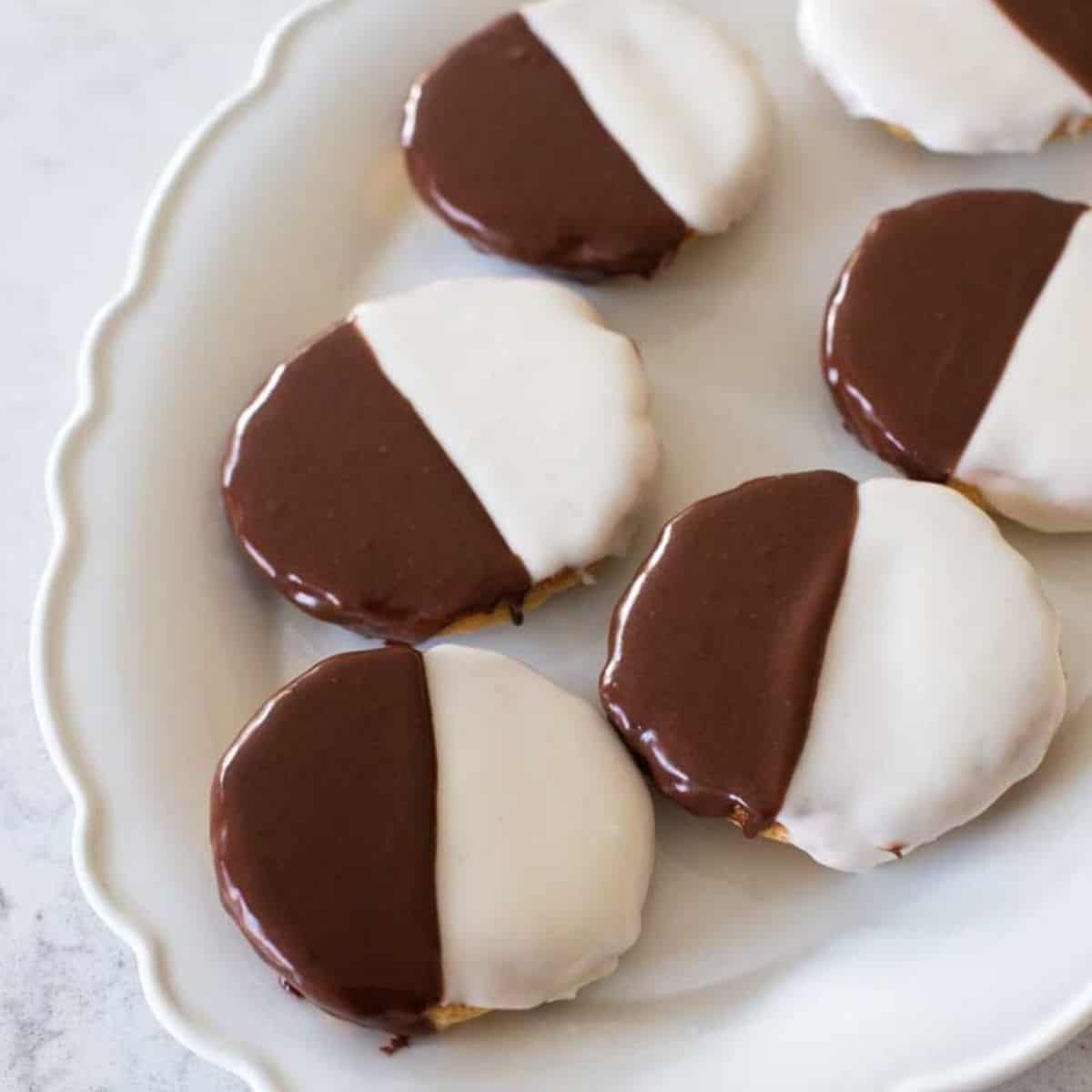 I had so much fun planning out a full party menu for our New York-themed book club party last month. As I brainstormed which things to include in the line-up, the very first one that came to mind were these amazing classic black and white cookies.
I've only really ever had them when actually visiting New York, it never occurred to me that they might be easy enough to make at home.
I briefly considered trying to order some or look for a local bakery here in Charlotte that might carry them, but on a whim I went hunting for a recipe.
I should have known better. Of course, America's Test Kitchen would have great step-by-step instructions for them.
Even so, there were a few things I wish they would have included to make it even easier for beginner home bakers to follow along.
If you've been intimidated to try baking these fancy NY cookies, I promise you it is so much easier than it looks!
What are black and white cookies?
The classic NY cookie is a soft sugar cookie base that is topped with a perfectly straight line of frosting that divides one half of the cookie with a white vanilla frosting and the other half a dark almost black chocolate frosting.
I've always marveled at the frosting technique. How on earth do they get that line so straight? How do they keep the two frostings from bleeding into one another?
The answer was easier than I thought, don't skip the easy tricks for frosting a black and white cookie down below.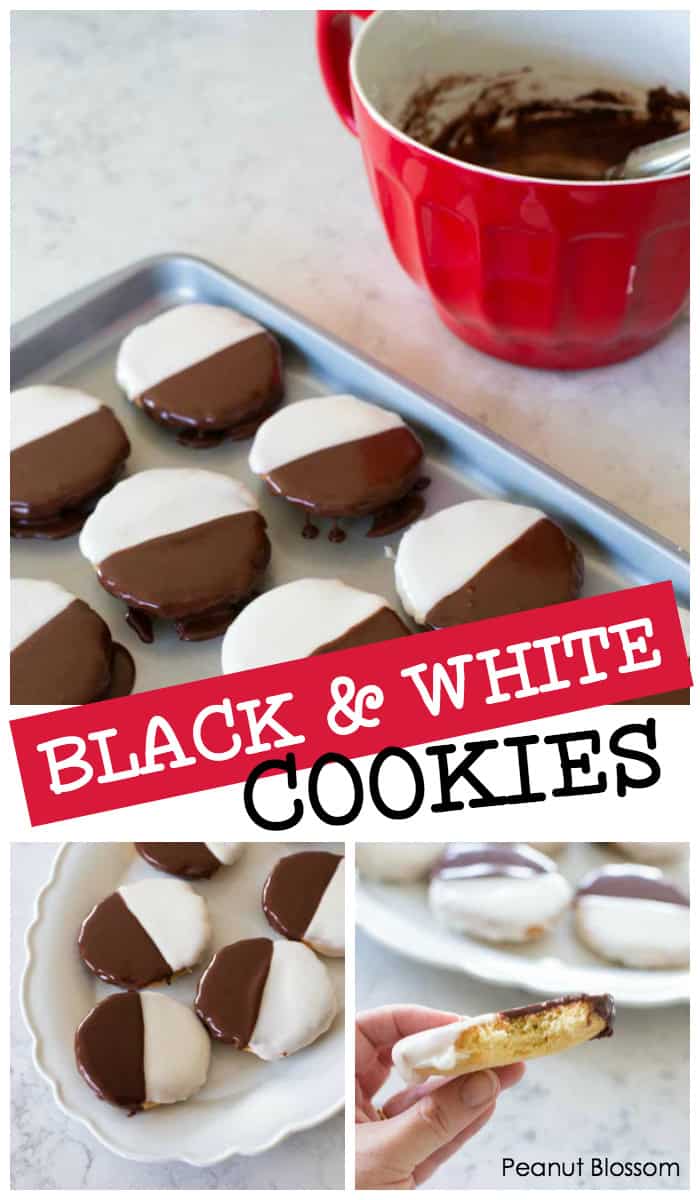 Easy tricks for making black and white cookies:
These fancy-looking cookies are absolutely easy enough for beginner bakers as long as you keep in mind a few very simple tricks.
Baking Trick #1: Bake the cookies ahead of time
Fancy cookies can be exhausting if you try to do it all at once. When you break it down into stages, it is far less wearing and you have the energy to focus carefully on each step.
Bake the cookies ahead of time, either in the morning or even the day before. They will keep just fine in an air-tight container (or on your counter if you're frosting them later that same day.)
You want the cookies to be 100% cool before you frost them. This is not a cookie recipe you can rush. If the cookie is warm, the frosting will just melt all over and be a total mess.
Baking Trick #2: Pat the cookies slightly flat before baking
The original recipe calls for mounding the dough on the cookie sheet. The dough is so thick that it takes quite a while for the cookie to spread. This means that the inside will take far longer to bake than the outside and affects the final texture.
If you gently pat down the cookie to help flatten it slightly before baking, it won't spread too much but helps the middle catch up to the outside at a faster pace. The final texture of the cookie is far smoother.
Baking Trick #3: The frosting makes a bigger batch than you need, but that's ok!
I was initially frustrated to discover that the frosting makes so much more than you need to frost the cookies. Then I realized beginner bakers always do better with a little bit extra to work with.
You don't have to worry about having to scrimp and save your frosting, you'll be able to generously frost each cookie. Use the amount that feels right. If you need a little more to cover a mistake? You'll have plenty.
Use the leftover frosting on Nila Wafer cookies for a miniature black and white cookie that would be absolutely adorable on your party tray.
Easy tricks for frosting the neat line on a black and white cookie:
Step 1: Flip the cookie upside down, you'll be frosting the flat bottom side of the cookie which now becomes the top.
Step 2: You will absolutely want to frost the white side of the cookie first. Holding my first cookie over the bowl of the white frosting, I used a simple butter knife to spread the thick glaze over one half of the cookie in the neatest line I could by pushing the glaze along where I wanted it to be and using the knife to scrape it straight.
Step 3: I tilted the cookie to the side and let the excess frosting drizzle off so it wouldn't puddle on the cookie top when I sat it back down on the tray to dry.
Step 4: Place the white-frosted cookies in the fridge to cool completely for 15 - 20 minutes. You want the frosting to be completely set before attempting the chocolate half.
Step 5: Hold each cookie one at a time over the bowl of the chocolate frosting. Use a similar scraping technique to add the frosting to the other half and let the excess drizzle back into the bowl.
Note: It is a lot easier to get a straight line with the crisp chocolate frosting. If it isn't 100% straight, no worries! This just tells your guests you took the effort to bake them homemade!
Looking for more great New York-inspired party foods?
These cookies were a total hit at our book club party but they'd be so fun for a romantic night in, too. Check out the full New York party menu I created for Valentine's Day.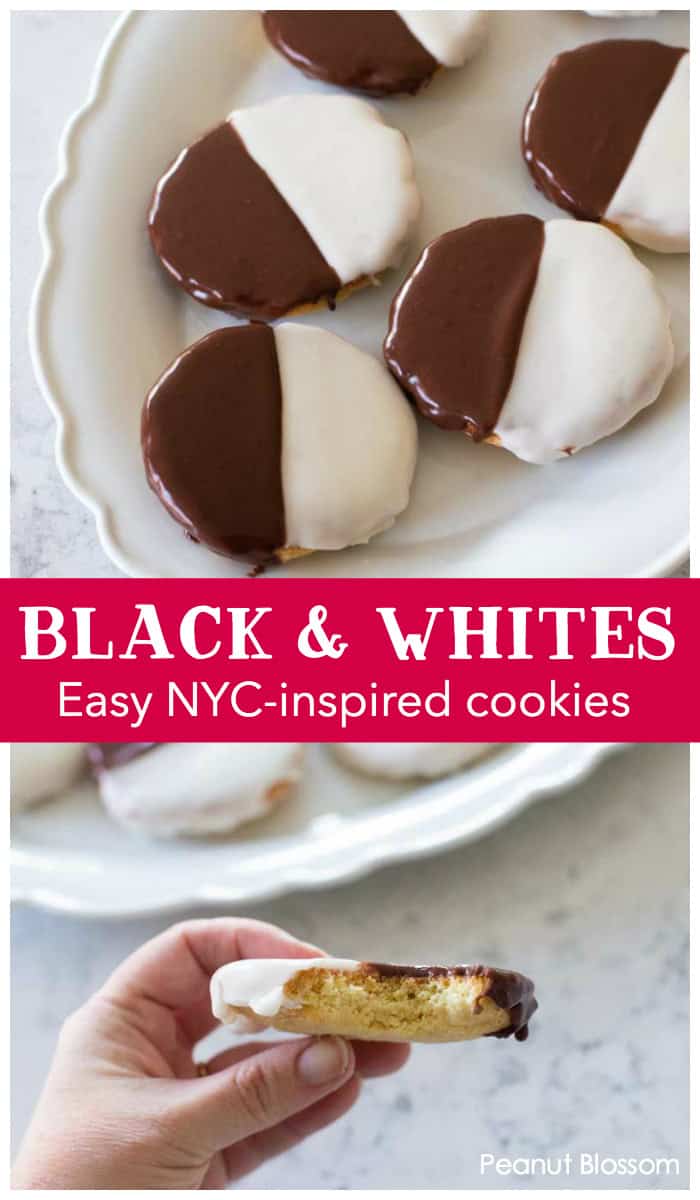 This recipe is inspired by America's Test Kitchen's book "The Perfect Cookie."