How to make a cheese pizza at home that will be better than anything from the delivery driver. Perfect for families with kids or pizza lovers who appreciate high quality ingredients in an easy recipe.
Every family has or knows a kid who will only eat a plain cheese pizza and avoids all other pizza toppings. I double dare you to prove me wrong.
That kid has always been my youngest. She is very particular about her pizza and wants "just the right amount of cheese" and the perfect ratio with sauce.
The easiest way to make her crazy happy on pizza night?? Make our own homemade cheese pizza that perfectly meets her expectations.
As a pizza connoisseur, she gives the Gold Seal of Approval to this recipe and the entire family declared it the best cheese pizza in the history of pizza baking.
Jump to:
Why This is the Best Recipe
If you don't want to take my daughter's recommendation, I'll let you know that this is the best cheese pizza because:
Amazing Crust: My easy pizza dough makes the best pizza crust ever. But you can absolutely swap in a pizza crust or batch of pizza dough from the grocery store.
Very Easy Pizza Sauce: My 30-second marinara pizza sauce has the perfect texture!
The Best Cheese: We tried a bunch of variations and this cheese blend is the best.
Control the Ratio Yourself: Want more sauce? Want more cheese? Mix and match the ratio for your own personal preference.
Ingredients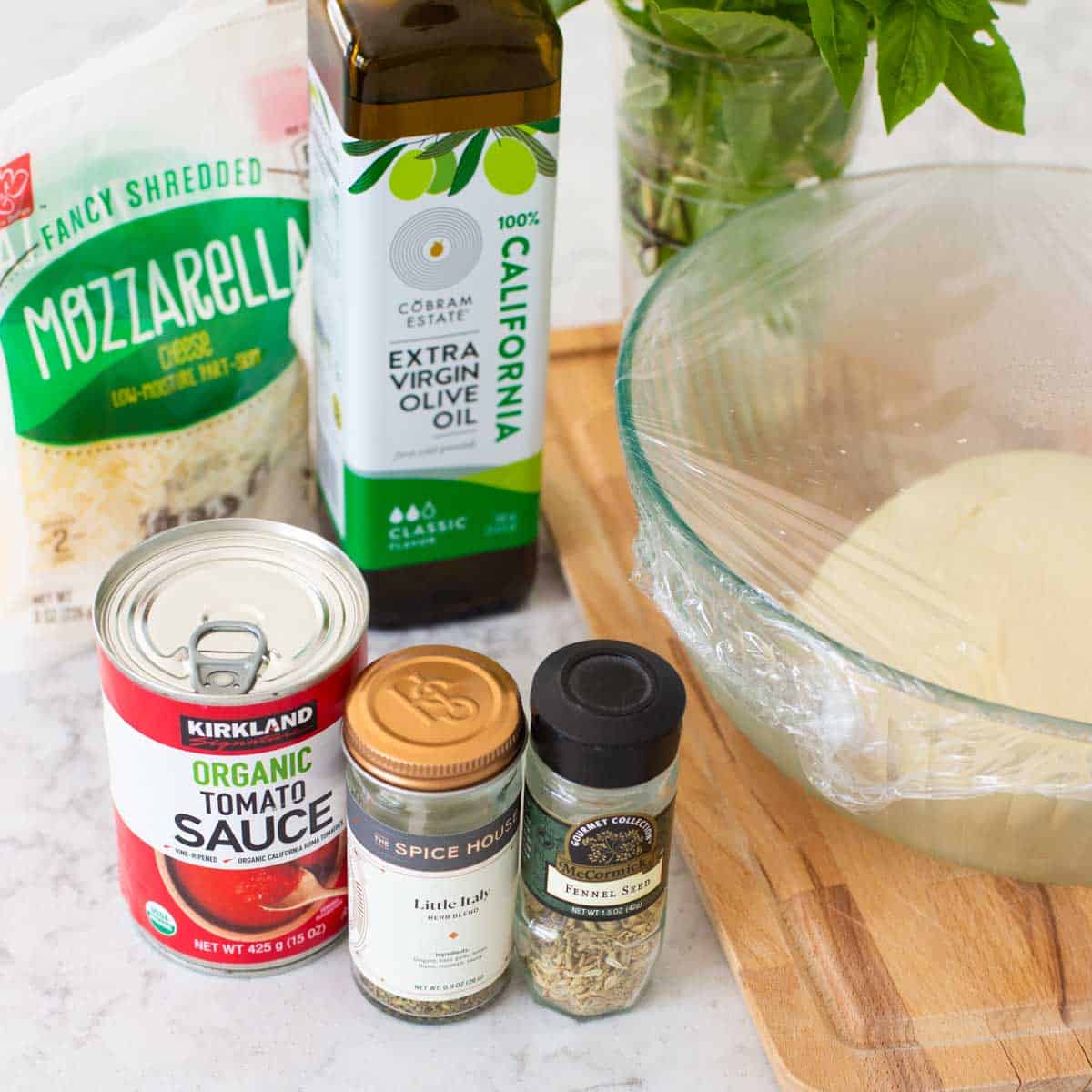 Making homemade pizza is so easy with just a few ingredients on hand:
Pizza Dough: I always make my bread maker pizza dough but you can use pizza dough from the grocery store, a refrigerated can, or even a pre-baked pizza crust from the bread aisle.
Olive Oil
Canned Tomato Sauce
Italian Herbs
Fennel Seeds
Garlic Salt
Mozzarella Cheese: When I'm in a rush or want to keep things extra easy, I just use pre-shredded mozzarella but be sure to read my notes on the best cheese to pick below.
Provolone Cheese Slices: For the ooey-gooey-est cheese topping, we've discovered that deli slices of provolone cheese scattered over the top melt perfectly with the mozzarella.
I've included the easy recipe for my basic marinara pizza sauce right in the recipe card below, but I also have it available as a separate recipe because we use it for so many easy pizza recipes and even some pasta dishes.
The Best Cheese for Pizza
If you want to make the ultimate cheese pizza, the most important ingredients is the cheese for the topping.
After some experimentation, I've learned that a blend of two cheeses makes the most delicious and most melty cheesy topping.
Mozzarella:
I've had good luck with the shredded mozzarella available at the grocery store but it is often treated with anti-caking powder so it doesn't all stick together in the bag.
The better option is to hunt down a whole milk, low moisture mozzarella cheese block that is perfect for grating by hand on a box grater. We often buy this exact one at our grocery store.
Hand grated mozzarella will melt so much more smoothly and have a better flavor on the pizza.
Provolone Cheese
The companion cheese to the basic mozzarella that we love most is a basic deli sliced provolone cheese.
You can buy the bags of provolone slices right from the cheese section in the refrigerator case or you can get fresh sliced provolone from the deli department.
Provolone adds a lovely flavor to the cheese topping but also melts nice and smoothly.
I simply rip the slices of cheese into 2-inch pieces and scatter them over the pizza sauce before topping with the shredded mozzarella.
Assemble the Pizza
Roll your pizza dough out by hand to a 12-inch circle.
Brush olive oil all along the outer edge to help make a golden brown crust.
You could sprinkle herbs and spices over the olive oil if you want a seasoned crust, or just leave it plain.
Spread the marinara sauce over the top of the pizza like this: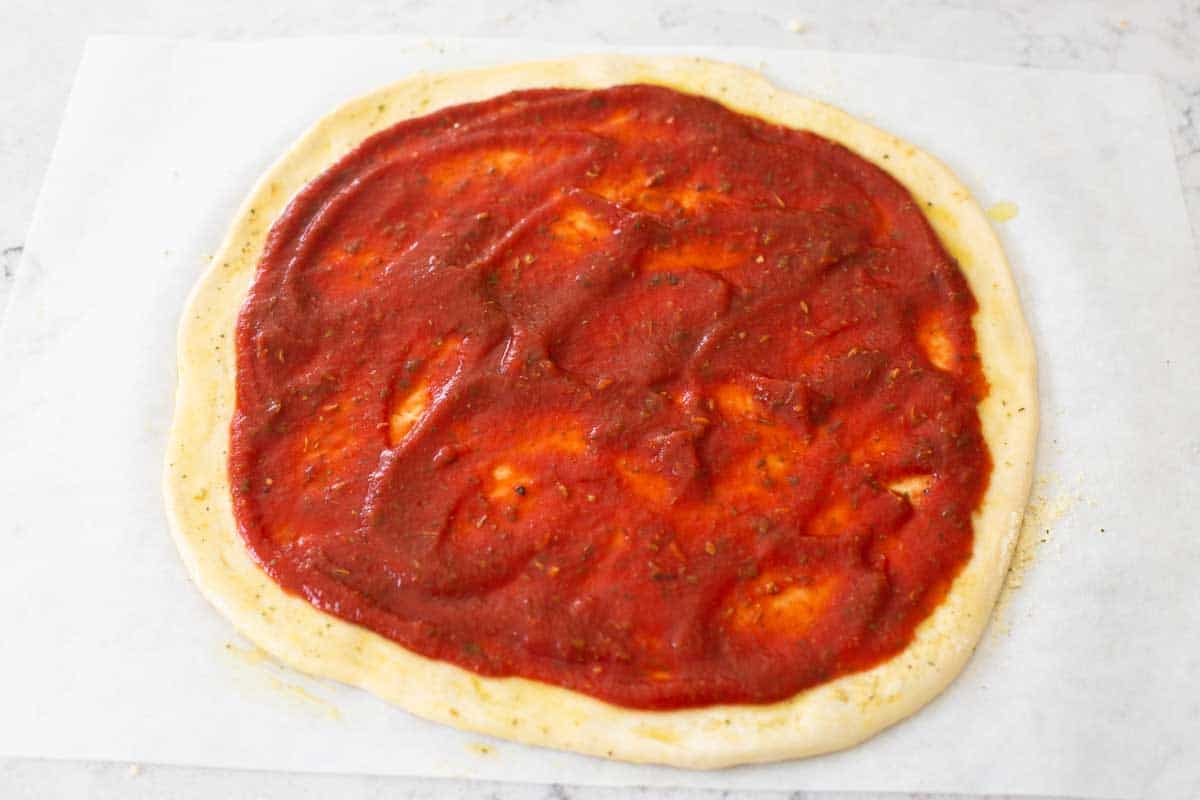 Then tear the provolone slices and scatter them over the top.
Shred the mozzarella and cover the entire tomato sauce part like this: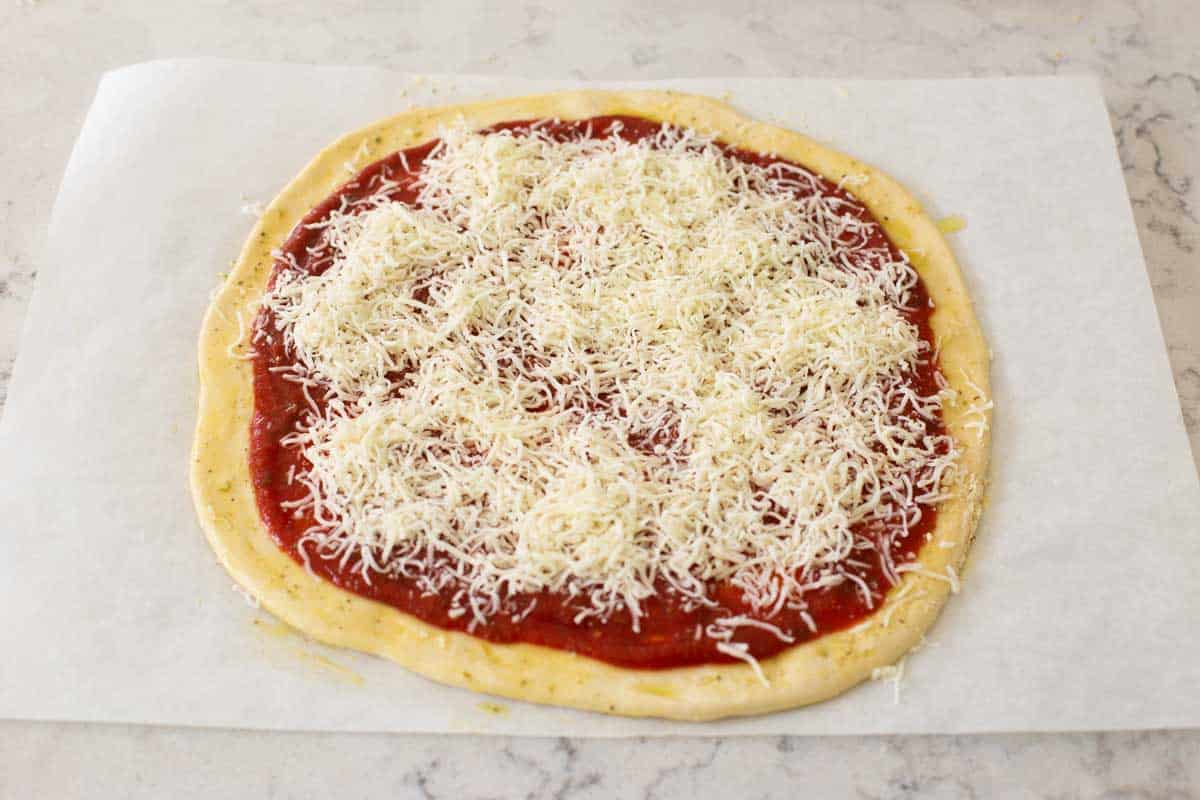 How to Bake the Cheese Pizza
My pizza baking method will give you a perfectly crispy crust all the way to the center of the pizza.
Preheat the oven to 450°F. Place a pizza stone in the center of the oven and let it preheat along with the oven for at least 30 minutes.
If you don't have a pizza stone, you can take a large rimmed baking sheet and turn it upside down so you have a smooth surface. Let it preheat in the oven.
Assemble your pizza on parchment paper, you'll use this to transfer the pizza in and out of the oven.
Slide the pizza onto the pizza stone or baking sheet and bake for 8 - 10 minutes or until the cheese has melted and the crust is golden brown.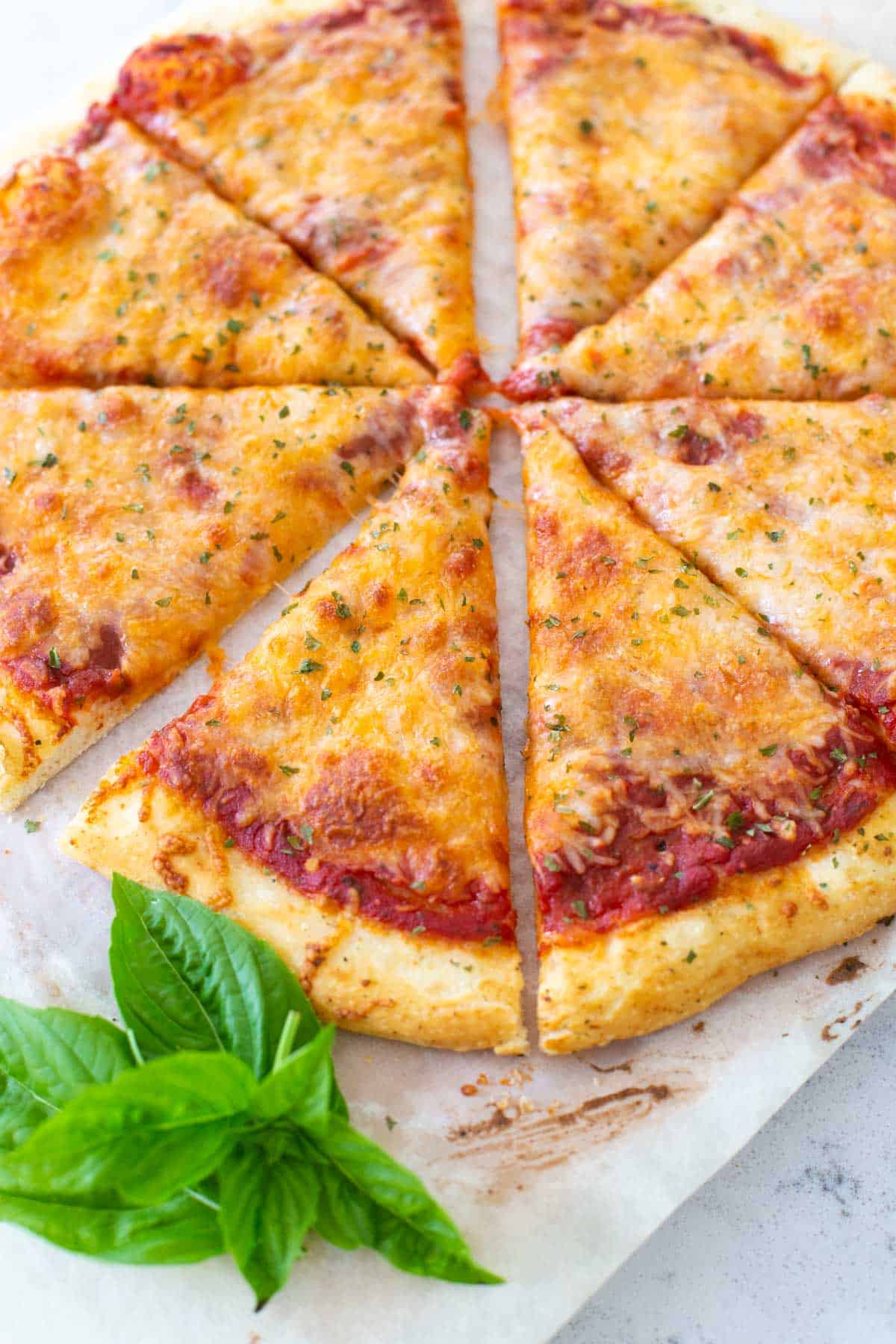 Serving Suggestions
My pizza dough recipe makes enough for two pizza crusts. I like to turn one into a cheese pizza and another into homemade garlic breadsticks to serve with it.
If you want to use the dough to make two pizzas for a hungry crowd, you could serve it with a batch of my freezer-friendly garlic bread and a large Caesar salad.
I strongly recommend buying a bottle of hot honey. My favorite is Mike's Hot Honey, but there are lots of options available these days. Drizzle it over the pizza slice or just use it to dunk the crust. You can read about more hot honey recipe ideas here.
And if you want to channel your inner pizza delivery vibes, why not add a pepperoncini pepper to the serving platter?
How to Make a Cheese Pizza Better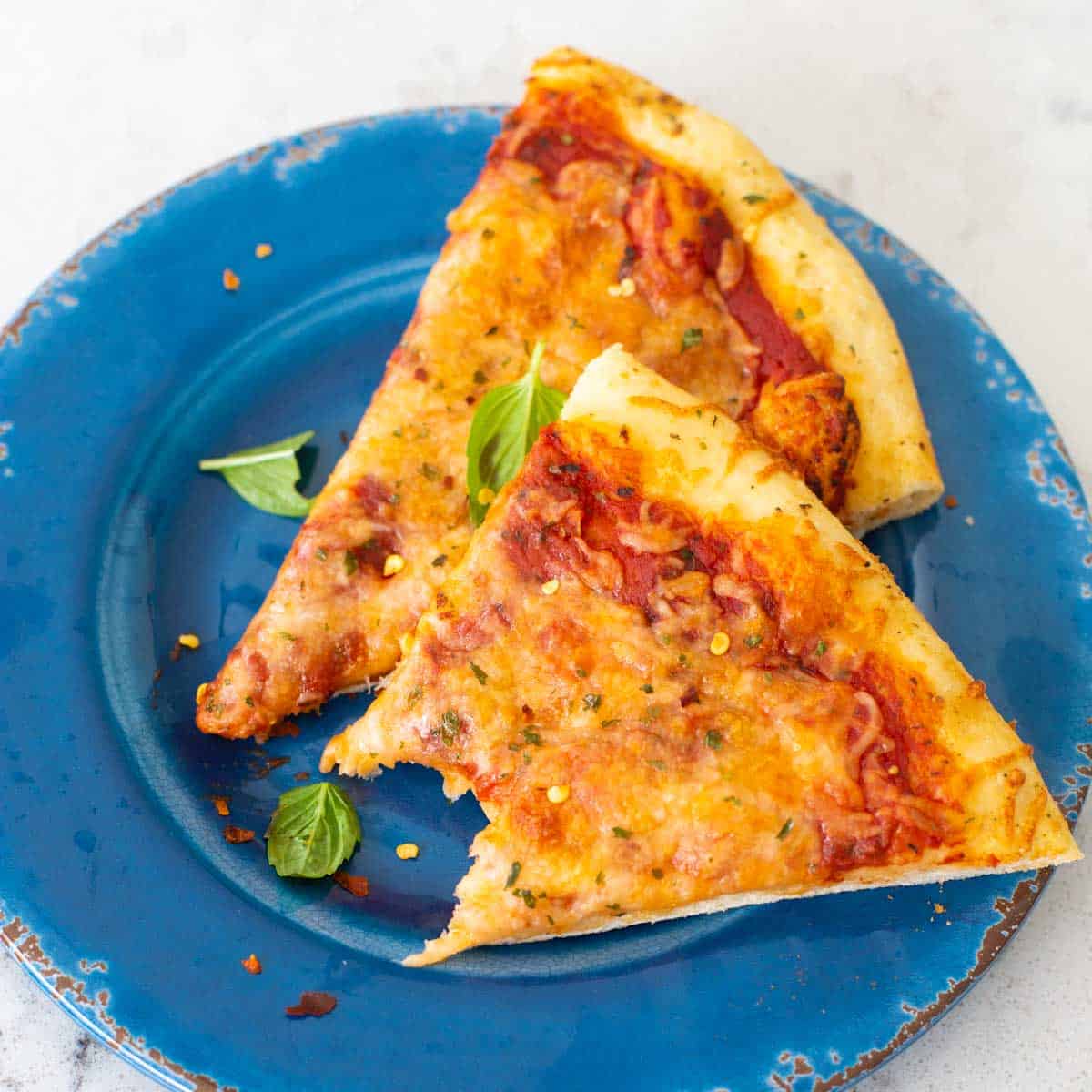 A classic cheese pizza is absolutely delicious on its own but if you wanted to make it taste even better, you could consider adding:
Seasoned Pizza Crust: Sprinkle ranch seasoning, garlic salt and Italian herbs, or grated parmesan cheese over the olive oil on the crust before baking.
Crushed Red Pepper Flakes: For a little spicy kick, this is my go-to pizza topping.
Cherry Tomatoes: Toss some cherry tomatoes in olive oil and sprinkle them over the pizza before baking. They'll roast in the oven and give a fresh burst of tomato flavor.
Crumbled Bacon: My peppered bacon would be a fun alternative to pepperoni for a cheese pizza topping.
Fresh Basil: Sprinkle fresh basil or your other favorite fresh herbs over the top after baking.
Hot Honey: As I mentioned, this is one of my newest favorite pizza condiments. It adds SO much flavor to a cheese pizza.
Cheese Pizza Buns
Want to mix things up a little bit? You can use all the ingredients from this post and rather than baking them in a flat-pizza form, make my easy homemade pizza buns recipe for a fun twist!
📖 Recipe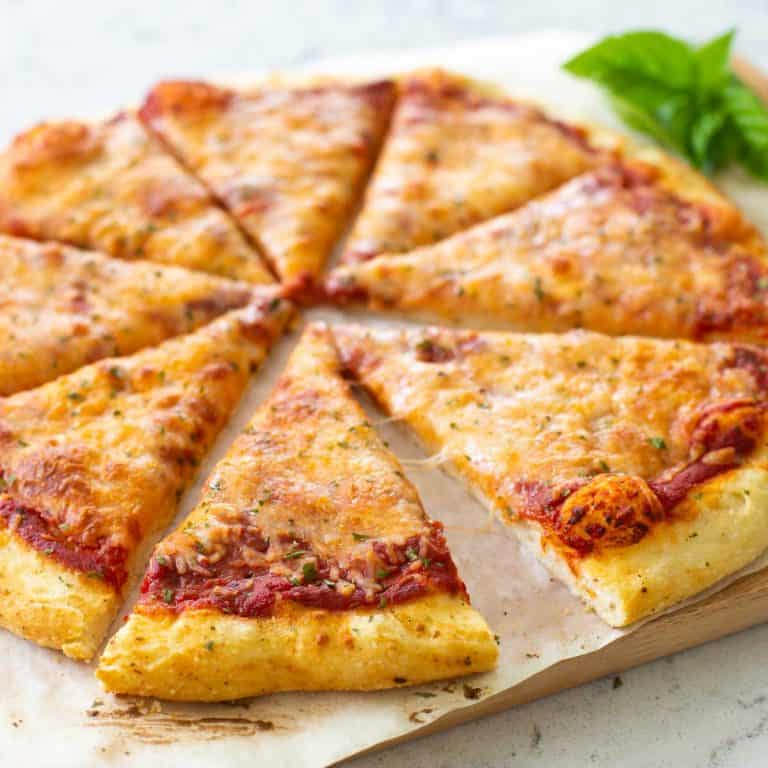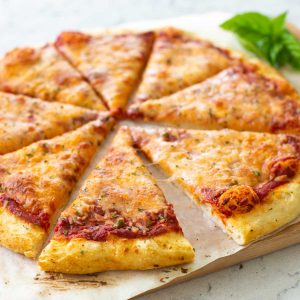 Cheese Pizza
The best cheese pizza ever starts with an easy pizza crust, fantastic pizza sauce, and the best cheese topping ever.
Ingredients
1

tablespoon

olive oil

1

cup

marinara pizza sauce

See Notes

2

slices

of provolone cheese

1

cup

(8 oz) shredded mozzarella cheese

1

teaspoon

dried parsley

Fresh basil leaves

optional
Instructions
Preheat the oven to 450°F with a pizza stone on the center rack.

Roll out the pizza dough to a 12-inch circle on a piece of parchment. Brush the olive oil around the outer 1-inch of the crust.

Spread the pizza sauce over the center of the crust. Tear the provolone into 2-inch chunks and scatter them over the top. Top with shredded mozzarella cheese and dried parsley.

Bake for 8 - 10 minutes or until the crust is golden brown and the cheese is melted and bubbly. Slice and serve.
Recipe Notes
Marinara Pizza Sauce:
You can use any pizza sauce you love but to make my easy homemade marinara sauce you will need: 1 15 oz can of plain tomato sauce, 2 teaspoon Italian herb seasoning, 1 tablespoon fennel seeds, 1 teaspoon garlic salt, 1 teaspoon sugar (optional).
Stir together the ingredients and use for the sauce. Makes enough for two pizzas.
Save This Recipe to Your Recipe Box
Find this delicious recipe next time you visit by saving it to your very own recipe box on my site. All your favorites stored in one easy place!