Missing Gumby's pizza delivery from your college days?? This copycat Pokey Sticks (or Pokey Stix if you prefer) recipe only takes 10 minutes of hands-on prep time and is the perfect appetizer for homemade pizza night with your family. Don't forget to serve it with ranch for dipping!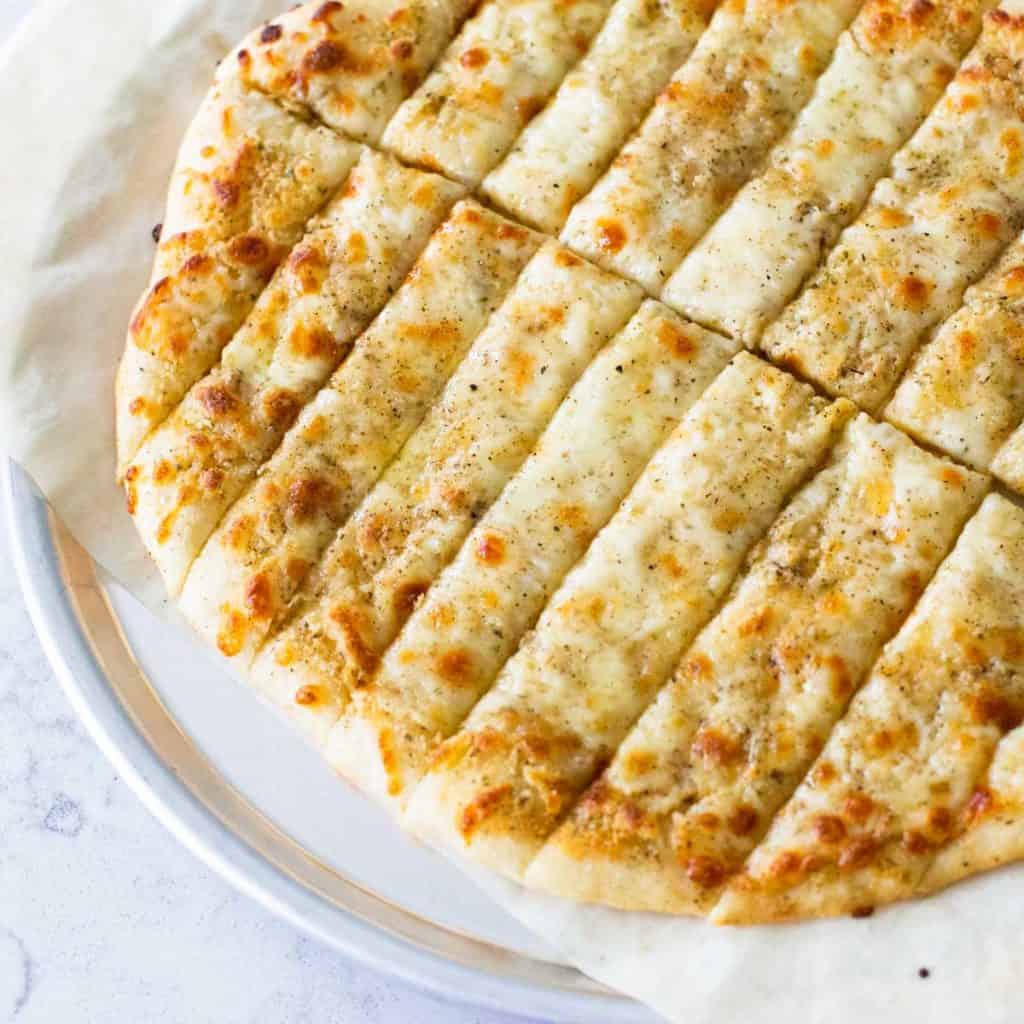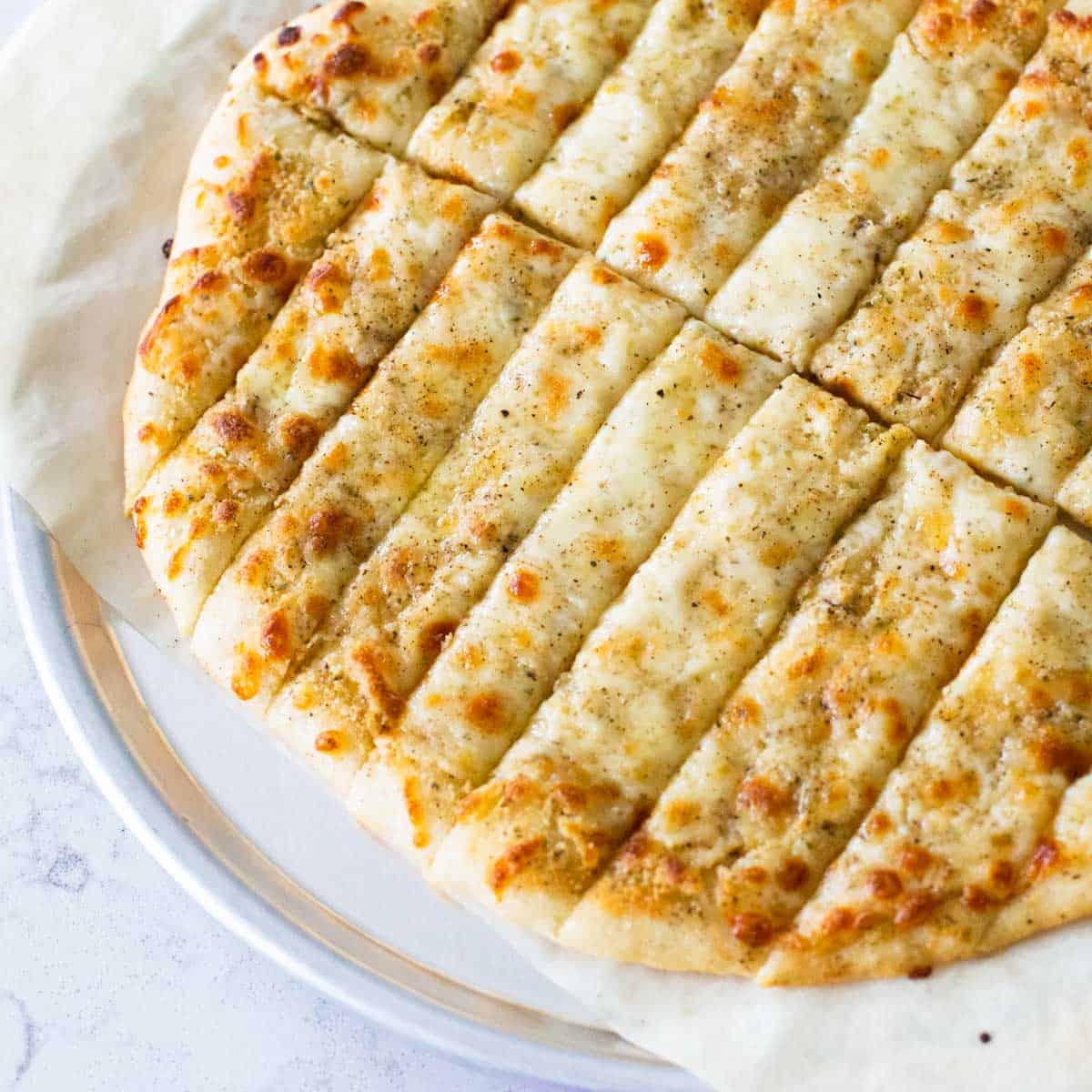 College memories and Gumby's Pizza go hand in hand. Our late-night pizza orders were never complete without an order of Pokey Sticks to go with them.
When we started our Friday Night Pizza Parties at home, I asked my family to brainstorm all the different flavored toppings we could try.
My husband immediately said: "You should make homemade Pokey Stix!" and the memory made me laugh and immediately add it to the next round of pizza baking.
If you've never heard of Pokey Sticks before, they are a garlic butter cheesy breadstick made out of pizza dough.
The pizza dough is rolled out like a regular pizza but then topped with the garlic-butter mixture and shredded mozzarella cheese. Once baked, it is cut into long, skinny rectangular pieces instead of the traditional triangle-shaped pizza slices.
Their unique shape makes them the perfect dunkers for a bowl of warm marinara sauce or a serving of ranch dressing.
Why This Recipe Works:
We start with our favorite homemade bread maker pizza dough which makes the perfect amount for 1 pizza and 1 pokey sticks. Just add a large salad and you've got your whole dinner ready to go.
The breadsticks bake in less than 15 minutes and are the perfect appetizer while your regular pizza is baking.
They are perfect for picky eaters who don't enjoy traditional pizza toppings.
What You Need to Make This: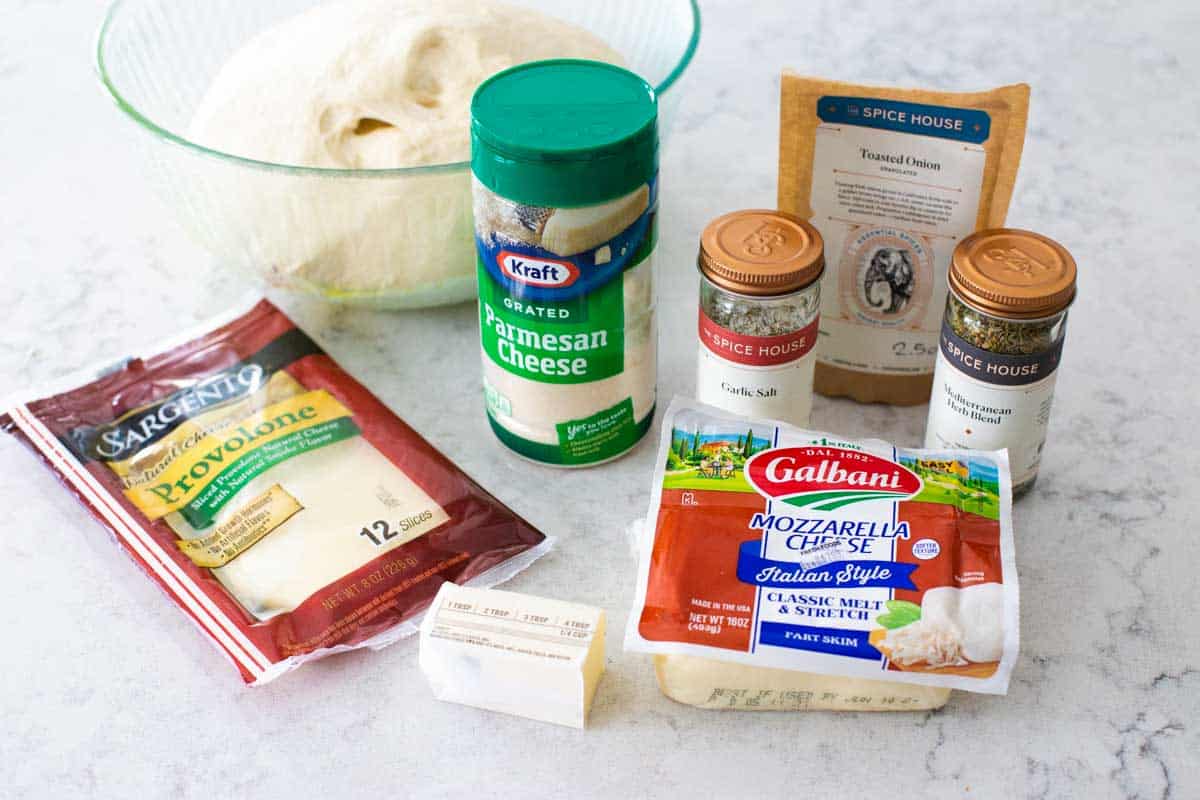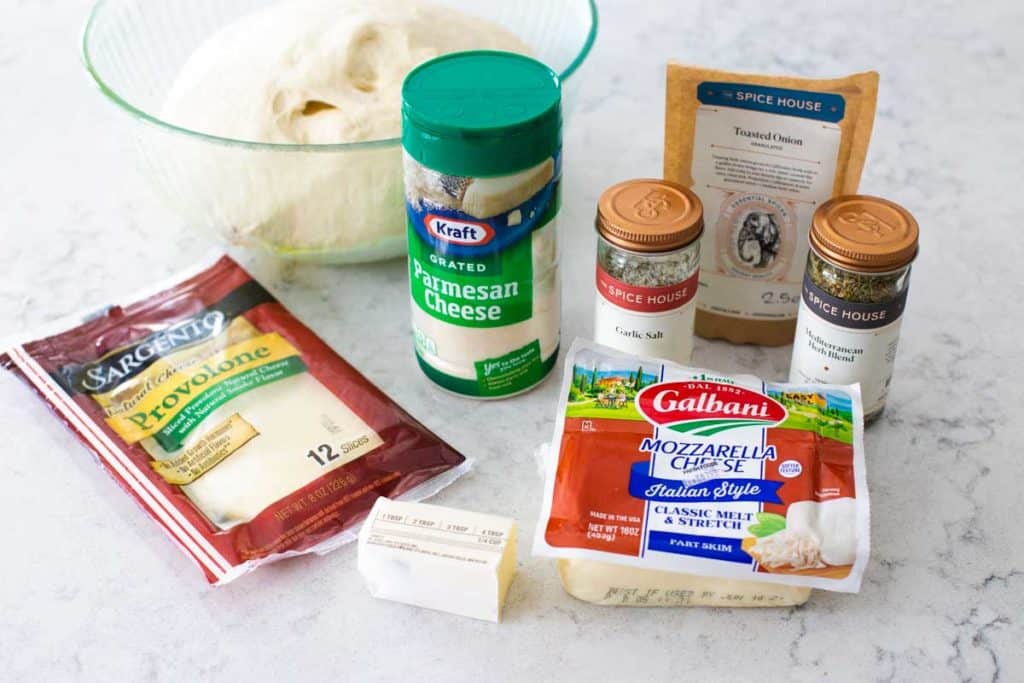 The ingredients for this copycat recipe are very simple:
1 batch of pizza dough: Homemade or storebought, just use enough for 1 12-inch pizza.
Grated parmesan: You don't need anything fancy, whatever brand you have.
Butter, Garlic Salt, Italian/Mediterranean Herb blend, Onion powder
Shredded mozzarella cheese: We strongly prefer a block of fresh mozzarella hand grated with a box grater. It melts much more smoothly than the pre-shedded bag.
Provolone cheese slices: This cheese melts perfectly and adds just a little bit more flavor.
How to Make This
For pizza night, you'll want to preheat your oven to 450°F with a pizza stone in the center of the oven for 30 minutes.
While the oven preheats, you can prepare your pokey sticks: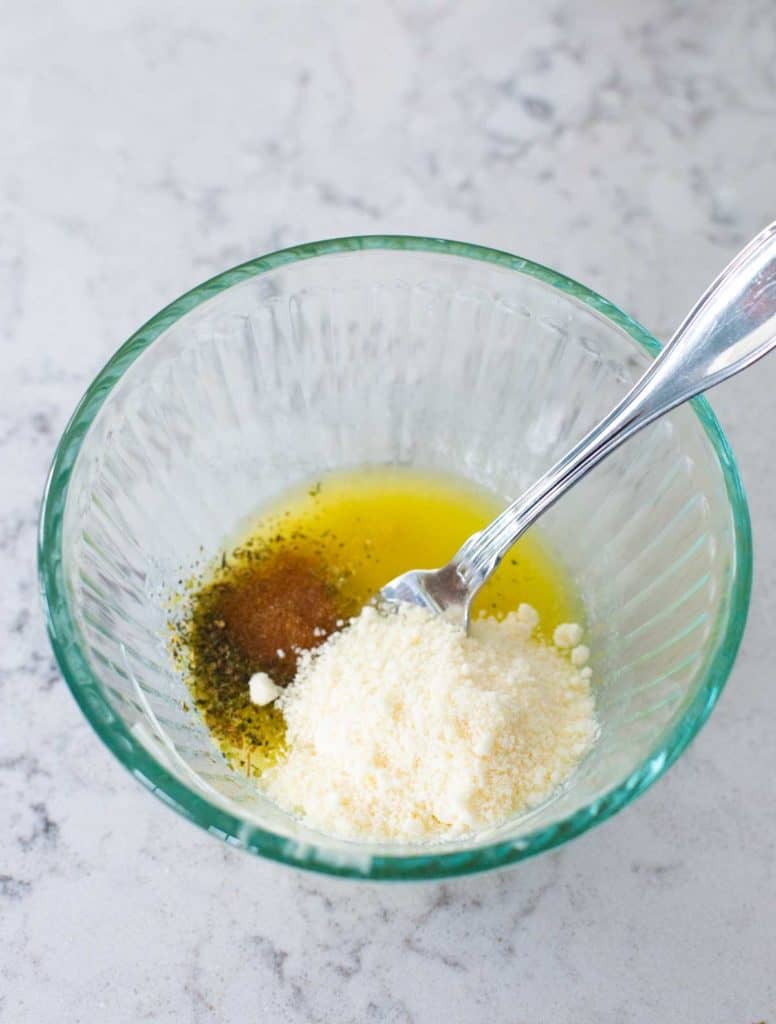 Add the melted butter, parmesan cheese, and seasonings to a bowl and stir them to combine and make a thickened garlic-butter paste.
Roll out the pizza dough and brush the outer edge with a drizzle of olive oil. Need more help? Read my tips on how to roll pizza dough here.
Spread the garlic-butter mixture over the top of the pizza dough, stopping at the edge where the olive oil is.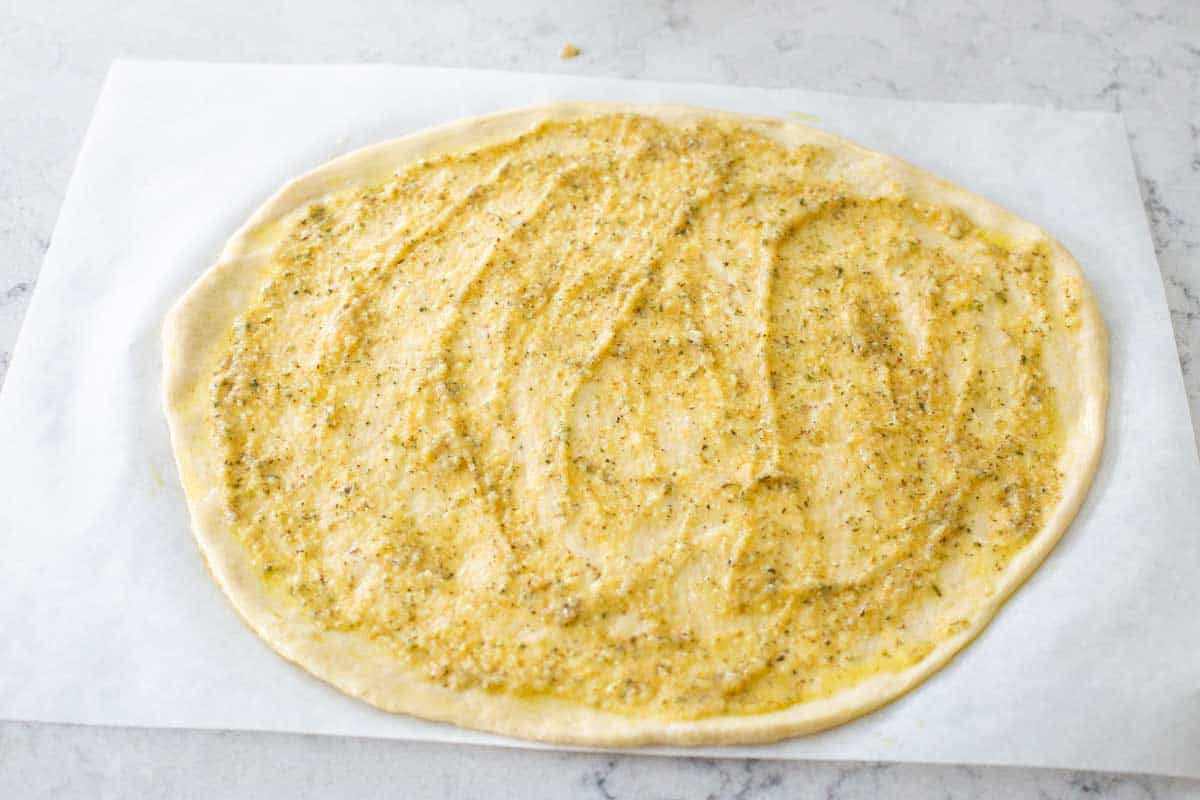 Grate 1 cup of shredded mozzarella cheese and sprinkle it over the garlic butter sauce.
Then, tear up 1 or 2 slices of provolone cheese and tuck them into the gaps all over the top of the pizza.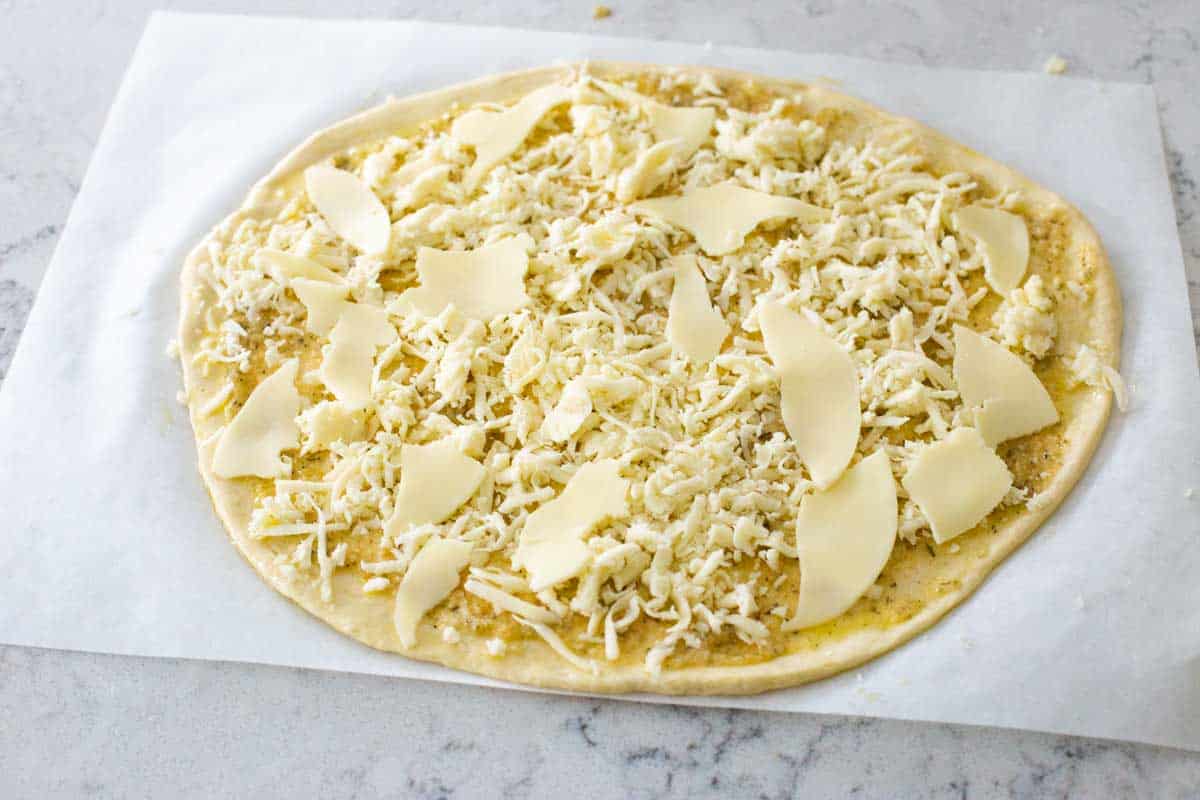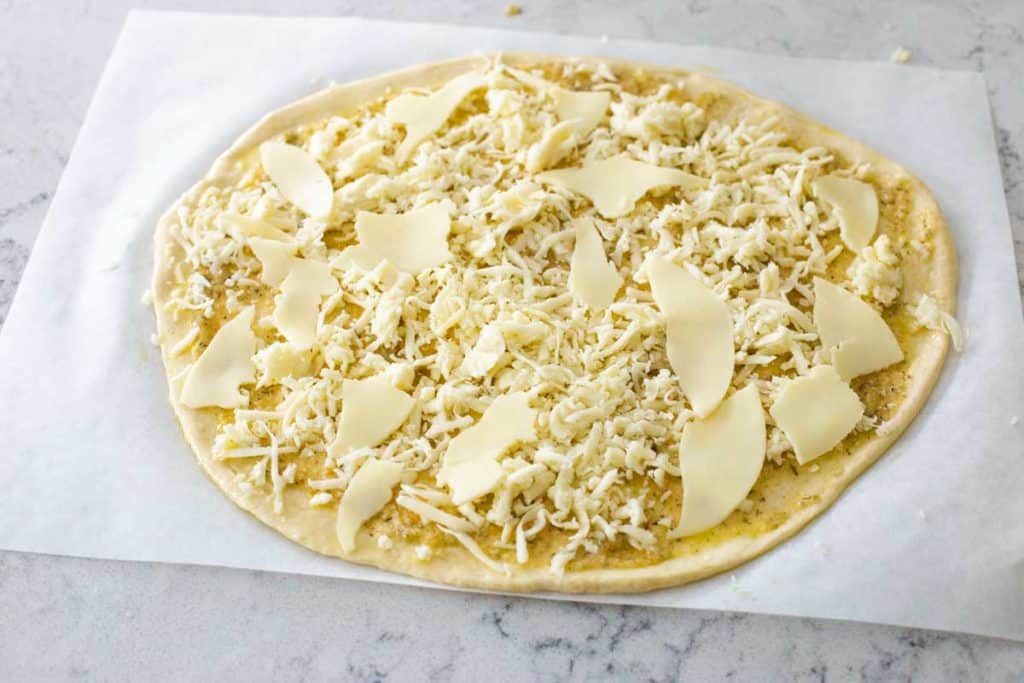 Bake your breadsticks in the oven for 10 - 12 minutes or until the crust is golden brown and the cheese is bubbling.
For more help, be sure to read my tips for how to get your pizza in and out of the oven here.
How to Cut the Pokey Sticks Shape
The main difference between pokey sticks and a white pizza is the shape the finished pie is cut for serving.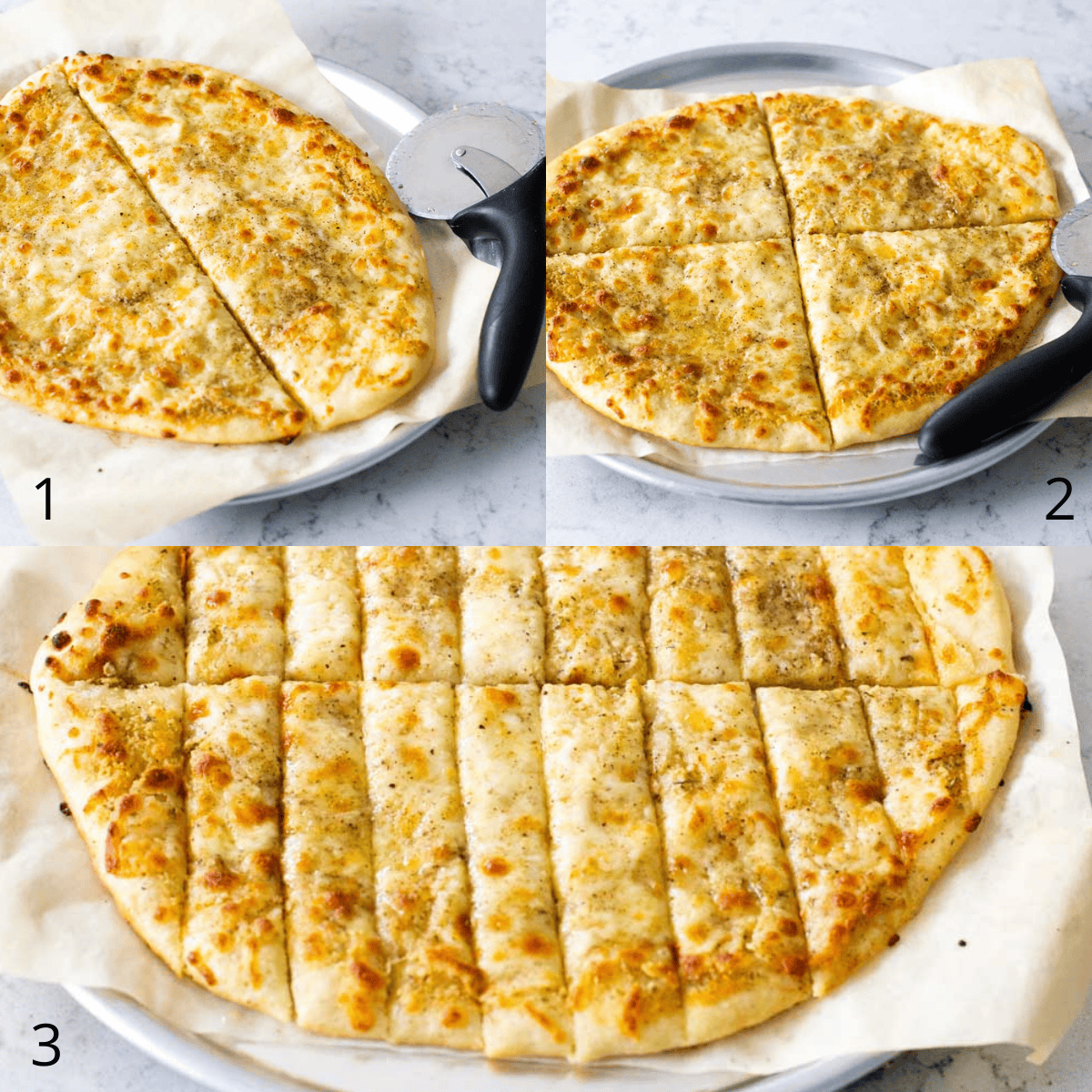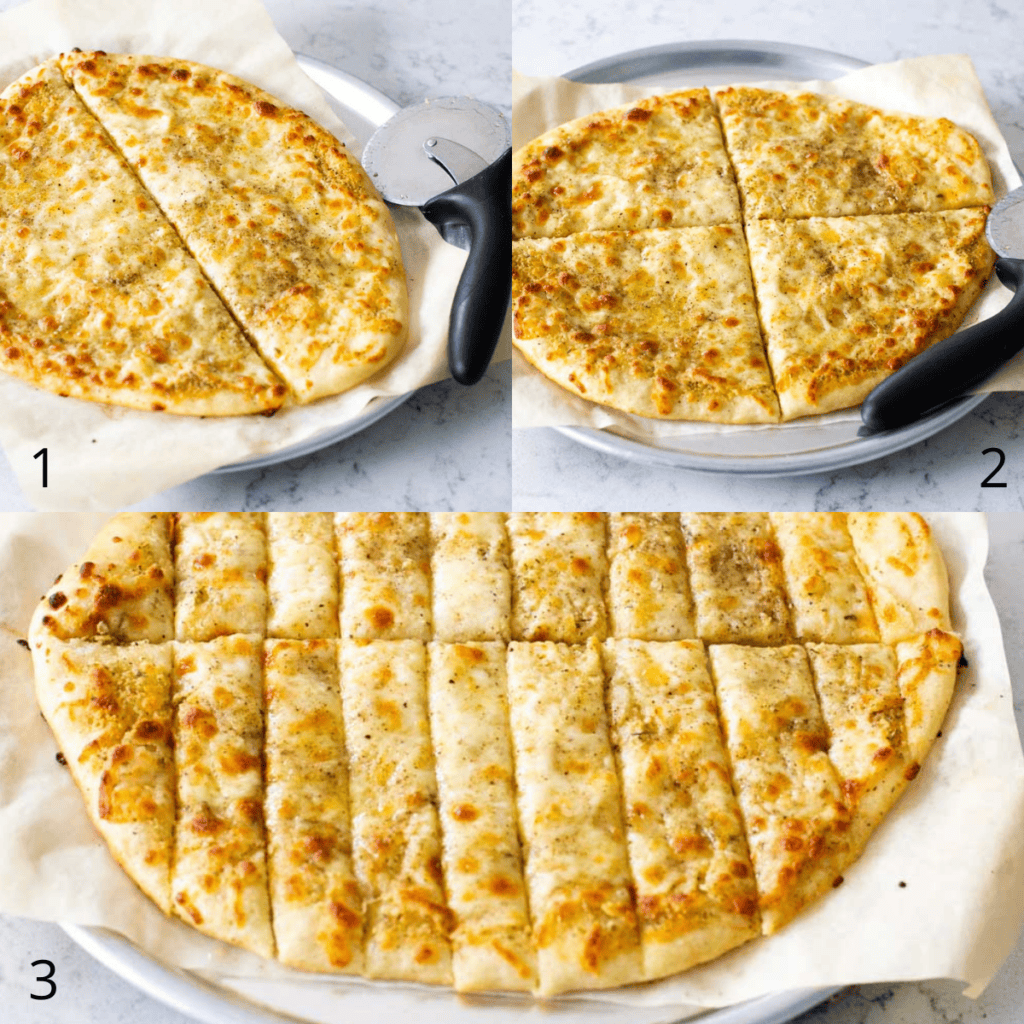 Cut the pizza in half down the center.
Rotate the pie a quarter turn and cut in half again.
Using the center cuts as your guide, cut the pizza into long, skinny rectagular pieces about 1.5-inch thick.
Serving Tips
Pokey sticks were usually delivered with takeout cups of marinara sauce or ranch dressing for dunking.
We loved them warm and fresh. We also devoured them cold straight out of the fridge.
You can make that choice depending on the level of college memory accuracy you're trying to achieve. Ha!
Recipe FAQs
Can I use canned pizza dough instead of fresh?
While I love the canned bread products that brands like Pillsbury and Trader Joe's make, this recipe is best with a fresh pizza dough if you want that college delivery pizza texture. However, the garlic butter topping would still be absolutely delicious on whatever dough you use to top it.
Why is fresh mozzarella better than pre-shredded mozzarella?
The bags of pre-shredded cheeses from the grocery store are treated with a special ingredient to prevent caking in the bag. That ingredients prevents a smooth melt like the fresh mozzarella can.
What is white pizza?
White pizza is usually made without tomato sauce and has a garlic sauce base. While this recipe is very similar to a white pizza there are two key differences:
1. White pizza has significantly more cheese than this recipe.
2. White pizza is cut into triangles and this is served as a bread stick.
More Pizza Recipes You'll Love
If you've tried this homemade pokey sticks or any other recipe on PeanutBlossom.com please don't forget to rate the recipe and let me know where you found it in the comments below. I love hearing from you!
FOLLOW along on Instagram @peanut.blossom as well as on Pinterest and Facebook.