White garlic pizza sauce is perfect for topping a white chicken pizza or spinach and garlic pizza. Made with just 4 ingredients and done in 10 minutes, this is a delicious variation for homemade pizza night.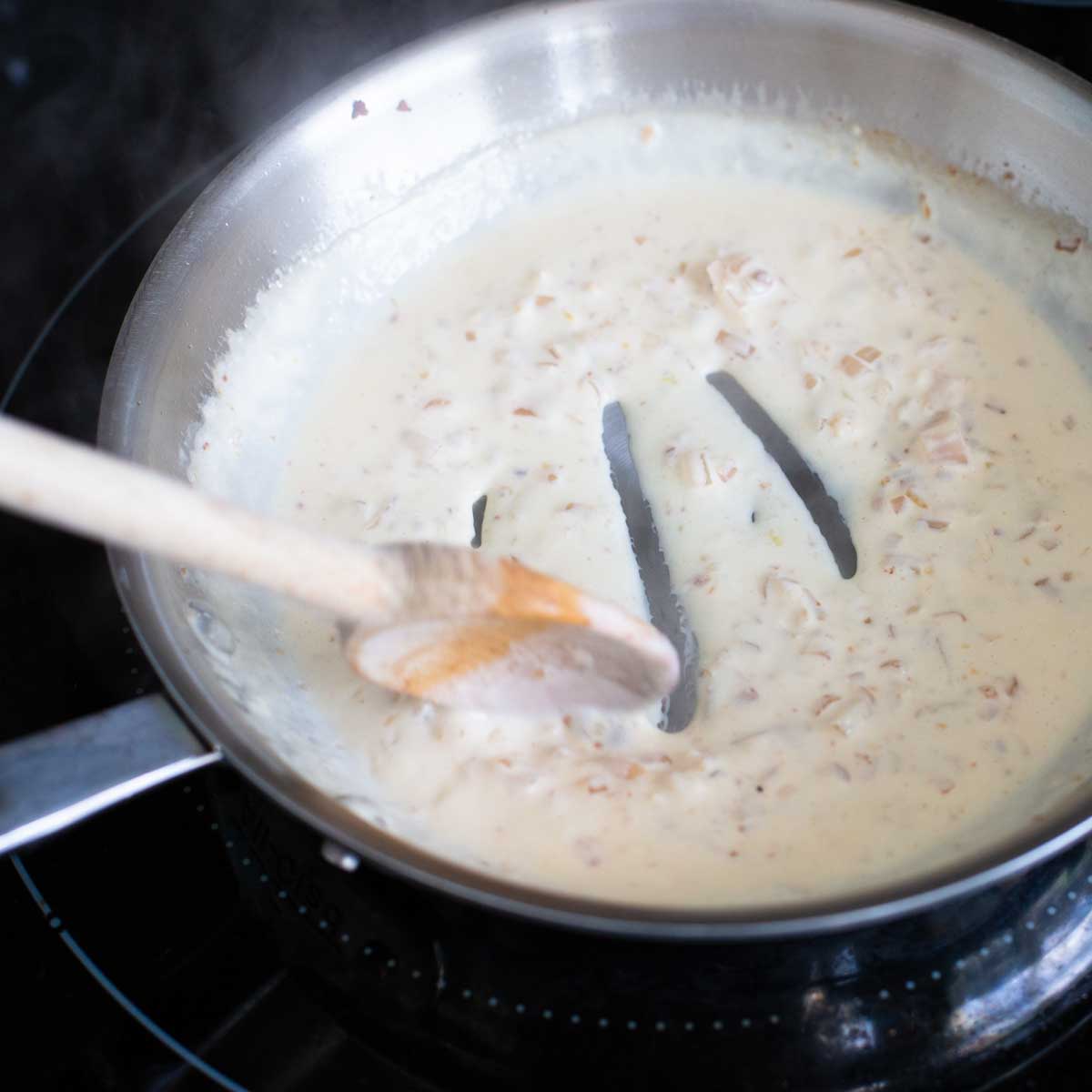 As much as I love a classic tomato based pizza sauce, sometimes you want to mix things up and use a white garlic sauce base instead.
Maybe you're making a white chicken pizza or want a garlic sauce for making a spinach and broccoli pizza, also known as a spinoccoli.
Sometimes people have aversions to tomatoes or even a tomato allergy. In these instances, the white garlic pizza sauce is the perfect substitution.
Ingredients
With just 4 simple ingredients, this white pizza sauce is so easy to make!
All you need is:
Pancetta: This is an Italian style bacon that comes cubed near the deli section of the grocery store. If you want, you can substitute 2 strips of American style bacon.
Fresh Shallot: This is a very mild onion. If you can't find one, you can substitute a sweet onion.
Minced Garlic
Heavy Cream: The thick, rich, heavy cream is what makes this white sauce so delicious. If you don't have cream, you could use ¼ cup minus 2 tablespoons of milk and add 2 tablespoons of butter.
Vegetarian Substitution
For a vegetarian white sauce, skip the bacon altogether and just use olive oil in place of the pancetta drippings.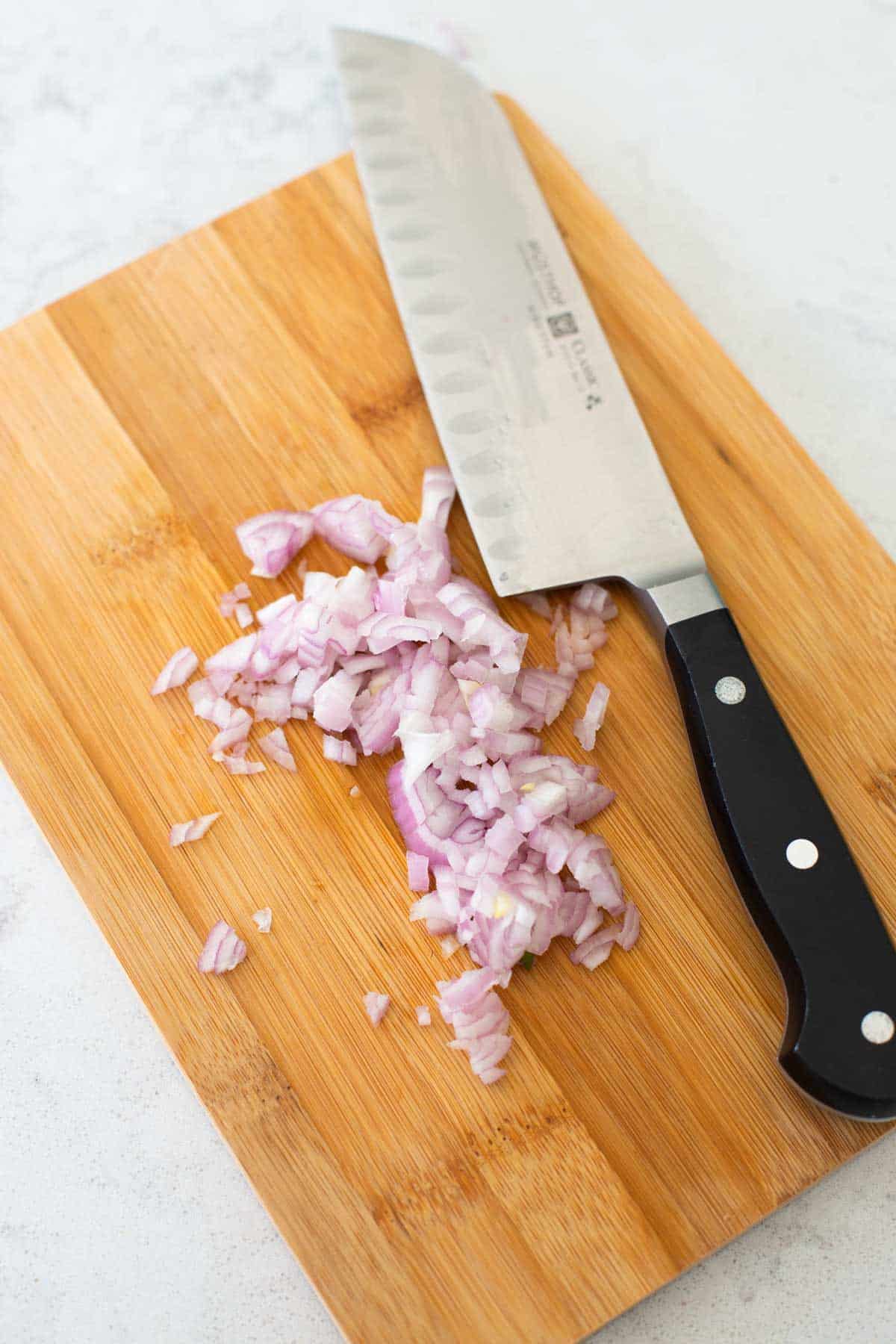 Brown the Pancetta
The first step is to brown the pancetta in a small skillet.
You don't need to add any oil to the pan, as the pancetta cooks, the fat will render from the meat and coat the skillet.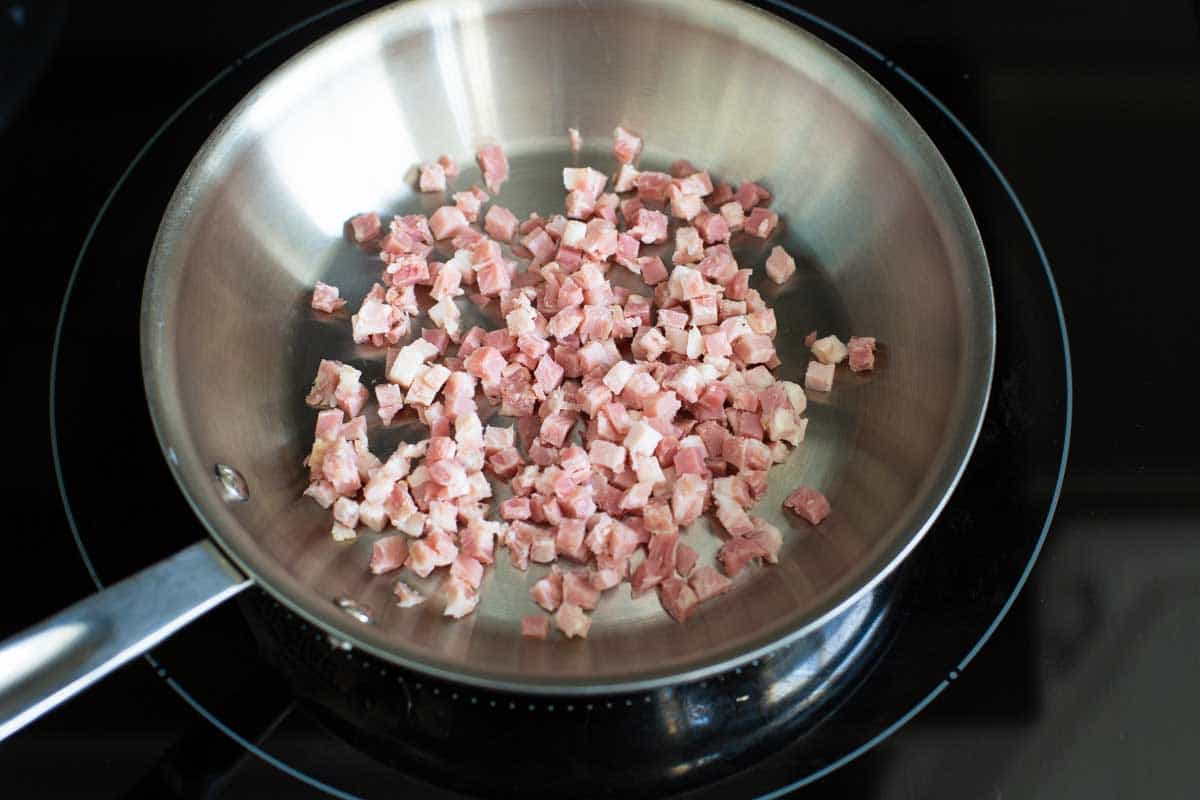 After 5 minutes or so, the pancetta will be browned and crispy. Use a slotted spoon to transfer the pancetta to a plate lined with paper towel to drain.
Leave the pancetta drippings in the skillet.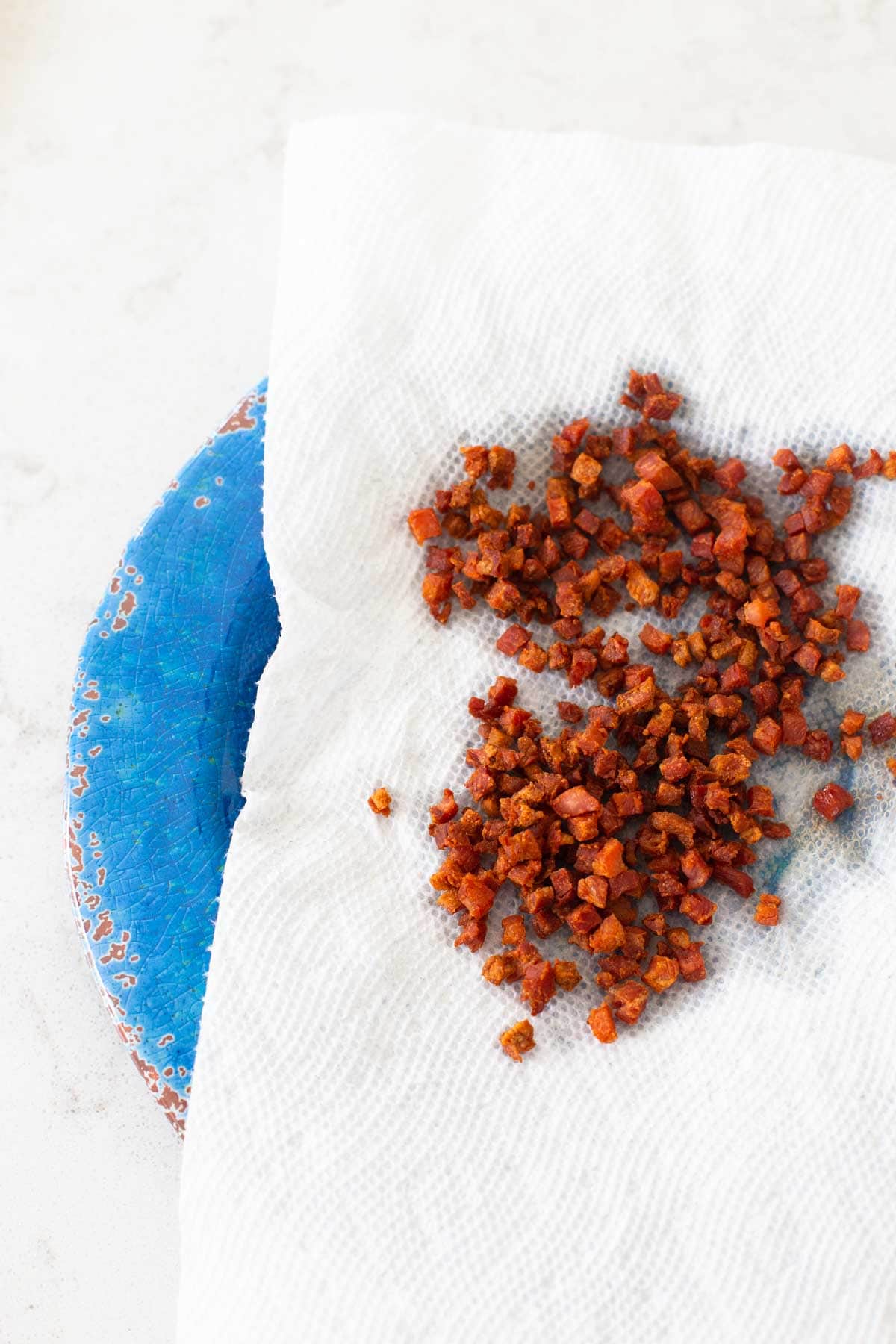 Finish the White Sauce
Add the chopped shallot and minced garlic to the hot skillet and stir them together.
Cook for 3 - 4 minutes or until softened.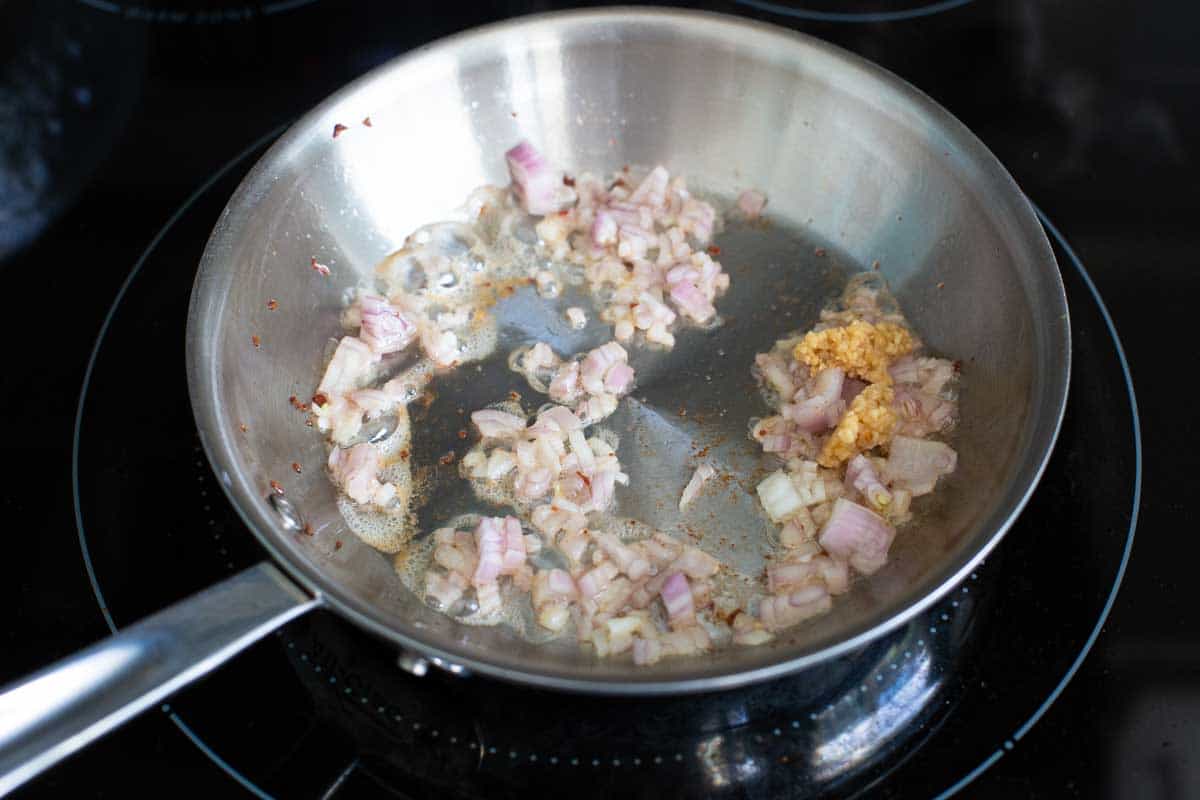 Pour in the heavy cream and cook for 2 more minutes or until the cream has thickened enough to leave trail lines when you scrape your spoon along the bottom of the pan.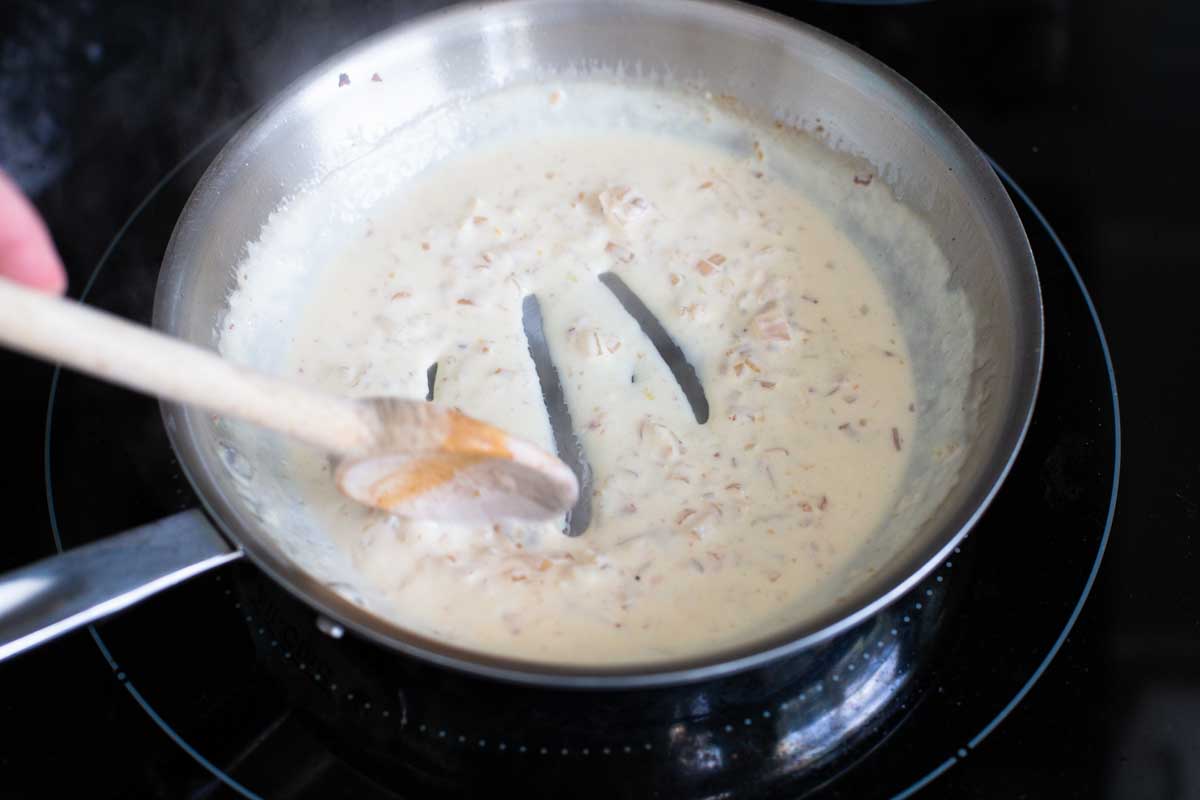 Remove from the heat and set aside until ready to spread on your pizza crust.
How to Top a White Sauce Pizza
I always use my favorite bread maker pizza dough recipe for homemade pizza.
This white sauce recipe is enough to make one pizza from half a batch of the pizza dough recipe.
If you want to make two pizzas, you'll have to double this sauce recipe.
I roll out the pizza dough on parchment paper.
Brush olive oil along the outer edge of the pizza, making a 1-inch border all around.
Then use a spoon to spread the white garlic sauce all over the center of the pizza like this: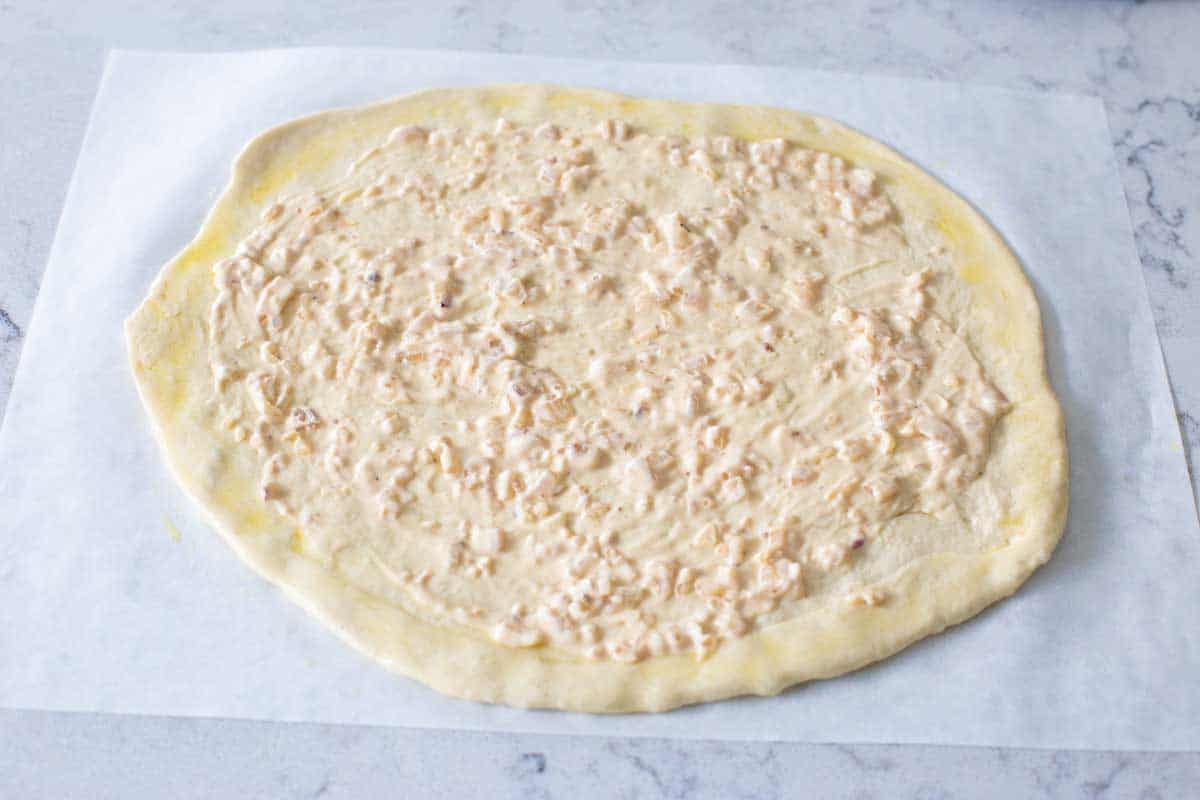 Now your pizza is ready for all kinds of delicious topping ideas!
If you never tried a white garlic sauce pizza before, I recommend experimenting with these delicious pizza toppings:
Spinach & Broccoli Spinoccoli Pizza: Use shredded mozzarella, cheddar, baby spinach, and chopped broccoli
Roasted Vegetables: Several leftover roasted vegetables from previous dinners would pair well. Try roasted zucchini, peppers and onions, eggplant, etc.
Jerk Chicken: Caribbean seasoned meats like Jerk chicken or seasoned pulled pork would pair well with a white sauce pizza.
Fancy Cheeses: White sauce is perfect if you want to try topping your pizza with specialty cheese like goat cheese, blue cheese, or a fresh mozzarella.
Fresh Peaches and Basil: My favorite peach pizza recipe uses this white garlic sauce as a base.
Storage Tips
This white sauce is best used on a pizza right away but if you want to help make dinner go a little faster it can be prepared up to 24 hours in advance.
Store it in an airtight container in the fridge. You may need to reheat it in a small saucepan on the stove top to get it to the right consistency for spreading over your pizza dough.
📖 Recipe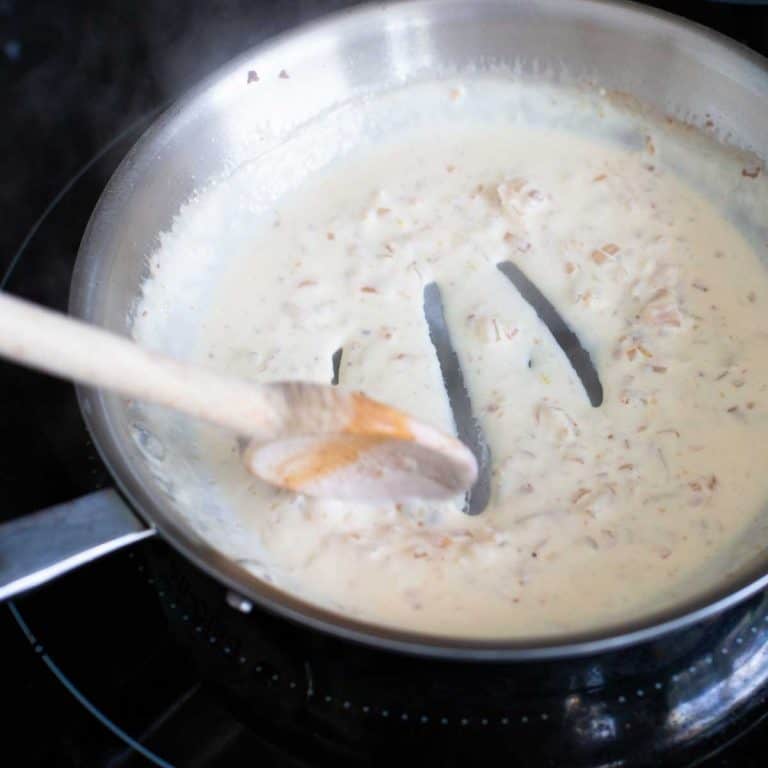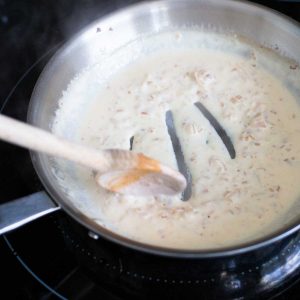 White Garlic Pizza Sauce
This easy white garlic pizza sauce is perfect for homemade white chicken pizza or spinoccoli pizza. For a vegetarian version, skip the pancetta and substitute just 2 tablespoons of olive oil.
Ingredients
2

oz

diced pancetta

1

shallot

minced

2

teaspoon

minced garlic

¼

cup

heavy cream

Salt & Pepper to taste
Instructions
In a small skillet, brown the pancetta for 5 minutes over medium-high heat.

Use a slotted spoon to transfer the crispy bacon bits to a plate lined with paper towels to drain.

Saute the shallot and garlic in the pancetta drippings over low heat until softened.

Add the heavy cream and stir until the cream has thickened, about 3 minutes. Remove from the heat and set aside until ready to top your pizza.
Save This Recipe to Your Recipe Box
Find this delicious recipe next time you visit by saving it to your very own recipe box on my site. All your favorites stored in one easy place!