This easy air fryer jerk chicken recipe is a quick dinner idea for serving with rice or sweet potatoes but could be chopped for quesadillas or prepped and frozen for an easy freezer meal.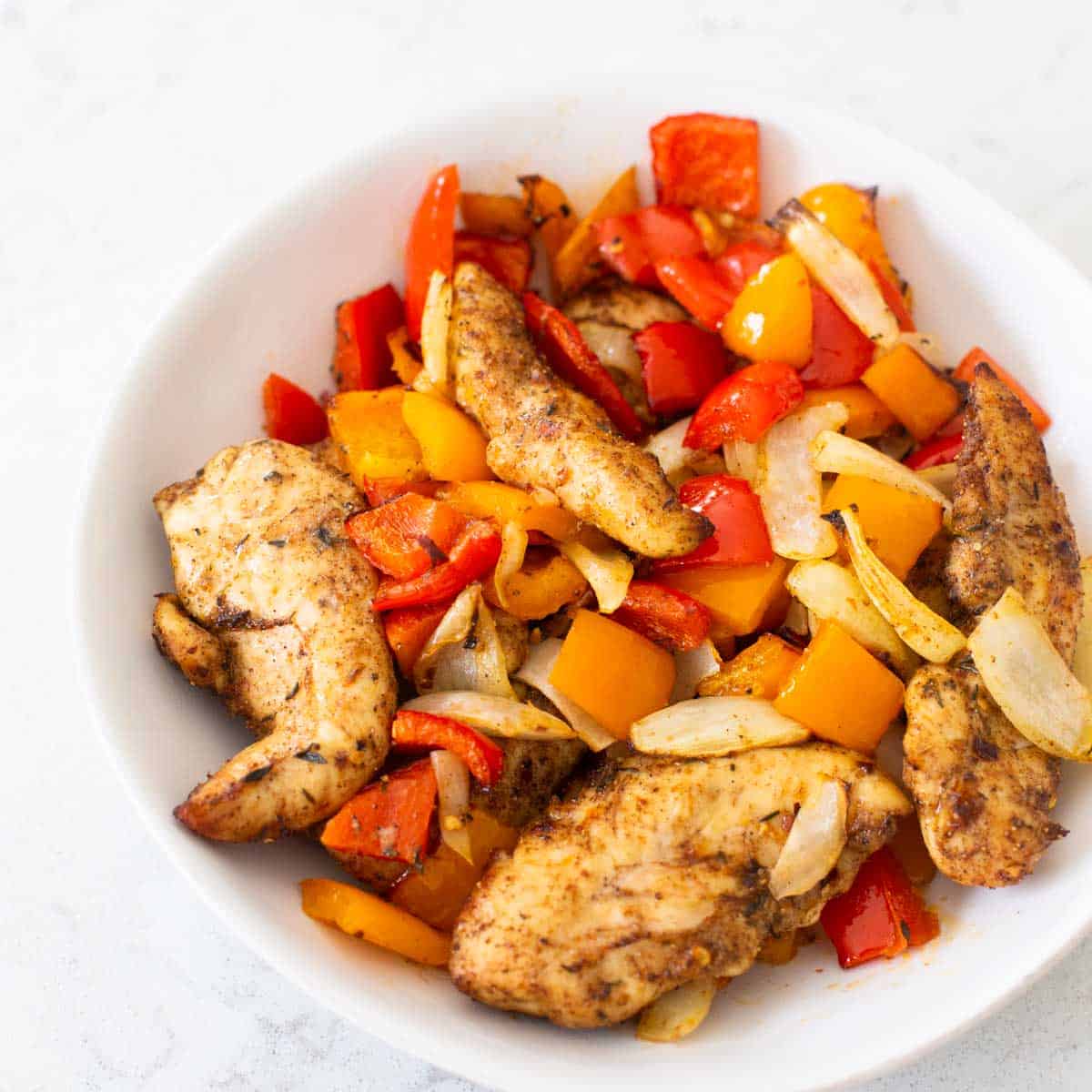 Jerk chicken is one of my favorite meals to find on a restaurant menu. I've always loved the slightly spicy-sweet flavor of the jerk seasoning and how well it pairs with my other favorites like pineapple and bell peppers.
This easy air fryer jerk chicken is a wonderful make ahead freezer meal.
You can cook the chicken and vegetables and freeze them for topping one of your favorite rice or pastas.
But I love to chop the chicken and peppers for quesadilla filling and freeze them in small bags for making a batch of quesadillas later in the week.
Jump to:
Why This is the Best Recipe
Some jerk chicken recipes are very involved with lots of ingredients but this recipe is the best because it has such a short list of things you need to make it.
It also can be prepped in just 5 minutes and cooks in under 20 minutes in either the air fryer or in your oven.
This flexible recipe can be turned into a long list of easy dinner ideas.
Don't miss my serving suggestions and jerk chicken dinner recipes below!
Ingredients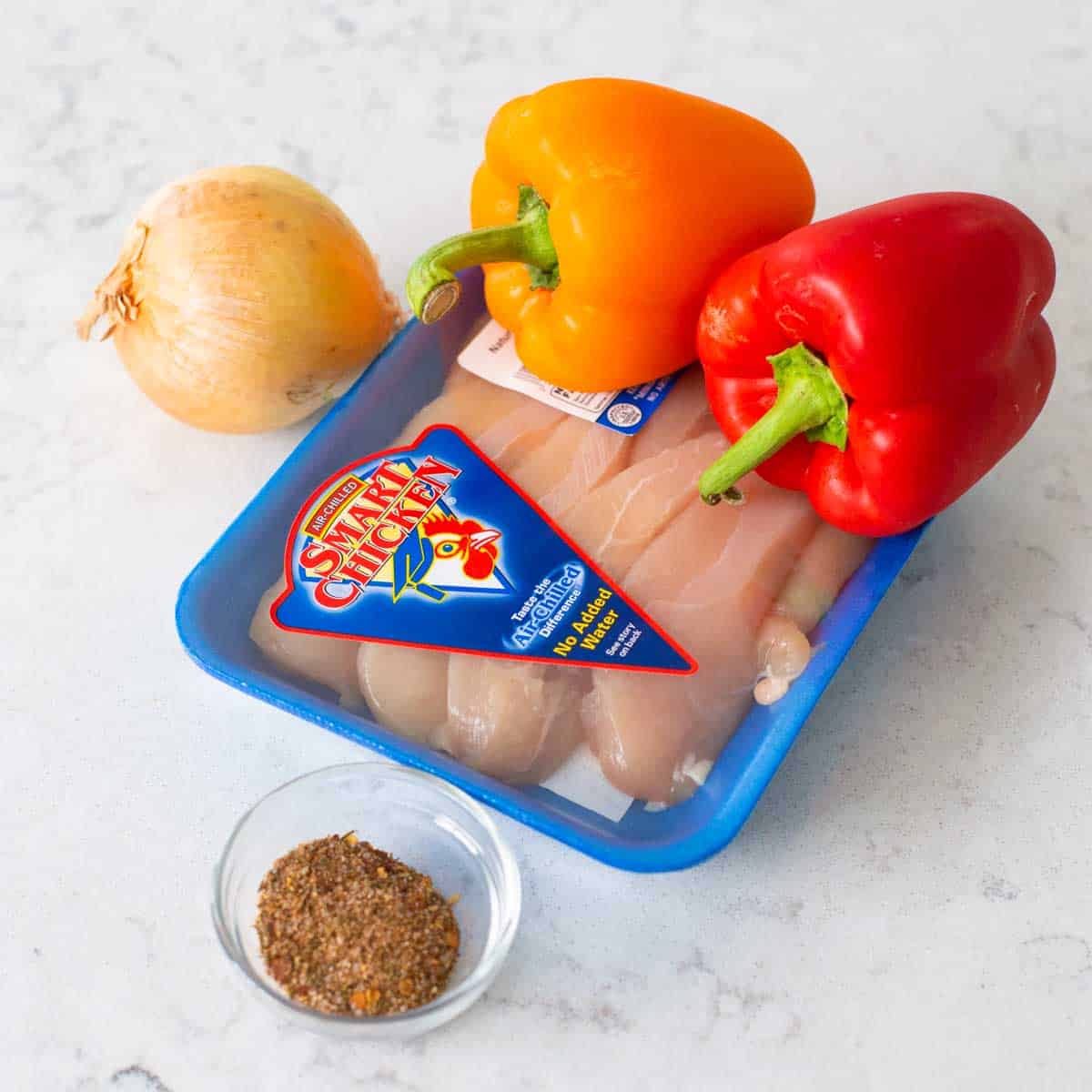 All you need to make this easy dinner is:
Chicken Tenderloins: You could substitute chicken breasts but be sure to cut them into chunks or strips so they cook more quickly in the air fryer.
Bell Peppers: Any color will do but try to include at least one red pepper for sweetness and color.
Onion: A sweet vidalia onion would be amazing, but any onion will do.
Caribbean Jerk Seasoning: You can buy this as a pre-mixed spice blend at the grocery store or you can mix up a batch of my homemade Caribbean jerk seasoning recipe in just minutes.
Olive Oil
Season the Chicken & Veggies
Grab your Caribbean jerk seasoning blend--either the store bought jar or your homemade mix.
Place the chicken in a large mixing bowl.
Drizzle the olive oil over the top and toss gently with a fork or tongs to coat.
Sprinkle the jerk seasoning over the top and gently toss again.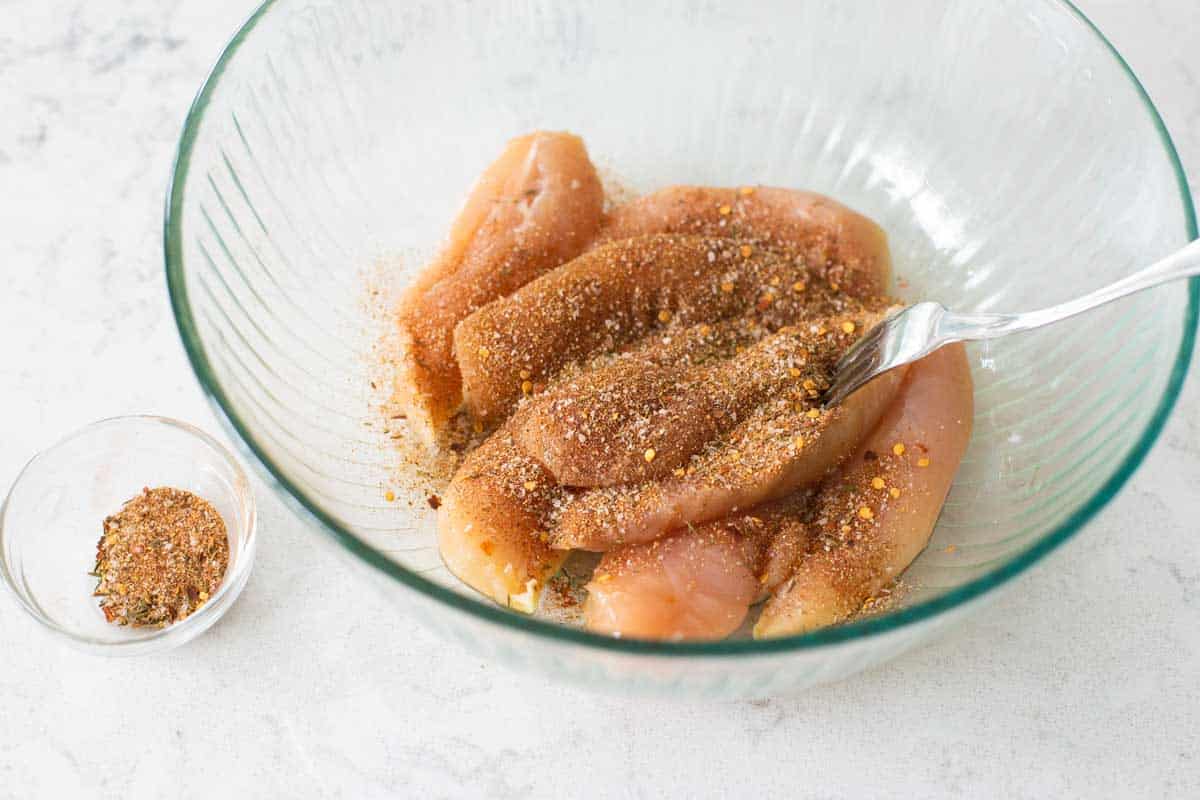 Chop the bell peppers and onion into large chunks.
Thinner strips will cook too quickly and be done before the chicken is. A thicker chunk will need more time and cook at the same rate as the chicken.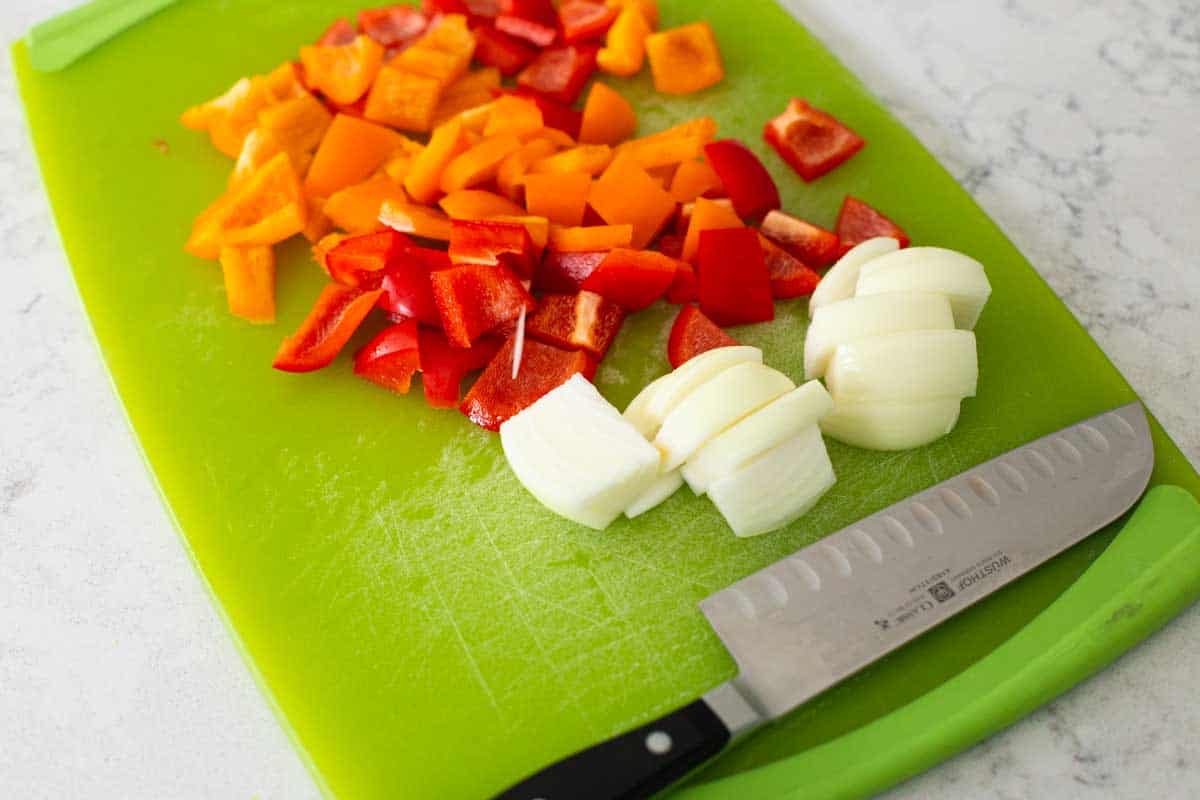 Add the vegetables to the mixing bowl and toss to coat in the oil and seasonings.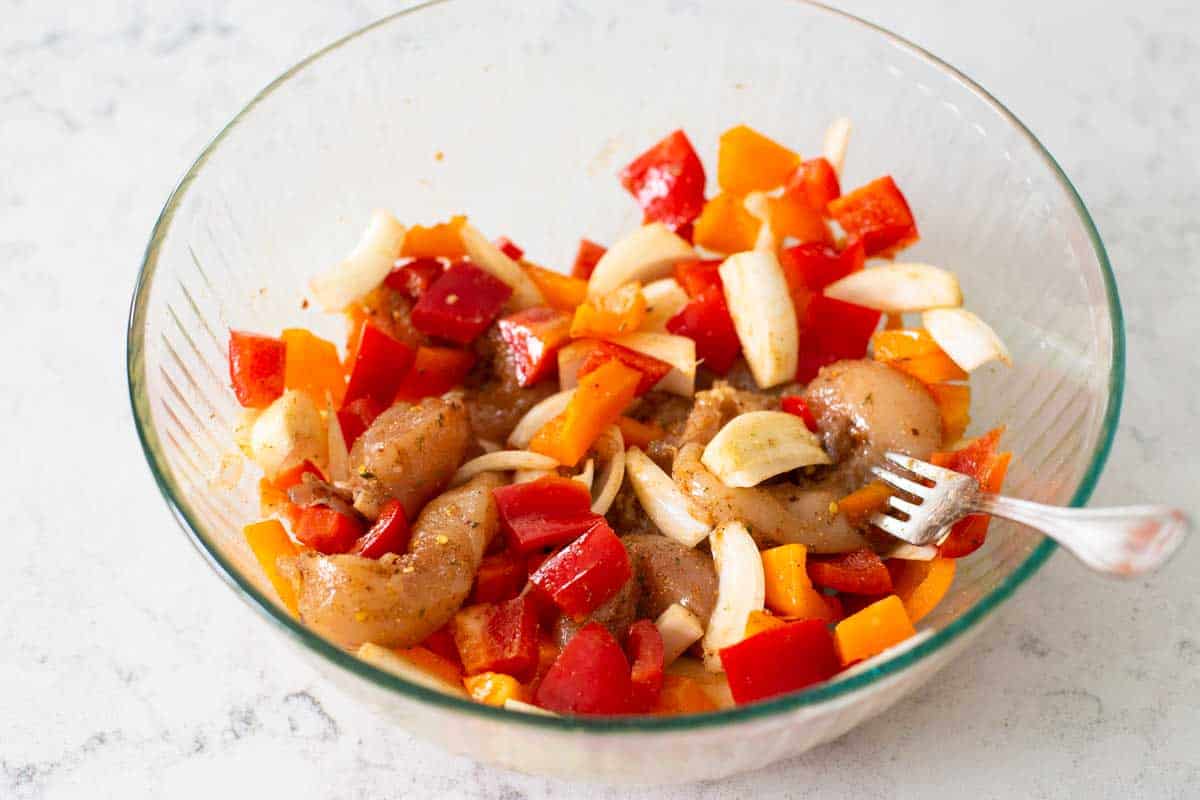 How to Cook in the Air Fryer
Preheat the air fryer to 400°F for 5 minutes.
Pour the chicken and veggies into the basket and shake the basket to spread them in an even layer.
Cook for 10 minutes.
Turn the chicken over, toss the veggies, and cook for another 10 - 12 minutes or until the chicken registers 185°F and the veggies have begun to char.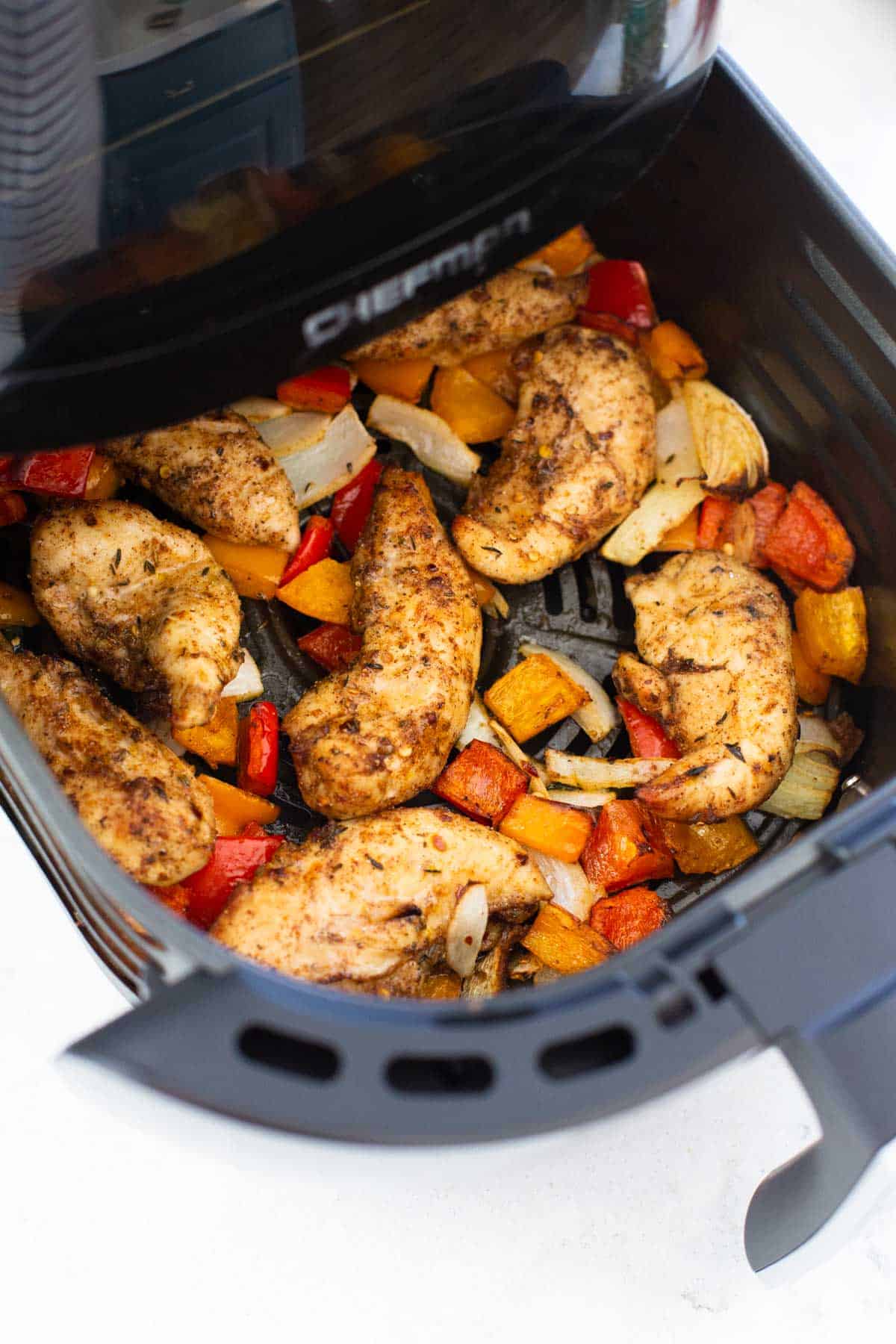 How to Cook in the Oven
If you prefer to cook the jerk chicken in the oven, preheat your oven to 400°F.
Spread the chicken and peppers in an even layer on a large baking sheet.
Bake for 20 minutes, turning the chicken and tossing the veggies half way through.
The chicken should register 185°F on a thermometer and the veggies should being to char.
How to Serve the Jerk Chicken
There are so many easy dinner ideas you can make with the cooked jerk chicken.
You can leave the chicken tenderloins whole and serve them over a rice or pasta dish, or you can chop them up into chunks to sprinkle over a variety of dishes.
Here are some of my favorite jerk chicken recipe ideas:
Jerk Chicken Quesadillas
Chop up the chicken and peppers and use them to make homemade jerk chicken quesadillas.
Plus, learn how to cook quesadillas family-style here.
Jerk Chicken Salad
Use the cooked jerk chicken as a dinner salad topping.
Layer your favorite salad greens, add the chopped jerk chicken and peppers over the top, add a sprinkle of this chunky corn salsa and a drizzle of cilantro lime ranch dressing.
Alternatively, you could pair the jerk chicken with my favorite citrus salad.
Jerk Chicken Side Dishes
If you want to use the jerk chicken as it is made in this recipe, you could simply add it to a bowl of jasmine rice for an easy jerk chicken rice bowl.
It would also pair well with my favorite lemon butter pasta and add a nice dose of protein to the meal.
You could bake a pan of my make ahead sweet potato casserole in the oven while the chicken cooks in the air fryer. I always have an 8x8-inch dish in the freezer ready to go!
Vegetables that Pair Well
If you want to add an easy vegetable side dish with your jerk chicken, it pairs really well with roasted pineapples that can be added right to the air fryer or oven when you bake the chicken.
You could also add roasted cherry tomatoes to baking pan if you make the chicken in the oven. They don't do as well in the air fryer.
Make Ahead and Freezer Tips
If you want to turn this into a freezer meal, you have two options:
Prep the Chicken and Peppers in the Marinade and Freeze
Cook the Entire Recipe and Freeze the Cooked Chicken
I strongly prefer cooking the chicken first and then freezing. It's been my experience that raw peppers don't freeze as well as cooked ones do.
I chop the chicken and peppers into smaller pieces like this: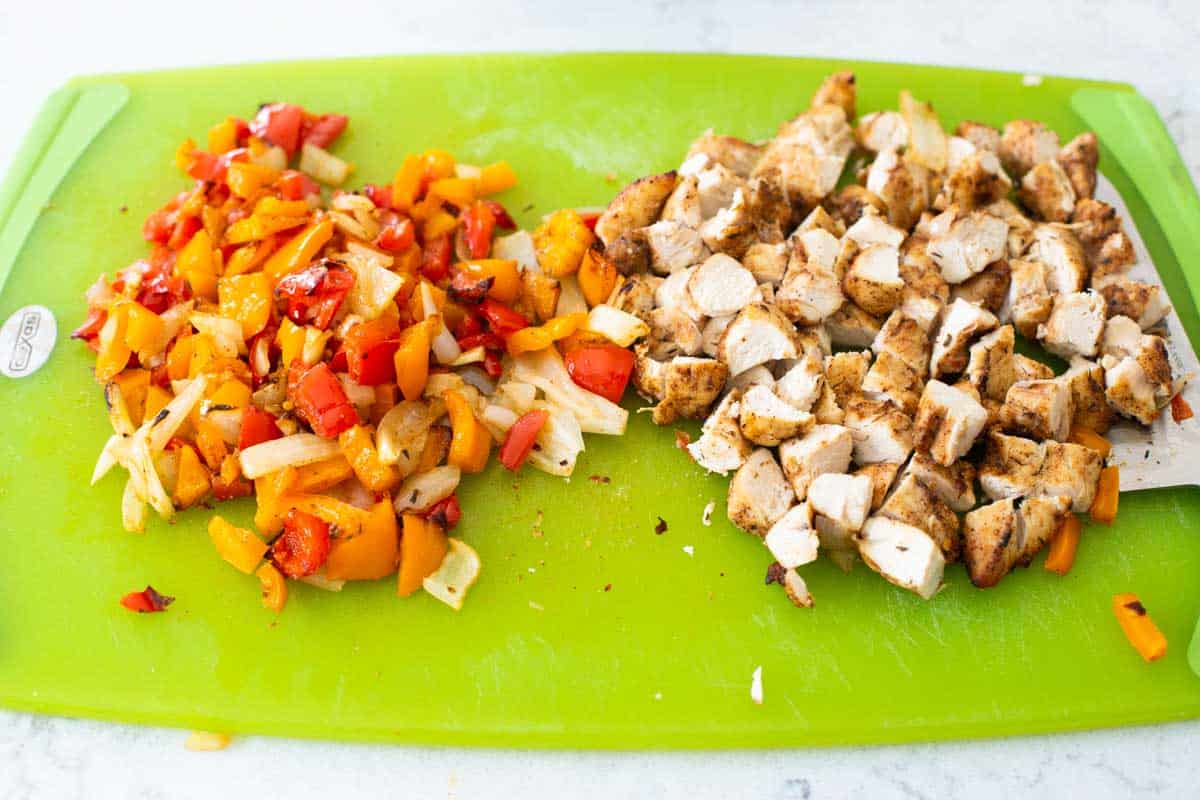 And then I stir them together and freeze in smaller portions for making individual dinner batches of quesadillas later.
One batch of this recipe will be enough to make two batches of quesadillas, so simply divide the chicken mixture in half and freeze.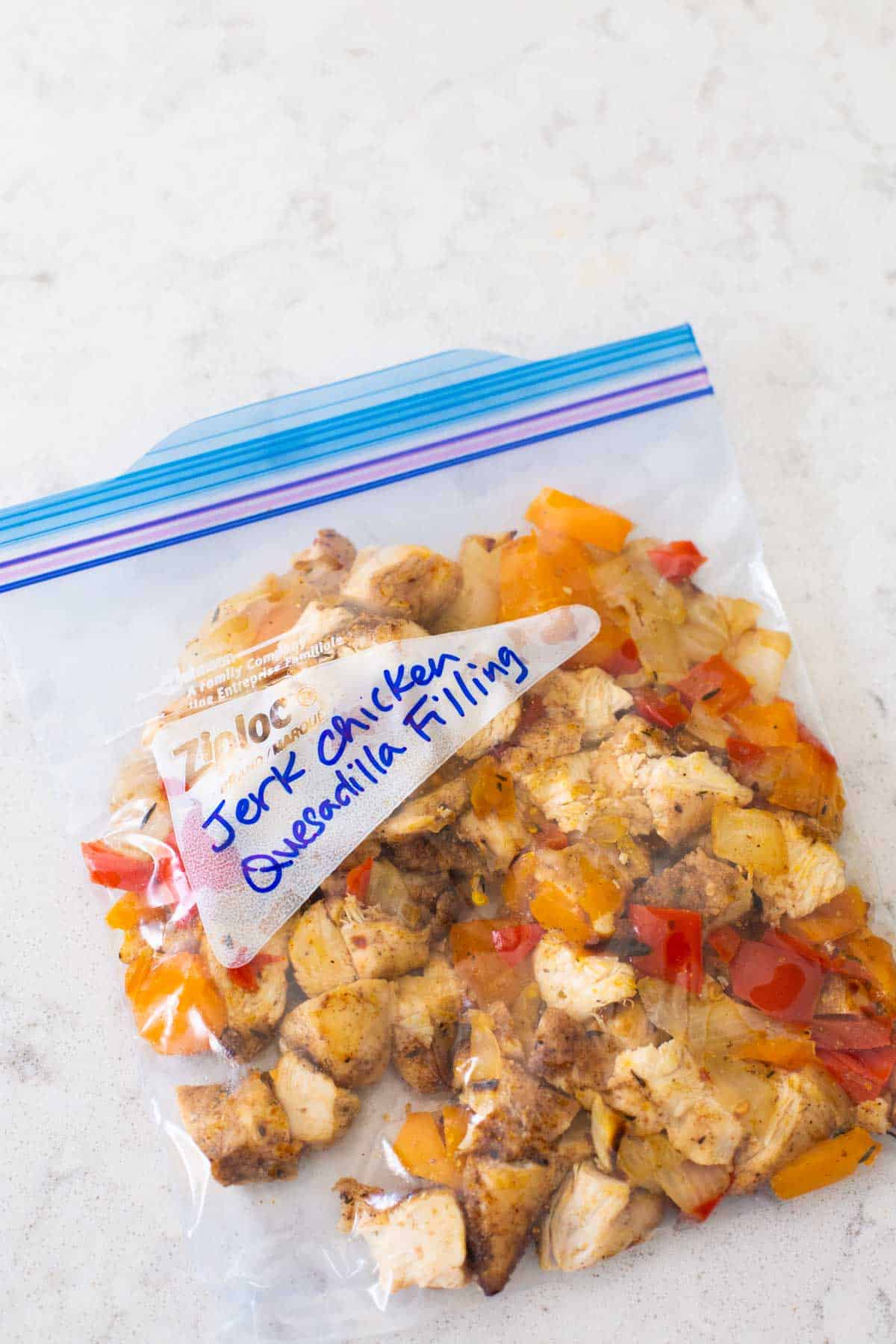 Thaw the chicken filling in the freezer overnight or reheat it gently in the microwave before adding it to your recipe.