This make ahead sweet potato casserole is the perfect holiday side dish for smaller families. When you prep the dish, split it into 2 8x8-inch baking dishes. Bake one for Thanksgiving and freeze the second one for serving at Christmas. The buttery pecan topping has the most delicious crunch and texture!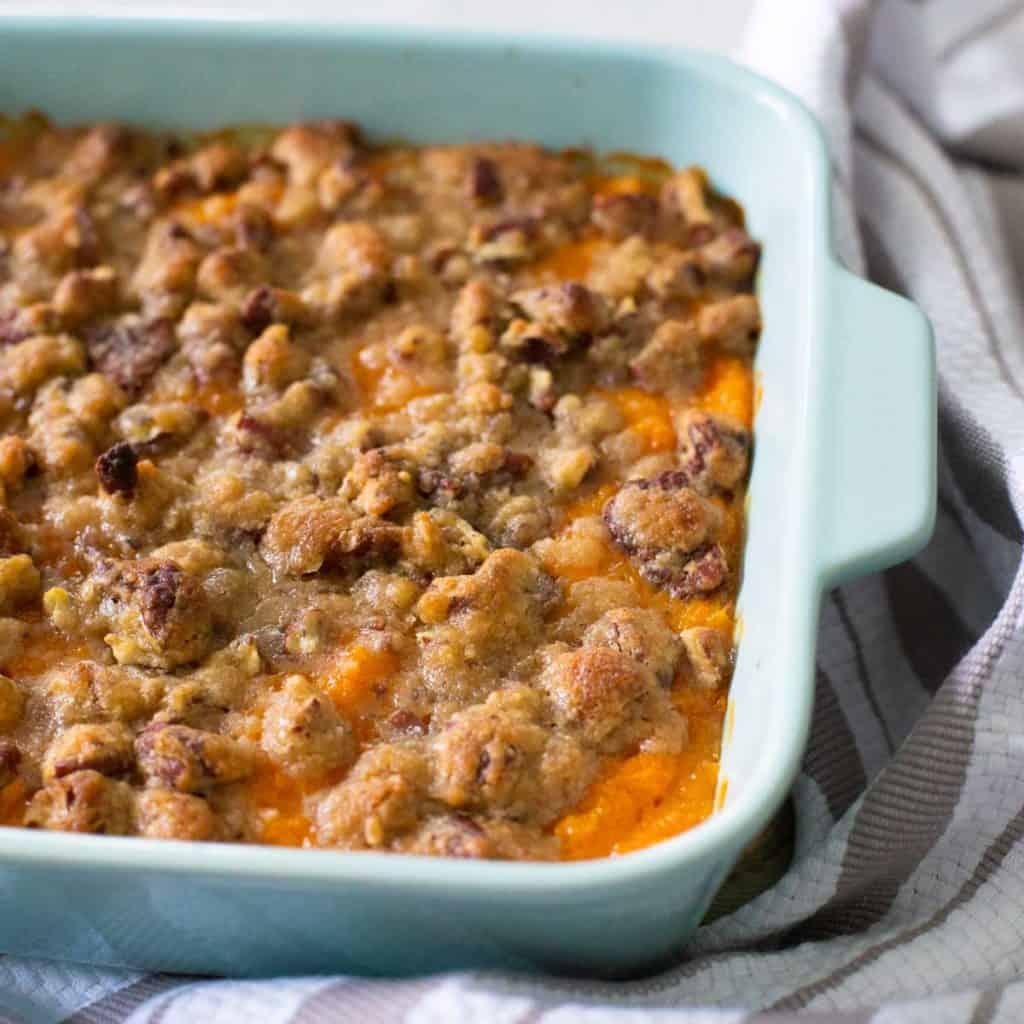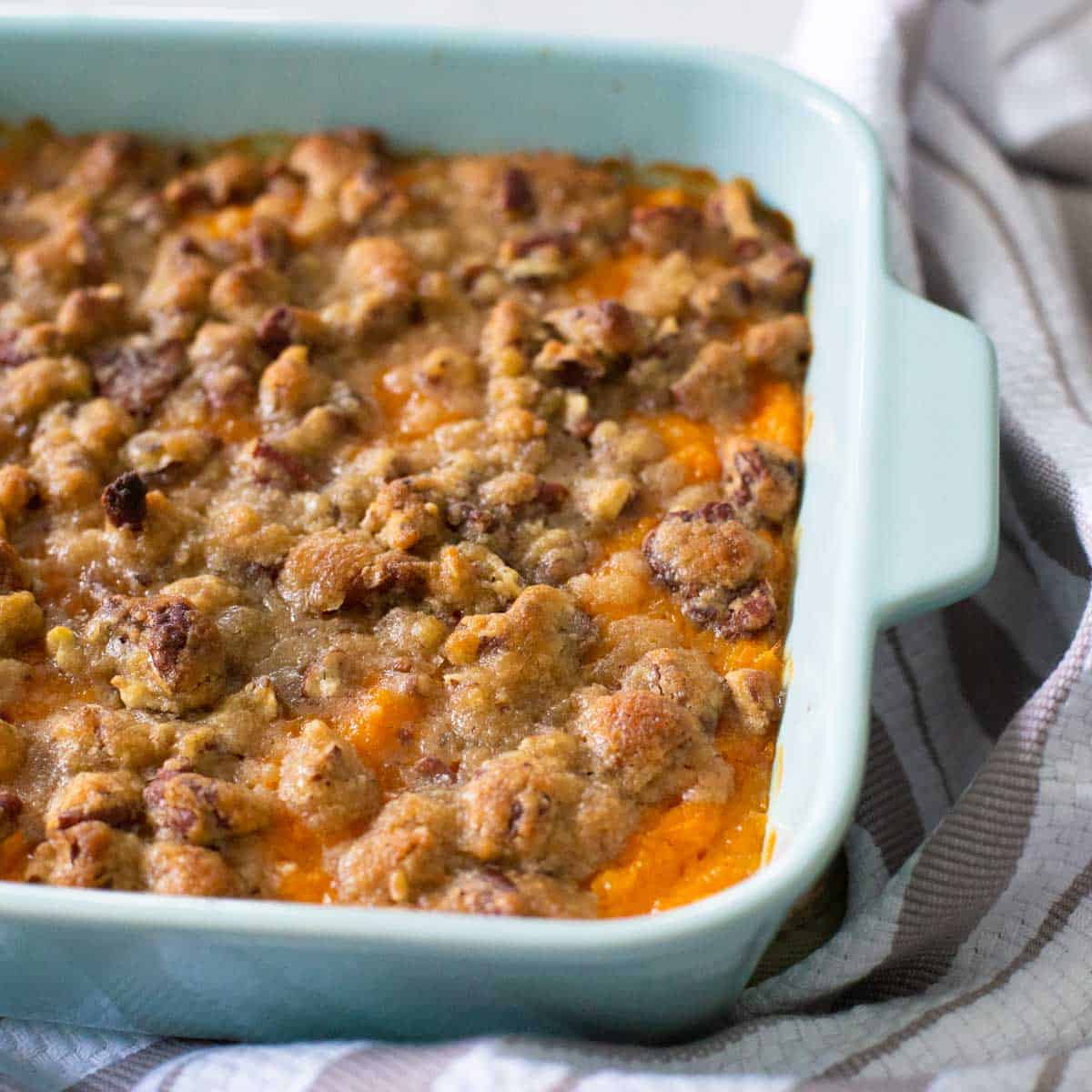 I didn't grow up with sweet potato casserole on our Thanksgiving menu, I discovered it later as an adult. Now this version is one of my all-time favorite dishes and I look forward to it every fall!
The problem is, we have a small family and our holidays often only find 5 - 7 people at our table. If I make the entire recipe at once, there is always too much leftover that ends up going to waste.
Several years ago, I decided to use my favorite make-ahead trick: Split the recipe into two baking dishes. Bake one now, freeze one for later.
So when Thanksgiving rolls around, I always prep this recipe and bake one pan right away to serve with the herb butter turkey and store the second pan in my freezer for an easy Christmas side dish with our favorite pineapple mustard glazed ham.
Jump to:
Ingredients
I love how simple the ingredients for this casserole are to find. You probably have most of it in your pantry right now.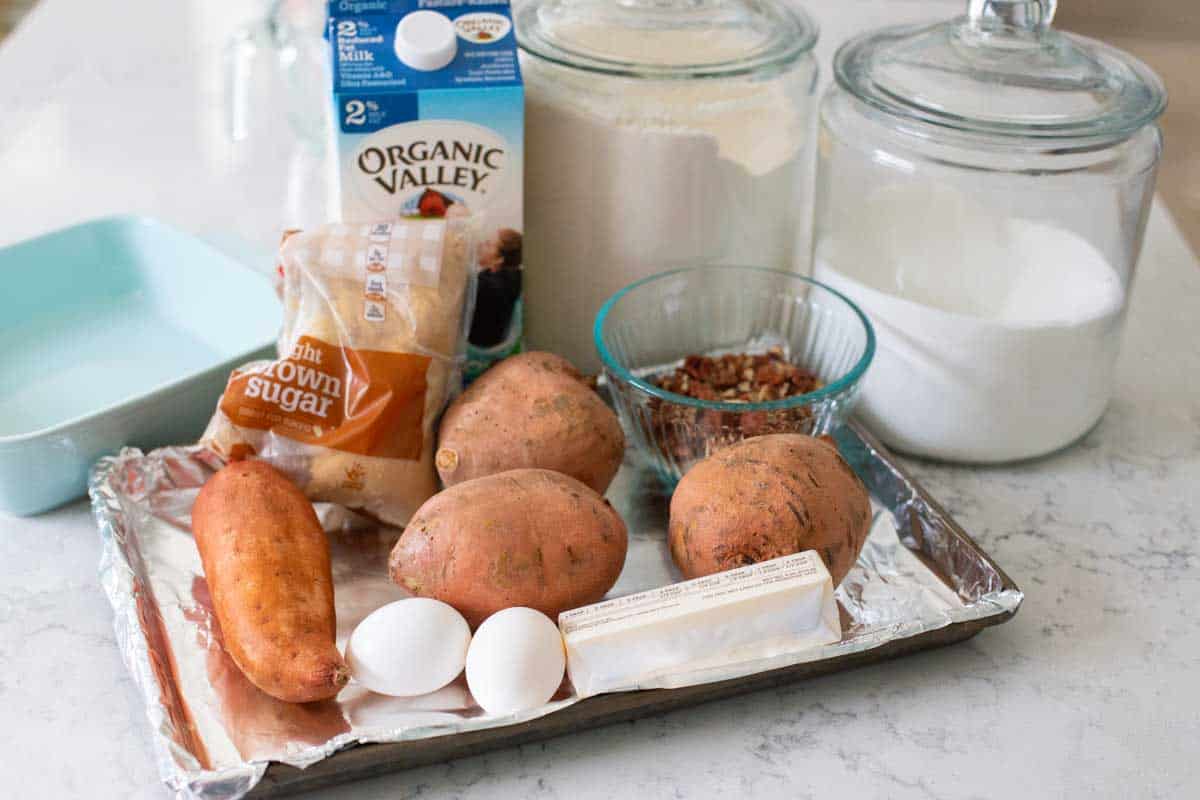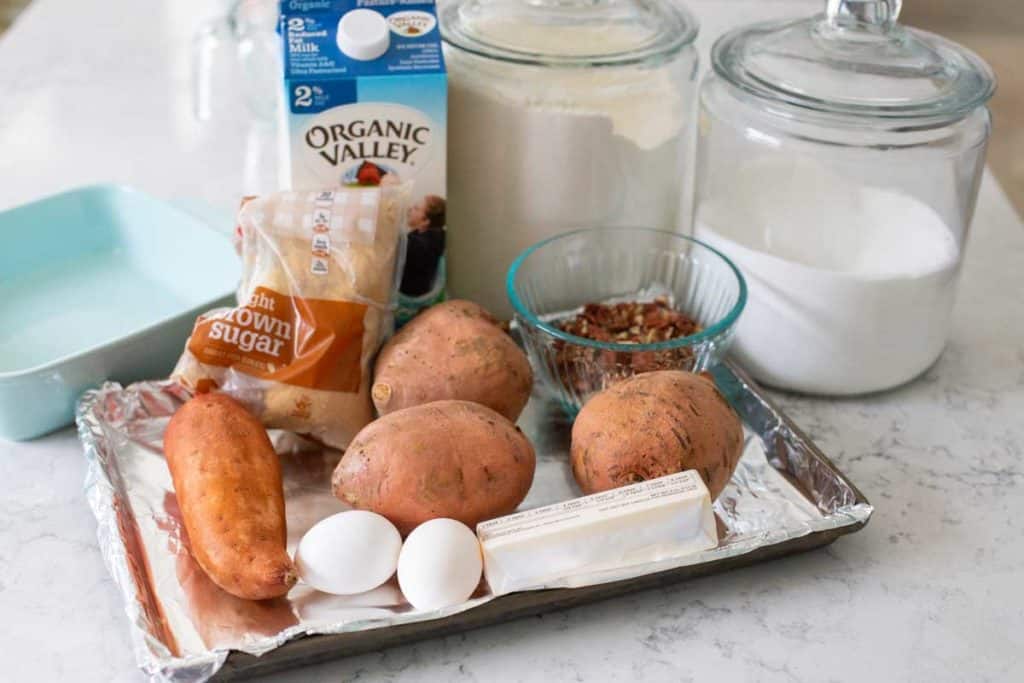 Sweet potatoes: Try to find ones that are similar shape and size so they bake evenly. That oddball on the left in the photo baked far quicker than the round ones on the right.
Sugar
Brown sugar
Flour
Milk
Butter
Eggs
Vanilla
Pecans
See recipe card for quantities.
Instructions
The first step is to bake the sweet potatoes.
To save time, you can do this step a day in advance of prepping the rest of the dish if you prefer.
It can also be done earlier in the morning on the day you prep it. In fact, cooler potatoes are easier to peel.
Preheat the oven to 375°F. Line a baking sheet with foil, the potatoes will release a very sticky liquid as they cook so this makes for easy cleanup.
Scrub the potatoes and prick them on all sides with a fork. Bake them for 30 - 45 minutes or until they are easily pricked with a fork.
To remove the skins: Slice the potatoes with a sharp knife. I can usually easily peel the skin away with my fingers. Otherwise, you can scoop out the flesh with a spoon.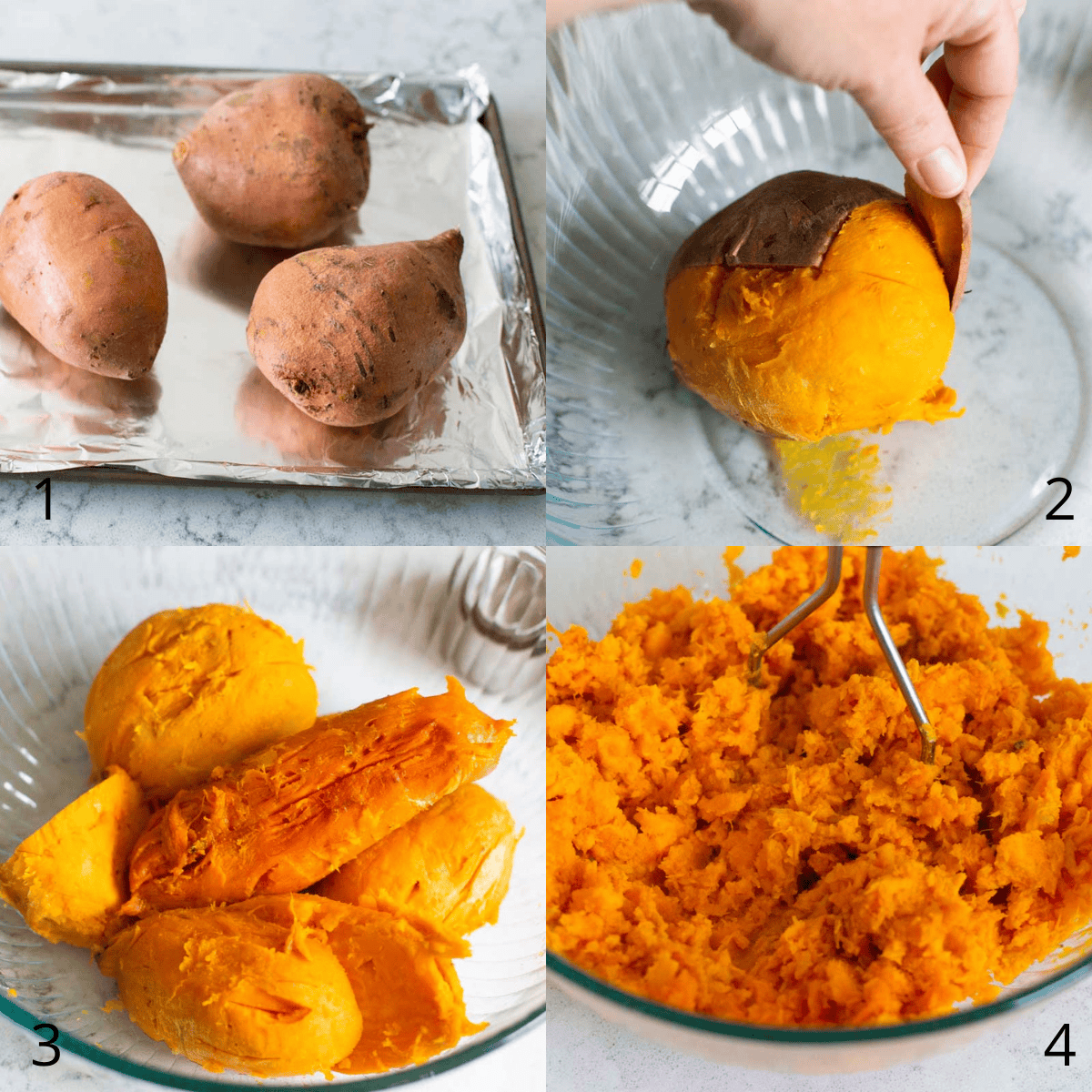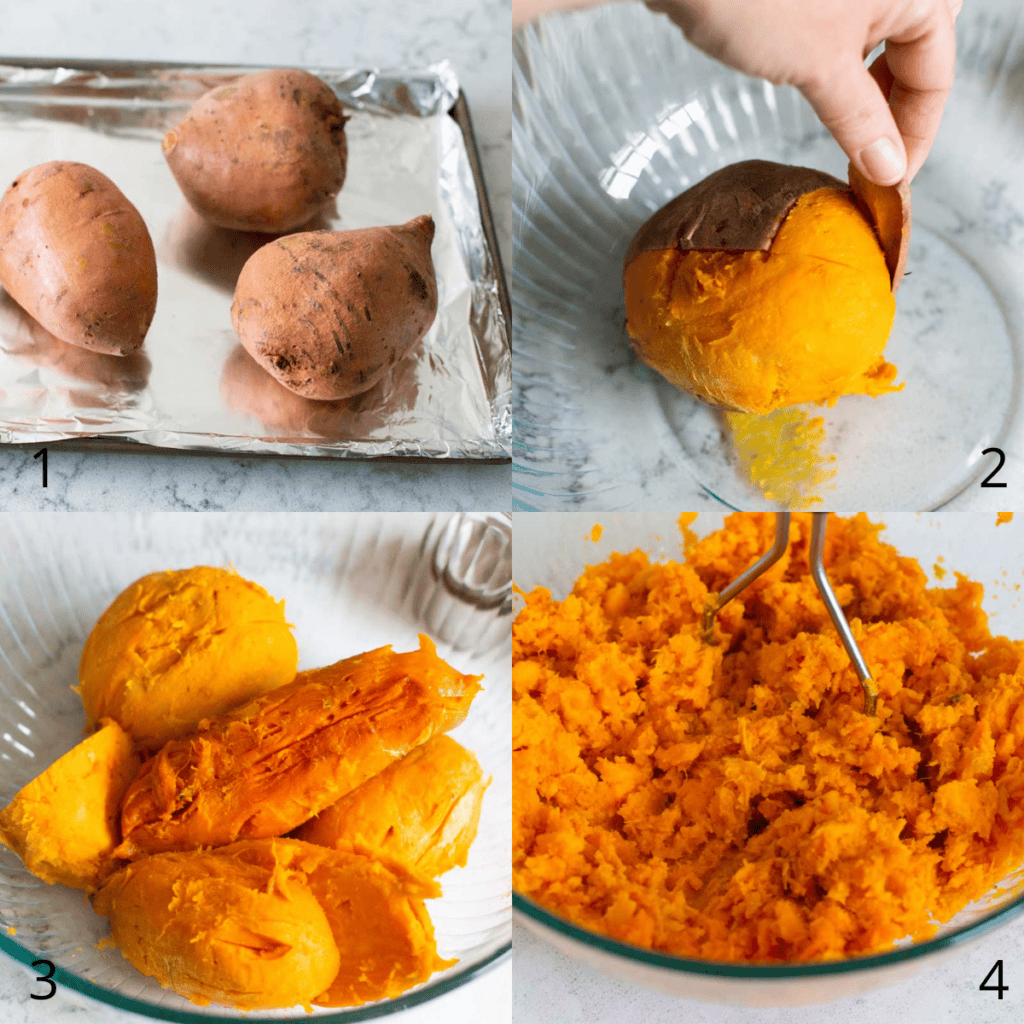 If your oven is full with other things for the holiday and you need a totally hands-off way to cook your sweet potatoes, you might also want to consider making slow cooker sweet potatoes.
They take a little longer to cook than the oven, but it is a great way to multi-task in the kitchen.
Add the peeled sweet potatoes to a large mixing bowl and give them a rough mash to get them started.
Then add the sugar, milk, eggs, vanilla extract, and salt to the mixing bowl and finish the mashing.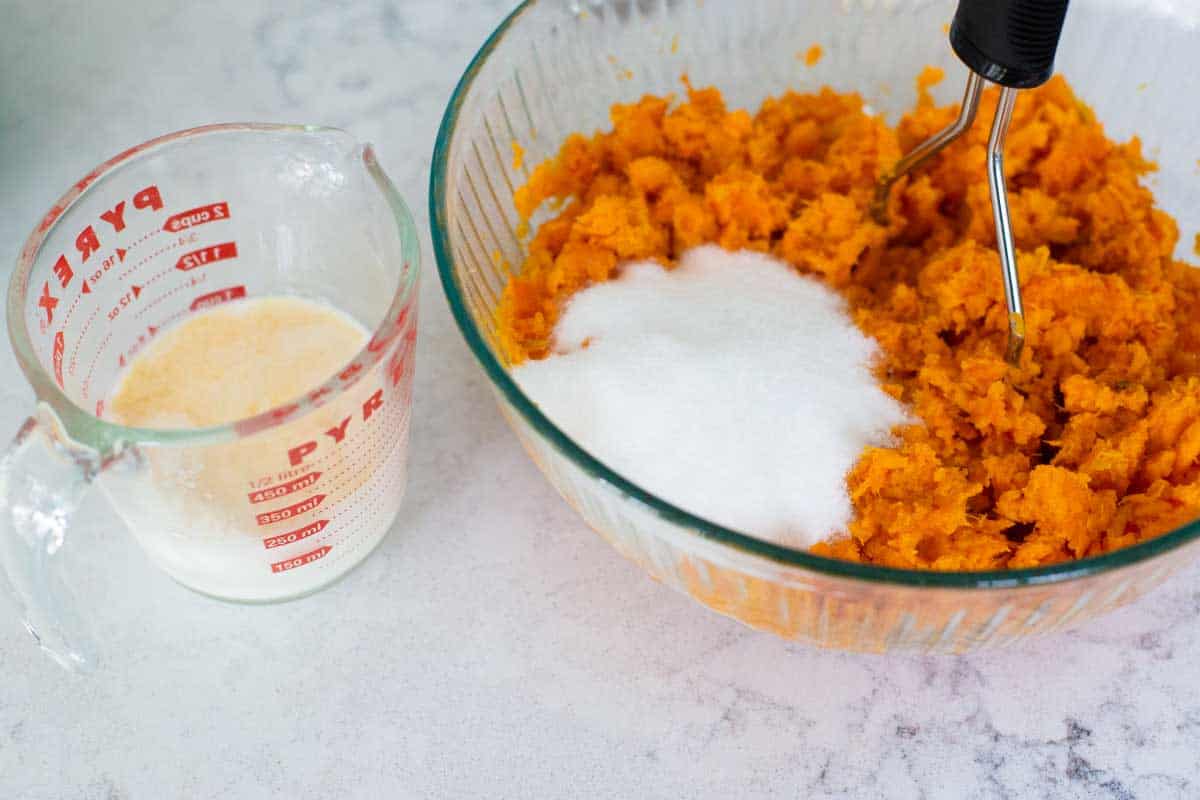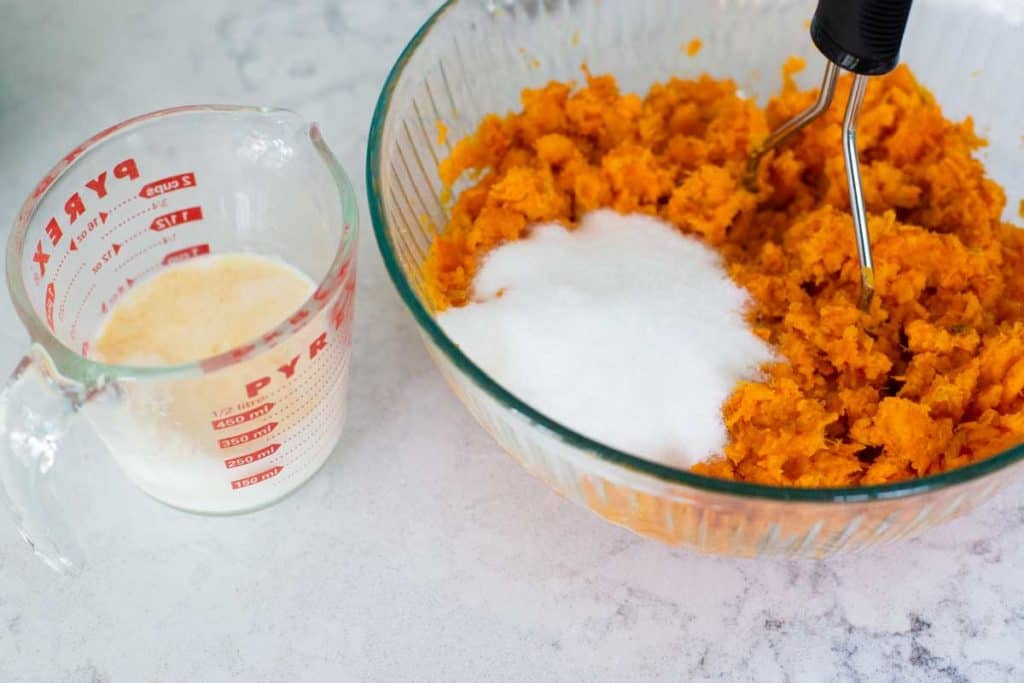 Decide whether you want to split the recipe into two baking dishes or bake it all at once.
You can choose:
2 8x8-inch baking dishes
1 9x13-inch baking dish
In either case, spread an even layer of sweet potato filling in the bottom of the dish and set aside.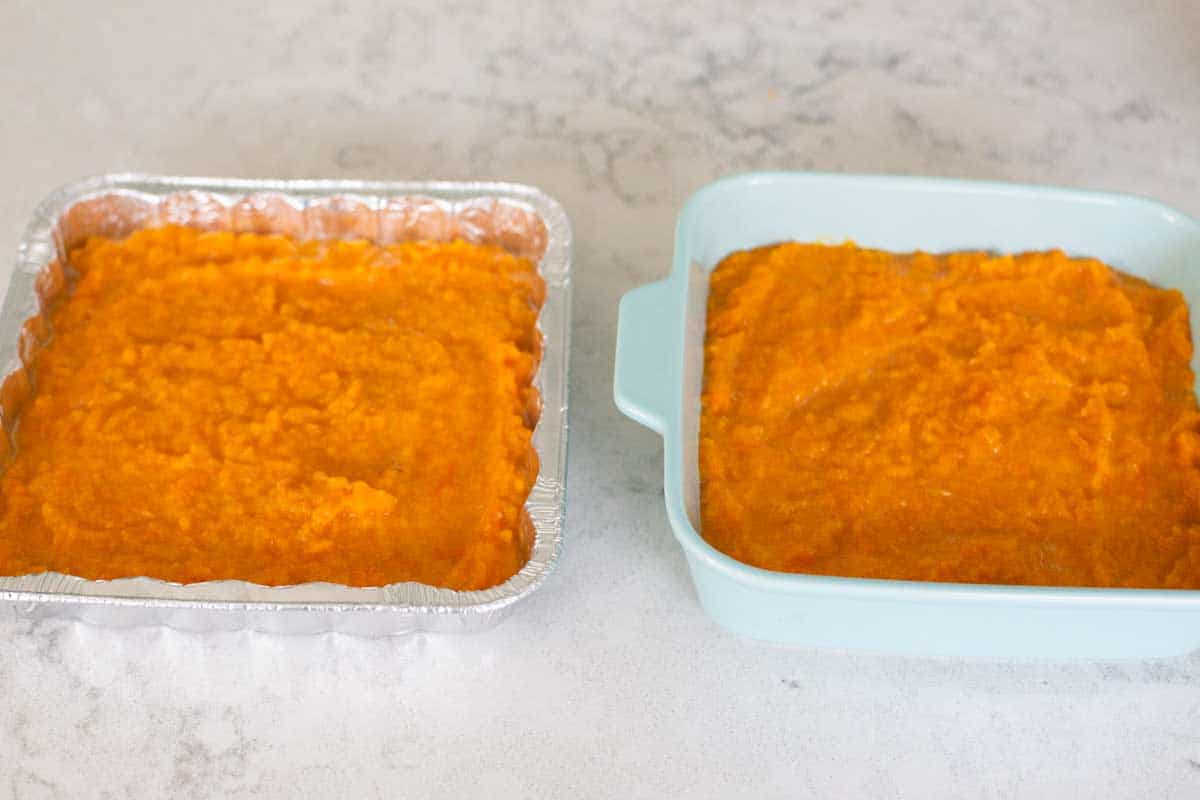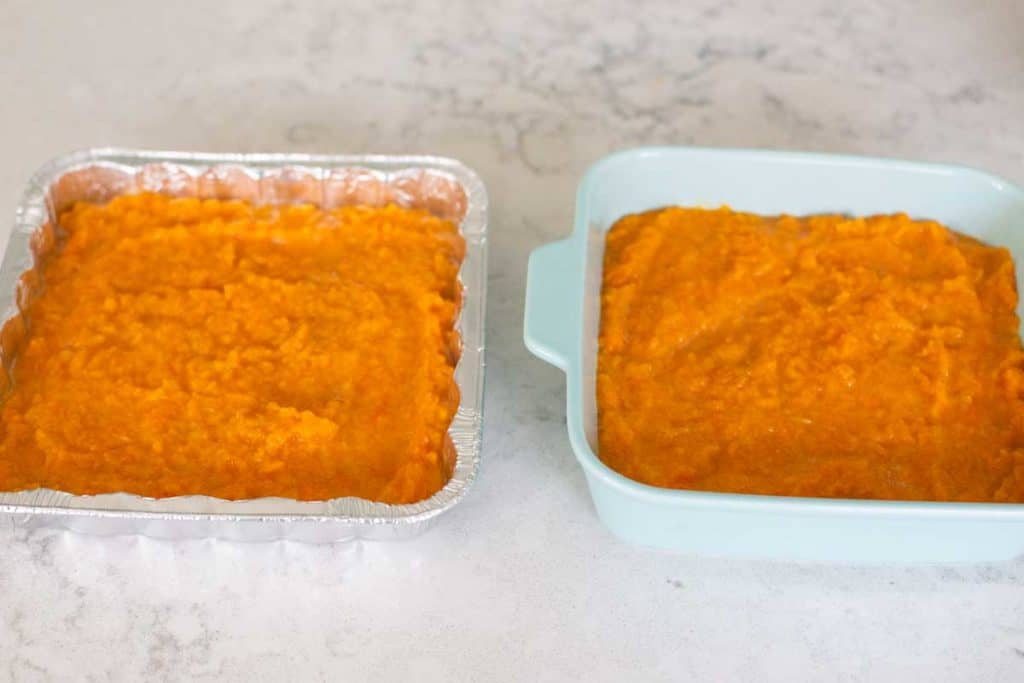 Make the butter pecan topping:
Add the brown sugar, flour, and pecans to a medium mixing bowl and whisk together with a fork.
Add the butter to the bowl and work it into the flour mixture until thoroughly combined. You can use a fork or your fingers to pinch it all together.
Sprinkle the topping evenly over the sweet potato filling.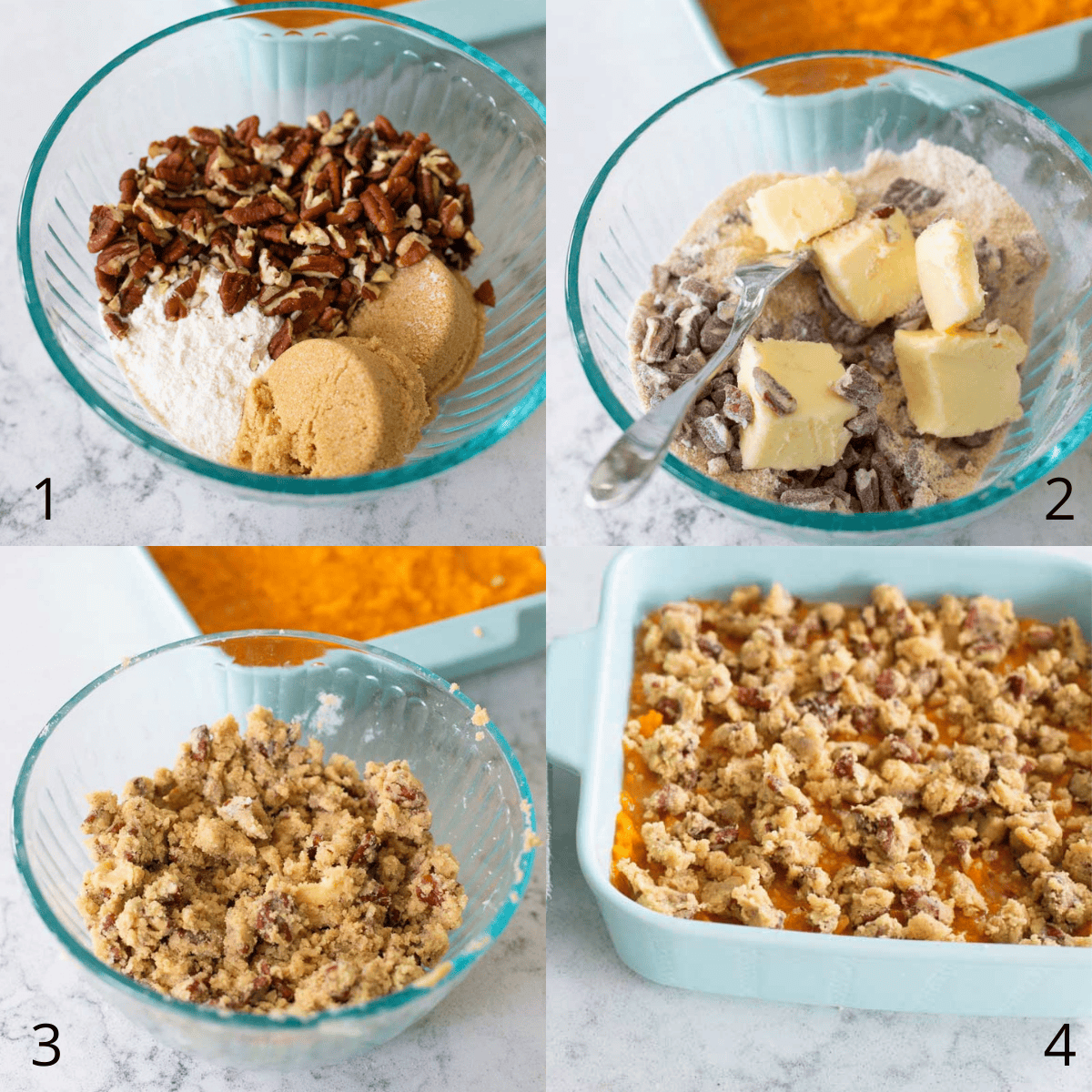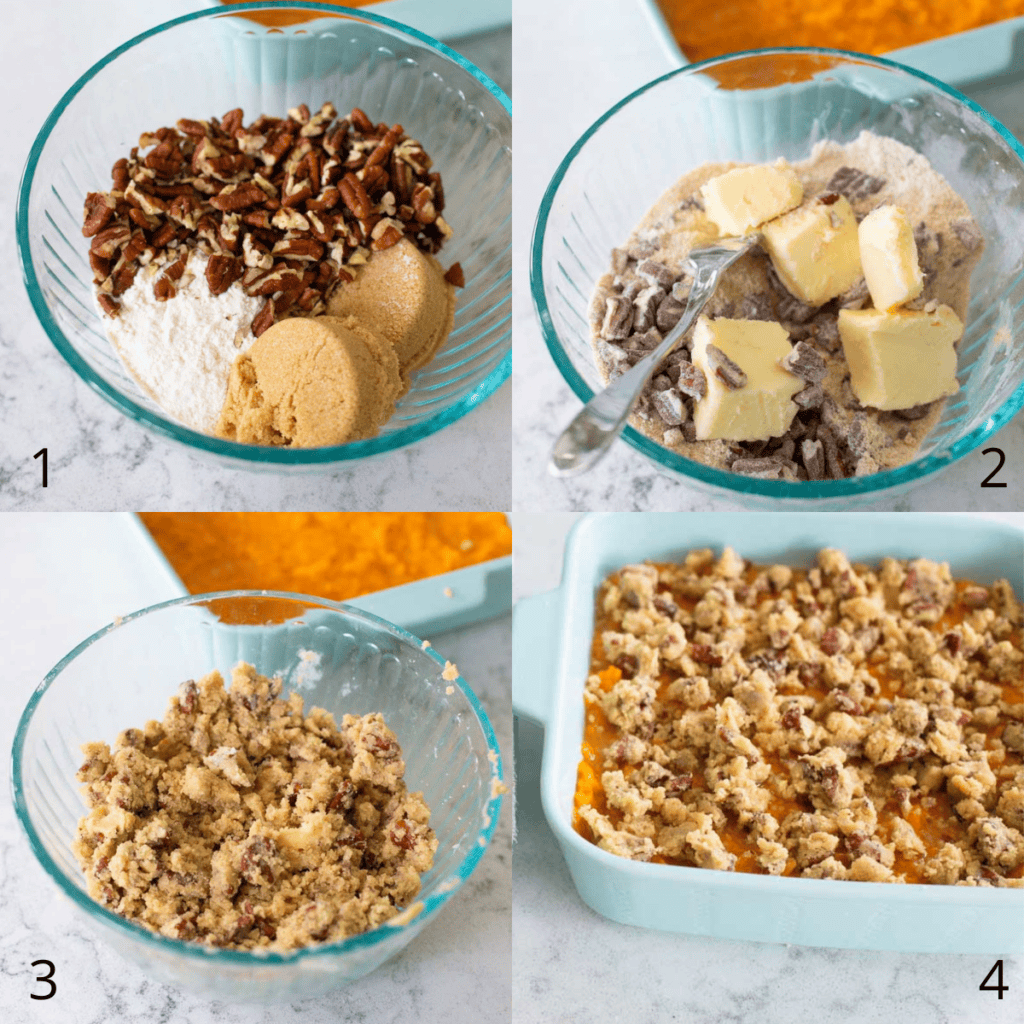 Hint: You may find it easier to work the butter into the flour and sugar before you add the pecans. It will work just fine either way.
When you spread the topping over the sweet potatoes, be sure to pinch the mixture into small cobblestone looking clumps. These bake up into a streusel-like topping.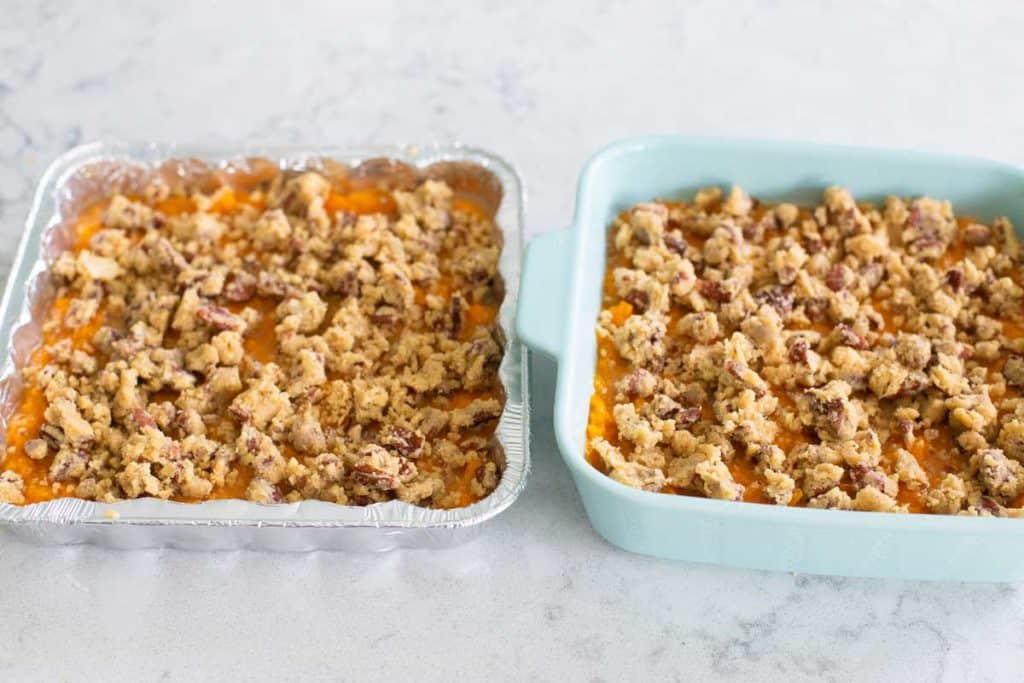 Make Ahead Tips
There are several ways to save time in prepping this recipe:
Bake the potatoes the day before: This cuts down on almost an hour's worth of prep time. The rest of the recipe is very easy.

Assemble the entire dish: Store the prepped casserole, covered in foil, in your fridge overnight or up to 24 hours. Bake before serving.

Freeze the prepared dish: Don't bake it before freezing, simply cover in foil and store the raw casserole in your freezer for up to 6 months.
To bake it, I recommend thawing in your fridge overnight and then baking as directed.
To bake from frozen, keep covered in foil for the first 20 minutes, uncover and bake for an additional 20 - 30 minutes or until the filling is bubbling hot and the topping is golden brown.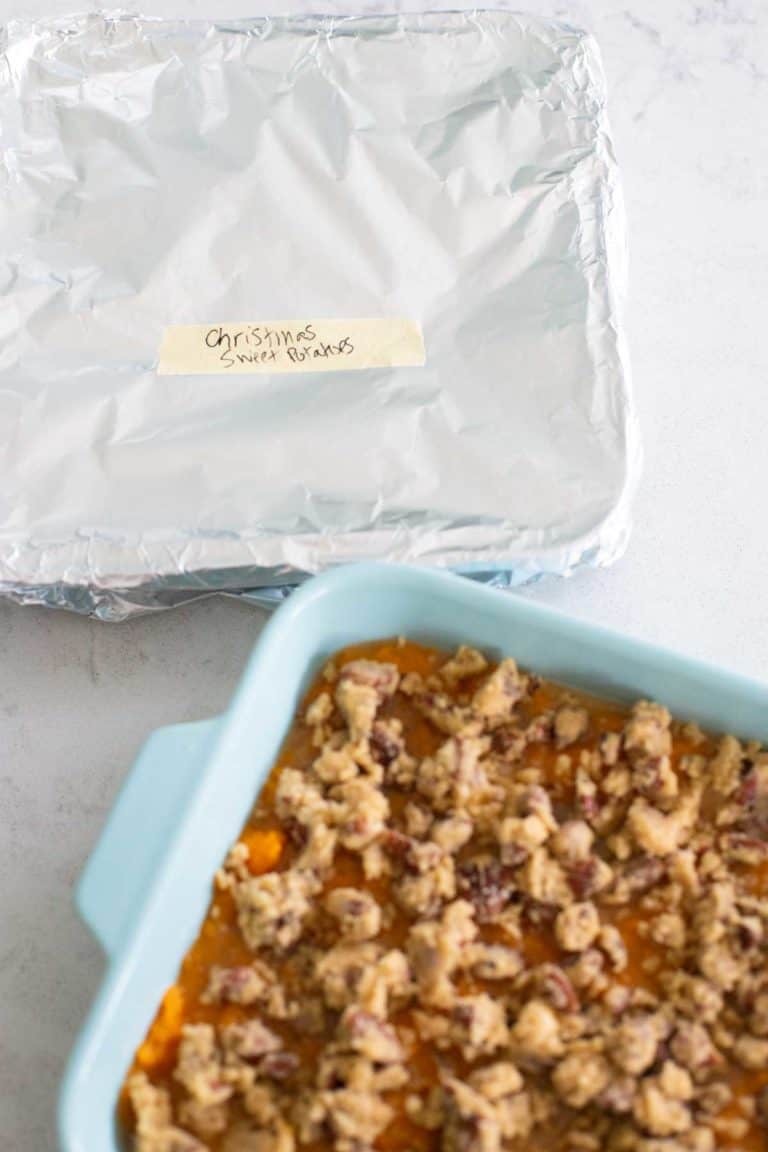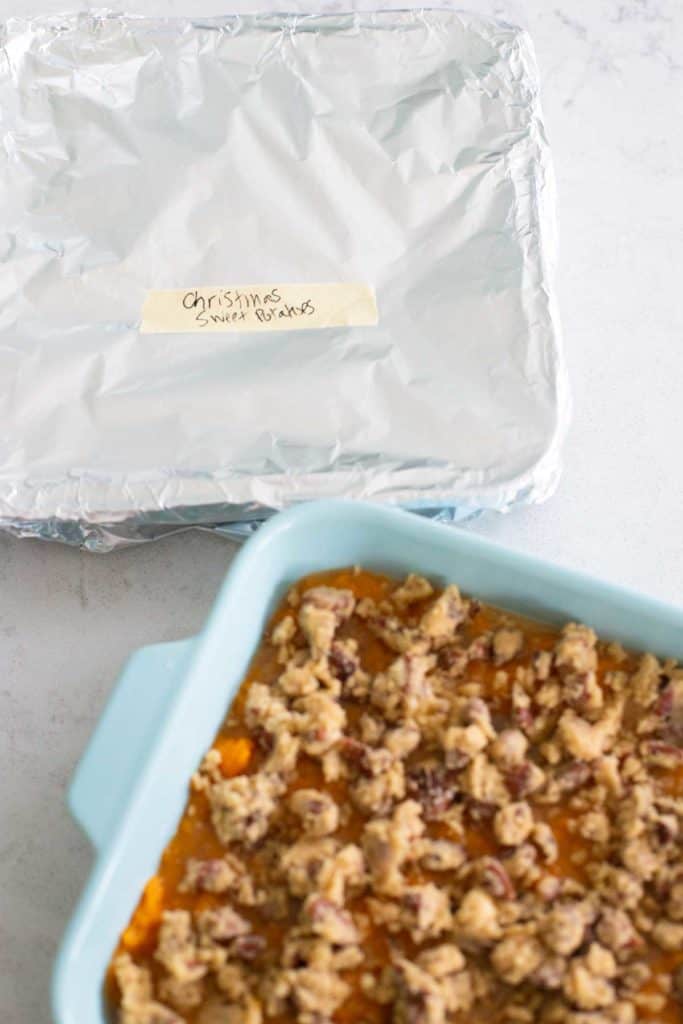 Meal Pairings
Our family has enjoyed this sweet potato casserole for several dinners all throughout the year, not just at Thanksgiving and Christmas.
It makes a fantastic Easter side dish, or sometimes I'll pair it with a spicy grilled pork tenderloin in the summer. I'm much more likely to add it to the menu when I have one waiting in our freezer.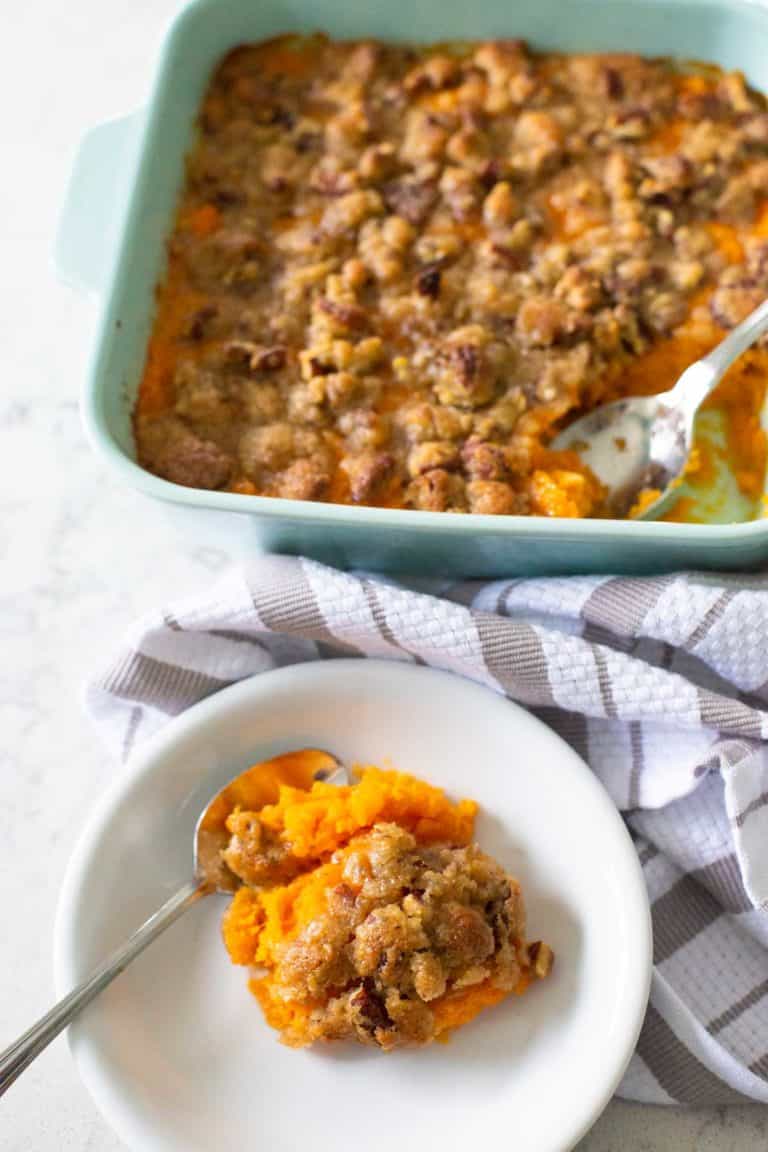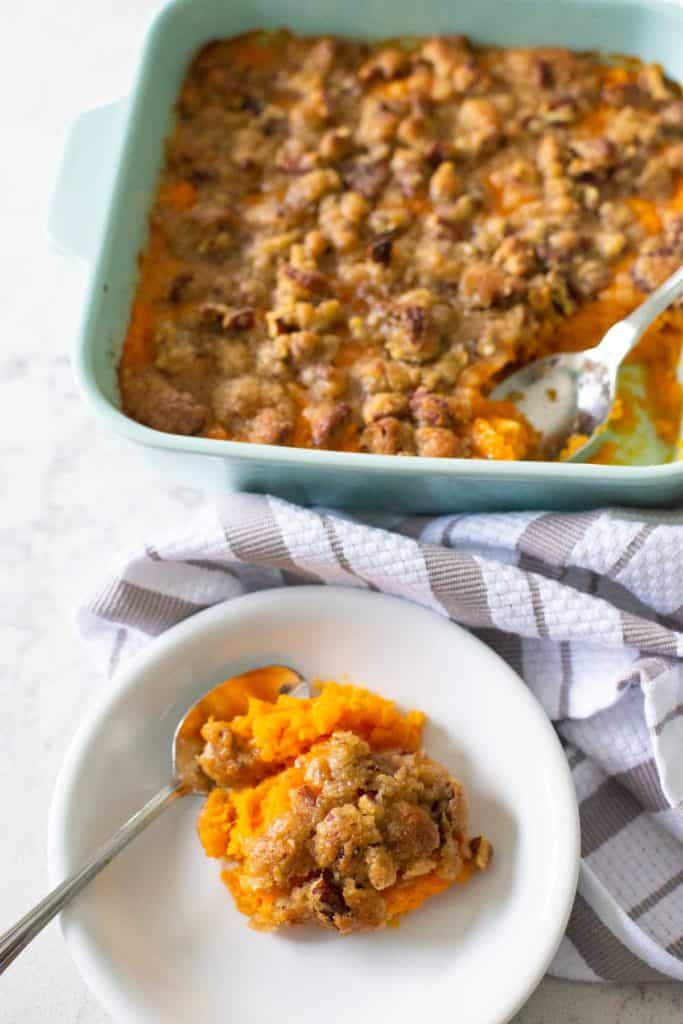 Essential Thanksgiving Side Dishes
This is an essential side dish for my Thanksgiving menu, don't miss our family's other favorite Thanksgiving recipes:
If you've tried this make ahead sweet potato casserole or any other recipe on PeanutBlossom.com please don't forget to rate the recipe and let me know where you found it in the comments below. I love hearing from you!
FOLLOW along on Instagram @peanut.blossom as well as on Pinterest and Facebook.