Save time this holiday season by making easy Crockpot mashed potatoes. The potatoes cook right in the slowcooker and are mashed together with butter and milk for the tastiest side dish for drizzling homemade gravy over!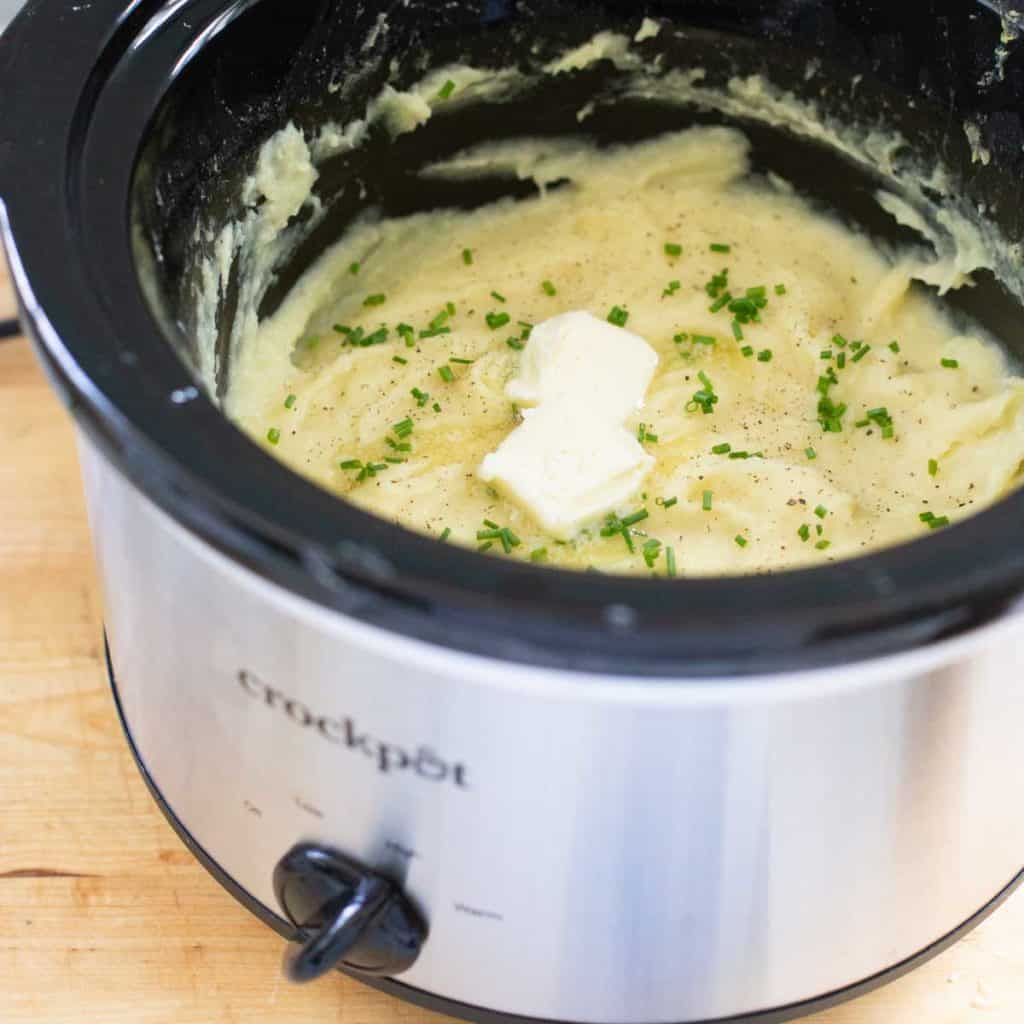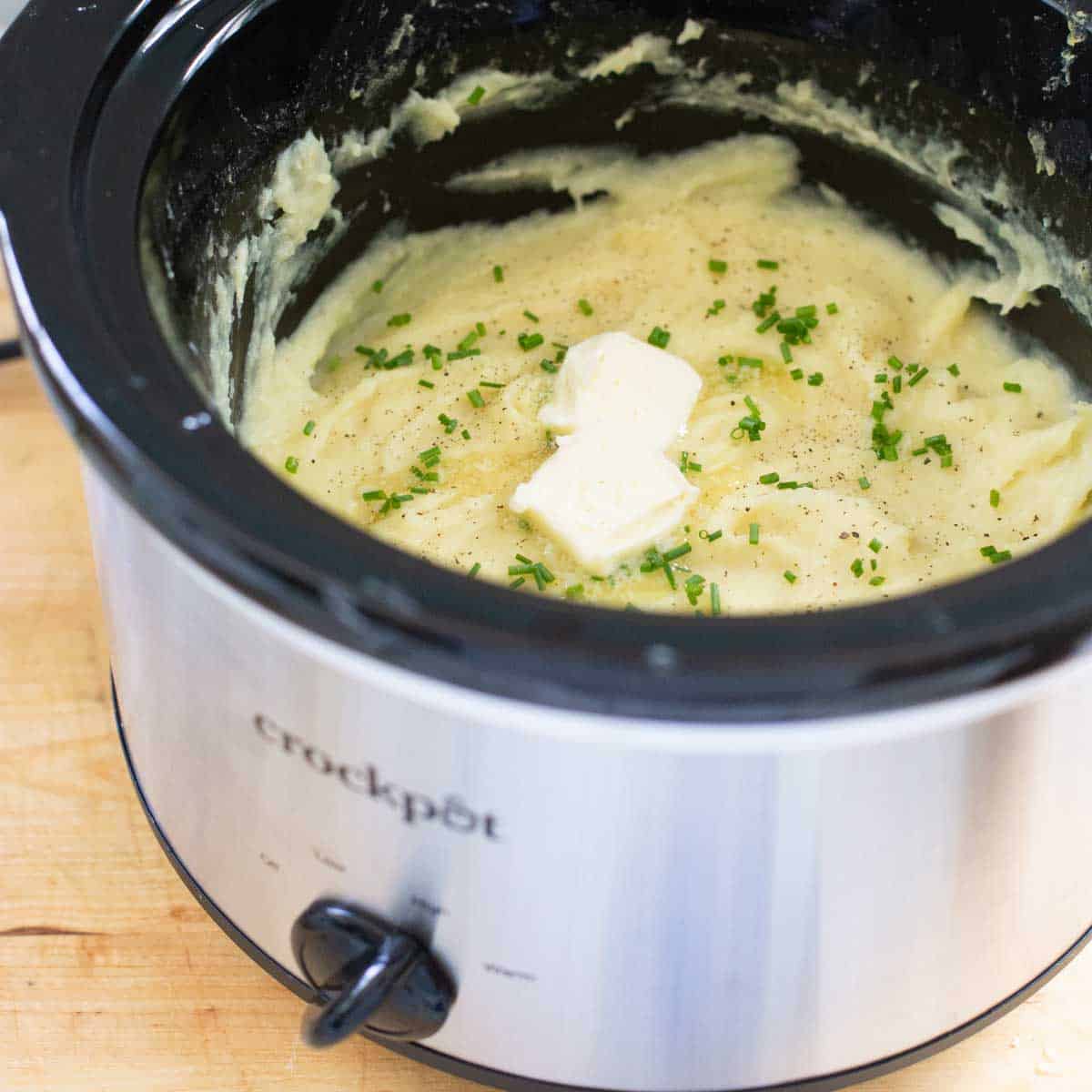 My mom makes the best mashed potatoes ever. When we plan for Thanksgiving or Christmas, she always adds those to her list of things to bring for the holiday dinner.
Even with her help, a big holiday meal is still a ton of work. Every year we're looking for ways to shave off time in the kitchen so we can spend it together as a family.
I decided to try to recreate mom's mashed potatoes in a Crockpot so that we'd have one less thing to worry about keeping hot when it is time to serve our roasted herb butter turkey. It worked like a charm.
Be sure to make a big batch of our easy homemade gravy to pair with these creamy potatoes!
Jump to:
Why This is the Best Recipe
Potato side dishes are often an essential element to a family dinner or holiday meal. I think this is the best Crockpot mashed potatoes recipe because:
Fluffy Texture: The russet potatoes, milk, and butter cook up perfectly in the slowcooker and mash to a nice light fluffy texture when you use my mom's secret ingredient.
Keep Warm: Serving your meal buffet style? You can prep these mashed potatoes ahead and keep them warm on the serving table right in the slowcooker.
Kid-Friendly: This classic mashed potato recipe is a hit with kids. Be sure to have some gravy ready to go!
Ingredients
You don't need anything terribly complicated to make amazing mashed potatoes.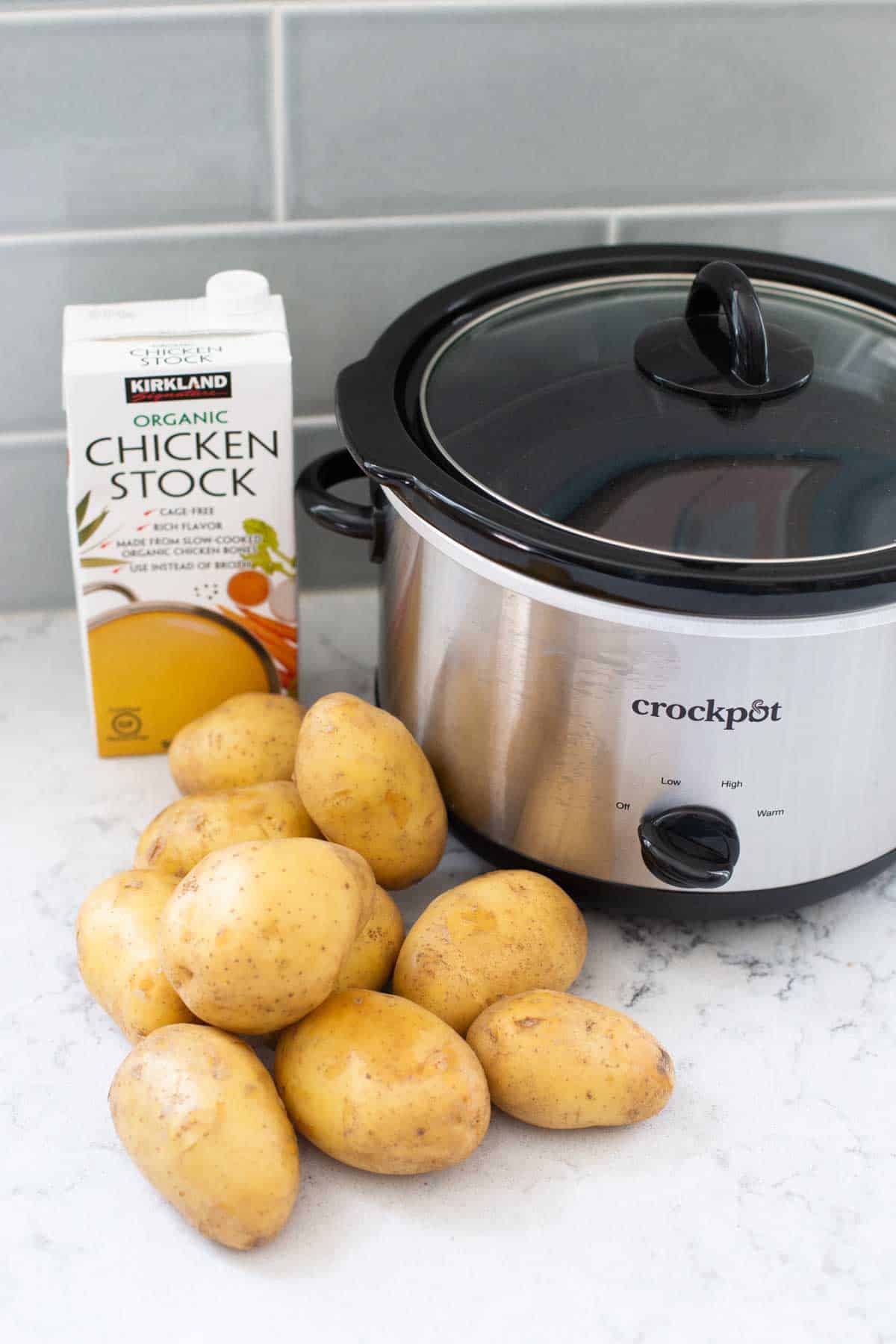 Russet Potatoes: I think these make the best mashed potatoes but you could use Yukon gold if you don't mind a little extra tang to the final dish
Chicken broth
Butter
Milk
Salt & Pepper
Cream of Tartar: this is mom's secret ingredient, it helps make the FLUFFIEST potatoes!
Instructions
This is the perfect make ahead side dish, the worst of the prep work is done hours in advance!
First, peel and chop the potatoes. Add them to a 4 qt Crockpot with the chicken stock.
Heat on HIGH heat for 3 - 4 hours. I don't recommend using LOW heat or the potatoes will turn unappealing colors.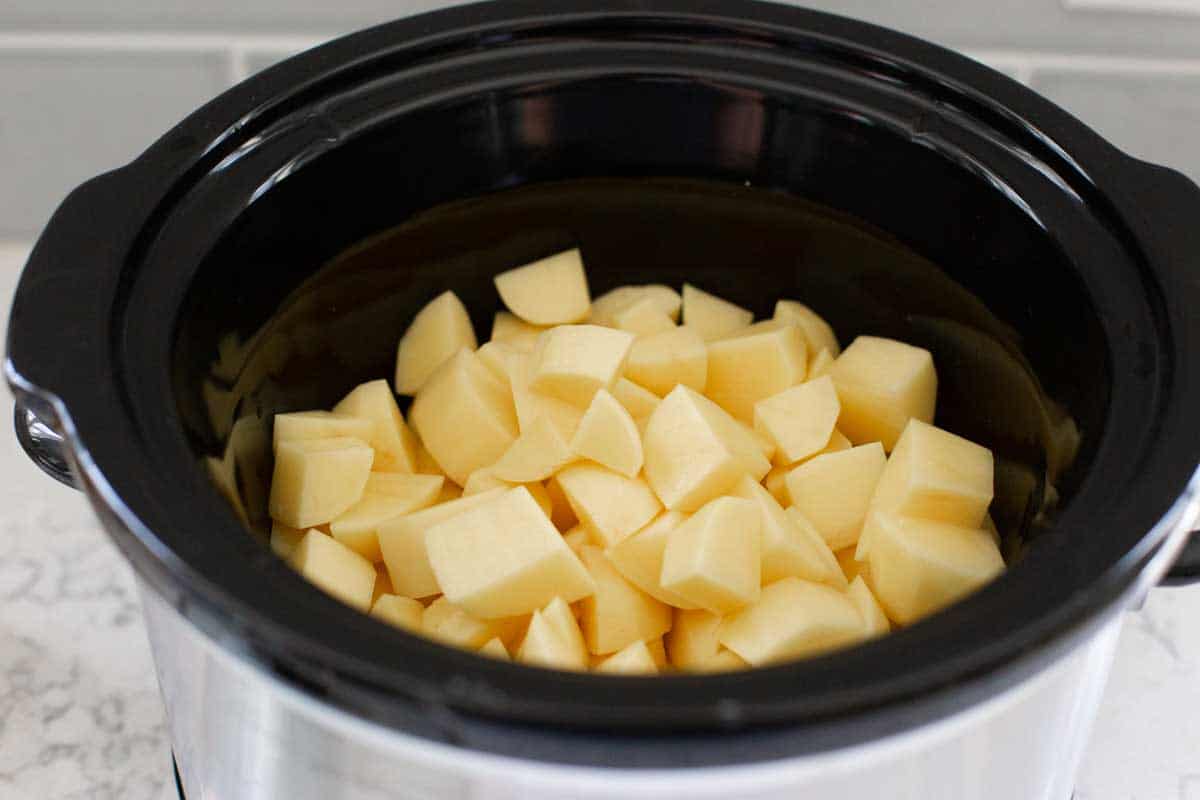 Stir the potatoes once or twice as they cook.
Once they are easily pricked with a fork, they are ready to be mashed.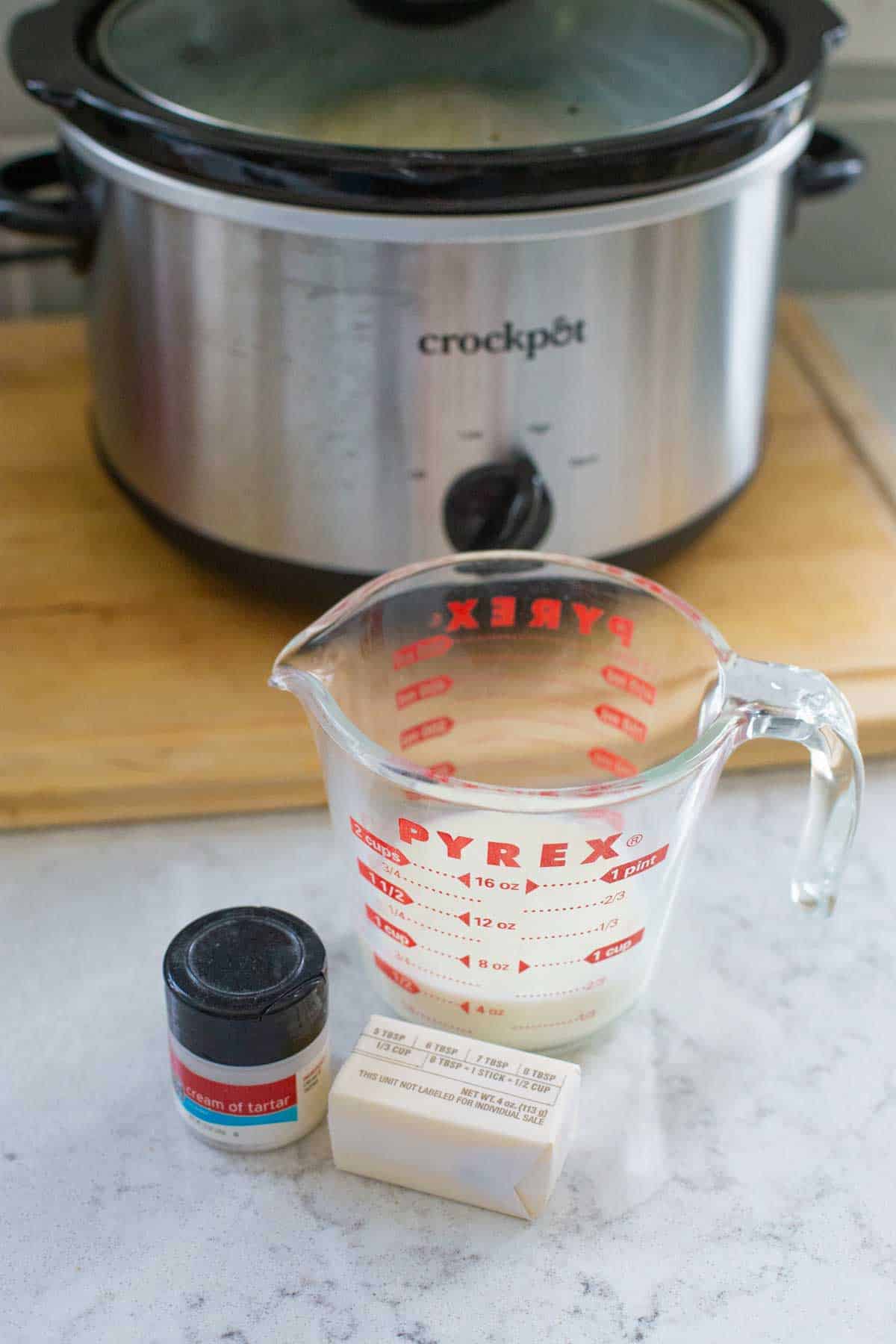 Before you begin to mash the potatoes, prep the final ingredient additions:
Scald the milk: Place the milk in a microwave-safe measuring cup and heat on HIGH for 2 - 3 minutes or until the milk has scalded. This means it is super hot to the touch but not boiling.
Soften and cut the butter: If you attempt to toss in a cold stick of butter, it will take too long to melt properly into the potatoes. Instead, use room temperature butter that has been cut into smaller pieces.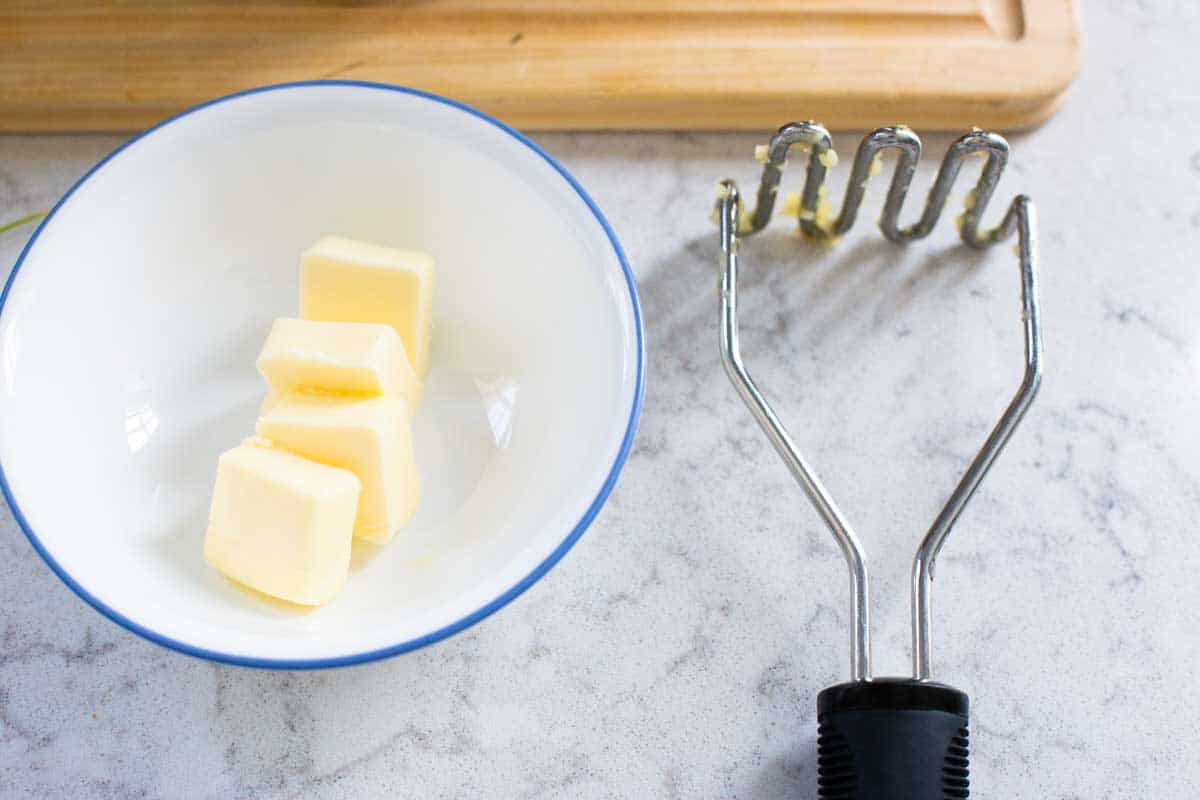 Add the milk and butter to the slowcooker bowl and mash the potato chunks with a potato masher.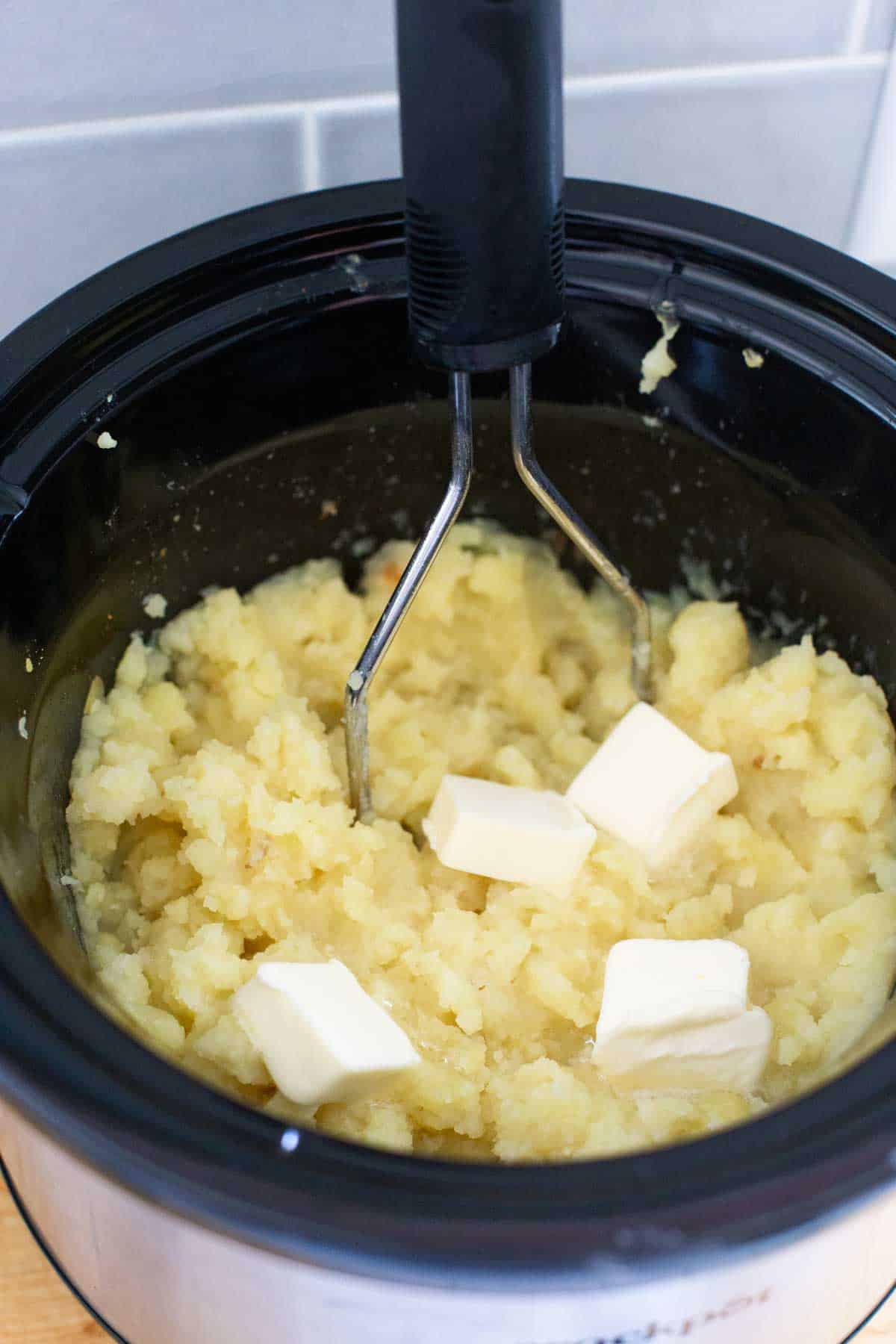 Once the potatoes are close to being smooth, add the cream of tartar, a sprinkle of salt and pepper, and finish the final mashing.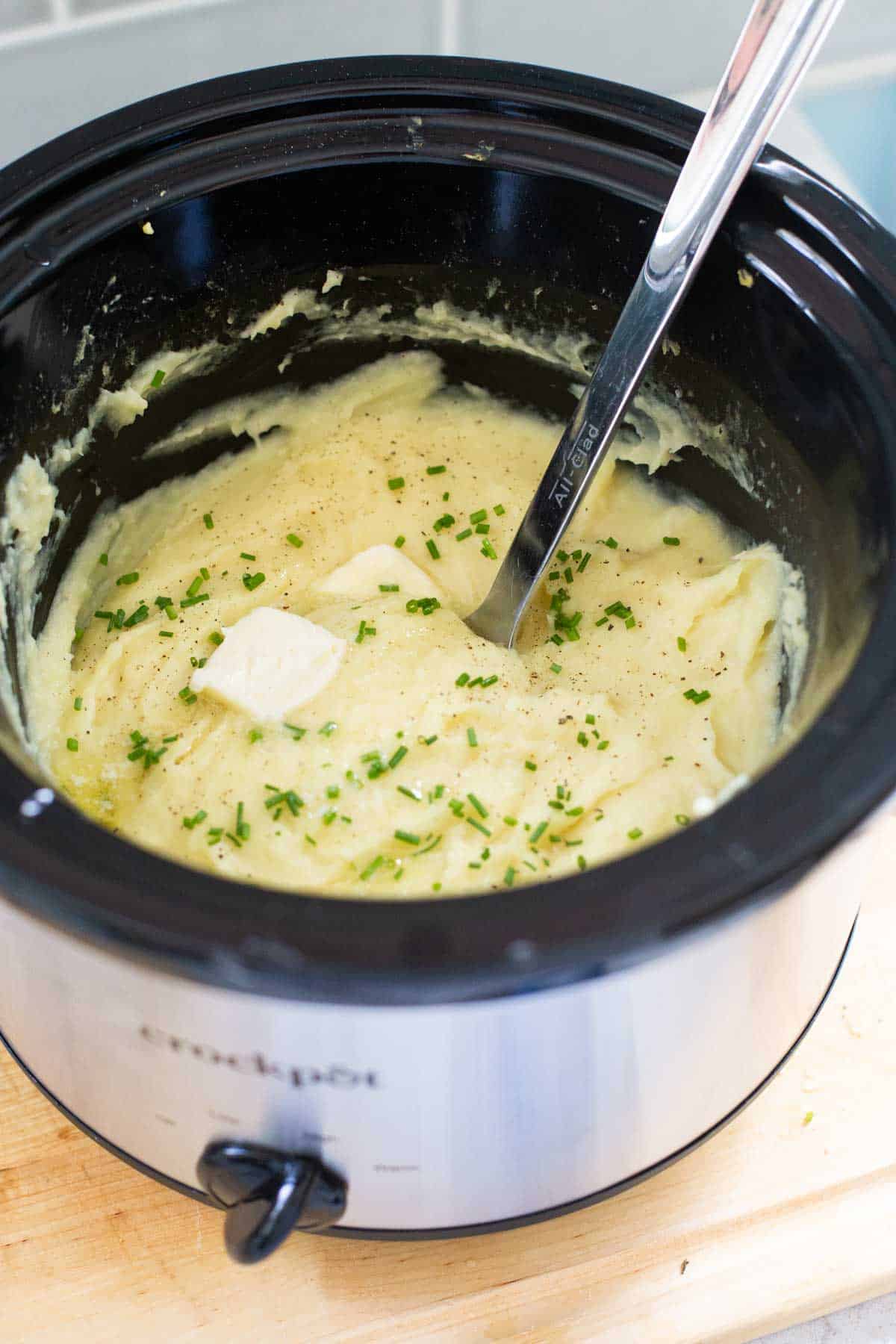 Tools You Need
A 3 or 4 qt Crockpot is the perfect size for this recipe. If you use one that is too big, the potatoes could burn around the sides of the slowcooker pot.
If you must use a larger slowcooker, consider doubling the recipe so that the appliance is filled to a better capacity.
Make Ahead Tips
The mashed potatoes will do very well on the KEEP WARM setting of your Crockpot for 1 - 2 hours as long as they are stirred occasionally.
After that, it is better to store them in an airtight container in the fridge or they will dry out.
To reheat the mashed potatoes: Microwave them to bring the entire dish up to heat and then store in a Crockpot on a KEEP WARM setting for serving.
Essential Thanksgiving Side Dishes
I love how handy the Crockpot is for serving multiple side dishes for a big holiday dinner. Here are some of our other favorite turkey side dishes.
More Holiday Recipes
Planning your side dishes for Thanksgiving, Christmas, or Easter? Don't miss these other great recipes:
📖 Recipe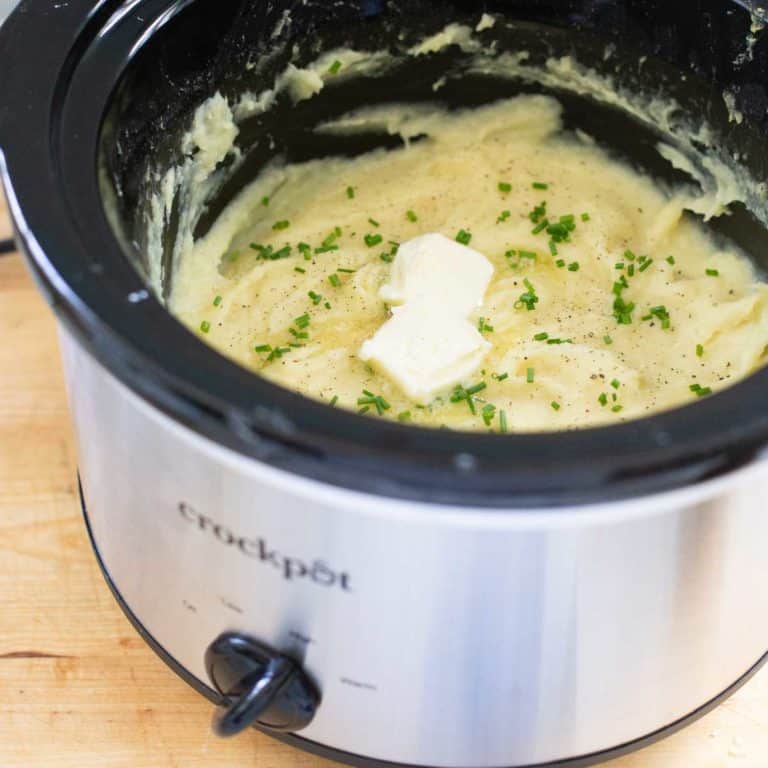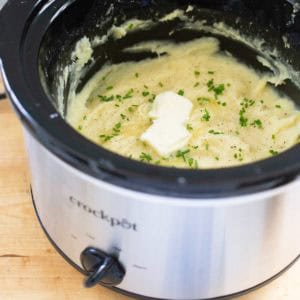 Crockpot Mashed Potatoes
This is the creamiest, fluffiest mashed potatoes recipe you'll ever find. It's the perfect make ahead side dish for a busy holiday dinner. Use the Keep Warm setting and the potatoes will be ready when you are!
Ingredients
5

pounds

russet potatoes

peeled and cut into 1-inch pieces

1

cup

chicken stock

4

tablespoons

butter

softened and cut into pieces

½

cup

milk

scalded

1

teaspoon

cream of tartar

Salt and pepper to taste
Instructions
Place the potatoes in the bowl of a Crockpot and pour in the chicken stock.

Cover and cook on HIGH for 3 - 4 hours. The potatoes should be easily pricked with a fork.

To scald the milk, add the milk to a microwave-safe measuring cup and heat on HIGH in the microwave for 2 - 3 minutes.

Start to mash the potatoes with a potato masher, add the softened butter that has been cut into small pieces and just ¼ cup of the scaled milk.

Continue to mash the potatoes until the butter and milk have been incorporated. Add the cream of tartar to the potatoes and just a drizzle of additional milk as needed to reach your desired consistency and finish the mashing.

Taste and season with salt and pepper as desired. (Hint: Start with ½ teaspoon of salt and go from there.)
Recipe Notes
Russet potatoes are the best for mashing but Yukon gold can also be used if you enjoy a mild tangy flavor.
Make Ahead Tips:
The potatoes can be kept warm for 2 hours on the KEEP WARM setting of your Crockpot. Be sure to stir them occasionally so they don't stick and brown to the sides of the slowcooker.
Save This Recipe to Your Recipe Box
Find this delicious recipe next time you visit by saving it to your very own recipe box on my site. All your favorites stored in one easy place!