Crockpot Thanksgiving sides save room in your oven for other holiday recipes and keep warm for hours on the buffet table.
Anyone who has ever been charge of the Thanksgiving dinner prep knows the biggest challenge of the entire effort:
Juggling all the last minute baking of side dishes in the oven so that everything is hot at the same time.
There have been years where I wanted to cry at the frustration of figuring out the timing to get 5 side dishes into the oven for different times and different temperatures.
Now as a seasoned Thanksgiving cook, I use the greatest holiday hack of all:
Skip the oven altogether and use your slowcooker!!
These easy Crockpot Thanksgiving sides will help you save so much room in your oven and can just hang out in the slowcooker and keep warm until you're ready to serve dinner.
Jump to:
Crockpot Mashed Potatoes
I think that Crockpot mashed potatoes are just as delicious, if not even more so, than traditional stovetop mashed potatoes. If I had to choose just one item to move to the slowcooker, this would absolutely be it.
Crockpot Mashed Potatoes
This is the creamiest, fluffiest mashed potatoes recipe you'll ever find. It's the perfect make ahead side dish for a busy holiday dinner. Use the Keep Warm setting and the potatoes will be ready when you are!
GET THE RECIPE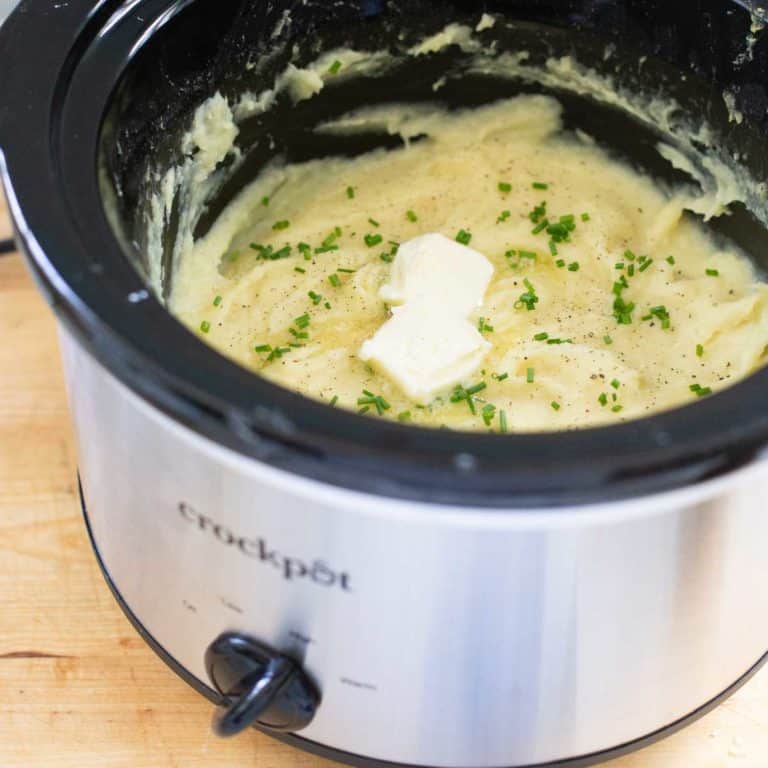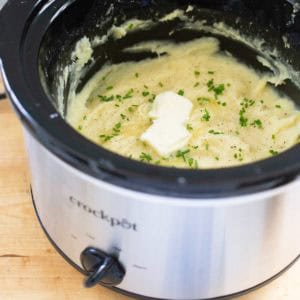 Crockpot Stuffing
I love my mom's oven baked Italian sausage stuffing so much because of the crispy edges it gets on top. I was skeptical that I could love a Crockpot stuffing until I tried putting mom's recipe in the slowcooker. It worked GREAT.
With my easy method, you still get that golden brown crispy edge and now you have one less thing to worry about putting in the oven.
Crock Pot Stuffing
Make ahead Crock Pot stuffing can be prepped up to 24 hours in advance and then just cooked before serving to save space in your oven during busy holiday dinner prep. Serve the golden brown, crispy stuffing straight from the slowcooker on the buffet table to keep it warm for hours.
GET THE RECIPE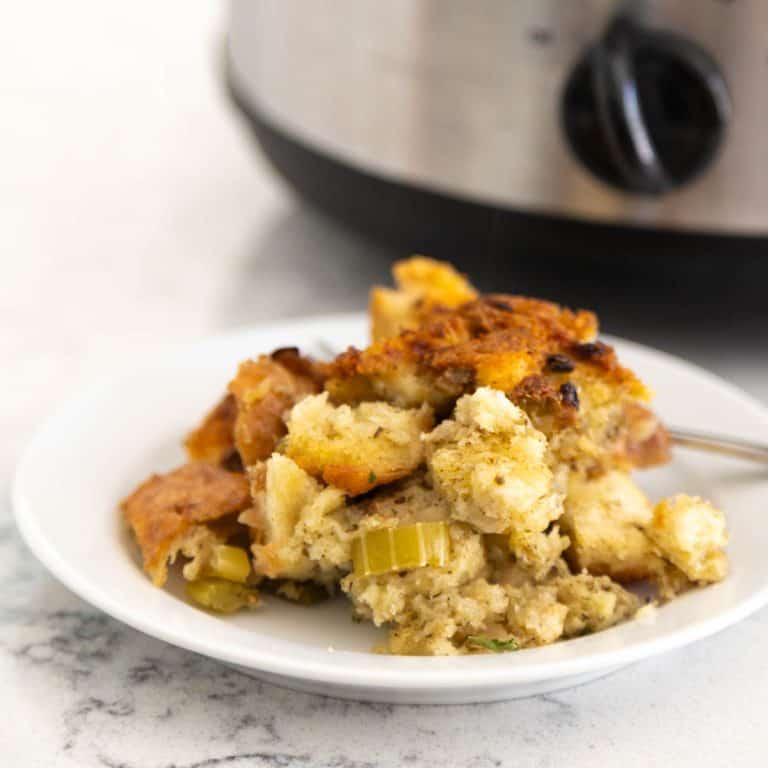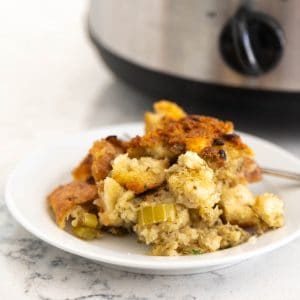 Crockpot Green Bean Casserole
Everyone knows that the best part about a Thanksgiving green bean casserole is the crispy onion topping. I figured out the best work around for my Crockpot green bean casserole.
BONUS: This keeps warm for hours on the buffet table.
Crispy Crockpot Green Bean Casserole
Classic green bean casserole is a Thanksgiving side dish essential. When you need to feed a crowd and your oven is full with other things, you can make a crispy Crockpot green bean casserole that stays hot and crunchy for your guests with these tricks.
GET THE RECIPE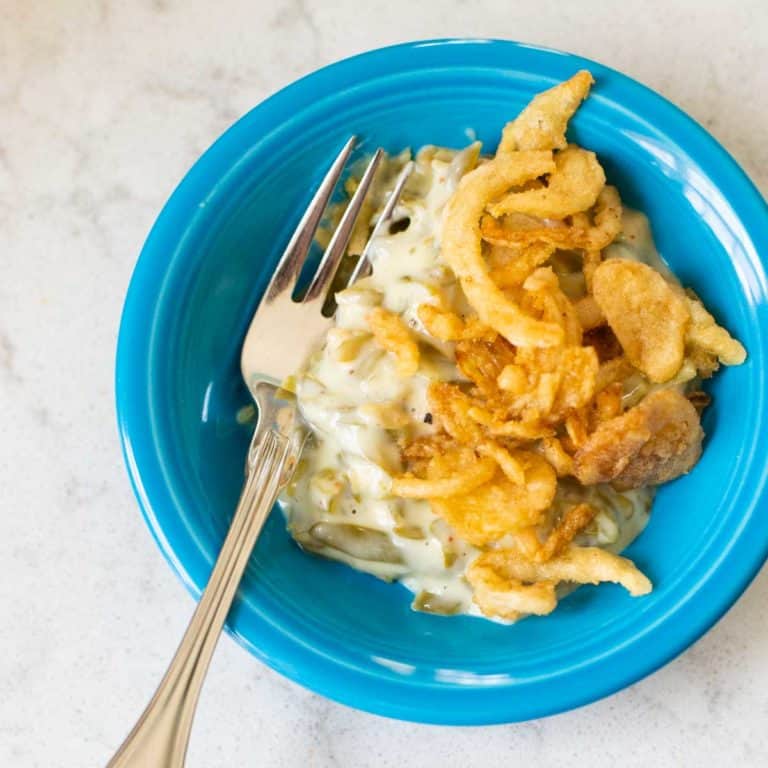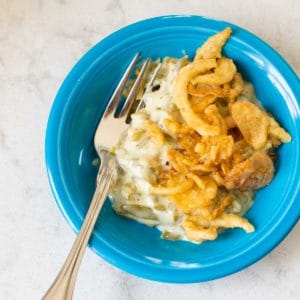 Crock Pot Scalloped Potatoes
Thanksgiving is all about the potatoes, isn't it?? It can be nice to have some fresh options for a side.
These cheesy Crock Pot scalloped potatoes are a huge hit. The elegant sliced potatoes in rich creamy cheese sauce taste amazing.
Crock Pot Scalloped Potatoes
Easy cheesy scalloped potatoes bake right in the slowcooker and still get a golden brown crispy edge to them thanks to the aluminum foil trick we use. Serve these for a delicious holiday meal or special Sunday dinner with a glazed ham, pulled pork, or roast chicken.
GET THE RECIPE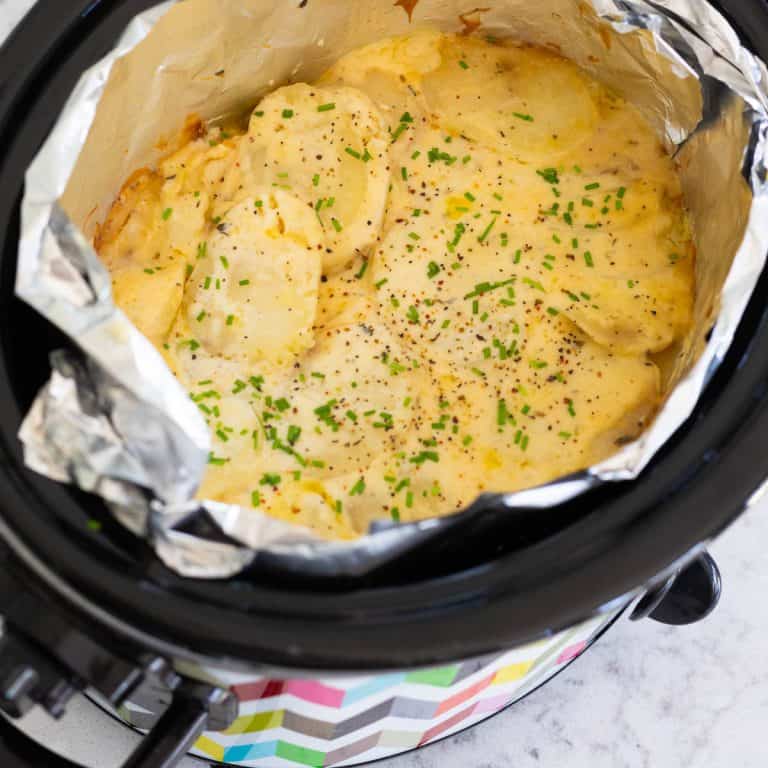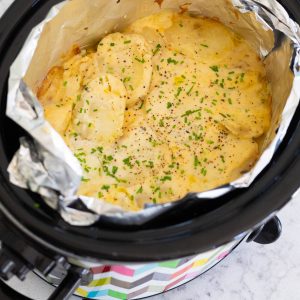 Cheesy Cornflake Potatoes
If you're bringing potatoes to a Thanksgiving potluck, these cheesy cornflake potatoes can be baked in the oven OR you can use my method for cooking Slowcooker funeral potatoes and still have the crispy cornflake topping.
Cheesy Cornflake Potatoes
This easy cheesy potato casserole has a crispy cornflake topping. Otherwise known as "funeral potatoes," it is a popular holiday side dish or church potluck recipe.
GET THE RECIPE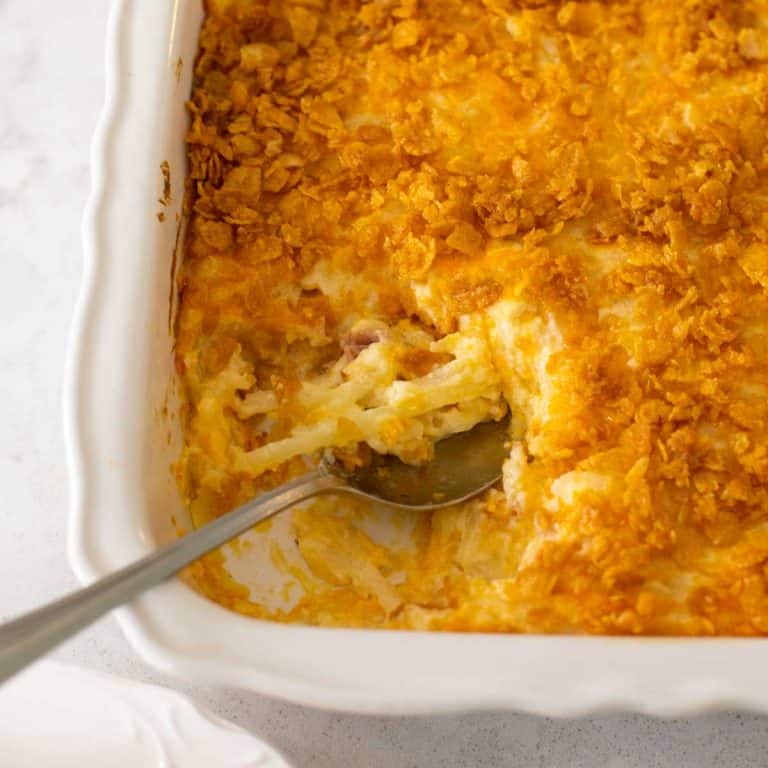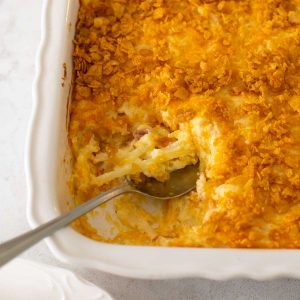 Slow Cooker Sweet Potatoes
An elegant baked sweet potato can make a perfect Thanksgiving side dish. Your family can top it with plenty of butter and brown sugar or those that want a lighter side can eat them with just a little cranberry sauce.
Pop them in the slowcooker and you won't even have to think about them.
Slow Cooker Sweet Potatoes
Need baked sweet potatoes for a side dish or to mash for a Thanksgiving side dish recipe? When you're busy in the kitchen and need an easy way to cook sweet potatoes, pop them into your slow cooker so you can focus on other tasks.
GET THE RECIPE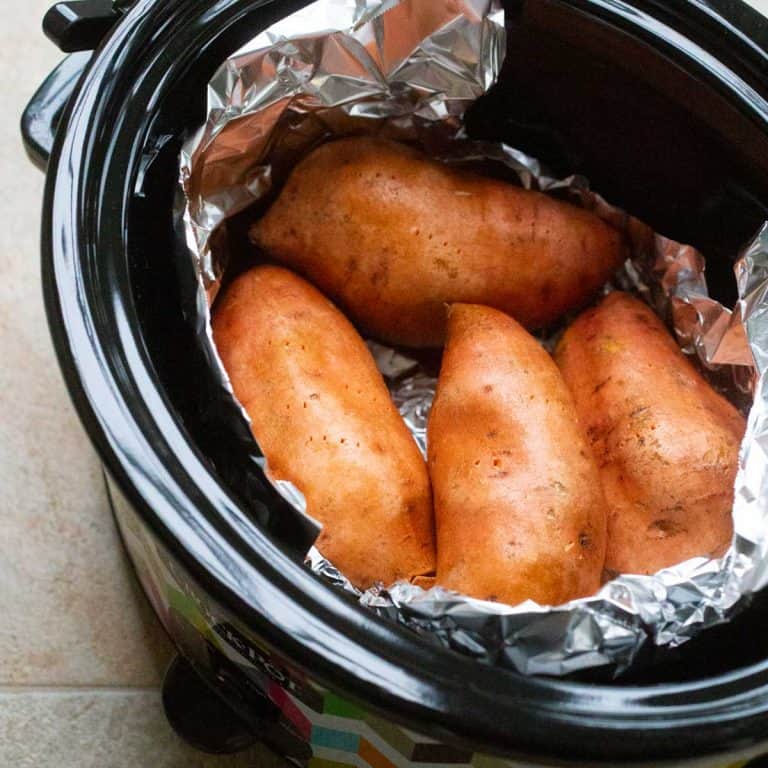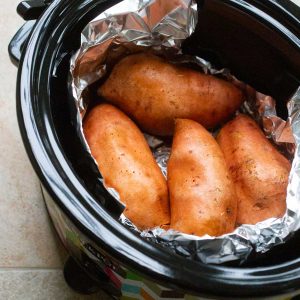 Crock Pot Corn Casserole
Feeding a hungry crowd for the holiday? This big batch Crock Pot corn casserole is sure to stick to their ribs.
Filled with sweet corn and cheddar cheese mixed with a yummy Jiffy cornbread mix, this is a classic side that is easy to add to the buffet table.
Crock Pot Corn Casserole
Classic corn casserole cooks in a slowcooker for a hands-off side dish for your holiday meal. Sweet Jiffy cornbread mix with canned corn and shredded cheese makes a delicious addition to a cozy family dinner.
GET THE RECIPE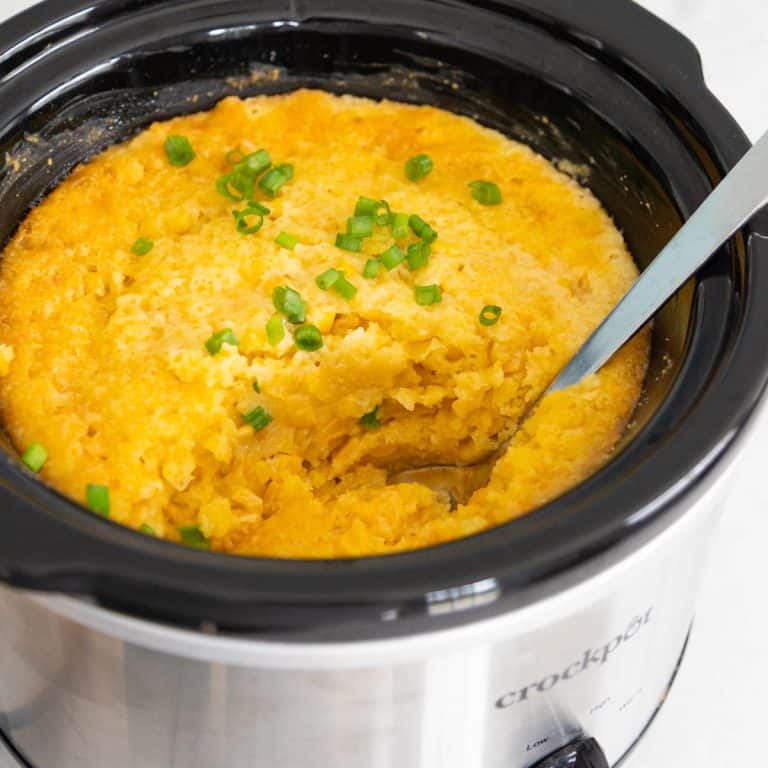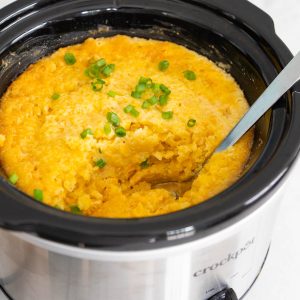 Crock Pot Creamed Corn
Spoil your family with homemade Crock Pot creamed corn instead of the regular canned varieties.
This recipe only takes a few minutes to prep and it can simmer away in the slowcooker all morning.
Crock Pot Creamed Corn
Sweet creamed corn is an easy holiday side dish for Thanksgiving, Christmas, or Easter. This hands-off recipe lets you dump everything into the slowcooker and focus your attention on prepping the rest of your meal. The smooth cream cheese and butter sauce clings to the whole corn kernels giving it the perfect texture.
GET THE RECIPE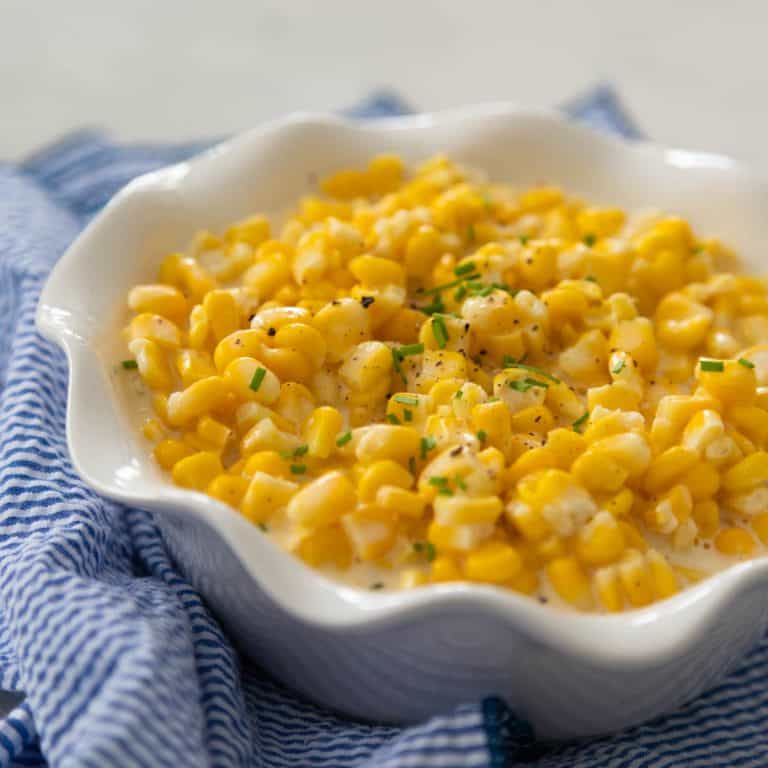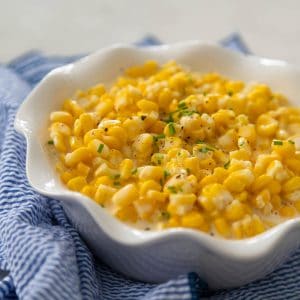 Slow Cooker Acorn Squash
I love this delicious Slow Cooker acorn squash recipe because it has chunks of fresh apples and tart dried cranberries in the mix.
It is such a fun twist for a Thanksgiving side.
Slow Cooker Acorn Squash with Apples and Raisins
This easy side dish is perfect for Thanksgiving or other fall dinners. Pop the acorn squash and apples into the crockpot and enjoy a sweet side dish with turkey or pork.
GET THE RECIPE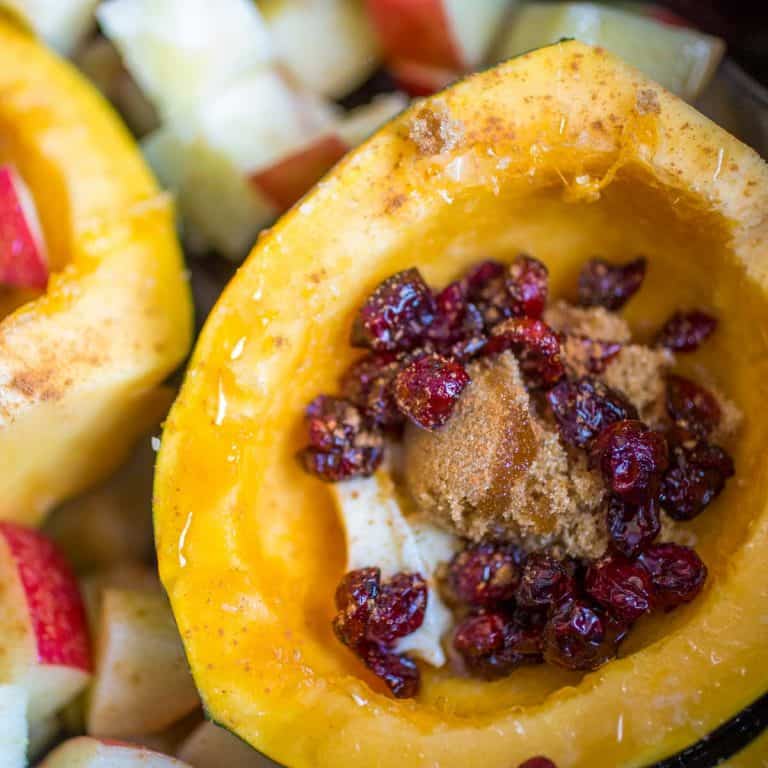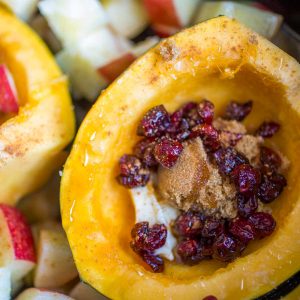 Slowcooker Corn Chowder
Dig out the fancy china soup bowls and have your family sit down to an elegant first course for the Thanksgiving feast!
You could serve small portions of this slow cooker corn chowder as a starter but it would also make a fantastic Thanksgiving lunch to tide everyone over until the big dinner later.
Slow Cooker Corn Chowder
Sweet slow cooker corn chowder with savory bacon bits and fresh chives on top makes a delicious light dinner or cozy lunch at the start of soup season. Make it with fresh or frozen corn all year round.
GET THE RECIPE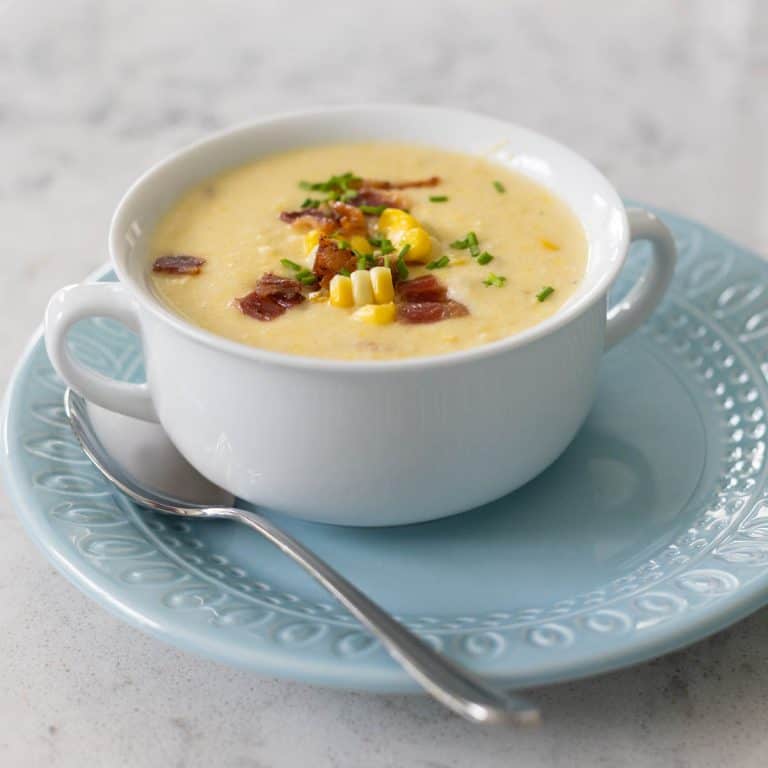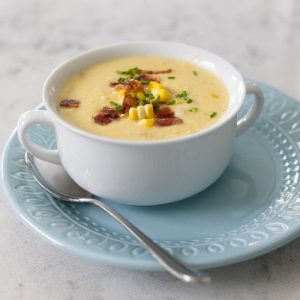 Slow Cooker Boneless Turkey Breast
I couldn't let an article about slowcooker recipes for Thanksgiving go by without mentioning my slow cooker boneless turkey breast.
While this isn't a side dish, it is definitely my new favorite Crock pot recipe for the holiday and how we'll be cooking this year's bird.
Slow Cooker Boneless Turkey Breast
This easy slowcooker turkey breast is a quick and easy way to make a smaller turkey for a holiday gathering or even a busy weeknight dinner. All white meat slices neatly for turkey sandwiches and makes great leftovers.
GET THE RECIPE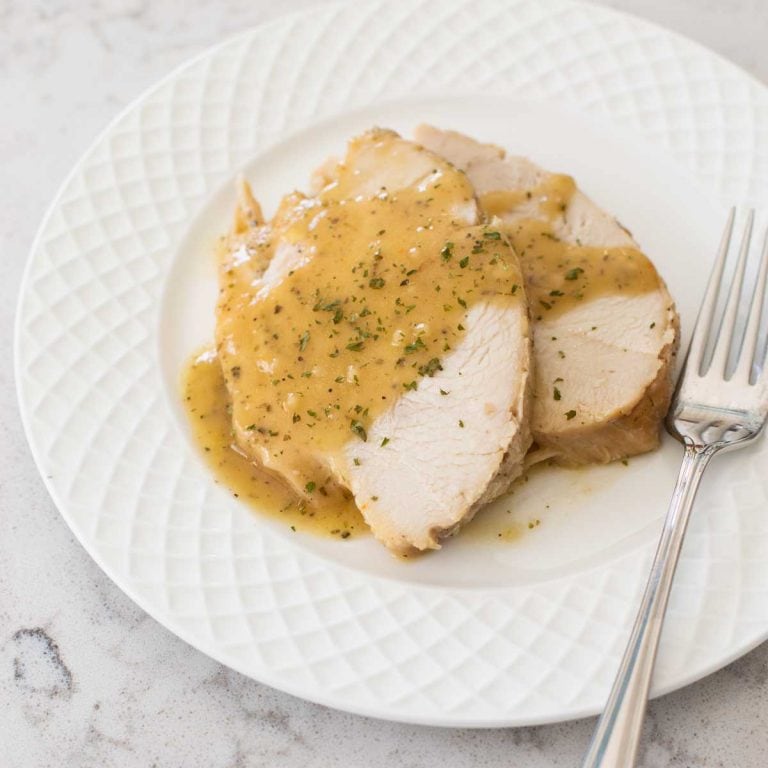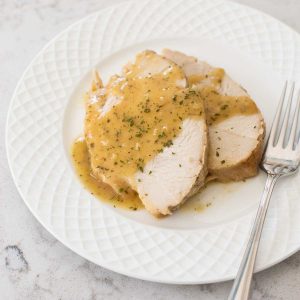 Open Face Turkey Sandwiches
If you're hosting a Thanksgiving open house with friends and family coming and going over the period of several hours, consider shredding your turkey and keeping it warm in a slowcooker filled with homemade gravy.
Then your loved ones can make these open face turkey sandwiches over fresh Italian bread.
HINT: My kiddo is planning to do this for her actual Thanksgiving dinner and she is sooooo excited.
Open Face Turkey Sandwich
These open face turkey sandwiches with gravy are the perfect way to use up leftover turkey breast and Thanksgiving gravy but also make a delicious and easy dinner any night of the year.
GET THE RECIPE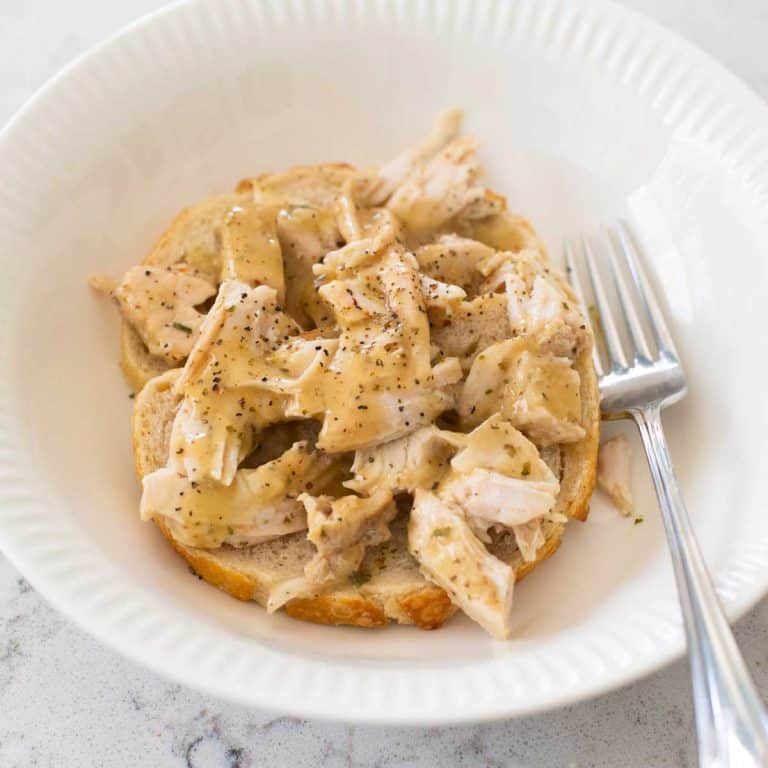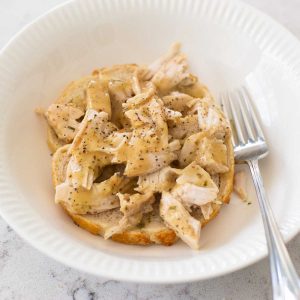 Crockpot Spiral Ham
Some families just don't want to cook a turkey for Thanksgiving. That's ok!
How about popping a Crockpot spiral ham in your slowcooker instead?? We make this for Christmas dinner but it would be right at home on your Thanksgiving holiday menu, too.
Crockpot Spiral Ham with Brown Sugar Glaze
This easy Crockpot spiral ham recipe is the perfect way to cook your holiday dinner while your family is out of the house at church on Easter morning or Christmas eve. Come home to a hot ham ready to be glazed and broiled for the picture perfect finish in just 10 minutes. Choose a traditional sweet brown sugar and mustard glaze or use hot honey for a delicious sweet and spicy spin on a holiday classic.
GET THE RECIPE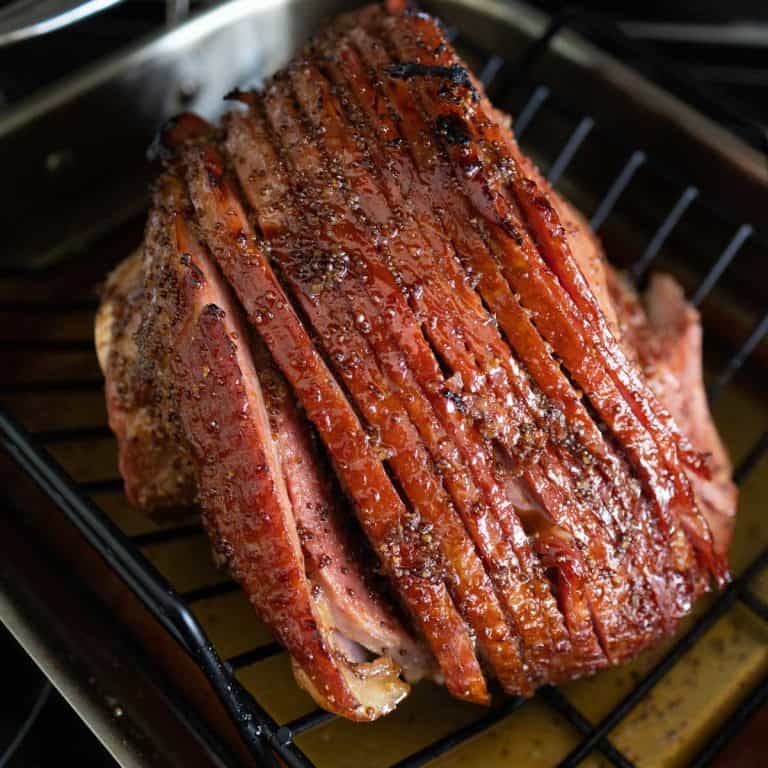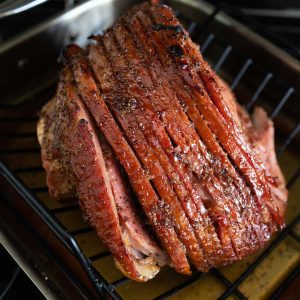 More Thanksgiving Ideas
Now that you've got some easy slowcooker recipes all picked out, what about the rest of your meal plan?
Don't miss my other easy Thanksgiving recipes for your family feast: