Crockpot green bean casserole is perfect when you need extra space in your oven during the holiday. But the crispy fried onions on top are the best part! Don't serve a mushy casserole, learn how to keep the fried onions crunchy for this classic Thanksgiving side dish.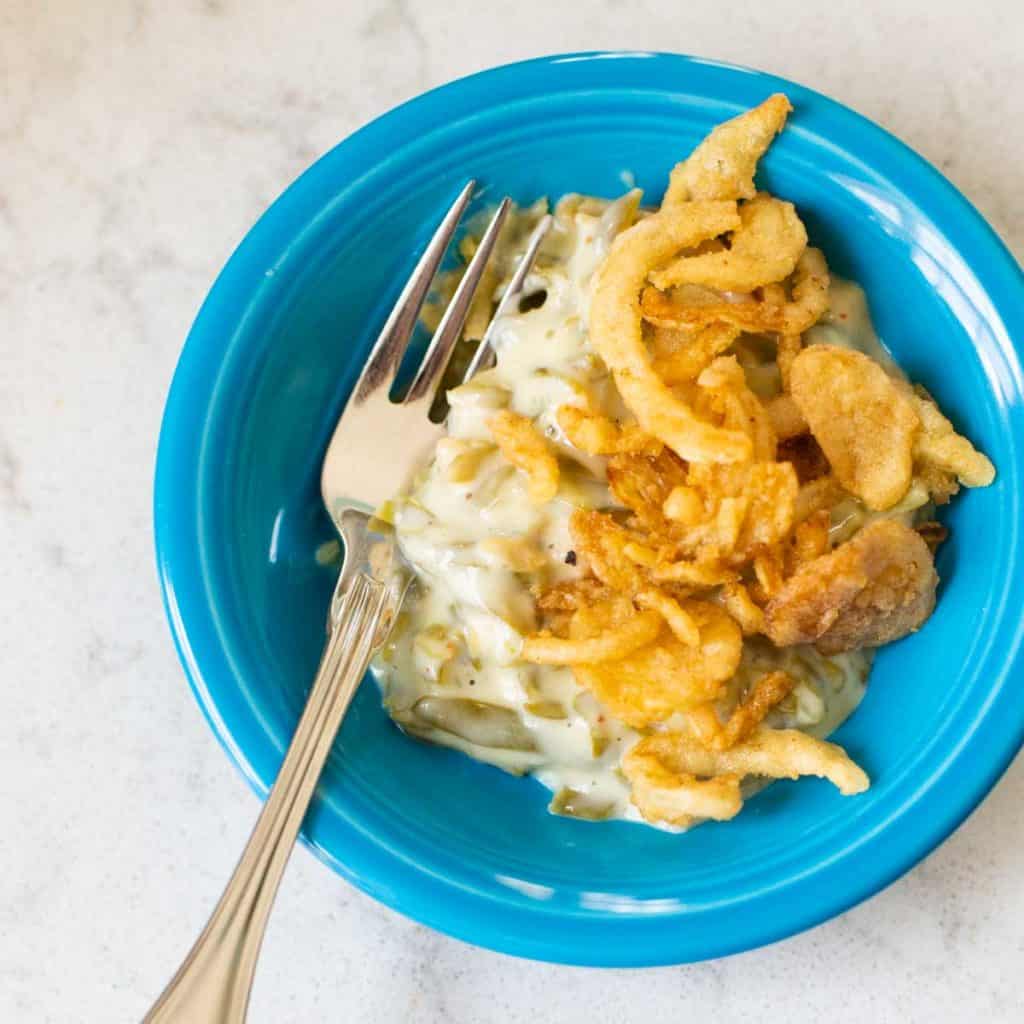 There are a few Thanksgiving side dishes I make every year knowing I might be the only one to eat them because the holiday just wouldn't be the same without them.
Classic green bean casserole is one of them. Since the dish is so easy to make and includes very affordable ingredients, I never feel guilty about it!
The only challenge? Having enough room in my oven once our favorite herb butter turkey comes out and I'm busy trying to squeeze my mom's Italian sausage stuffing, our favorite sweet potato casserole with pecans, and a tray of dinner rolls back in!
I wanted to experiment with a Crockpot green bean casserole to help save space in my oven but the challenge was to keep the crispy fried onion topping from getting soggy.
It just took a simple little trick and I perfected it!
Bonus: By making the casserole in the Crockpot, it stays warm no matter how long dinner lasts!
Jump to:
Ingredients
This is the standard green bean casserole recipe I've been using since my very first Thanksgiving. The ingredients are very simple.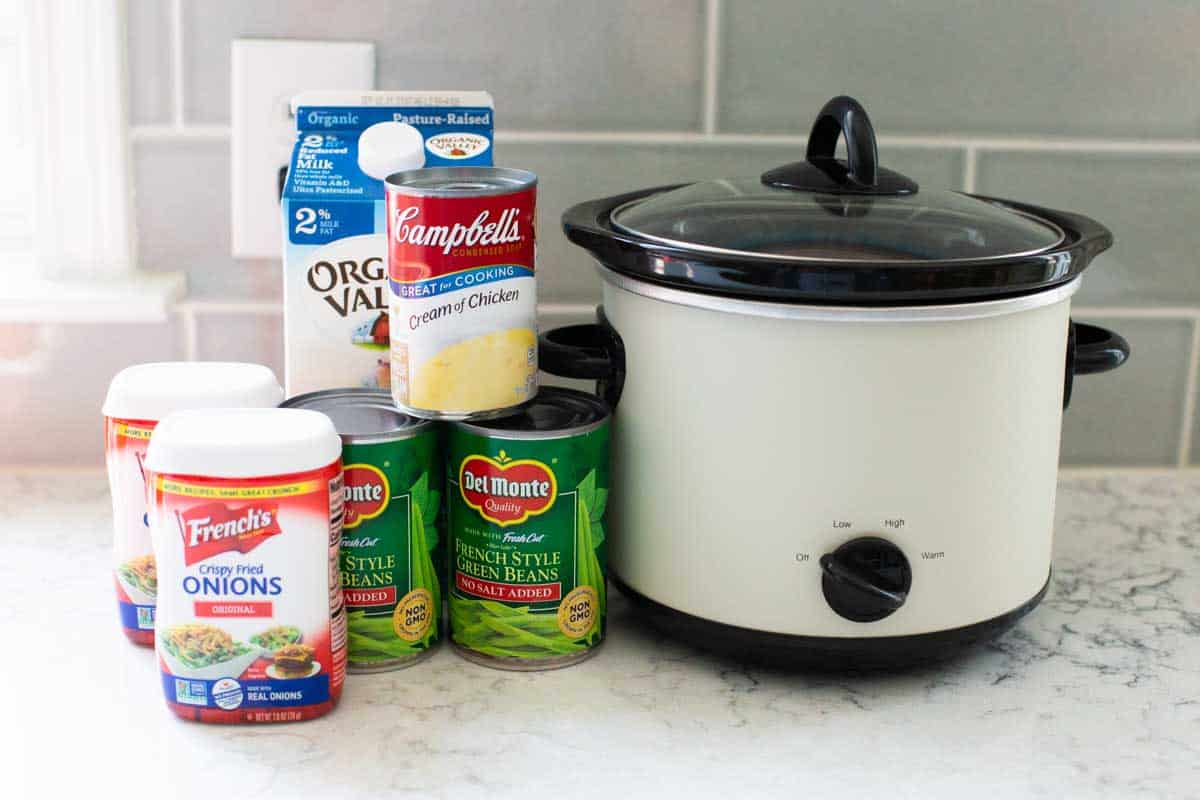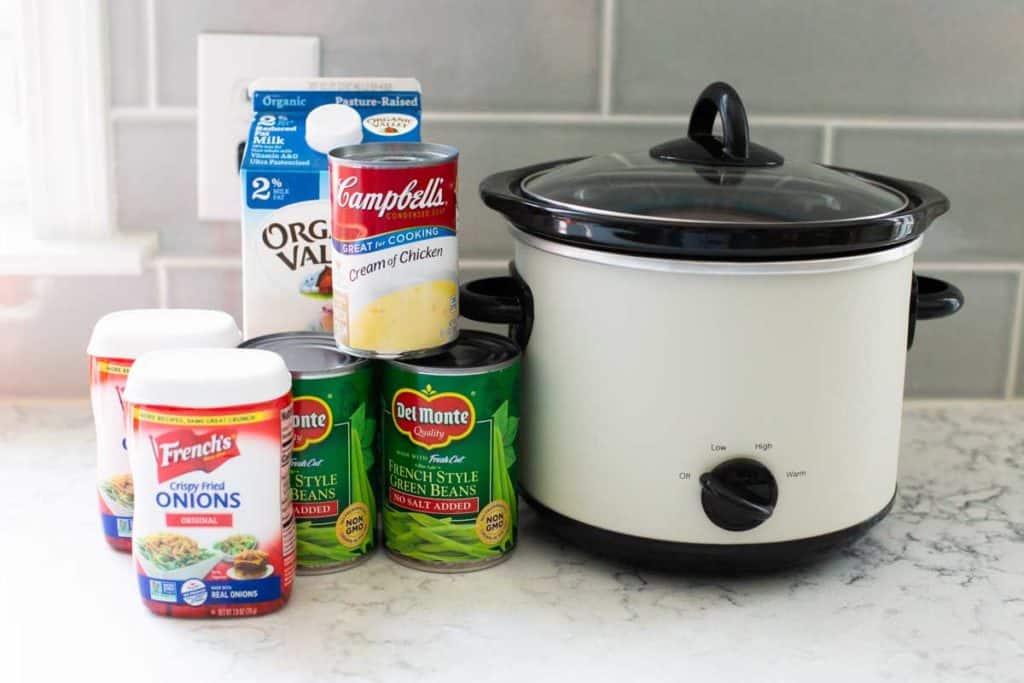 FRENCH style green beans -- I swear it tastes better with the thin French style cut
Cream of chicken soup
Milk
Pepper
French's Crispy Fried Onions
See the recipe card for quantities.
Instructions
This recipe is so easy, it is the perfect Thanksgiving dish for kids to make! Show them how to use a can opener, and hand them a printout of the recipe card.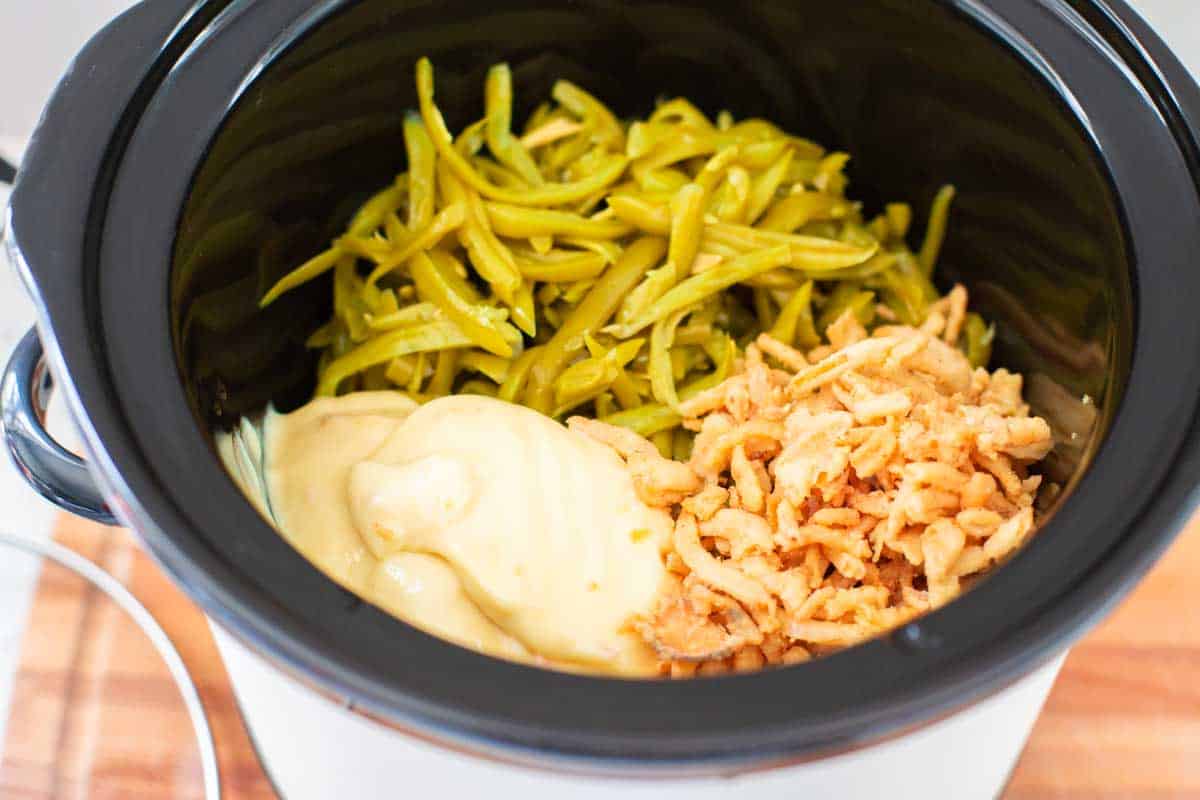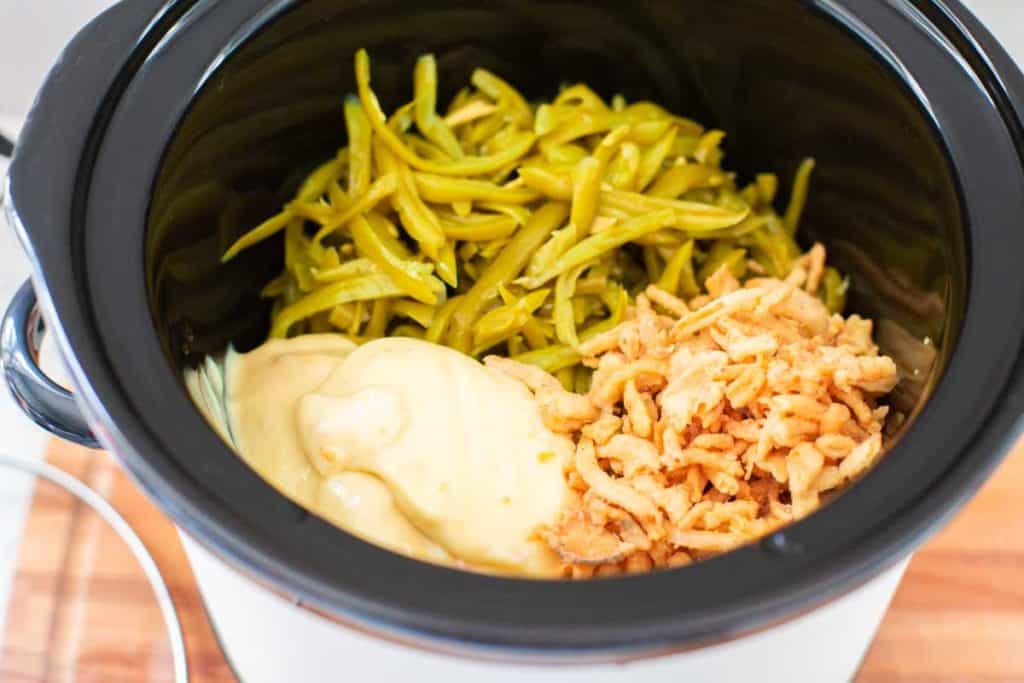 Open the cans of green beans and drain the liquid out.
Add the beans, cream of chicken soup, and milk to the bowl of a small 3 qt slowcooker.
Stir the ingredients together until fully combined.
Sprinkle the pepper and add just ½ cup of fried onions and stir to combine.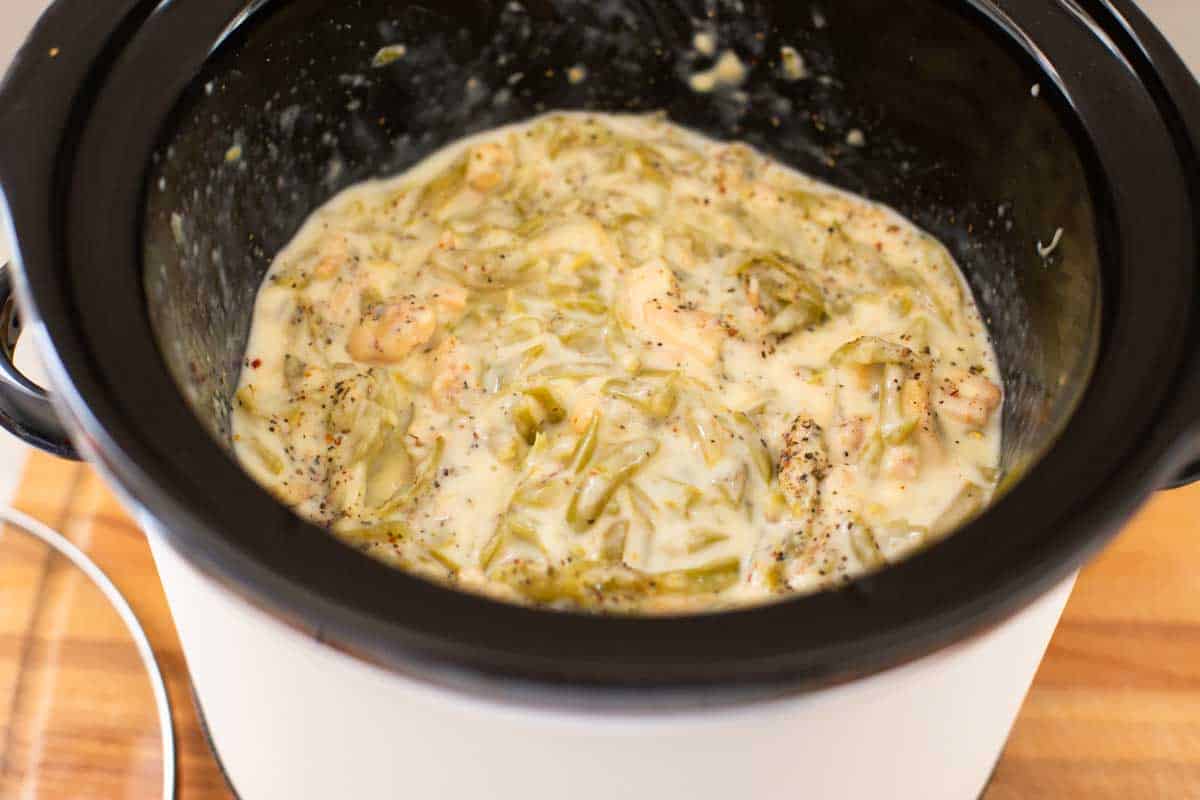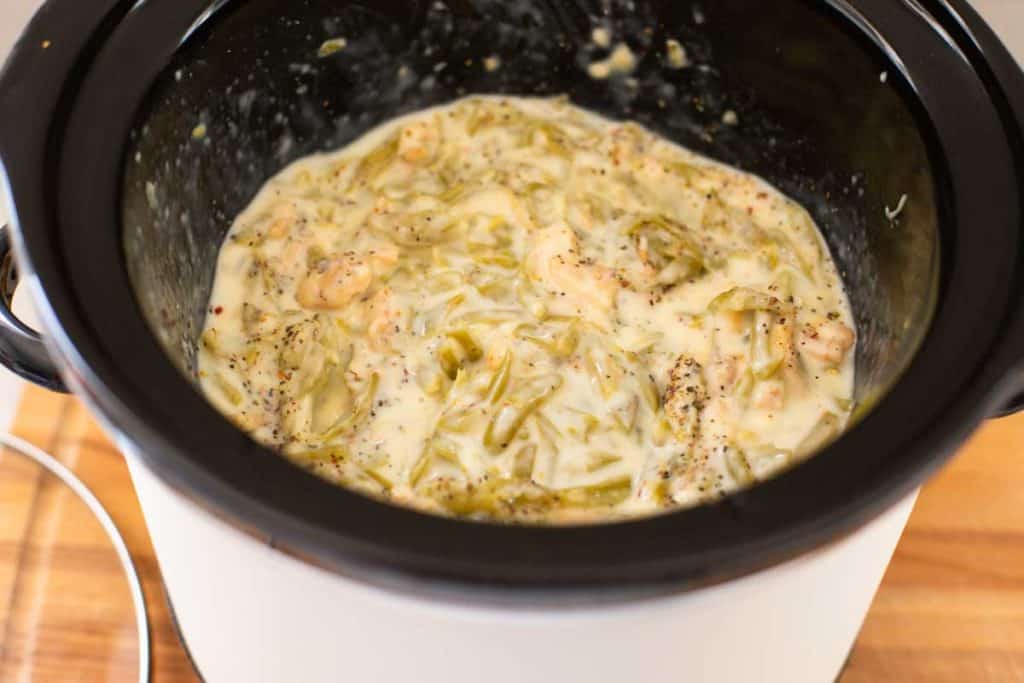 Cover the Crockpot with the lid and cook on LOW heat for 2 - 3 hours.
Stir the casserole every 30 - 40 minutes or so, this will help it from browning too much along the rim of the dish.
TOP TIP: If the casserole is finished cooking before you're ready to serve dinner, simply lower the heat to the KEEP WARM setting.
My favorite part of this dish is the crispy topping.
If you add the fried onions to the crockpot, the moisture from the dish and the steam trapped on the lid of the slowcooker will cause the onions to get soggy.
Plus, the onions still need to be baked in the oven to get that golden brown crunchy texture.
Spread the remaining fried onions on a baking sheet in a single layer. Bake for 1 - 2 minutes but watch carefully because they will burn quickly if unattended.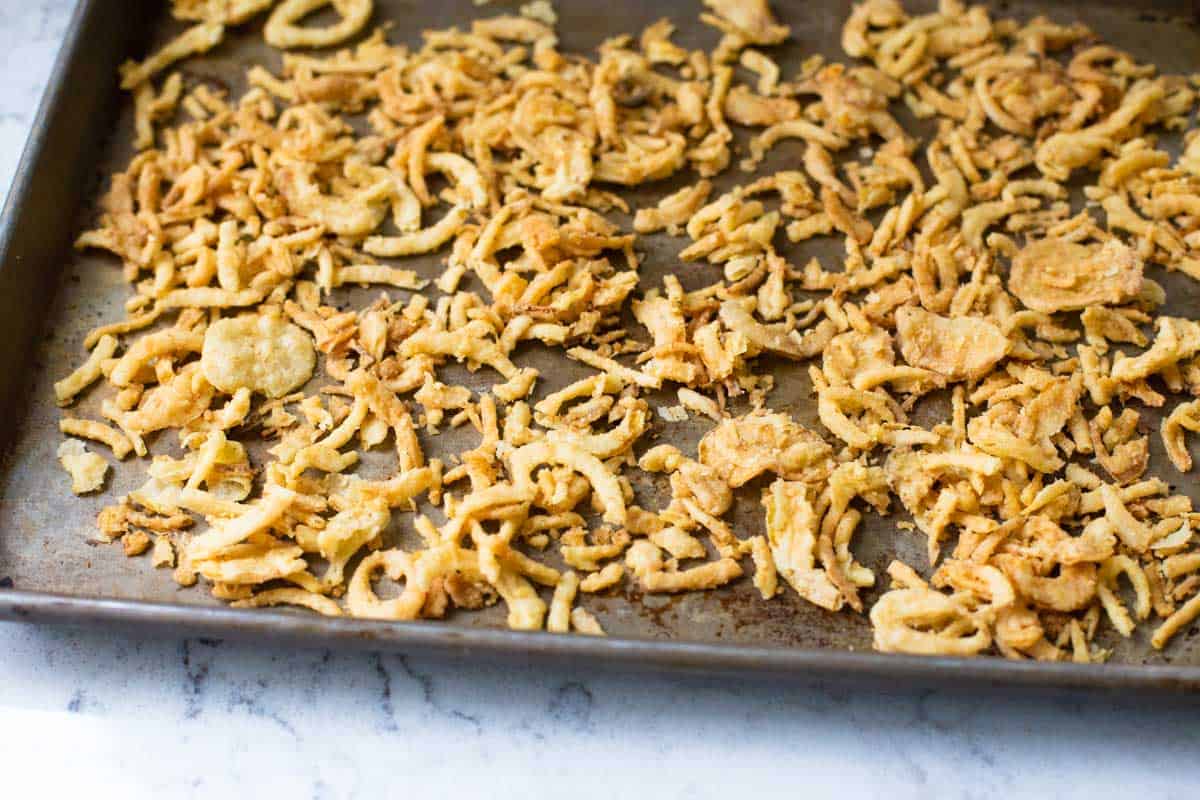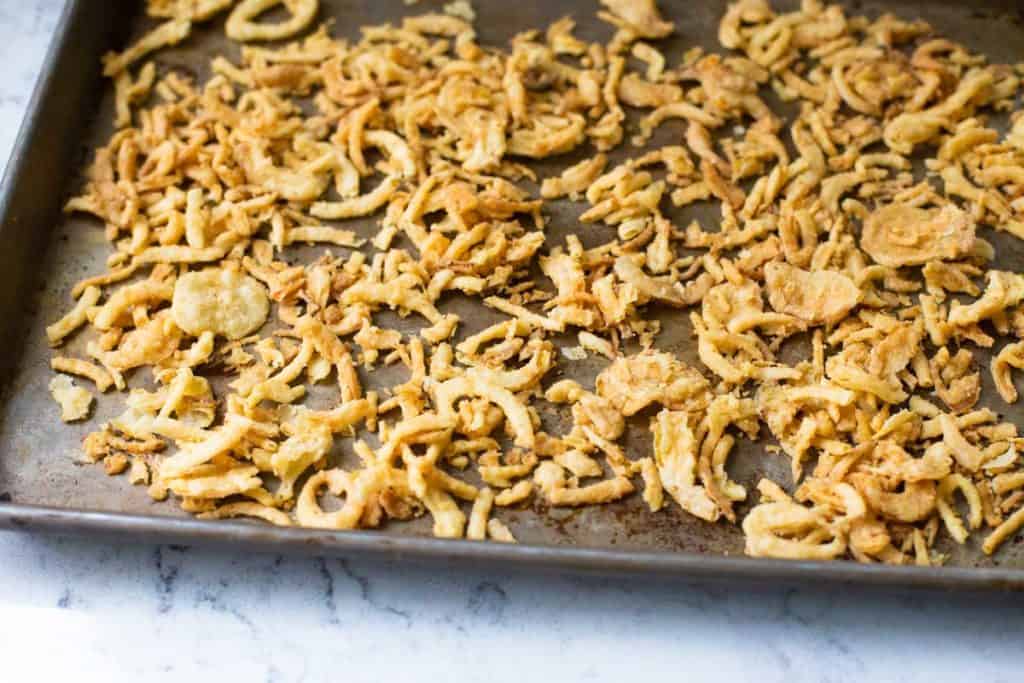 Hint: The onions can bake at whatever temperature your oven is already set at for your other holiday side dishes. If you're not using your oven for anything else, you can bake them at 350°F. Just know that a much higher temp may mean they will cook extra quickly.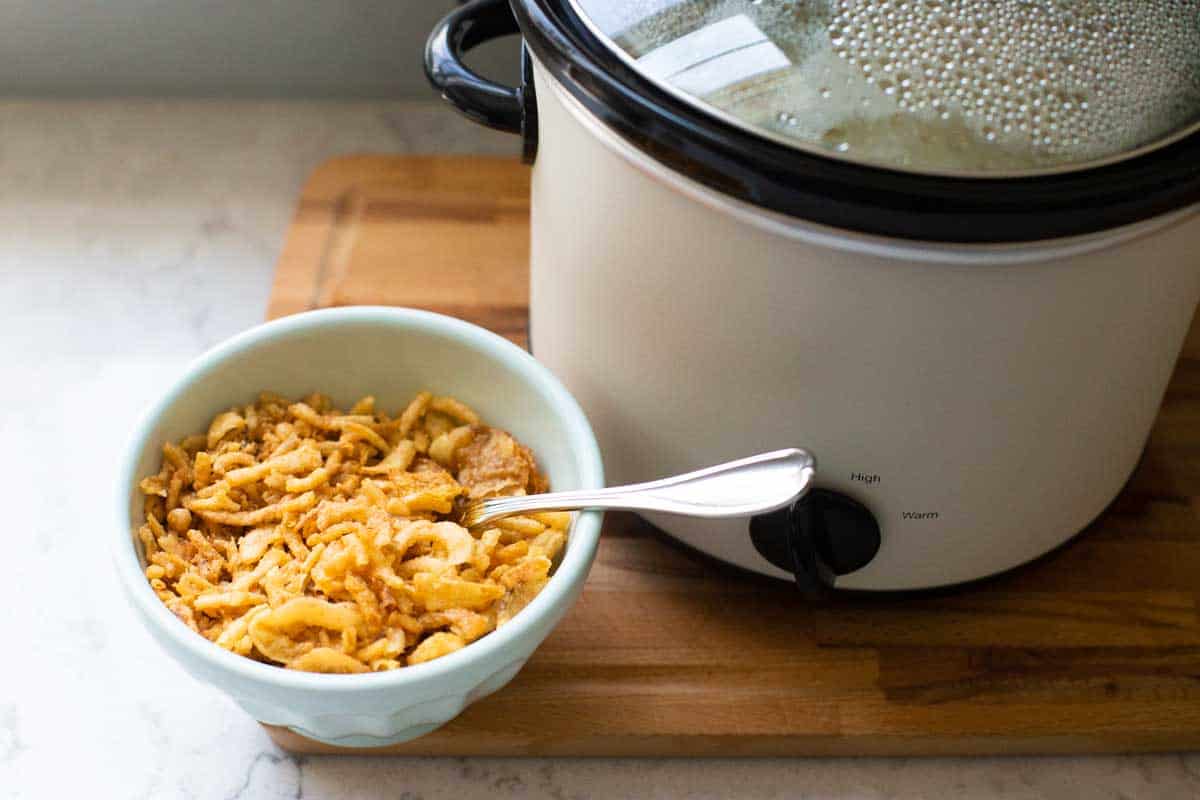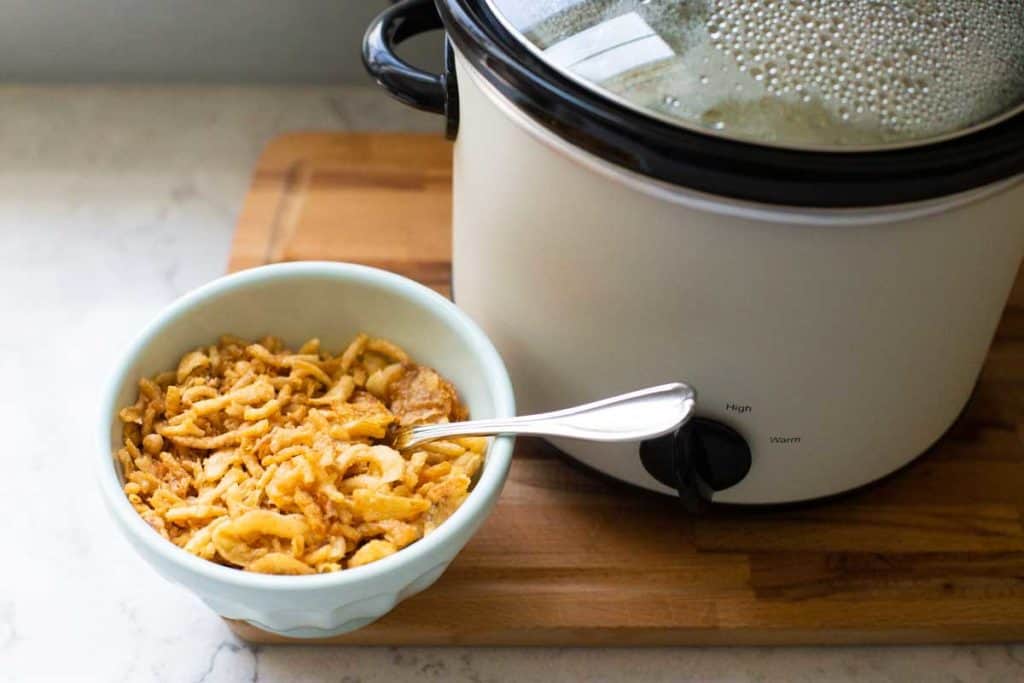 Serving Tips
Once the onions have been crisped in the oven, you don't want to add them to the Crockpot or they will steam up and get soggy.
Instead, I added the crispy onions to a small serving bowl and simply placed it next to the Crockpot so that guests can top their green bean casserole with onions as they desire.
Since the green beans stay hot in the Crockpot, the warmth from the casserole will heat through the onions sprinkled on top fairly quickly but they still maintain their crispiness.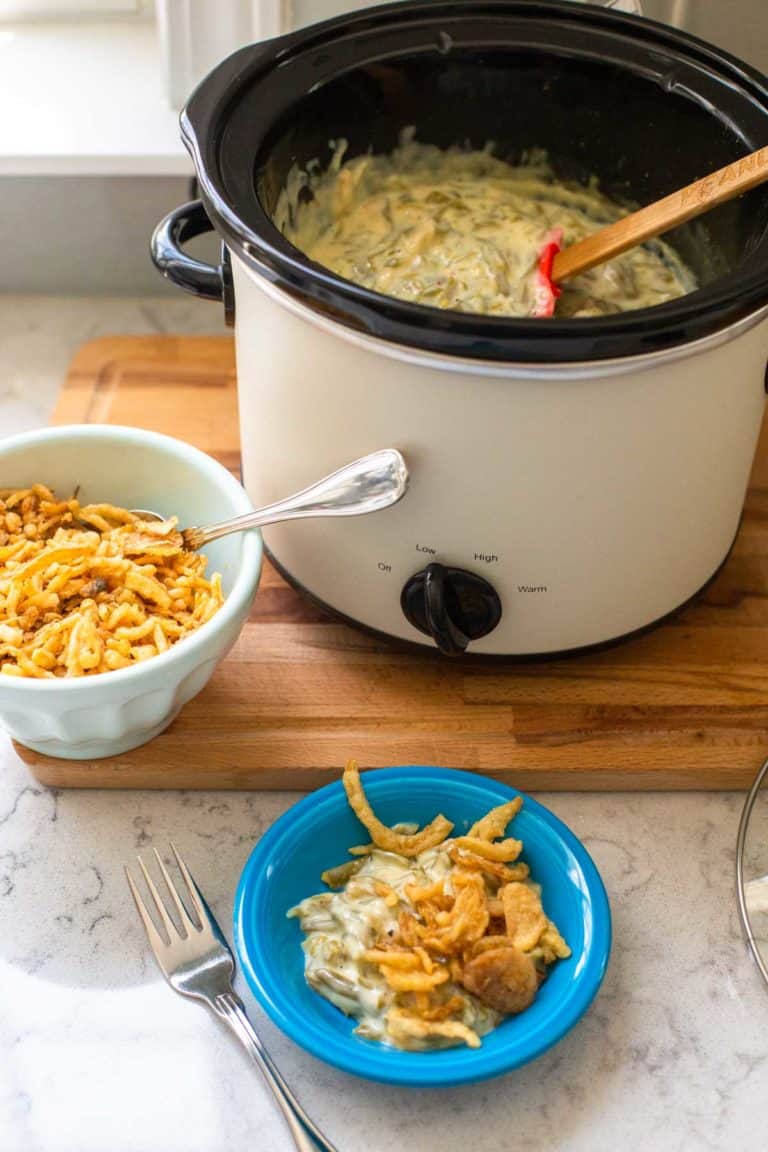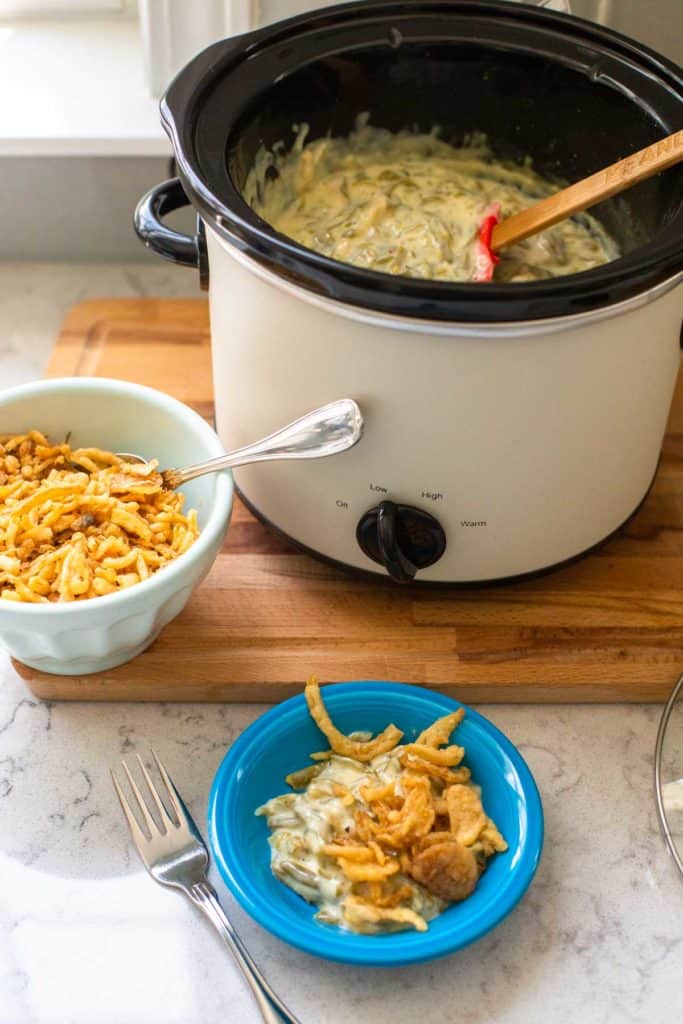 Equipment
I highly recommend using a small slowcooker for this recipe. I used a 3qt Crockpot and still had lots of room for the recipe.
If you use a Crockpot that is too big, the sauce could burn around the edges or bottom.
If you don't have a slowcooker on hand that is the right size, small Crockpots are very affordable and can often be found for $20 or less. This 1.5 qt Crockpot would work perfectly.
A Tip for Cooking for Kids
Though the crispy onions are now their favorite part of the dish, when my kids were little they would avoid even trying it because of them.
By serving the onions on the side, the green beans may be more attractive to the picky eaters at your holiday table. If this is the case, you can skip adding them at the start of the recipe, too.
Essential Thanksgiving Side Dishes
Want to make this Thanksgiving the easiest feast yet? These classic side dish recipes are perfect for feeding a crowd and keeping your oven organized:
If you've tried this Crockpot green bean casserole or any other recipe on PeanutBlossom.com please don't forget to rate the recipe and let me know where you found it in the comments below. I love hearing from you!
FOLLOW along on Instagram @peanut.blossom as well as on Pinterest and Facebook.
📖 Recipe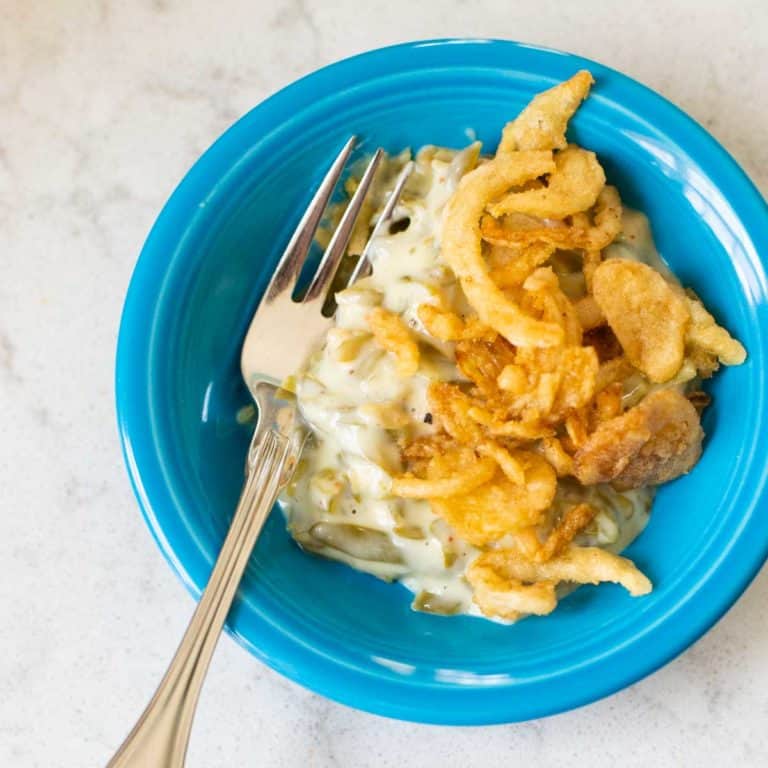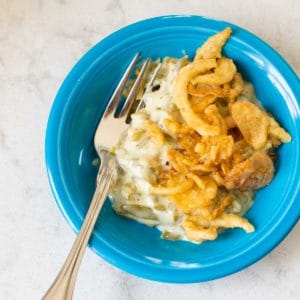 Crispy Crockpot Green Bean Casserole
Classic green bean casserole is a Thanksgiving side dish essential. When you need to feed a crowd and your oven is full with other things, you can make a crispy Crockpot green bean casserole that stays hot and crunchy for your guests with these tricks.
Ingredients
2

(14.5 oz) cans French style green beans

drained

1

(10.5 oz) can condensed Cream of Chicken soup

¾

cup

milk

Sprinkle of pepper

2

cups

French's Original Crispy Fried Onions

divided
Instructions
Add the green beans, cream of chicken soup, and milk to the bowl of a 4 qt Crockpot. Stir to combine.

Add a sprinkle of pepper and ½ cup of the crispy fried onions to the crockpot and stir.

Cover and cook on LOW for 2 hours, stirring every 30 - 40 minutes or so.

Preheat the oven to 350°F.

Spread the remaining fried onions on a baking sheet in a single layer. Bake for 1 - 2 minutes, watching carefully so they don't burn.

Place the crispy onions in a small serving bowl next to the Crockpot and let guests sprinkle their own casserole just before eating. This keeps the casserole hot in the slowcooker while keeping the onions crispy for the topping.
Save This Recipe to Your Recipe Box
Find this delicious recipe next time you visit by saving it to your very own recipe box on my site. All your favorites stored in one easy place!