This easy slow cooker boneless turkey breast recipe is perfect for a smaller holiday gathering or a weeknight dinner. Prep it in under 10 minutes for a hands off dinner. The homemade gravy comes together at the end in a flash!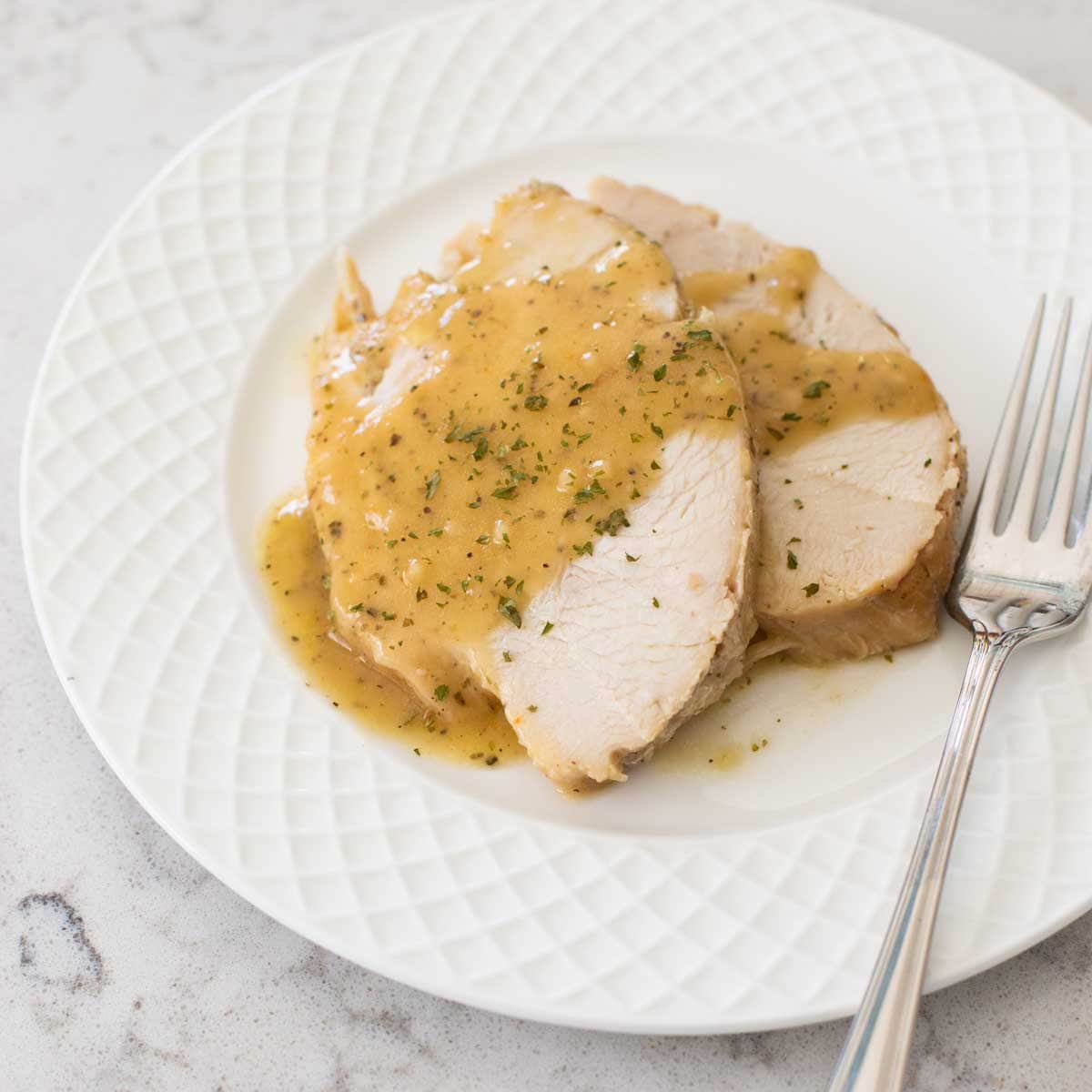 We've been making our famous roasted herb butter turkey recipe for Thanksgiving for well over a decade.
It was impossible for us to imagine using any other turkey recipe for the holiday, until I discovered this super easy slow cooker boneless turkey breast recipe!
I spotted 4.75 pound boneless turkey breasts in the freezer section at Costco the other day.
Knowing how much my family loves open face turkey sandwiches with gravy, I thought I'd surprise them.
The all-white meat turkey breast took just a few minutes to prepare and was the most tender and juicy turkey meat we've had in a very long time.
A few bites in and an unanimous decision was made to use this recipe for Thanksgiving this year!
Jump to:
Why This is the Best Recipe
It takes a lot to surprise me these days but this slow cooked turkey breast recipe is an absolute winner because:
Budget-Friendly: The little turkey breast was just $20 at Costco. Compared to $40+ that I usually spend on a whole turkey, that feels like a steal.
All-White Meat: Since you're not paying for bones and parts of the turkey you may not want to eat, buying just the turkey breast pays off big dollar to meat ratio.
Tender and Juicy: Turkey breasts have a bad reputation for being dry but when you slow cook them on LOW heat in an herb butter sauce, they remain perfectly tender and shockingly juicy.
Full of Flavor: I used many of the same flavors as our traditional Thanksgiving turkey but stuck with budget-friendly dried herbs for our weeknight dinner. The turkey itself was amazing but the gravy was a total winner. For a simple holiday upgrade, I'm going to switch to fresh herbs.
Amazing Pan Gravy: I wasn't sure if I could get a decent gravy from a boneless turkey breast, especially in a slowcooker. But the melted butter filled with all those herbs for so many hours made an absolutely wonderful pan gravy for drizzling over the turkey slices.
Ingredients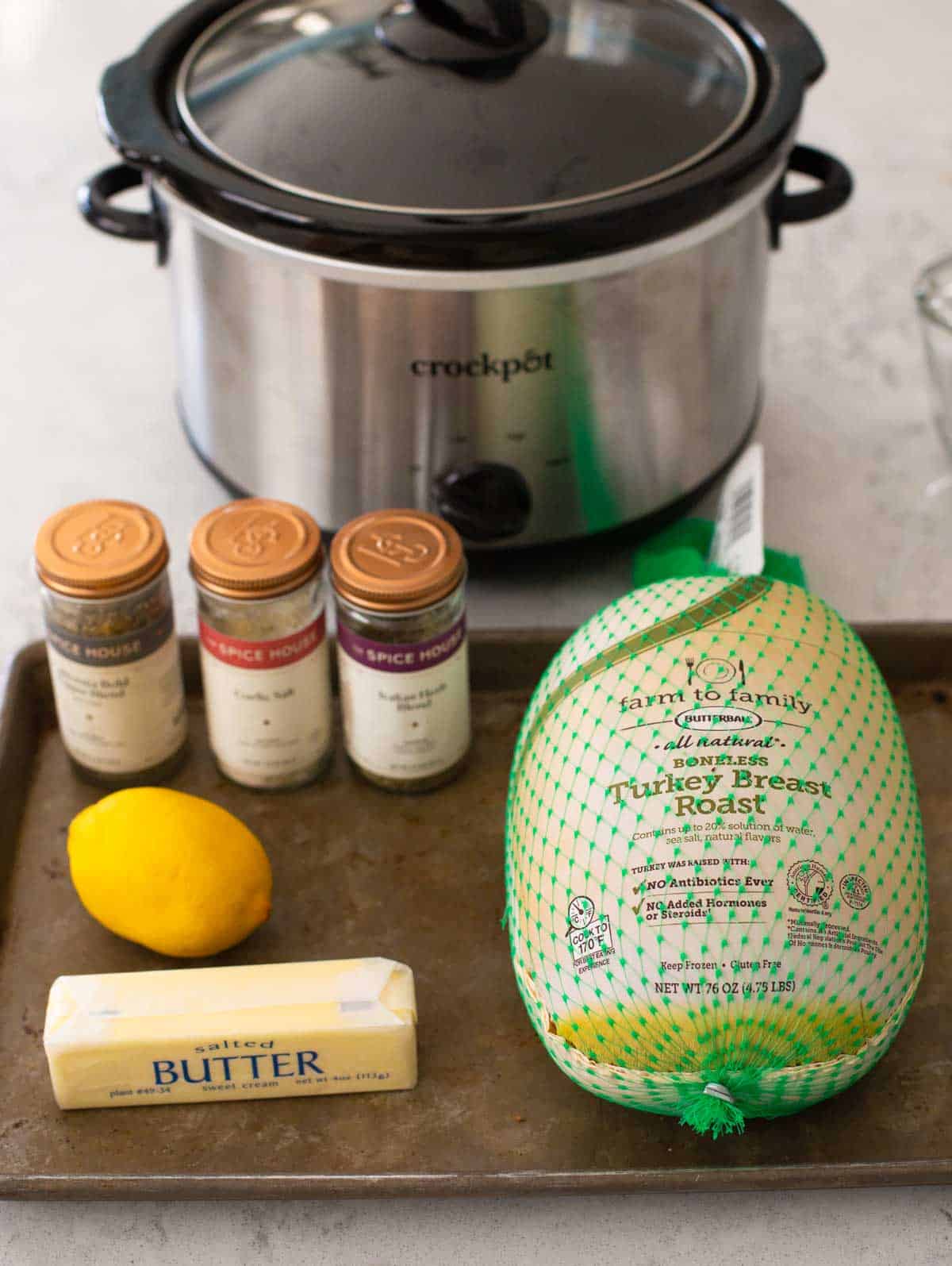 I couldn't believe just how few ingredients it takes to make such a tasty turkey breast!
All you need to have on hand is:
Boneless, Skinless Turkey Breast: Ours came from the freezer section at Costco
Butter
Italian Herbs
Garlic Salt
Seasoned Pepper: I'm obsessed with this pepper blend, but you could always use just fresh cracked black pepper, too.
Fresh Lemon
Prepare the Turkey Breast
The first step to do is to make sure your turkey is completely defrosted if you bought it frozen.
I placed our turkey on a rimmed baking sheet in the fridge to catch any leaks from the packaging.
The 4.75 pound turkey sat there for 3 days before I tried to cook the turkey.
Boneless turkey breasts are packaged inside a net that should stay in place while it cooks.
Place the turkey in your kitchen sink and open the outer plastic packaging with a kitchen knife.
Be careful, there will be a lot of packing liquid that will begin to pour out as you cut open the package.
Drain as much of that liquid off the turkey as you can before placing it, still inside the baking net, into the bowl of your Crock Pot: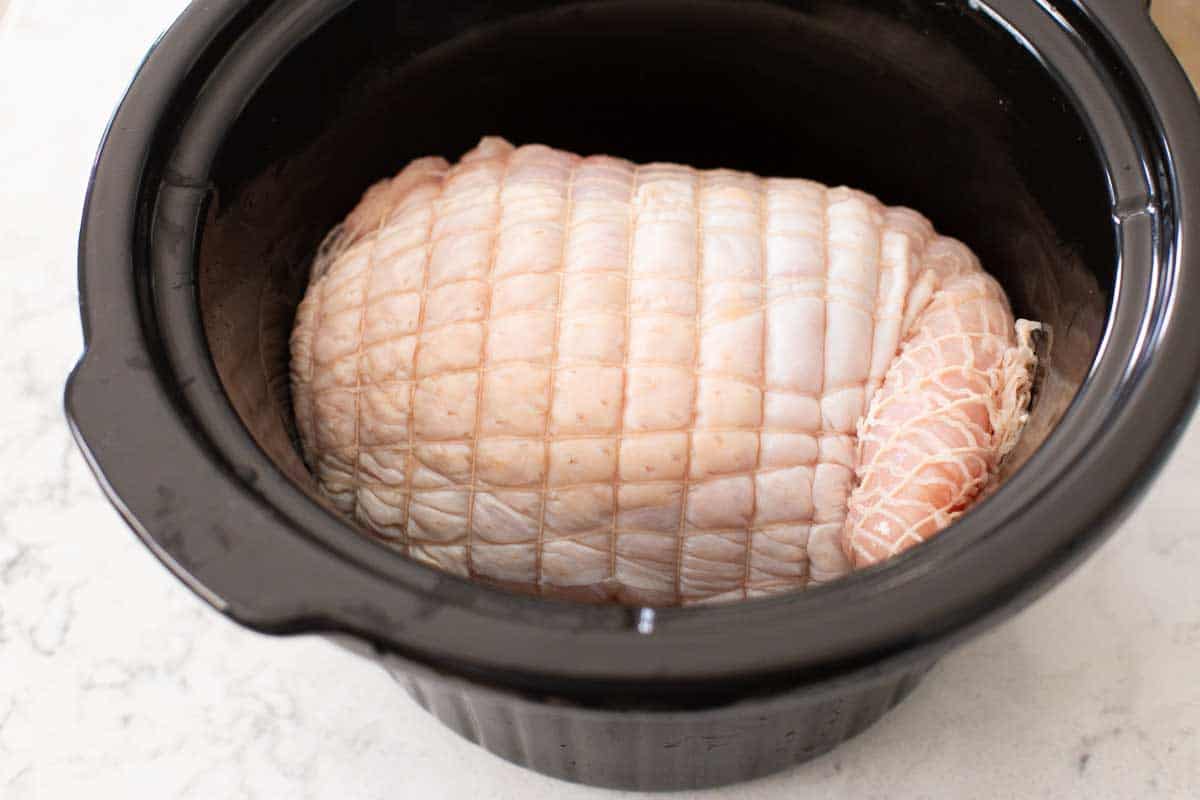 Place the bowl back inside the slowcooker base and prepare the seasoned topping.
Make the Butter Compound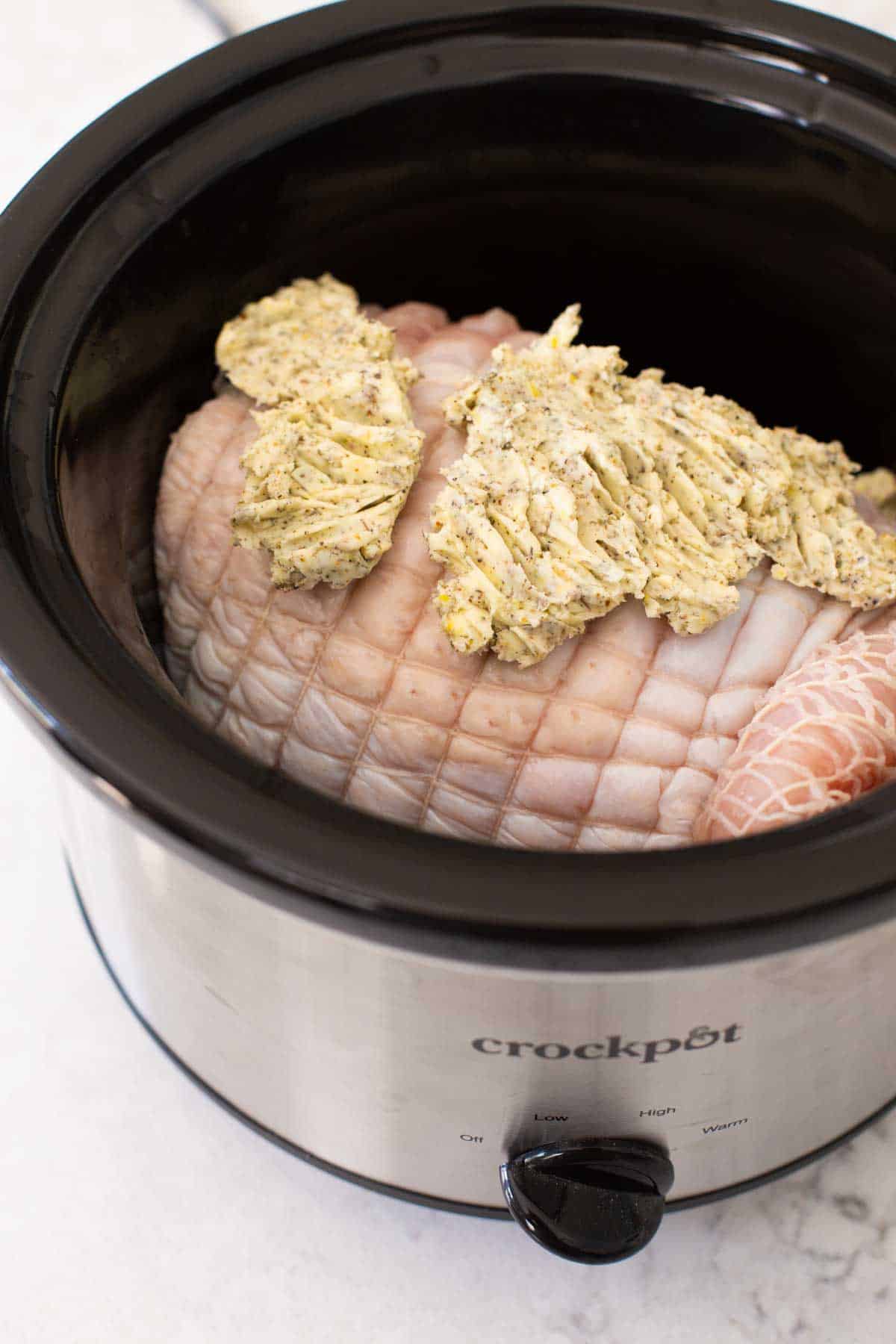 Add the softened butter to a small mixing bowl.
Zest the fresh lemon over the butter and then add all the dried seasonings: Italian herb blend, garlic salt, and black pepper.
Use a fork to mash the butter together with the seasonings until well combined.
Even with softened butter, it is really difficult to spread the butter over the boneless turkey breast.
Instead, I just patted it into place into as even of a layer on top of the turkey as I could.
Don't worry, the butter will melt and season the turkey as it cooks.
Slow Cooker Instructions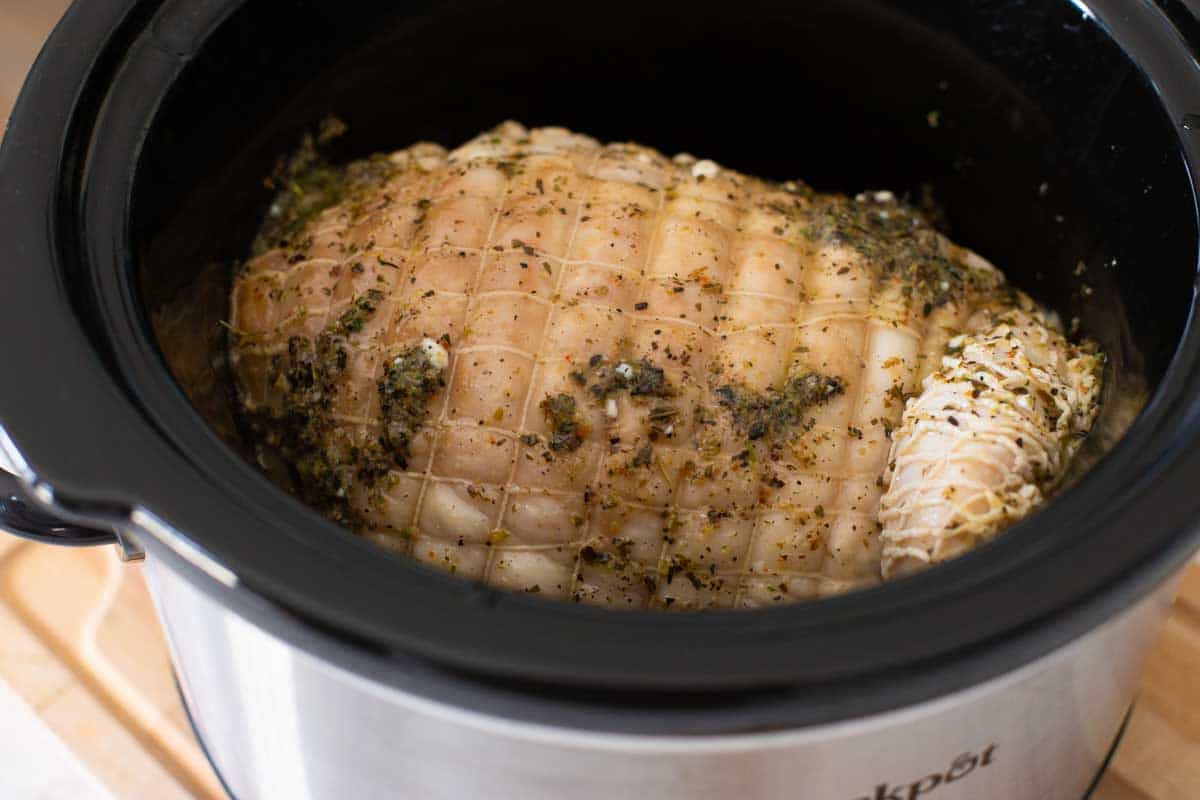 Place the lid on the slowcooker and turn the heat to LOW.
Cook the turkey breast for 5 - 5 ½ hours or until it reads 165°F on a thermometer at the thickest part.
If you bought a slightly larger turkey breast, you'll need more time.
The biggest benefit of slowcooking a turkey instead of roasting it in the oven is that the turkey is cooking at such a gentle temperature you have lots of wiggle room to finish up the side dishes for your meal.
For our busy weeknight, our turkey had to sit while I ran and picked up the kids from school. Even with an extra 30 minutes in the Crock Pot, the turkey wasn't overdone.
Baste the Turkey
About an hour after I started cooking the turkey, the butter had finally melted.
Use a turkey baster to baste the herb butter over the turkey about once an hour or so as it cooks.
Half way through the cooking time, I used a pair of tongs to turn the turkey over inside the crockpot so that both sides got to cook in the pool of melted butter at the bottom of the bowl.
Prepare the Turkey Pan Gravy
When the turkey is finally finished slow cooking, carefully transfer the meat to a carving board and loosely cover it with aluminum foil to keep warm and rest while you prepare the gravy.
You could use the drippings from the turkey to make my favorite Thanksgiving gravy. It has a few more fresh ingredients that make it taste extra delicious.
But for a busy weeknight, this simple pan gravy worked just great:
Set out a large liquid measuring cup or mixing bowl with a spout with a strainer set over the top.
Carefully pour all the liquid from the Crock Pot bowl through the strainer.
The herbs will pass through the strainer but the larger solids will be filtered out.
Add just ¼ cup of the turkey drippings to a large saucepan on the stove.
Heat it over medium-high heat and whisk in ¼ cup of flour. Keep whisking until the butter and flour are incorporated and bubbling.
Drizzle in the remaining butter and turkey drippings and keep whisking to smooth things out.
Drizzle in the chicken stock and lemon juice while whisking.
Bring the gravy to a bubble and reduce the heat to medium-low. Continue to cook until the gravy has thickened to your liking.
Turkey Tenderloin Crock Pot Recipe Variation
While I used a boneless turkey breast for my recipe, this method would also work for cooking a turkey tenderloin in the crock pot, too.
A turkey tenderloin is simply a specific cut of the turkey breast.
It is also the most tender portion of the turkey and would certainly be delicious with the herb butter pan gravy.
The only adjustment you should have to make to the recipe is the cooking time and quantity of butter. My recipe is based on a 4.75 pound portion of turkey breast so add or reduce the cooking time as needed for your turkey tenderloin.
Serving Suggestions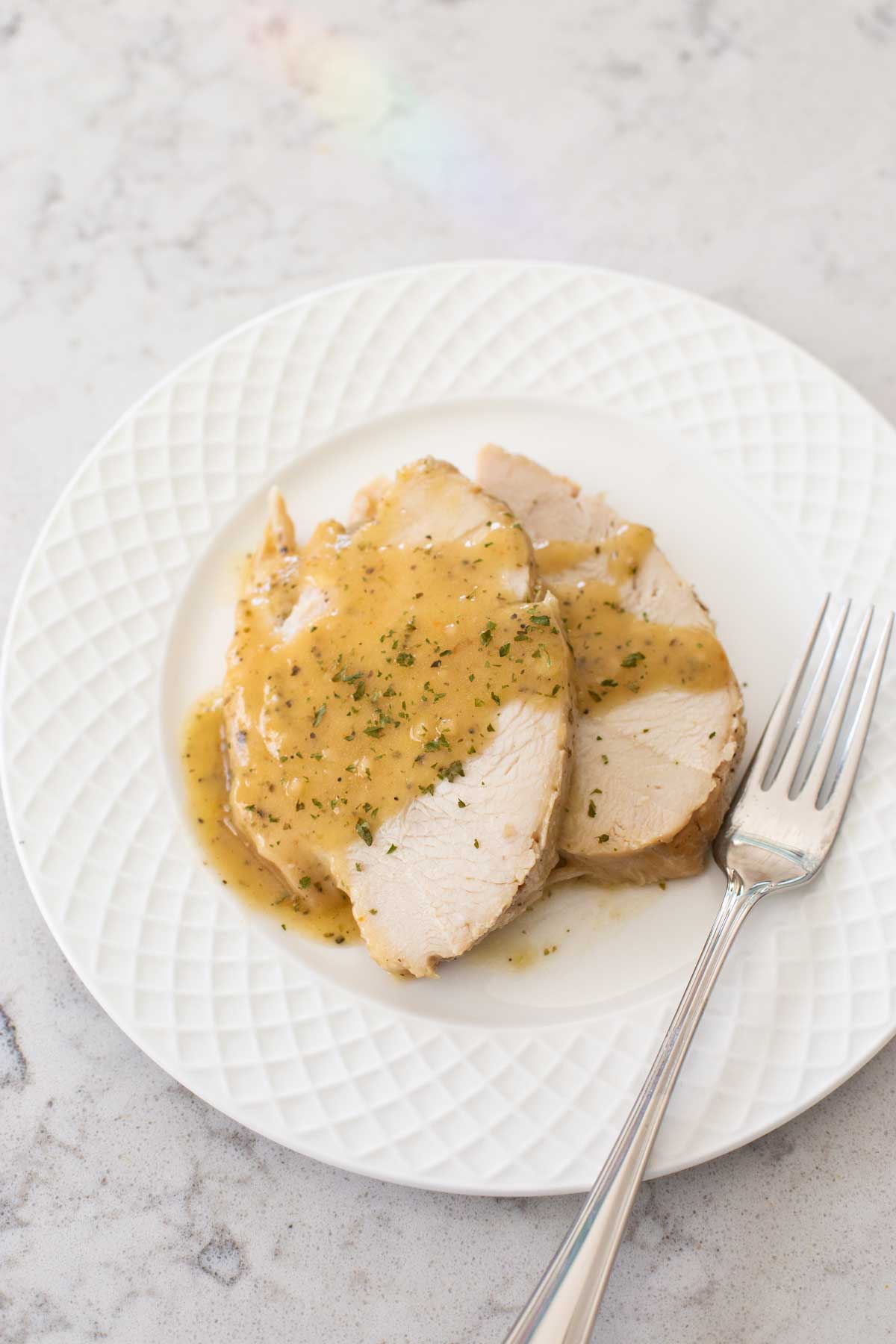 When I made our first boneless turkey breast in the crock pot, it was intended for our favorite open face turkey sandwiches with gravy.
It was a simple dinner for a busy night and it only took a few minutes for me to make the pan gravy and serve.
However, we are definitely planning to use this recipe to cook our Thanksgiving turkey in a couple weeks.
I'll upgrade to fresh herbs, shallots, and white wine, like I do in my traditional turkey gravy recipe.
Then we'll serve it with all the best Thanksgiving side dishes including my favorite cranberry sauce with Grand Marnier and my mom's famous Italian sausage stuffing made with homemade Italian bread from my bread machine.