This easy homemade gravy recipe is essential for a delicious Thanksgiving dinner. Use the turkey drippings and a few simple ingredients to make the most delicious turkey gravy you've ever had.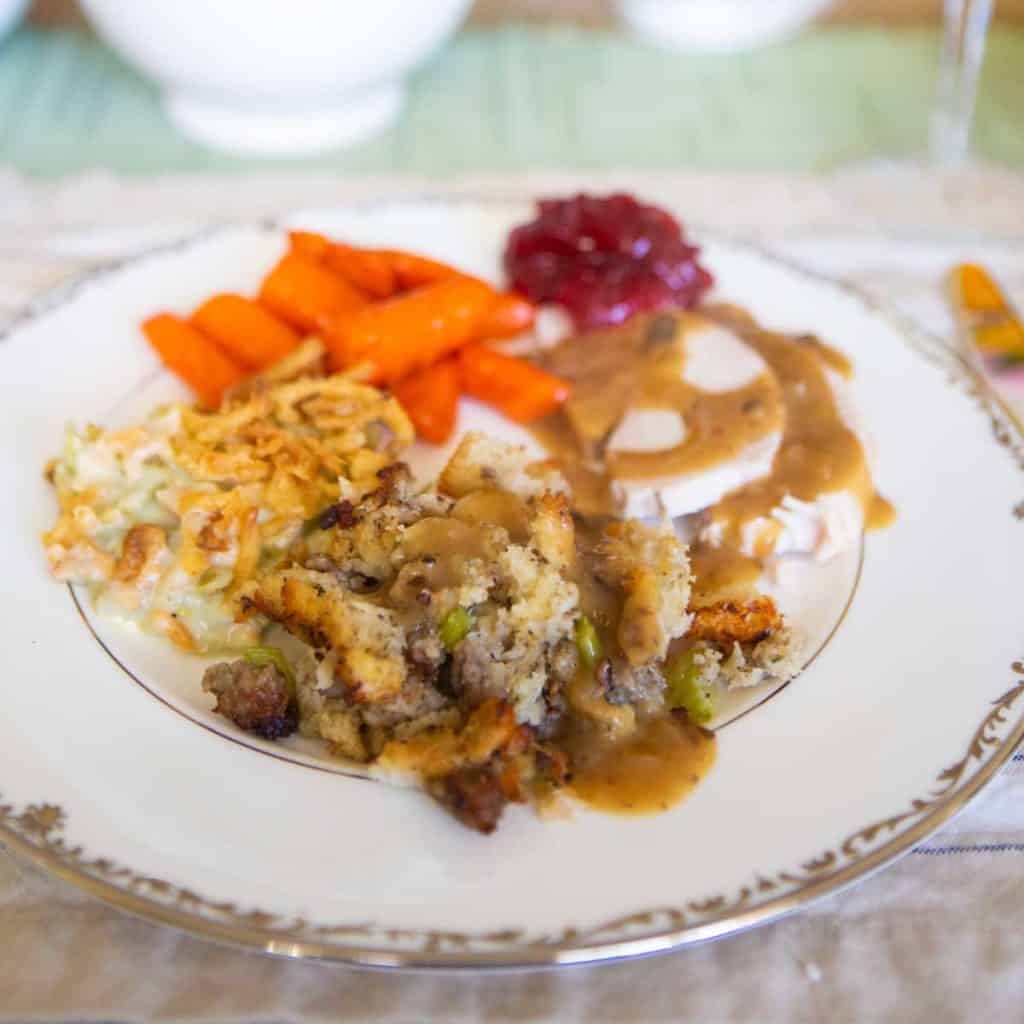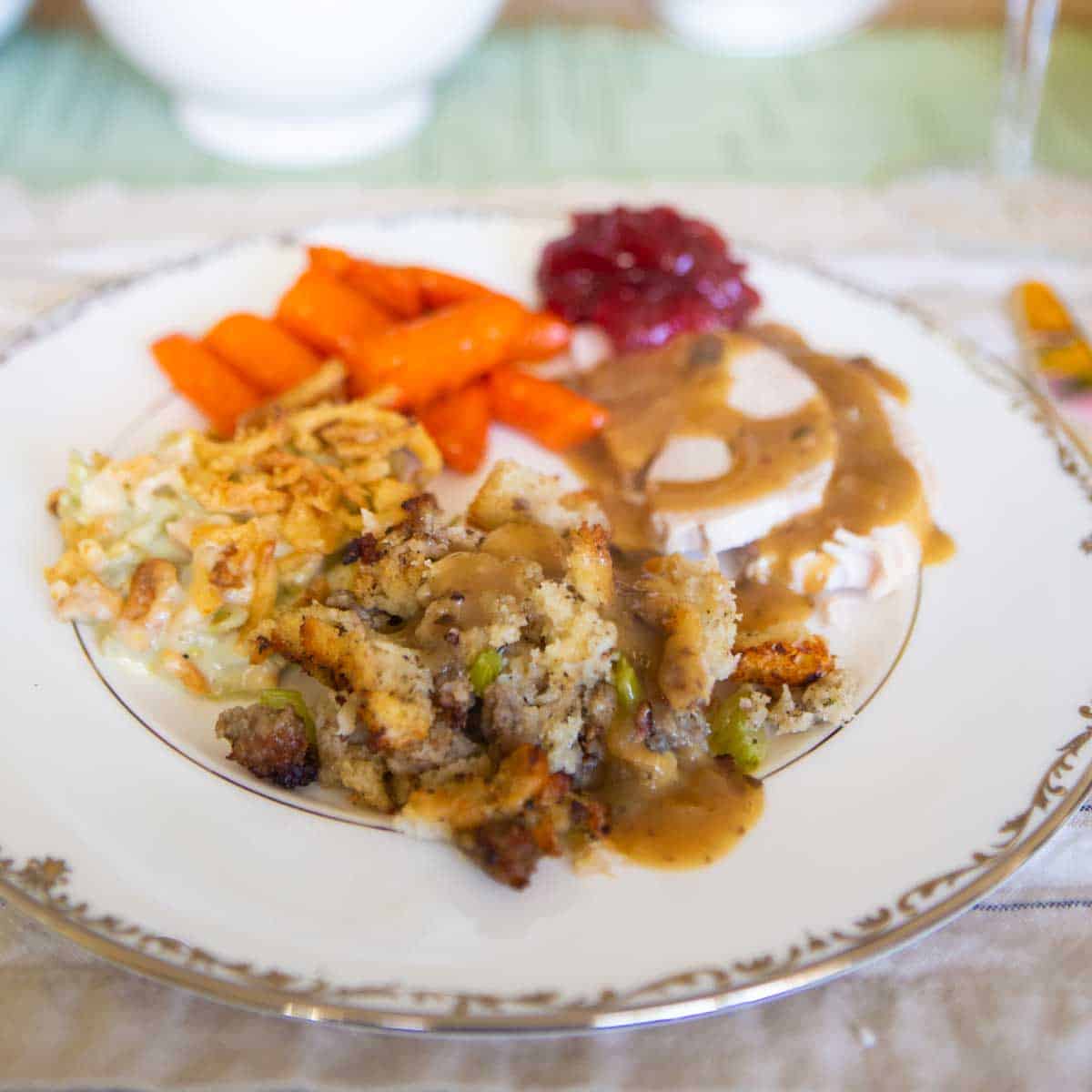 If you're going to the effort to make a homemade roasted turkey for Thanksgiving, it only takes a little more energy to make this homemade gravy recipe to finish off the meal.
I swear this will be the most delicious topping for all your Thanksgiving side dishes!
We always make a big batch of the gravy because it is a great way to reheat turkey leftovers, too.
The trick to making the best gravy ever is to start with our favorite roasted herb butter turkey.
The turkey is stuffed with a fresh lemon and an orange which gives this turkey gravy just the right amount of acid to enhance the flavor without making it taste "fruity."
However, if you want to make a much smaller turkey breast, my easy slow cooker boneless turkey breast gives plenty of pan juices to make this gravy, too!
You'll just want to use the same add-ins in the recipe card.
Jump to:
❤️Why This Recipe Works
Big Batch: The recipe makes 8 cups of gravy. We always have plenty for generously drizzling over our dinner and still have leftovers for the next day.
No Lumps: The flour gets added to the turkey fat in a separate saucepan and added in dollops to the stock which prevent lumps from forming.
Full of Flavor: A splash of wine, a bit of citrus from the turkey drippings, sautéed shallots, and bits of herbs from the herb butter the turkey was roasted with give this gravy a huge depth of flavor.
Equipment
Making gravy isn't tricky, especially with these handy tools:
A fat separator: I have made the gravy without this tool for many years, but I do believe it is a lot easier if you have one handy. I love this affordable option from OXO.
A good whisk: I prefer a traditional metal wire whisk for this job because it helps scrape up the browned bits from the bottom of the roasting pan.
Ingredients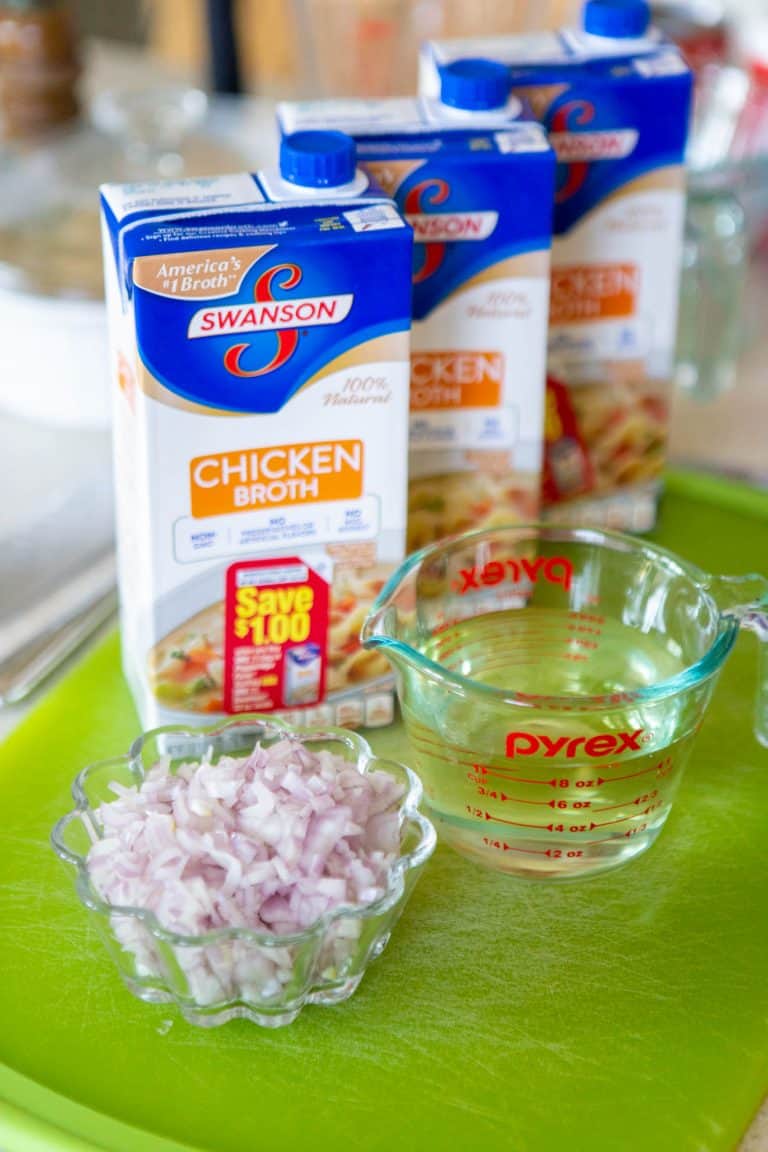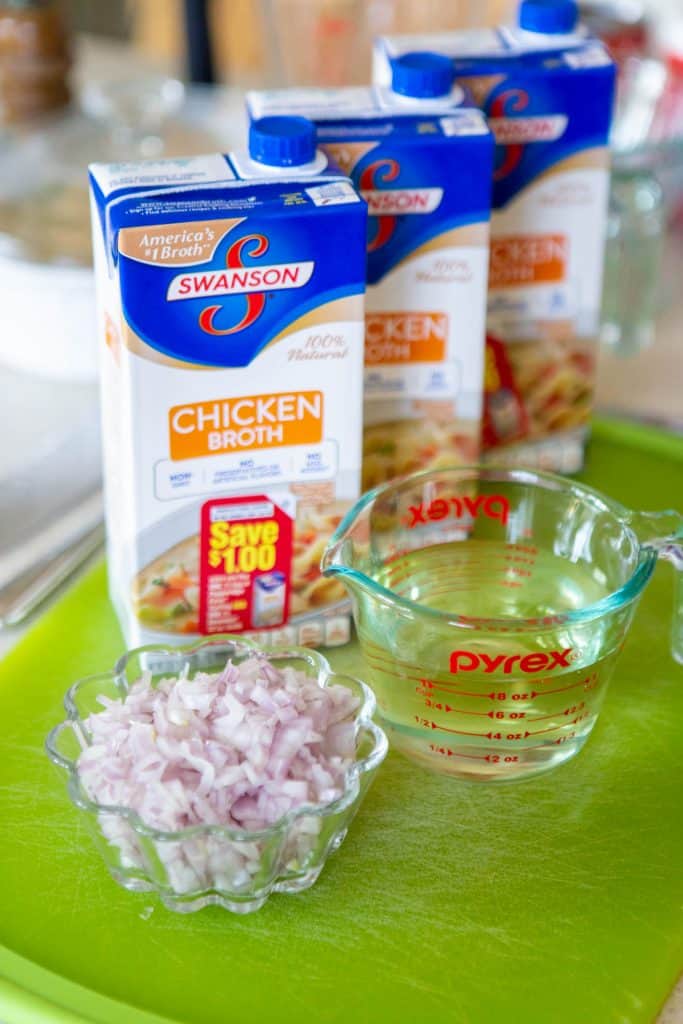 High-quality boxed chicken stock or broth: Most turkey gravy requires turkey stock which is surprisingly tricky to find! We've substituted chicken for years and it works perfectly.
Fresh Shallots
Good White Wine: Anything you'd drink and enjoy.
Instructions
Remove the turkey from your roasting pan and let it rest while you prepare the gravy.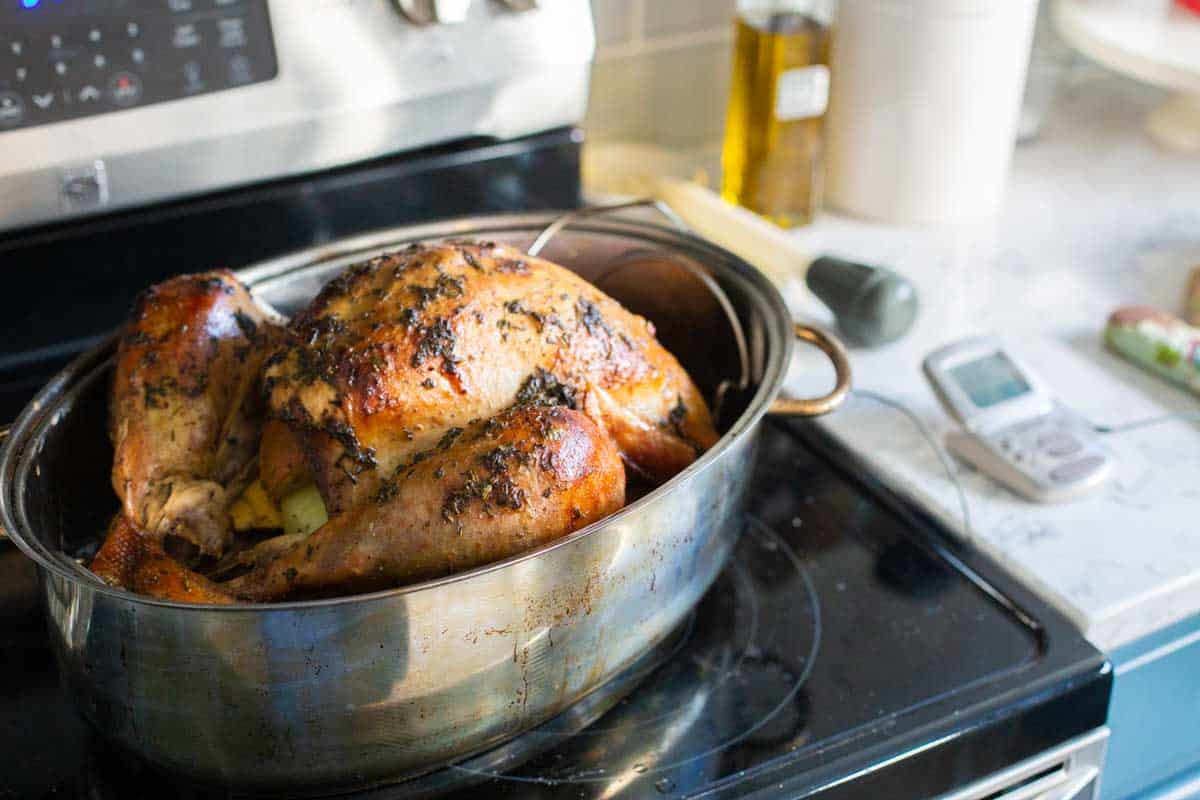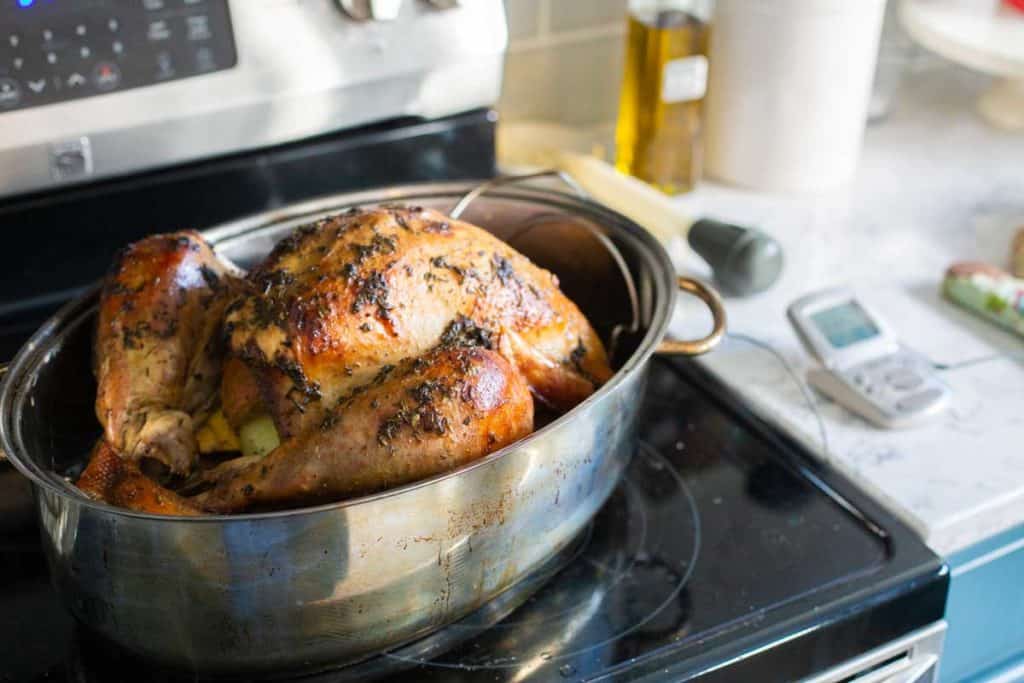 Carefully pour the turkey fat from the bottom of the roasting pan into a large liquid measuring cup or fat separator. Set the roasting pan aside but DO NOT RINSE IT!!
Be sure you have at least ¾ cup liquid from the turkey drippings. Adjust the quantities of the stock and wine as needed so you have the proper ratio.
Add the turkey drippings to a large saucepan and heat over medium.
Add the all-purpose flour to the saucepan and whisk it into the turkey drippings. The mixture will get quite thick and hard to stir, continue to whisk and stir to keep it from burning on the bottom of the pan.
Once the mixture, also known as a roux, is brown and smells nutty, turn off the heat and set the saucepan aside.
In the large roasting pan, add the chopped shallots and heat over medium-high heat.
If there isn't enough turkey fat clinging to the roasting pan and the shallots are hard to smoothly stir, add 2 tablespoon butter to the pan.
Once the shallots are translucent and soft, pour the white wine into the pan. Whisk the wine vigorously to lift the browned bits from the turkey still clinging to the pan.
Cook and whisk the wine until it reduces and thickens to a syrup.
Add the chicken stock to the roasting pan and heat over medium-high until it is gently simmering.
Add a large spoonful of the reserved turkey and flour mixture (the roux) to the bubbling chicken stock. Whisk it until it has smoothly combined.
Continue to add spoonfuls of roux to the chicken stock until it is all incorporated.
Continue to cook and whisk the gravy until it has thickened. Season to taste.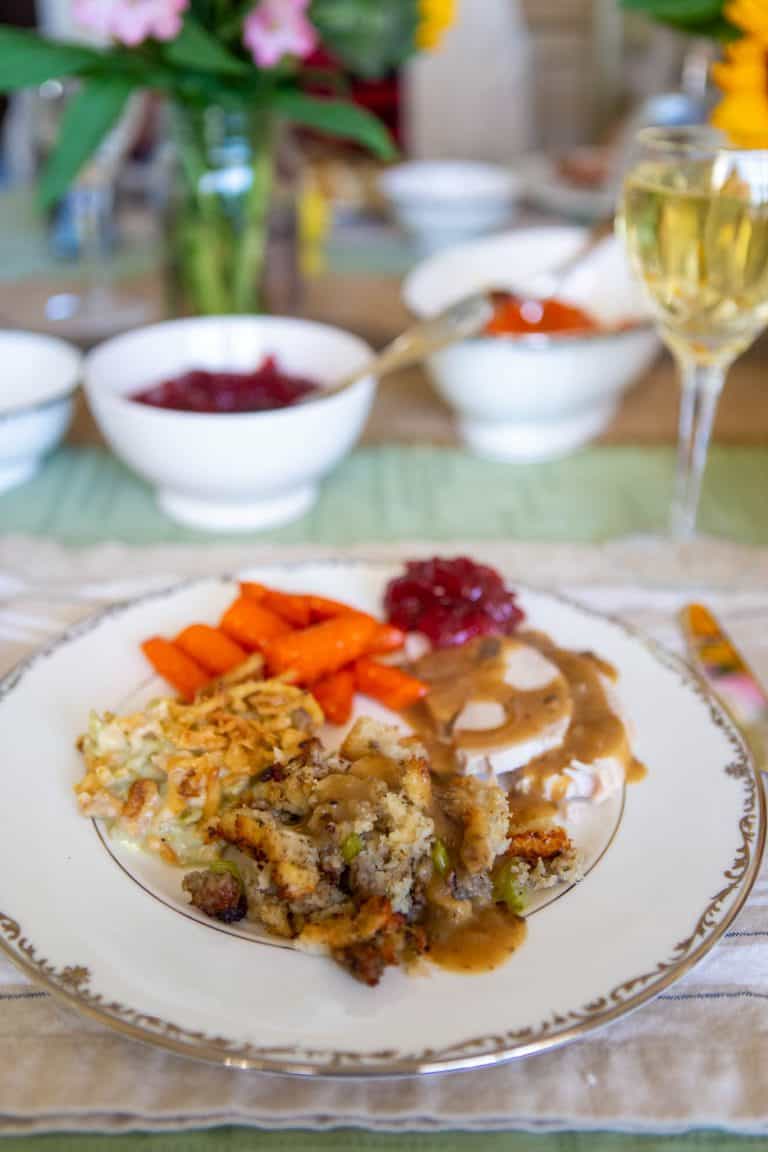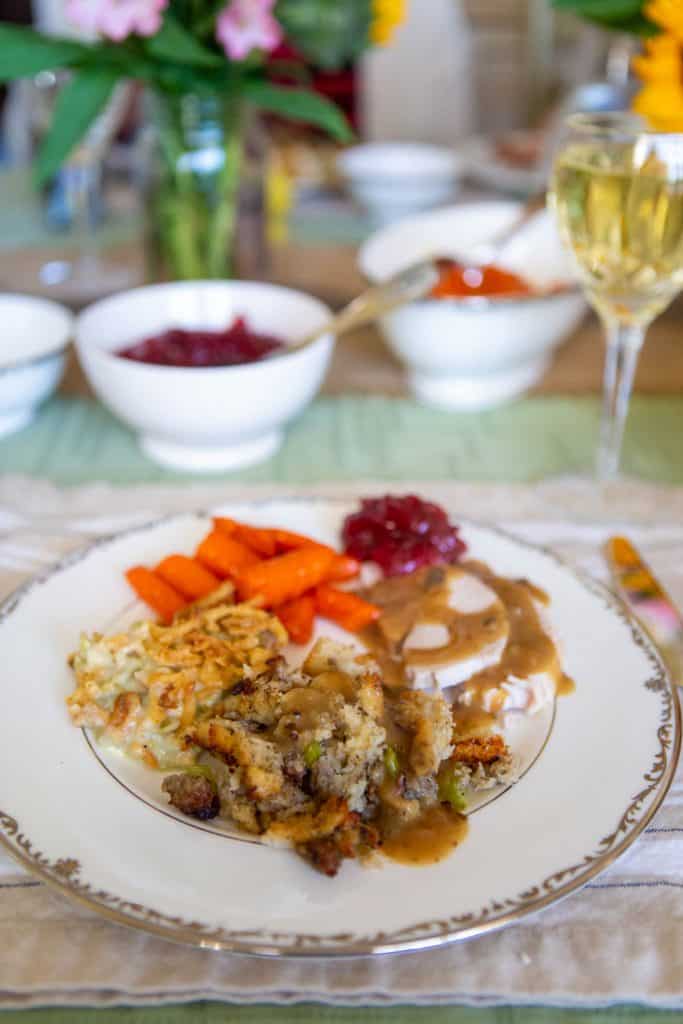 Recipe FAQ
Can you reheat homemade gravy?
Since this recipe makes such a large batch, you will likely have some leftover. Store the gravy in a separate container in the fridge. When you want to use it over your Thanksgiving leftovers, simply heat it up gently in a saucepan. You might want to add a splash of chicken stock to rehydrate it. You can easily just whisk it in to incorporate until your gravy reaches the consistency you prefer.
Do I need turkey stock to make turkey gravy?
We've found turkey stock to be harder to find in large quantities than chicken stock. There are so many other flavors going on in this gravy from the herb butter turkey drippings that chicken stock has worked perfectly for us.
Why isn't my gravy getting thick?
This recipe makes a large batch of gravy so requires a large amount of chicken stock. When you first begin to cook it, it will feel quite thin. You simply need to cook it long enough for the liquid to reduce and the gravy to thicken. You can raise the temperature to HIGH to help speed things up as long as you continuously whisk it and turn the heat down if it begins to stick on the bottom of your pan.
Why does my gravy taste bland?
Even with as many flavor elements in this recipe, your gravy will likely require a little bit of salt and pepper at the end. We wait to season it till it has almost completely thickened so that the other flavors have a chance to combine. Sprinkle a little salt in at a time because you can always add more but it is difficult to correct a salty gravy.
Essential Thanksgiving Recipes
Next to the turkey, my mom's Italian sausage stuffing is my favorite thing to drizzle this gravy over!
If you've tried this homemade turkey gravy or any other recipe on PeanutBlossom.com please don't forget to rate the recipe and let me know where you found it in the comments below. I love hearing from you!
FOLLOW along on Instagram @peanut.blossom as well as on Pinterest and Facebook.