Make an open face turkey sandwich with gravy when you've got a fridge full of leftover turkey breast and gravy from Thanksgiving. This popular diner staple is actually the perfect comfort food any time of year.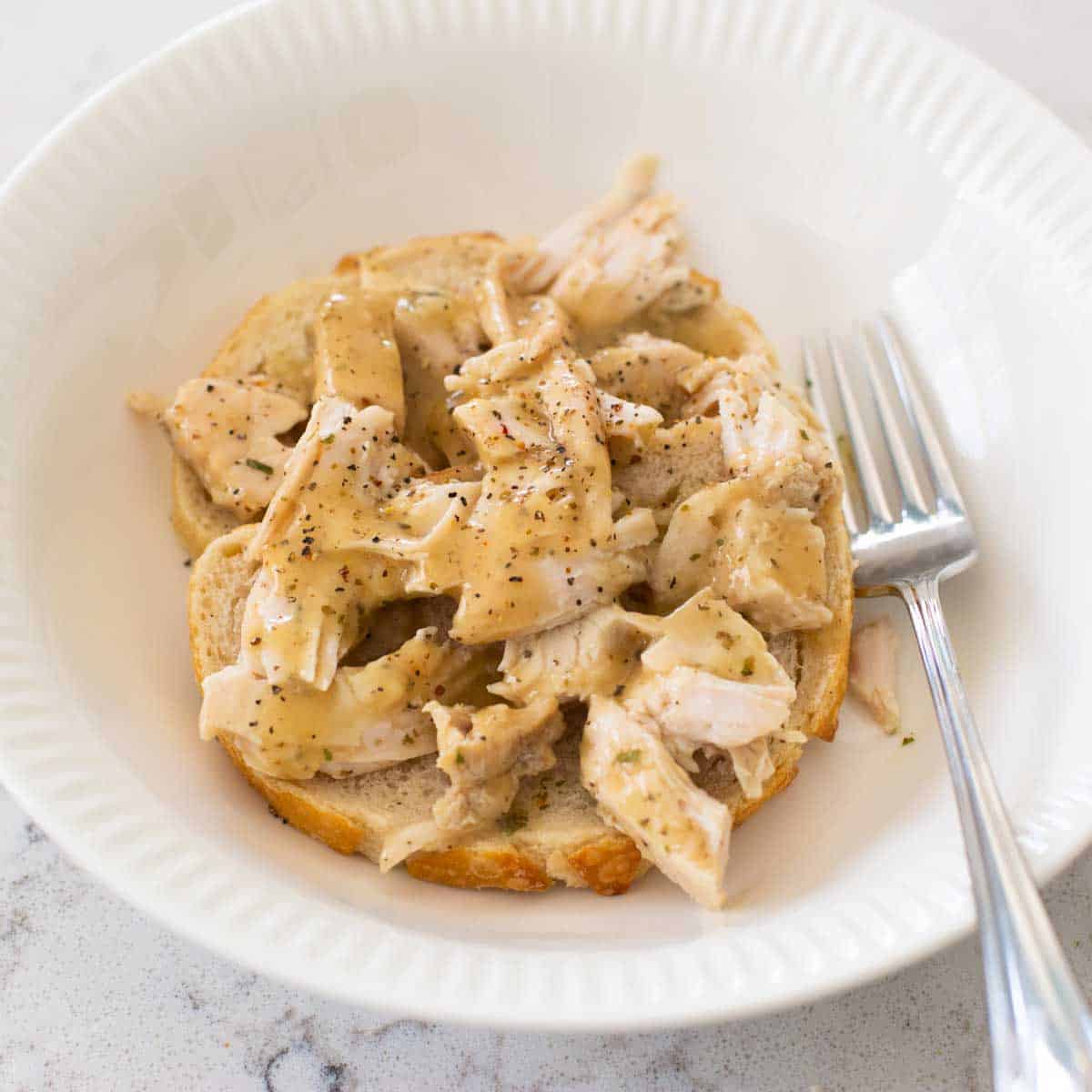 As much as we love Thanksgiving, my kids insist that the next day's open face turkey sandwiches with gravy are the best part of the holiday.
When I've got a fridge full of Thanksgiving leftovers, this is the very first thing we make.
This year, we got a hankering for this dish long before Thanksgiving arrived. When I discovered just how easy a slowcooker turkey breast can be to make, this open face sandwich was next on the menu for the week.
Now I can make this family favorite dinner any time of the year! No need to wait for a big holiday dinner.
Jump to:
What is an "Open Face Sandwich"?
This popular dish can often be found on old school diner menus.
Sometimes featured as the 'blue plate special' of the day, an open face sandwich is a slice of bread covered with meat and a drizzle of gravy over the top.
You eat an open face sandwich with a fork and knife instead of picking it up with your hands because the gravy can make a drippy mess.
Open face sandwiches are especially delicious because the bread soaks up all that lovely gravy. It is pure, heavenly, comfort food at it's finest.
The Best Turkey and Gravy
While there are open face sandwich variations, we believe the most classic and delicious one is a Thanksgiving leftovers turkey sandwich.
While you could use the full Thanksgiving herb turkey recipe for a holiday dinner and plan leftovers for these sandwiches, there's an even easier way.
Pop a much smaller boneless turkey breast into your Crock pot and make my super-easy slowcooker turkey breast recipe with just a few minutes of prep time.
The Crockpot turkey still has plenty of drippings for you to make my totally delicious turkey gravy.
The Best Bread
Once you have your turkey and gravy sorted out, the next step is to plan which bread you plan to use for the base of the open face sandwich.
Our top two favorites include a slice of our easy bread machine Italian bread or a slice of our homemade sourdough bread. You can find the recipe for the sourdough in The Ultimate Bread Machine Cookbook.
If neither of those suit your fancy, delicious alternatives would include:
Homemade Ciabatta: This hearty bread will taste best if you toast it before using it as an open face sandwich bread. The crispy bread will soak up the gravy even better.
Steakhouse Brown Bread: If you want a little more color in your dish and a deeper, richer flavor to your bread, the subtle sweetness of this bread would be utterly delicious with the turkey and gravy.
Whole Wheat Dinner Rolls: If you love the nutty flavor of whole wheat, you could split one of these delicious rolls in half and use that as your open face sandwich base.
How to Make the Open Face Sandwich
Add the gravy to a saucepan and heat it up over medium heat.
Whisk as it warms up so it doesn't burn on the bottom of the pan.
If the gravy is too thick, simply add a splash of chicken stock to loosen it up a bit.
Add the leftover turkey meat to the sauce pan to warm through. We love to slice our turkey into fairly thick slices so they will break into larger chunks when we reheat them.
You could crumble the turkey before adding it to the gravy, or you could break it up with a spoon as it warms through.
Either way, just be careful while stirring the turkey in the gravy because you don't want it to break up too much. Thicker chunks of meat are much more delicious.
To assemble the sandwich, simply place the bread slices you want to use in a large dinner bowl.
Spoon the gravy and turkey over the top and serve immediately since the gravy will begin to soften the bread right away.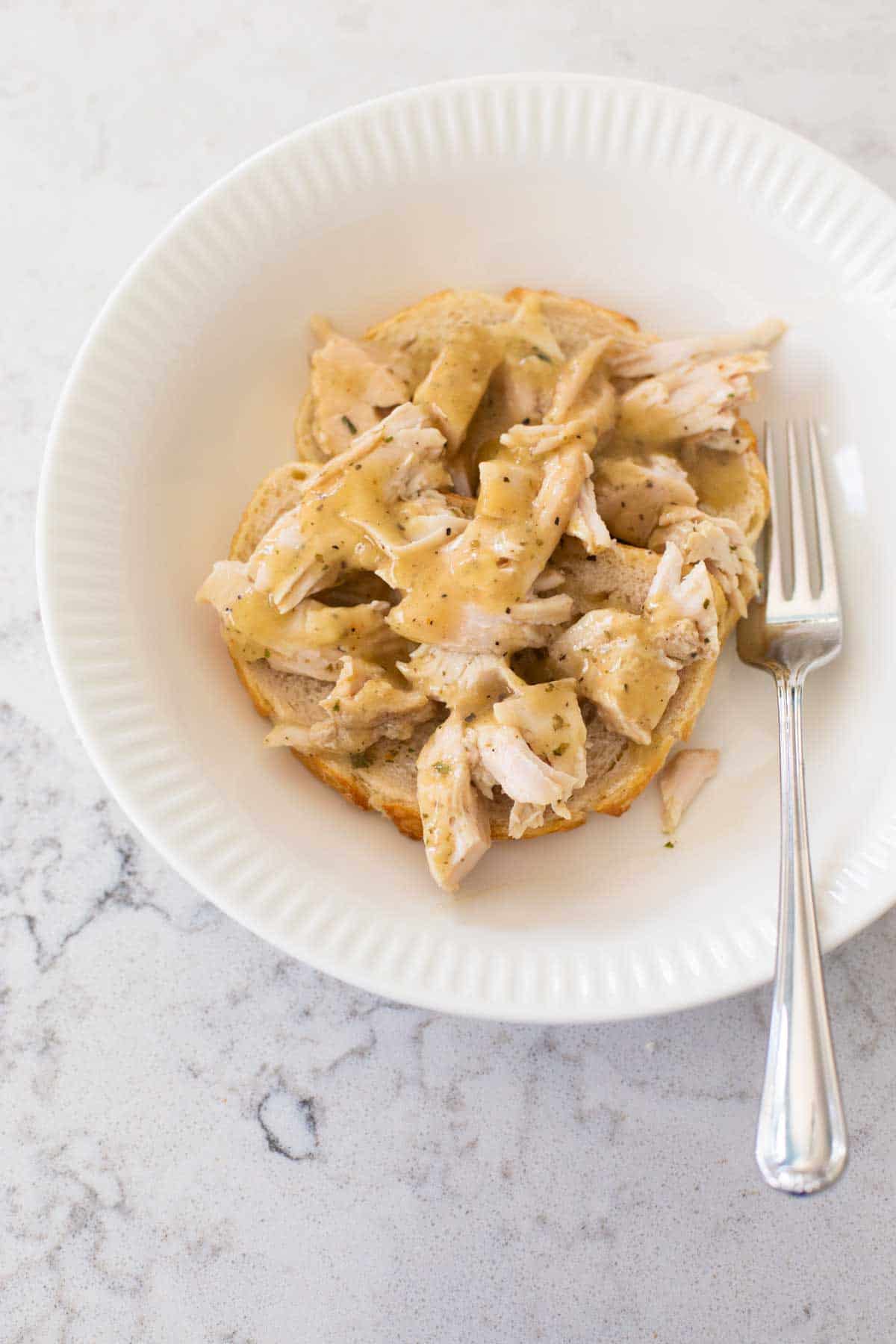 Should You Toast the Bread?
We LOVE a simple open face sandwich with just plain sliced bread. The softness of the bread soaks up the gravy and is very comforting.
However, if you prefer a little more texture and crunch to your dinner, you could simply toast the bread in a toaster or toast lots of pieces at one time on a baking sheet in your oven.
This is very much just a matter of preference.
Variations
If you happen to have lots of leftovers from a big meal like Thanksgiving dinner, you may have a few other items that would taste delicious on your open face sandwich.
You could add a layer of mashed potatoes on top of the bread before the turkey and gravy.
A spoonful of green bean casserole would also be delicious, especially with the crispy onions.
And I personally love a dollop of cranberry sauce in my open face turkey sandwich.
📖 Recipe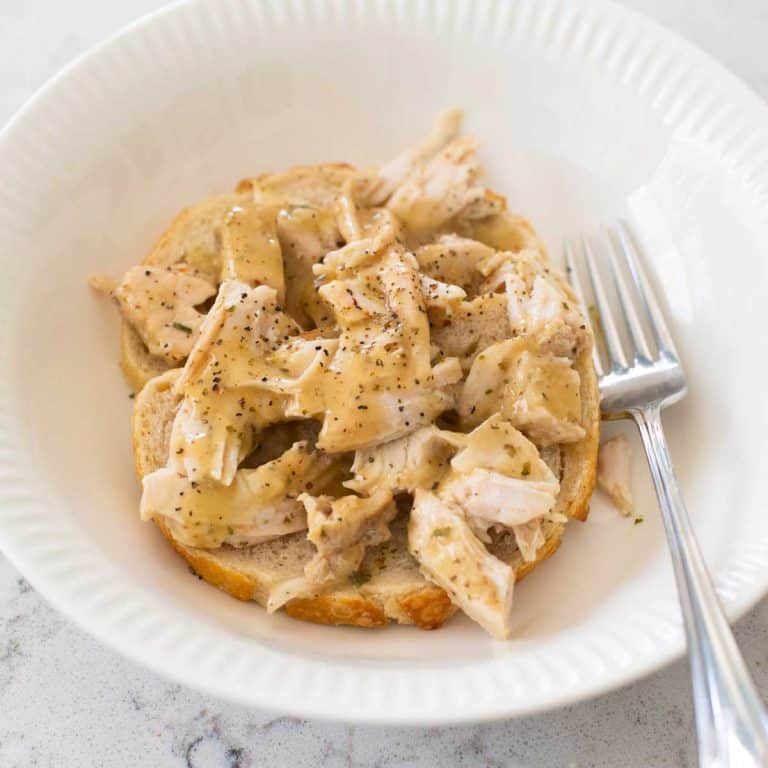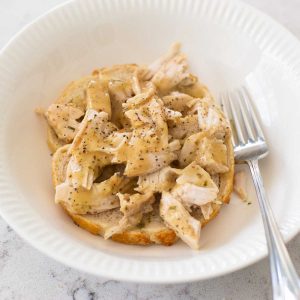 Open Face Turkey Sandwich
These open face turkey sandwiches with gravy are the perfect way to use up leftover turkey breast and Thanksgiving gravy but also make a delicious and easy dinner any night of the year.
Ingredients
1

cup

turkey gravy

6 - 8

slices

of leftover turkey breast

broken into chunks

4

large or 8 small slices of bread

we love Italian or sourdough bread in particular

Salt and Pepper
Optional: Thanksgiving Leftovers Mix & Match Toppings
1

cup

prepared mashed potatoes

1

cup

green bean casserole

¼

cup

cranberry sauce
Instructions
Place the gravy in a medium saucepan over medium heat. Whisk it until warmed through, about 3 minutes. If the leftover gravy is too thick, you can add a splash of chicken broth if desired.

Add the turkey breast to the saucepan and gently stir it in with a large spoon. Let the meat warm through, about 2 minutes.

Place 1 large sandwich sized slice of bread or 2 smaller artisan loaf slices in each of 4 dinner bowls. Evenly divide and spoon the turkey and gravy over each bread slice.

Serve immediately with a sprinkle of salt and pepper.
OPTIONAL:
If you have a fridge full of Thanksgiving leftovers, warmed up mashed potatoes or green bean casserole can make an excellent layer over the bread with the turkey and gravy spooned over the top.

I also love to add a dollop of leftover cranberry sauce when we have it.
Save This Recipe to Your Recipe Box
Find this delicious recipe next time you visit by saving it to your very own recipe box on my site. All your favorites stored in one easy place!