Homemade orange cranberry sauce with Grand Marnier is the easiest Thanksgiving recipe ever. Make it ahead the day before or freeze it for holiday baking all season long.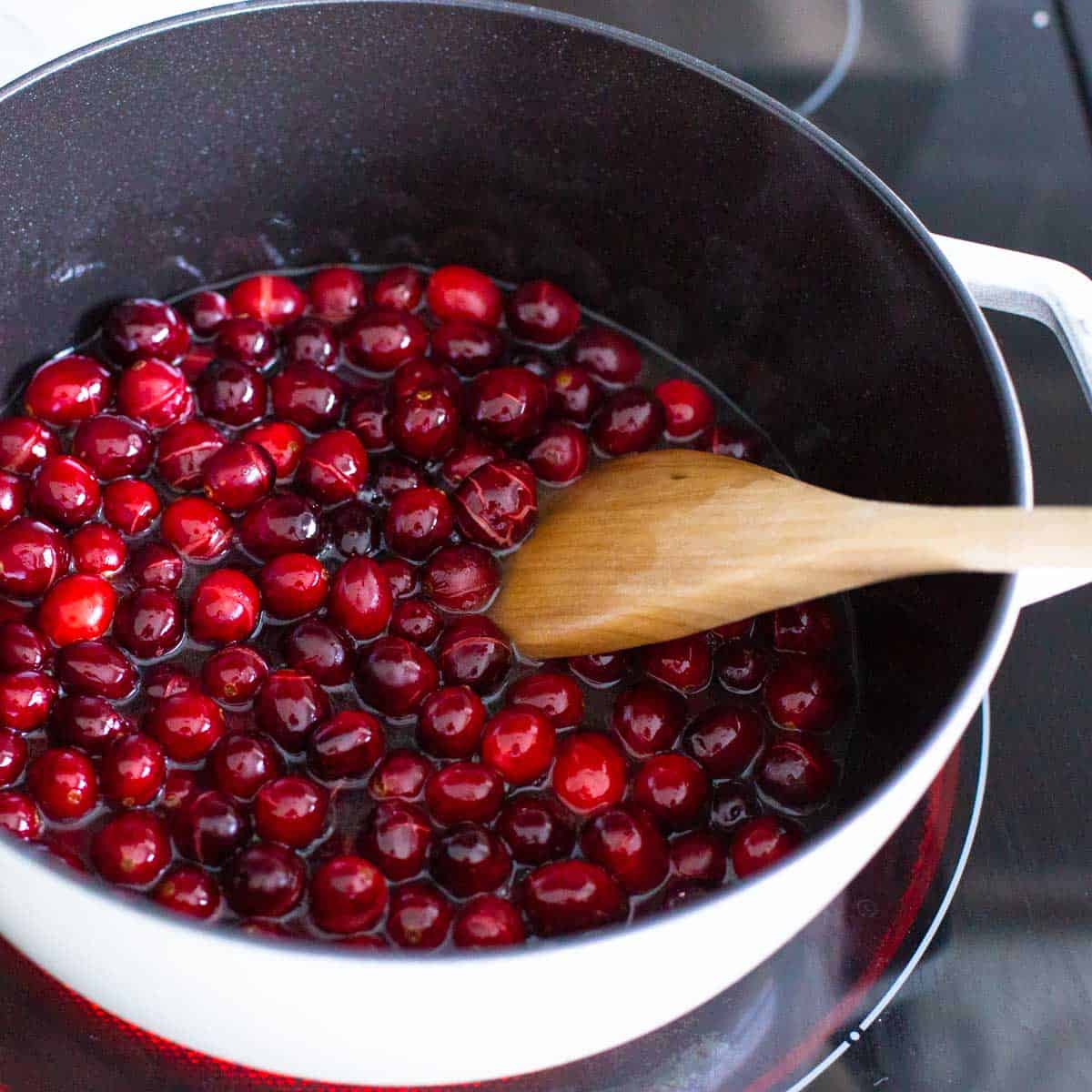 If you've never tried homemade orange cranberry sauce made with Grand Marnier and have only served the canned cranberry sauce for Thanksgiving, you are missing out on the fastest, easiest way to make your Thanksgiving dinner extra delicious.
Growing up, my mom only ever served canned cran-raspberry sauce. She never liked cranberries, so it was not important to her holiday menu.
It wasn't until I was an adult that I finally got to taste real cranberry sauce made from scratch.
For even new cooks, this is by far the easiest Thanksgiving recipe ever and it only takes a few minutes.
The best part? It can be made several days in advance and chilled in the fridge or even frozen for later!
Jump to:
Why This is the Best Recipe
Real cranberry sauce made from fresh oranges with a splash of Grand Marnier liqueur is the best cranberry sauce recipe because:
Fresh Flavor: The tart cranberries and sweet orange juice mixed with real sugar makes the freshest tasting cranberry sauce with none of that preservative tang.
Five Minutes: This recipe is so easy that if you can measure, pour, and stir, you've got your bases covered. Just five minutes of time and you'll be good to go.
Freezer Friendly: Not only does the cranberry sauce taste better the next day, but you can freeze it for later. I always make the whole batch even though we only have a small family gathering for Thanksgiving. I just immediately divide the portion and freeze half of it for Christmas baking.
Ingredients
The Thanksgiving shopping list is usually five miles long but thankfully you only need to add a couple ingredients to make cranberry sauce from scratch:
Fresh Cranberries: You could use frozen, but the fresh cranberries are usually cheaper this time of year. Get the plump, round cranberries from the produce aisle, not the dried cranberries from the raisin aisle.
Fresh Orange: No need to buy orange juice, just use the zest and juice from a fresh orange. If you want to take a shortcut, just buy the best orange juice from the refrigerator aisle if you plan to use the rest of the bottle for other things.
Grand Marnier: This is an orange liqueur that I love to use all throughout the holiday season. It is the secret ingredient to my creme brulee, too. If you really don't want to use liqueur, you can simply leave this out. There will be plenty of orange flavor from the fruit juice.
Sugar
Dried Ginger: If you really want to get fancy, you could use fresh ginger, but the dried version has always worked well for me.
Cook the Cranberry Sauce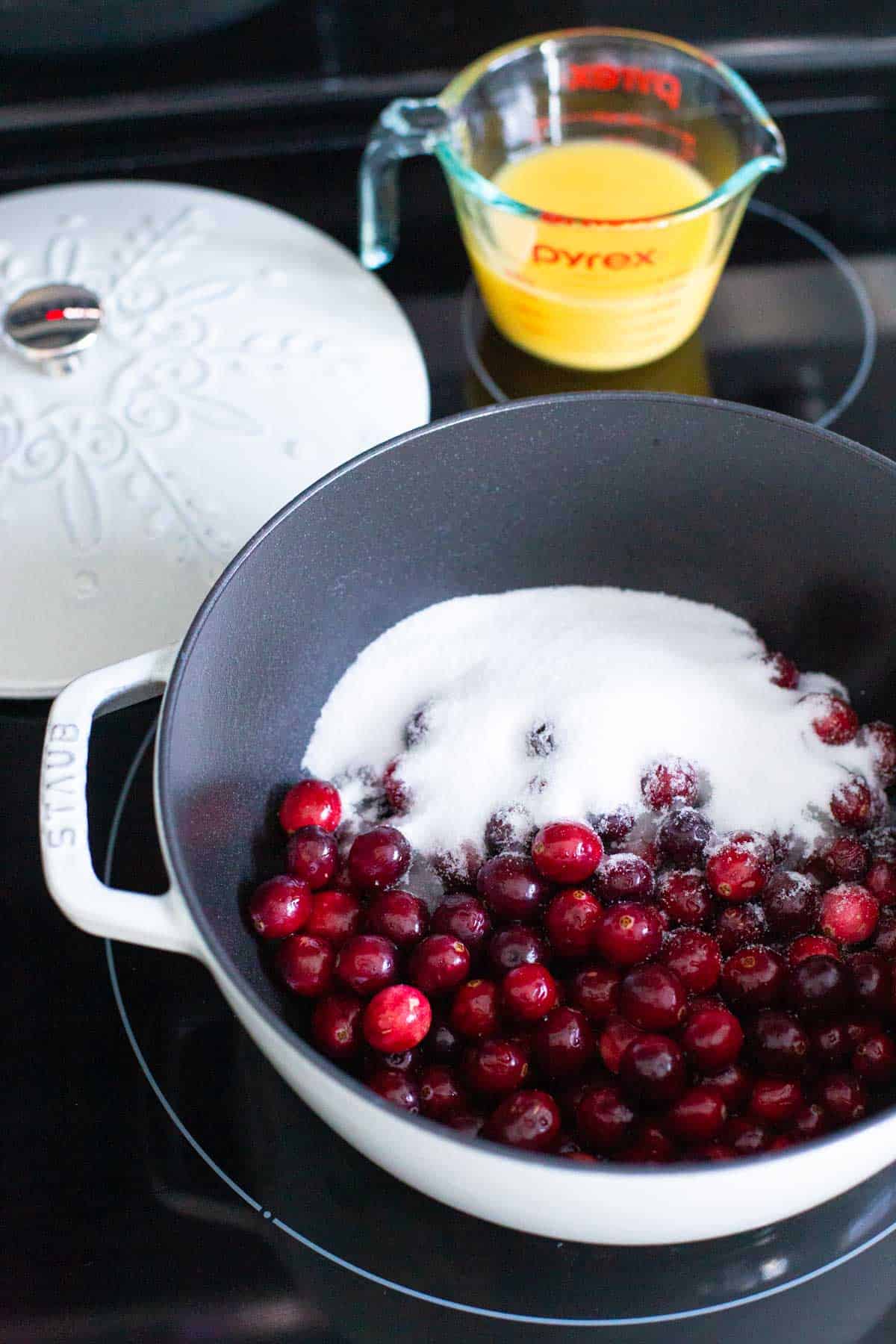 Add the fresh cranberries, orange juice, and sugar to a saucepan and stir everything together.
Cook over medium-high heat for 4 - 6 minutes or until the sugar has dissolved and the berries begin to burst.
When to Add the Grand Marnier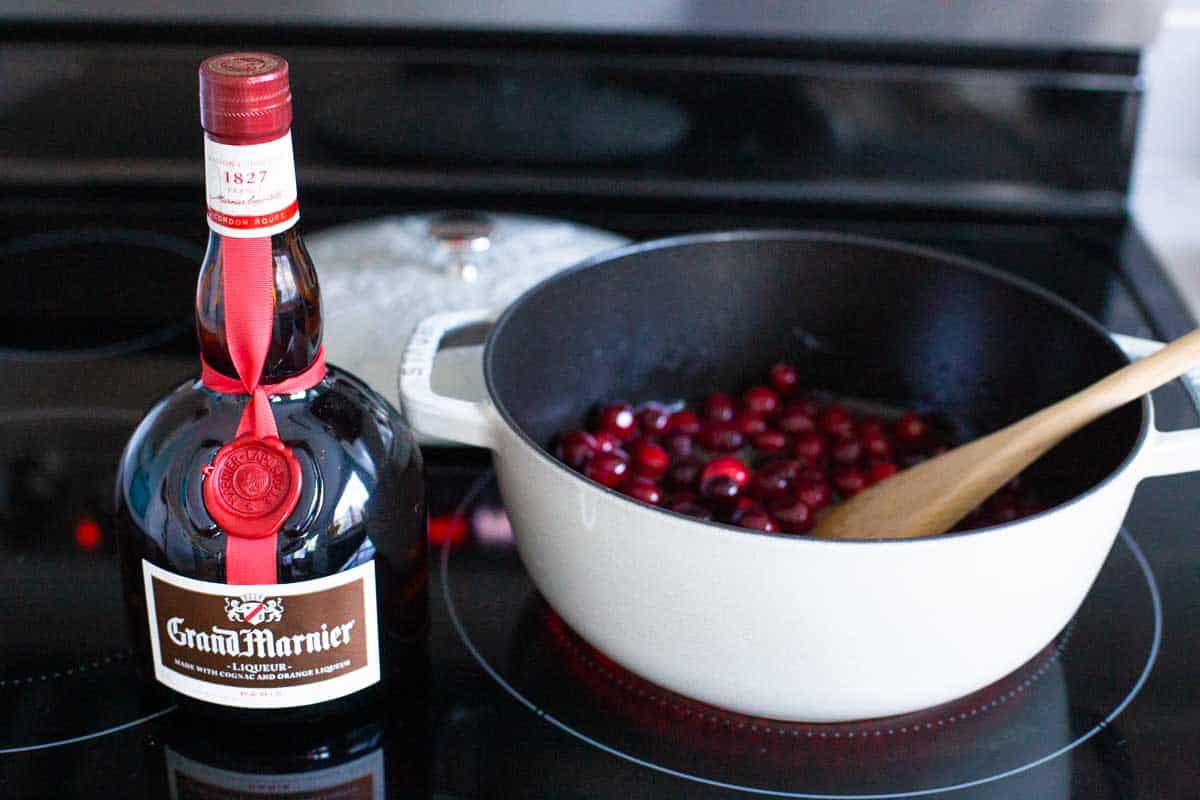 I always wait to add the Grand Marnier until the cranberries have begun to bubble.
I want the alcohol to burn off but I still want the flavor of the liqueur.
When the cranberries are nice and saucy and beginning to bubble, add the Grand Marnier, dried ginger, and orange zest.
Stir them all in and cook for 2 - 3 more minutes.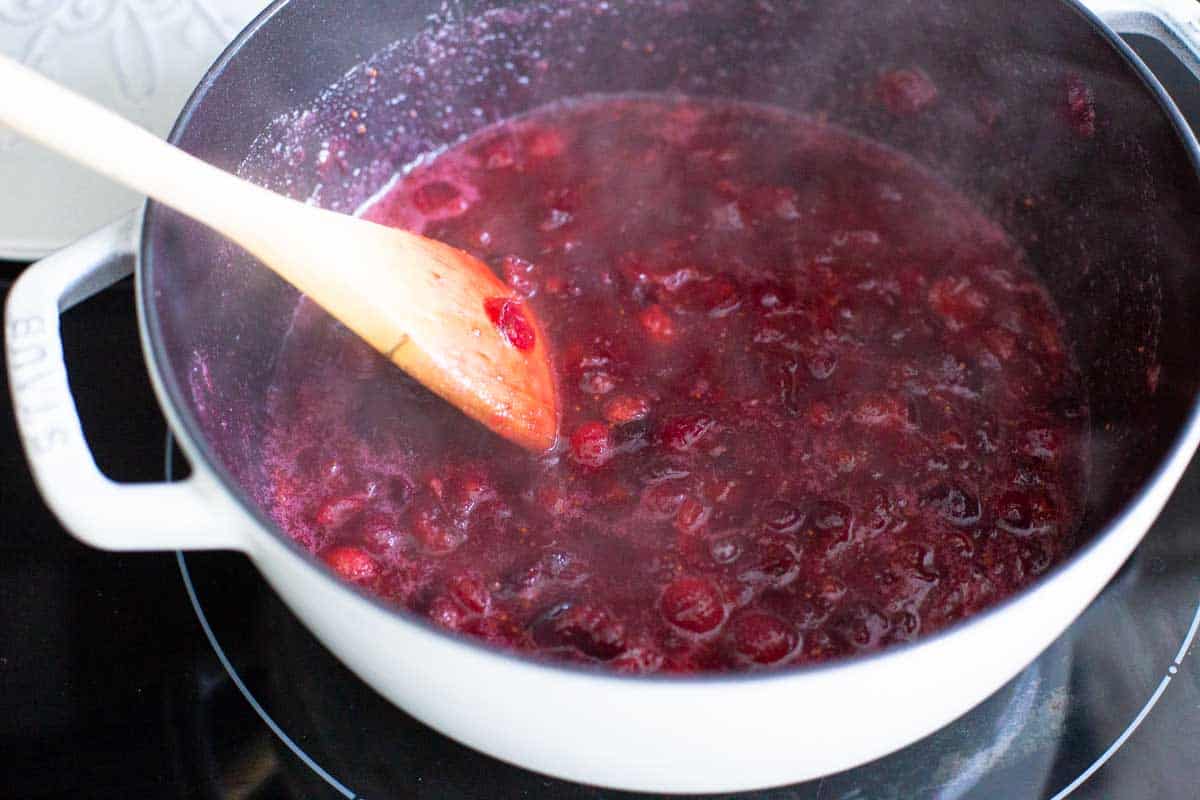 I always break up the cranberries with the back of my wooden spoon as they cook to give my cranberry sauce a more saucy texture.
If you prefer your cranberry sauce with whole berries, do not crush them with your spoon.
Make Ahead Tips
The orange cranberry sauce tastes even better after it has had a chance to chill in the fridge for at least 2 hours.
I always make it the day before Thanksgiving just to get it out of the way.
Store it in an airtight container in the fridge for up to one week.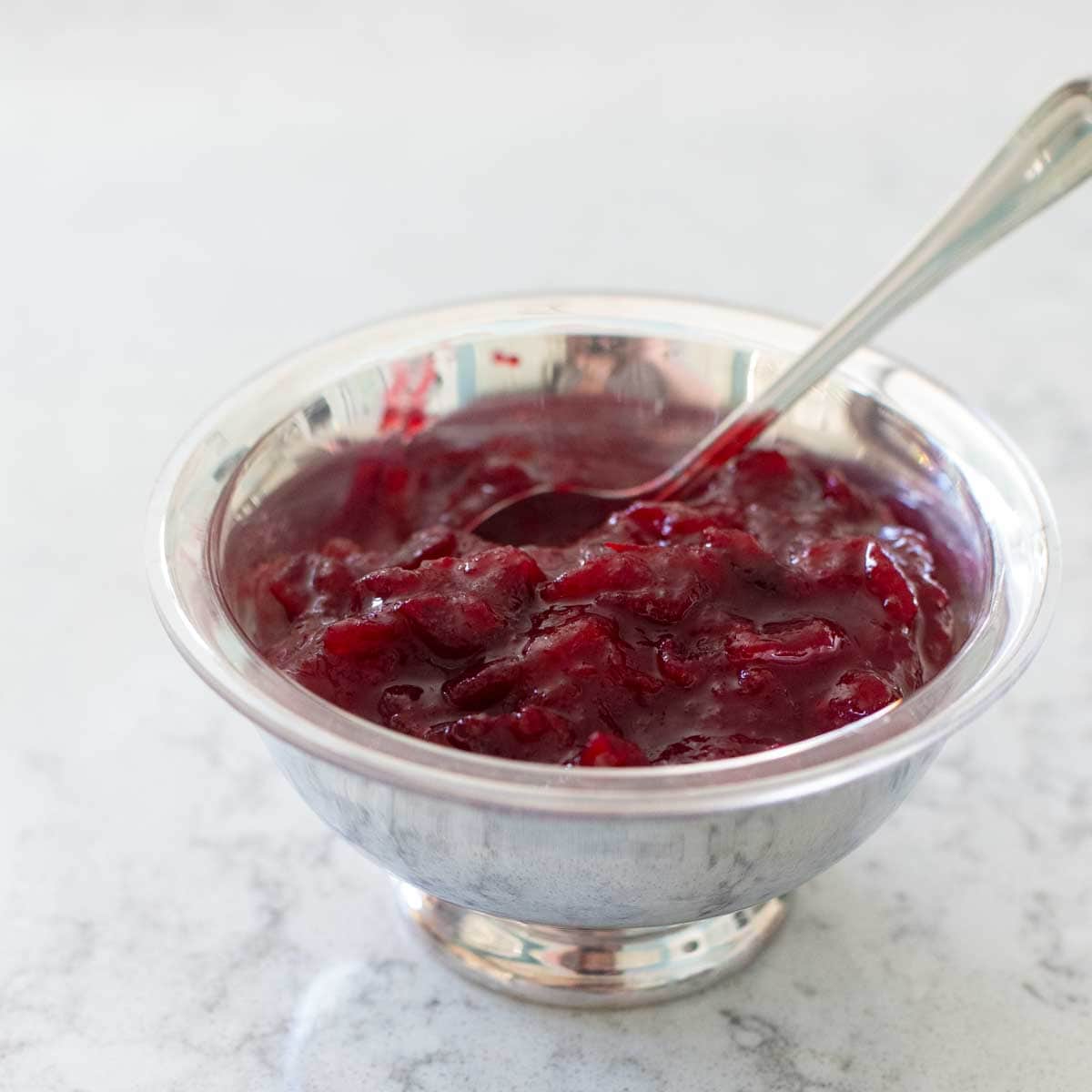 Freezing Instructions
This simple recipe makes more cranberry sauce than my small family needs for Thanksgiving but I always make the whole recipe because it is just so easy.
I love to use it for holiday baking all season long.
Once the cranberry sauce has cooled, I divide what we need for Thanksgiving and keep that in the fridge.
The remaining orange cranberry sauce gets transferred to a freezer-safe container with a lid and frozen.
To use frozen cranberry sauce, simply thaw in the fridge overnight. You may need to stir it a little if the sauce has separated, but I've never had a problem.
Frozen cranberry sauce works great for future holiday baking like homemade cranberry cinnamon rolls.
Serving Suggestions
I love a dollop of cranberry orange sauce with my herb butter turkey slice on my Thanksgiving plate.
But the cranberry sauce is even better when used for Thanksgiving leftovers!
How about using it to make a leftover turkey sandwich with cranberry sauce on fresh ciabatta bread. Griddle the sandwich in a little olive oil for a Thanksgiving panini.
Or use leftover cranberry sauce for cranberry brie bites on homemade crostini.
And even beginner bakers will be able to make my easy cranberry cinnamon rolls that use a can of prepared cinnamon roll dough!
📖 Recipe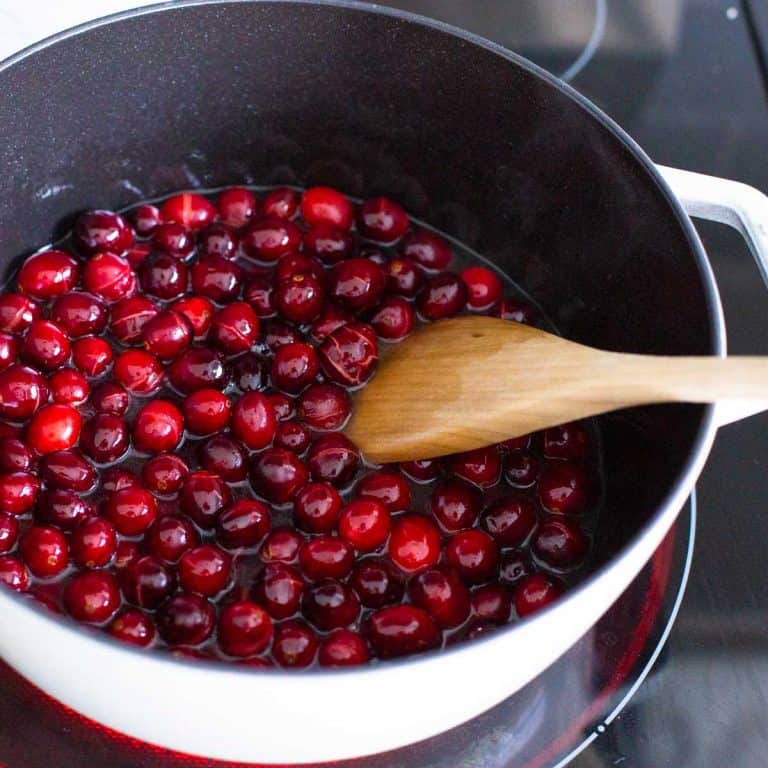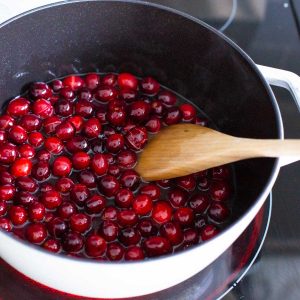 Cranberry Sauce with Grand Marnier
Freezer-friendly cranberry sauce with Grand Marnier has a delicious burst of orange flavor from the orange juice and liqueur. Serve it for Thanksgiving or split the batch and save half for Christmas morning cranberry cinnamon rolls.
Ingredients
1

(12 oz) bag fresh cranberries

¾

cup

sugar

¾

cup

fresh orange juice

Zest of 1 orange

1

tablespoon

Grand Marnier liqueur

1

teaspoon

dried ginger
Instructions
Place the cranberries in a large saucepan along with the sugar and orange juice. Stir everything together and cook over medium-high heat.

Cook the cranberries until the sugar has dissolved and the berries start to burst, about 4 - 6 minutes. Add the Grand Marnier, orange zest, and dried ginger and stir. Cook for 2 - 3 minutes longer and mash the cranberries with the back of a wooden spoon as they cook.

Remove from heat and let cool before serving. Cranberry sauce should be chilled for 2 hours to let the flavors mingle and is the perfect make ahead recipe since it will keep well in the fridge for several days.
Recipe Notes
Make Ahead Tips:
This cranberry sauce recipe can be made ahead and frozen for future use. Simply thaw in the fridge overnight before serving.
Save This Recipe to Your Recipe Box
Find this delicious recipe next time you visit by saving it to your very own recipe box on my site. All your favorites stored in one easy place!