Make a batch of these easy cranberry orange muffins with a buttery streusel topping the day before Thanksgiving or Christmas for the perfect holiday treat.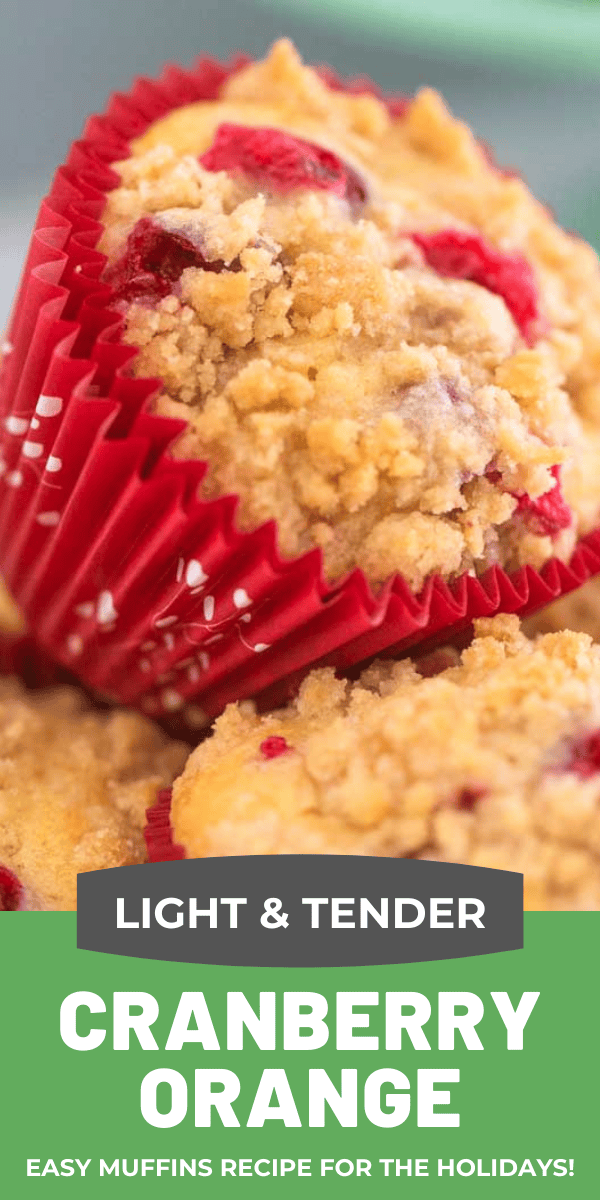 When was the last time you baked a batch of homemade muffins? It has been a while for me, and I confess I'm more likely to grab a container of them from the grocery store bakery department for the kids and spend my baking time on other goodies.
I'm so excited for the holiday season and I've got Christmas on my mind. I decided to try making the perfect cranberry orange muffins to test them out now and see if they were Christmas morning-worthy or not.
Oh, good gravy! I had forgotten how good a homemade muffin can be!! The grocery store muffins are crumbly and rather bland while the from-scratch version has an awesome springy bite to it.
Using fresh cranberries means the muffins have bursts of fruity goodness in each bite but the buttery streusel topping keeps them from being too tart. I added cinnamon and vanilla to the batter and was thrilled to see how much more flavorful our muffins were than what we're used to.
I baked a dozen muffins in a regular 12-well muffin pan but these would make amazing jumbo muffins if that's more your style.
Not only are these Christmas morning-worthy, but they'd make an amazing treat for Thanksgiving weekend. Serve them for an easy breakfast while you get that turkey going.

How to make the perfect cranberry orange muffins with streusel topping: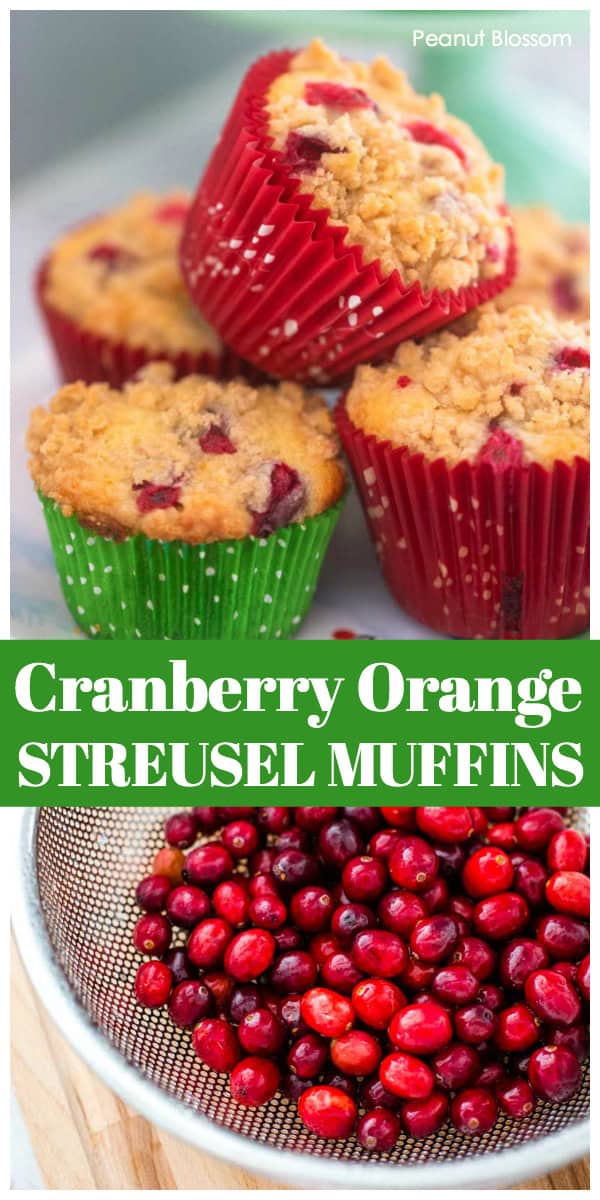 Step 1: Mix the wet ingredients separately from the dry ingredients to start
The key to perfect, fluffy muffins is to not overbeat the batter. Whisk together the orange juice, butter, milk, and eggs in one bowl until the eggs are smooth. Then whisk together the sugar, flour, baking powder, and salt separately in a second bowl.
The heavy whisking happens separately between the wet and dry ingredients and then you gently fold the dry ingredients into the wet.
Don't over mix!! As you can see in my photo, it is ok to have little streaks of dry flour in the batter. Use a spatula and just gently keep folding until everything is mostly combined.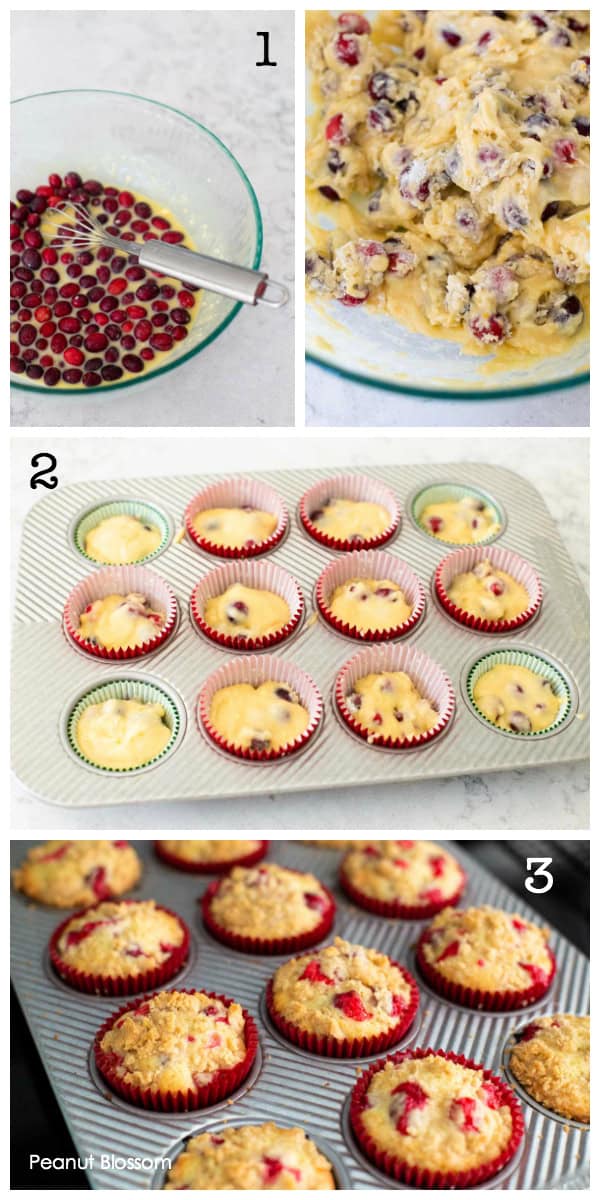 Step 2: Fill the muffin wells to the top
I love this recipe because it makes exactly 12 muffins. Evenly divide the batter among the 12 wells of your pan. It will fill each well nearly to the top.
The batter was thick enough that it was an easy transfer to spoon it into the pan.
Step 3: Top with make-ahead streusel topping
The streusel topping is essential to this recipe. It adds just a little more buttery sweetness to balance the tart cranberries. Without that classic crunchy topping, I'm not sure my kids would have liked these as much.
Did you know that streusel can be made in advance? It's not a hard thing to prepare but it adds on 5 minutes of time to baking these muffins. It was so nice to be able to just grab my prepared streusel from the fridge and go. It's a simple holiday baking shortcut if you want to cut down on both time and messy dishes to clean.
Sprinkle big pinches of streusel over each muffin before baking.
RELATED: Make-ahead streusel topping for super-quick weekend baking
Can you use dried cranberries instead of fresh in muffins?
For this recipe, absolutely not. Fresh cranberries are essential. Dried cranberries will be overly chewy and dry in this muffin recipe. The fresh cranberries soften and get extra juicy in the oven. They are similar to giant blueberries in the final muffin and practically pop in your mouth.
How do you use fresh cranberries in baking?
Fresh cranberries are not usually pre-washed when you get them from the store. Be sure to rinse them well before you use them in baking or any other recipe.
For these muffins, I measured two cups of fresh cranberries and added them to the liquid ingredients for a quick stir. They got folded in with the dry ingredients in the last step. I was a little worried they may all sink to the bottom of the muffins when they baked, but they didn't. They were perfectly spaced all throughout the muffins.
For more fresh cranberry recipe ideas, be sure to check out these 20 fresh cranberry recipes your holiday needs right now.
Can you substitute cranberries for blueberries?
I was a little worried my kids would be turned off by how tart the cranberries can be but was happy to see they loved them. I considered trying another version of the recipe where I swapped the cranberries for blueberries. The final texture of the cranberry is so close to a blueberry, I really think you could use either one in this recipe.
Blueberry and orange is a fantastic flavor combo, too. If you decide to make a blueberry muffin version, don't stir the blueberries into the batter at all. Add a tablespoon of batter to each muffin well in your pan and then drop a few blueberries in. Add more batter and then layer more blueberries, back and forth until the wells are full. This prevents your muffin batter from turning purple since blueberries are much softer than cranberries when they are raw and can easily be crushed when folding the dry ingredients into the wet.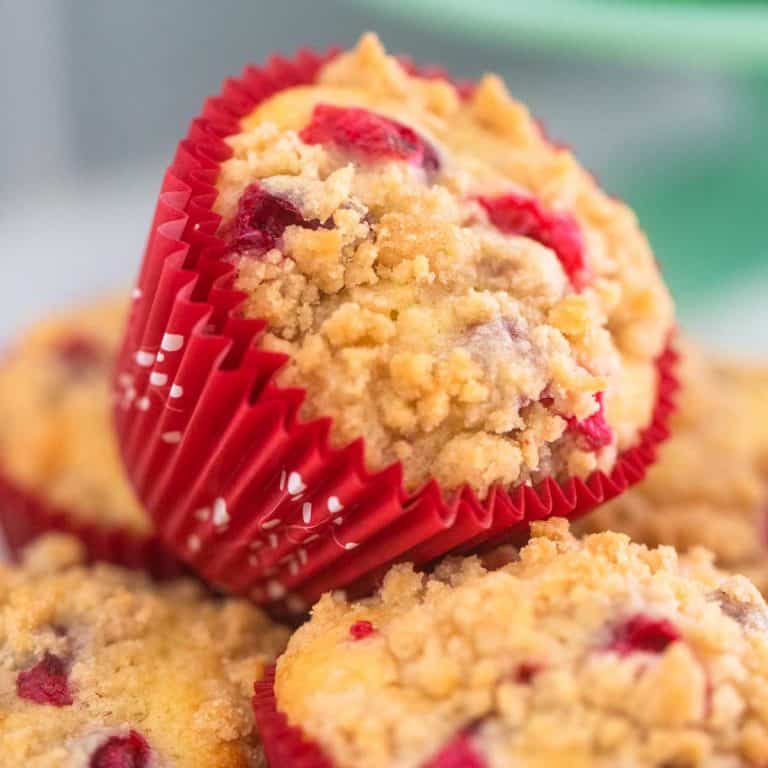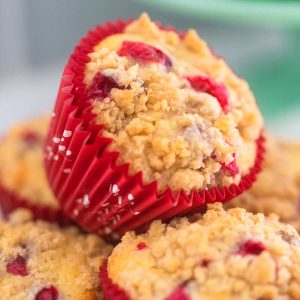 Cranberry Orange Muffins
These cranberry orange muffins will be the best muffins you've ever had. Bursting with fresh cranberries and orange zest, a touch of cinnamon and the streusel topping keep them from being too tart.
Ingredients
6

tablespoon

butter

1

large orange

2

tablespoon

milk

1

teaspoon

vanilla extract

½

teaspoon

cinnamon

2

eggs

2

cups

fresh cranberries

do not use dried

1 ⅓

cup

all-purpose flour

¾

cup

sugar

1 ½

teaspoon

baking powder

½

teaspoon

kosher salt

1

batch of make-ahead streusel topping

recipe card below
Instructions
Preheat the oven to 350°F and line a 12-well muffin tin with paper liners.

Melt the butter on HIGH for 30-40 seconds and whisk with a fork to ensure it is completely melted. Set aside to cool slightly.

Over a large bowl, zest the orange with a microplane zester. Cut the orange in half and squeeze the juice into a smaller bowl. Measure ¼ cup juice to add to the large bowl.

Whisk the cooled butter and milk into the orange juice. Add the vanilla and cinnamon. Add the eggs and whisk until smooth and thoroughly combined. Add the cranberries and stir to combine.

In a separate mixing bowl, whisk together the sugar, flour, baking powder, and salt. Add the dry ingredients to the batter bowl. Use a spatula to GENTLY fold in the flour to the liquid ingredients. Stir as few times as you can to incorporate. It is ok if you still see a few streaks of dry flour. This will keep your muffins from being tough.

Fill the prepared muffin tin with the batter. Each well should be filled evenly to the top. Pinch the prepared streusel over each muffin.

Bake for 22 - 26 minutes. The muffins are done when they bounce back after gently pressing on the top. Let cool in the pan for a couple minutes and then transfer to a wire rack to cool completely. Best served the day they are made but will keep a day in an air-tight container at room temperature.
Save This Recipe to Your Recipe Box
Find this delicious recipe next time you visit by saving it to your very own recipe box on my site. All your favorites stored in one easy place!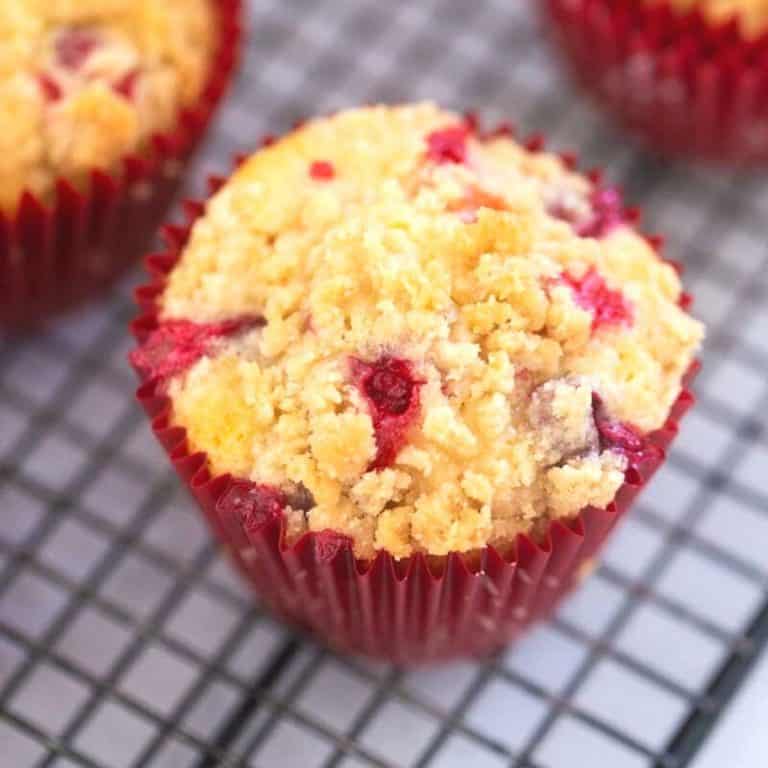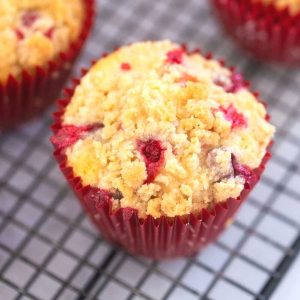 Make-Ahead Streusel Topping for Muffins
Keep a batch of make-ahead streusel topping in your fridge for easy weekend baking in a pinch.
Ingredients
⅓

cup

all-purpose flour

¼

cup

firmly packed brown sugar

3

tablespoon

cold salted butter

cut into cubes

OPTIONAL: pinch of cinnamon or pie spice
Instructions
In the bowl of a food processor, pulse together the flour and sugar. Add the butter and pulse until the butter is smaller than the size of peas. Transfer the crumbs to a small bowl and pinch together with your fingers.

Alternatively, use a fork to whisk together the flour and sugar. Then press the butter into the flour. It is easiest to use your fingers to finish incorporating the butter by pinching it with the flour.

Store in an air-tight container in the fridge for up to 2 weeks.

To use for muffins: Pinch the streusel into pebbles over one dozen regular size muffins before baking.
Save This Recipe to Your Recipe Box
Find this delicious recipe next time you visit by saving it to your very own recipe box on my site. All your favorites stored in one easy place!