Delicious peppered bacon can easily be turned into candied bacon with brown sugar. Sweet or savory, this is the best bacon for your weekend brunch or for crumbling into bacon recipes all year long.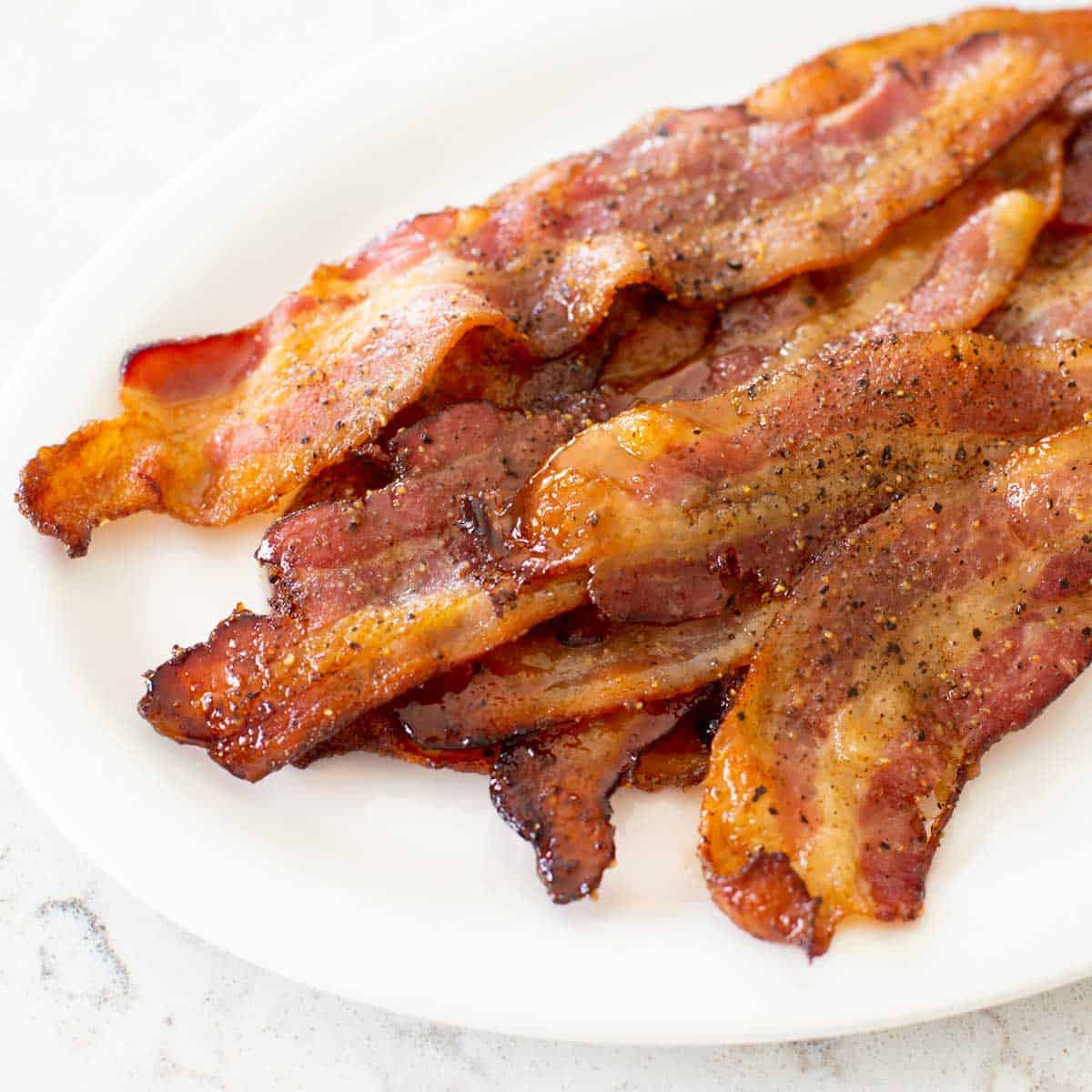 Crispy bacon is an essential part of a special weekend breakfast. When I'm taking the time to griddle up homemade pancakes or waffles, a slice or two of salty bacon is our favorite side.
We also love to crumble bacon and add it to several different recipes throughout the year.
I love to bake up a big pan of bacon in my oven for enjoying as a brunch side dish or a savory sandwich or burger topper.
This is my favorite recipe because I can choose between making my favorite savory peppered bacon for burgers, soups, and sandwiches, or I can make a sweet brown sugar candied bacon as a breakfast treat.
Jump to:
Why Baking Bacon is the Best
When I've got my hands full griddling homemade waffles or pancakes, I don't have the time to juggle frying up a pan of bacon on the stove top.
By baking bacon on a sheet pan in the oven, I can pop it into the hot stove, set a timer, and not worry about it while I'm prepping other parts of our meal.
When you bake bacon on parchment paper and take the time to drain some of the fat half way through cooking, you get a wonderful crispy bacon that you can make in bulk.
Need more for a holiday meal or large crowd? Just make another pan! This recipe is so easy to scale for more people.
Ingredients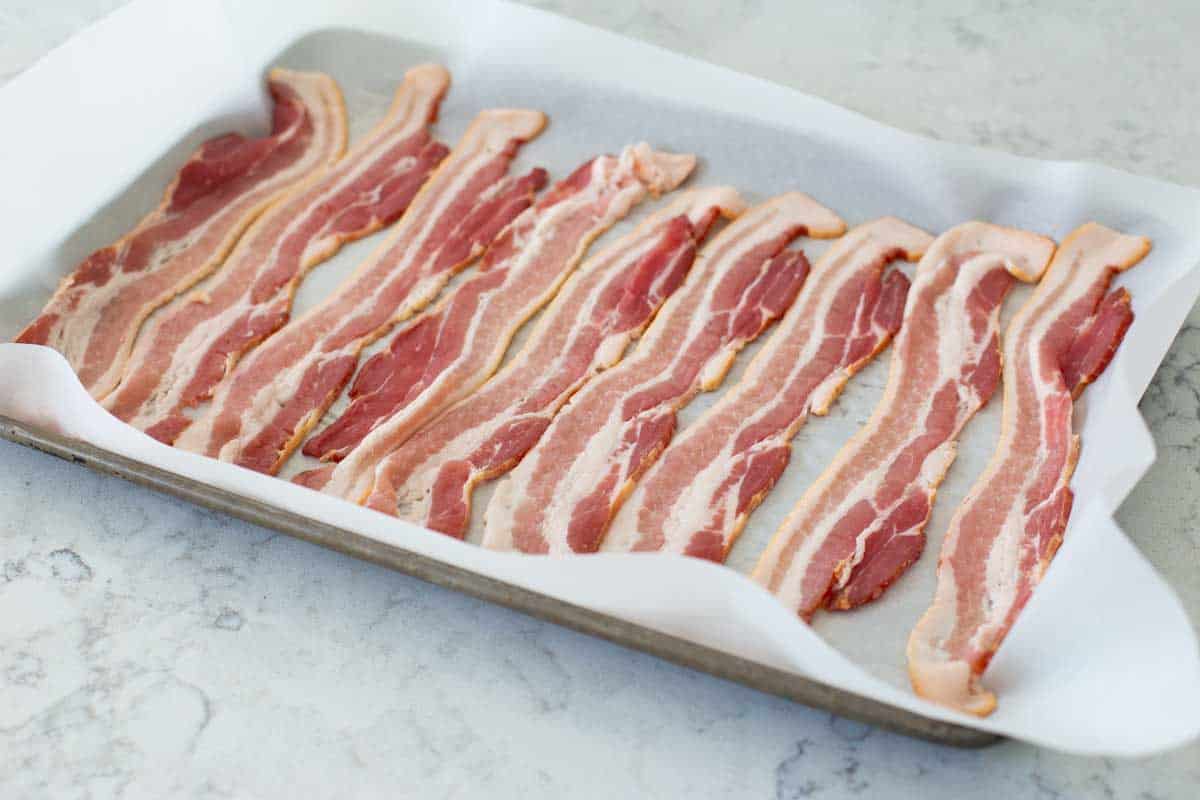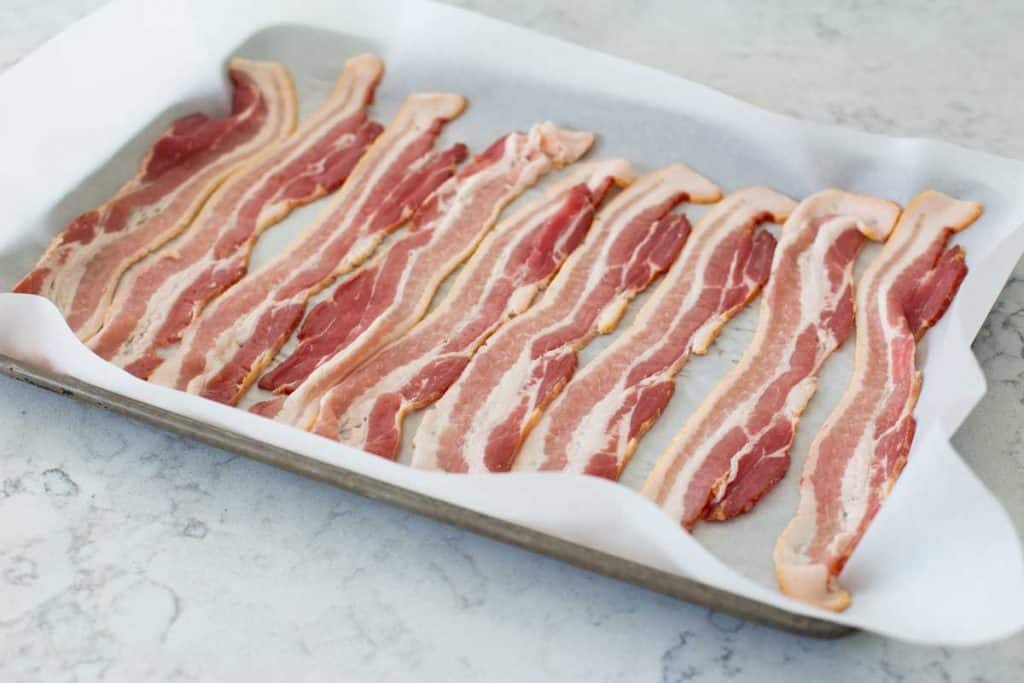 If you want to make peppered bacon, the ingredients list is so short. Candied bacon requires just one more item:
Thick cut bacon
Fresh cracked pepper
Brown sugar (just for the candied bacon)
See the recipe card for full instructions.
Make Peppered Bacon or Candied Bacon
Whether you're making the peppered bacon or the candied bacon, start by lining a large baking sheet with parchment paper.
I specifically trim a piece that is longer than the pan so that as the fat renders from the bacon, the parchment paper collects it.
Spread out the bacon strips in a single layer on the pan. Try not to have the strips overlap or those parts won't brown up.
Use a pepper mill to grind fresh cracked pepper over the bacon.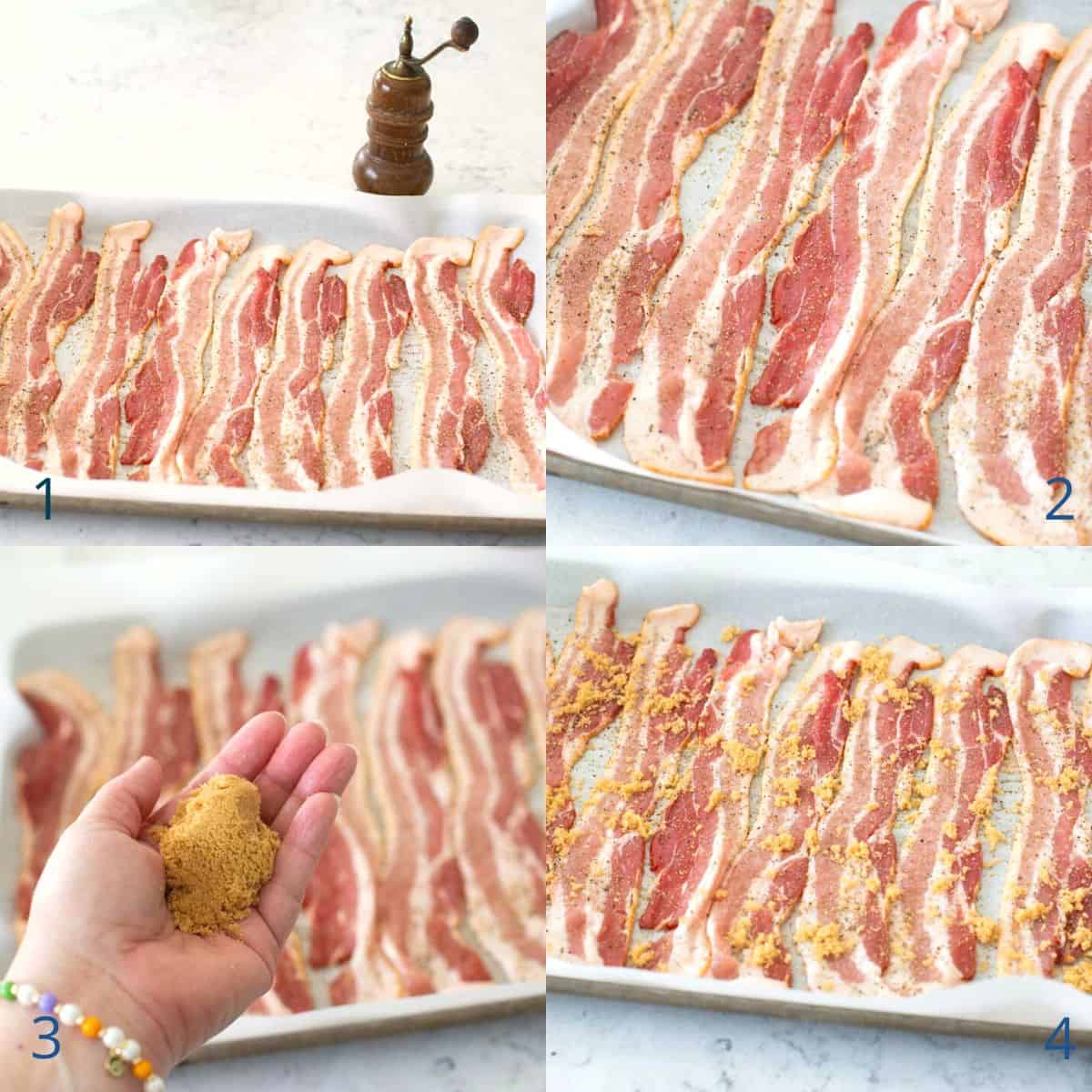 If you're making candied bacon, sprinkle brown sugar evenly over the bacon. I still use the pepper for candied bacon, I love that combo of sweet and savory!
Preheat the oven to 375°F.
Bake the bacon for 9 minutes.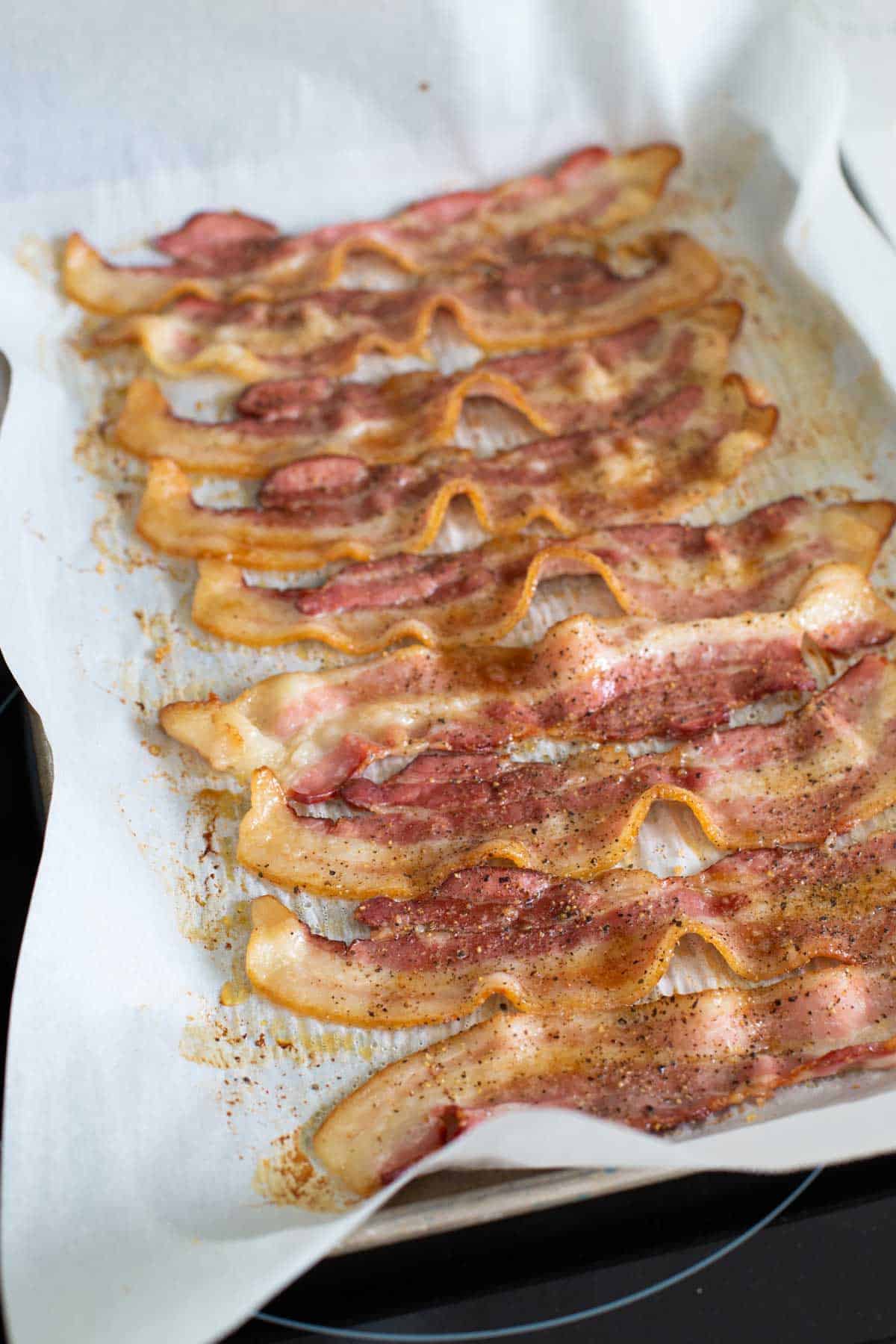 You can see that the fat has started to render from the bacon and the strips are starting to brown up.
If too much liquid has gathered on the pan, carefully drain it over your garbage can. (Bacon fat can ruin a sink and garbage disposal.)
Then, flip the bacon strips over to brown the other side.
Sprinkle more fresh cracked pepper on the other side and sprinkle additional brown sugar if making the candied bacon.
Bake for another 7 - 9 minutes or until the bacon has browned completely.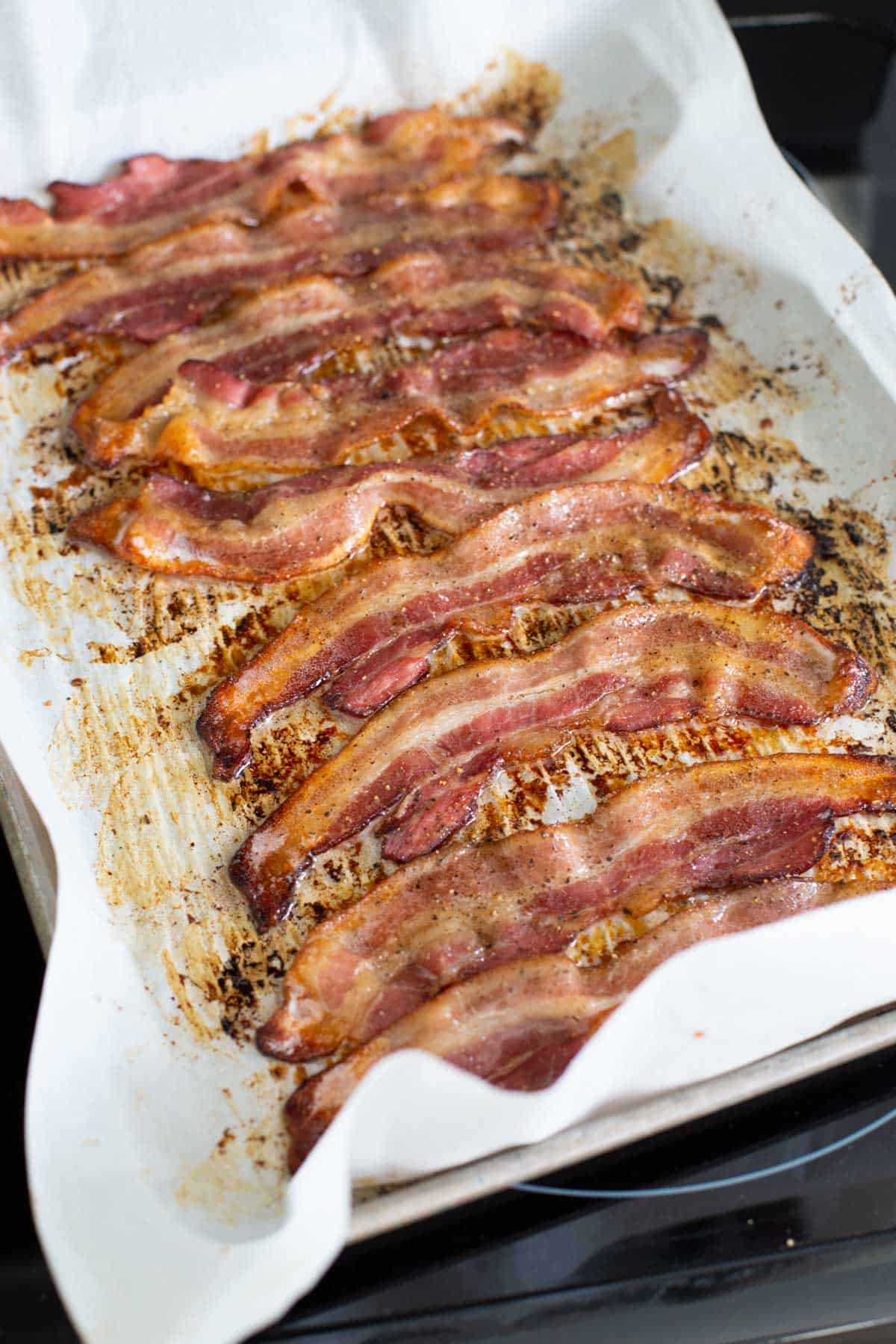 Transfer the bacon to a clean dinner plate lined with paper towels to let the fat drain off.
Trick for Making Extra Crispy Bacon
I've always used the parchment paper trick but my friend Michelle swears by crumpled up aluminum foil!
Take a large sheet of aluminum foil and gently crumple it. Spread the foil back out over the pan and spread your bacon over the top.
The ridges from the crumpled foil will keep the bacon lifted out of the rendered fat and result in crispier bacon strips.
Make Ahead Tips
If you want to prep bacon in advance for using in a recipe down the road, cooked bacon will keep quite well and can simply be reheated in your microwave or used cold or at room temperature.
My friend makes a huge batch of bacon for her large family as part of her Christmas prep. This lets them enjoy bacon all throughout the holiday with their breakfasts and she simply reheats what is needed each day.
Storage Tips
Wrap the bacon in paper towel and store in an airtight container in the fridge for up to 5 days.
You can freeze baked bacon for using later. Thaw in the fridge overnight and then microwave or bake to restore texture.
Serving Suggestions
You can enjoy the bacon strips straight with your favorite breakfast or you can use them to make bacon cheeseburgers or a classic BLT sandwich.
Crumble up the bacon and stir it into this tropical cheese and bacon dip or your favorite potato salad or this BLT pasta salad.