Chicken bacon ranch pizza is a great way to use up a leftover chicken breast for a delicious family dinner that bakes in under 20 minutes. Crispy bacon, creamy ranch dressing and ooey-gooey melted cheese on top of a homemade pizza dough crust.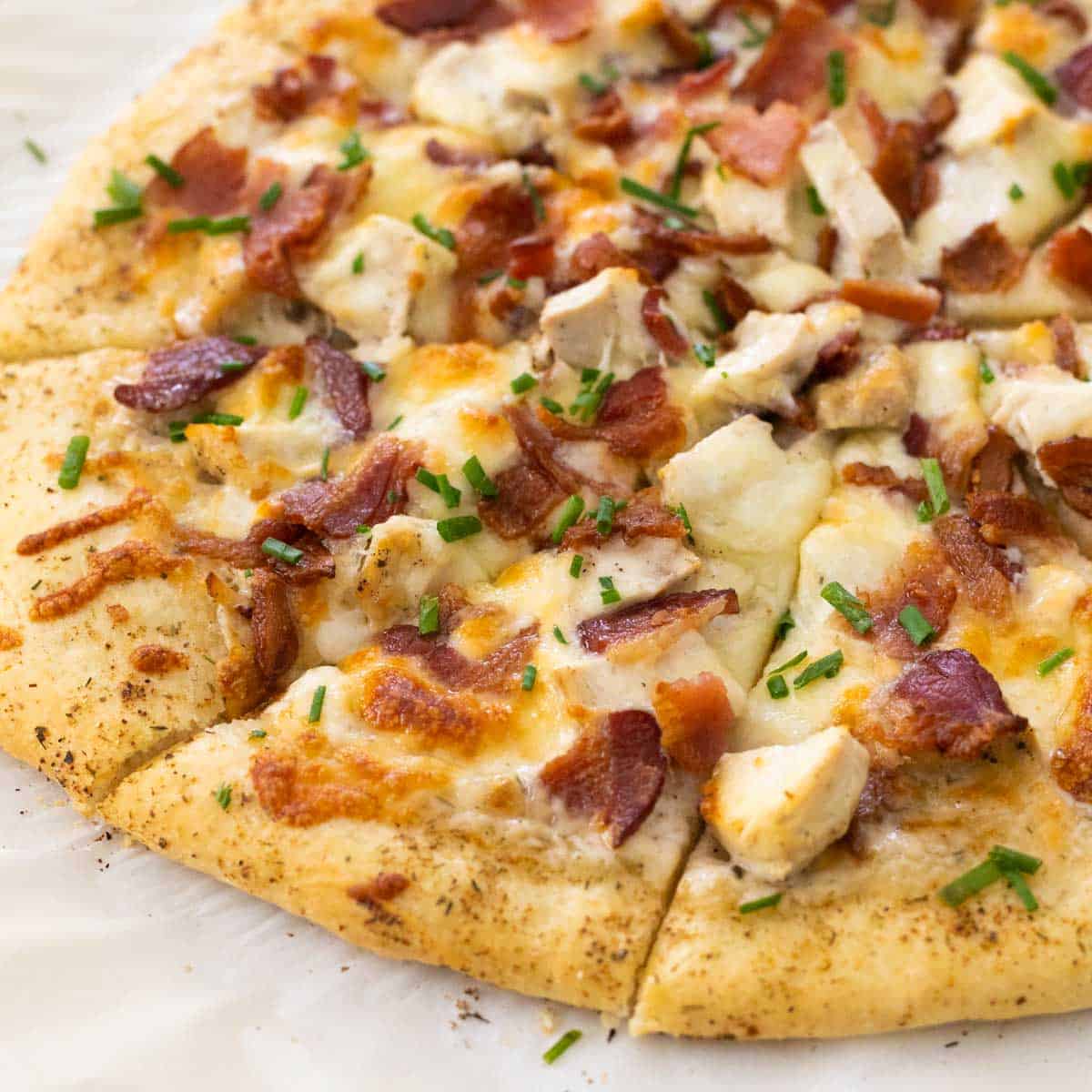 Chicken. Bacon. Ranch. Pizza.
What more can I say about this? The name of the recipe basically tells you everything you need to know.
If those delicious ingredients don't have you scrambling to print this off and bake it at home, maybe knowing that my homemade pizza cooks in just 10 minutes will interest you?
Or how about the fact that this is the perfect way to use up leftover chicken?
In any case, my family absolutely loved this pizza recipe when we split my homemade pizza dough recipe in half to make one buffalo chicken pizza and one bacon ranch pizza.
The debate is still on over which one is our favorite. I guess you'll just have to try both and decide for yourself!
Jump to:
Why This is the Best Recipe
We love to make homemade pizzas with fun flavor toppings but I think this is the best chicken bacon ranch pizza recipe because:
Easy Ingredients: Got leftover chicken? A few strips of bacon left from brunch? You're almost there!
Delicious Crust: My easy pizza crust recipe is perfect for this dinner idea. But honestly, you could use a few different options to keep it easy.
REAL Chicken: I always wonder about the toppings on frozen pizzas. When you cook your own, you know exactly the kind of chicken you're putting on top.
Just the Right Amount of Cheese: Not too gooey, just right.
Ingredients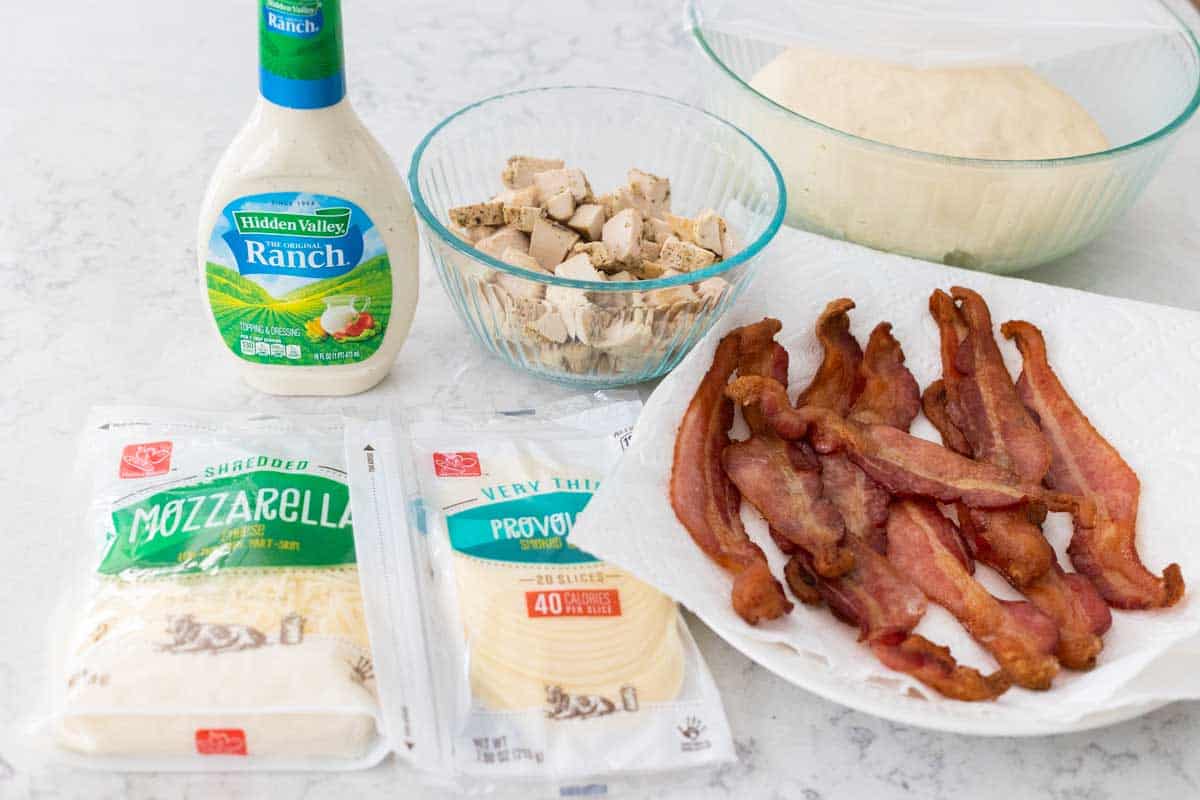 Pizza Dough: I always make this bread maker pizza dough recipe, it works perfectly every time. You could buy pizza dough from the grocery store or even use a pre-baked pizza crust from the bakery aisle.
Chopped Chicken: I chopped up a leftover baked chicken breast but you could use shredded rotisserie chicken or any leftover cooked chicken you have on hand.
Ranch Dressing: You could use bottled dressing or make homemade if you prefer.
Peppered Bacon: Any cooked and crumbled bacon will do but I especially love this peppered bacon recipe. You could also brown up pancetta if you want a small diced bacon.
Shredded Mozzarella: Regular or fancy cut mozzarella works best. The thick-cut mozzarella doesn't melt as smoothly in my opinion.
Provolone Cheese Slices: A few slices of provolone make an extra melty cheese topping.
Olive Oil
The Best Pizza Dough to Use
I think my bread maker pizza dough recipe is the best one to use for just about any homemade pizza. It is one of my all-time favorite bread machine recipes.
However, if you don't have a bread machine, you could use a premade crust from the bakery aisle or check to see if your grocery store offers pizza dough balls you can roll at home.
Season the Crust
The benefit of making homemade pizza is you get to control every last thing about it.
Our favorite take out pizza place offers pizza crust seasonings that my kids love.
To really boost the ranch flavor of this chicken bacon ranch pizza, I started by seasoning the dough itself with a little ranch seasoning.
Simply brush a bit of olive oil around the edge of the pizza dough. Sprinkle the ranch seasoning on top, the oil will help it stick.
Top the Pizza
Assembling the pizza is easy-peasy.
Once you've brushed the oil around the edge, spread ranch dressing over the center of the pizza right up to the oiled edge.
Chop the chicken and sprinkle it evenly over the pizza top.
Rip the provolone cheese into pieces and spread it around the chicken.
Fill in the gaps with the shredded cheese. The crumbled bacon goes over the top at the very end so that it stays crispy and adds a dash of color to the pizza.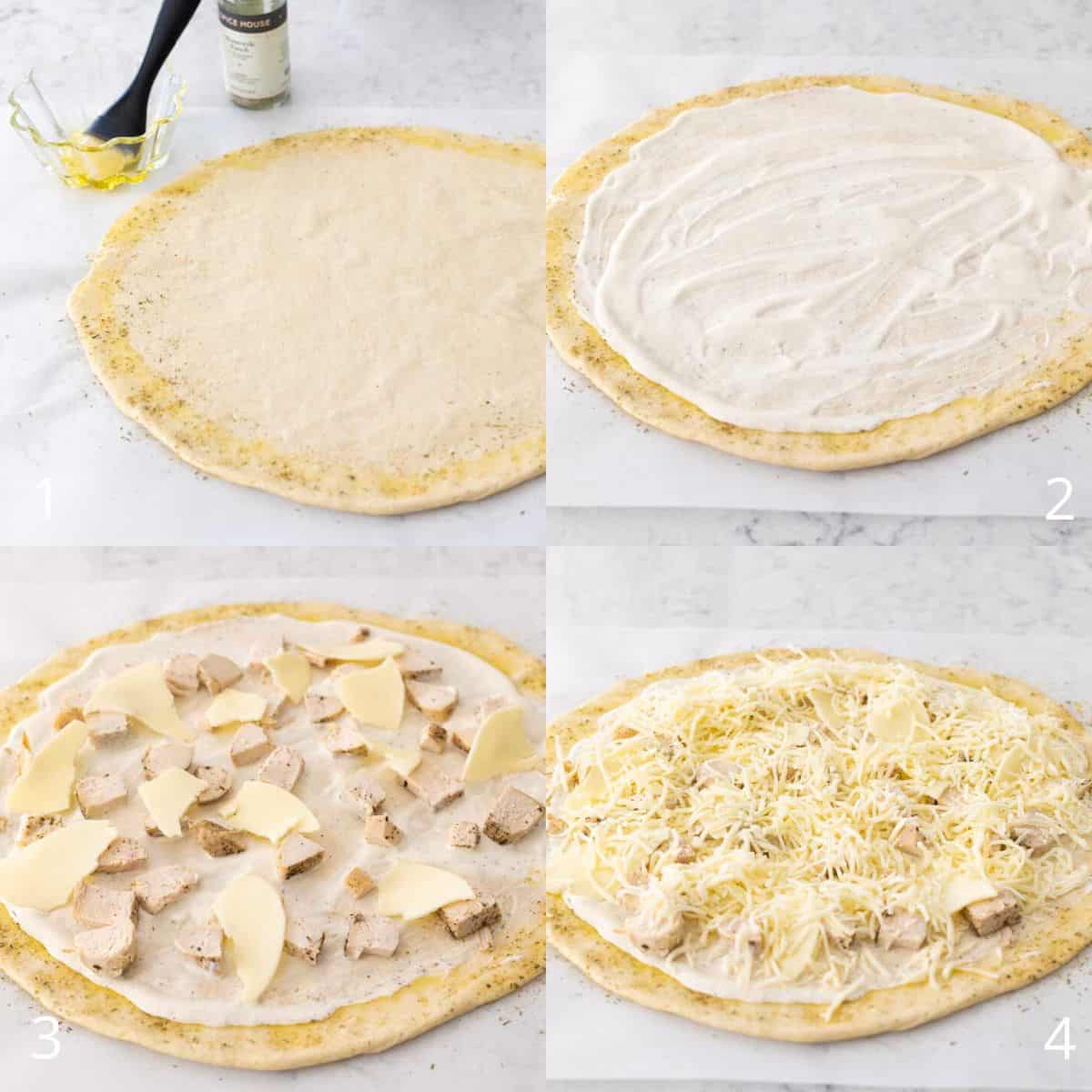 Baking Instructions
My method for baking pizza in your oven ensures the crust comes out just perfectly! You can read more in-depth instructions with step by step photos here: How to bake pizza dough.
But the short hand version is:
Preheat the oven to 450°F with a pizza stone on the center rack for 30 minutes. You want that baking stone piping hot.
Use the parchment paper to help transfer the pizza onto the stone and bake for 10 minutes or until the crust is golden brown and the cheese is bubbling hot.
Serving Suggestions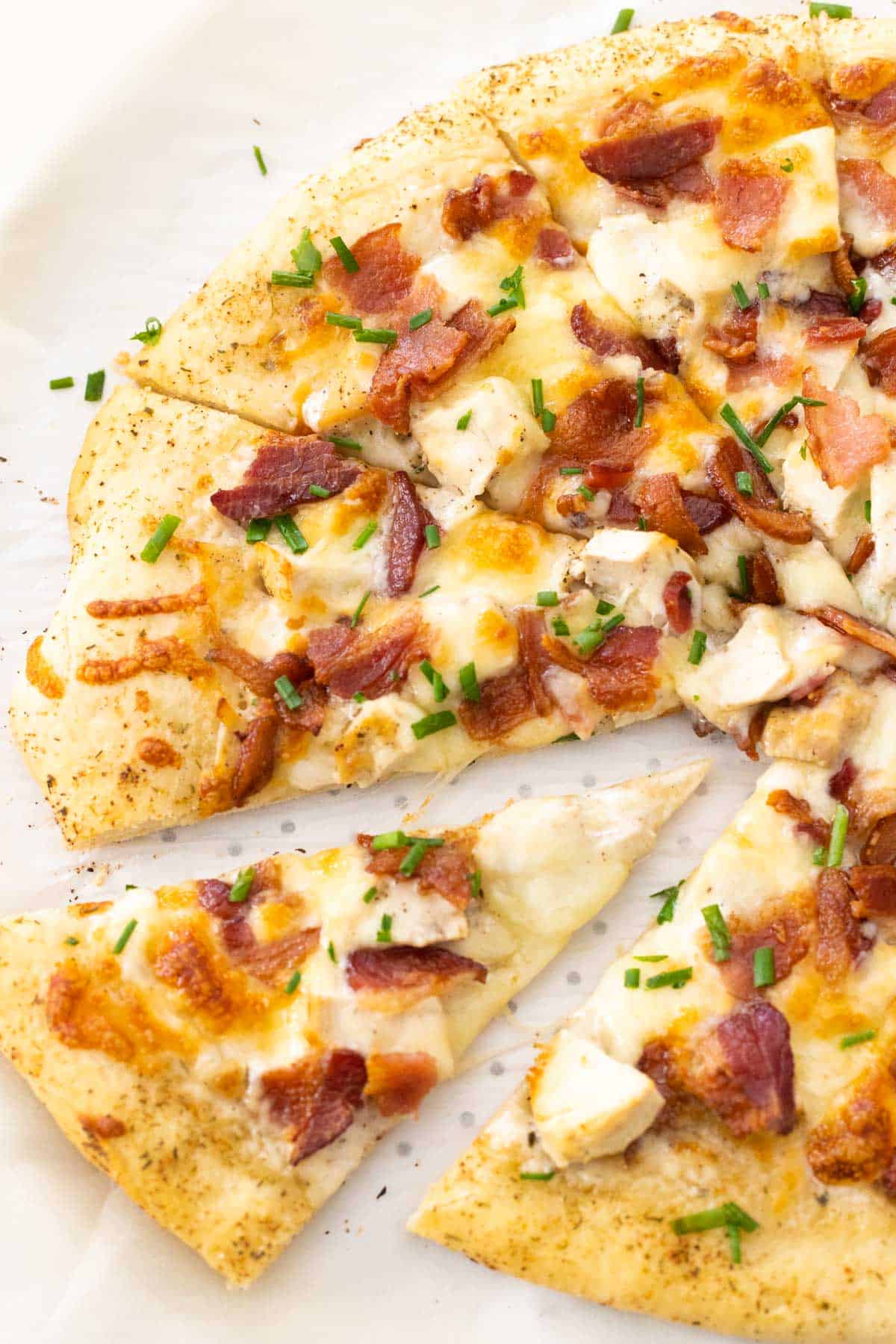 Chicken bacon ranch pizza tastes its best when you let it cool for just a few minutes. If you try to eat it too hot, you'll miss out on most of the ranch flavor.
A sprinkle of chopped fresh chives or green onions adds both color and amazing flavor to the pizza.
Serve it with a green salad or even a tomato soup for a delicious dinner.
Slice it into squares and it makes an amazing flatbread appetizer, too!
Variations
This classic chicken bacon ranch pizza is always a hit with my family but it would be easy to change things up for some simple variations:
Spicy Chicken Bacon Ranch Pizza: Add crushed red pepper flakes to the ranch dressing or sprinkle chopped pickled jalapeños with the chicken.
Honey Bacon Ranch Pizza: Use one of my favorite pizza condiments, hot honey, over the finished slices of pizza. You can read more hot honey recipe ideas here.
BBQ Ranch Pizza: Use leftover barbecue chicken or pulled pork instead of the plain baked chicken. Add chopped red onions to the top of the pizza before baking.
Veggie Ranch Pizza: Make a vegetarian pizza by skipping the chicken and bacon and adding chopped bell peppers, a red onion, and some sweet corn.
More Chicken Bacon Ranch
If you love the chicken bacon ranch flavor combo, you won't want to miss these recipes:
More Pizza Recipes
If you enjoy making homemade pizzas, don't miss these other delicious recipes:
📖 Recipe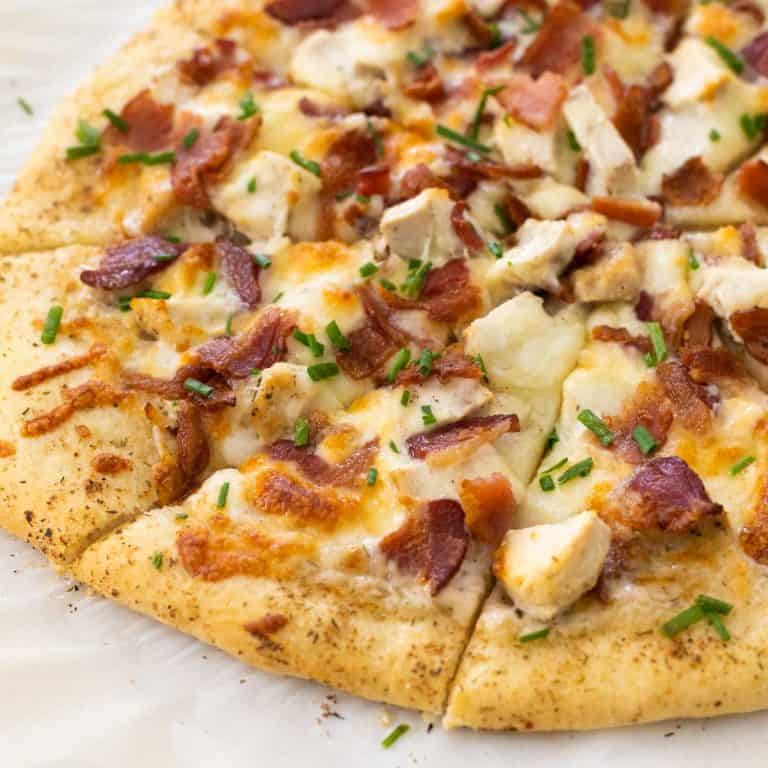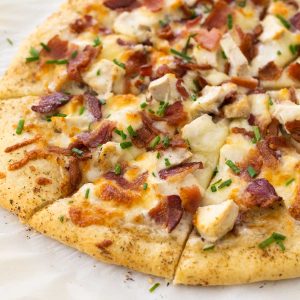 Chicken Bacon Ranch Pizza
This savory chicken bacon ranch pizza is made with a homemade pizza dough crust and topped with crispy bacon, creamy ranch dressing, and tender chunks of leftover chicken for a quick and easy pizza dinner. Cut it into square-shaped pieces and you have a flatbread appetizer!
Ingredients
1

pizza dough ball

half of this pizza dough recipe or a pizza ball from the grocery store

2

tbsp

olive oil

2

tsp

ranch seasoning

optional

¾

cup

ranch dressing

1

cooked boneless, skinless chicken breast

or 1 cup leftover cooked chicken cut into chunks

2

slices

provolone cheese

1

cup

shredded mozzarella cheese

6

strips

cooked bacon

crumbled
Instructions
Place a pizza stone in the center of the oven. Preheat the oven to 450°F for 30 minutes while you prepare the pizza.

Roll out the pizza dough to a 12-inch diameter on a piece of parchment paper. Brush olive oil around the edge of the dough and sprinkle just the oil with the dried ranch seasoning to form the seasoned crust. (Even if you don't use the seasoning, brush the oil to give a golden brown crispy texture to the edge.)

Spread the ranch dressing evenly over the center of the crust right up to the start of the olive oil border.

Sprinkle the chopped chicken over the ranch.

Rip the provolone cheese slices into 1-inch chunks and scatter evenly over the pizza.

Sprinkle the shredded mozzarella over the top of the ranch area.

Crumble the bacon strips and scatter them evenly over the top.

Use the parchment paper the pizza was prepared on as the transfer surface to put it in and out of the oven. You can slide it onto the back of a baking sheet and use that to carry it to the oven and slide the parchment paper onto the preheated baking stone in the oven.

Bake for 10 minutes or until the edge of the pizza is golden brown and the cheese has melted and become bubbly.

Carefully tug on the parchment paper to pull the pizza onto the back of the baking pan to lift it out of the oven. You don't want to touch the baking stone since it will be blazing hot.

Slice and serve immediately.
Save This Recipe to Your Recipe Box
Find this delicious recipe next time you visit by saving it to your very own recipe box on my site. All your favorites stored in one easy place!