Easy bread machine crescent dinner rolls are the perfect way to use your bread maker's Dough program. These dinner rolls are so easy to portion out the dough, roll, and form the yummy crescent shapes.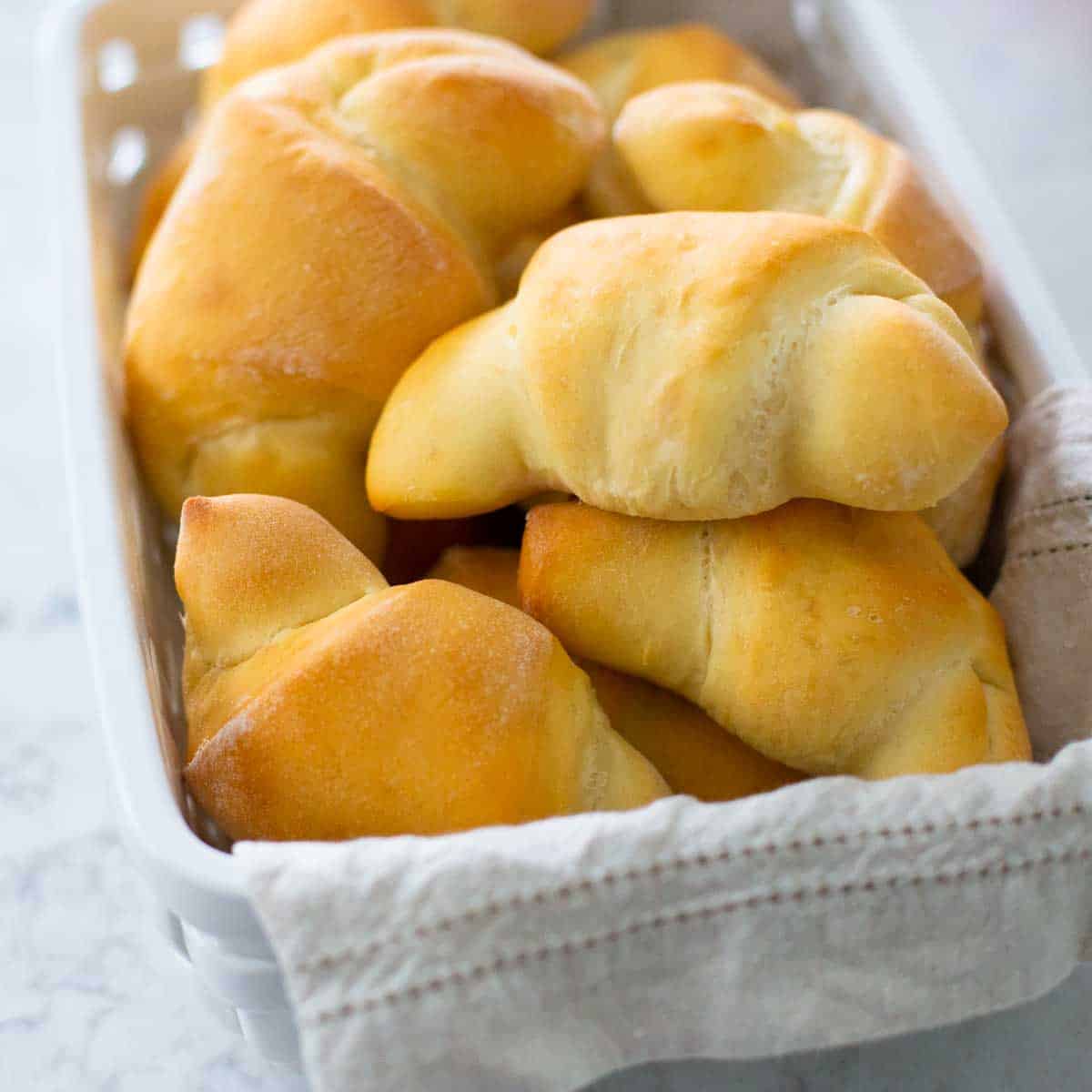 The holiday season is here, raise your hand if crescent dinner rolls are an absolute staple! ME!
As much as I love the canned crescent roll dough, I was shocked to learn just how easy (and healthier!) it is to make homemade crescent rolls using my bread machine.
The simple butter dough is mixed, kneaded, and rises all in the bread maker. You simply turn the finished dough out onto a baking pan, divide and roll the buns, and bake.
You could even use this from scratch crescent rolls recipe to make other family favorites like our bacon chicken ranch roll-ups or savory sausage rolls.
Jump to:
Ingredients
Compared to the unpronounceable things hiding inside those refrigerator canisters of dough, look at how wholesome and easy the ingredients are for these homemade dinner rolls: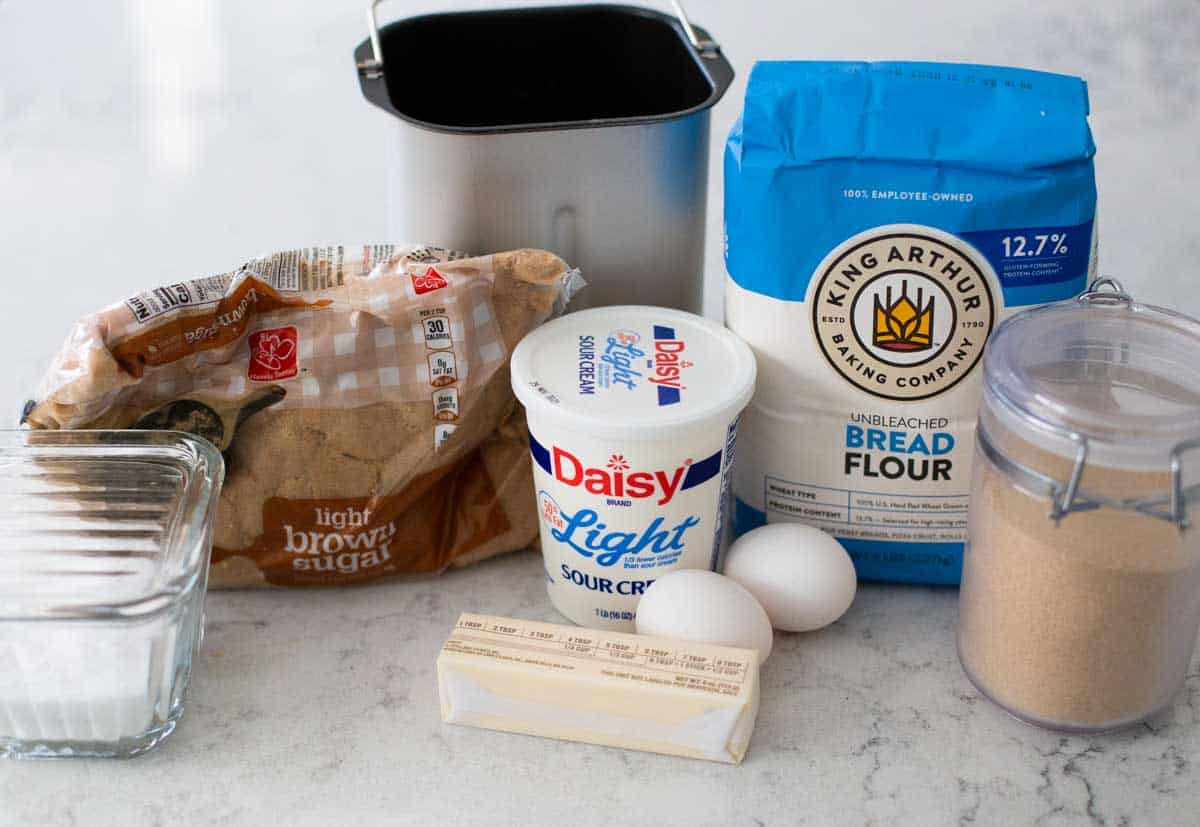 Bread Flour
Brown Sugar
Butter, softened
Sour Cream
Eggs
Yeast
Salt
That's it! You probably have most of it hiding in your pantry and fridge right now.
How to Make Dough in a Bread Maker
Using a bread machine to make dough is one of my very favorite things about this handy kitchen appliance.
Just like all other bread machine recipes, you start by adding all the liquid ingredients first.
First, be sure the paddle attachment is in place.
Place the water, butter, eggs, and sour cream into the bread machine pan.
NOTE: You absolutely need the butter to be softened. Cut it into smaller pieces before adding it to the bread pan. That tiny paddle will struggle to blend it in otherwise.
Then, add all the dry ingredients right on top.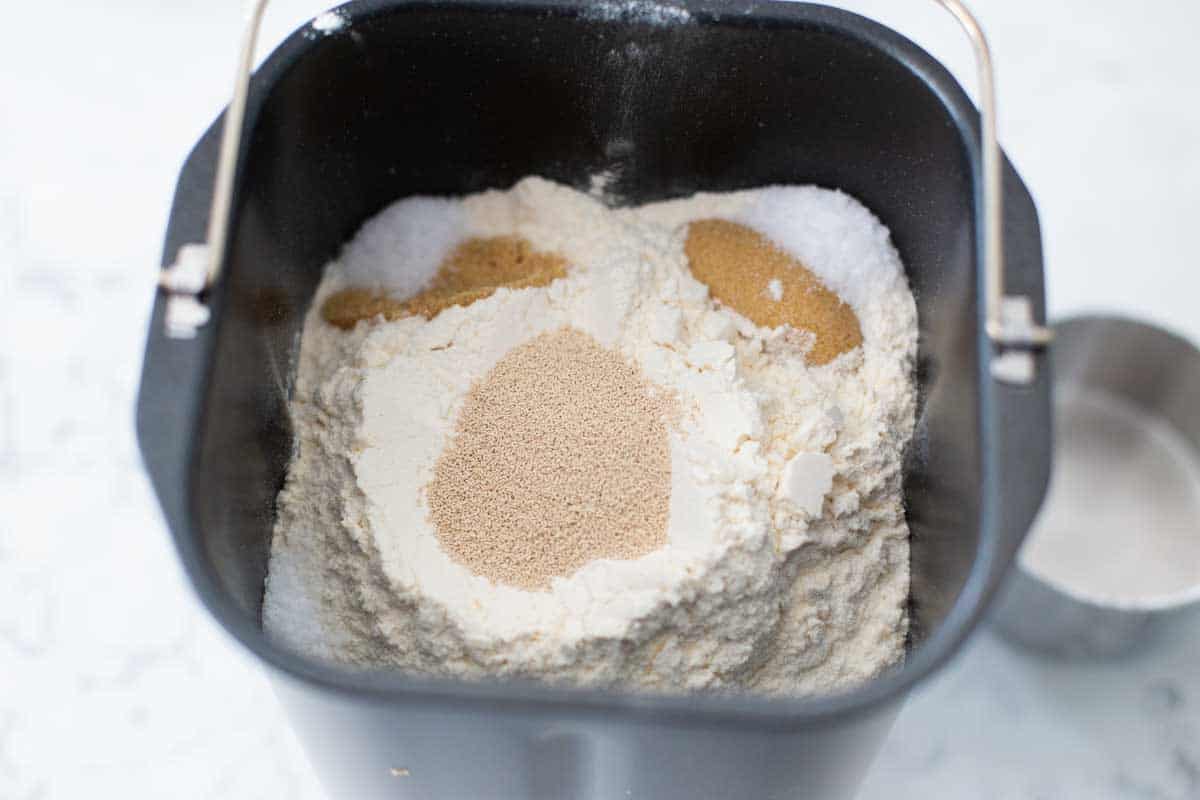 Add the flour, brown sugar, salt, and yeast to the bread pan.
NOTE: Add the sugar and salt around the perimeter of the pan. Use a spoon to dig a small well in the center of the flour and place the yeast there as featured in the photo above.
Place the bread pan back inside your bread maker and select the DOUGH program. Press Start.
Most machines will take about 90 minutes to complete the program.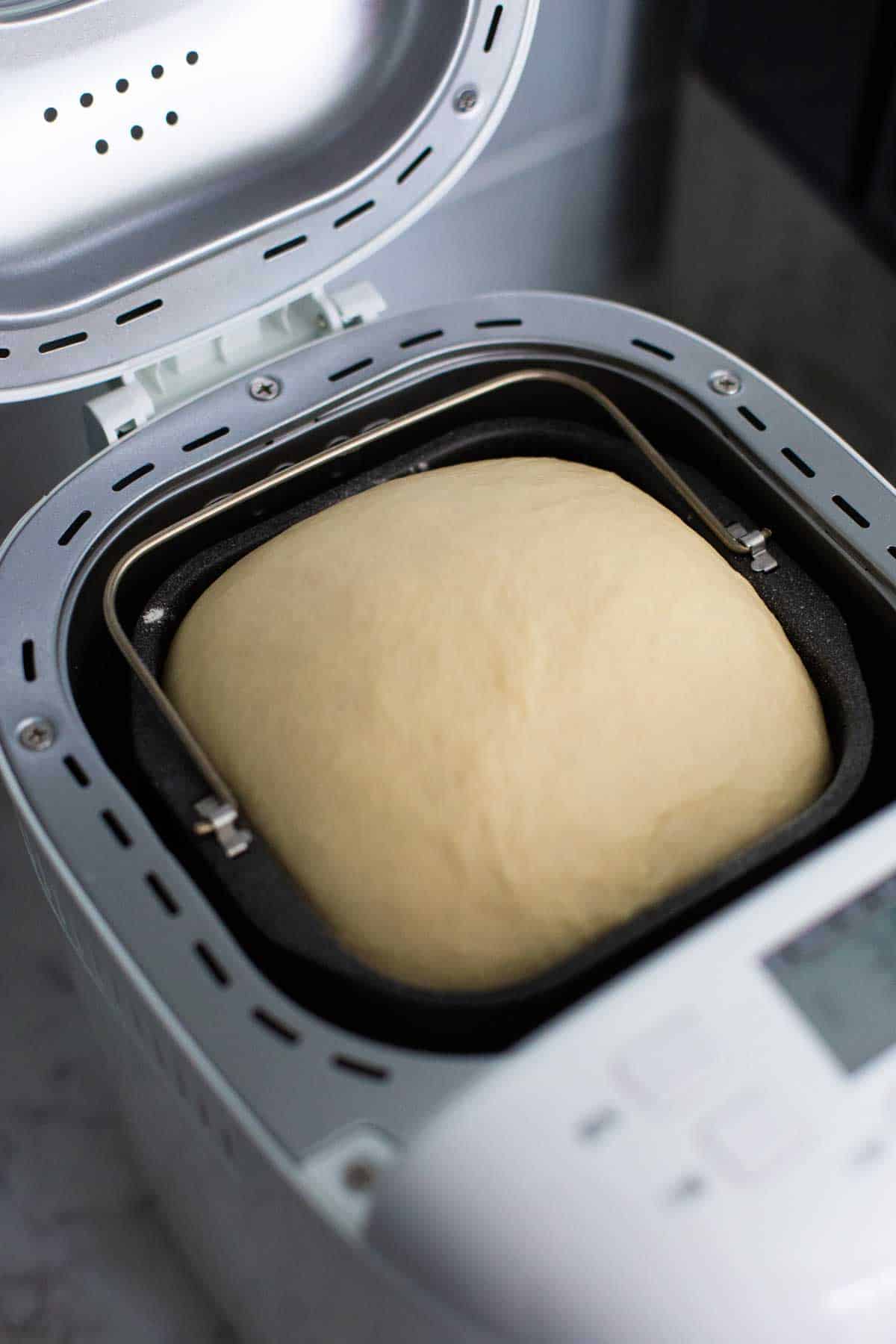 How to Form the Crescent Rolls
Once the dough has perfectly risen in your machine, it is time to form the dinner rolls.
Turn the dough out onto a baking mat lightly sprinkled with flour. Remove the paddle at this point.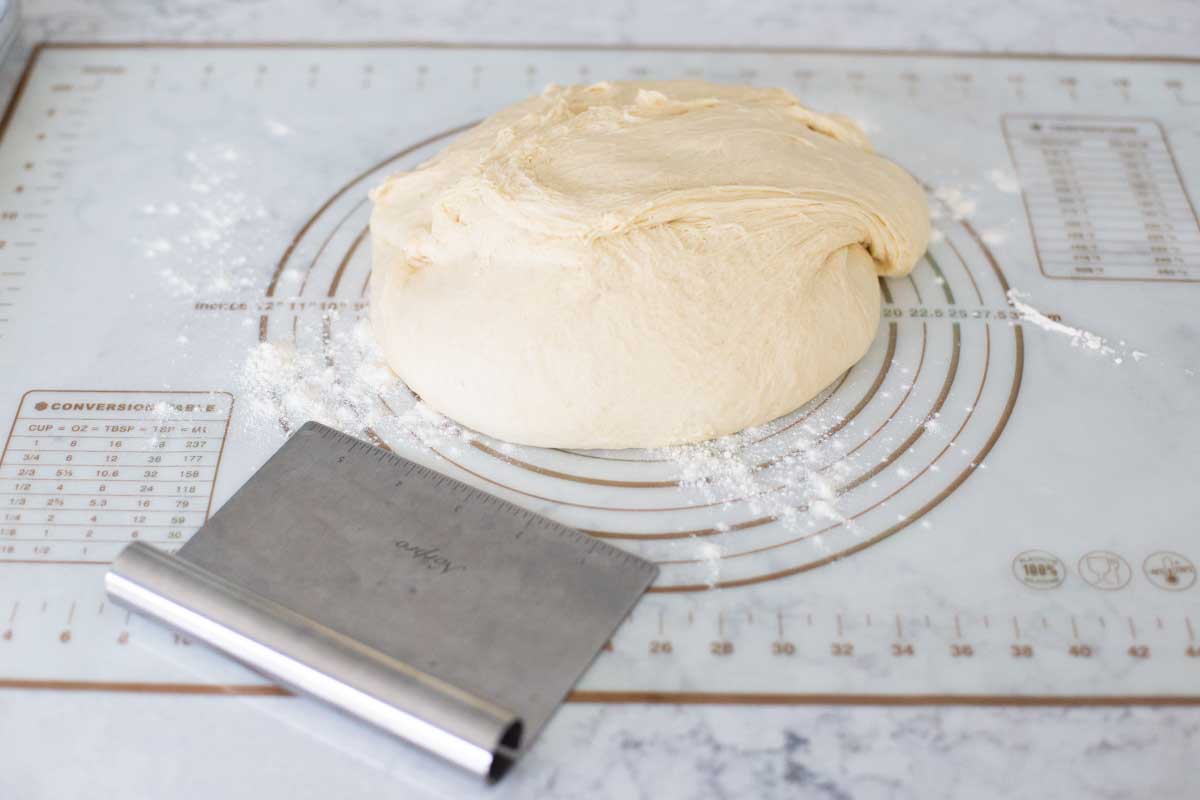 Divide the dough into two equal portions. Working one portion at a time to form the rolls.
Roll one portion out to a 10 - 12-inch circle.
Use a pizza wheel to cut it into 8 equal pie-shaped pieces.
Roll each pie wedge up from the widest edge towards the point to form the crescent.
Place each crescent, point side down, on a baking sheet lined with parchment paper.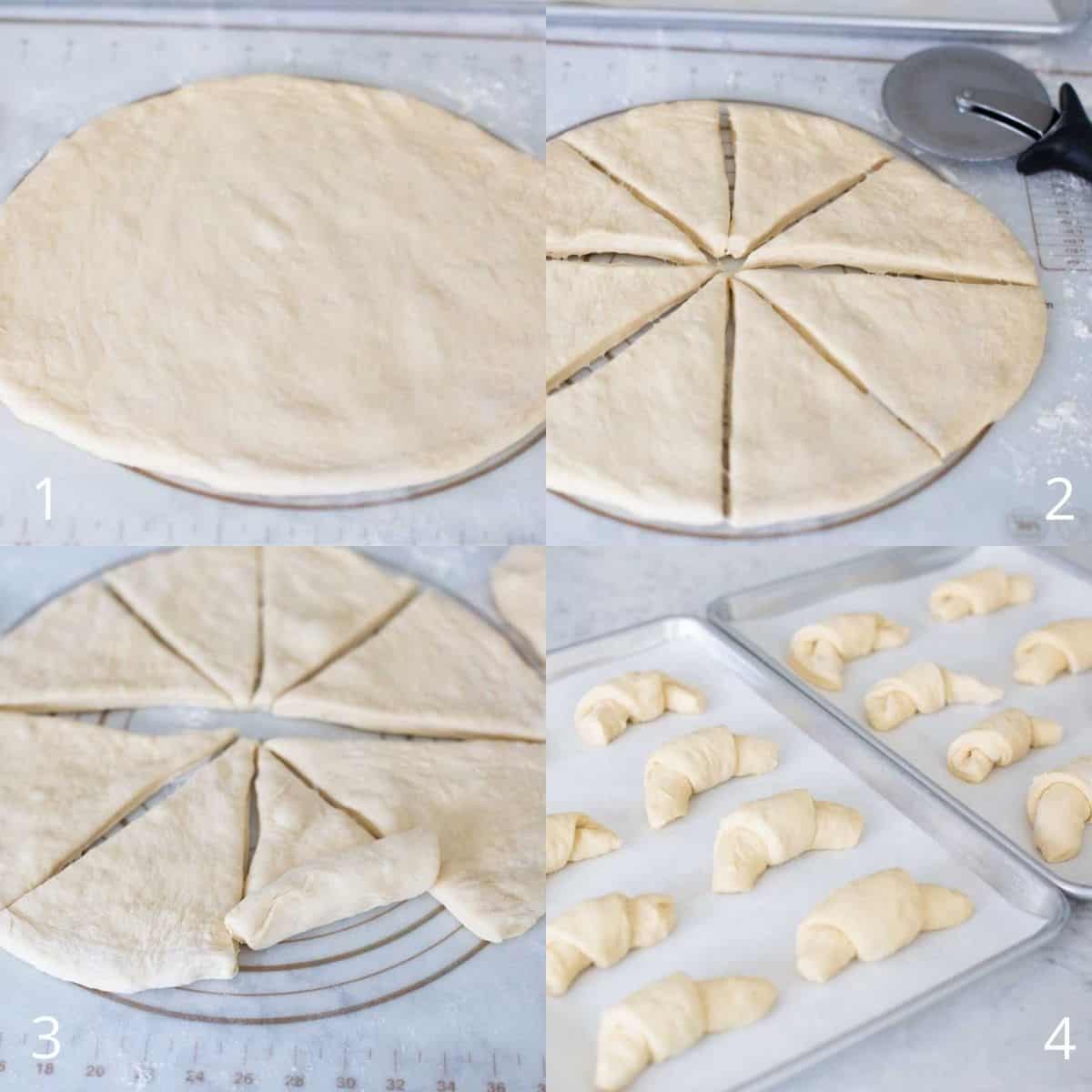 Cover the pans with plastic wrap and let the dinner rolls rise for 20 - 30 minutes.
Bake the Dinner Rolls
Preheat the oven to 375°F and bake the rolls for 15 - 17 minutes or until golden brown.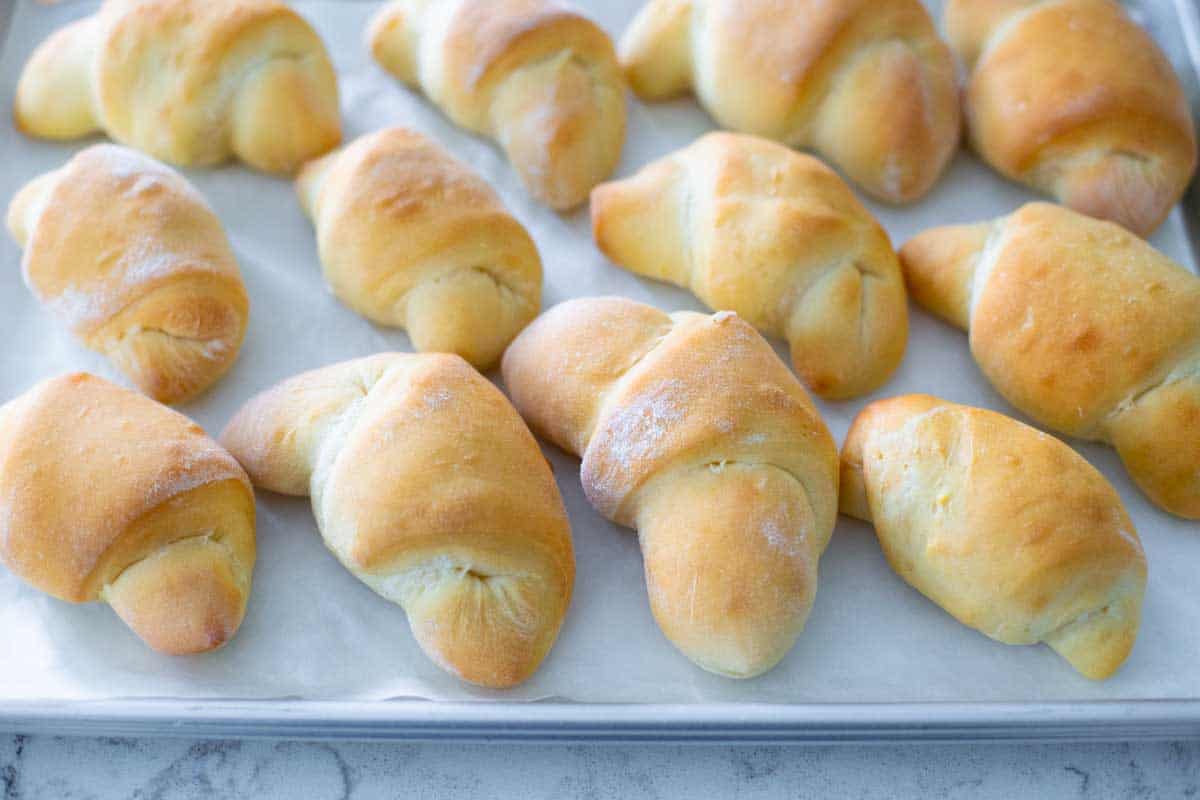 Make Ahead & Storage Tips
These dinner rolls are best the day they are baked. If you want to make them ahead of a special dinner, you could bake them and store in an airtight container overnight.
Reheat them for 2 - 3 minutes at 350°F to restore texture and warm them through.
The baked dinner rolls could also be frozen once they have completely cooled. Thaw them in the fridge overnight and reheat them before serving.
More Holiday Bread Recipes
Looking for more delicious bread recipes to serve this holiday season? Here are some of my family's favorites:
More Ways to Use Crescent Dough
Once you know how to make homemade crescent dough, you could turn it into so many different recipes beyond just dinner rolls!
Roll it out to make sweet and savory Monte Cristo sandwich pinwheels or my favorite sausage crescent roll swirls.
You could also line a large baking sheet and bake it into a crust for my favorite crescent roll veggie pizza.
If you've tried these easy bread machine crescent dinner rolls or any other recipe on PeanutBlossom.com please don't forget to rate the recipe and let me know where you found it in the comments below. I love hearing from you!
FOLLOW along on Instagram @peanut.blossom as well as on Pinterest and Facebook.