This cold veggie pizza appetizer is a favorite party snack that is easy to make ahead. A layer of buttery crescent roll dough is spread with ranch flavored cream cheese and topped with crispy raw veggies like broccoli, carrots, and tomatoes.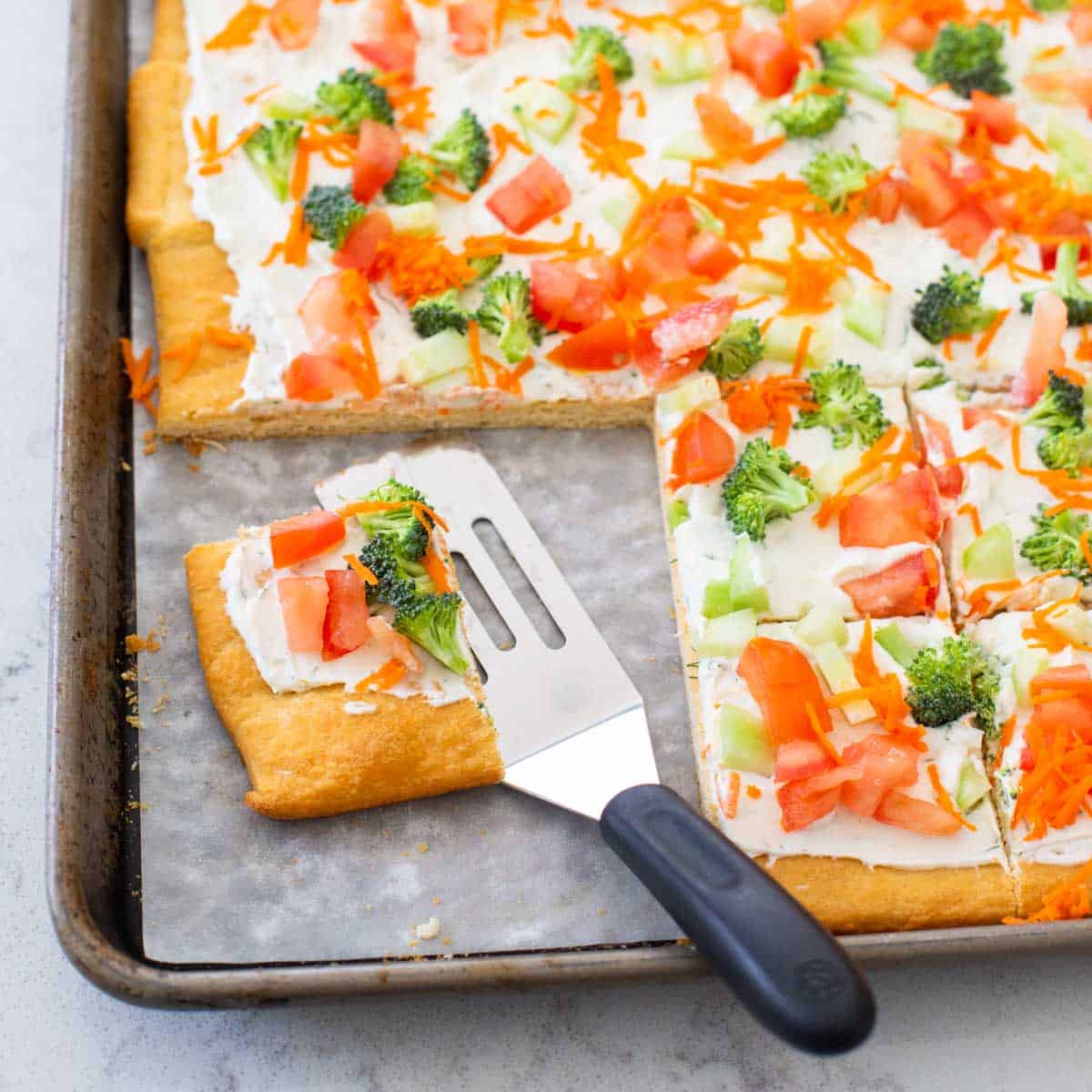 Cold crescent roll veggie pizza is the first party appetizer my friends would offer to bring for any fun event.
It was also the first thing to disappear from the buffet table during the party!
This popular chilled veggie snack is always a hit with guests because the buttery crust and seasoned cream cheese pairs perfectly with those crispy veggies on top.
I dare you to eat just one slice!
I recently introduced the recipe to my kids and we enjoyed it as a simple summer lunch. It was such a fun change of pace from boring sandwiches.
So no need to wait for a party, serve this for your family for movie night or game night or just because!
Jump to:
Why This is the Best
This cold veggie pizza recipe is the best recipe because:
Easy to Make: You can prep the toppings while the crust bakes and cools. The whole thing comes together in just minutes.
Lots of Variations: You can mix and match seasonings and veggies for all kinds of varieties.
Easy to Nibble: Cut into small squares, the diced veggies make this appetizer really easy to eat with your fingers.
Make Ahead Friendly: Cover and chill the finished veggie pizza for up to 24 hours in advance of the party.
Ingredients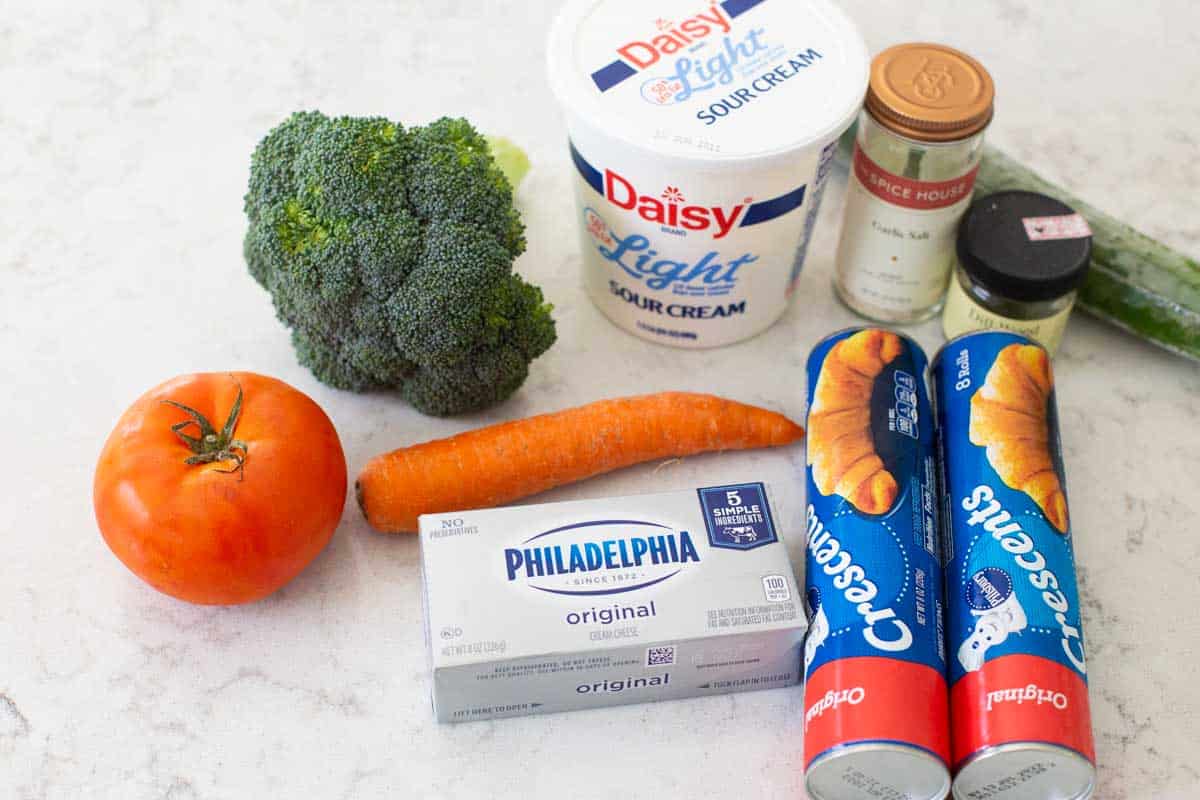 Your shopping list for this recipe is so easy and short. All you need to make it is:
Crescent Roll Dough: I used two canisters of the individual rolls but I've also seen crescent roll sheets that would make this even easier.
Cream Cheese: I used full-fat cream cheese, but you could use reduced fat if you want to make it even lighter.
Sour Cream: I almost always use Light sour cream in my recipes. It works great here, but you can use full-fat if you prefer.
Fresh Veggies: Broccoli, Cucumber, Tomato, and Shredded Carrots. I couldn't find the pre-bagged shredded carrot when I was at the grocery store, so I simply substituted a large carrot that I grated by hand.
Dried Dill and Garlic Salt: You could also use fresh dill if you prefer. I had some handy from my herb garden, so I added that in.
Bake and Cool the Crescent Roll Crust
Preheat the oven to 375°F.
Line your baking sheet with parchment paper before you add the crescent roll dough. This will help ensure your slices of veggie pizza come out of the pan neatly.
Unroll the crescent roll dough and lay it in an even layer in the pan.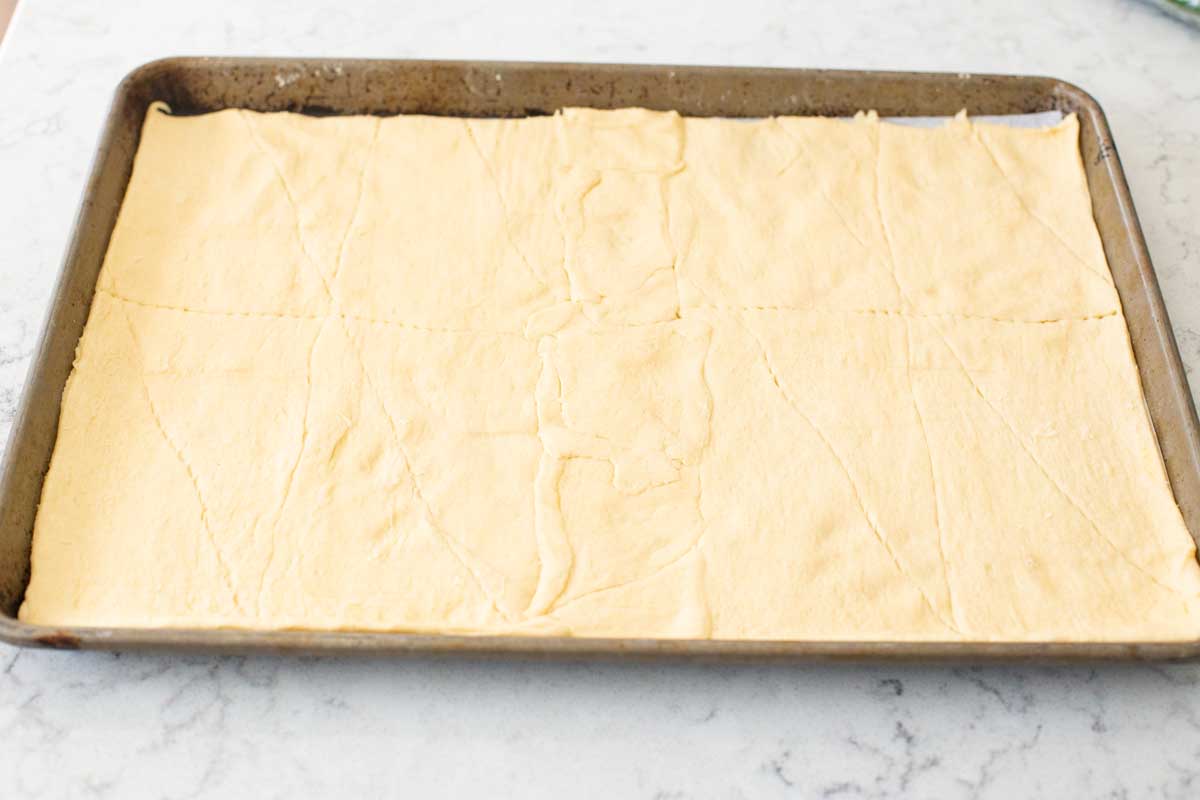 I trimmed the edges of the sheets and lined them up to fill the open spaces in the pan, similar to fitting a puzzle together!
Gently pat all the seams and cut edges together to form an even crust.
Bake the crust for 15 minutes or until golden brown.
Let it cool completely!
Prep the Veggies
While the crust is baking, prepare all the toppings.
Grate the carrot if needed.
Remove the watery seeds from the tomato and chop the fleshy part of the vegetable into a small dice.
Peel the cucumber and chop it into a small dice.
Trim the broccoli into tiny florets. You can save the stem of the broccoli for another use.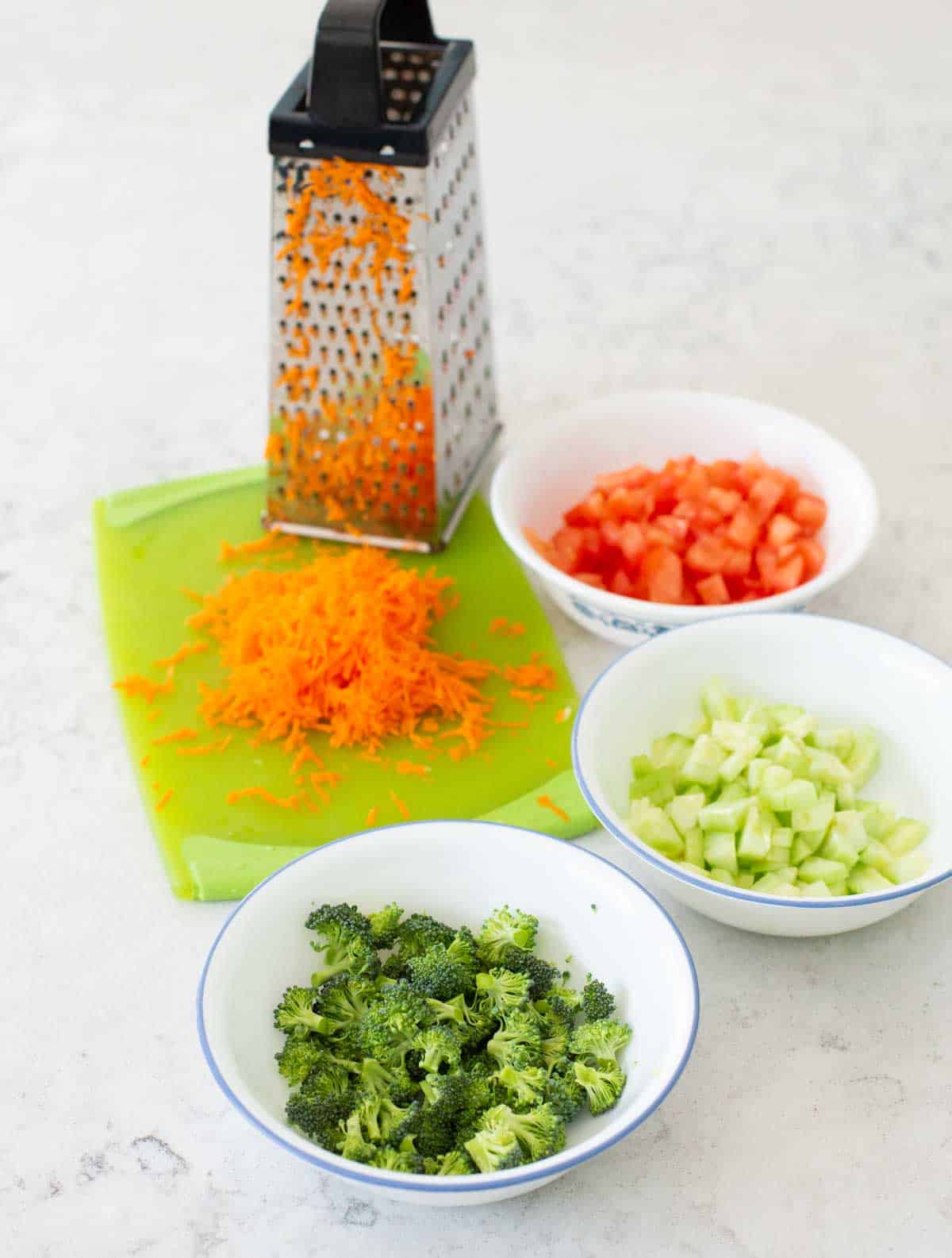 Blend the Cream Cheese
Add the softened cream cheese, sour cream, dill, and garlic salt to a medium sized mixing bowl.
Blend together with a hand mixer until smooth.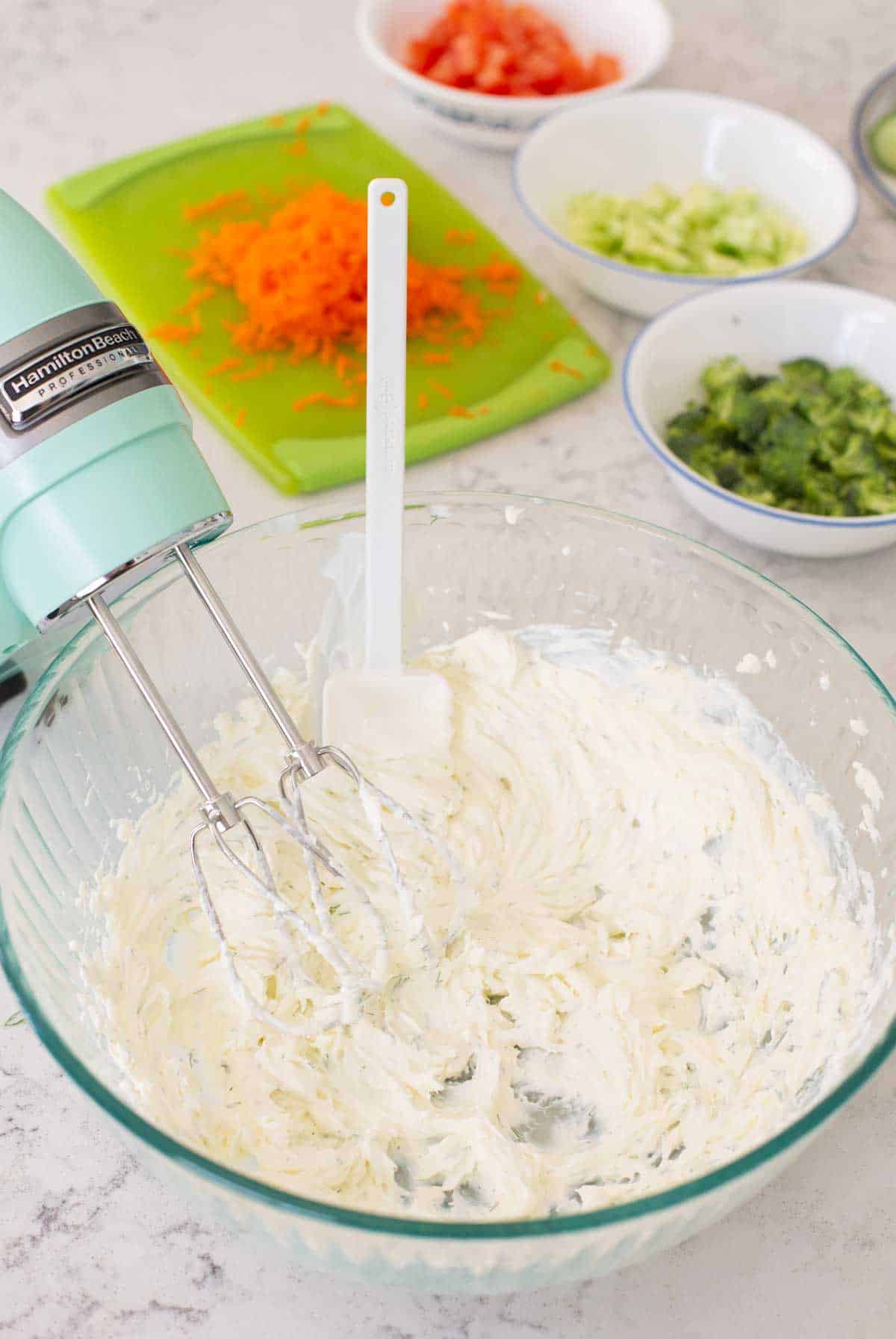 Assemble the Veggie Pizza
Once the crust has completely cooled, spread the cream cheese layer evenly over the top.
Leave a small ½ inch border around the outer edge.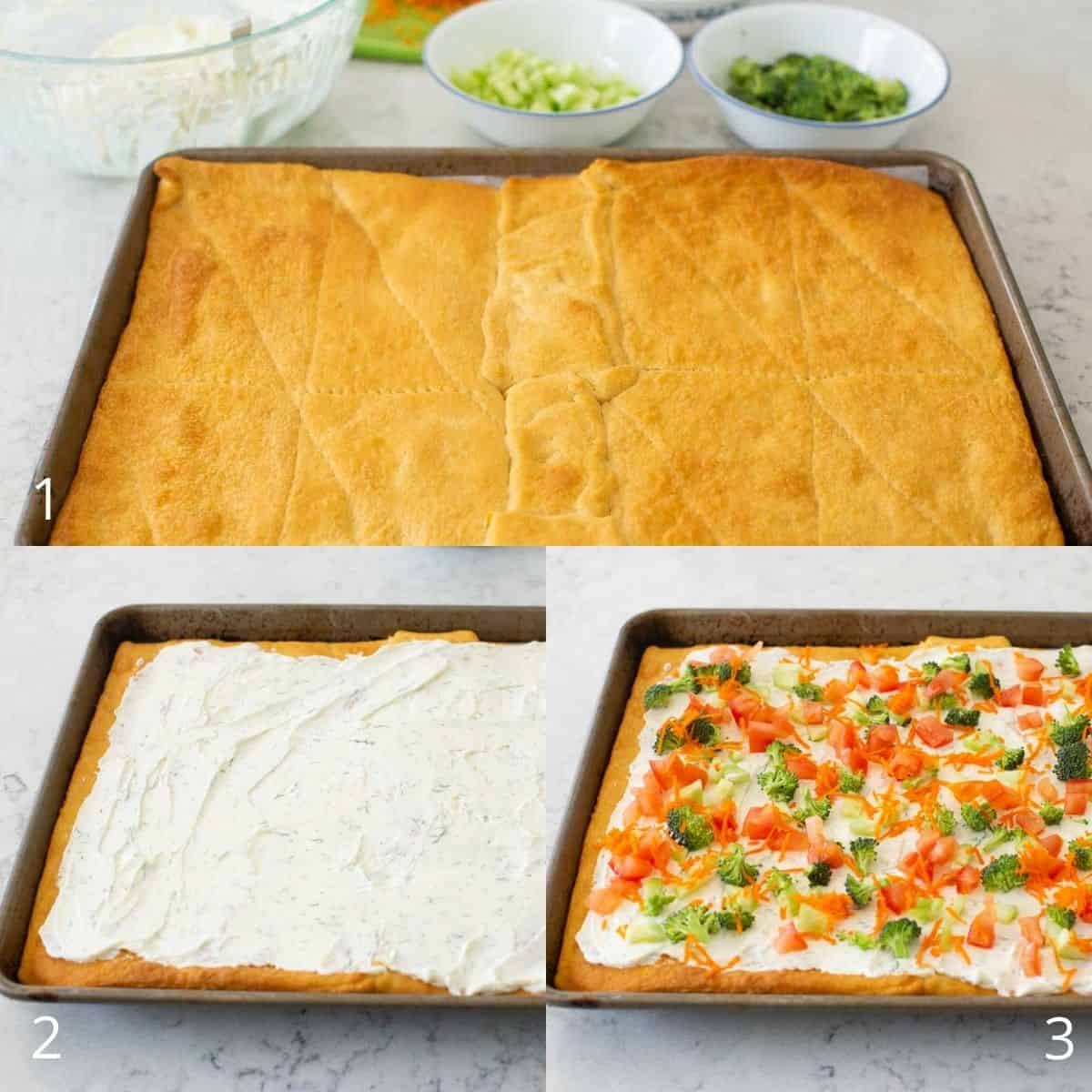 Sprinkle the raw veggies over the top. Gently press them into the cream cheese so they stick when you slice the servings.
Make Ahead Tips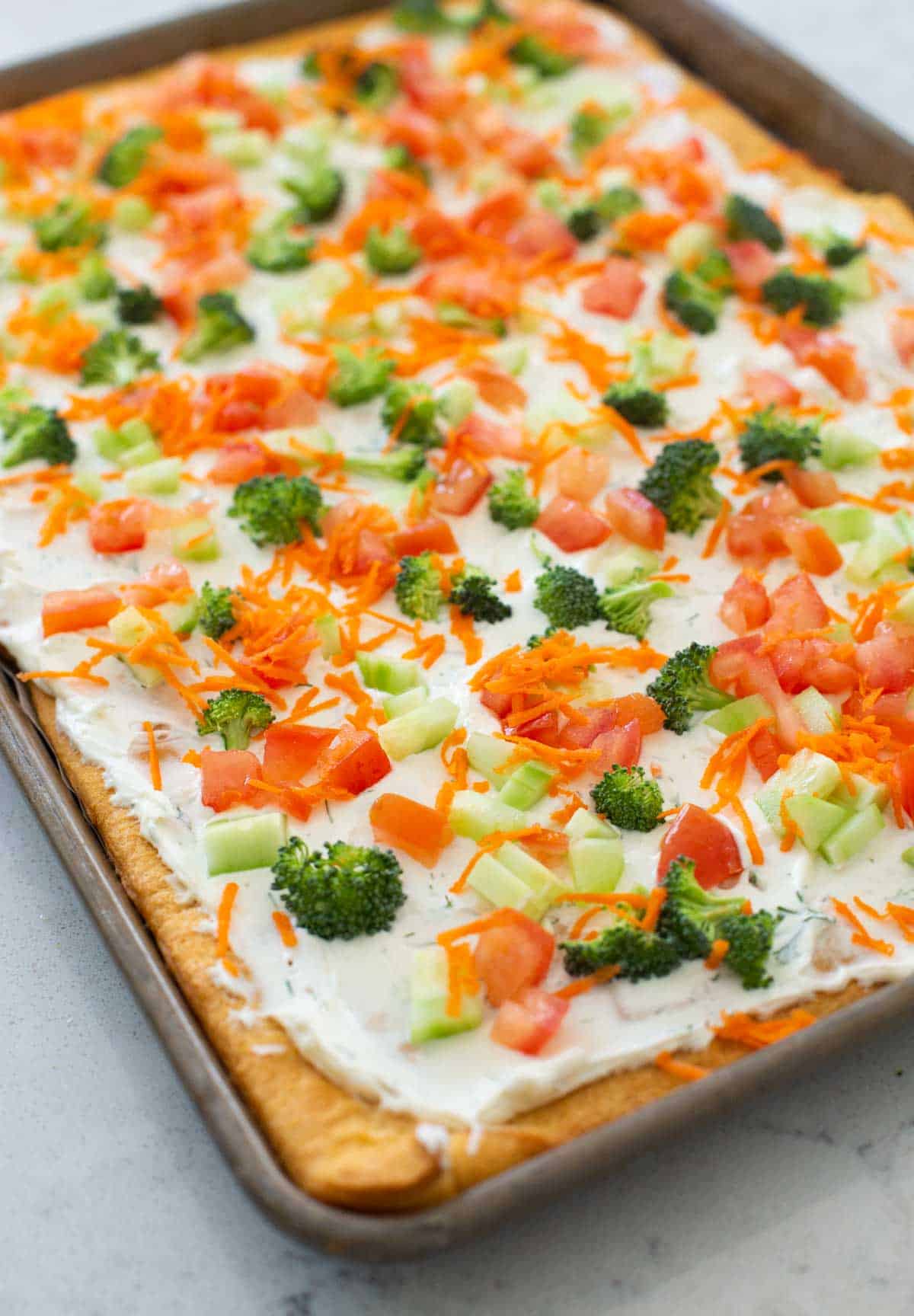 If you want to save time with prepping this easy recipe, there are a few make-ahead tips you can choose from:
Prep the Veggies: You could chop all the veggies and store them separately in an airtight container in the fridge for 2 - 3 days. Then they're ready to go for last-minute sprinkling.
Prep the Cream Cheese: You could make the seasoned cream cheese layer up to 3 days in advance and just keep it sealed in an airtight container in the fridge. Let it thaw on the counter for 15 minutes before spreading on the crust.
Prep and Assemble the Entire Recipe: You could make the entire recipe 24 hours in advance and just keep it covered and chilled till you're ready to serve.
Serving Suggestions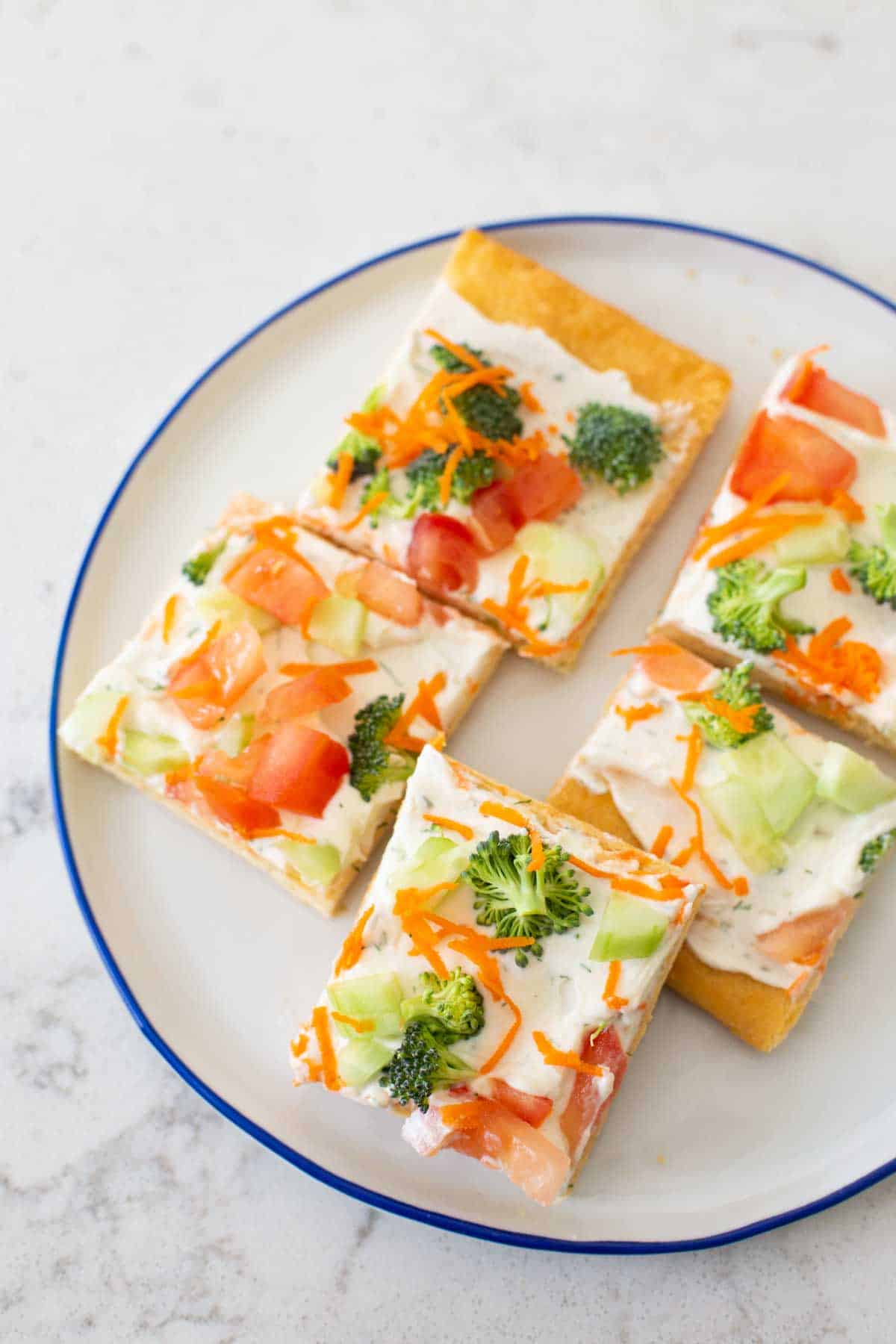 I slice our veggie pizza in generous sizes and get 24 servings from the pan.
If you want to feed a larger crowd, you could slice them smaller and get 32 servings.
If you're looking for other crescent roll recipes, you'll love my sausage crescent roll swirls.
But you could also make a fun variation and spread my cold spinach dip in stead of the cream cheese layer before topping with veggies.
You could also skip the crescent rolls and spread the cream cheese and veggies on homemade crostini. Serve them in pretty bowls and let guests top the crostini themselves or assemble them in advance for quick bites.
Variations
In addition to the serving variations listed above, you can also make adjustments to the ingredients for a simple list of yummy alternatives:
Spicy Veggie Pizza: Use a spicy ranch seasoning in place of the dill and top the pizza with banana peppers in the mix.
Greek Veggie Pizza: Use my favorite tzatziki sauce for the base and top with tomatoes, olives, chopped red onion, and diced cucumbers.
Southwestern Veggie Pizza: Use taco seasoning in the cream cheese and top with corn, tomatoes, diced bell peppers, and your favorite beans.
Oriental Chicken Pizza: Use the same veggie mix and sweet and sour topping with shredded rotisserie chicken as my favorite Oriental chicken layer dip.