All the 4th of July potluck recipes you need to throw the perfect backyard cookout for the holiday. Easy main dishes, side dishes that travel well, and red, white, and blue desserts to finish the party with a bang!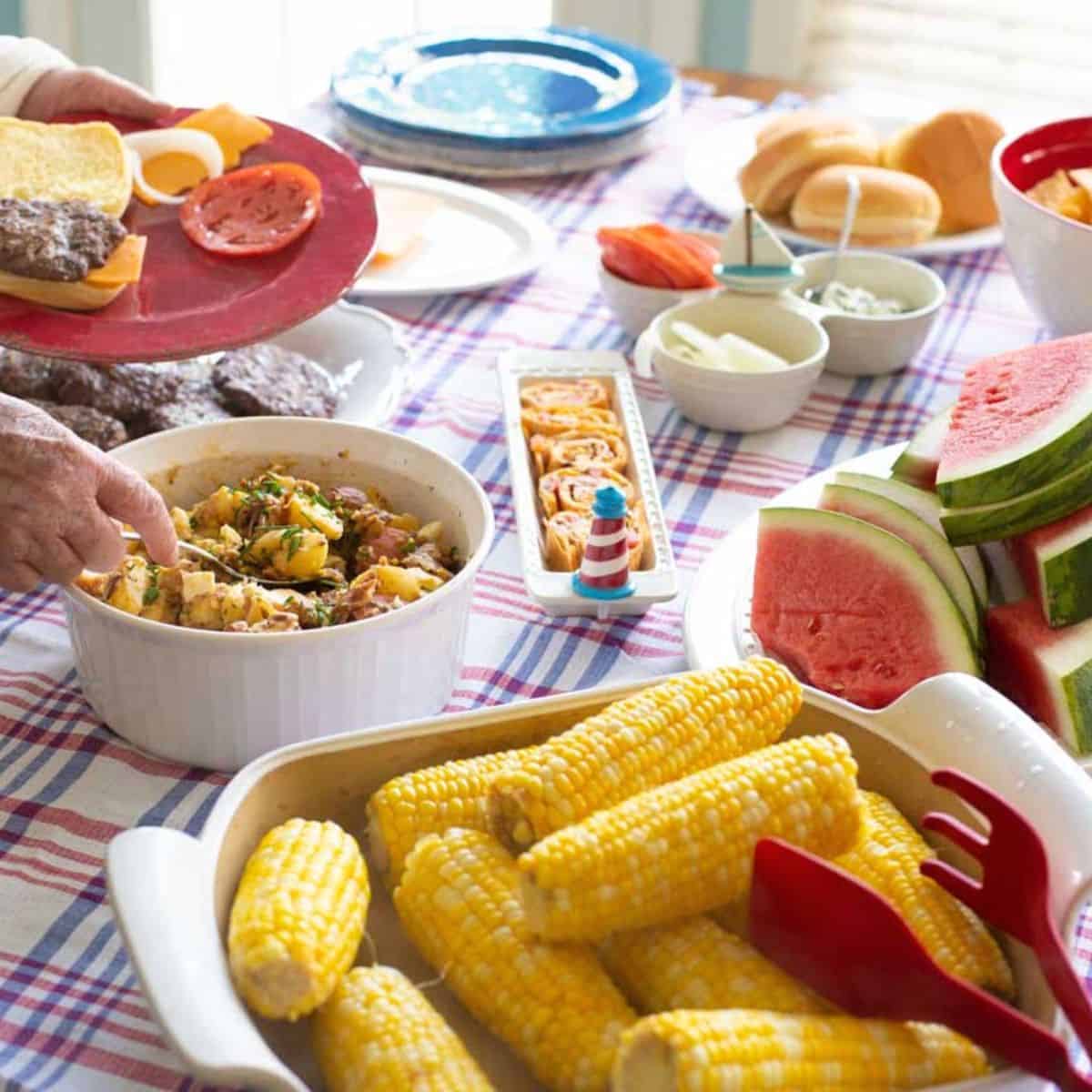 For this year's July 4th cookout, plan ahead and get all the best potluck recipes for bringing to the bash or setting out as the host.
These easy recipes are a great way to fill up your menu plan for the best summer party ever.
The perfect 4th of July menu will include savory grilled meats like classic hamburgers and hotdogs with a buffet table loaded with travel-friendly side dishes like potato salad, macaroni salad, and corn on the cob.
End the party with a bang with easy and delicious red, white, and blue desserts everyone will love.
Jump to:
Best Burgers
Of all the easy grilling recipes out there, a classic American hamburger is such a traditional part of most 4th of July cookouts.
For this year's backyard barbecue, why not set out a Build Your Own Burger Bar with a few unique toppings?
Start with offering BOTH traditional ground beef burgers but add in chicken burgers or turkey burgers as a lighter option.
Then set out the following burger toppings:
Classic orange cheddar cheese
White cheddar cheese slices
Red onion slices
Dill pickles
Lettuce leaves
Tomato slices
Ketchup & Mustard
Buffalo sauce for an easy buffalo burger or buffalo chicken burger
Greek yogurt blue cheese dressing for an easy "black and bleu" burger
Classic Hot Dogs
A grilled hot dog is one of the easiest 4th of July recipes and always a huge hit with the kids.
For a unique and easy variation, try making a batch of my thick ground beef chili for easy chili dogs with shredded cheese and chopped red onion.
Or, make a batch of my roasted peppers and pineapple but then chop them up finely. Offer it as a tropical hot dog relish.
More Main Dishes Ideas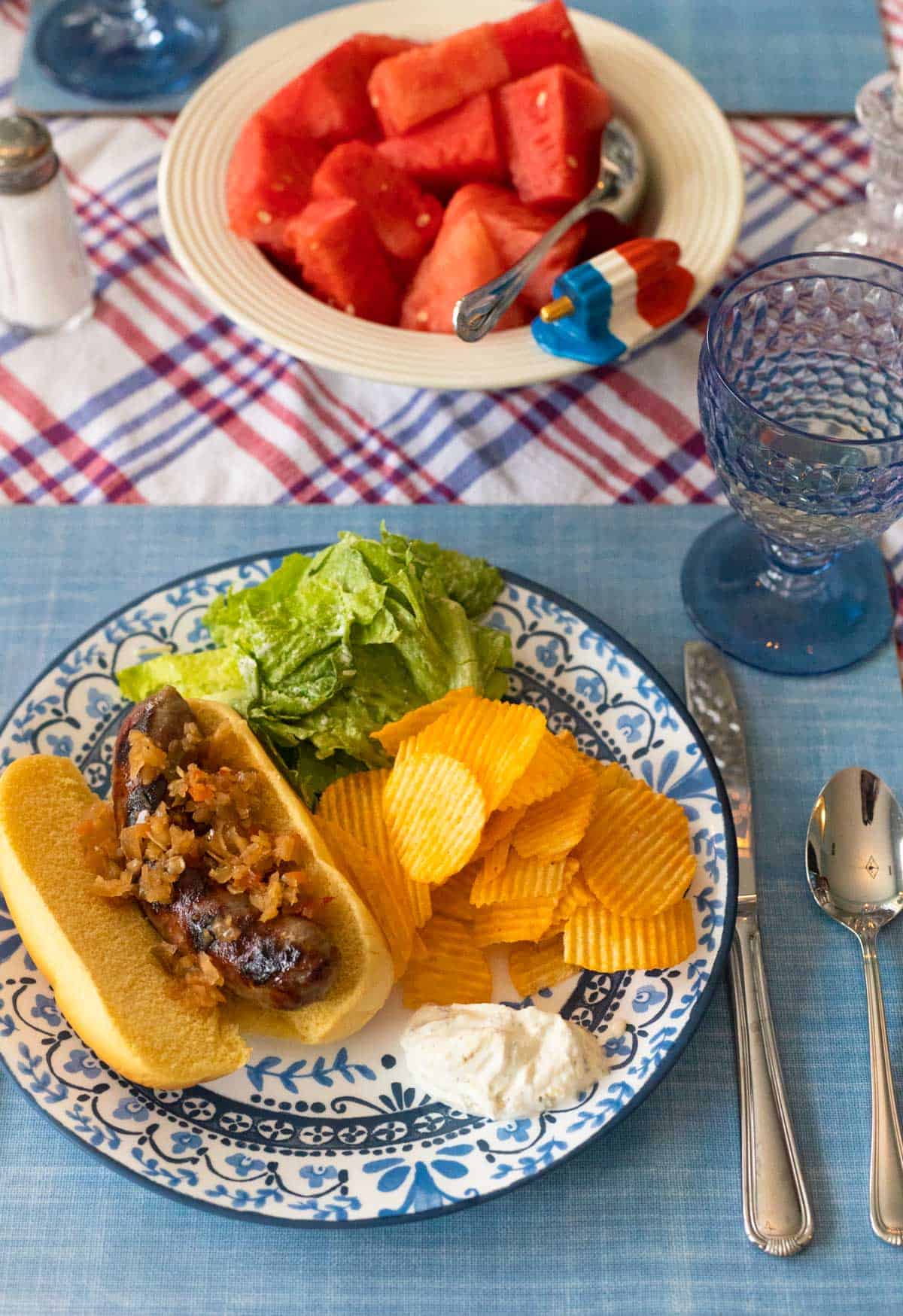 If hamburgers and hot dogs aren't floating your boat this year and you'd prefer to try something a little different for your 4th of July party main dish, there are so many delicious new ideas you could serve.
Barbecue Sauce
The key to a super delicious backyard cookout is all in the barbecue sauce. Homemade versions featuring apple cider vinegar and brown sugar are perfect for basting saucy ribs but work for a wide variety of easy main dishes:
Condiments that Travel Well
Need something super easy but very impressive to bring to your potluck party? Offer to make a homemade relish or dipping sauce. These easy recipes add so much flavor to the main dish and are a thoughtful addition to the menu.
My small batch chow chow relish is excellent on most grilled meats while the carrot apple salad is best for pairing with spicy barbecue.
My spicy sauce for sandwiches would elevate any burger or hot dog and even tastes great as a potato chip dip.
Delight the kiddies with a batch of my copycat Chick-Fil-A sauce with baked french fries or even baked chicken nuggets.
Slow Cooker Potluck Recipes
A Crock Pot is a potluck party essential. I often have more than one simmering away on the buffet table.
You can use it to keep a main dish warm for the whole party:
But the slowcooker is also a perfect place to keep warm side dishes ready to go.
My cheesey cornflake potatoes is always a popular side dish but you could even make slow cooker sweet potatoes for a BBQ stuffed potato bar with pulled pork or shredded chicken.
Vegetarian Options
It's always a good idea to plan for a few meatless main dishes for your vegetarian friends and guests.
With a few smart choices, these vegetarian recipes can also work as extra side dishes for everyone at the table.
My warm couscous salad can also be served at room temperature and is loaded with veggies and fresh oranges.
Everyone loves my easy make ahead mac and cheese but my fresh tomato pasta toss can be served at room temperature.
They might take a little more prep work, but you'll be everyone's favorite person if you show up with a batch of fried green tomatoes and pimento cheese.
Pasta Salad Recipes
Creamy pasta salads are always perfect for a potluck party.
The most traditional option would be my delicious southern macaroni salad but for a Mediterranean spin you could bring my lemon orzo salad with fresh tomatoes.
My chicken pasta salad with grapes is the perfect potluck pasta salad because it makes a big batch and tastes even better the next day.
My creamy farfalle primavera pasta dish is usually served warm but if you use an Italian dressing instead of the lemon cream sauce, it would make a perfect pasta salad for the summer heat.
Side Dishes
If you're in charge of bringing a side dish, there is so much room to play with your dish to pass.
Bring a seasonal charcuterie board filled with fresh blueberries and strawberries for the red, white, and blue party theme.
If you plan to bring a bag of potato chips, take the time to also bring a delicious potato chip dip like my fresh dill dip made with sour cream. It only takes 5 minutes to stir together but will show you put in the effort to make it totally delicious.
Classic Potato Salad: Creamy potato salad can be tricky in the heat, my potato salad is made with a vinegar dressing and might be a better idea.
Sweet Tomatoes and Fresh Basil: You could bring my easy marinated tomatoes or a tomato caprese salad.
Taco Dip: Loaded with veggies and cheese, served with tortilla chips, this spicy taco dip is always a huge hit at a party.
Sweet Corn: Corn on the cob is so easy, you could keep it warm in a slowcooker. If you prefer an easier dish to travel with, try my 5-minute Mexican street corn casserole.
Refried Beans: Especially smart if you plan to have a Mexican food potluck.
Hard-Boiled Eggs: As an easy snack or for chopping to add to a green salad, make a batch of hard boiled eggs to add to the table.
Want even more ideas? These easy 4th of July appetizers also all work great as simple potluck party side dishes.
Fresh Fruit Platters
One of the most popular items I've ever brought to a potluck party is a huge tray of fresh watermelon that had been cut into easy finger strips.
Pretty fruit kabobs take more time to assemble, but are an impressive presentation. Squeeze fresh lemon juice over them to keep cut fruits from turning brown as they sit on the table.
Add a sweet cream cheese fruit dip or try my Chicken Salad Chick grape salad recipe. The brown sugar and cream cheese dressing pairs so well with the fresh grapes and crispy pecans.
Red, White, and Blue Desserts
From an easy ice cream sundae bar to a stunning American flag cake, 4th of July desserts are all about the red, white, and blue.
All American Apple Pie: my apple slab pie is an easy make ahead dessert you could serve with whipped cream or vanilla ice cream.
Festive Cupcakes: Make a batch of your favorite flavor box mix cupcakes, top them with cream cheese frosting and a red, white, and blue sprinkles
4th of July Sugar Cookies: These easy 4th of July sugar cookies have easy red, white, and blue designs perfect for beginners.
Need even more potluck party desserts? Check out this full list of 35 easy desserts for the 4th of July:
Party Beverages
On a hot summer day it is crucial to make sure your guests stay hydrated. Have plenty of water and a cooler full of sodas available for everyone to enjoy.
You could also make homemade lemonade in a couple easy flavors to add to a beverage station off to the side.
Add fresh basil and fresh mint for pretty garnishes.
More Summer Meal Planning
Looking for more easy summertime recipes? Don't miss these other great ideas: