This easy bourbon chicken cooks in the crock pot and makes such an easy meal for a lazy weekend or busy night. The sweet and spicy marinade makes a thick sauce that is delicious over jasmine rice.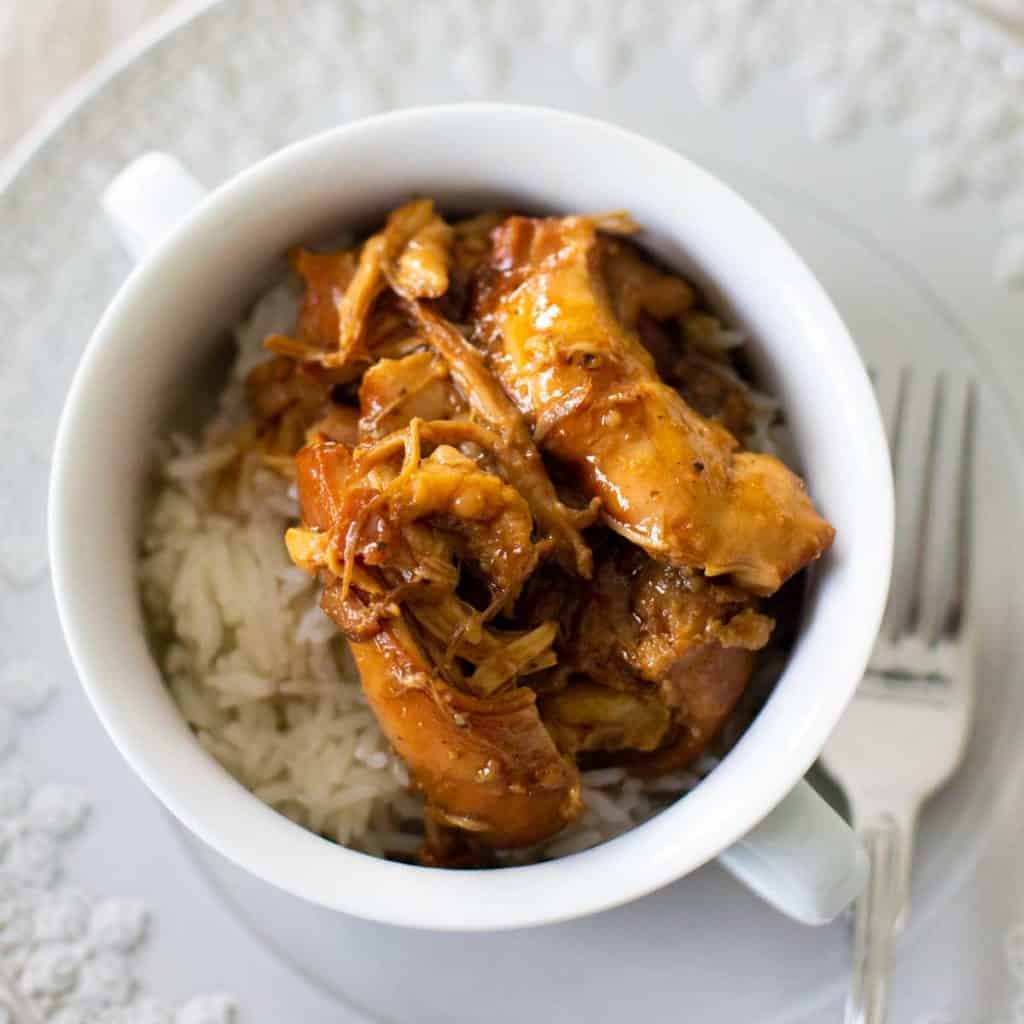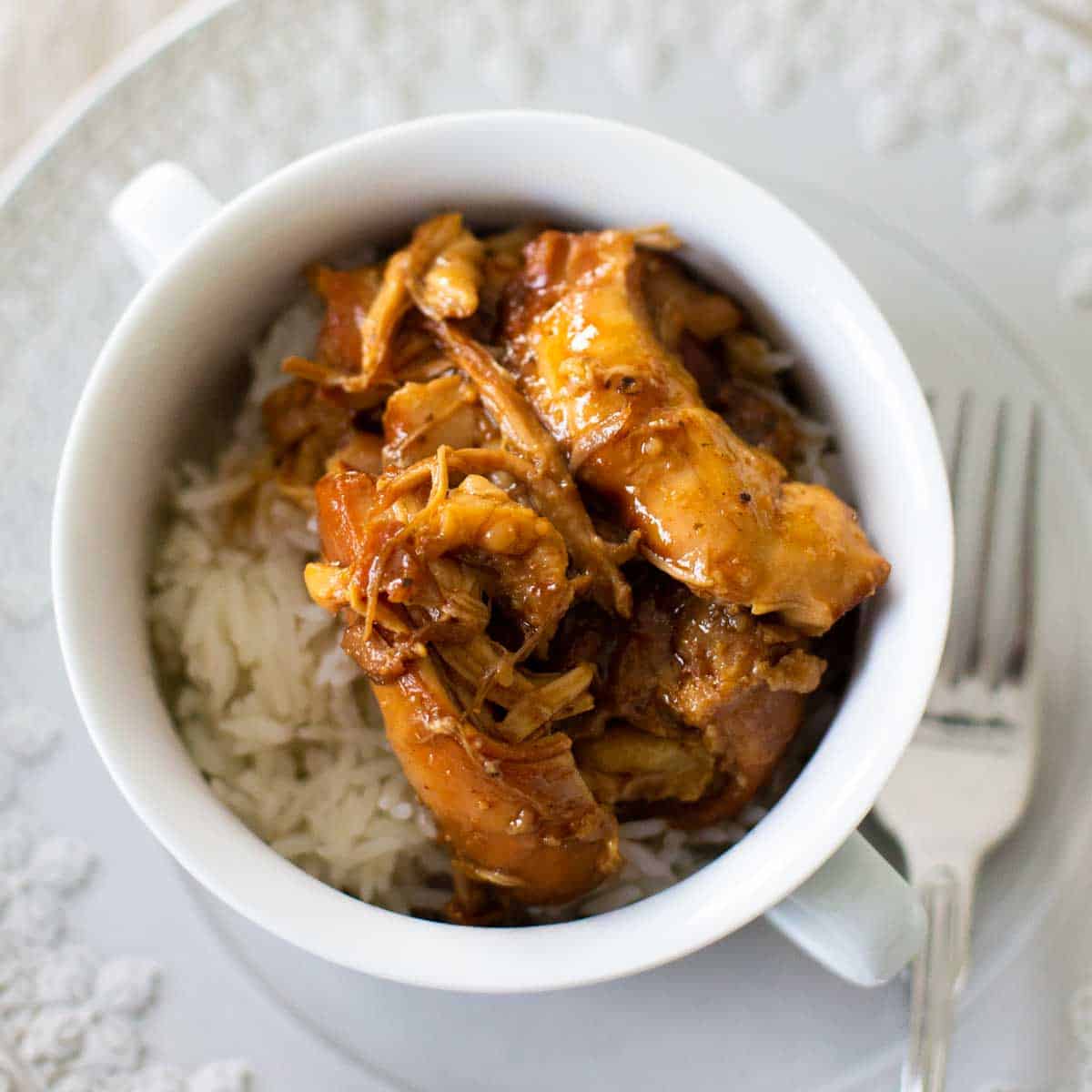 Sweet and spicy, saucy chicken is such comfort food to me. Especially when it is spooned over a bowl of rice for dinner.
This easy bourbon chicken is inspired by the classic food court dish but has a much fresher taste and texture.
Stir together the easy marinade, pour it into a Crockpot and let the chicken simmer for a few hours while you enjoy some extra time with your family.
Jump to:
Ingredients
The bourbon chicken ingredients are very easy. This may look like a lot of items but if you cook any Asian-influenced dishes, you probably have most of them in your pantry.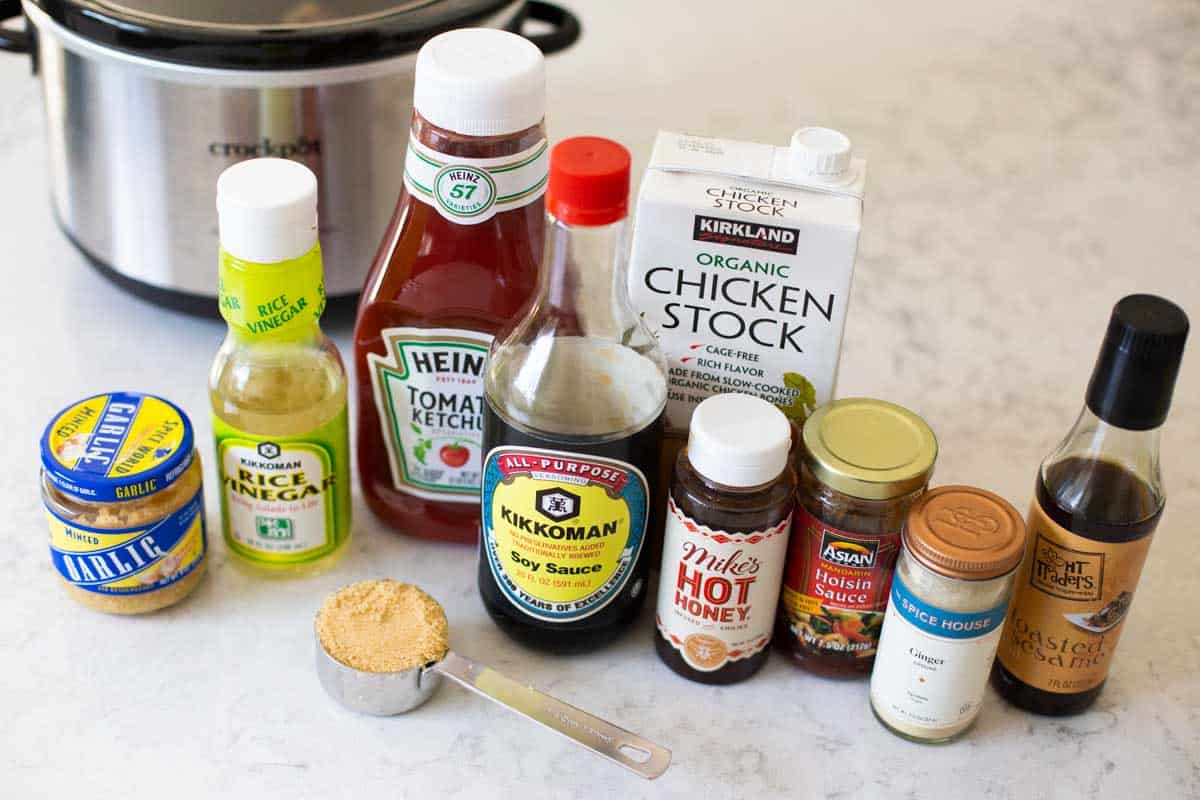 Bourbon: Not featured in the picture but yes, it is a very key ingredient. My husband loves bourbon so we usually have some on hand, but if you don't normally drink it, you can easily purchase the little mini bottles at the store, also known as a "nip." Each nip has approximately 5 tablespoon of bourbon which is more than enough for one batch of this recipe.
Toasted sesame oil: *Optional If you're sensitive to sesame oil like I am, you can reduce the quantity or omit it altogether. Just add more soy sauce.
Honey: Mike's Hot Honey is the perfect honey to use for this recipe. It adds just the right amount of heat to the dish. If you don't have it, you can use regular honey and just add a dash of cayenne pepper. You can read more about my favorite hot honey recipes here.
Soy sauce
Hoisin sauce
Rice vinegar
Ketchup
Chicken stock
Brown sugar
Dried ginger
You'll also need 2 pounds of boneless, skinless chicken thighs. You could substitute chicken breast or tenderloins, but the thighs are far more tender.
How to Make Bourbon Chicken
The first step is to mix together the marinade.
Measure all the ingredients for the sauce and simply stir them together in a mixing bowl.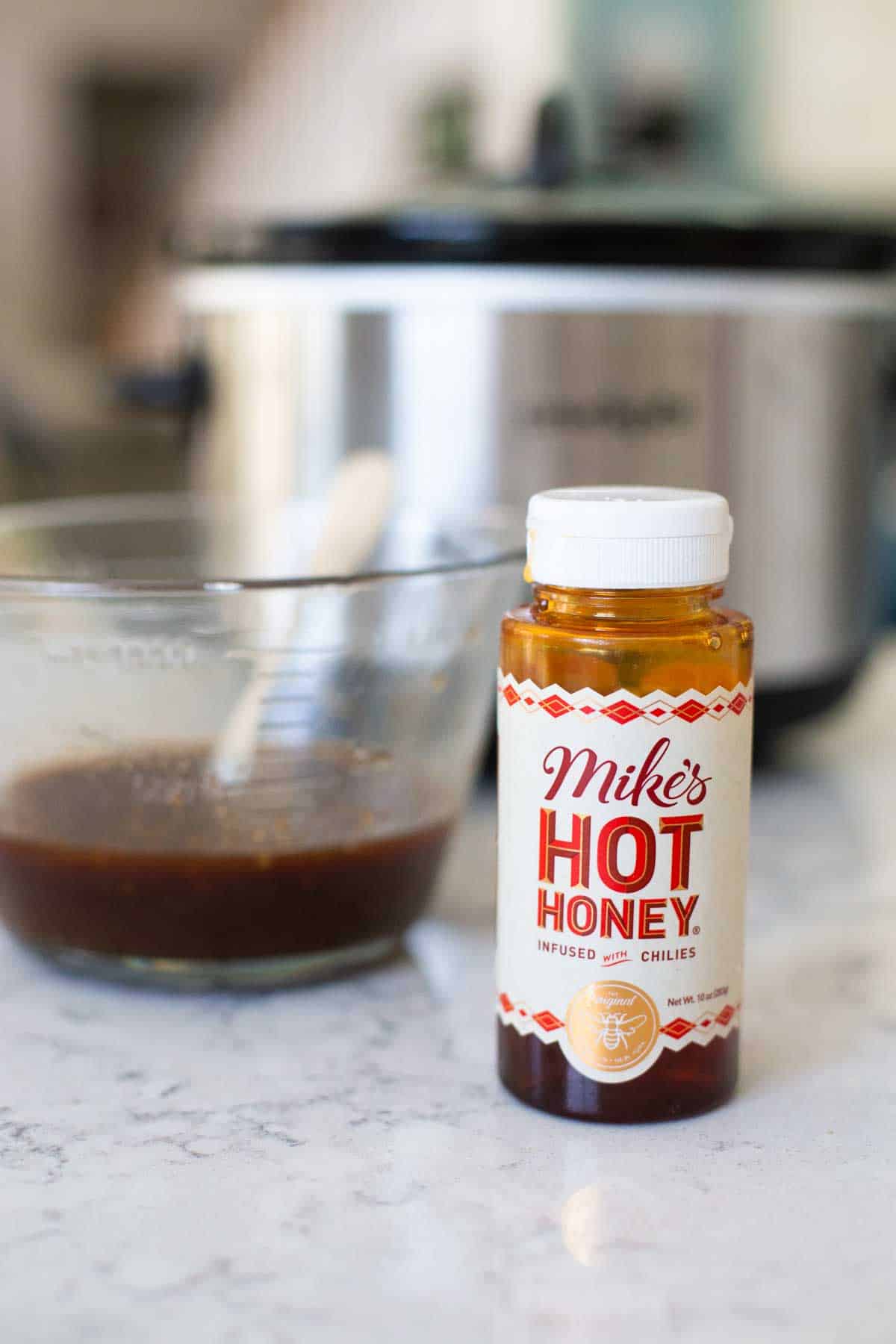 As I mentioned, I LOVE using Mike's Hot Honey for this recipe. It has been a great addition to my pantry and I use it in many recipes that call for honey where I want a little extra heat.
I recommend adding the hoisin sauce and the brown sugar to the chicken stock and bourbon and stirring them together until smooth before adding the remaining marinade ingredients, but it will work either way.
Chicken thighs are usually packaged in tri-fold positions for the shipping containers. Use a fork to open them up and add them to the slowcooker.
Sprinkle salt and pepper over the layers of chicken as you go.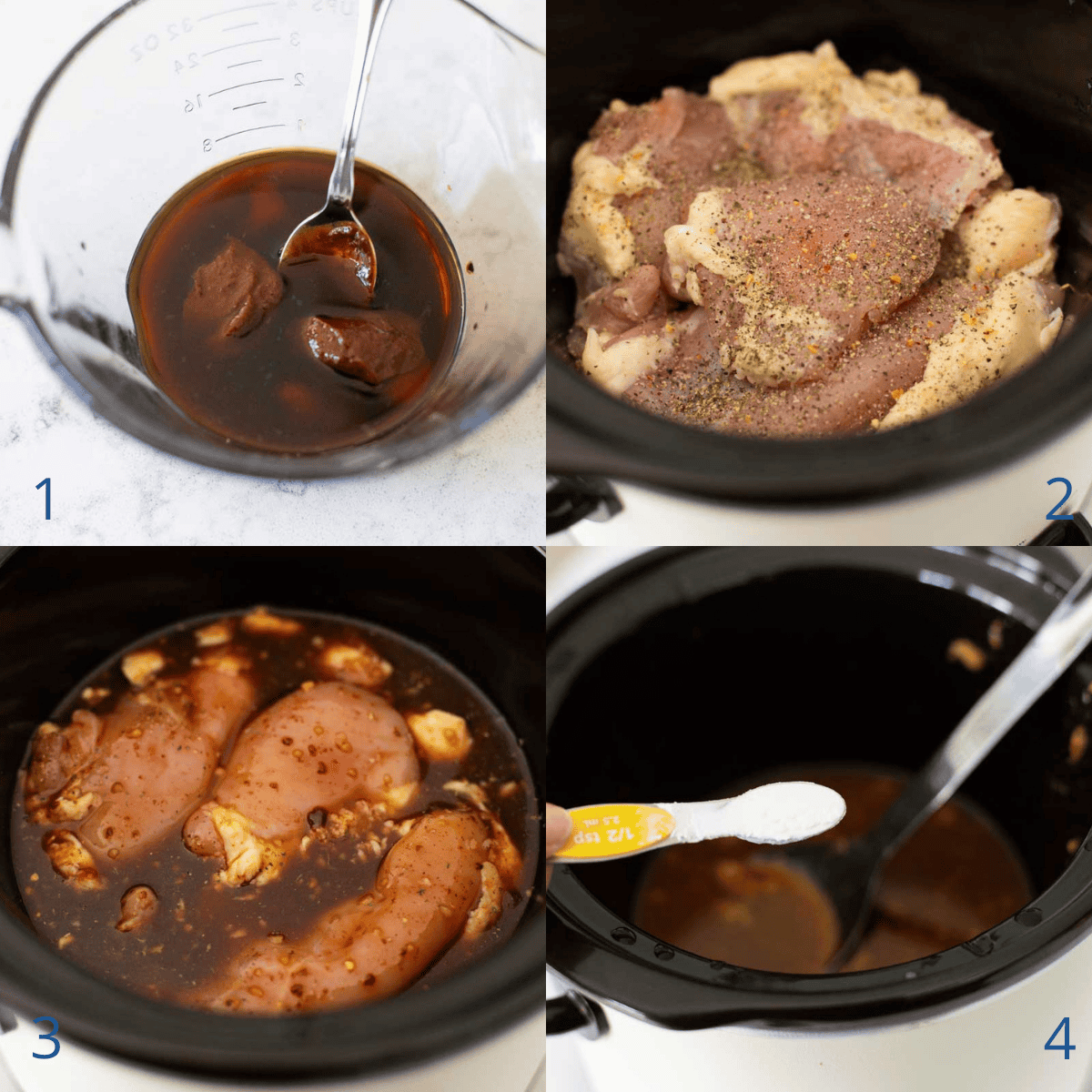 Pour the sauce over the chicken and use your fork to nudge everything around so all pieces of chicken are coated and the sauce can sink down under the bottom layer.
Cook on HIGH for 3 - 4 hours or until the chicken is fall-apart tender.
Use a slotted spoon to remove the chicken from the Crock Pot.
Add the cornstarch to the remaining sauce, stir it in, and let simmer for a few minutes to thicken the sauce.
Return the chicken to the sauce in the slowcooker or pour the sauce over the chicken in a serving dish.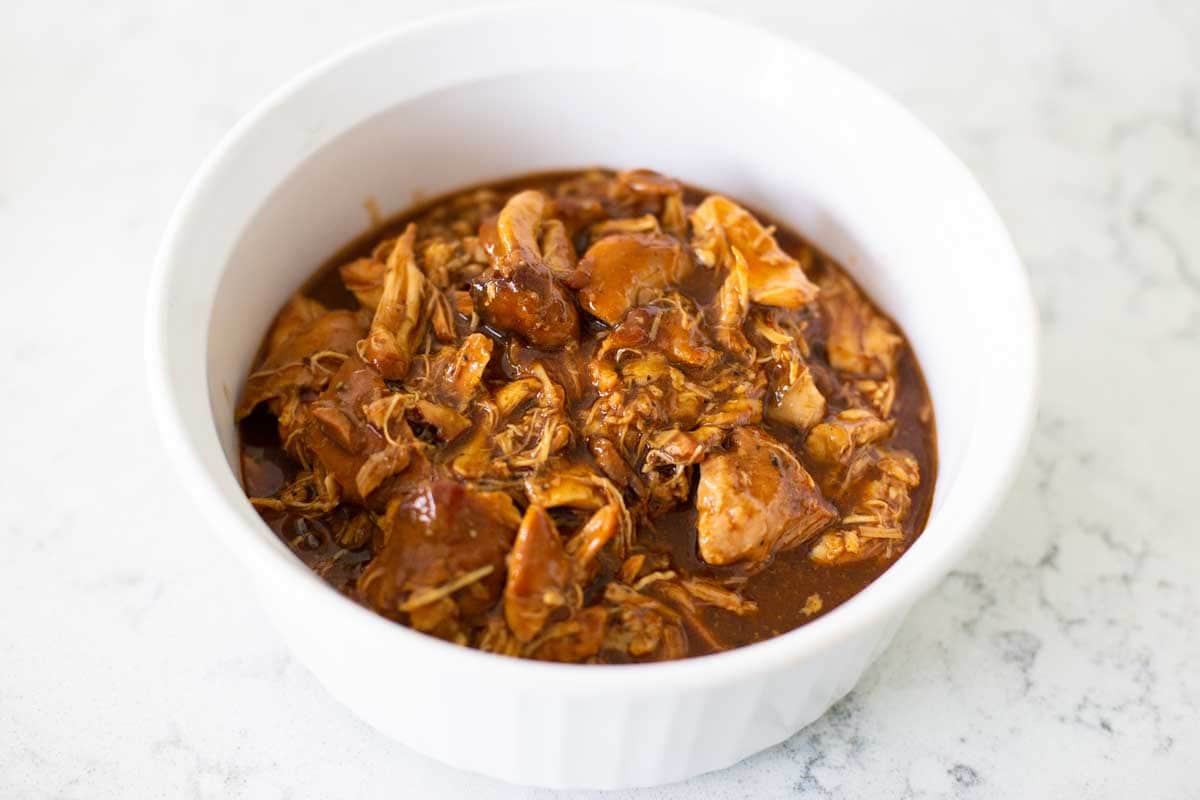 FAQ
Can you put frozen chicken in the crock pot?
If you plan to use frozen chicken in a slowcooker recipe, I strongly encourage you to cut it into smaller pieces before you freeze it. Then, when you want to cook with it, you can pop the cut chicken pieces into the slowcooker and they will thaw and cook more evenly than a large chunk of frozen chicken would.
Should I brown chicken before putting in slow cooker?
Browning chicken in butter or oil before adding it to a slowcooker adds another layer of flavor and a nicer color to the finished chicken. However, it also adds time and creates more dirty dishes. I've learned that busy families need as many time-saving tricks as they can get and, in my opinion, browning the chicken isn't generally worth it for a busy night dinner.
Is it safe to feed bourbon chicken to kids?
Yes, there is real bourbon in this recipe and that is a consideration when you're cooking for a family. Since the marinade cooks for 4 hours, most of the alcohol does cook off but the flavor and some alcohol content will remain. The quantity used is so small in comparison to the total sauce recipe that I had no problems serving it to my older kids, ages 10+. Parents of kids younger than that may want ask their pediatrician for further advice.
Make-Ahead & Storage Tips
The bourbon chicken can be cooked ahead of time and kept in the fridge in an airtight container for 3 - 4 days.
You could also prepare the chicken and freeze it for up to 4 months. Just be sure to freeze the chicken and sauce separately from the rice or pasta you plan to serve it with.
What to Serve with Bourbon Chicken
To turn this easy slowcooker recipe into a full meal, you could serve the bourbon chicken over plain white rice, pasta tossed with a touch of olive oil, mashed potatoes, or with sweet potatoes. Add some fresh green beans or a green salad.
📖 Recipe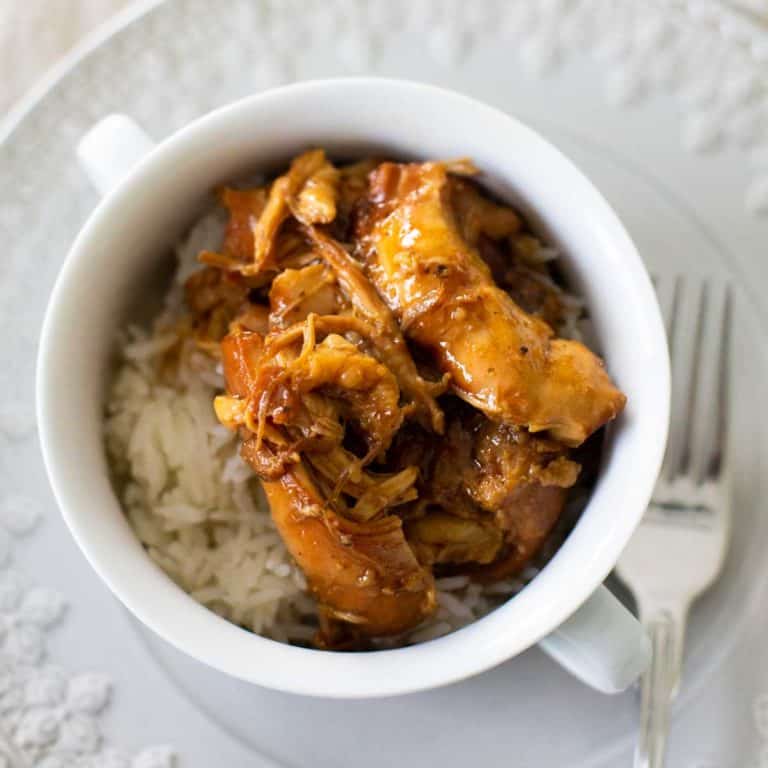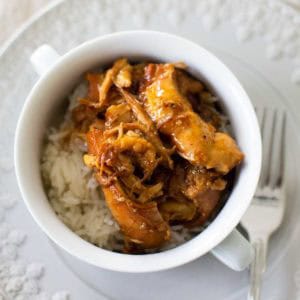 Crockpot Bourbon Chicken
This sweet and sticky bourbon chicken is cooked in a crock pot for an easy weeknight dinner. Serve the shredded meat over a bowl of rice and spoon some of the delicious spicy-sweet sauce over the top.
Ingredients
⅓

cup

chicken broth

¼

cup

bourbon

or 1 nip of bourbon

¼

cup

soy sauce

¼

cup

ketchup

¼

cup

brown sugar

1

tablespoon

butter

melted

1

tablespoon

minced garlic

1

tablespoon

sesame oil

2

tablespoons

rice vinegar

2

tablespoons

hoisin sauce

2

tablespoons

honey

1

teaspoon

ground ginger

2

pounds

boneless, skinless chicken thighs

1

tablespoon

cornstarch
Instructions
Prepare the marinade. Add all the ingredients from chicken broth through ginger to a mixing bowl and whisk together.

Nestle the chicken thighs into the slowcooker, making sure to open them and "unfold" them from their original packaging. Sprinkle salt and pepper over the layers of chicken as you go.

Pour the sauce over the chicken. Use your fork to nudge the chicken around to ensure the sauce coats every piece and gets down under the bottom layer.

Cook on HIGH for 3 - 4 hours or until the chicken is fall-apart tender.

Remove the chicken with a slotted spoon. Stir the cornstarch into 1 tablespoon of water with a fork. Pour the liquid into the slowcooker and stir. Let the sauce cook and thicken for a few minutes before serving over the reserved chicken.
Recipe Notes
*Highly recommend using Mike's Hot Honey to add a dash of heat to the sauce. Otherwise, you could always add ½ teaspoon cayenne pepper to regular honey.
Save This Recipe to Your Recipe Box
Find this delicious recipe next time you visit by saving it to your very own recipe box on my site. All your favorites stored in one easy place!