Learn how to make perfect Jasmine rice in an Instant Pot with this easy recipe. You can make just enough for dinner or cook a big batch to freeze for easy dinner side dishes later in the week.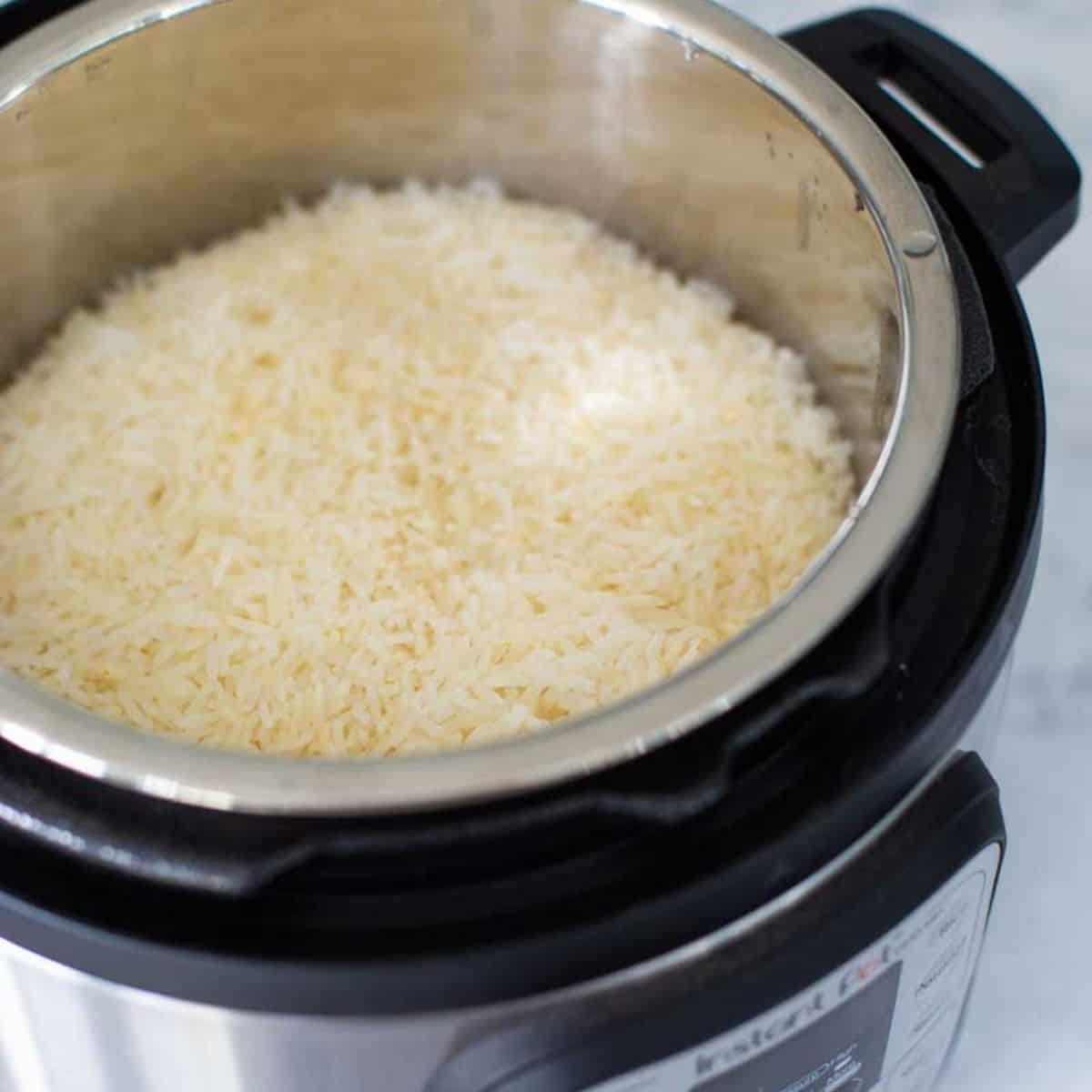 Our family uses fragrant jasmine rice for all of our white rice recipe needs. I absolutely love the smell of it cooking in our kitchen.
Once I discovered just how easy an Instant Pot makes rice and how perfectly it turns out, we bought a smaller mini Instant Pot that gets exclusively used as a rice cooker or hard boiled eggs maker.
You'll find that mini Instant Pot on my kitchen counter every single week. I love how in under a minute, I can have rice cooking for dinner while I focus on other parts of my meal.
Jump to:
Why Is an Instant Pot Better than Stove Top White Rice?
You don't realize how stressful cooking rice on your stove top actually is until you try it with an Instant Pot instead.
In an Instant Pot, there's no worrying about any of these things:
No stirring as the rice cooks
No watching to make sure the pot doesn't boil over
No worrying about rice burning on the bottom
No worrying about overcooking the rice
No worrying about keeping the rice warm as the rest of your meal finishes
My personal favorite reason??:
Cooking rice in an Instant Pot is SO EASY my husband will do it! While my hands are full fixing the rest of our dinner, he'll gladly get out one of our favorite kitchen appliances and get the rice going for me in just a minute.
Tips for Cooking Perfect Instant Pot Rice
You're going to read all kinds of crazy tricks for cooking Instant Pot rice.
HINT: I tried them, they didn't make much difference and aren't worth the hassle.
Don't worry about rinsing the rice or quick releasing at a specific time. This recipe is very forgiving and flexible.
The only thing that matters is the ratio of water to rice.
Step 1: Add Jasmine Rice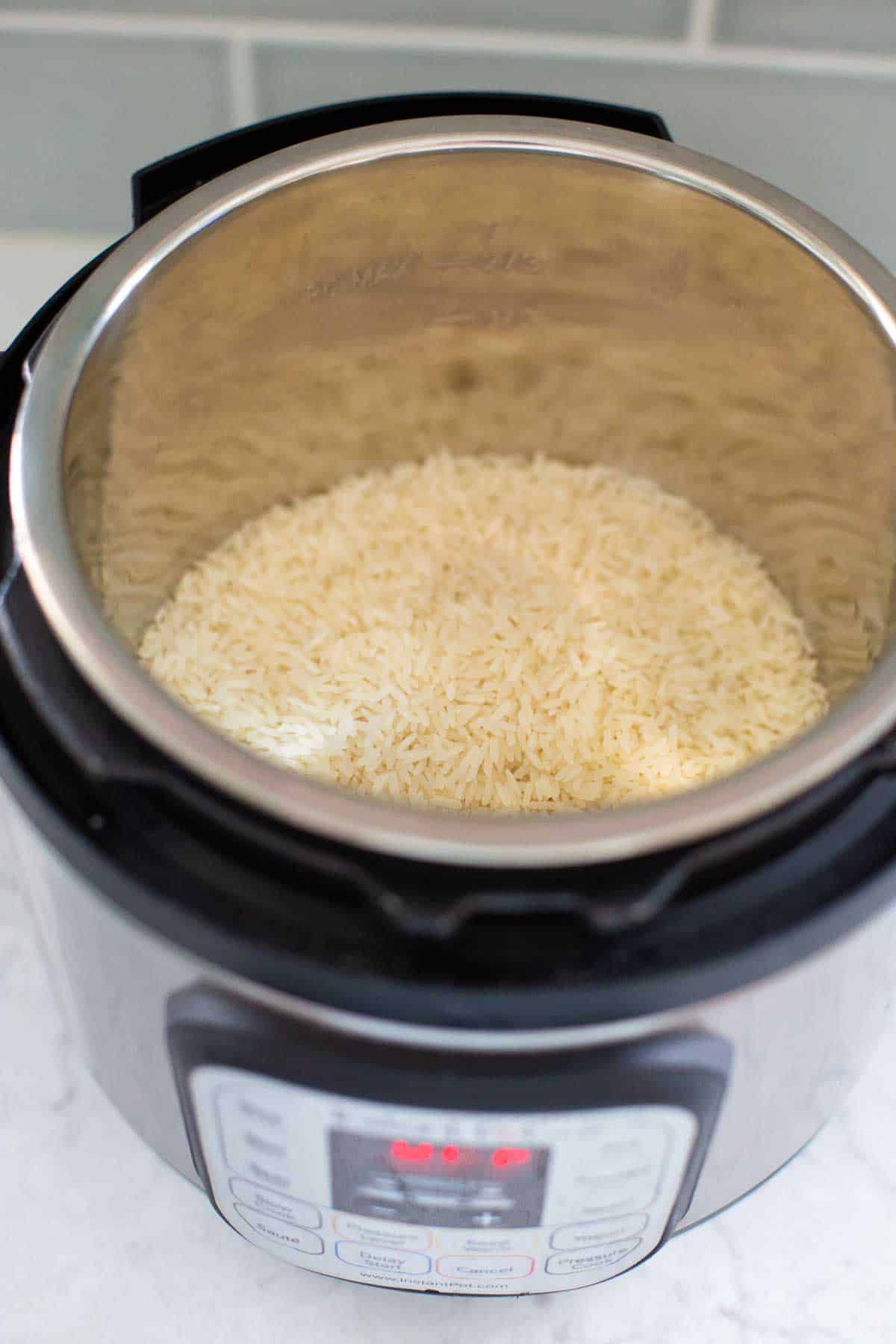 Measure your dry white rice directly into the Instant Pot.
We usually make 1 - 2 cups in our mini and use a 1-cup dry measuring cup to measure it.
Step 2: Add Water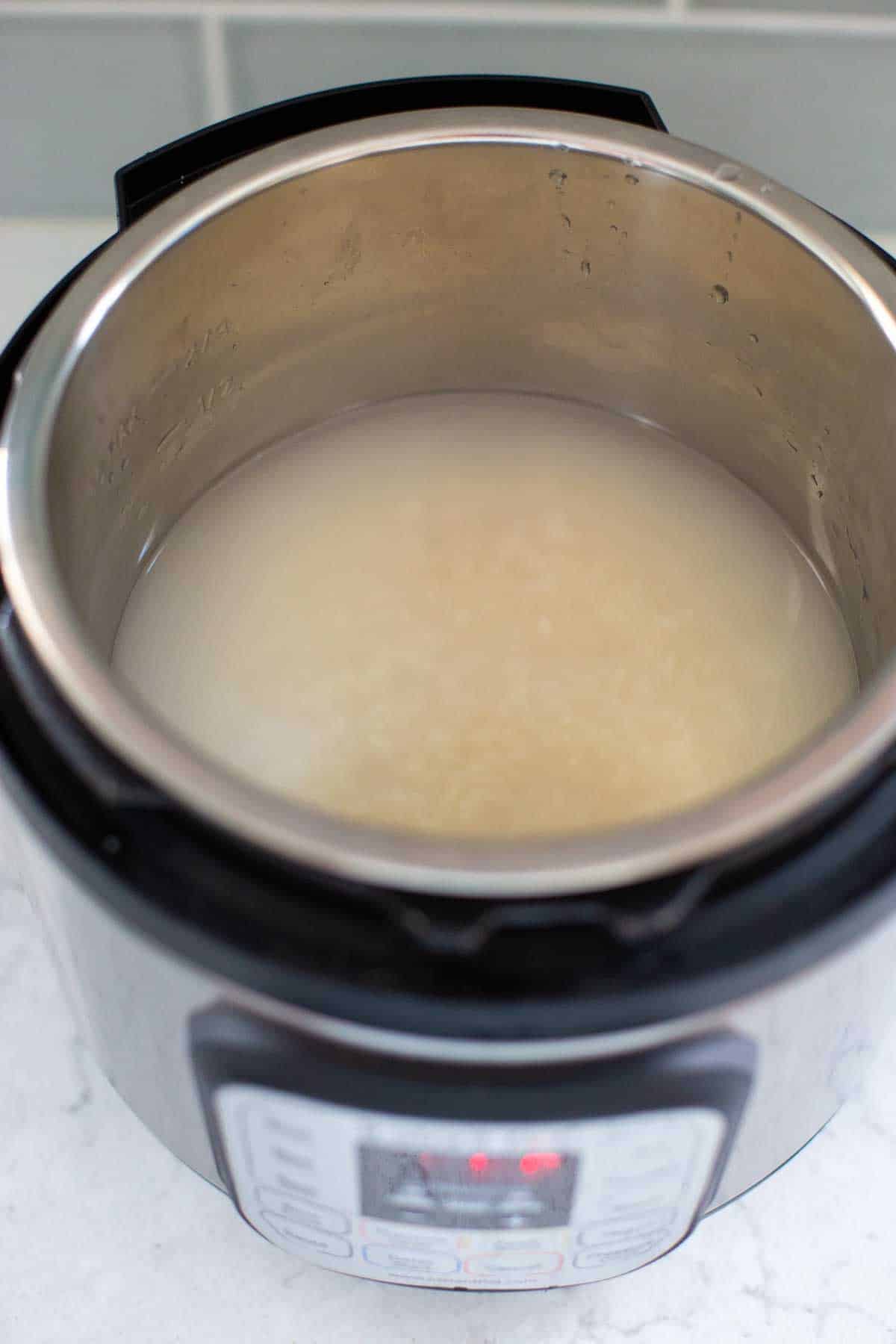 We use the same measuring cup that we used to measure the rice to measure the water.
Add exactly as much water as you did rice -- 1 cup of water for 1 cup of rice, 2 cups of water for 2 cups of rice, etc.
Step 3: Cook At High Pressure For 3 Minutes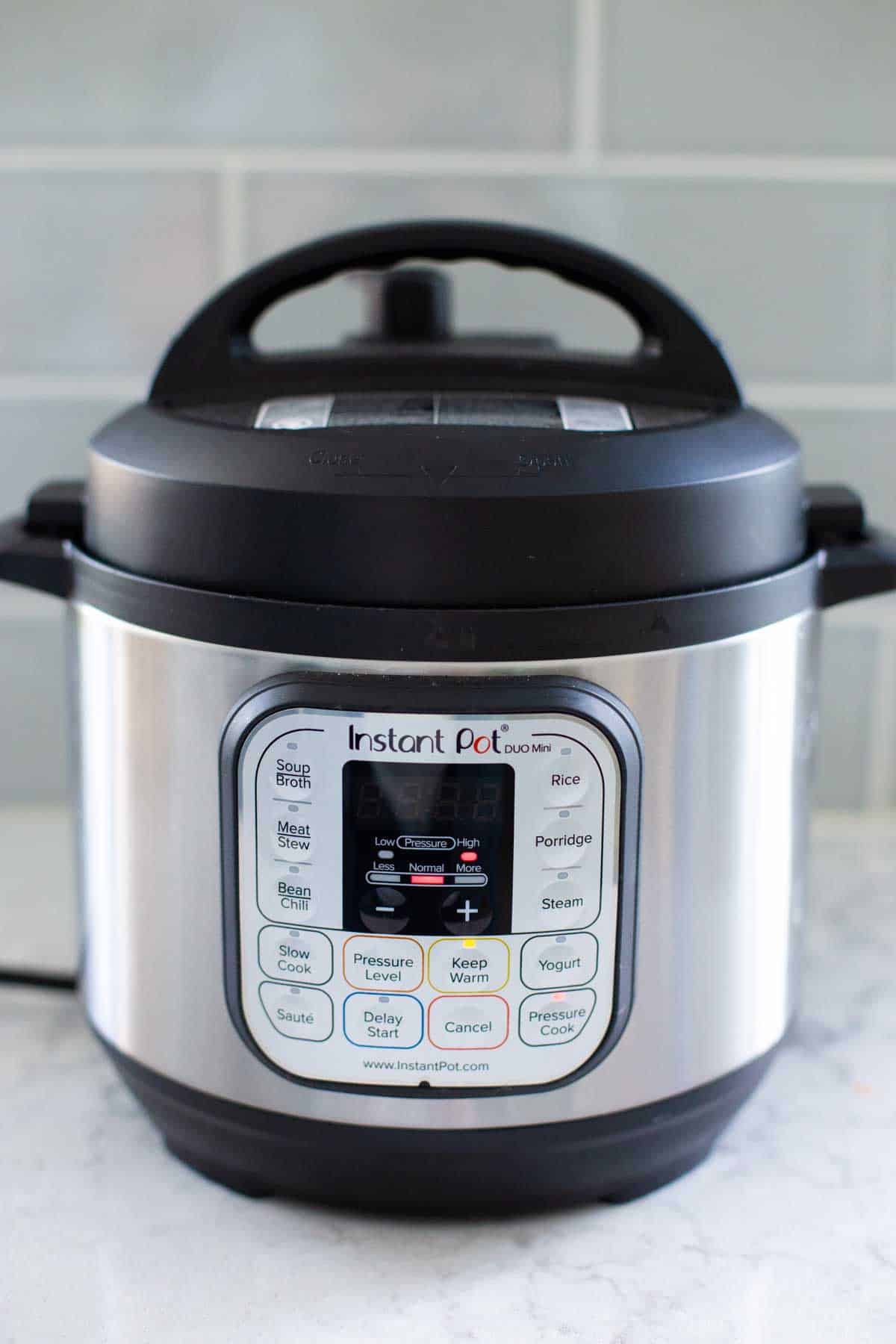 Put the lid on the Instant Pot, seal it, and cook on HIGH pressure for 3 minutes.
We use the "Pressure Cook" button on the bottom right corner of the panel but there are differences in the buttons on different machines. Just choose the program that lets you set the time.
Step 4: Quick Release Pressure
When the Instant Pot timer bell goes off, you can quick release the lid and serve the rice immediately if you want.
Often, the rice cooks so fast that the rest of our dinner isn't finished yet. I just let the Instant Pot move into "Keep Warm" mode until I'm ready to serve.
I've left the rice sealed in the pot for up to 40 minutes without any trouble.
However, the longer the rice sits, the more sticky the grains will become. We actually prefer our rice this way because it is easier for the kids to eat it with their forks.
If that concerns you, then you'll want to time the start of the cooking process later in your dinner prep timing.
More Instant Pot Rice Recipes
Once you've tried basic white jasmine rice in your Instant Pot, you'll love experimenting with other delicious Instant Pot rice recipes.
The easiest upgrade would be my Instant Pot herb butter rice, a great addition to something with a delicate sauce.
The Instant Pot sticky butter rice is rich and beefy and loaded with sweet onions. This is a great choice if you're serving a savory beef dinner.
But my Instant Pot wild rice pilaf might be my new favorite because with just a few easy tweaks it can be used for any holiday menu you have planned!
📖 Recipe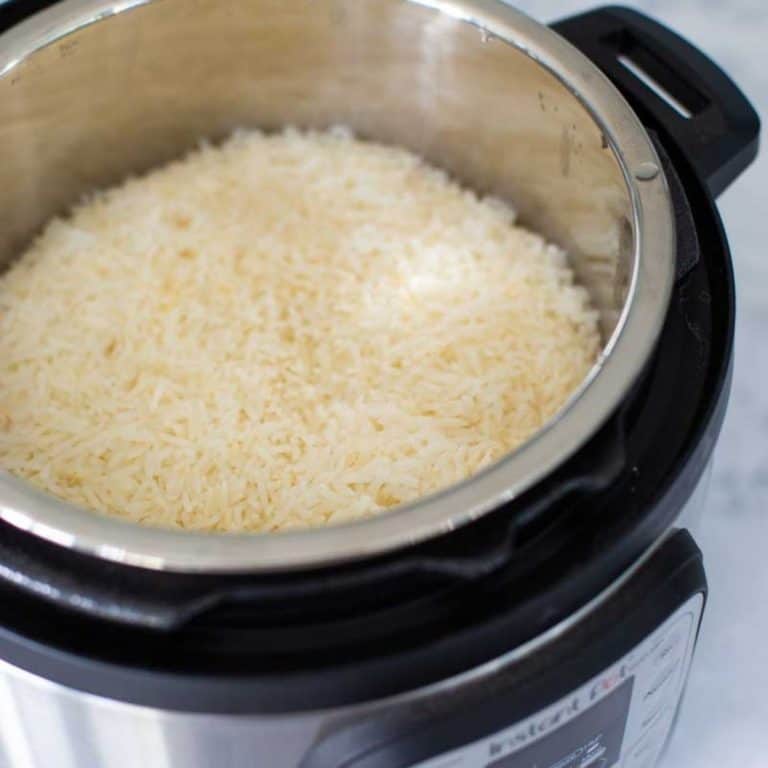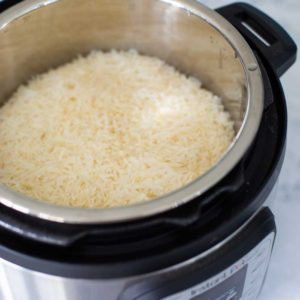 Instant Pot Jasmine Rice
Learn to make perfect jasmine rice in your Instant Pot in just 3 minutes. It is the perfect side dish for saucy chicken and beef dinner recipes, stirring into soups for a gluten-free option instead of noodles, or using as the base for homemade fried rice.
Instructions
Add the jasmine rice to the Instant Pot pot.

Measure the same amount of water as you did rice (1 cup to 1 cup, 2 cups to 2 cups, etc.)

Stir the rice and water together so the rice on the bottom of the Instant Pot is wet.

Add a sprinkle of salt. (Optional)

Place the lid on the Instant Pot and seal. Cook on HIGH pressure for 3 minutes.

The rice can stay warm and sealed in the pot for up to 40 minutes as you finish the rest of your meal. Simply remove the lid and fluff the rice with a fork or spoon before serving.
Recipe Notes
You need a minimum of 1 cup water (and therefor 1 cup rice) to cook rice in an Instant Pot. The maximum quantity will depend on the model of Instant Pot you own. Do not overfill your Instant Pot, be aware of the capacity restrictions. Rice will double in size as it cooks.
Save This Recipe to Your Recipe Box
Find this delicious recipe next time you visit by saving it to your very own recipe box on my site. All your favorites stored in one easy place!