This rich and spicy butter chicken recipe makes it worth buying an Instant Pot! This easy weeknight dinner is always a hit with the family. Serve it over even easier Instant Pot jasmine rice with fresh cilantro and warm naan breads for dunking.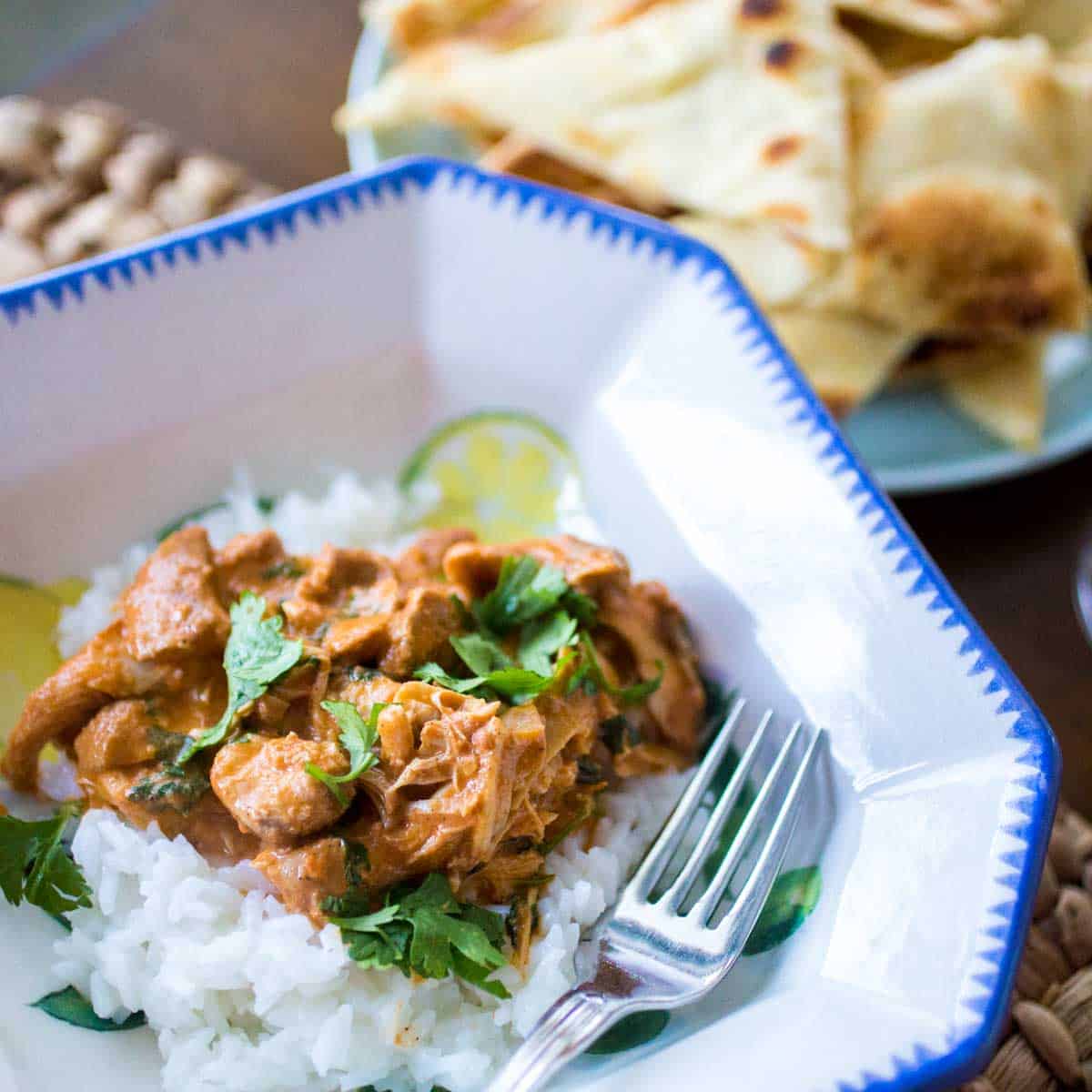 My husband grew up in Minnesota where salt and pepper are considered "spicy."
So no one is more surprised than I am that this very seasoned, fairly spicy Indian butter chicken made in the Instant Pot is one of his very favorite recipes.
It was one of the first kid-friendly Instant Pot recipes I learned to make with our new appliance when we got it and it still hits the frequent rotation all these years later.
When you cook chicken thighs in an Instant Pot, they become so tender but we also love the Instant Pot for making rice as a side dish. So we even invested in a mini Instant Pot to use as a rice cooker for our favorite jasmine rice recipe.
I usually have the butter chicken cooking in the big pot and the jasmine rice cooking in the smaller one. It makes for a very easy oven-free dinner!
Jump to:
Is Butter Chicken Kid-Friendly??
Once you take a peek at the spices involved, you may be concerned that this chicken dish could be too spicy for your family.
While there are a lot of flavors happening in the sauce and it does have a bit of heat to it, my youngest counts this as one of her very favorite dinners.
The tricks for serving it to kids are:
Make sure you have plenty of jasmine rice
Use a slotted spoon for serving and skim off some of the sauce
Offer toasted naan breads cut into triangles
The starchy sides help cut some of the spice but the creamy butter melting into the tomato sauce is really more kid friendly than you'd ever guess.
Ingredients
The ingredients for butter chicken are very simple.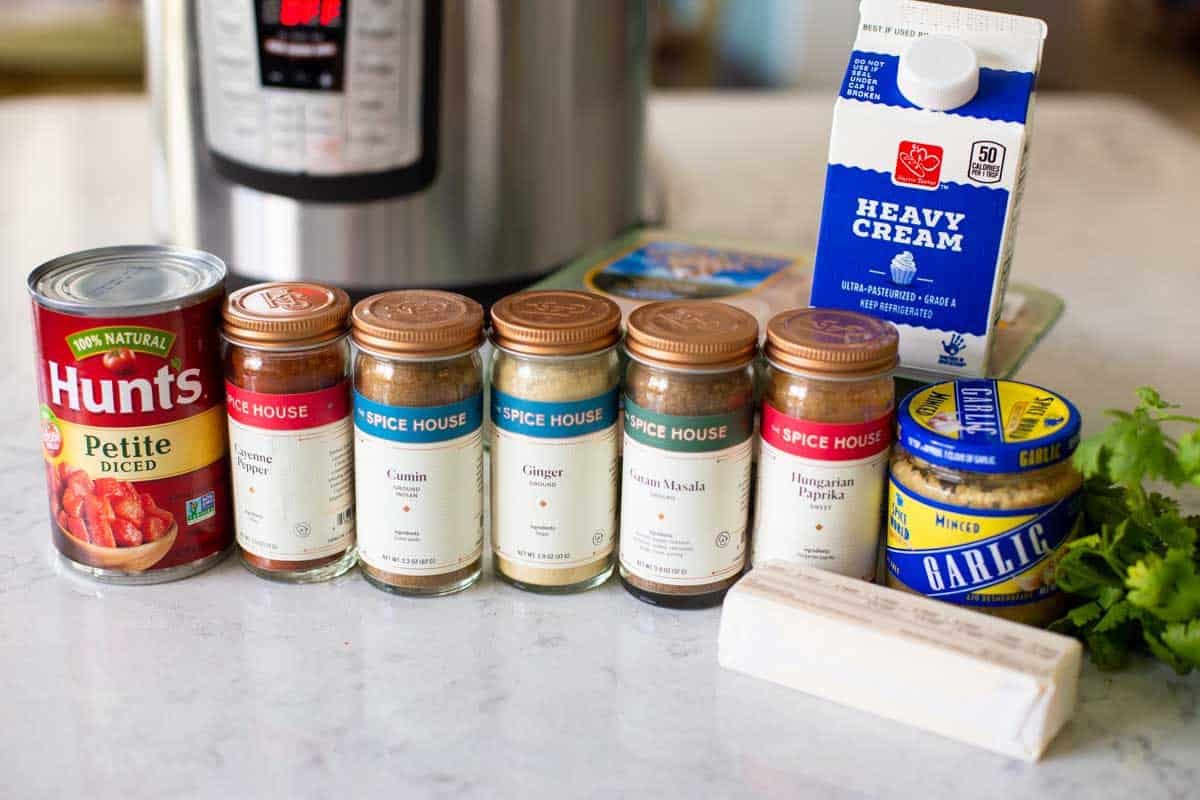 Canned diced tomatoes: Sometimes I use fire-roasted for extra kick but you don't need to.
Boneless, skinless chicken thighs: You could substitute chicken breasts or tenderloins but I don't recommend it. The thighs cook perfectly tender in this method and have the perfect texture.
Heavy cream & butter: Don't panic, a little goes a long way.
Minced garlic: You could substitute fresh cloves if you prefer.
Spices from your pantry:
Cumin
Ginger
Paprika
Cayenne Pepper
Garam Masala: This is the one spice you are most unlikely to have on hand if you don't cook much Indian food.
It is a simple spice blend that has as strong cinnamon influence. It is not a curry and it is not spicy, it just adds a very unique and distinctive flavor. You can find it at most major grocery stores and definitely order it at any spice seller online.
Optional for Serving:
Jasmine rice
Naan breads
Fresh cilantro
Assemble the Tomato Sauce
Open the can of tomatoes and dump the entire contents into your Instant Pot, juices and all.
Measure and add all the spices and garlic and stir them into the tomatoes.
Toss the chicken thighs in the tomato mixture, making sure to coat all sides of each piece. Nestle them in under the tomatoes as best you can.
Cooking Instructions
Place the lid on the Instant Pot, seal it, and cook the chicken for 15 minutes on HIGH pressure.
Quick release the Instant Pot when the timer goes off.
Blend the Butter Sauce
Use a slotted spoon to transfer the cooked chicken to a clean dinner plate.
Use an immersion blender to puree the tomatoes into the sauce right inside the Instant Pot.
If you don't have an immersion blender, you could transfer the sauce to a blender and then pour it back into the pot.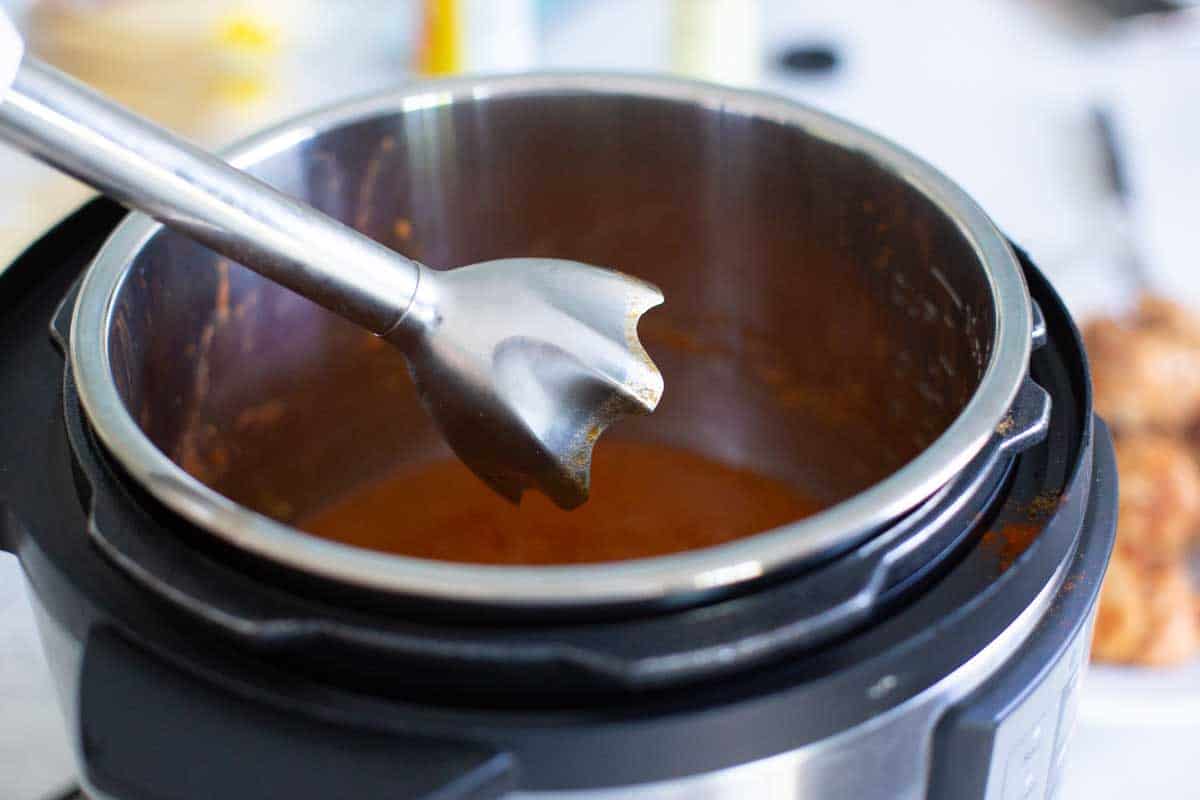 Turn on the Saute feature of the Instant Pot and add the butter to the now-smooth tomato sauce.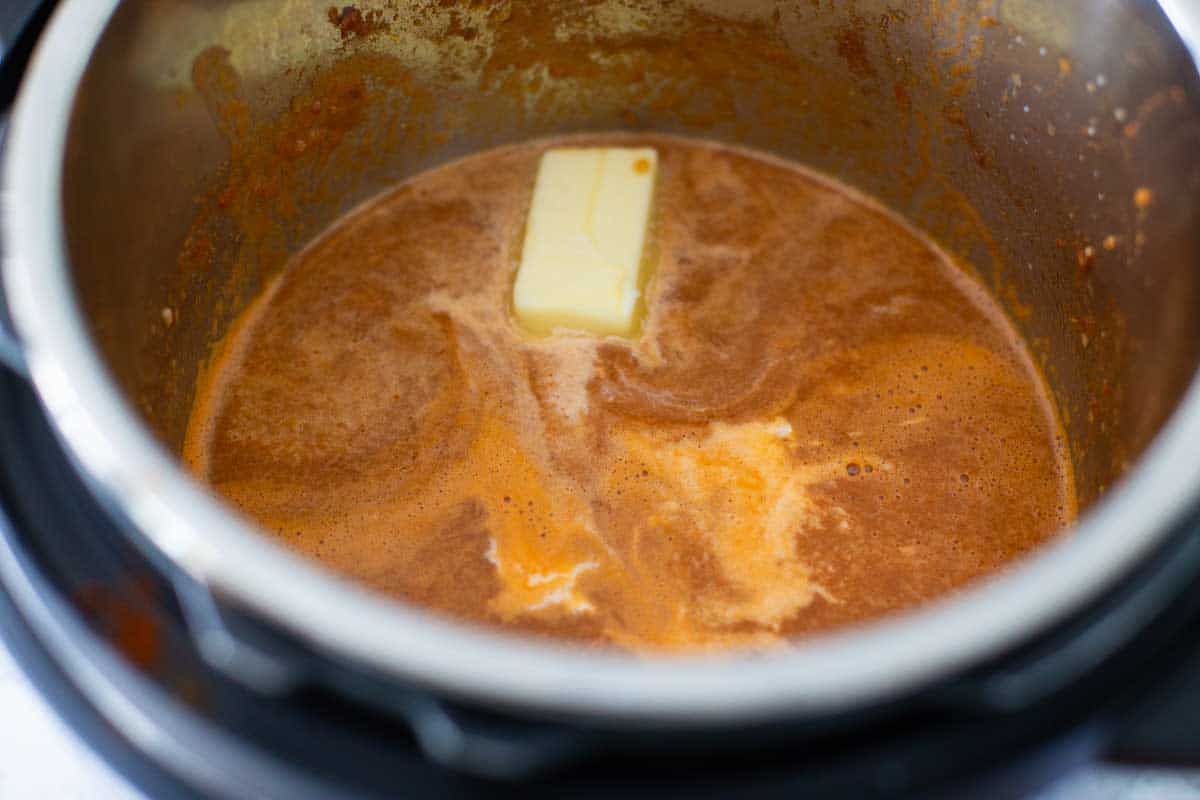 Cut the Chicken
While the butter melts, cut the reserved chicken into small bite-sized chunks.
I use a knife and fork to cut it vs. shredding it. It tastes nicer with larger chunks of meat.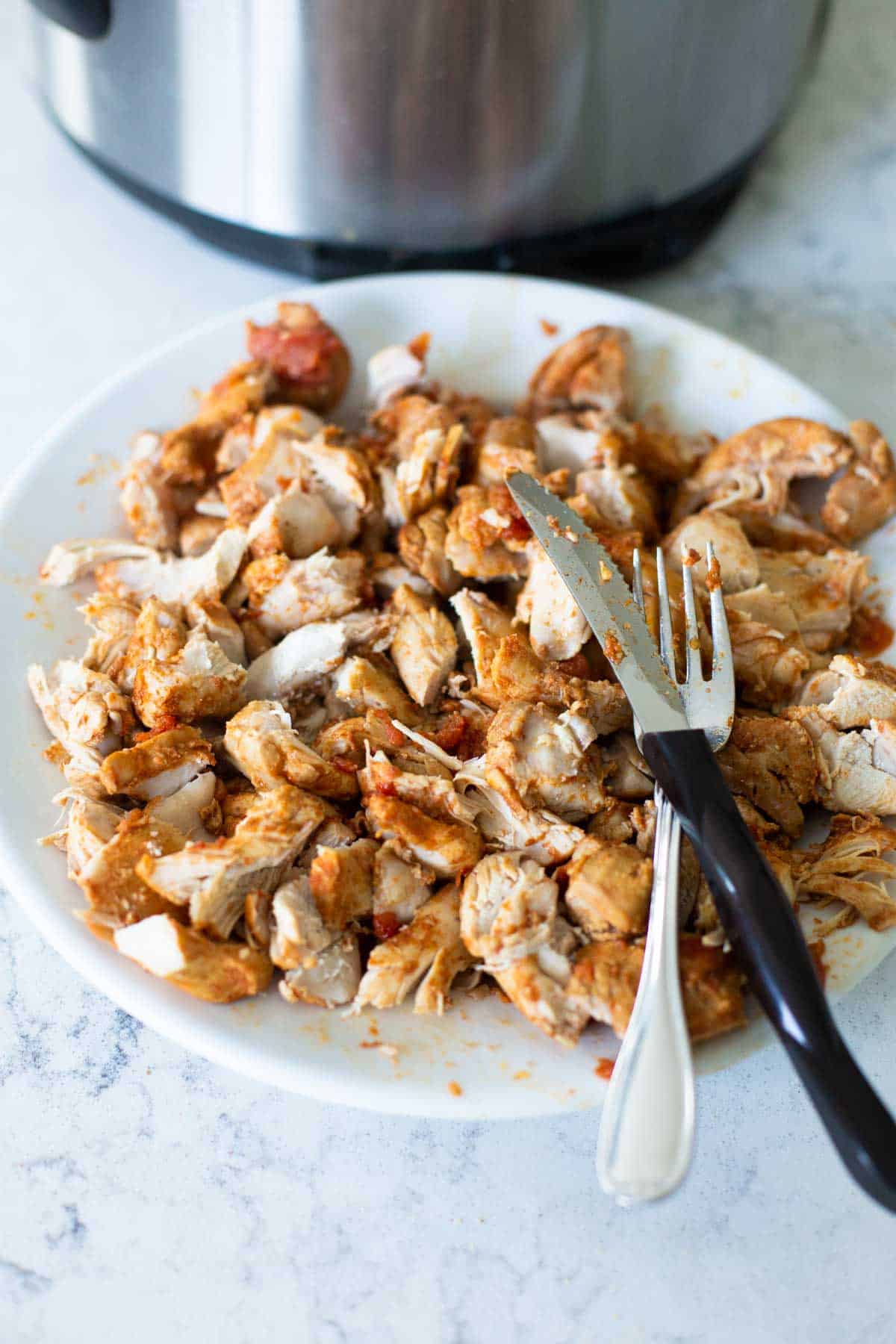 Add the cream and cut chicken to the sauce in the pot and heat for a minute or two before serving.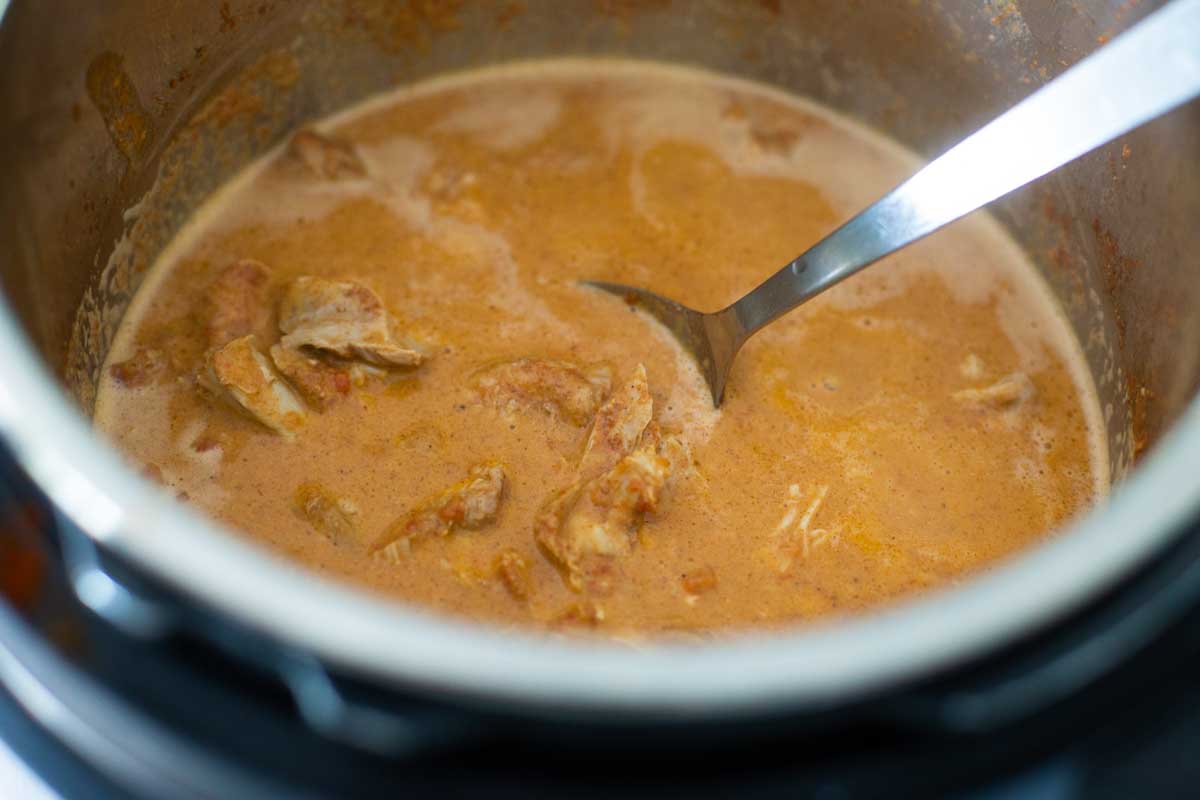 Serving Suggestions
Serve the butter chicken over prepared jasmine rice with fresh cilantro sprinkled over the top.
As a special treat, I always spray a few pieces of naan bread with cooking spray and place them under my oven broiler for 2 minutes to lightly toast them.
Cut them into wedges and serve at the table on a family-style platter. They taste great dunked into the creamy tomato sauce.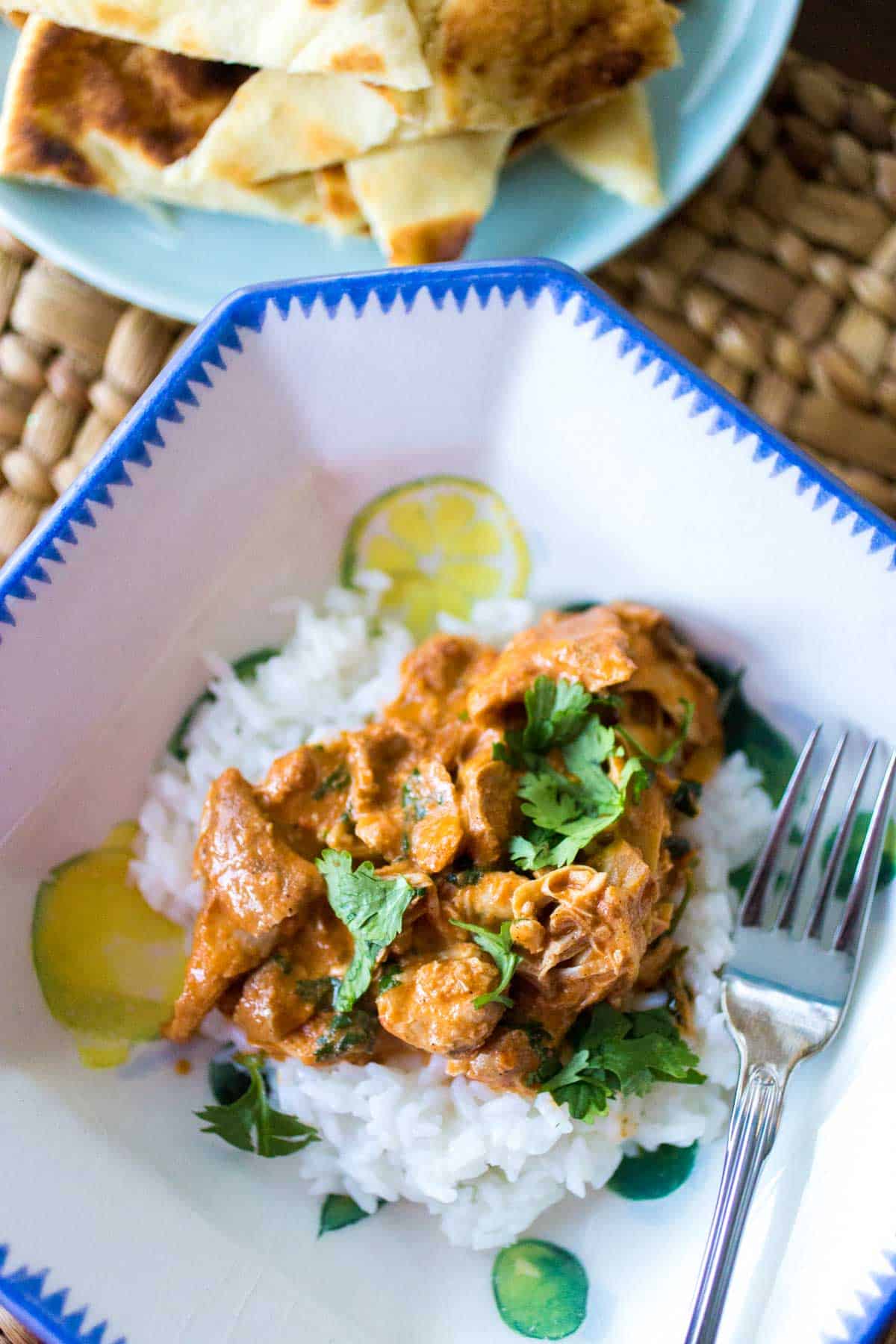 Make Ahead Tips
The butter chicken reheats surprisingly well but should not be frozen or the cream will separate.
You can store leftovers in an airtight container in the fridge for 3 - 4 days. Simply reheat it in the microwave.
This recipe makes a very generous amount of sauce. You could always add additional chicken if you know your family loves it and you want more leftovers.
📖 Recipe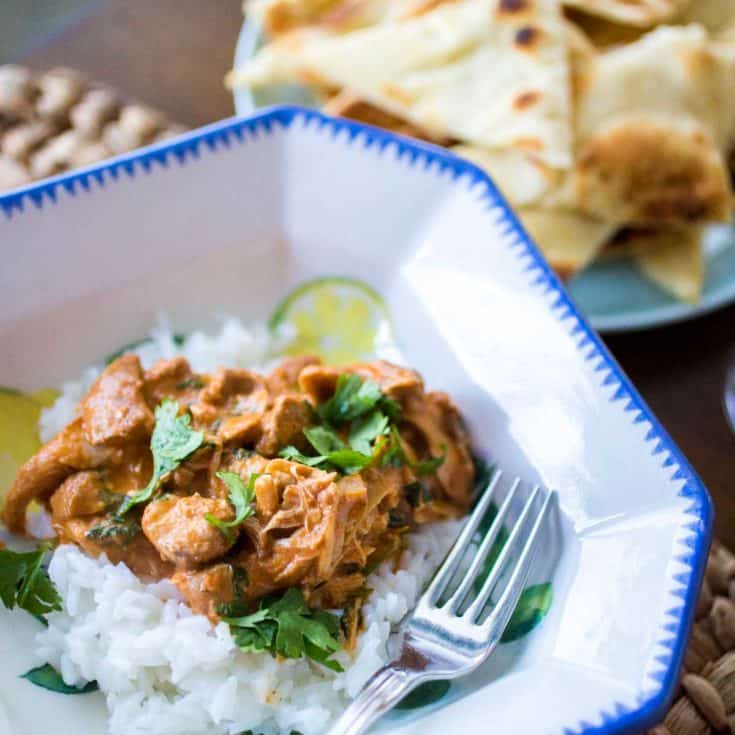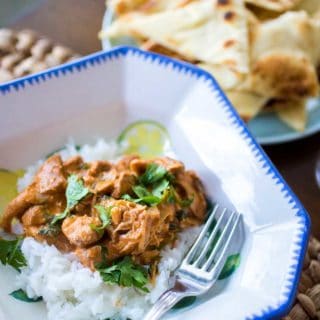 Instant Pot Butter Chicken
This family-friendly Instant Pot recipe is the perfect introduction to Indian flavors for kids. Not too spicy and kids will love dipping warm naan bread into the sauce.
Ingredients
Add to the Instant Pot:
1

(14 oz) can diced tomatoes

5

teaspoon

minced garlic

1

teaspoon

cayenne pepper

1

teaspoon

paprika

1

teaspoon

garam masala

1

teaspoon

dried cumin

½

teaspoon

dried ginger

2

lb

boneless skinless chicken thighs

(about 8 pieces)

1

teaspoon

salt
To finish the sauce:
4

tablespoon

butter

cut into cubes

½

cup

heavy cream

1

teaspoon

garam masala

½

cup

chopped cilantro
Instructions
Place all ingredients from tomatoes to cumin powder into the Instant Pot and stir to combine.

Sprinkle the 2 pounds of chicken with salt and nestle in the sauce, making sure to coat the chicken as much as possible in the tomato mixture.

Close the Instant Pot and set the timer for 14 minutes on High pressure. I used the meat setting on our machine.

When the Instant Pot timer goes off, carefully release the pressure and remove the lid. Remove the cooked chicken from the sauce using a slotted spoon and store it on a plate. Cut the chicken thighs into bite-sized chunks.

Using an immersion blender, blend the ingredients remaining in the Instant Pot until smooth. Turn on the saute function and stir in the butter, cream, and additional garam masala.

Return the chopped chicken to the Instant Pot. Heat the chicken through in the butter sauce. Sprinkle the fresh cilantro over the top.

Serve the butter chicken on top of cooked jasmine rice or with toasted naan bread for dipping.
Recipe Notes
This recipe will not freeze well. Leftovers should be stored in the fridge and eaten within 3 - 4 days.
Save This Recipe to Your Recipe Box
Find this delicious recipe next time you visit by saving it to your very own recipe box on my site. All your favorites stored in one easy place!