These family-friendly Instant Pot meals are a complete dinner hero on a busy weeknight! Pop a few healthy ingredients in and a pressure cooker meal will feed your hungry kids in a pinch.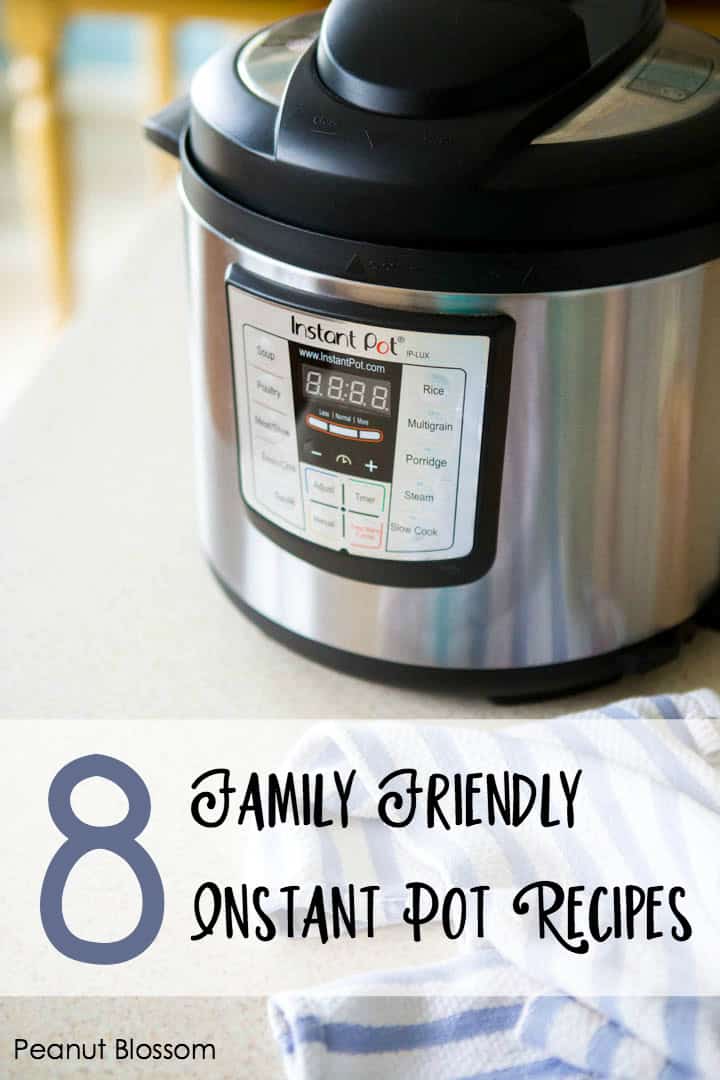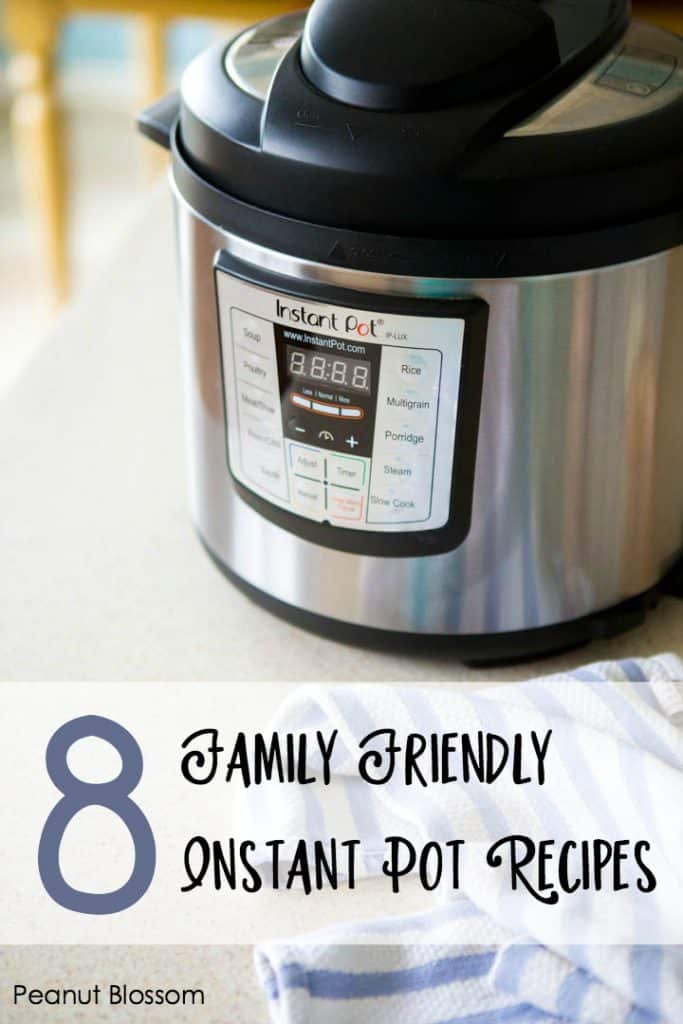 Were you one of the hoards of people who picked up an Instant Pot during Amazon's Black Friday madness last fall? I got such a good deal on mine, I couldn't resist testing it out.
I'm always looking for ways to get dinner to the table a little bit faster. I've been playing around with it on and off for the last several months with mixed success. I'm always surprised when I hear about people who are still too scared to even turn theirs on!
A couple of weeks ago we tried out another new Instant Pot recipe and it was such an enormous hit, I figured it was time to finally share our very favorite family-friendly Instant Pot meals with you.
Don't miss the list of the 8 pressure cooker recipes below, but let's start with the winning recipe first!

Handyman Tim and I both love Thai and Chinese food, but Indian food is something we've been a little shy to dig into. The spices are just so much more intense than what we normally use, it feels like a shock to the system. This recipe for butter chicken and jasmine rice caught my eye and just sounded like something fun and different to add to our rotation.
Why is this the perfect first recipe to make in your Instant Pot?
This butter chicken highlights everything that is magical about the Instant Pot:
You mostly just dump all the ingredients into the Instant Pot to cook. It only takes minutes to get it started
The boneless, skinless chicken thighs cook to the most-perfect tender texture. They nearly fall apart in the pot.
If you haven't tried butter chicken, it's a great exotic dish to introduce your kids to something new. I was blown away by how much my family LOVED it.
Little Pea loved this dinner so much she declared she wanted it for her birthday. Tim gave it two thumbs up and said to keep it on our meal rotation for sure.
Over the years since I first published this recipe, we have made it once a month or so.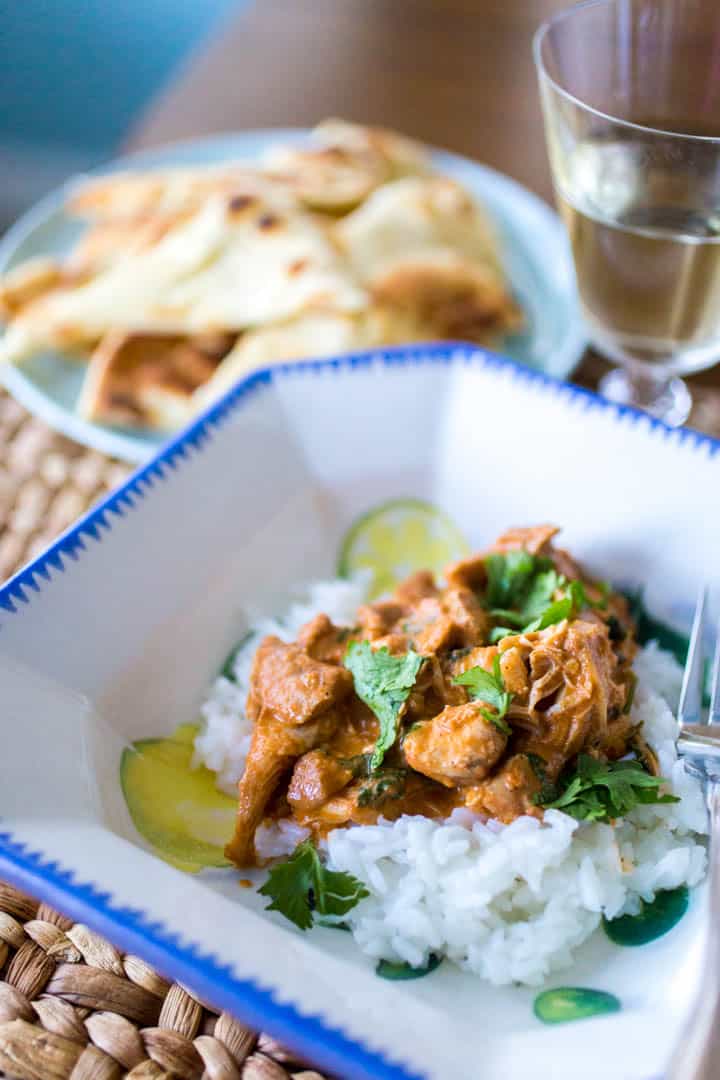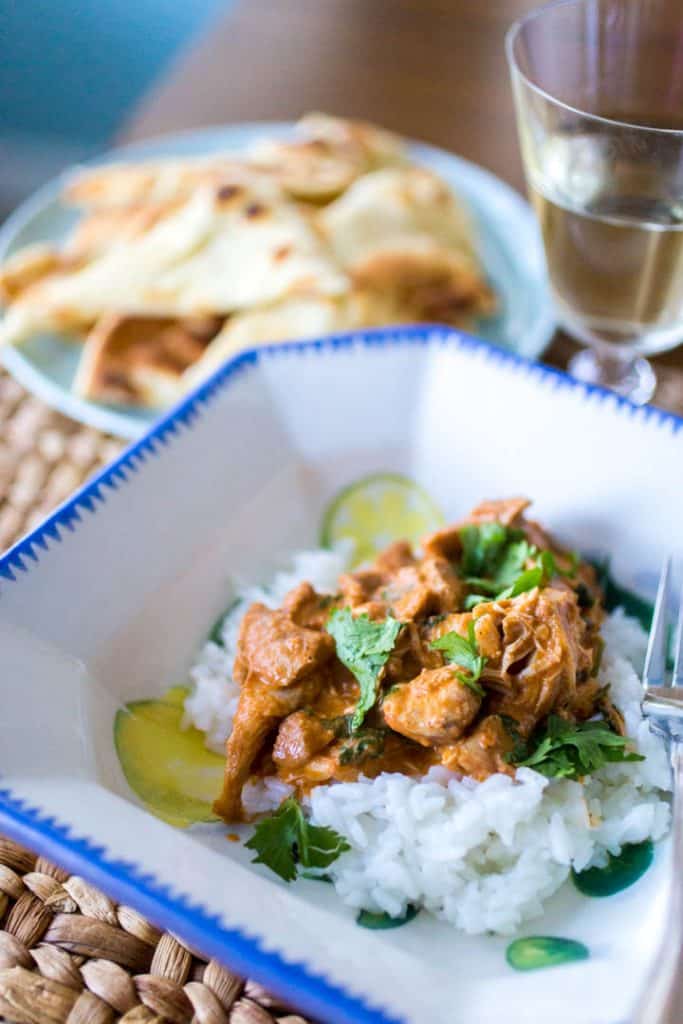 What to serve with the butter chicken:
If you are serving this dish to kids who might be nervous about the spices, it is best to give them starchy carbs to help moderate the heat.
We love to serve it over plain white jasmine rice that has a mild sweetness to it. My kids also love warm naan bread cut into wedges for dipping into the sauce.
To prepare the naan bread:
Preheat your oven's broiler. Place the rack about 4-6 inches from the broiler element.
Spray one side of the naan bread with cooking spray.
Use a pair of tongs to place the bread on the rack and heat under the broiler for a minute or so. Watch it carefully, the bread should get just toasted but it will burn quickly if you don't watch it.
Use a pizza cutter to cut the bread into dunkers.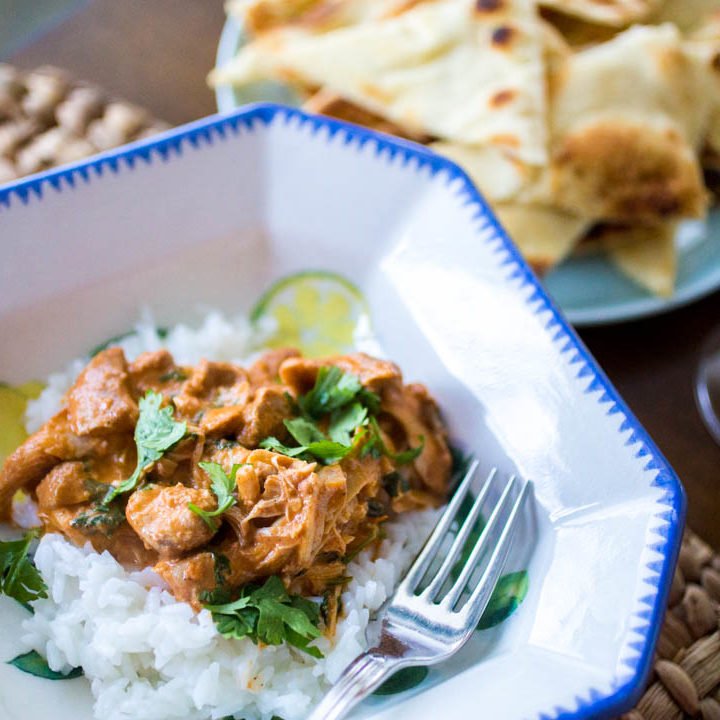 Instant Pot Butter Chicken
Additional Time:
15 minutes
This family-friendly Instant Pot recipe is the perfect introduction to Indian flavors for kids. Not too spicy and kids will love dipping warm naan bread into the sauce.
Ingredients
Add to the Instant Pot:
1 14-oz can diced tomatoes
5 cloves of garlic, minced
½ tsp dried ginger
1 tsp cayenne pepper
1 tsp paprika
1 tsp garam masala
1 tsp dried cumin
2 lb boneless, skinless chicken thighs
1 tsp salt
To finish the sauce:
4 tbsp (½ stick) of butter cut into cubes
4 oz heavy cream
1 tsp garam masala
½ cup chopped cilantro
Instructions
Place all ingredients from tomatoes to cumin powder into the Instant Pot and stir to combine. Sprinkle the 2 pounds of chicken with salt and nestle in the sauce, making sure to coat the chicken as much as possible in the tomato mixture.
Close the Instant Pot and set the timer for 14 minutes on High pressure. I used the meat setting on our machine.
When the Instant Pot timer goes off, carefully release the pressure and remove the lid. Remove the cooked chicken from the sauce using a slotted spoon and store it on a plate. Cut the chicken thighs into bite-sized chunks.
Using an immersion blender, blend the ingredients remaining in the Instant Pot until smooth. Turn on the saute function and stir in the butter, cream, and additional garam masala.
Return the chopped chicken to the Instant Pot. Heat the chicken through in the butter sauce. Sprinkle the fresh cilantro over the top.
Serve the butter chicken on top of a bed of cooked jasmine rice or with warmed naan bread for dipping.
Notes
This recipe makes a very large quantity of sauce. We serve the meal with lots of naan bread for dipping but you could also use leftovers as a tasty sauce over steamed vegetables. Alternatively, you could freeze the leftover sauce and use it as a simmer sauce for additional chicken another night.
If you're looking for more Instant Pot recipes for kids, check out our top favorites right here:
Top 8 Favorite Family-Friendly Instant Pot Meals: