This easy Instant Pot ground turkey soup filled with tender carrots, celery, and tomatoes tastes like it has been slowcooked all day but only takes minutes to prep. Kids love the fun acini de pepe pasta but you can substitute rice or your favorite noodle shape to mix things up.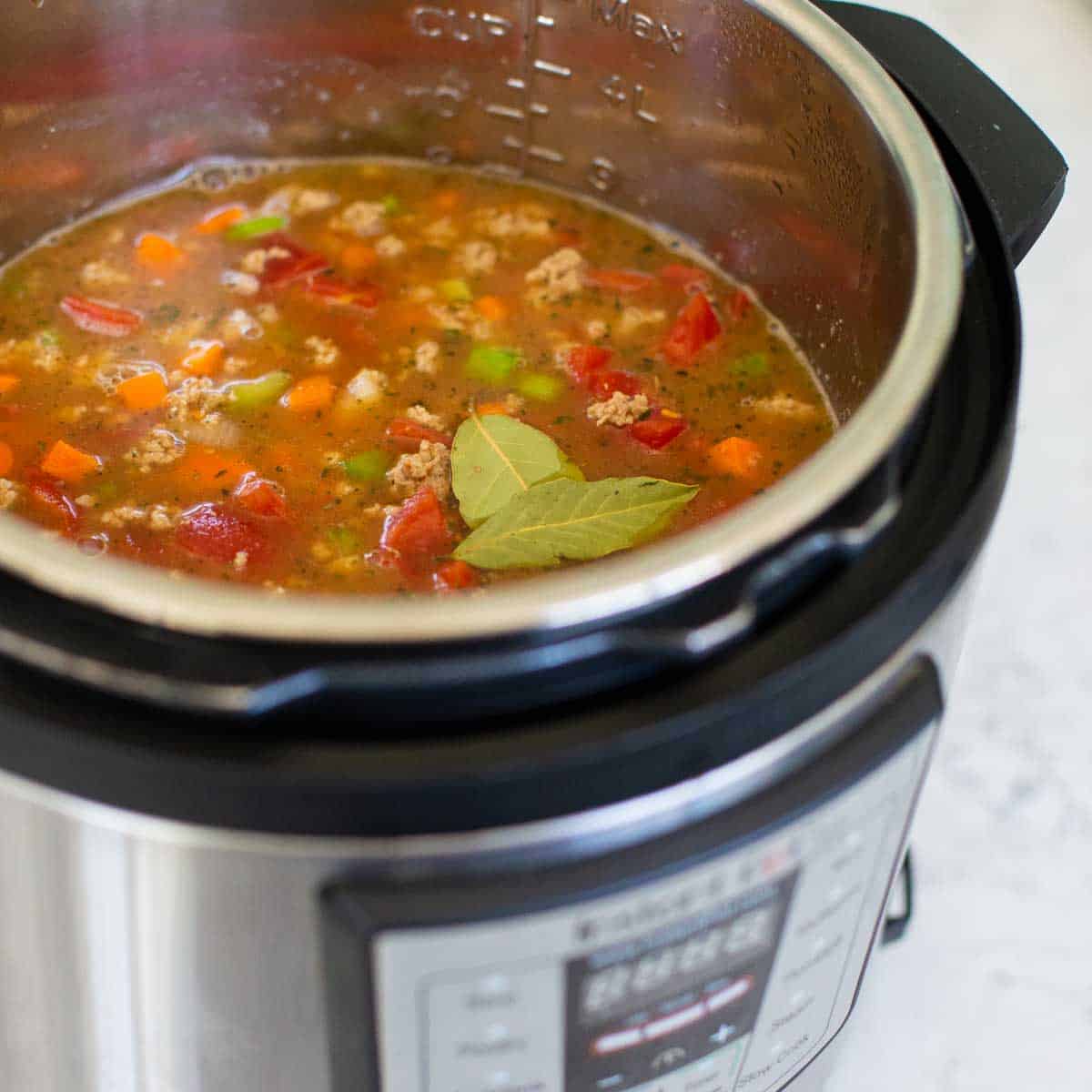 September through April is "soup season" in our house. It is one of my very favorite dinners in our weekly rotation.
I'm always on the hunt for new veggie-heavy, light and healthy soup ideas, especially when they help me clear my fridge of ingredients I already have on hand.
I bought a bulk package of ground turkey and wanted to try a new turkey recipe after I used one half of it in my turkey taco pasta skillet.
This acini de pepe soup has been one of our favorites for years but I usually use ground beef. I decided to lighten it up with the turkey and it was simply perfect. Serve it with a sliced homemade Italian bread for an easy dinner.
Jump to:
Ingredients
The ingredients for this turkey soup are very simple: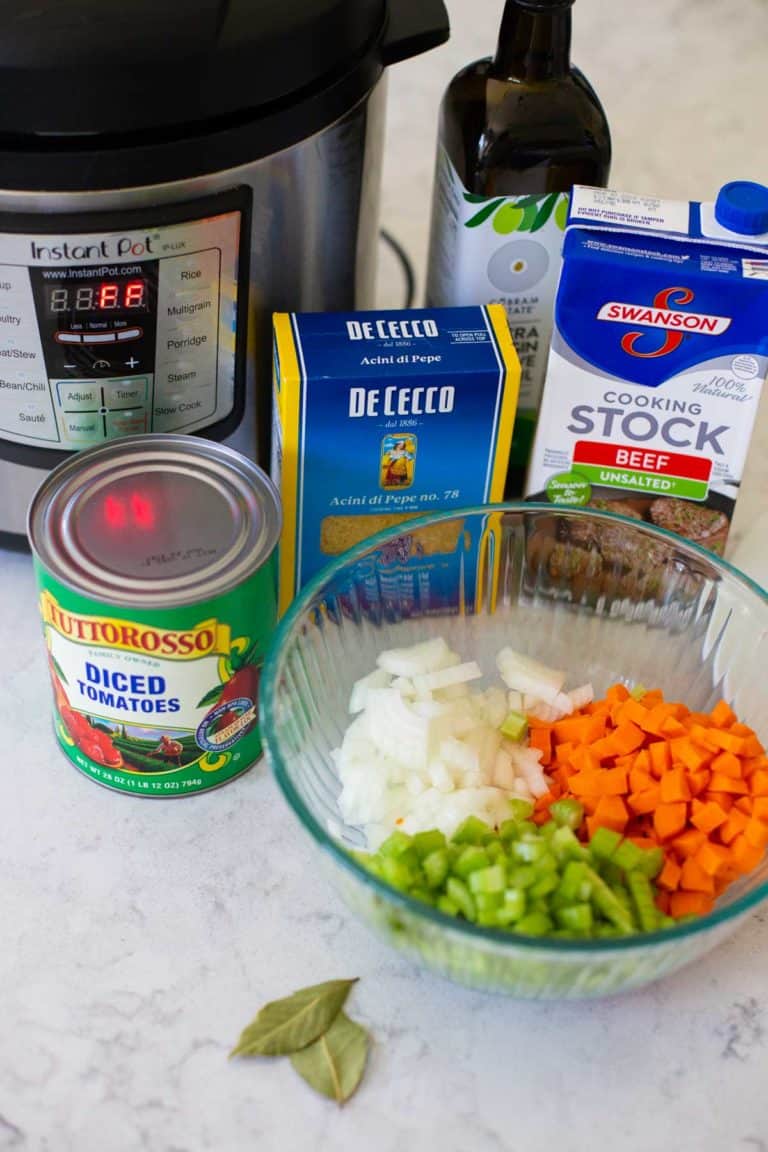 Ground turkey
Olive oil
Onion
Carrots
Celery
Canned diced tomatoes
Beef broth: You could use chicken broth if you prefer but since we often use ground beef in this recipe, I kept this broth to add that flavor.
Bay leaves
Acini de Pepe pasta: Be sure to see my list of variations & substitutions at the bottom!
See recipe card for quantities.
Instructions
My Instant Pot is one of my favorite tools for making soup because you can saute right in the pot.
Press the Instant Pot saute button and add the olive oil to the pot. Let it preheat for a couple minutes and add the ground turkey.
As the turkey cooks, sprinkle it with salt and pepper. Use a cooking spoon to break it up into crumbles as it browns.
Once the turkey is no longer pink, add the onion, carrots, and celery to the pot. Stir and cook for 3 minutes.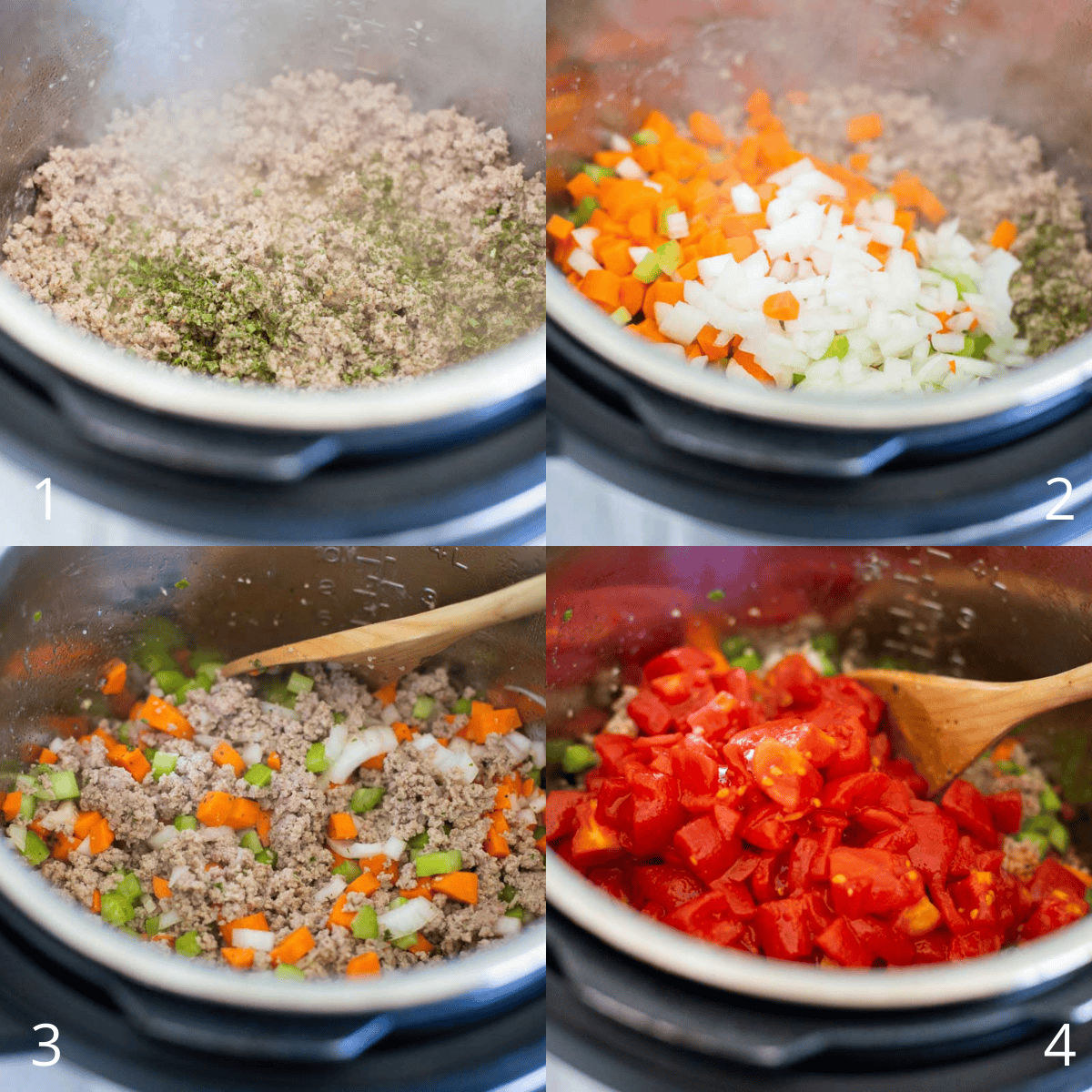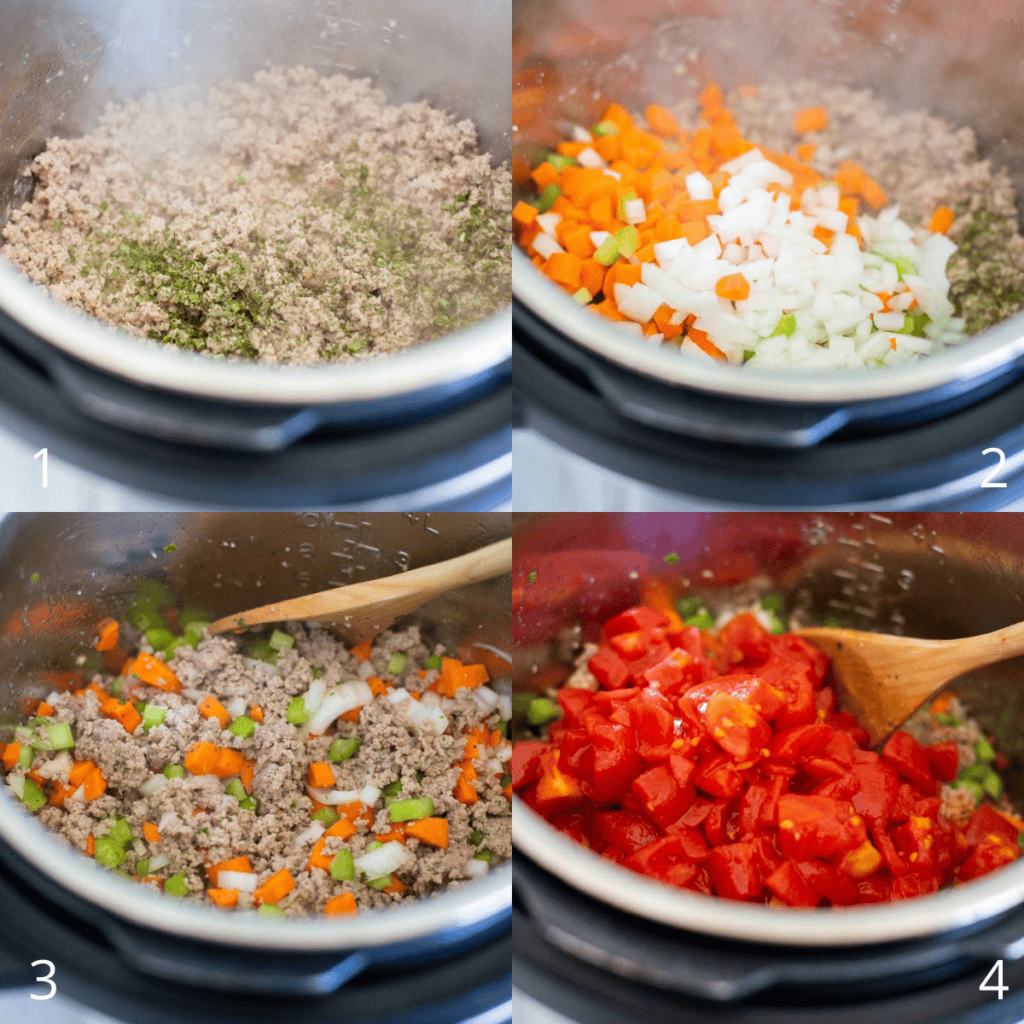 Add the diced tomatoes with their juices to the pot. Pour in the beef broth and stir to combine. Tuck the bay leaves into the broth.
The vegetables give a lot of flavor to this soup, but I like to add a little seasoning to the mix as well.
I used ½ tablespoon of soup herbs, you could also use a pre-mixed Italian herb blend that features basil, thyme, and parsley. This is completely optional.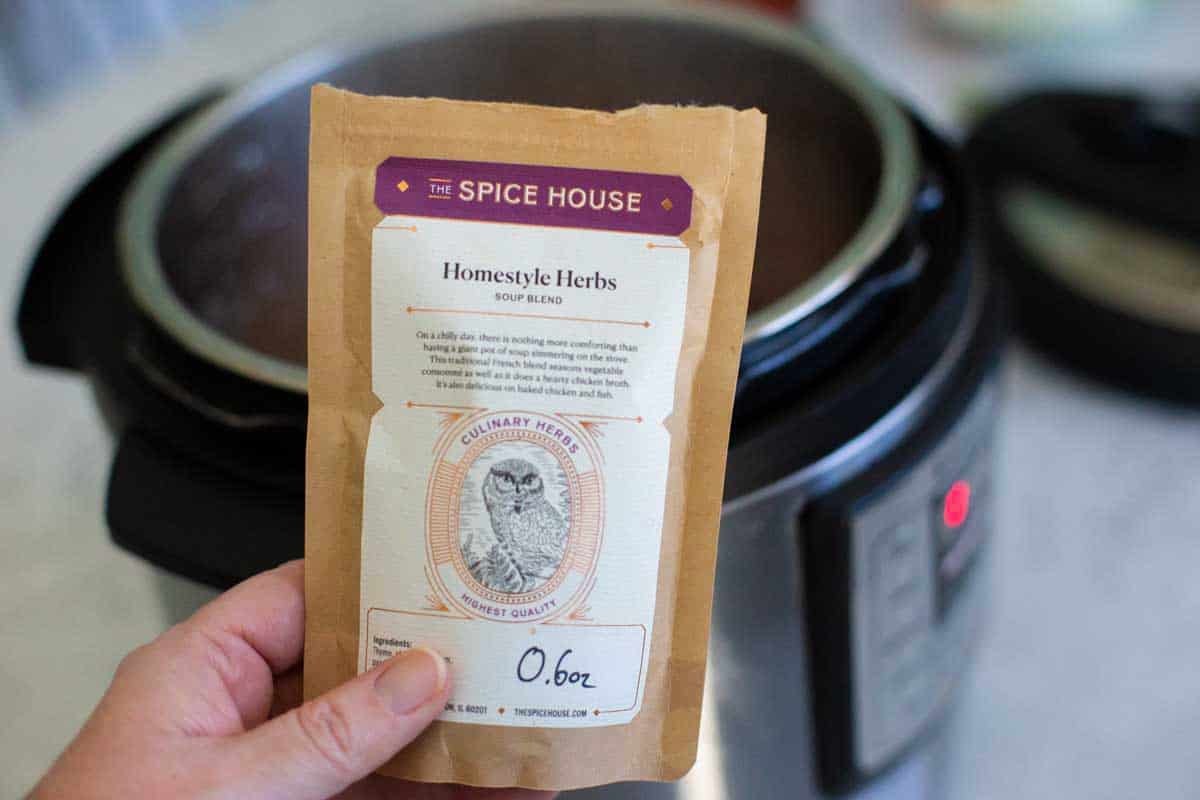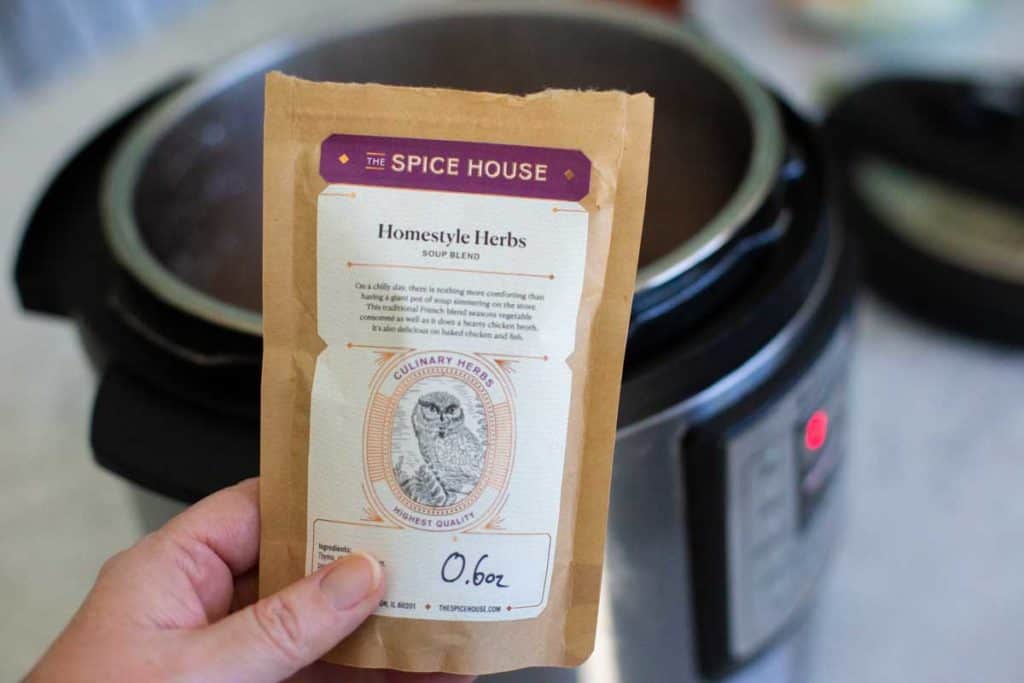 Place the lid on and seal the Instant Pot. Set to HIGH pressure for 35 minutes.
Hint: The 35 minute mark is the time the Instant Pot will cook the soup but it does take some additional time to reach pressure. Plan for an additional 20 minutes of time. Heating all the ingredients in the pot with the saute feature will help speed this up.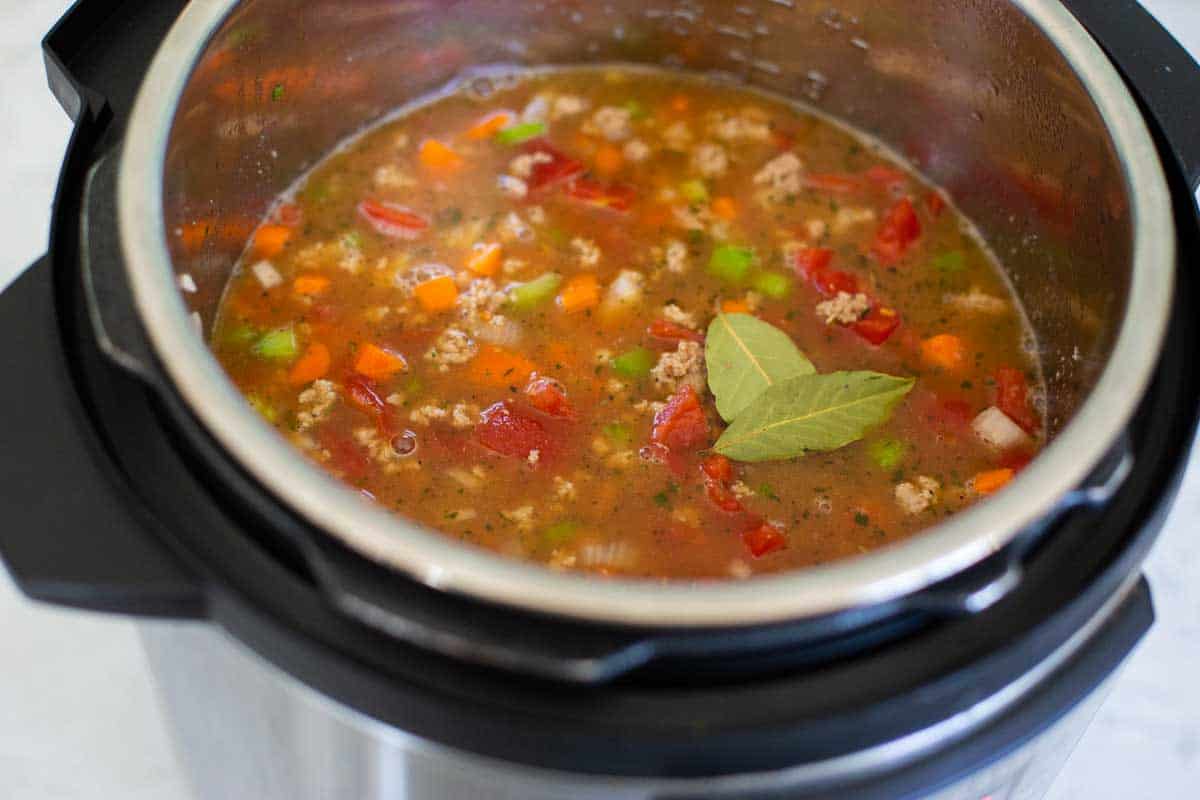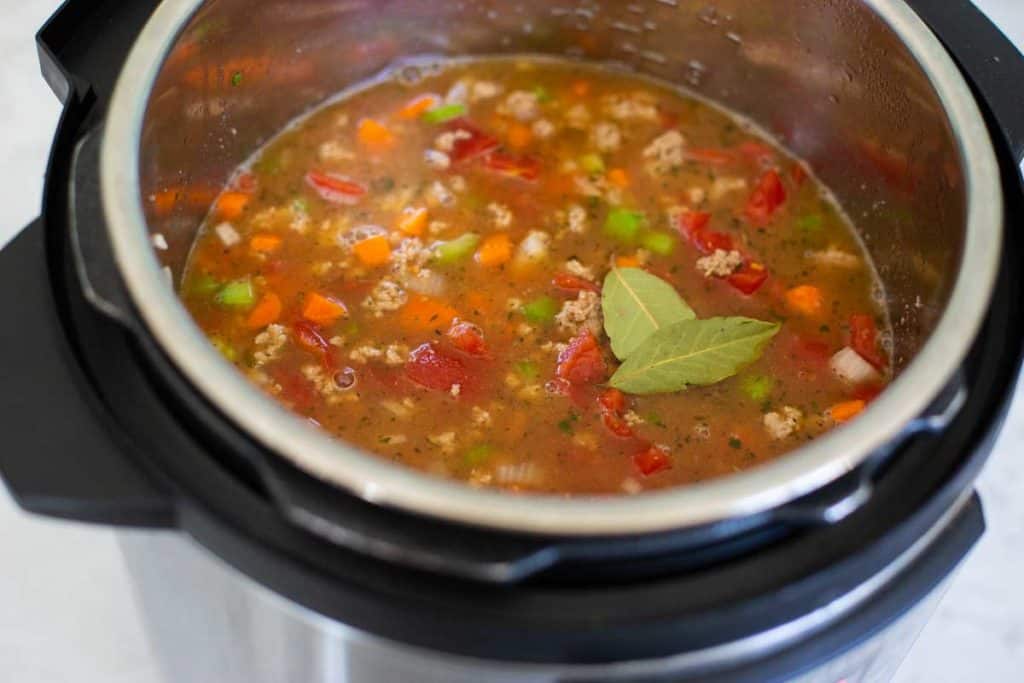 When the timer beeps, quick release the pressure by turning the valve on your Instant Pot to release.
Remove the lid and stir in the Acini de Pepe pasta.
Cover and seal the Instant Pot again and cook on HIGH for 5 minutes. It won't take very long to come back to pressure this time.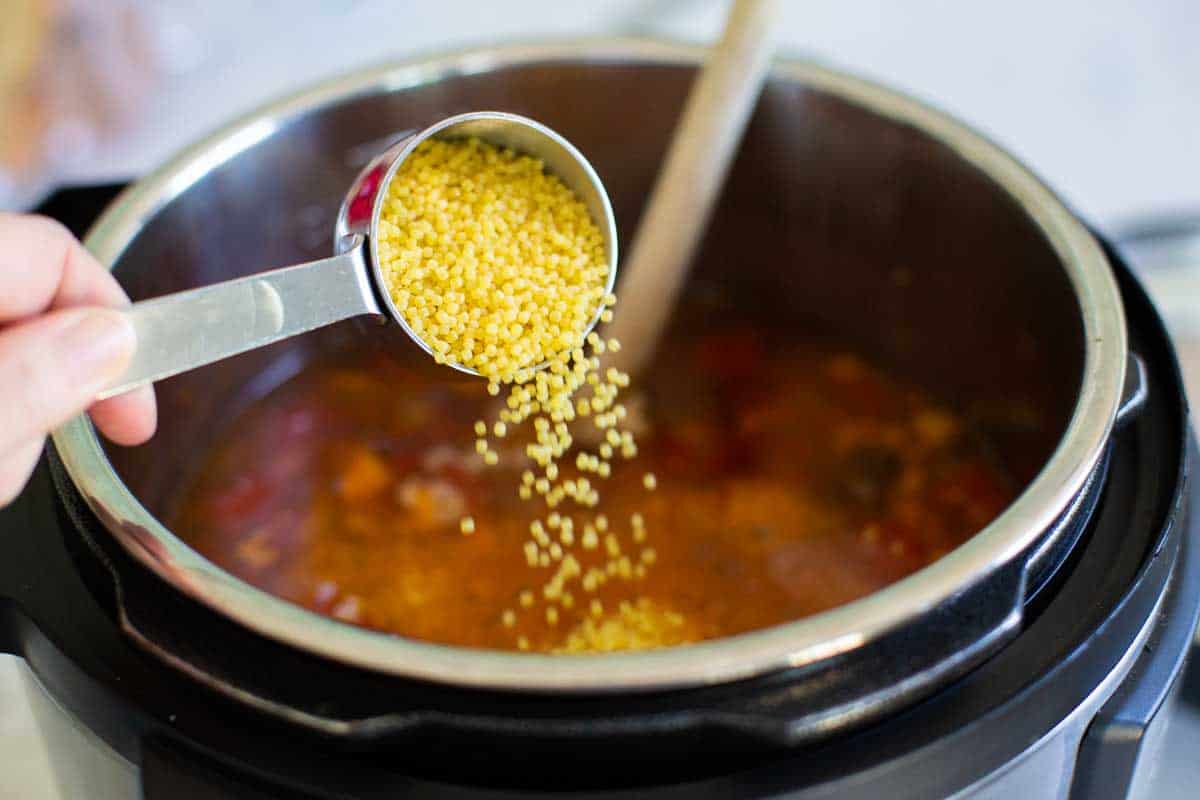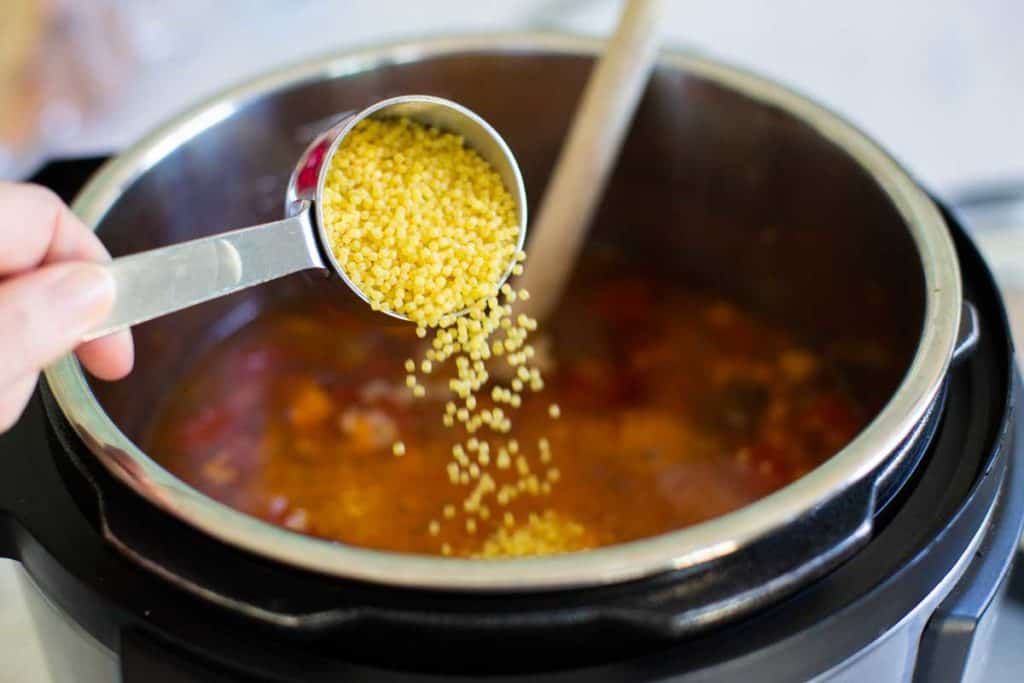 When the timer beeps, quick release the Instant pot and stir the soup.
The pasta will absorb a significant amount of the broth as it cooks. I add an additional container of broth to thin it out AFTER the soup has finished.
If you add both containers to start, it will overfill your Instant Pot so always start with just one and then decide how thick you want your soup before serving.
Variations
There are several variations of this soup you could play with:
Beef soup: Substitute lean ground beef for the ground turkey
Turkey rice soup: Substitute 1 - 2 cups precooked brown or white rice for the pasta
Turkey noodle soup: Substitute wavy egg noodles or your other favorite soup noodle for the Acini de Pepe
Low carb turkey soup: Leave all the starches out and just eat the meat with the veggies
Spicy turkey soup: Add ½ - 1 teaspoon cayenne pepper to the broth before cooking
Storage
Leftover turkey soup will keep in your fridge for 3 - 4 days but the pasta will absorb the broth as it sits. Be prepared to add additional broth to thin it out when you reheat it.
You can freeze the soup once it has cooled. I recommend storing in smaller containers so you can reheat just the portions you need. Have broth in your pantry for thinning it out when you serve it.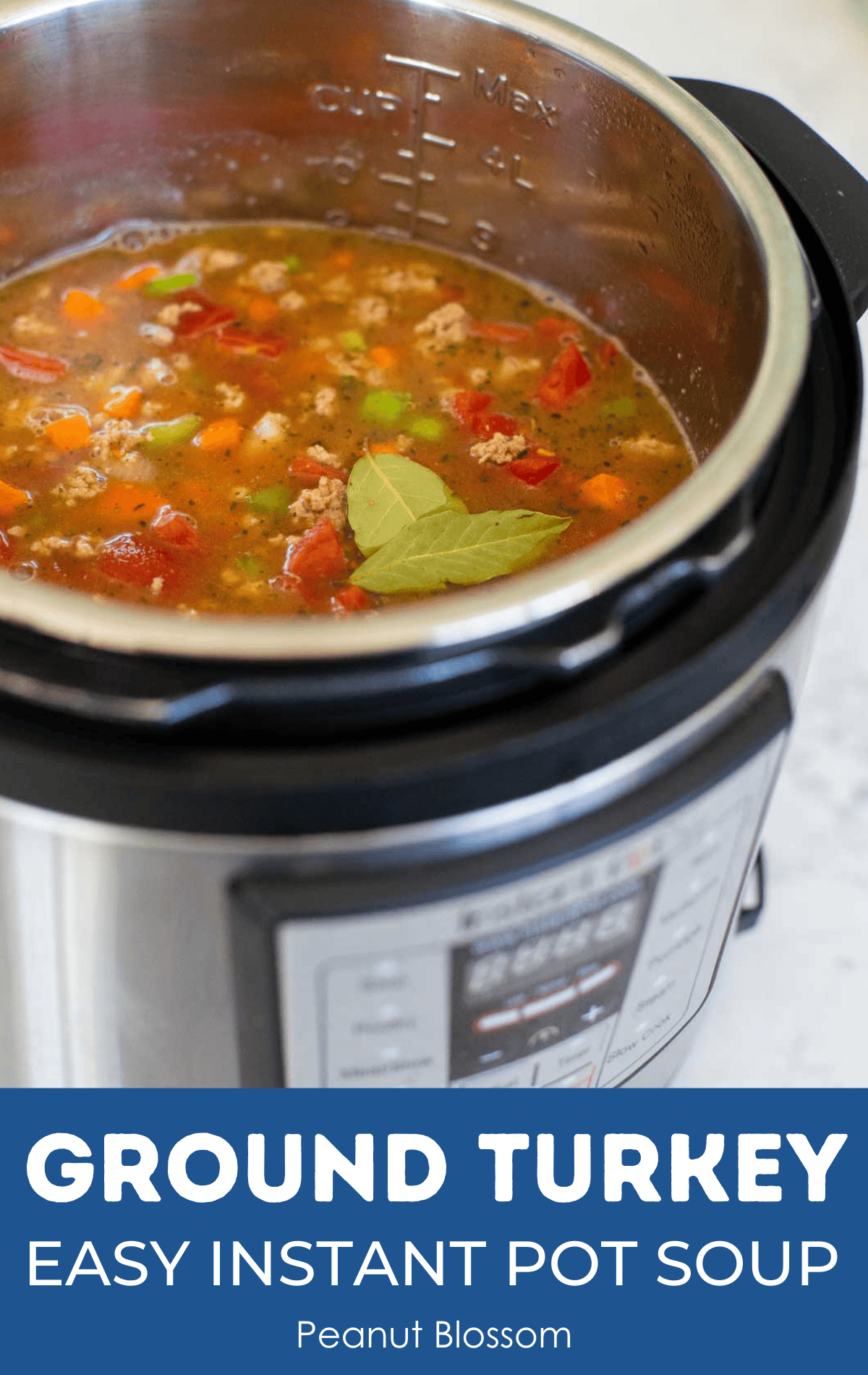 Serving Suggestions
This soup is perfect for a chilly evening. I love to serve it with warm, fresh bread or biscuits for dunking.
If you've tried this Instant Pot ground turkey soup or any other recipe on PeanutBlossom.com please don't forget to rate the recipe and let me know where you found it in the comments below. I love hearing from you!
FOLLOW along on Instagram @peanut.blossom as well as on Pinterest and Facebook.