This warm and filling crockpot chicken soup is perfect for busy families who want to dump the ingredients into the slow cooker and go. The rich tomato broth is a fun twist to your classic cozy soup. Serve it with warm fresh bread for an easy dinner the kids will love.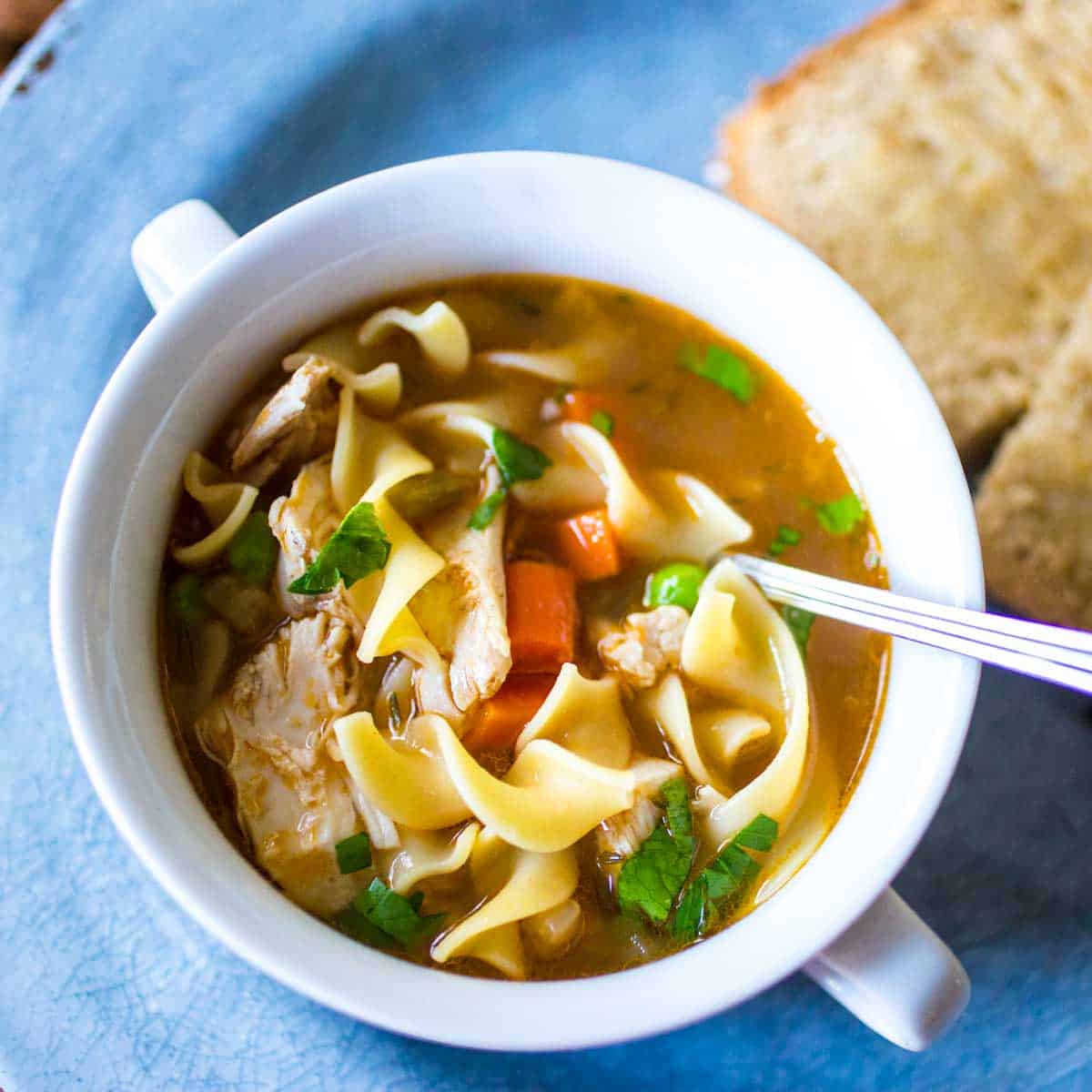 Homemade chicken soup is easier than you think! Especially when you use a handy slowcooker to do most of the work for you.
This delicious tomato-based broth of chicken noodle soup is cooked slowly in a Crockpot all day. Pair it with a bread machine recipe for an easy dinner that cooks itself!
Real chicken, fresh vegetables, and a touch of tomato paste, give this delicious easy soup recipe tons of flavor. It's a great weekend dinner for a Sunday night.
Jump to:
Why Crockpot Soup is the Best
This recipe is one of the very best chicken soups because:
The veggies are fresh and healthy with the perfect texture.
You use real chicken but take a shortcut with prepared broth.
All the prep work is done at the front end so you can relax the rest of the time.
The slow cooker makes the chicken tender and it simply falls off the bone.
It freezes well, so the big batch recipe is perfect for meal prep later.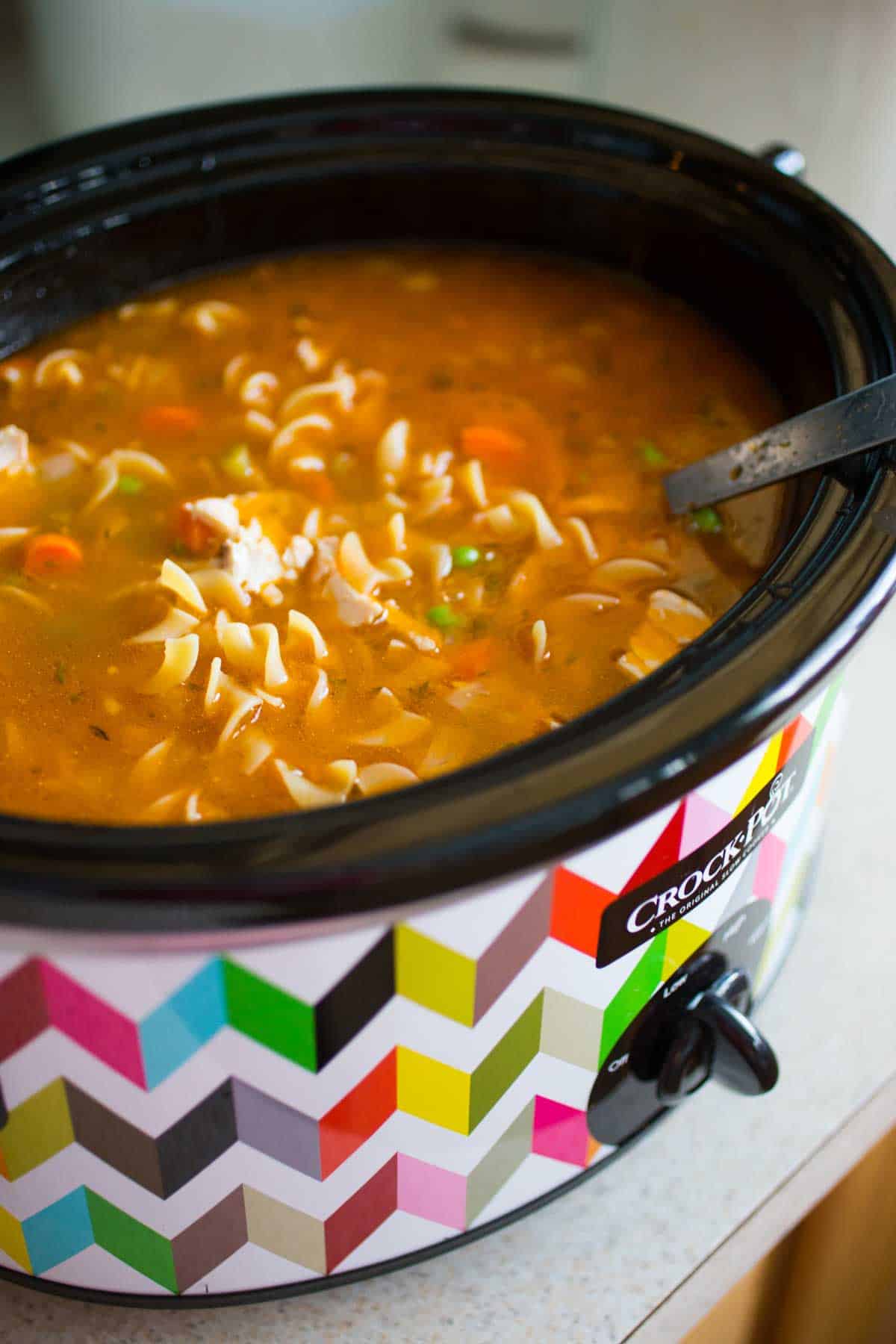 Ingredients
The basic ingredients for this soup are so easy and affordable:
Chicken Thighs: You could substitute cuts of white meat chicken but the thighs are deliciously tender and give more flavor to the broth.
Carrots
Celery
Onion
Tomato Paste
Minced Garlic
Frozen Peas
Chicken Stock
Pasta
Instructions
You may be surprised to discover that the first step of this recipe is to saute the fresh vegetables.
This gives your soup a kick start but more importantly, it adds a ton of flavor to the vegetables. Browning them up a bit in the pan first makes them sweeter and more tender.
Once that step is done, all the remaining ingredients are added to your slowcooker to cook for 4 - 6 hours.
At the end, you'll cut the cooked chicken thighs into cubes and add them back to the soup before serving.
A Note About Soup Noodles
I absolutely prefer to boil my soup noodles in a separate pot, drain them, and stir them into the soup before serving.
This is very important for two reasons:
Firm Pasta: You can cook the pasta to exactly the firmness your family prefers. I always reduce the cook time by 2 minutes so that the pasta can absorb some soup broth and still remain firm.
Brothy Texture: To keep the liquid ratio balanced in the slowcooker, you wouldn't want to cook the noodles right in there or you'll have to add more broth.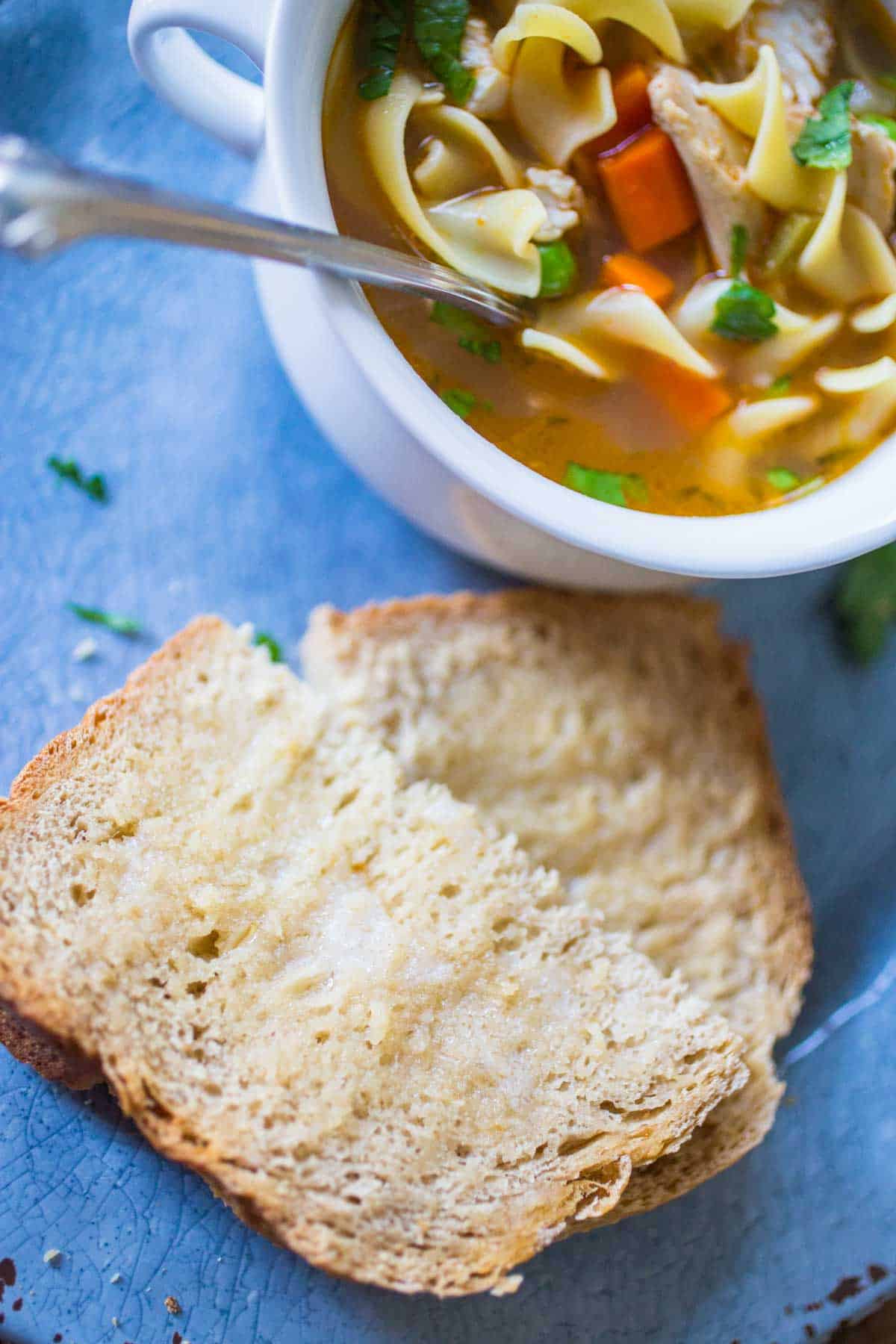 Serving Suggestions
We love eating fresh bread with our soups, here are a few recipes you could use that your kids will love:
If you've tried this crockpot chicken soup or any other recipe on PeanutBlossom.com please don't forget to rate the recipe and let me know where you found it in the comments below. I love hearing from you!
FOLLOW along on Instagram @peanut.blossom as well as on  Pinterest and Facebook.
More Chicken Soup Recipes
Our family lives on chicken soup for most of the cold weather months.
Here are some of our favorites:
Looking for our famous applesauce bread? Get the recipe right here.