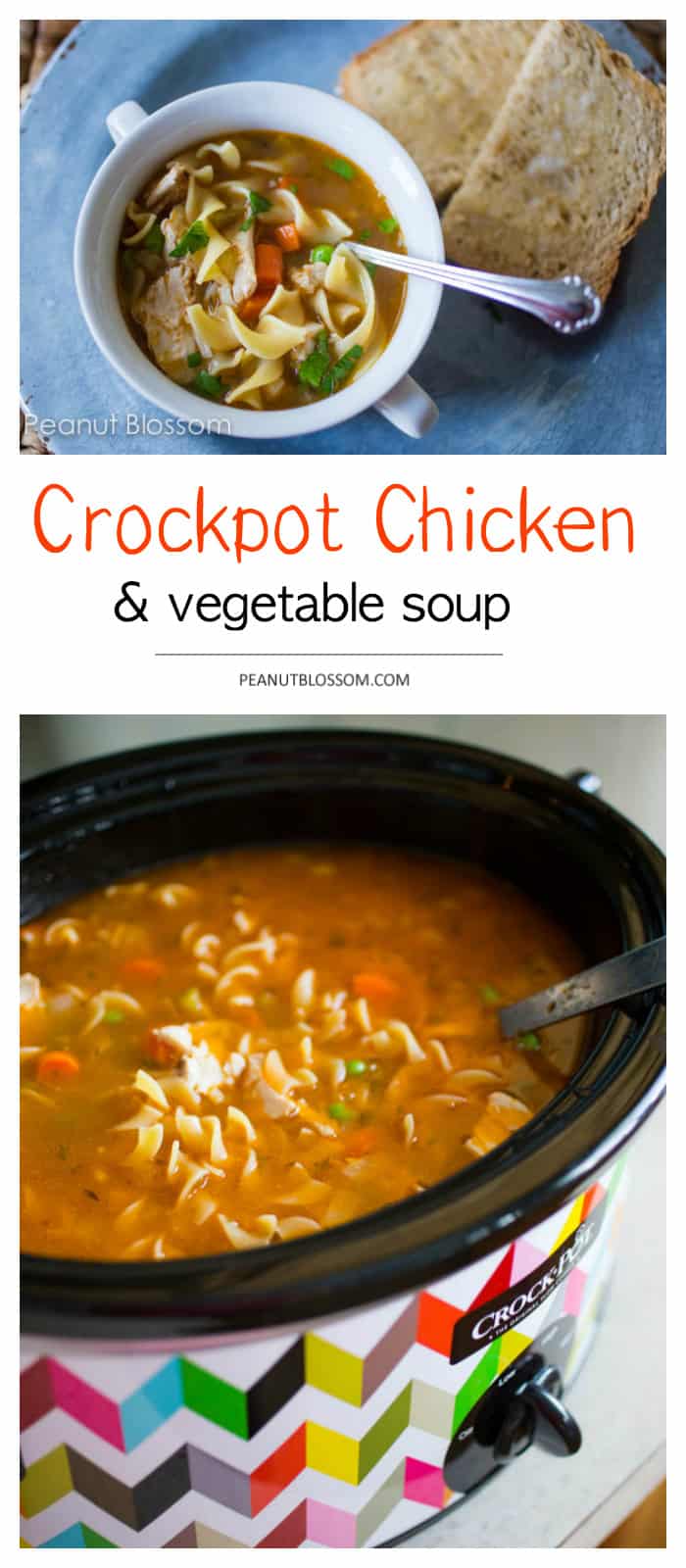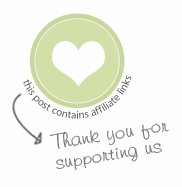 I have learned here in the Carolinas fall is a calendar date, not a weather phenomenon. For the first few years we lived here, fall would sneak right past me. By the time our leaves turn and we dig out our jeans and sweaters, the stores are already covered in Christmas decorations.
Somehow I would forget to decorate the house for fall and consistently have to squeeze all the fun seasonal things into one big make-up the few days before Halloween. (Check out my Fall Procrastinator post to see more!)
I vowed this year would be different. This year I chose to ignore the 90 degree weather and on the very first day of fall I donned a light sweater and went to Starbucks for my first pumpkin spice latte. My fireplace mantle is covered in pumpkins. My wall galleries are filled with apple picking pictures and photos from our pumpkin patch sessions.
So when the Peanut requested chicken soup on a lazy Sunday, I ignored the fact that they planned to go swimming at the neighborhood pool before dinner and dug out the crockpot. For good measure, I dusted off the bread machine, too. We've all been desperately craving soup and cozy comfort foods. Who says we can't enjoy them while the air conditioning is still running?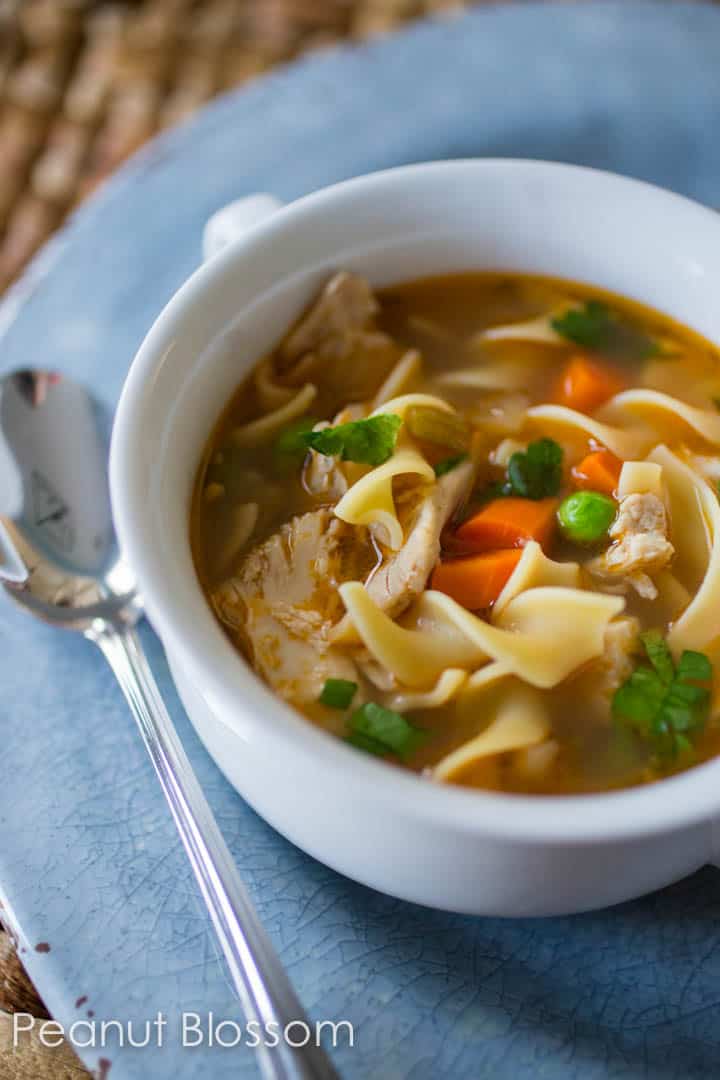 The Peanut loves chicken soup. She actually orders it whenever we find it on a restaurant menu. I have been hunting for the perfect recipe to make at home but most of my attempts have failed miserably. It always feels like a lot of effort for not so tasty soup.
Yesterday we tried something different. Since I had a little helper, I chose a recipe from America's Test Kitchen Slow Cooker Revolution that involved lots of fresh ingredients. There were just a couple more steps to the recipe but overall it was extremely easy. All the putzy work is done at the start and then you have 4-6 hours to do something else. I've tweaked the recipe to make it a even a little more streamlined for you.
It was a huge hit with the family at dinnertime and I sent the girls off to school with leftovers in their lunch Thermos. It would be the perfect dish to stock your freezer or use as lunch food for the week.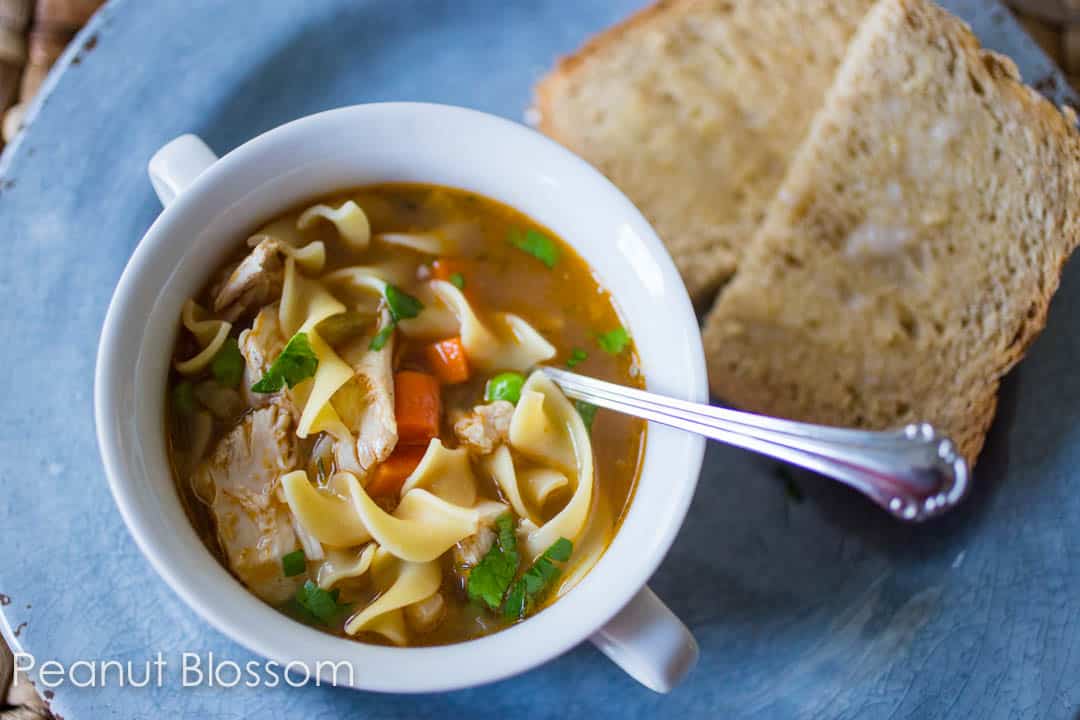 To accompany the soup, I made an easy batch of applesauce & oat bread for the bread machine. The recipe calls for very little butter and sugar and most of the moisture comes from apple cider and applesauce. The oats melt right into the bread giving it a hearty but smooth texture. It made for amazing toast this morning at breakfast. If my kids hadn't seen me do it, they would never have known the oats were even in there.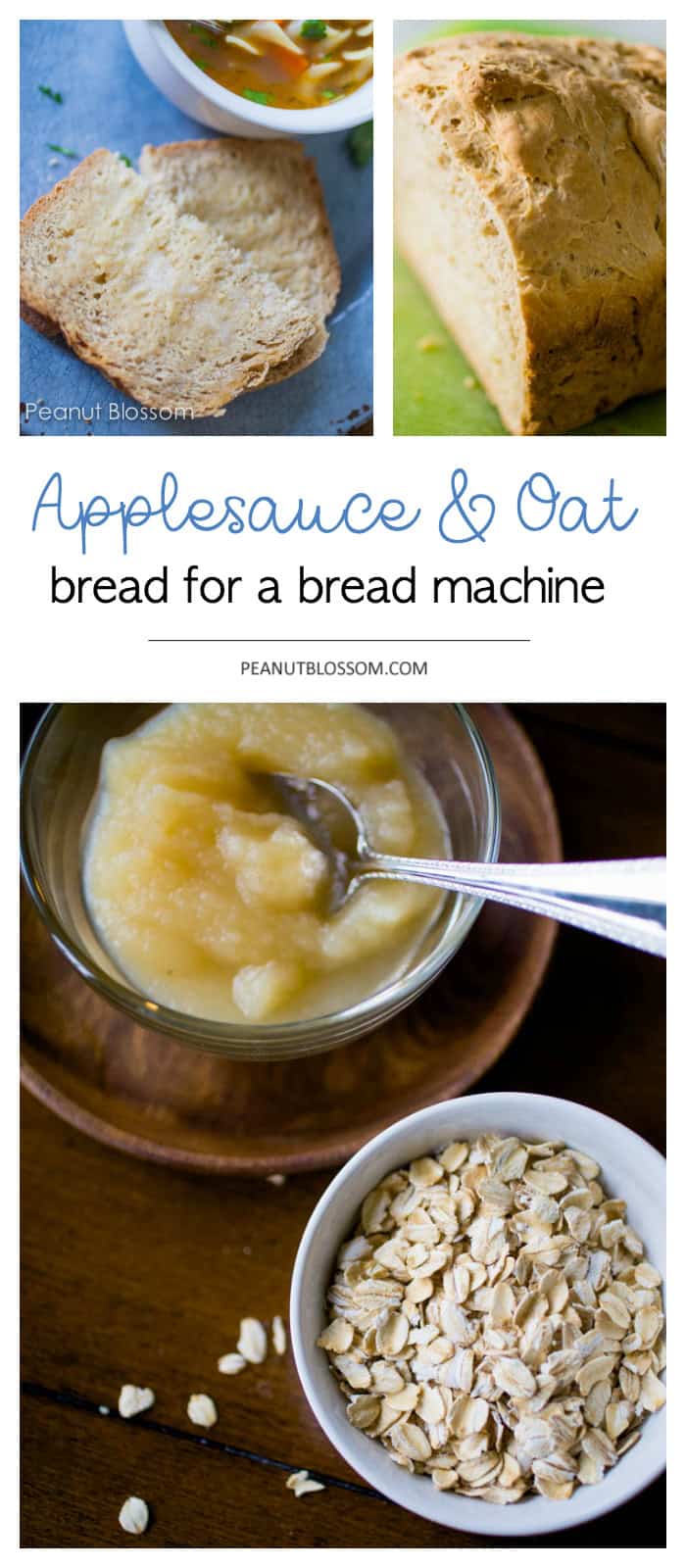 The applesauce bread is perfect for slicing. It has the texture of an actual bread, not like those quick breads that are more like muffin loafs. You could easily make a fall sandwich out of it with turkey or ham for something different. It would be amazing with leftover pork tenderloin, too!

Crockpot chicken soup:
Print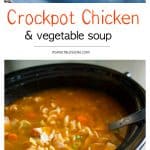 Crockpot chicken soup
---
Scale
Ingredients
1 tbsp

vegetable oil

3

carrots, peeled and chopped medium

1

onion, minced

2

celery ribs, chopped medium

3

garlic cloves, minced

1 tbsp

tomato paste

2 tsp

fresh time or

1/2 tsp

dried
Sprinkle of red pepper flakes

8 cup

s low-sodium chicken broth

2

bay leaves

1 1/2

pounds boneless, skinless chicken thighs

1

bone-in, skin on split chicken breast

1 cup

egg noodles (I threw caution to the wind and used a whole package to make it extra chunky)

1 cup

frozen peas

2 tbsp

fresh parsley, minced
---
Instructions
In a large skillet, heat the oil over medium high. Add the carrots, onion, and celery and saute until softened, about 8 minutes. Stir in the garlic, tomato paste, thyme, and red pepper flakes and cook until fragrant, about 30 seconds. Stir in one cup chicken broth and scrape up browned bits from bottom of the pan. Transfer to the slow cooker.
Pour remaining 7 coups of broth and the 2 bay leaves into the slow cooker. Nestle the chicken thighs into the broth so they are submerged. Season the chicken breast with salt & pepper and then wrap completely in a piece of tinfoil. Gently place the chicken foil packet on the top of the broth. This will cook the chicken through completely but keep it's tender texture. Cover the pot and cook for 4 to 6 hours on low.
Using a slotted spoon or tongs, remove the chicken foil packet to a plate and set aside. Then remove the chicken thighs and move them to a cutting board. Dice the chicken thighs and return to the soup pot. Carefully unwrap the foil packet and pour any juices back into the pot. Remove the skin and discard. Dice the white meat and return to the pot, discarding the bones. Discard the bay leaves. Pour in the peas and let them heat through.
In a separate pot of salted boiling water, cook the egg noodles for just a minute less than the minimum time the package suggests. This will prevent them from getting overly mushy as they sit in the leftovers. Drain and stir into the soup.
Stir in parsley, season with salt and pepper to taste.
---
Recipe inspired by America's Test Kitchen Slow Cooker Revolution
Applesauce & oats bread for the bread machine:
For a 1 1/2 pound loaf, add these ingredients to your loaf pan in this order:
3/4 cup apple cider
1/2 cup applesauce (we used Mott's Granny Smith variety for extra tartness)
1 tbsp softened butter
3 cups bread flour
1/3 cup quick-cooking oats
1 tbsp brown sugar
3/4 tsp salt
1/4 tsp apple pie spice
1 tsp active dry yeast or bread machine yeast
Set the machine to the basic white bread cycle.