Chicken wild rice soup is an easy weeknight dinner for your family. Rich and creamy, this cozy comfort food is perfect for a chilly night. Make a big batch and pack it for your kids to bring to school for hot lunch in a Thermos!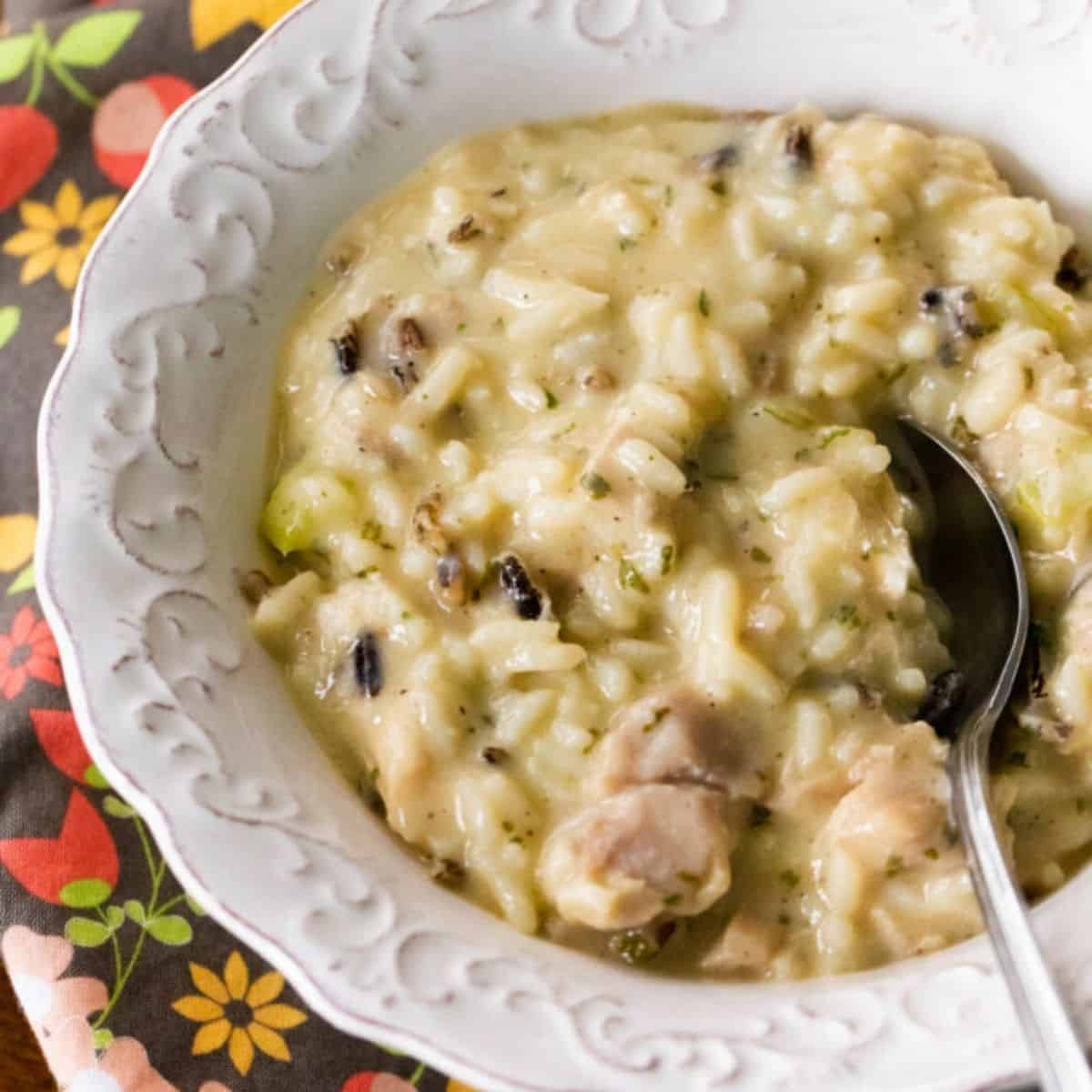 One of my very favorite soups of all time is chicken and wild rice soup. Unfortunately, that recipe is known for containing a forbidden ingredient in our home -- mushrooms. Therefore, Tim won't touch chicken wild rice soup with a 10-foot pole.
This week I needed a quick and easy dinner for the night the Peanut got her braces adjusted. I looked for something warm and comforting and especially soft for her sore teeth.
I found a recipe called "chicken wild rice" in an old cookbook I hadn't used in a while. A quick glance at the ingredients and somehow I envisioned it turning out as more of a rice-y casserole. It didn't hit me until I had the recipe actually cooked and simmering in a too-small pan on my stove top that the recipe was actually a mushroom-free version of my favorite chicken soup!
This happy accident turned out to be one of our very favorite dinners we've had in ages!
Chicken wild rice soup is total comfort food for cold weather, dreary days, or those times when your kiddos need a little extra loving. My poor sweet Peanut could hardly chew with her braces and this was soft and tender in all the right ways. She was so grateful for the meal.
Is it hard to make chicken wild rice soup from scratch?
The original recipe required far too many pots and pans. I've streamlined it for you to make it extra simple. This is what I would call a semi-homemade recipe.
You're not making the chicken stock from scratch, but everything else is real and fresh. It came together in 40 minutes. You might think that is too long for a weeknight dinner, but if you make a batch on the weekend, it will absolutely reheat lovely. I actually sent it to work with my husband and to school with my kids for a hot lunch the next day.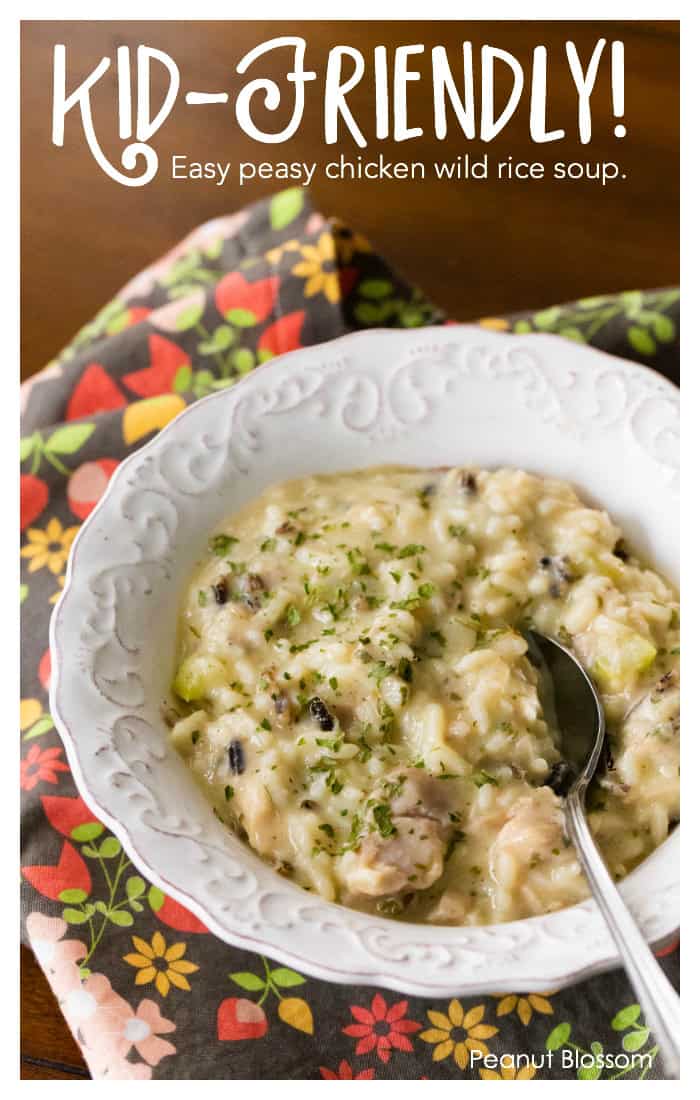 What is in chicken wild rice soup?
Tim is from Minnesota where chicken wild rice soup is a STAPLE. The soups I've had there are mind blowing and I swear this recipe is the closest I've ever tasted outside their border. Chunks of tender chicken, celery, onions, wild rice, and usually mushrooms in a creamy thickened soup base are what goes in chicken wild rice. All the classic ingredients are here EXCEPT for the mushrooms! If you love them, feel free to saute them with the celery and onions and add them in.
Can chicken wild rice soup be frozen?
There is a bit of cream and butter in this soup so traditionally you can't freeze it without concerns about the cream separating. I didn't try freezing it because we had no leftovers. It was gobbled up within a few days. I'd love to experiment with freezing it, I think you could just whisk it together and add a bit more chicken stock/cream to get the consistency you like back. If I do, I'll be sure to edit the post. If you try it, let me know so I can add a note!
What goes with chicken wild rice soup?
We served the soup with soft warm bread rolls for dunking and soaking up the thick and creamy broth. It is a rich and thick soup so you may also enjoy one of these simple side dishes for chicken wild rice soup:
More family-friendly soup recipes you may enjoy: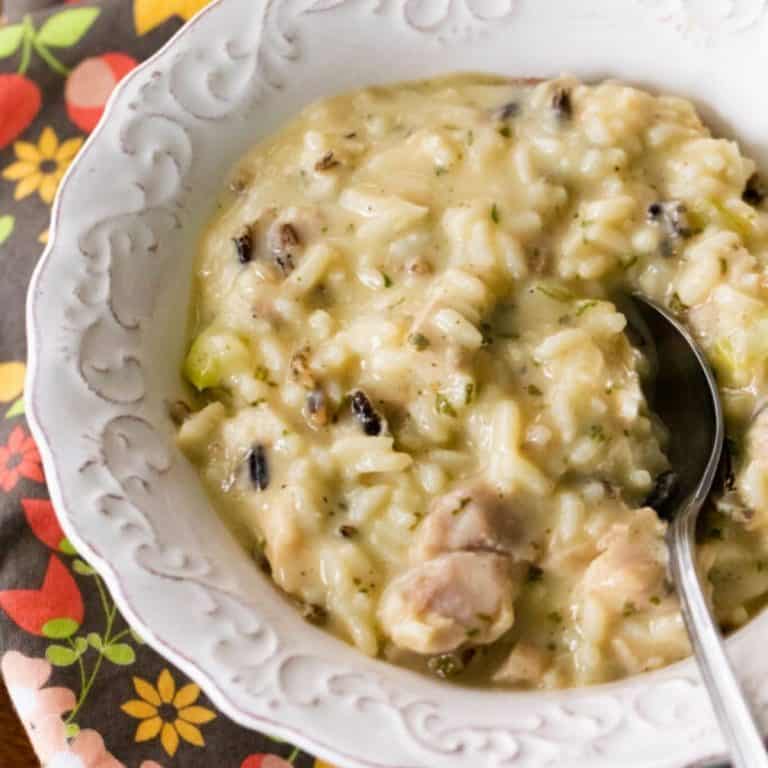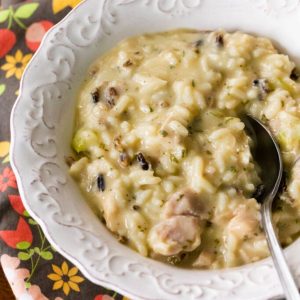 Chicken Wild Rice Soup
This easy chicken wild rice soup is a hit with kids. Rich and creamy, this is classic comfort food that makes delicious leftovers.
Ingredients
2

cups

chopped cooked chicken

we highly recommend boneless skinless chicken thighs

2

(6 oz) packages of Uncle Ben's long-grain and wild rice mix

10

cups

chicken broth

divided

7

tablespoon

butter

divided

1

small onion

chopped

3

ribs of celery

chopped

½

cup

flour

2

tablespoon

white wine

½

cup

half-and-half
Instructions
You can shred a rotisserie chicken to keep it really easy. Or, toss 4 - 6 chicken thighs into an Instant Pot to cook them while you prepare the rest of the soup.(Place 1 cup chicken stock or water in the pot, place the chicken on the steamer rack, season with salt & pepper, High Pressure for 10 minutes, Quick Release.)

In a medium sauce pan, combine the rice, 4 cups of chicken broth, and ONE seasoning packet from the rice mix. (Save the other packet for something else or discard.) Bring the mixture to a boil over medium-high heat. Cover and reduce the heat to low. Simmer for 20 minutes or until the liquid has been absorbed.

While the rice cooks, prepare the vegetables. In a large soup pot, melt 3 tablespoon butter. Saute the onion and celery until the onions are translucent. Transfer the veggies to a plate and return the pot to the stove.

Melt the remaining 4 tablespoon of butter and whisk in the flour. Cook and whisk the butter mixture for 2 minutes until thickened. Pour in the wine and chicken broth and whisk to smooth it out. Continue to stir and whisk for 8 - 10 minutes until the broth becomes slightly thickened. Pour in the half-and-half an whisk to combine. 

Stir in the cooked rice and the prepared chicken. If the soup is too thick, add a splash more of chicken broth to reach the consistency you prefer. Heat the soup for another 5 minutes, but be careful to not boil it. 
Save This Recipe to Your Recipe Box
Find this delicious recipe next time you visit by saving it to your very own recipe box on my site. All your favorites stored in one easy place!