This homemade microwave applesauce can be made right in your microwave in just minutes. Add your favorite apple pie seasonings or just stick with brown sugar and cinnamon. The final applesauce can be cooled and frozen for future use.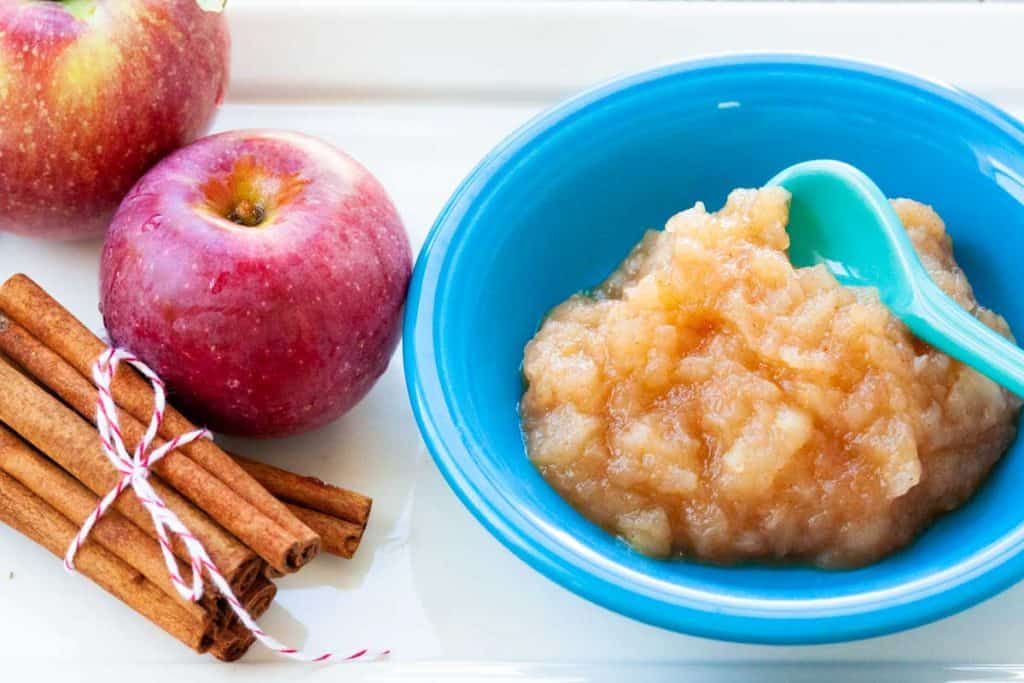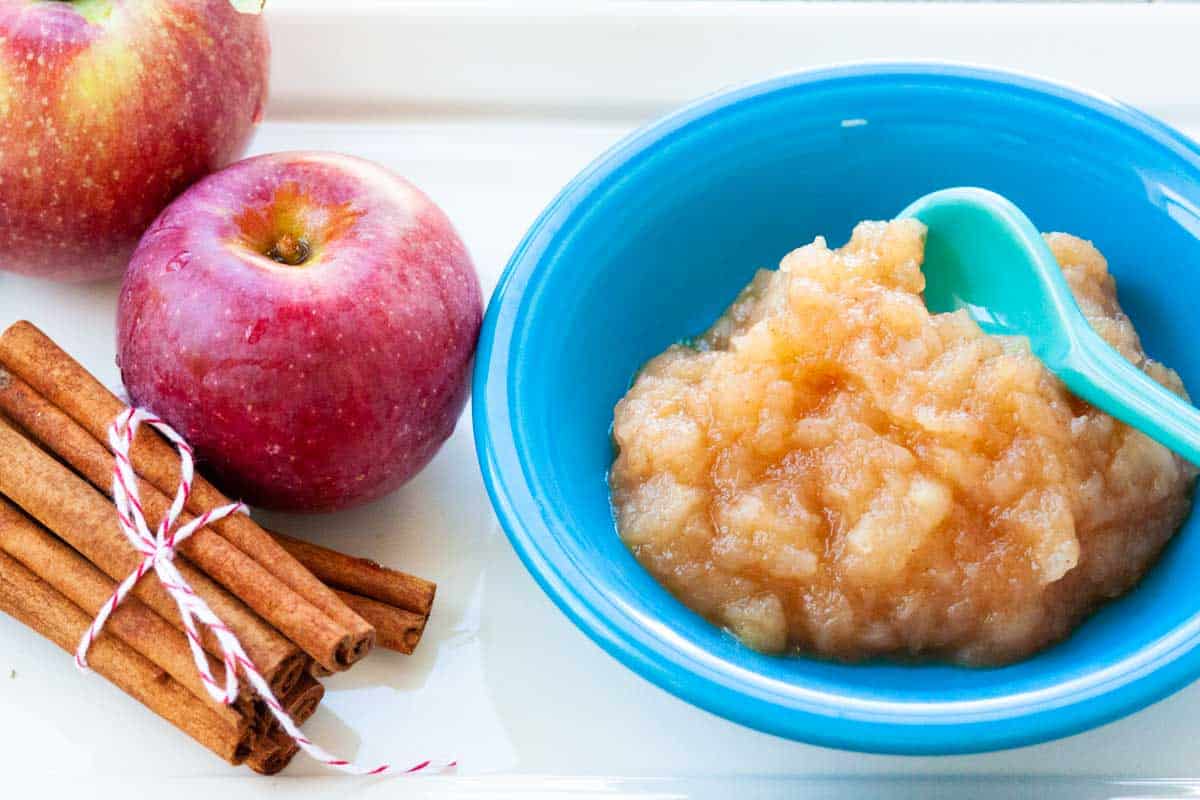 The best part of taking your family to an apple orchard in the fall is coming home with giant bags of apples for baking.
There's nothing better than filling the kitchen with smells of apples, cinnamon and brown sugar.
While most of our apples find their way into my freezer-friendly apple crisp, I also love to make big batches of microwave applesauce.
This easy peasy recipe is done in just minutes making it the perfect cozy fall side dish for several easy dinners or a healthy snack for the family to enjoy. It could even double as a dessert spooned over a cup of vanilla ice cream.
Jump to:
Ingredients
This recipe is so easy, you probably have everything you need in the pantry right now!
Fresh Apples: You'll need about 6 - 8 fresh apples. I used honeycrisp for this batch.
A fresh lemon: Don't skip this, the tiny bit of acid from the lemon juice helps to keep the apples from turning and helps balance the sugar.
White and Brown Sugars
Cinnamon: Be sure to see the variations suggestions below for more fun ideas for flavoring your applesauce.
Best Apples for Applesauce
The best part of this applesauce recipe is just how flexible it is. I've made it with all kinds of different apples and they taste wonderful.
For this batch, I used honeycrisp apples because I love how sweet they are but I also particularly love Granny Smith apples for applesauce. They are so tart and they balance the sweet brown sugar perfectly.
The best apples for applesauce include:
McIntosh
Golden Delicious
Red Delicious
Gala
Fuji
Pink Lady
For the best results, use a variety of apples for a deeper apple flavor.
Prep the Apples
Peel the apples and remove the cores. Chop them into large chunks and add them to a microwave safe container with a lid.
I love this ceramic casserole dish with a glass lid for microwave cooking.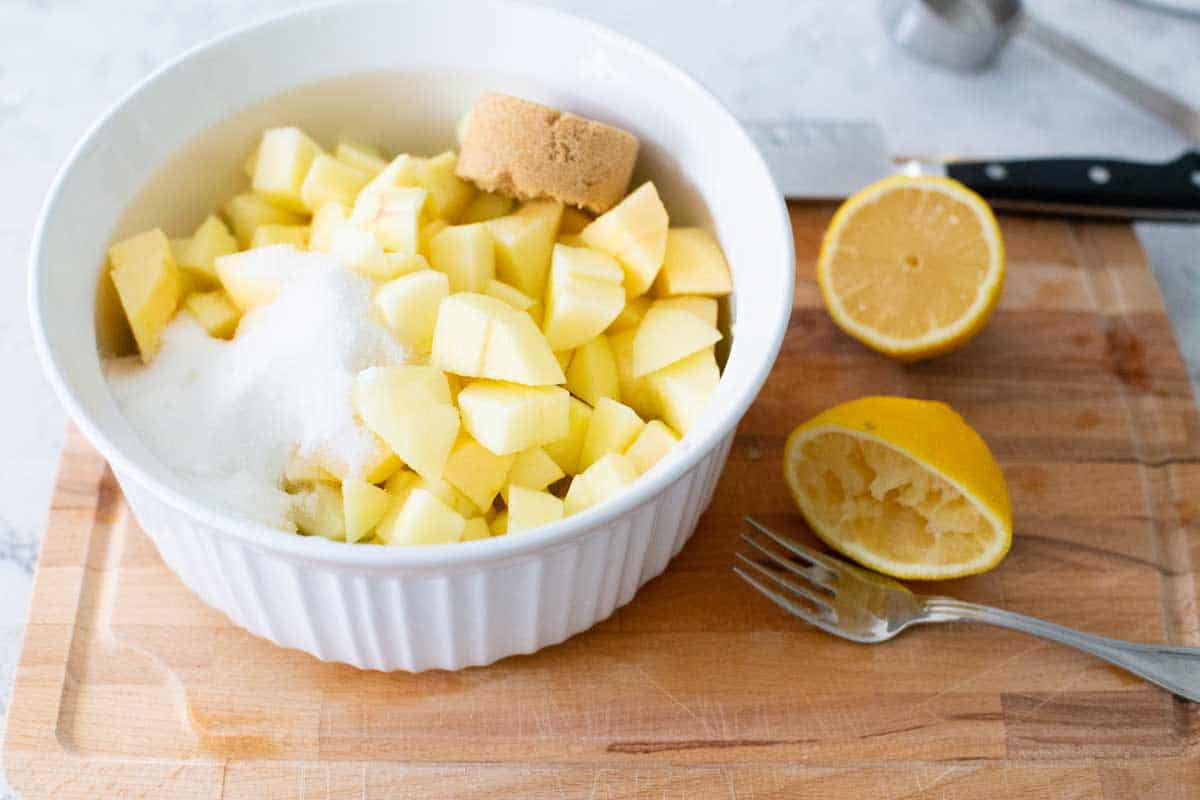 Add the water, sugar, brown sugar, and lemon juice. Stir everything together.
Sprinkle the cinnamon over the top and stir it in.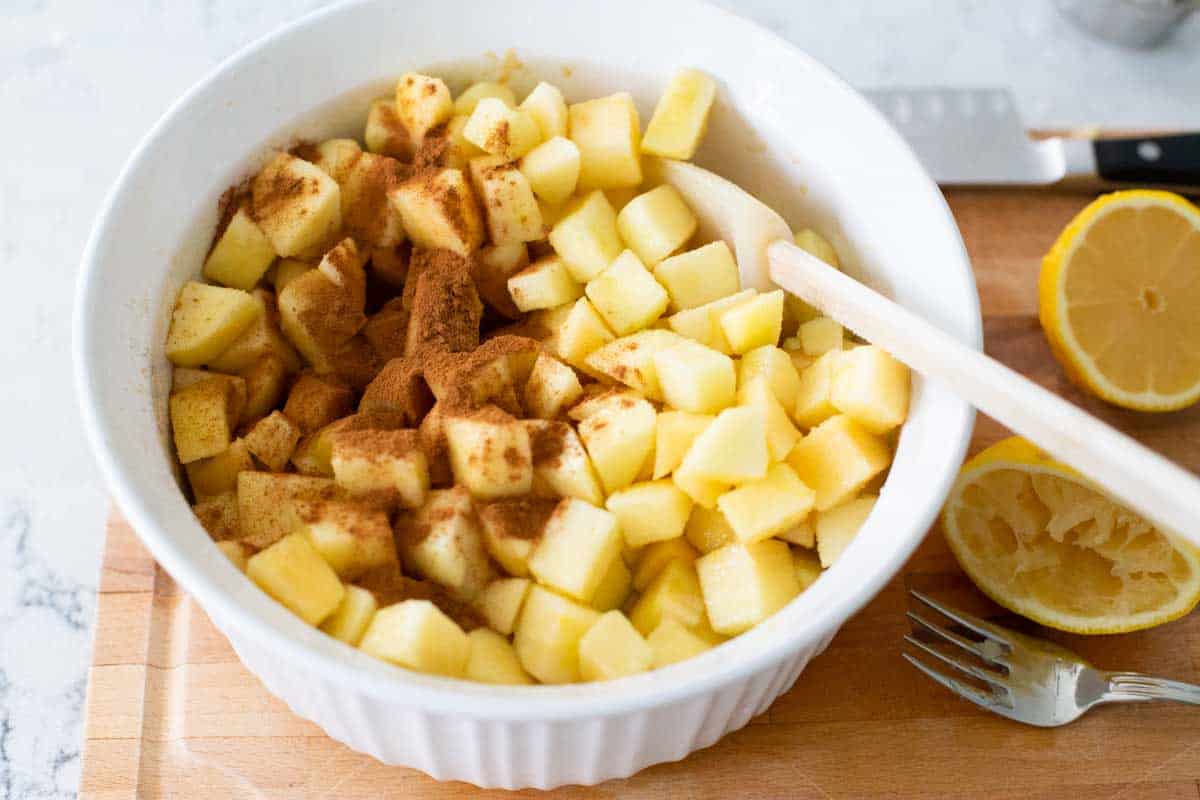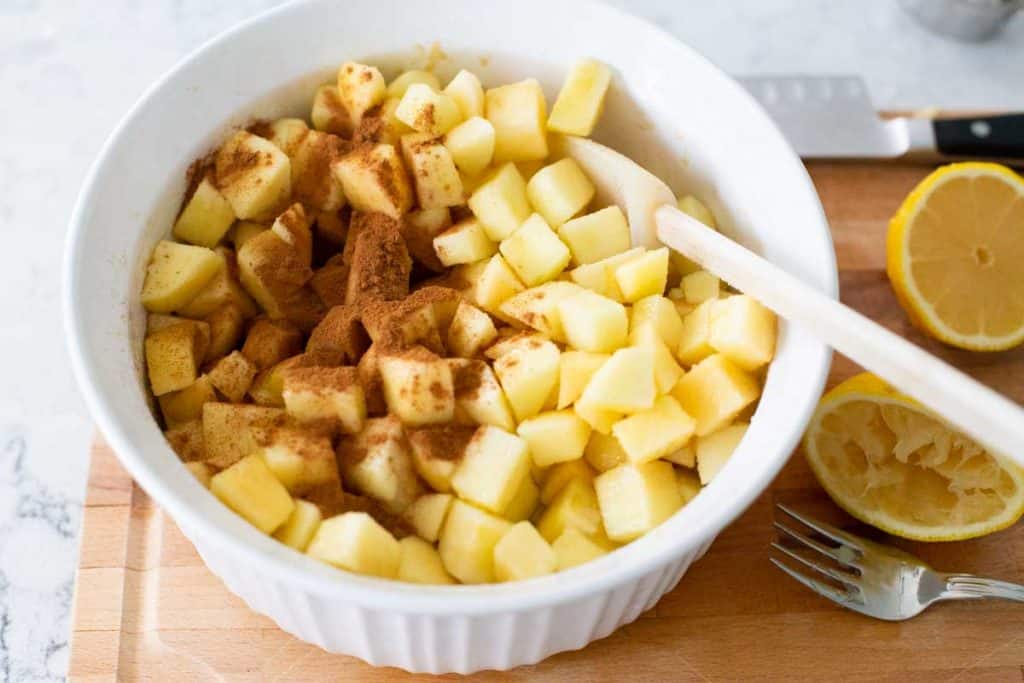 How to Microwave the Apples
Place the lid on the dish and microwave the apples on HIGH for 6 minutes.
After the first run, the apples will start to release their juices and the mixture might seem very watery. Just stir everything together.
However, if your apples seem dry at this point, you can add a tablespoon of water more to the dish if needed.
Microwave the apples again for 4 - 5 minutes, depending on how tender they were after the first run.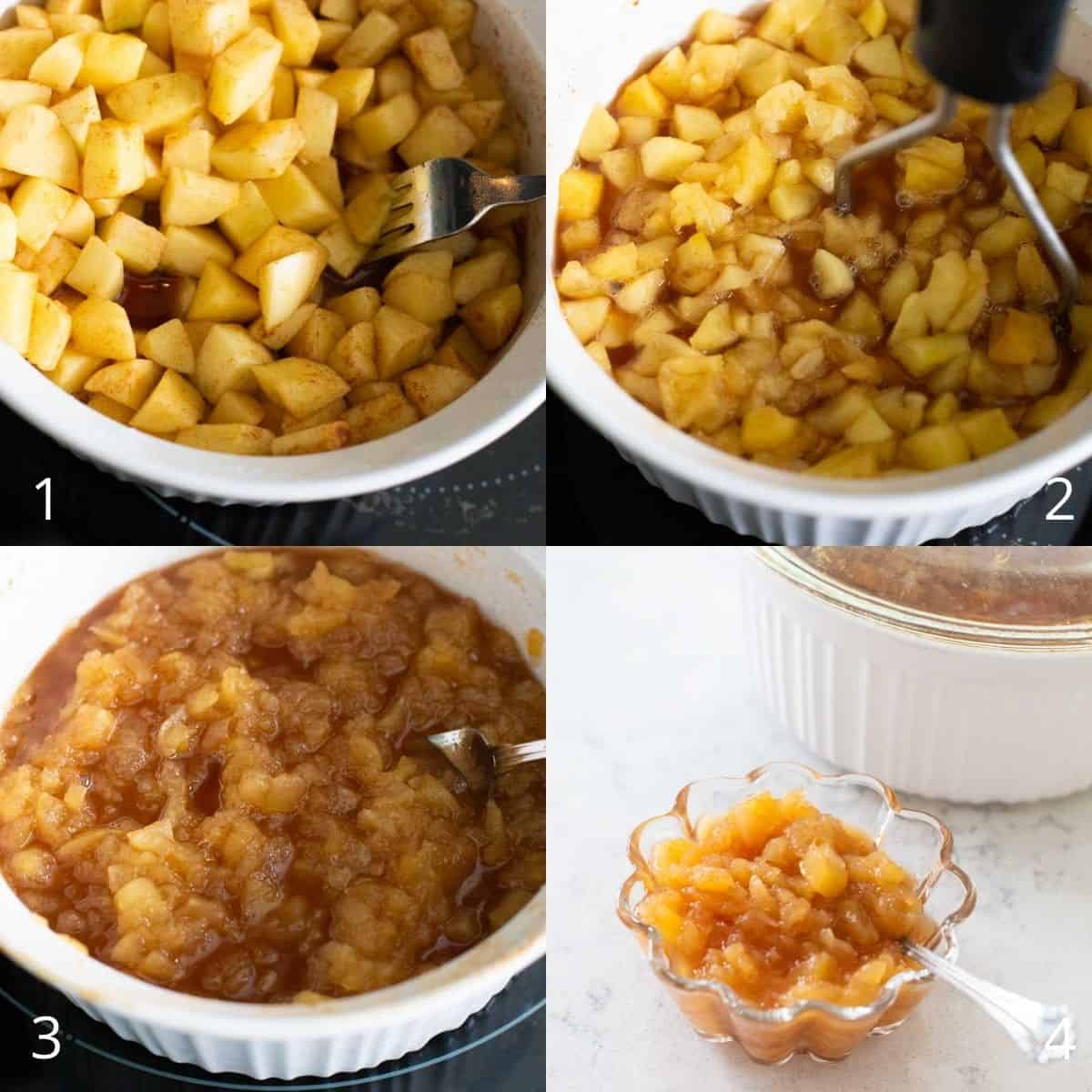 You can mash the apples into applesauce with a potato masher but I found it even easier to smash them with the tines of a fork.
If you prefer a smoother puree, you can transfer the mixture to a blender or process it with an immersion blender.
We love our cinnamon apples a little on the chunky side because they are easier to spoon over our favorite potato latkes.
Storage Tips
I love making microwave applesauce in my ceramic covered dish because it doubles as the storage container in the fridge.
The applesauce will keep for 3 - 5 days in the fridge in an airtight container.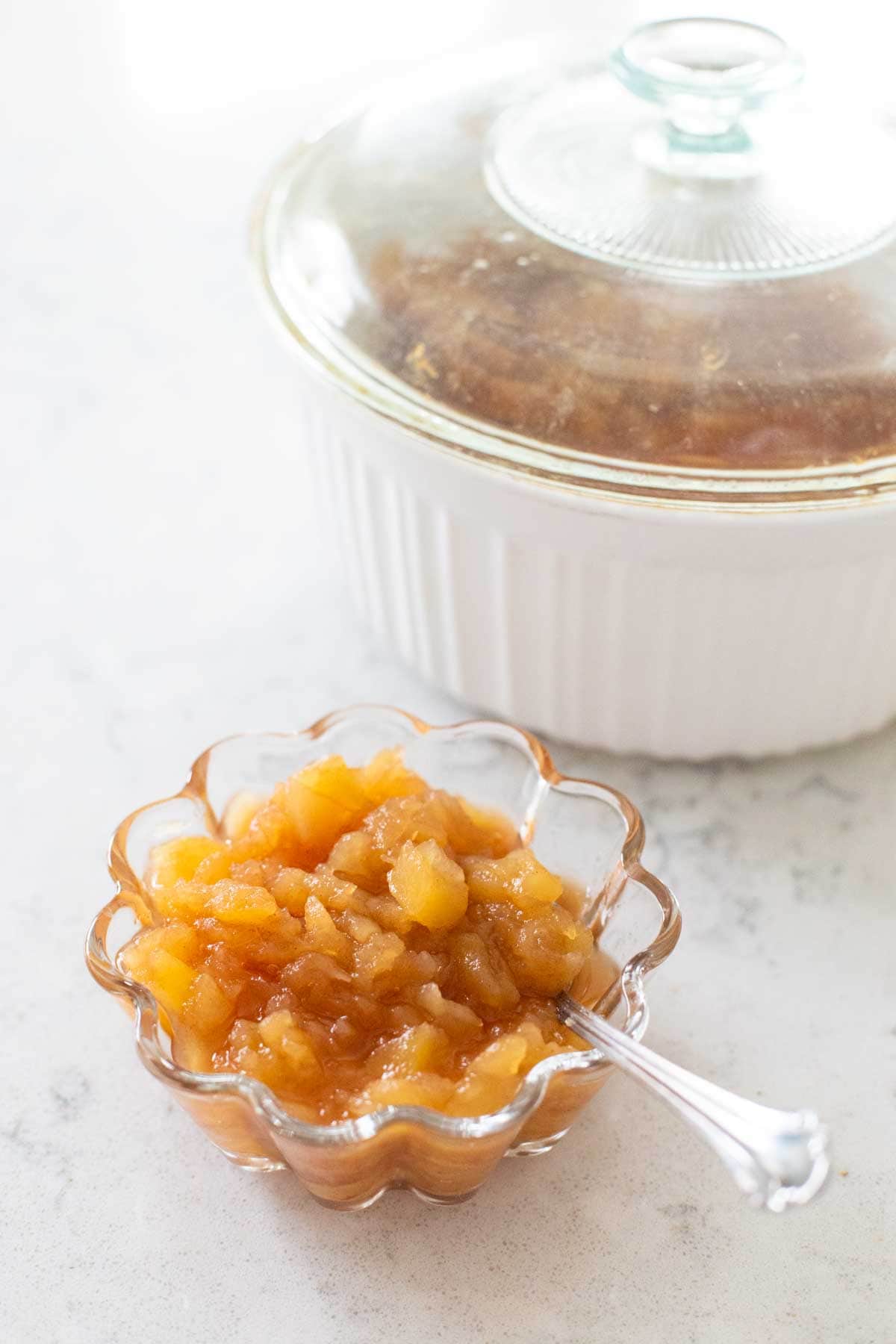 How to Freeze Applesauce
You can also make ahead applesauce for serving later and freeze it. Simply store it in an airtight container as long as you leave some space for the applesauce to expand as it freezes.
Thaw in the fridge overnight or heat it up in the microwave.
Variations
As much as I love the simple cinnamon flavor, you could also swap things around a bit and have an entirely new recipe:
Add your favorite pie spice blend
Add a pinch of nutmeg or ginger
Add a little orange zest to brighten it up
Stir in dried cranberries before microwaving, they'll soften up as the apples cook
Serving Suggestions
How to Serve Applesauce for Dessert:
1. Make a batch of applesauce and freeze it and then whip it into a yummy slushie with a touch of yogurt.
2. When it's still slightly warm, it's absolutely divine over vanilla ice cream.
3. Spoon it over a pound cake with whipped cream.
Serve it as a Side Dish:
Homemade applesauce this fast and easy is the perfect side dish for several cozy fall dinners, especially roast chicken and pork.
📖 Recipe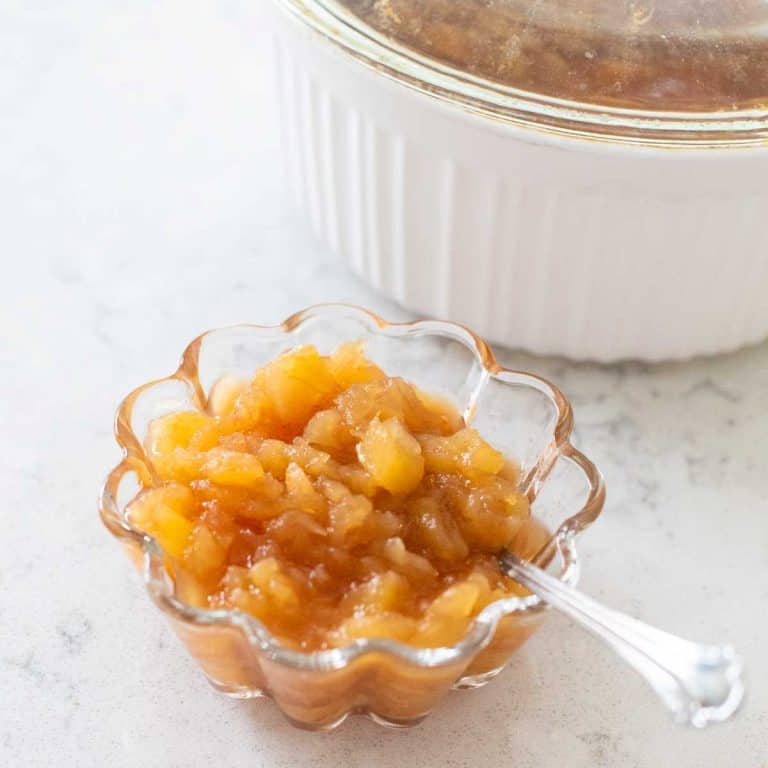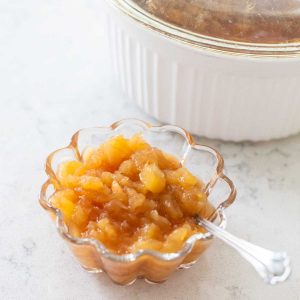 Microwave Applesauce
This easy applesauce is made right in the microwave in just minutes. Mix in your favorite apple pie seasonings or simply use the brown sugar and cinnamon combination.
Ingredients
6 - 8

medium apples

peeled, cored, and cut up into chunks (Use a mix of sweet and tart apples for best flavor.)

¼

cup

water or apple cider

½

tablespoon

lemon juice

⅓

cup

sugar

¼

cup

brown sugar

1

teaspoon

cinnamon
Instructions
In 1 ½ quart glass casserole, combine all the ingredients.

Microwave on high for 4 to 6 minutes, or until apples are tender. Add a little more water as needed. Mash the apples with a fork to see how soft they are. Microwave up to another 4 - 5 minutes so they mash easily.

Since some apples are juicier than others, use your personal preference about how smooth you want the applesauce.

For a chunky applesauce, mash apples with a fork or potato masher. For a smoother texture, put cooled mixture through a blender or food processor.
Recipe Notes
Freezing Instructions
This applesauce can be frozen as long as you leave space for it to expand in the container. Thaw in the fridge overnight and heat back up in the microwave before serving or enjoy chilled.
Save This Recipe to Your Recipe Box
Find this delicious recipe next time you visit by saving it to your very own recipe box on my site. All your favorites stored in one easy place!