Roast this tender pork in applesauce by browning it on the stove top and then finishing it in the oven with a sweet and savory applesauce sauce. Serve with mashed potatoes or your favorite roasted vegetables.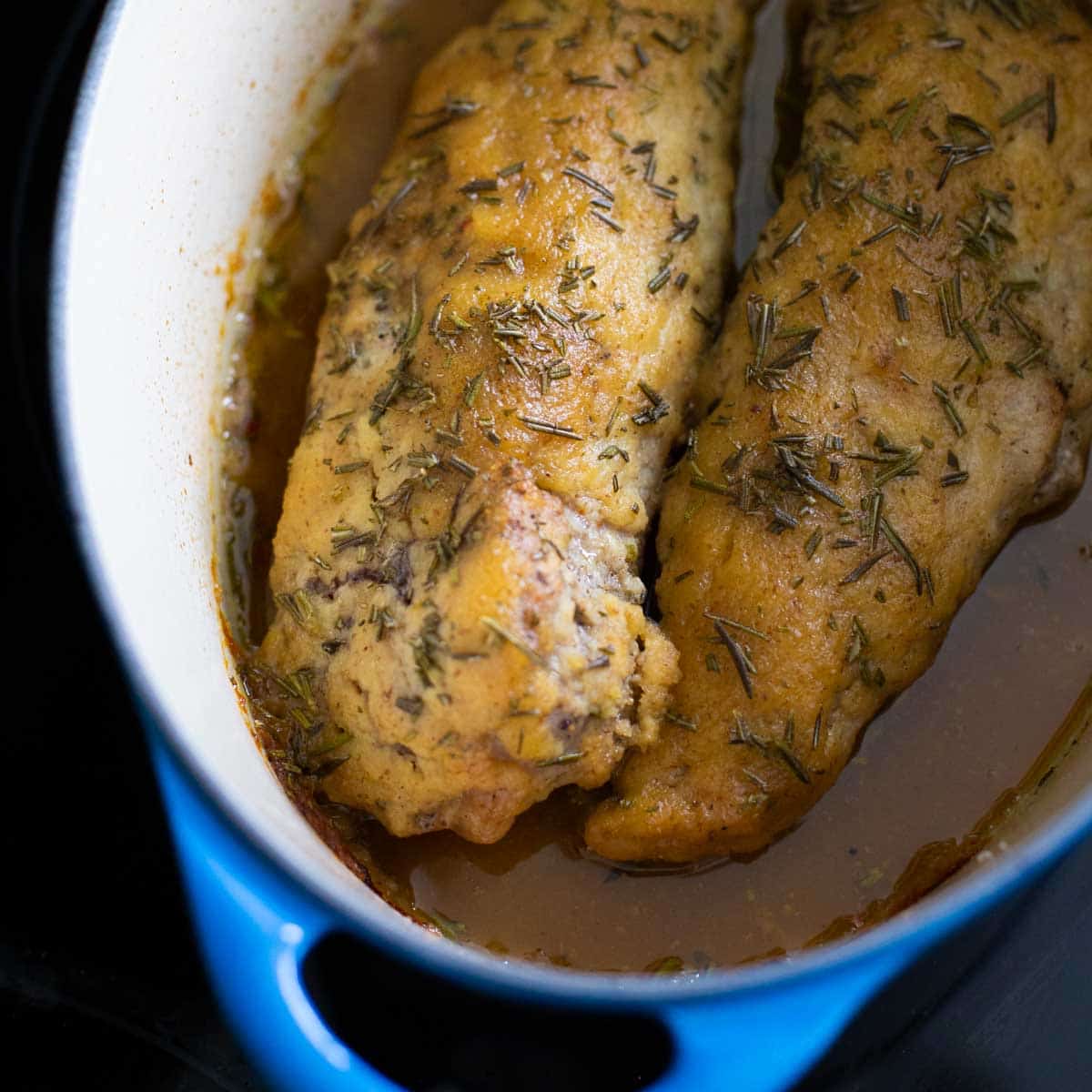 We cook pork tenderloin all year long but I especially love how it pairs with my favorite fall flavors like apples and mustard.
This tender recipe for roasted pork in applesauce goes from stovetop to oven and gives your pork a beautiful browned outer coating but tender center.
The sweet and savory applesauce gravy is seasoned with Dijon mustard and rosemary and is perfect for spooning over slices of pork and drizzling over a scoop of prepared mashed potatoes.
You can pop the pork tenderloin into the oven in just minutes for an easy weeknight dinner or a lazy weekend meal with your family.
Jump to:
Ingredients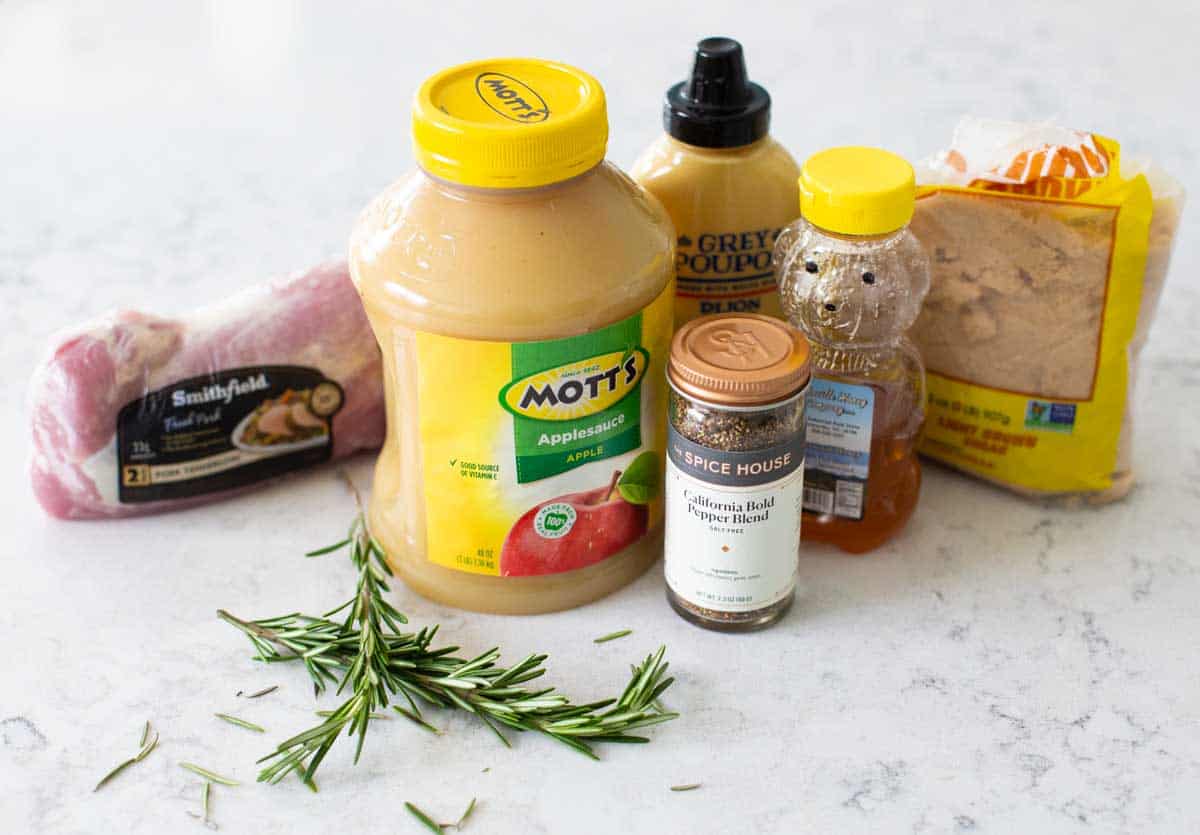 I usually have everything needed to make this easy recipe right in my fridge or pantry.
Our grocery store often does buy one, get one free sales on the pork tenderloin packages, so there's usually one hanging out in my freezer.
All you need to make it is:
Pork Tenderloins: Buy the plain, unseasoned, unmarinated pork tenderloins that are packaged in bundles of two loins.
Applesauce: The recipe calls for unsweetened but be sure to check out my notes below.
Brown Sugar
Dijon Mustard
Honey
Rosemary: You can use dried rosemary from your spice rack or fresh rosemary if you have it.
What Kind of Applesauce to Use
This recipe calls for unsweetened applesauce. However, there are a few easy variations you could also try.
If you have a large bag of apples, you could make my 5-minute microwave applesauce instead of buying store bought prepared applesauce.
Bonus: This chunkier style of applesauce also makes an amazing side dish with the pork.
You could also use sweetened cinnamon applesauce from the store, the cinnamon will pair well with the mustard and rosemary.
If you use either of these options, simply omit the brown sugar from the pork recipe so that it isn't too sweet.
Prepare the Sauce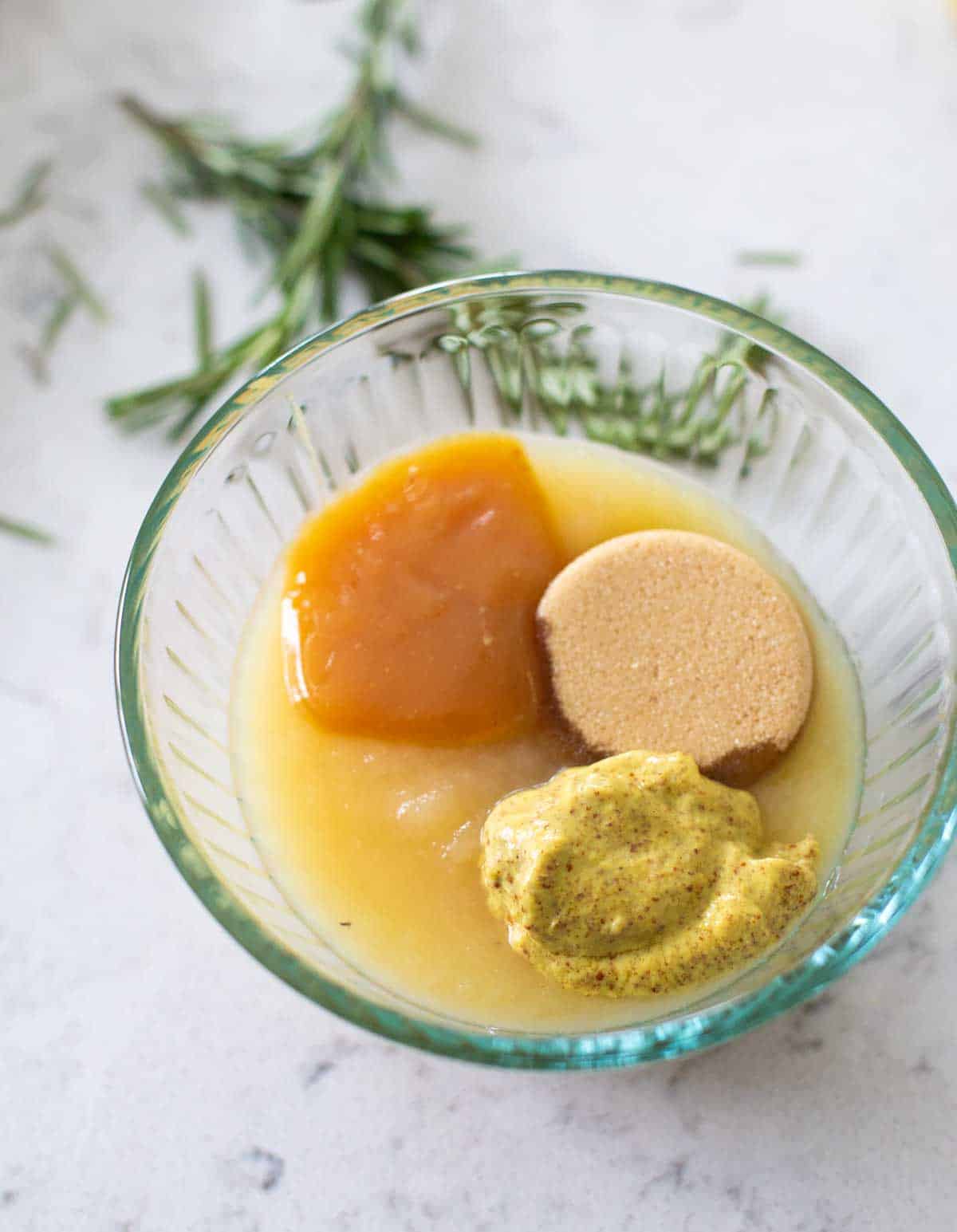 Simply measure and stir together the applesauce, mustard, brown sugar, honey, and rosemary in a small bowl.
Remember: If you're using sweetened applesauce, skip the brown sugar.
If you don't have Dijon mustard, you could use a spicy brown mustard, whole grain mustard, or German style mustard, too.
If you happen to have Mike's Hot Honey in your pantry, the spicy honey is a fantastic addition to this dish.
Which Pan to Use
You will brown the pork tenderloins on the stove top and then transfer them to the oven to roast.
To keep your kitchen tidy with fewer dishes to wash, I recommend choosing a skillet or pan that is safe for both stove top and oven.
I love using my enameled cast-iron Le Creuset pans for this exact purpose. I also have a large All-Clad skillet that works well for this, too.
If you don't have anything safe for both stovetop and oven, you'll just need to transfer the pork into a roasting pan before roasting it.
Brown the Pork Tenderloins
Season the pork with a little salt and pepper.
Add the olive oil to the skillet over medium-high heat. Let it warm up for a minute or two.
When the oil is shimmering, add the seasoned pork tenderloins and brown them on all sides, about 2 - 3 minutes per side.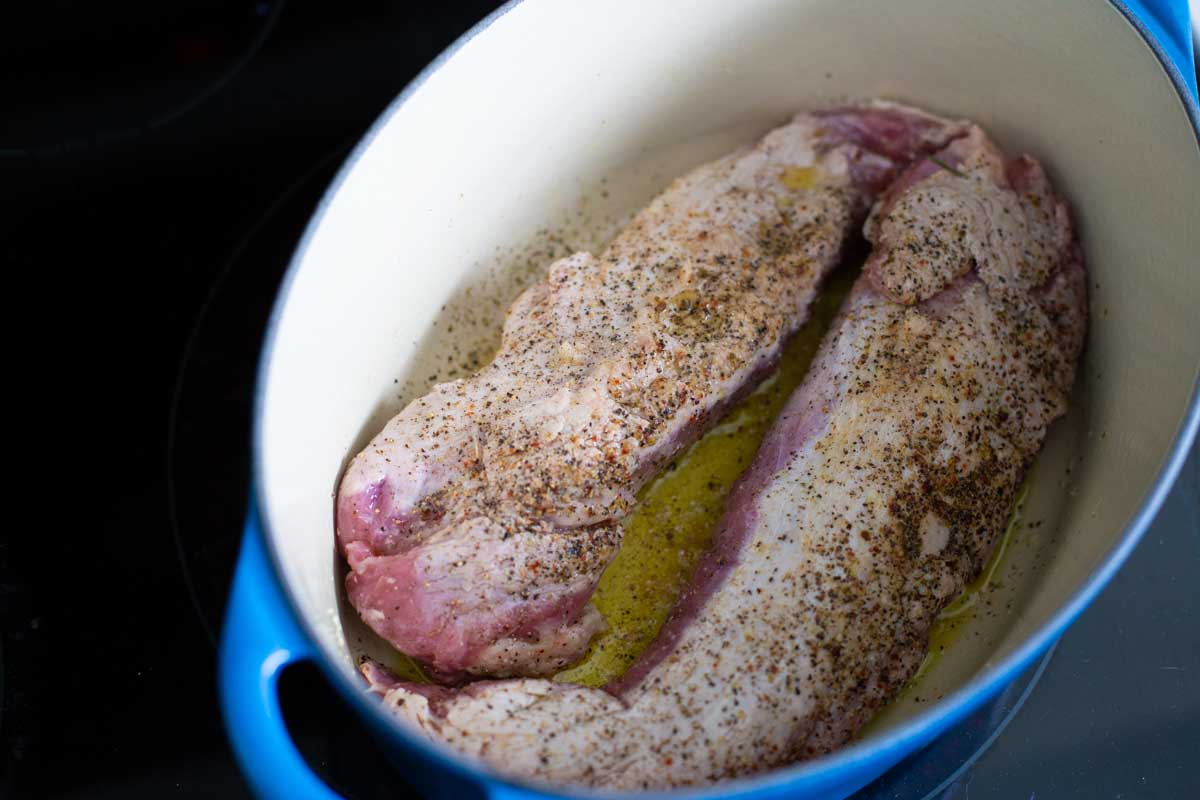 Roast the Pork
Meanwhile, preheat the oven to 350°F.
When the pork is browned, scrape the prepared applesauce sauce over the top of the pork.
Place the pan in the oven and roast the pork tenderloins for 30 - 40 minutes or until they read 160°F on a probe thermometer.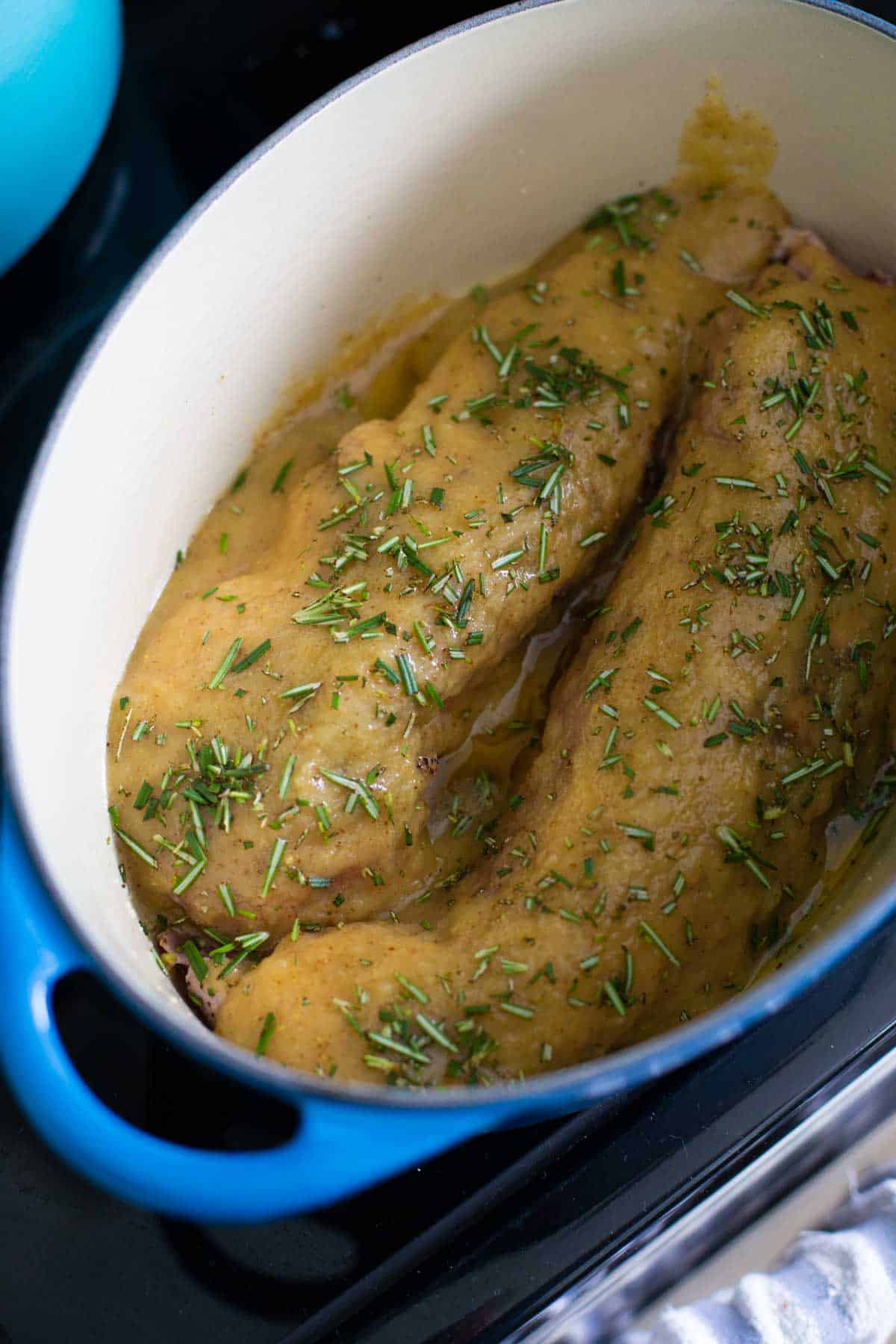 As the pork cooks in the applesauce, the applesauce and juices from the meat will combine for a thin pan gravy that is the perfect blend of sweet and savory.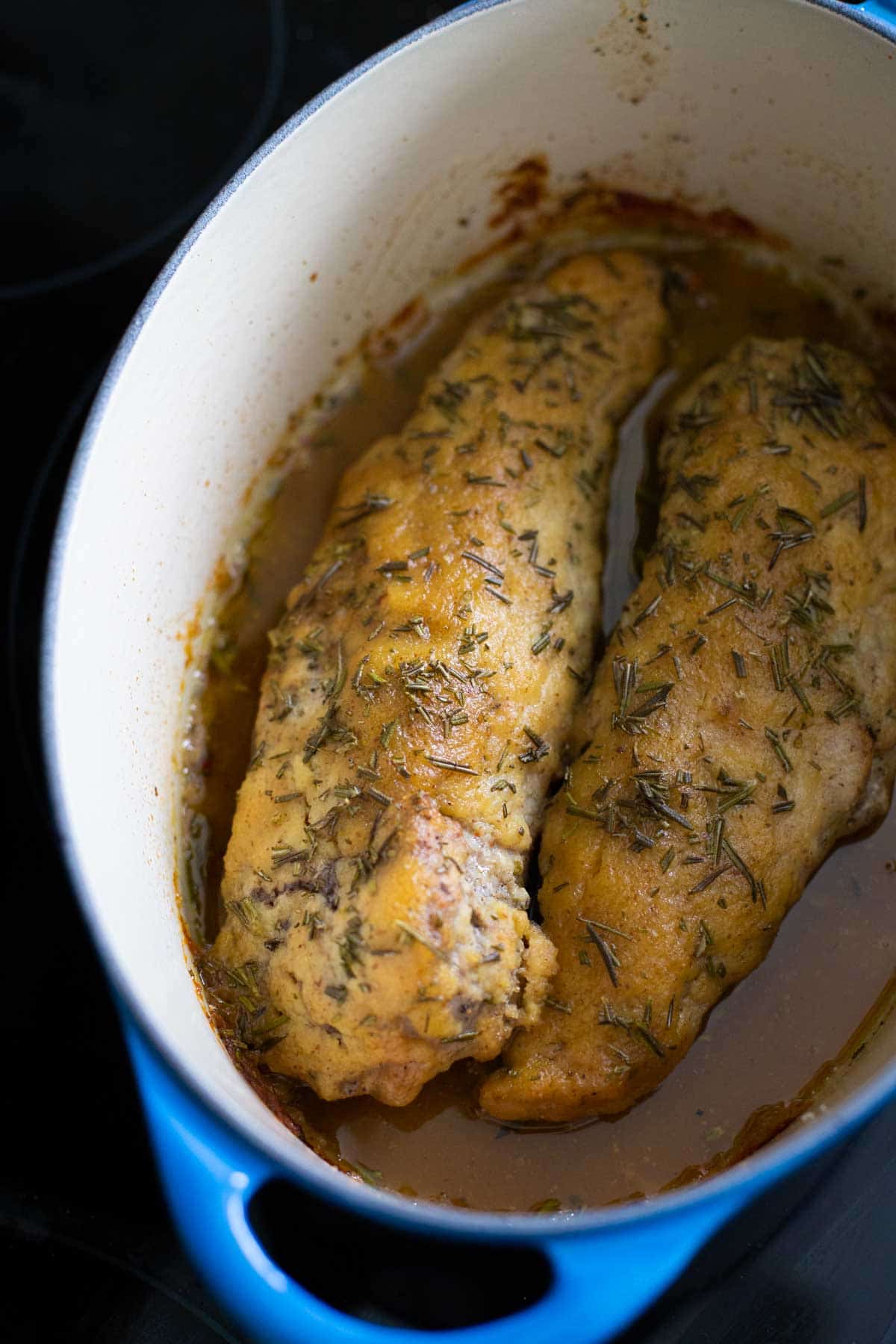 How to Thicken the Gravy
OPTIONAL: The applesauce gravy is quite thin as the recipe is written, I love how it is easy to drizzle over roasted carrots or mashed potatoes. However, if you prefer a thicker gravy, it is very easy to do:
Remove the pork from the pan and tent it with aluminum foil to keep warm and thicken the pan gravy.
Simply place the pan over medium-high heat on the stove top and whisk in a tablespoon or so of flour or 1 - 2 teaspoons of cornstarch whisked into 2 tablespoons cold water.
Cook the gravy for 5 minutes or until thickened as desired.
Serving Suggestions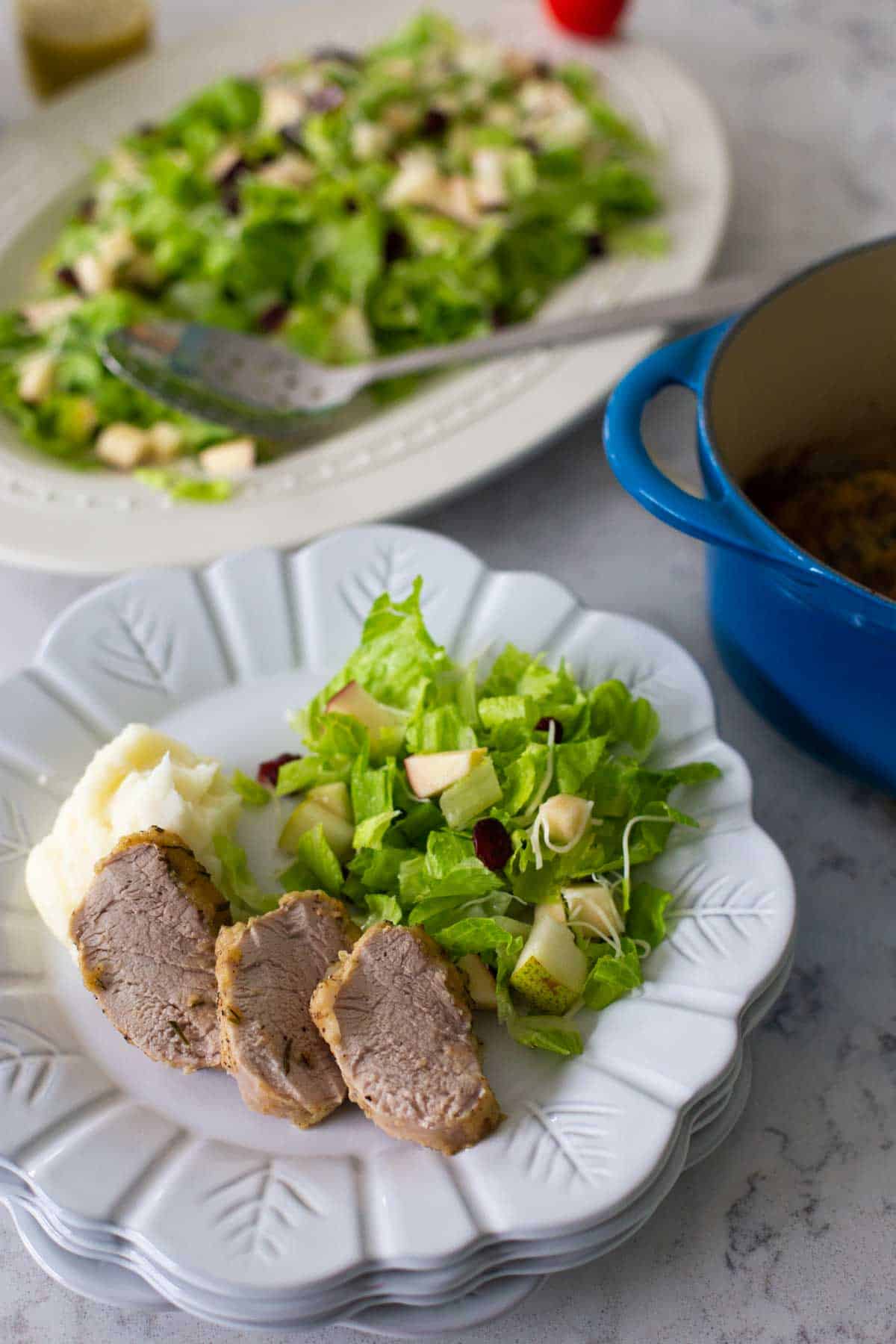 To keep things extra easy for a busy weeknight, I love to keep a package of refrigerated, prepared mashed potatoes on hand in my fridge.
Simply heat them up in the microwave and serve with the pork in applesauce.
📖 Recipe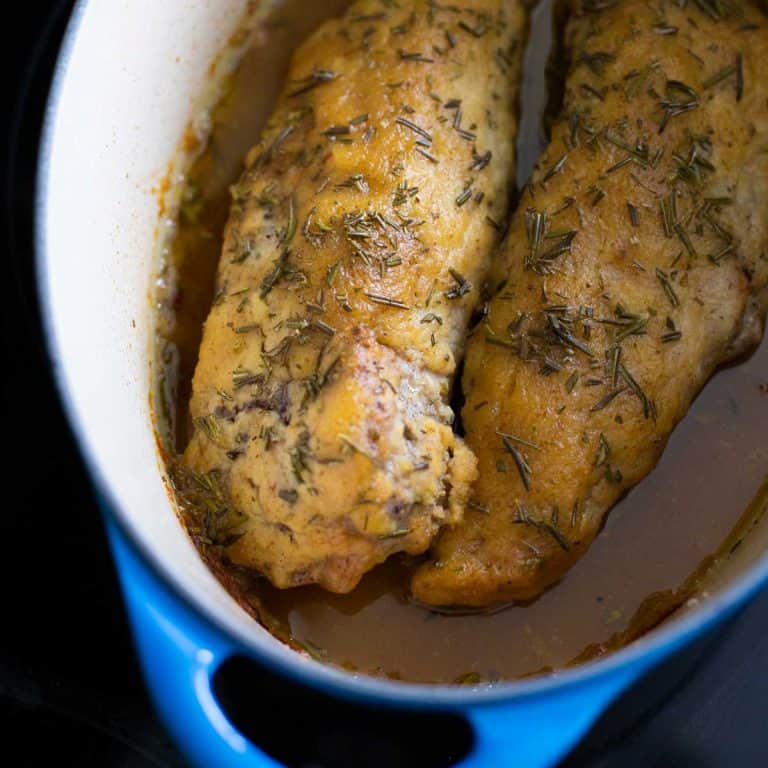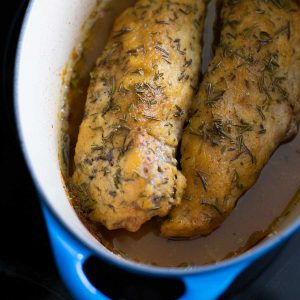 Roasted Pork in Applesauce
This sweet and savory pork tenderloin is browned on the stove top but finished in the oven. It is wonderful served with mashed potatoes or your favorite fall side dishes.
Ingredients
1

package of 2 unseasoned pork tenderloins

Sprinkle of kosher salt and pepper

2

tablespoons

olive oil

1

cup

unsweetened applesauce

2

tablespoons

brown sugar

3

tablespoons

Dijon mustard

2

tablespoons

honey

2

tablespoons

dried rosemary or 2 sprigs fresh rosemary
Instructions
Preheat the oven to 350°F. Season the pork with salt and pepper.

In a large skillet over medium-high heat, add the olive oil. When the oil shimmers, add the pork tenderloins and brown them on all sides. Transfer the pork to a roasting pan.
(NOTE: An enameled cast-iron roasting pan or dutch oven like Le Creuset or Staub would let you do everything in one dish.)

Stir together the applesauce, brown sugar, mustard, honey, and rosemary. Pour the mixture evenly over the pork tenderloins in the pan.

Bake for 30 - 40 minutes or until the pork registers 160°F with a probe thermometer.
Save This Recipe to Your Recipe Box
Find this delicious recipe next time you visit by saving it to your very own recipe box on my site. All your favorites stored in one easy place!