Roasted sausages and potatoes with apples are a fall comfort food classic. Serve it with spicy mustard for dipping and watch as your family raves over it.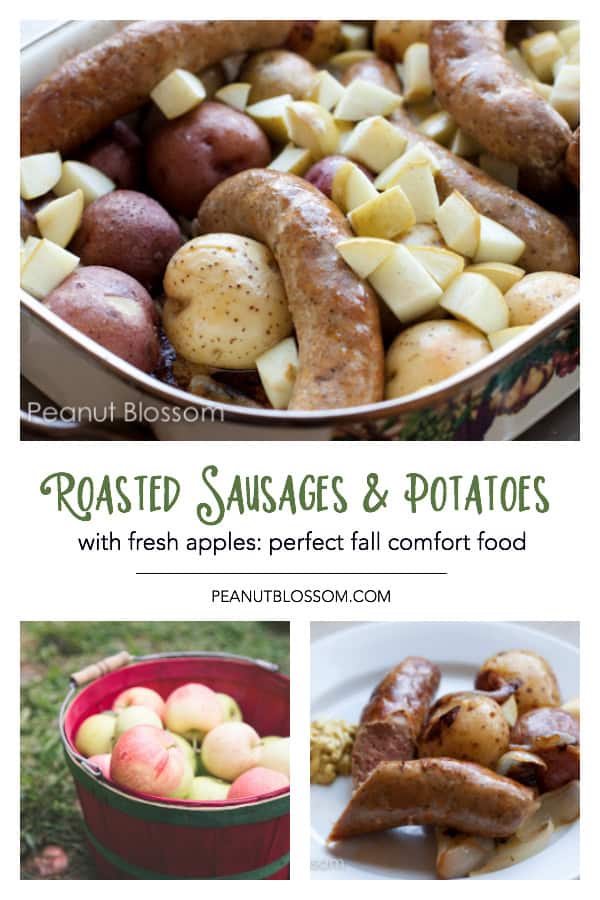 This has to be the easiest dinner known to man. I had a fridge full of just-picked apples from the orchard and I was on the hunt for something other than a dessert to put them into when I stumbled upon this idea. My new favorite cookbook right now is "Dinner: A Love Story" and I plan to review it more in-depth soon.
Basically, you chop an onion and some apples and toss everything into your baking dish and bake. That's it.
How long does it take to chop an onion? 30 seconds maybe?? Then 40 minutes into baking you add the chopped apple. So there is a whole additional minute of prep time you better be prepared for. I won't blame you if you need a glass of wine while you're doing it.
This is autumn on a plate. It is homey and warm and delicious. The flavors of the sweet apple, savory sausage, tender potatoes, and caramelized onions complemented by spicy mustard are insane. The Peanut devoured her portion and begged for more. There's no higher praise than that in my book.
Easy roasted sausages and potatoes with apples: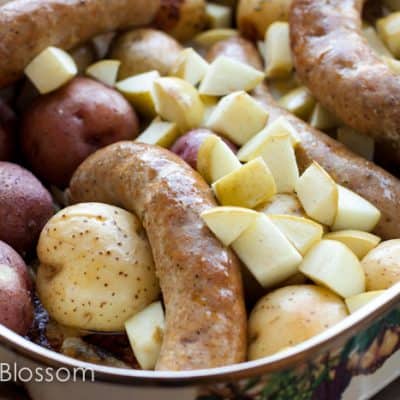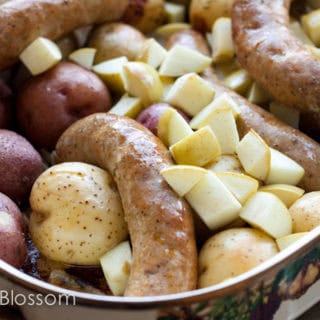 Roasted Sausages, Potatoes & Apples
This fall comfort food classic is a hit with kids and parents alike. The easiest weeknight dinner with some fresh apples and spicy sausages from the market.
Ingredients
6 sweet Italian sausages (If you're wild, go with the spicy. We're not.)
3 pounds small red potatoes, washed but not peeled or chopped
2 medium onions, large chopped
1 tsp dried thyme
2 green apples, chopped but not peeled
Olive oil, salt, pepper
Spicy mustard for serving (Optional, but not according to my 5-year-old!)
Instructions
Set your oven to 425. Toss the chopped onions and whole potatoes with olive oil, salt, and pepper. You won't need much, just a tablespoon or so. They should be mostly coated but not drenched. I do this directly in a large baking pan to save a dish. Sprinkle with thyme, salt & pepper. Lay the sausages directly on the top of the bed of potatoes and place them in the oven for 40 minutes.
Toss the chopped apples with just a smidge more of olive oil, salt, and pepper, and set aside.
When the buzzer beeps, turn the sausages over to brown on their other side and sprinkle the apples around them. Be sure to give the potatoes and onions a gentle toss to prevent burning on the bottoms. Bake for 10 more minutes.
Serve with spicy mustard as a dip.