Roasted sausages and potatoes with apples are a fall comfort food classic. You can prep the whole recipe in less than 5 minutes. Serve it with spicy mustard for dipping and watch as your family raves over it.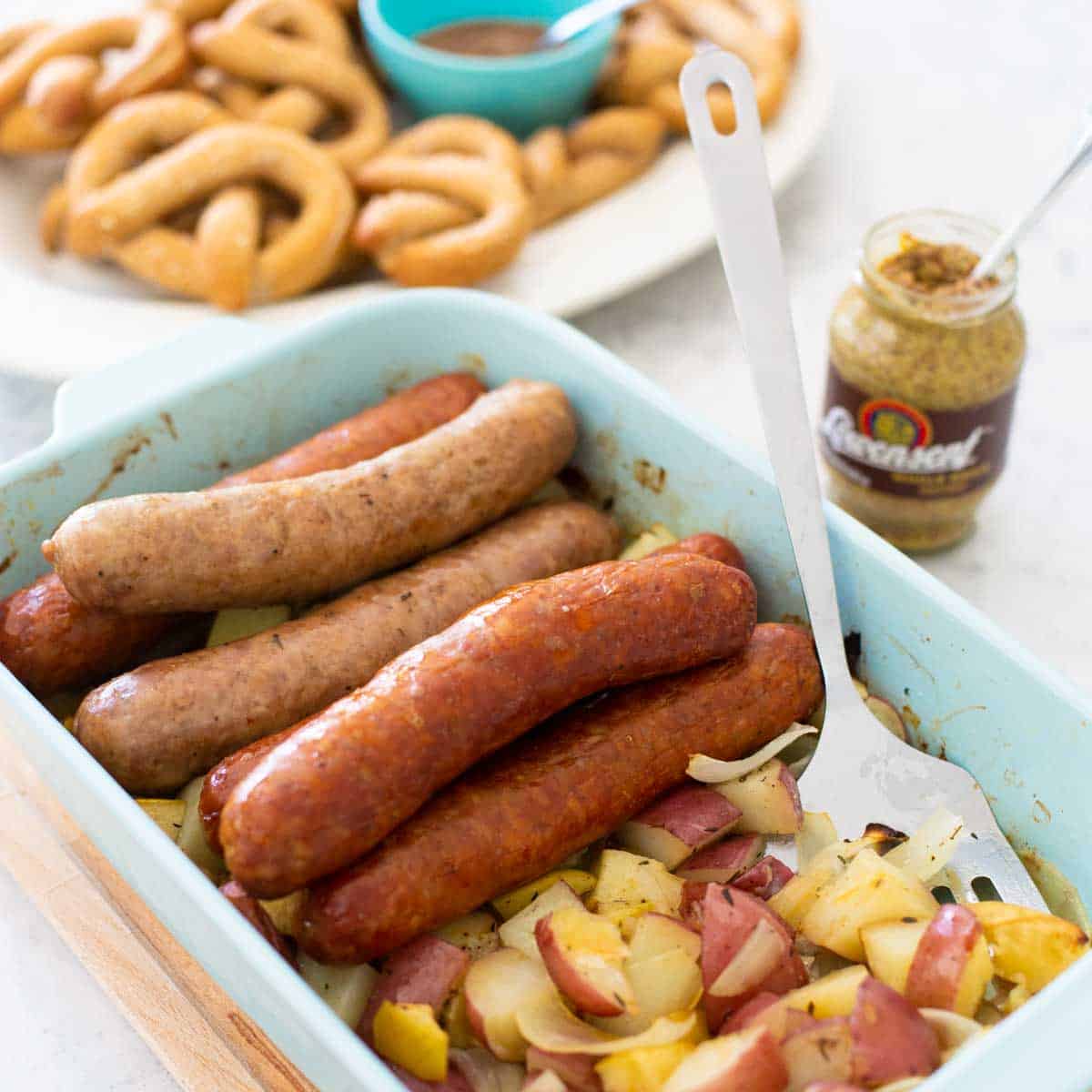 This has to be the easiest fall dinner known to man. Especially when you've got fresh apples from the orchard to use up!
If you can chop an onion, a few potatoes, and some apples, you've already conquered the hardest part. No peeling required!
And the whole dish takes just 5 minutes to assemble.
This meal is simply autumn on a plate. It is homey and warm and delicious.
We just love the flavors of the sweet apple, savory sausage, tender potatoes, and caramelized onions complemented by spicy mustard.
My whole family devours this and begs for more. There's no higher praise than that in my book.
If you want to use it as an excuse to have a relaxing evening, I don't blame you. But if you had a little time to give, it pairs wonderfully with our favorite homemade baked pretzels and 2-minute raspberry mustard.
Jump to:
Why This is the Best Recipe
There are a few family dinner recipes that have become essential traditions for us. I think this is the best roasted sausages and potatoes recipe because:
Perfect for Fall: I make it when we have fresh apples after a trip to the apple orchard. I love the sweet fruit with spicy sausages.
Easy to Bake: Pop everything into a baking dish together and it all bakes at once.
Kid-Friendly: My kids absolutely love this recipe. We put a few spicy sausages in for us, a few mild or sweet sausages in for them. Everyone is happy!
Ingredients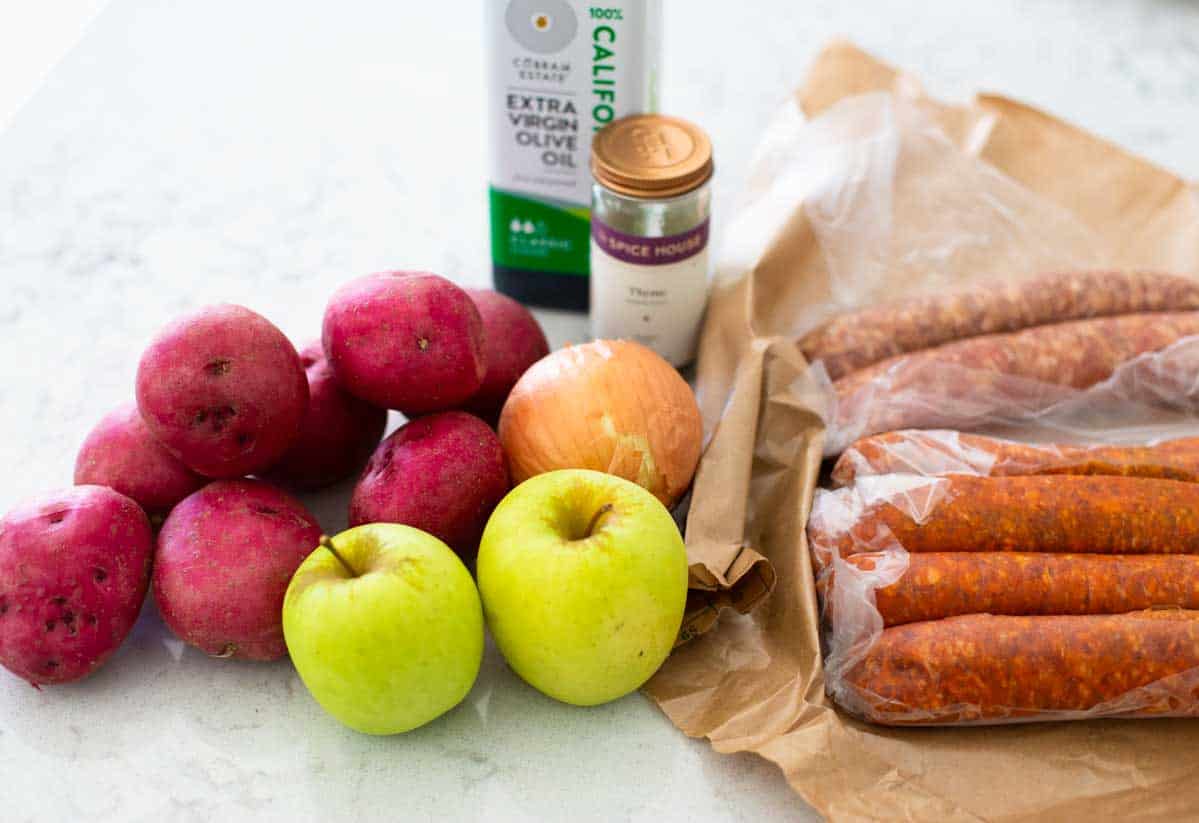 The best flavors of fall are in this dish:
Sweet or spicy sausages: I always do a mix because my husband and I love the hot ones while the kids prefer mild.
Green apples (like Granny Smith)
Red potatoes
Onion
Dried Thyme
Olive Oil
Salt & Pepper
Prep the Sausages and Potatoes
Preheat the oven to 425°F.
Set out a large baking dish. I used a 9 x 13-inch baking pan but if you have something even wider, that would allow the vegetables to brown and crisp up a little more.
Wash and dry the potatoes and apples.
Chop the apple in large 1.5-inch chunks. No need to peel the fruit first. Sprinkle it into the baking dish.
Chop the onion into large wedges and add to the dish.
Chop the potatoes into the same size chunks as the apples and add to the dish.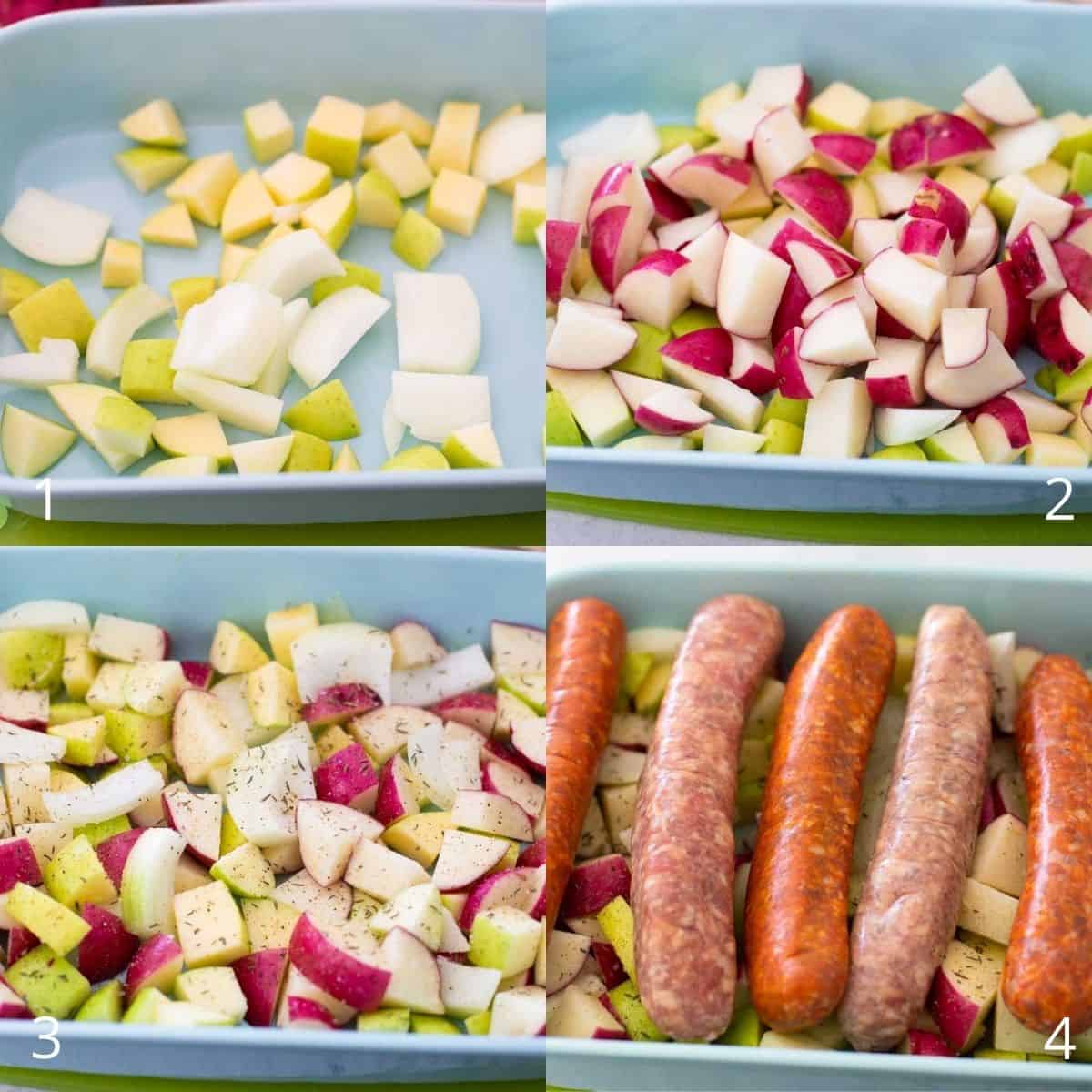 Drizzle olive oil over the veggies and fruit. Sprinkle with thyme, salt, and pepper. Use your hands to toss it all together and spread evenly in the dish.
Lay the sausages in an even layer over the top of the veggies..
Bake for 20 minutes and then gently toss the veggies under the sausages and turn the sausages so they brown on both sides.
Bake for another 20 minutes, toss and turn everything.
Bake for another 10 - 15 minutes or until the sausages are golden brown and the veggies are roasted and tender when you prick them with a fork.
Serve hot with spicy mustard.
Storage Tips
The veggies will not reheat very well and are best enjoyed the day the dish is made.
However, sausages will definitely reheat well and will keep in your fridge for several days if stored in an airtight container.
You can also freeze leftover cooked sausages you don't plan to use right away. I like to slice them before freezing for tossing into simple soups or casseroles later.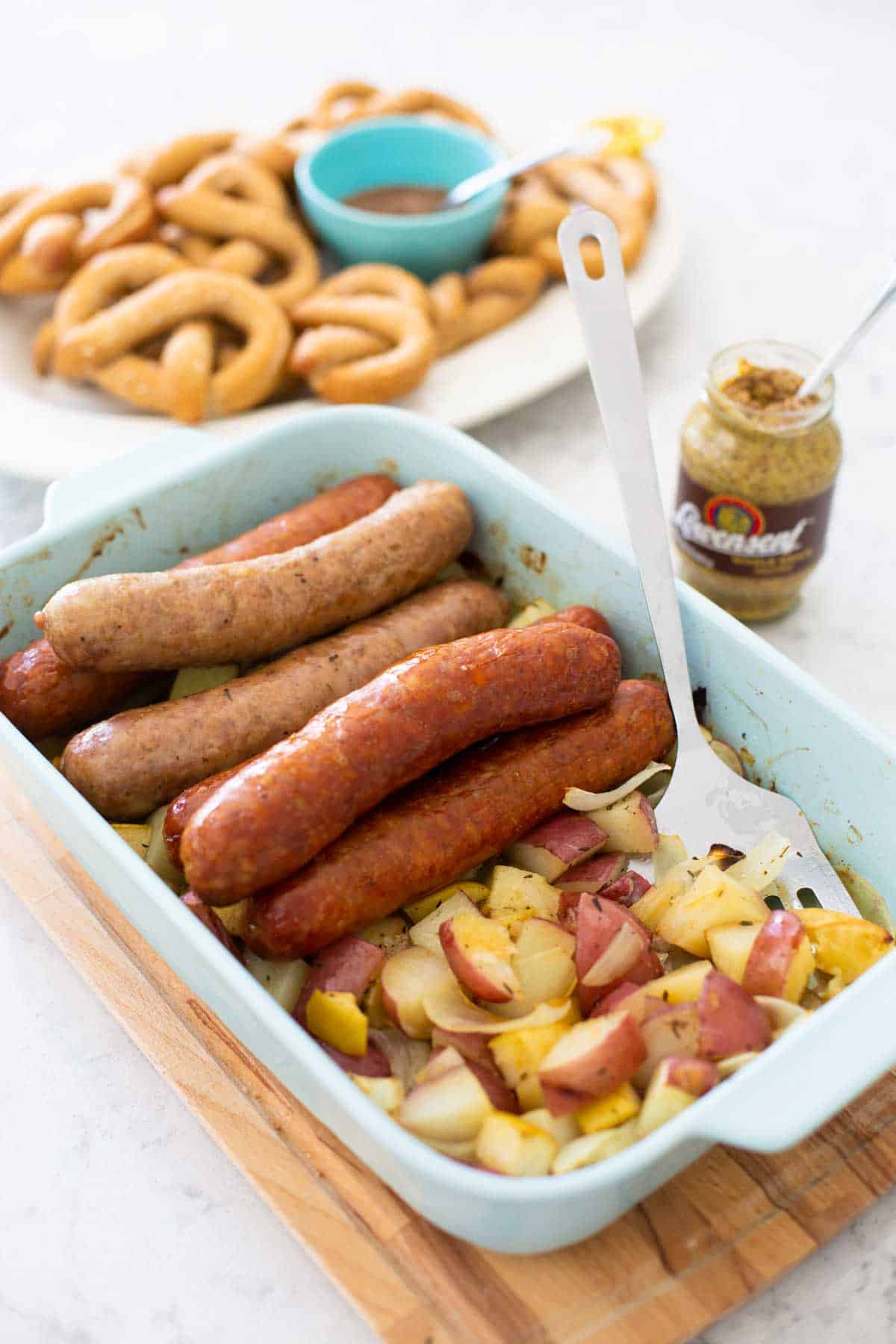 Serving Suggestions
I grew up in a very German area and this roasted sausage dish reminds me of home.
It would make an amazing fall feast menu if you pair it with some of these favorite recipes:
Oktoberfest Dinner Party
If you love these roasted sausages, why not use them as the center of an easy Oktoberfest dinner party for your family?
Get all our best German recipes here:
📖 Recipe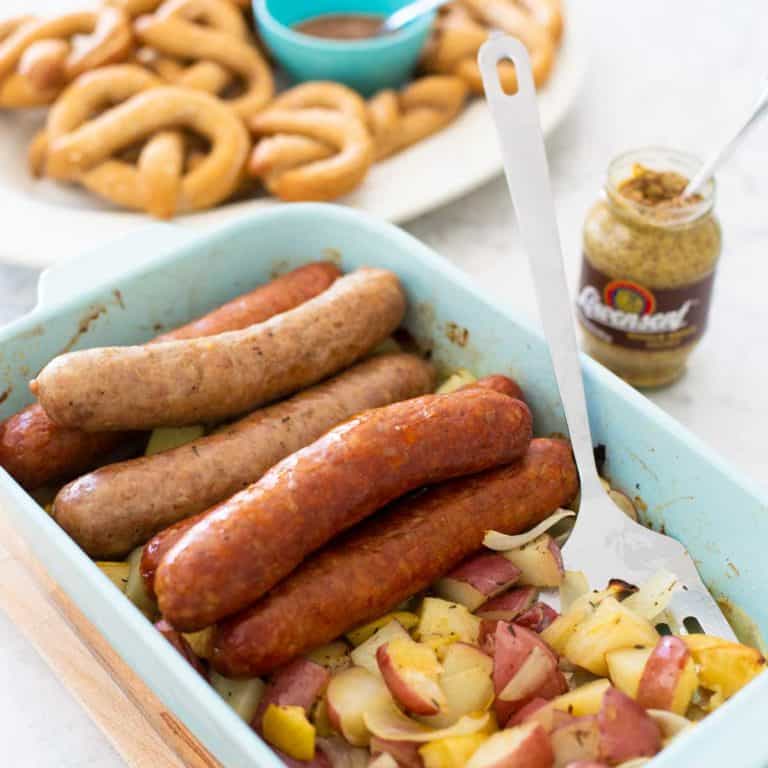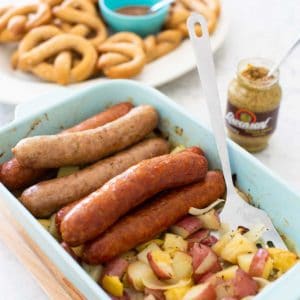 Roasted Sausages, Potatoes & Apples
This fall comfort food classic is a hit with kids and parents alike. The easiest weeknight dinner with some fresh apples and spicy sausages from the market.    
Ingredients
6

sweet Italian sausages

could also use hot sausages or a mix

3

pounds

small red potatoes

washed but not peeled or chopped

2

medium onions

large chopped

1

teaspoon

dried thyme

2

green apples

chopped but not peeled

Olive oil

salt, pepper

Spicy mustard for serving

Optional, but not according to my 5-year-old!
Instructions
Preheat the oven to 425°F.

Toss the chopped onions and whole potatoes with olive oil, salt, and pepper. You won't need much, just a tablespoon or so.  They should be mostly coated but not drenched. I do this directly in a large baking pan to save a dish.

Sprinkle with thyme, salt & pepper. Lay the sausages directly on the top of the bed of potatoes and place them in the oven for 40 minutes.

Toss the chopped apples with just a smidge more of olive oil, salt, and pepper, and set aside.

When the buzzer beeps, turn the sausages over to brown on their other side and sprinkle the apples around them. Be sure to give the potatoes and onions a gentle toss to prevent burning on the bottoms. Bake for 10 more minutes.

Serve with spicy mustard as a dip.
Save This Recipe to Your Recipe Box
Find this delicious recipe next time you visit by saving it to your very own recipe box on my site. All your favorites stored in one easy place!