German red cabbage is a savory side dish that pairs well with German sauerbraten and other beef or pork recipes. A tangy vinegar sauce with a touch of mustard and caraway seeds make this a wonderful side to serve with rich main dishes.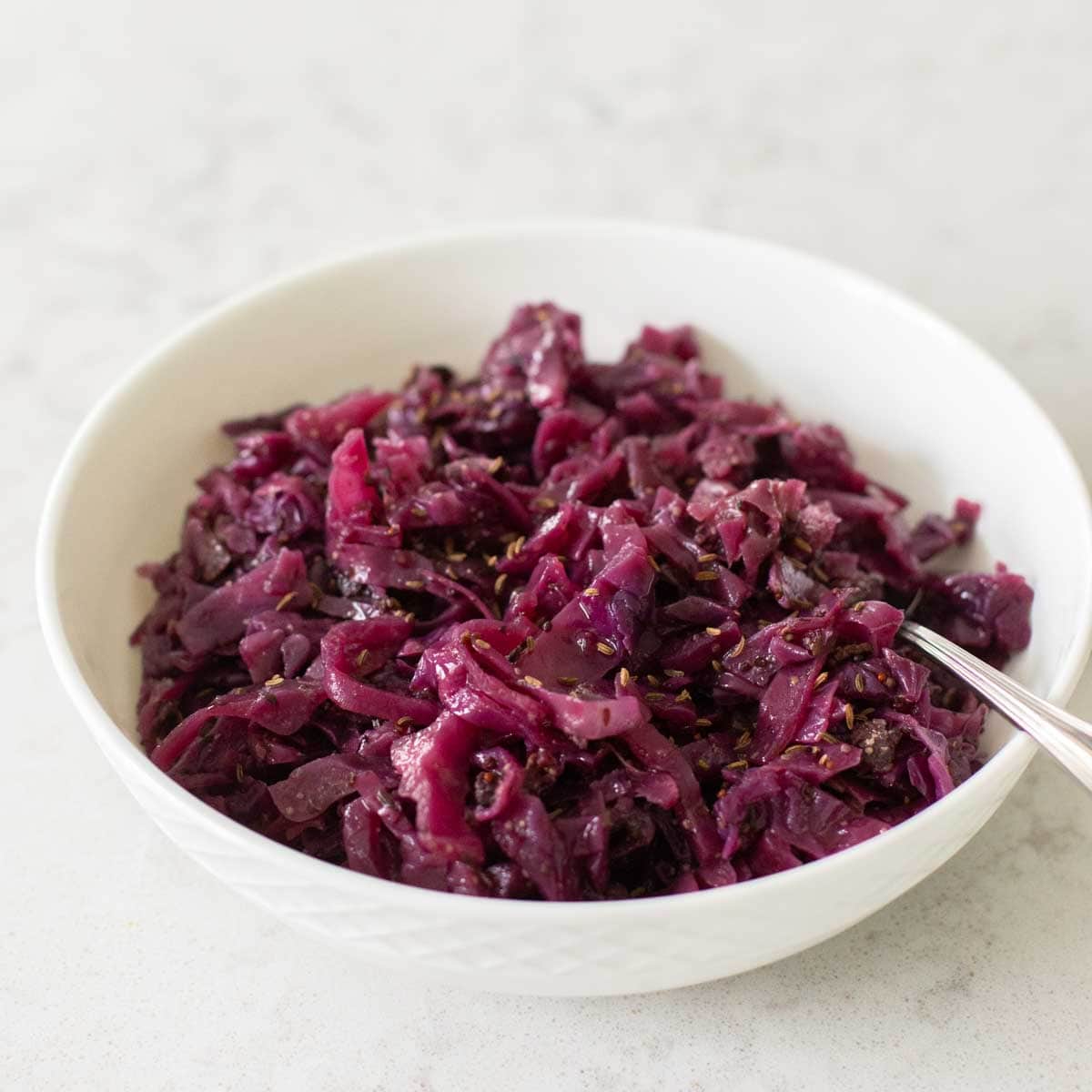 Growing up in a strong German community, I frequently spotted German red cabbage served as a side dish at many traditional dinners.
As a kid, you couldn't pay me to try it. As a grown up, I now fully appreciate how delicious this tangy German side dish is when served with a rich and savory main like sauerbraten or pork schnitzel with a side of homemade spaetzle.
For a recent Oktoberfest dinner, I made traditional German sauerbraten and this delicious German red cabbage for my family to try.
I was pleased to discover just how easy the recipe is and it is sure to appear on our menu again, especially during the holiday season with the bright and festive color it adds to the table.
Jump to:
What is German Red Cabbage?
German red cabbage is a traditional German side dish that is often served with rich saucy meat main dishes like sauerbraten or pork schnitzel with gravy.
The red cabbage is cooked with browned bacon bits and an apple cider vinegar-based sauce that has a touch of mustard and caraway seeds for crunch.
The acid from the vinegar helps to cut through the rich traditional German gravies and sauces.
Why This is the Best Recipe
This recipe is the best because you can make it ahead of time, up to 24 hours in advance of your dinner, saving you time and dishes during your meal.
I planned a full Oktoberfest menu for my mom and the rest of my family because we have missed the traditional German recipes we enjoyed in our hometown now that we moved south.
My mom, who grew up loving red cabbage, declared this recipe just like the ones she remembered as a kid.
Ingredients
This is a fairly simple side dish, especially if you make it the day before!
All you need to make German red cabbage is:
Whole Fresh Red Cabbage: Also called "purple cabbage", find a nice firm head.
Bacon
Onion
Whole Grain Mustard
Brown Sugar
Caraway Seeds
Apple Cider Vinegar
Chicken Stock
Bay Leaf
Shred the Cabbage
If you've never shredded a fresh head of cabbage before, it is really quite easy with a large chef's knife.
I actually shared a closer look at how to shred cabbage in my fried cabbage post here.
Basically, you cut the cabbage in half, remove the core with a v-shaped cut and then slice the half into wedges.
Then, thinly slice the wedges into strips like this: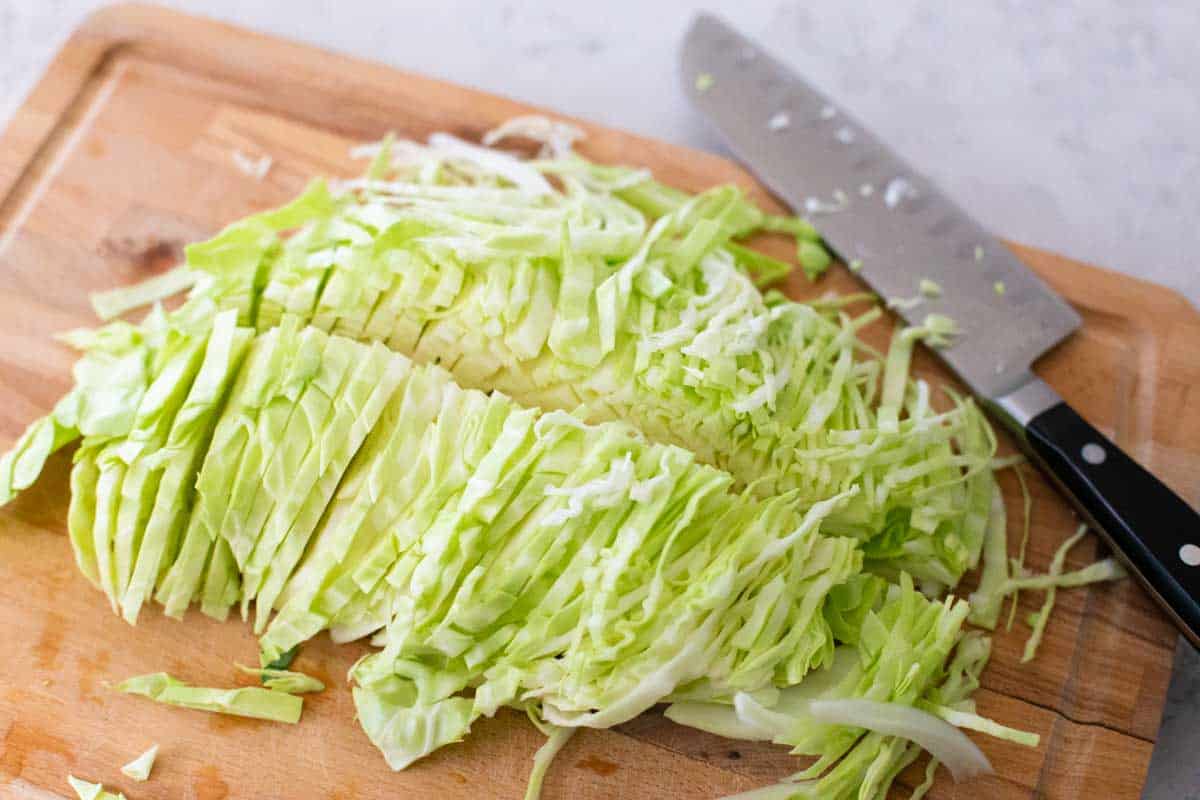 How to Cook the Red Cabbage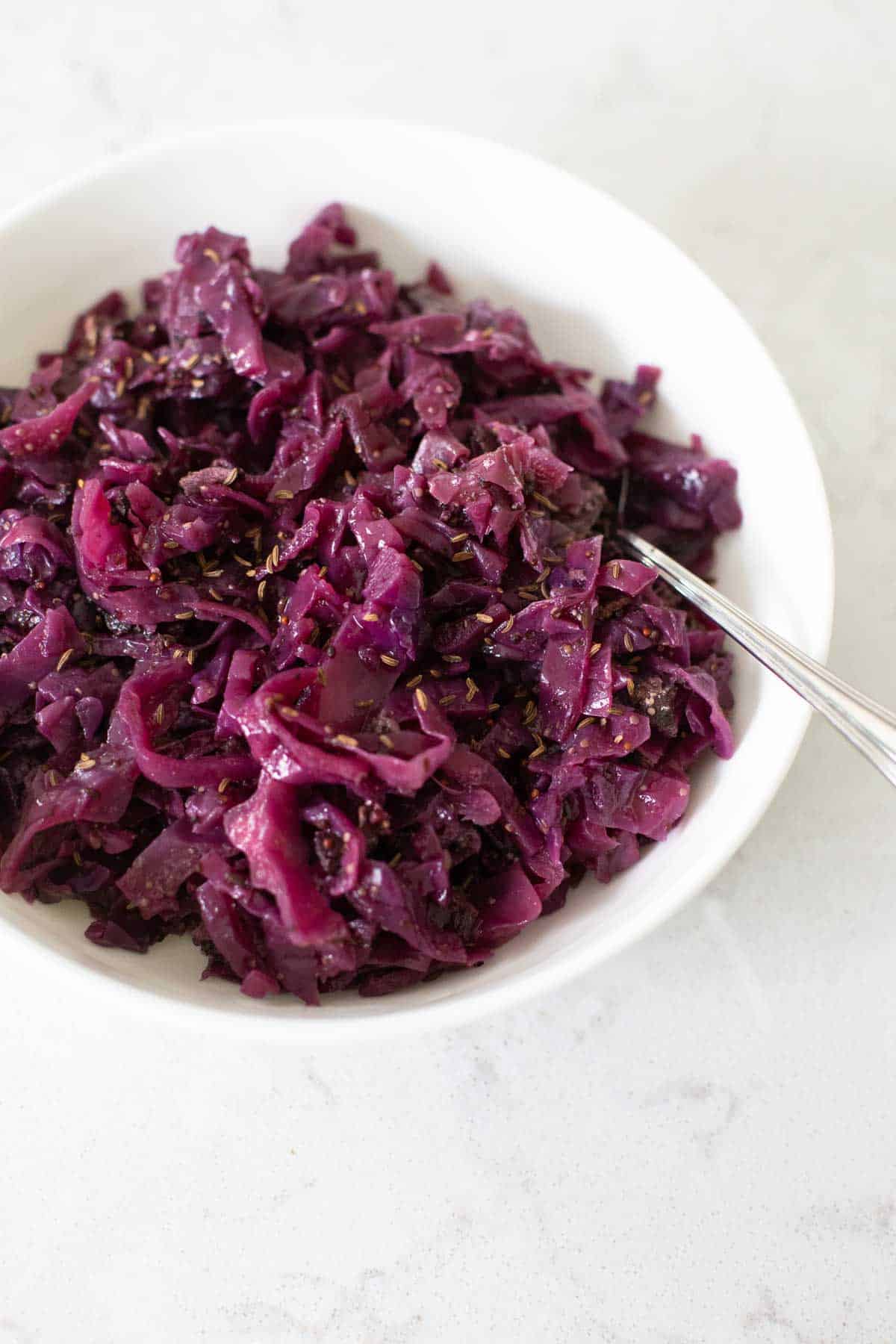 In a large pot, add the chopped bacon and cook until the fat is rendered in the pan and the bacon is browned and crispy.
Add the chopped onion to the pan and cook until softened.
Add the shredded purple cabbage to the pan and cook until it has wilted down by half. Stir it once in a while to combine it with all the yummy bacon drippings.
Add the apple cider vinegar, mustard, sugar, and caraway seeds to the pot and stir to combine.
Scrape up the browned bits from the bottom of the pan with the back of your spoon.
Add the chicken stock and bay leaf and bring it to a gentle bubble.
Reduce the heat to low and cover the pot with a lid. Cook for 40 minutes or until very tender.
You'll want to stir the pot once in a while to check how the cabbage is cooking and adjust the liquid levels as needed.
Make Ahead Tips
If you want to prepare this easy side dish ahead of time, you could make the red cabbage up to 24 hours in advance.
Store the red cabbage in an airtight container in the fridge.
To reheat the cabbage, simply microwave it until heated through, at least 2 - 3 minutes.
You could also reheat it in a saucepan on the stove top.
Do not try to freeze the cabbage, the high water content will break down the vegetable in the freezing and thawing process.
Serving Suggestions
My favorite pairing for this dish is with my easy German sauerbraten that you can make in the slowcooker or in your oven.
It would also be a delicious side dish anywhere you might enjoy cabbage! Pair it with pork chops, a pork tenderloin, or even a traditional pulled pork dinner.
Oktoberfest Party Food
If you love traditional German recipes and want a whole menu for using this German red cabbage, why not host a fun and easy Oktoberfest dinner party for your family?
📖 Recipe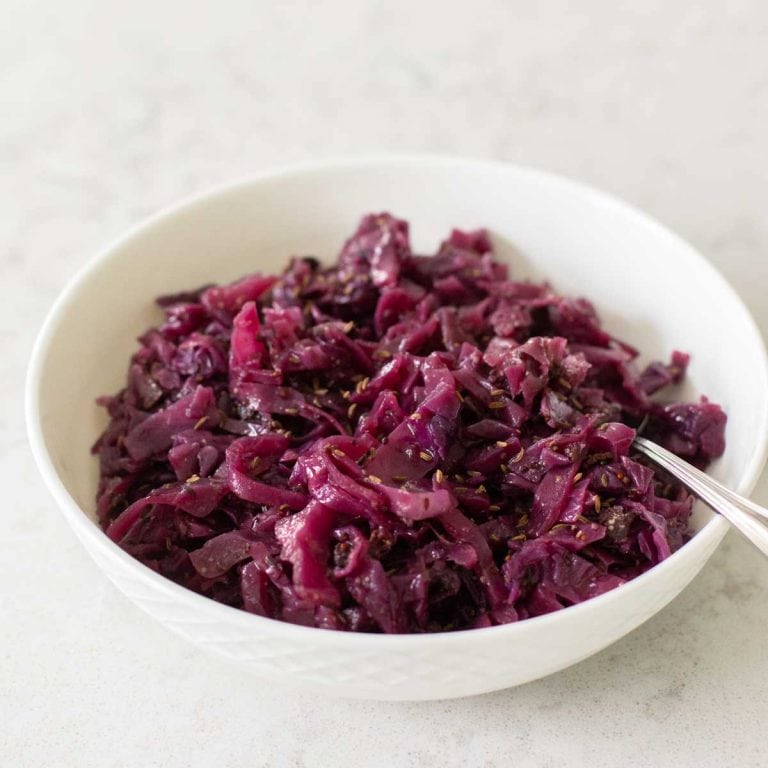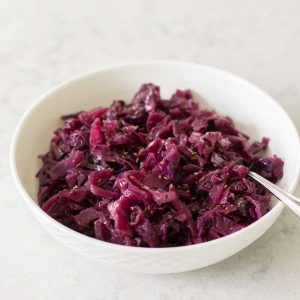 German Red Cabbage
Traditional German red cabbage is cooked with red wine vinegar, a touch of mustard, and a sprinkle of caraway seeds. This warm side dish pairs wonderfully with many pork or beef recipes, especially German sauerbraten.
Ingredients
1

medium head red cabbage

8

slices

bacon

1

onion

Sprinkle of salt and pepper

3

tablespoons

whole grain mustard

2

tablespoons

brown sugar

1

tablespoon

caraway seeds

⅓

cup

apple cider vinegar

1

cup

chicken broth

1

bay leaf
Instructions
Prepare the cabbage:
Cut the head of cabbage in half, running the knife through the stem to cut it lengthwise. Remove the white core of the cabbage by cutting a V-shape around it and discard.

Cut the halves into 3 long wedges and then thinly shred the wedges. Gather the shredded cabbage in a large mixing bowl and set aside.

See blog post above for step by step photos if you need clarification.
Cook the Red Cabbage:
Chop the bacon into small ¼-inch pieces. Add them to a large pot or dutch oven over medium-high heat. Cook until the fat has rendered and the bacon is brown and crispy.

While the bacon cooks, peel the onion and cut it into half. Thinly slice the onion into half-moon shapes. Add the sliced onion to the crispy bacon and stir to combine. Cook until softened through, about 3 - 4 minutes. Sprinkle a pinch of salt and pepper over the onion mixture and stir to combine.

Add the prepared cabbage to the pot and stir it into the bacon drippings. Continue to cook and gently stir until the cabbage has reduced in volume by about half.

Add the mustard, brown sugar, and caraway seeds to the cabbage and stir to combine.

Add the cider vinegar to the pot and stir to combine. Use the liquid to deglaze the pan if needed. Scrape up all the browned bits with the cooking spoon and stir them into the cabbage.

Add the chicken broth and stir to combine. Place the bay leaf on top of the cabbage. Bring the liquid to a gentle bubble and then reduce the heat to medium low. Cover the pot with a lid, keeping it vented just a little on one side.

Cook the red cabbage for 40 minutes or until very softened and tender. Stir it every 5 minutes or so and check the liquid levels. If the stock evaporates too much, you can add a tablespoon or two more to keep it from getting too dry.

Serve the red cabbage warm or store in an airtight container in the fridge for up to 24 hours. You can serve it the next day cold as a refreshing side or you can reheat it in a saucepan on the stovetop or by simply microwaving it until heated through.
Save This Recipe to Your Recipe Box
Find this delicious recipe next time you visit by saving it to your very own recipe box on my site. All your favorites stored in one easy place!