The best panfried pork chops that don't suck are flavorful and juicy, not the chewy dried out hockey pucks you might assume when you hear "pork chops." If you've struggled with overcooked pork, this recipe will teach you the best way to cook pork chops for your family.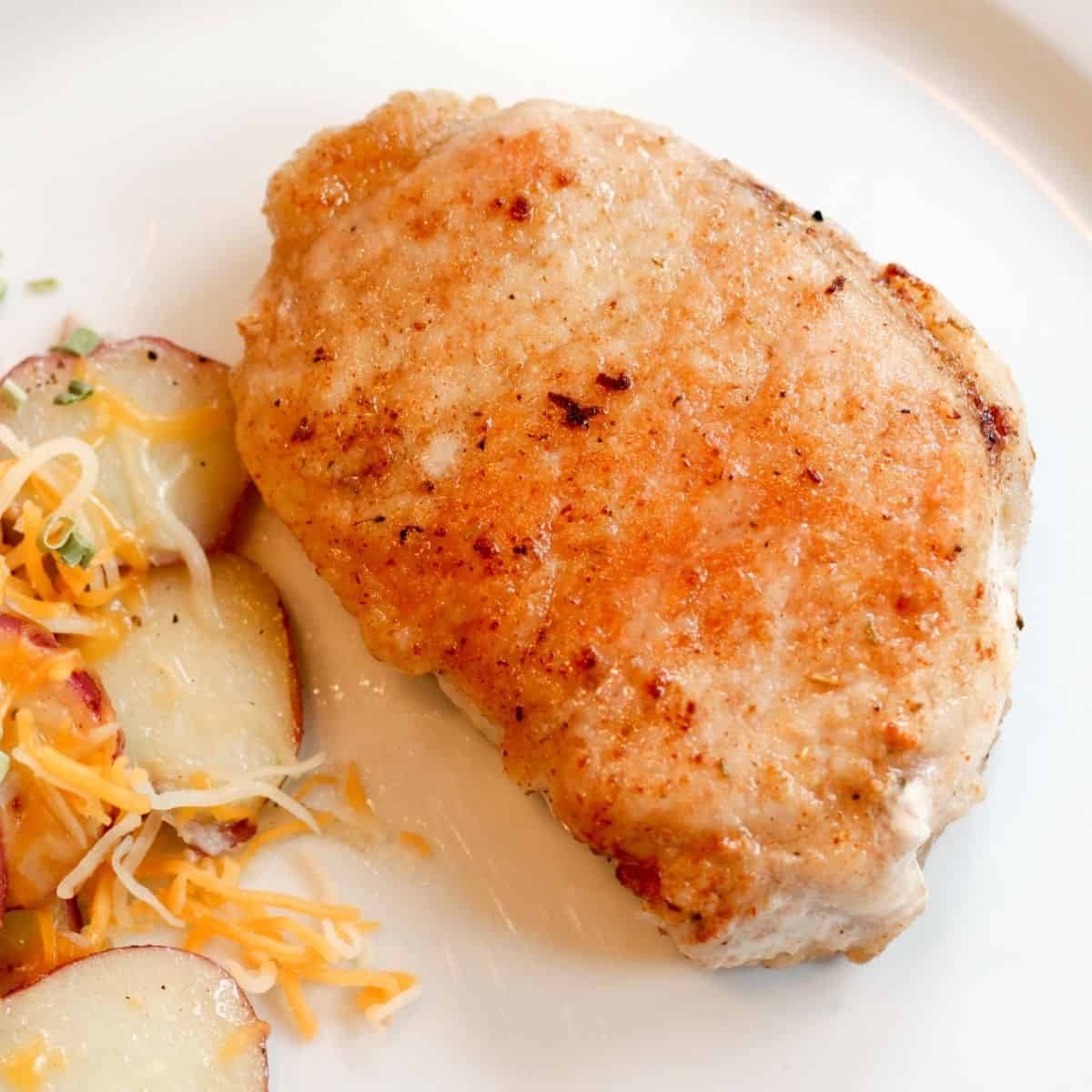 It's no secret that Handyman Tim is a meat and potatoes kind of guy. That's not generally how I cook (I'm more of a casserole, one-pot dish kind of girl) but every now and then I toss him a bone. The other day I asked what his request was for dinner and he responded ever so eloquently:
"Can you make those pork chops that don't suck?"
Um, excuse me?
Yes, that is a direct quote.
Sadly, I knew exactly what he was talking about. The reason I'm a casserole girl is that I have a knack of completely over cooking or under cooking simple meat. For fear of poisoning us all, I tend to lean towards over cooking and the meat arrives to the table like dried out hockey pucks.
A few weeks ago, I took it upon myself to learn how to do pork chops properly. Not only were they done right, they were apparently done well enough to warrant a repeat request. So if you're meat-cooking handicapped like me, here is the world's most basic method for cooking pork chops. . . that don't suck.
📖 Recipe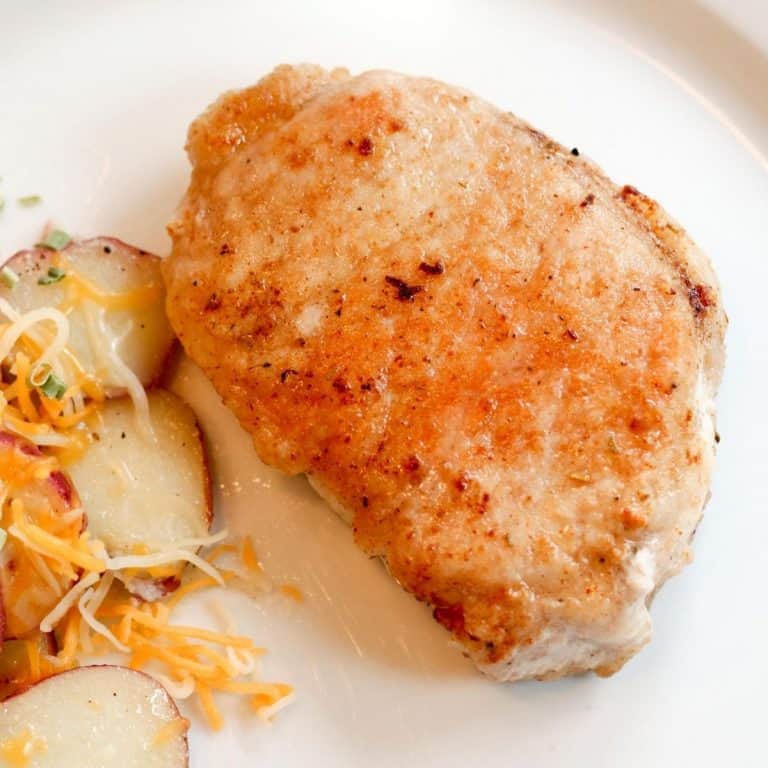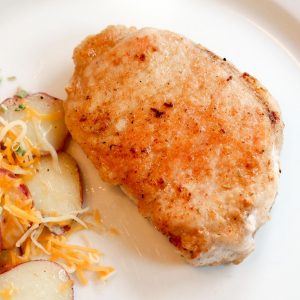 Panfried Pork Chops That Don't Suck
These panfried pork chops are perfect for people who have struggled to like pork. Flavorful and juicy, they absolutely do not suck.
Ingredients
2

whole center-cut thick cut, pork chops

½

cup

all-purpose flour

1

tablespoon

cornstarch

2

teaspoon

kosher salt

2

teaspoon

black pepper

½

teaspoon

garlic powder

½

teaspoon

paprika

¼

teaspoon

cayenne pepper

¼

cup

vegetable oil

2

tablespoon

butter
Instructions
Pat the pork chops dry and generously coat them with a sprinkle of kosher salt and pepper.

Combine the flour, cornstarch, kosher salt, pepper, garlic powder, paprika, and cayenne pepper in a shallow dish.

Heat oil over medium-high heat in a large skillet until hot. Add butter and let melt completely (this will help with browning the chops.)

Dredge the pork chops, individually, into the seasoned flour mixture to entirely coat the meat. Shake off the excess flour over the dish. Add the chops to the hot pan, being careful not to overcrowd or the chops will steam rather than brown.

Cook 4 - 5 minutes per side or until nicely golden brown. Test the pork chop by poking with a fork to make sure the juices run clear. Be careful not to overcook the pork chops or they'll be dry and chewy. The internal temp should read 160°F.

Drain the pork chops on a plate lined with paper towels and then serve immediately.
Save This Recipe to Your Recipe Box
Find this delicious recipe next time you visit by saving it to your very own recipe box on my site. All your favorites stored in one easy place!