Need easy apple recipes for using up that mountain of fresh apples from the pick-your-own orchard? Don't miss these fantastic apple recipes for breakfast, lunch, and dinner!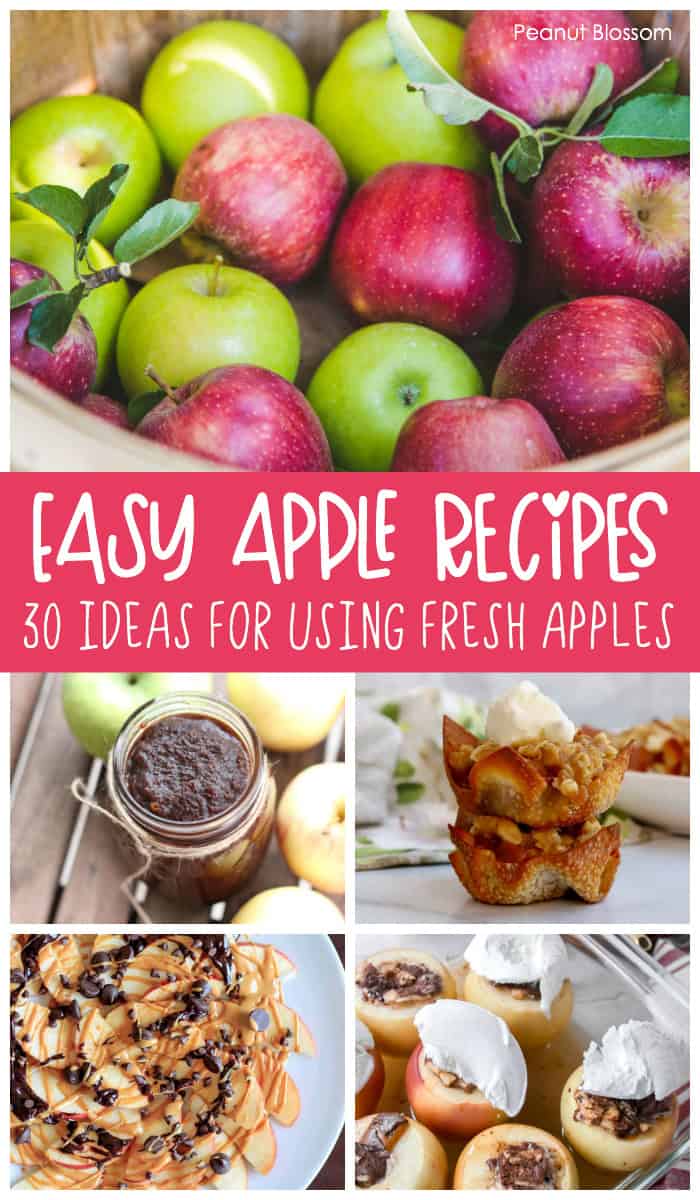 It is one of our family's favorite traditions to go to the pick-your-own apples orchard each fall. Our favorite apple orchard happens to be on a gorgeous mountain top in North Carolina. I take dozens of pictures of the kids and the pretty trees and we come home with bags overflowing with delicious fresh apples.
We could eat the apples straight-up as a healthy snack or we can use them as the perfect excuse for trying new apple recipes. I'm pretty sure you can guess which way it goes in our house! ha.
We have a few select favorite recipes that the apples disappear into each fall, but it's always fun to try something new.
RELATED: Our favorite place to go apple picking in North Carolina
30 easy apple recipes for fall apples

Kid-friendly apple desserts:
Life is short, eat dessert first! When I think about our favorite apple recipes, most of them are simple fresh desserts I love to bake with the kids. Though we use our apples for dozens of different things for all the meals, I had to start with the sweets this time:
Easy freezer-friendly apple crisp: Make one giant apple crisp or two smaller ones so you can have one now and one later!
Apple cake with browned butter frosting: Perfect cake for using a huge batch of apples, the frosting is to-die for!
Apple crumble bars: A fun apple bar recipe to bake with your kids.
Caramel apple pizza: Let the kids mix & match their favorite toppings.
2-minute caramel apple cheesecake: Last-minute? No problem, this simple dessert is ridiculously easy.
Salted caramel apple pie: This apple pie features a plaintain crust! So yummy and unique.
Apple streusel wonton cups: You had me at wontons. Serve with a little vanilla ice cream.
Candy bar stuffed baked apples: Perfect for using up some Halloween candy!
Apple nachos: Make this awesome platter for movie night, so fun.
The Best Apple Pie: This filling is to die for.

Cooking apples for dinnertime:
Most people don't think about apples for dinner. Growing up in the Midwest, applesauce went with pork chops like peanut butter goes with jelly. So it was a very short leap for me to start using apples in other savory recipes. Here are some of the most kid-friendly dinner ideas using apples:
Roasted sausage with potatoes and apples: This is always our dinner after apple picking. The kids adore it.
Slow cooker acorn squash and apples: This makes an amazing Thanksgiving side dish, too.
Slow cooker pork with apples: The Midwesterner in me rejoices at this combo.
Pulled pork with apple slaw: Now that I'm in the South, I loved finding their fun spin on the pork + apple combo I love.
Apple pecan chicken: When you need to find a new spin on chicken, this is a great fall recipe.
Grilled apple sandwiches: I adore slices of fruit in my grilled cheese sandwiches, have you ever tried it?
Applesauce with pork chops that don't suck: Yes, that's the real name. Not even kidding. Get our applesauce recipe here.
Pork chops smothered in sauteed apples, onions, and rosemary mustard sauce: That is a mouthful of words, but this dinner looks incredible! Don't miss her butternut squash cous cous to go with it.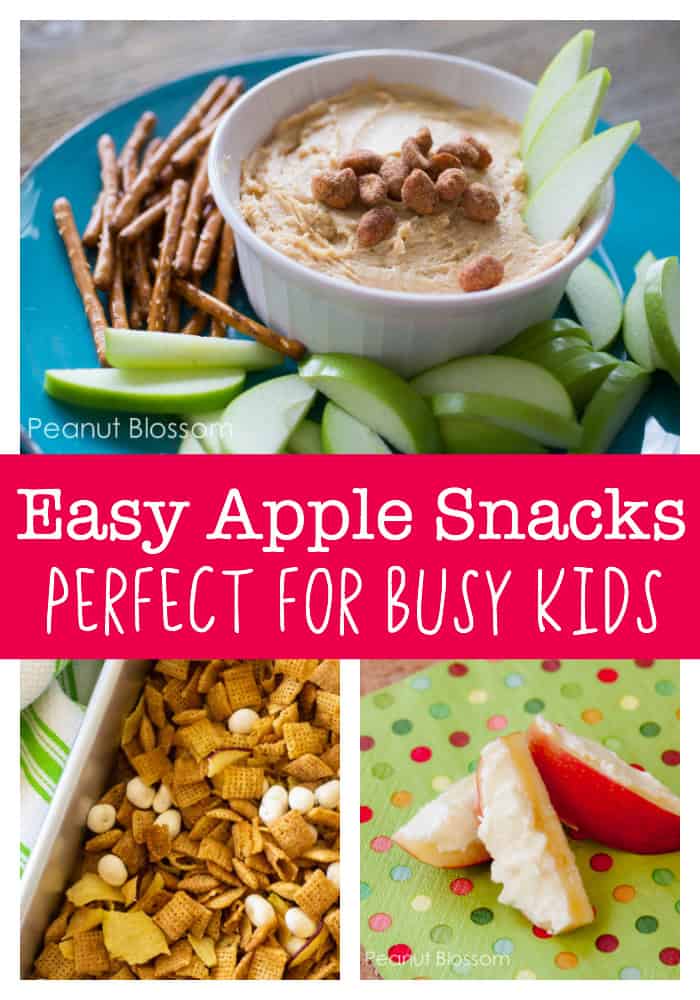 Easy apple recipes for snacks:
Apples pair so well with peanut butter or cheese when it comes to snacks. Mix in a little protein with the sweet juicy apples for a snack that will really stick with them.
Peanut butter dip with apples: This is a great after school snack for busy kids on the go.
Apple & cheese skewers: This is a perfect snack for before the kids head out the door for Trick or Treat.
Apple pie-flavored Chex Mix uses dried apples. Learn how to make your own dried apples here.
Apples and Laughing Cow cheese: It sounds bizarre, but this is one of my favorite flavor combos.
Easy apple recipes for breakfast:
Whether it is a special holiday brunch or a regular school morning breakfast, apples definitely have their special place on the plate. Try one of these delicious apple breakfast recipes:
Slow cooker apple butter: Slather this on a biscuit or whole wheat toast for a special treat.
Giant apple cinnamon roll: Christmas morning anyone??
Apple coffee cake: Coffee cake is the answer all year long.
Apple fritters: My husband swears apple fritters are the most delicious pastry ever.
Baked apple oatmeal: A healthy apple breakfast recipe for kids.
Baked apples stuffed with oatmeal: Not to be confused with the 9x13 dish above, these are whole apples. So yummy!
Is it an appetizer? Maybe a side dish? Fun apple recipes for a party:
If you're heading to a party and you need to bring a dish to pass, consider one of these fun apple appetizers or side dishes:
Burrata with apple mustard relish: What a trendy and awesome way to use burrata!
Cream cheese grape and apple salad (coming soon): I could eat this for breakfast, lunch, or dinner! So delicious.
Snickers salad: Don't miss the hysterical story of the first Thanksgiving at my in-law's home!
Fried apples: Talk about yummy comfort food. This is perfect for any kind of special meal.
Cranberry apple crunch cobbler: This is a perfect thing to bring to Thanksgiving.
Apple and sausage stuffing: Another great Thanksgiving side dish idea.
Apple cider: You could spike this (or not) for a party, but in any case serve it with a fresh apple slice on top for garnish.