Fresh apple cake with browned butter frosting is an easy make-ahead sheet cake for Thanksgiving or any fall celebration. It tastes even better chilled the next day!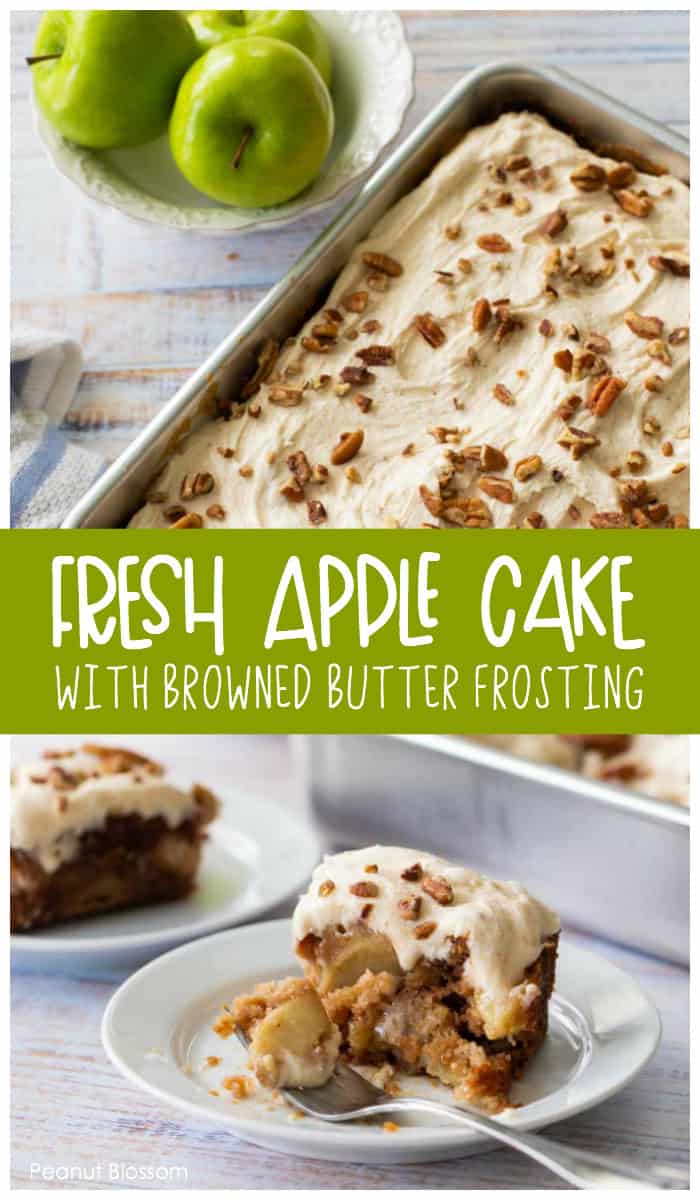 How do you use your apples from pick-your-own orchards? We have so much fun with the picking, but then giant bags of apples take up room in my fridge forEVER! ha!
When I wanted to open up some storage space in the fridge, it was time for a new apple recipe that used a LOT of fresh apples in one dish. We already have a phenomenal apple crisp recipe our whole family adores but this year I wanted to try something new.
I've tried apple cakes in the past and was fairly unimpressed with them at the end. They are rarely apple-y enough and don't have a lot of other flavors going on.
I have a copy of Southern Living's Southern Cake Book and have been eyeing up their apple cake forever. Served as a simple sheet cake with browned butter frosting and chopped pecans over the top, I've been just waiting and waiting for fall to try it.
The perfect frosting for fresh apple cake:
Are you familiar with browned butter?? Regular butter is melted and then cooked until warm and toasty brown. It takes the deliciousness of butter and doubles it. I've made browned butter chocolate chip cookies before that were out of this world, but never thought to try making a frosting with it before.
The nutty flavor of the frosting pairs absolutely amazingly with the tart granny smith apples and salty pecans. I can't think of a more perfect frosting for the apple cake.
I've got a separate post with additional instructions just for the frosting that you can check out here: Browned butter frosting recipe.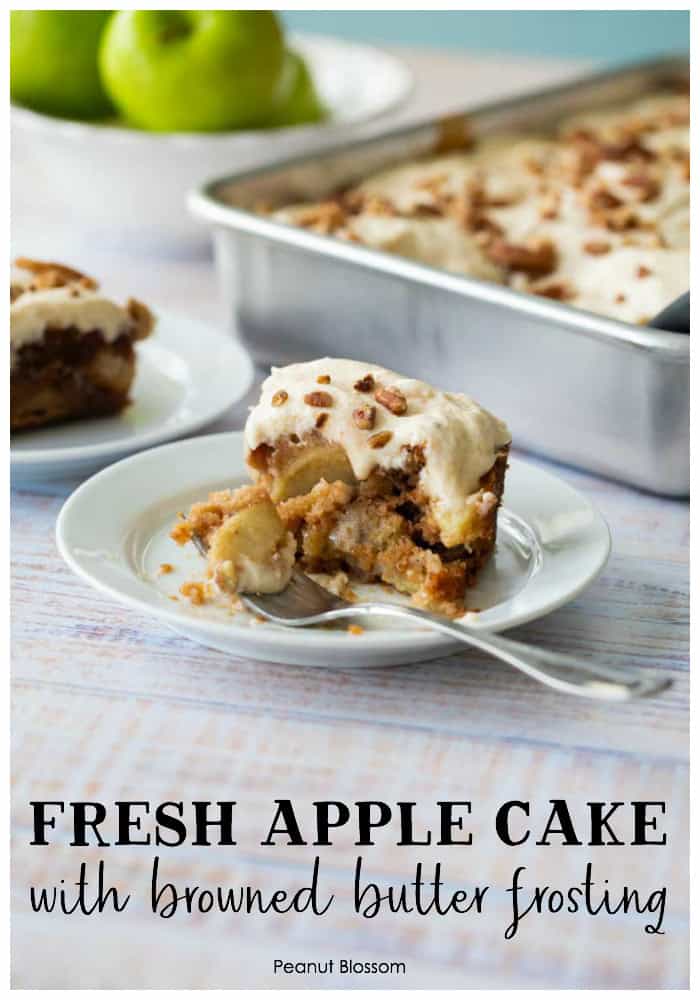 The frosting is very smooth and soft when you first whip it up but then firms up once the cake has been chilled in the fridge. You'll want to be extra careful to ensure your cake is thoroughly cooled before frosting or the browned butter frosting will just melt right over the cake.
A few things that may surprise you about this fresh apple cake recipe:
There were a few things that I didn't expect while assembling the apple cake. Keep these tips in mind for a smoother experience:
The cake batter will be SUPER thick: The apple cake batter is so thick, in the end it has the consistency of playdough. I ended up incorporating the apples into the dough using both a spatula and my bare hands. More on that in a minute.
The recipe calls for a LOT of apples: This is an awesome feature and exactly what I was looking for, but one that caused a few surprises along the way. Incorporating the apples can be tricky if your bowl isn't big enough. You'll need extra room in the bowl for trying to stir the massive amount of apples into the batter.
This is a one-bowl recipe, choose your bowl wisely: I'd recommend using the largest mixing bowl you have in the house. If you only have a standard sized mixing bowl, you may want to transfer the cake batter to a pasta pot before trying to add the apples just so you have more room.
The apples will soften the dough: If you're having trouble mixing in the apples into the batter, try to mix them in a little bit and then let it all sit for a few minutes. The juices from the apples will release and moisten the dough making it much easier to stir and mix until fully incorporated.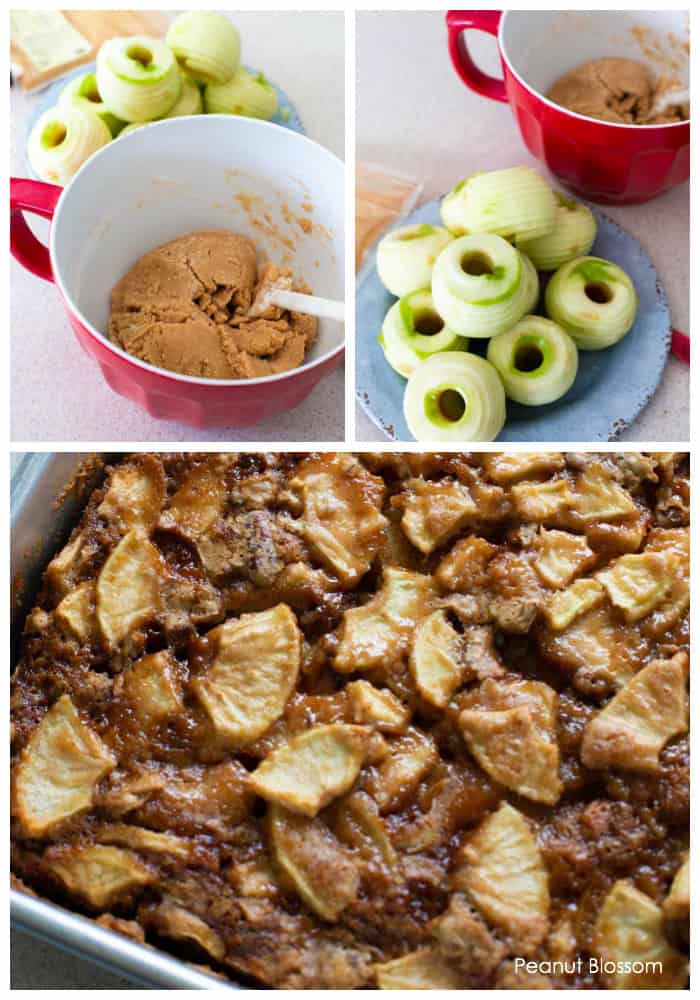 A few more tricks for making this easy apple cake:
Don't let those surprise tips fool you -- in the end, this is a super easy apple cake to bake. I loved that it was a one-bowl recipe and made very little mess in my kitchen to prepare. You don't even need a mixer of any kind! I stirred the dough/cake batter together with a spatula.
That said, here are a few more tips to make the cake even easier:
Slice your apples thinly: This is not an apple cake where chunky apples would do very well. You really want them sliced thinly. I bought this apple peeler-slicer spiral tool years ago and it has been WELL worth every single penny and the cabinet storage space. I just ran the apples through the machine and then used a paring knife to cut each apple into quarters. The slices just simply fell apart. If you don't want to get the spiral tool, just be sure to cut the apples into ¼-inch slices.
Decide how apple-y you want your apple cake: I wanted to use up a lot of apples. This cake is very thick and simply loaded with them. If baked as written, you'll discover it is more apple than cake but the frosting keeps it utterly decadent. If you prefer more cake to apple, cut the apple quantity in half. This will reduce the thickness of the apple cake and give you more cake-y texture.
Make it the day before: I really believe the cake is far more delicious the next day. The apples get a chance to mingle with the other flavors overnight, the frosting gets to chill and thicken. It was still super tasty the day I made it, but if you need a great make-ahead Thanksgiving dessert, this is totally it!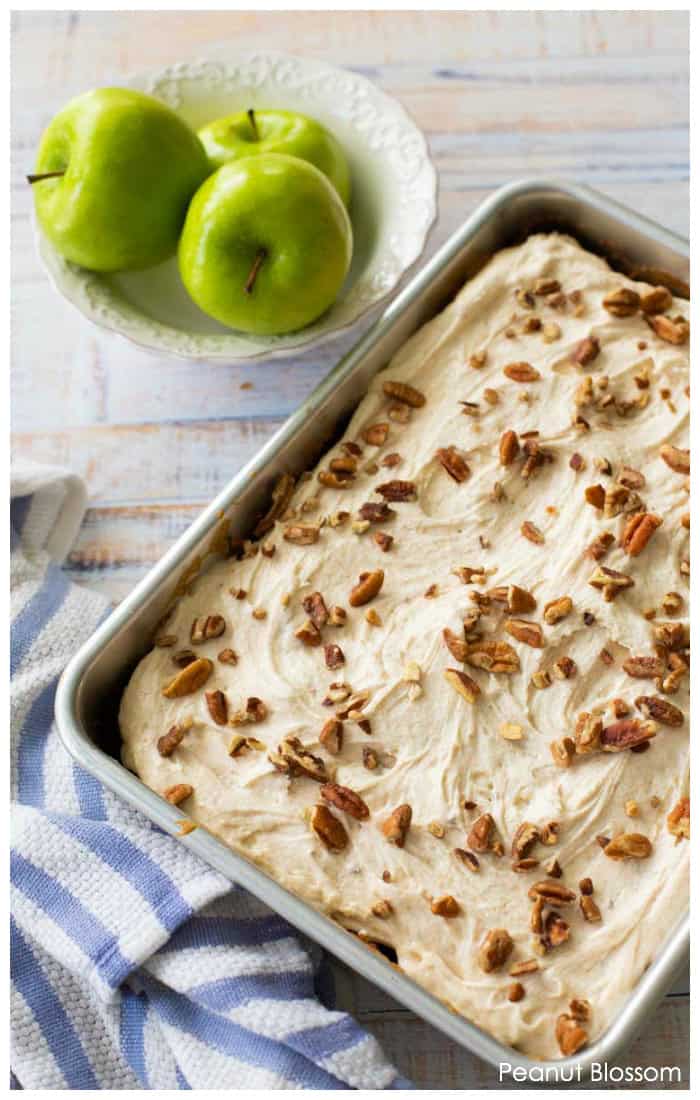 Can kids help make this apple cake?
I think kids can help bake just about anything in the kitchen, this is no exception. Kids ages 8 and up could likely bake the whole thing by themselves with just a touch of supervision.
Here are some of the best baking tasks for kids:
Running the apples through the spiral tool and cutting them into quarters with a butter knife. Perfect for kids ages 8+, just teach them to stay away from the slicing section on the tool which is easy to do.
Measuring the ingredients and mixing up the batter.
Spreading the chunky cake into the pan.
Whipping up the frosting.
Spreading the frosting.
Sprinkling the decorative pecans.
RELATED: Check out The Ultimate Kids' Baking Book here.
How to make the most delicious apple cake with browned butter frosting:
Looking for other easy fall desserts to bake with kids?