This strawberry kiwi cake recipe is the perfect easy summer dessert. A strawberry poke cake is topped with whipped topping and fresh kiwis for a refreshingly cool dessert.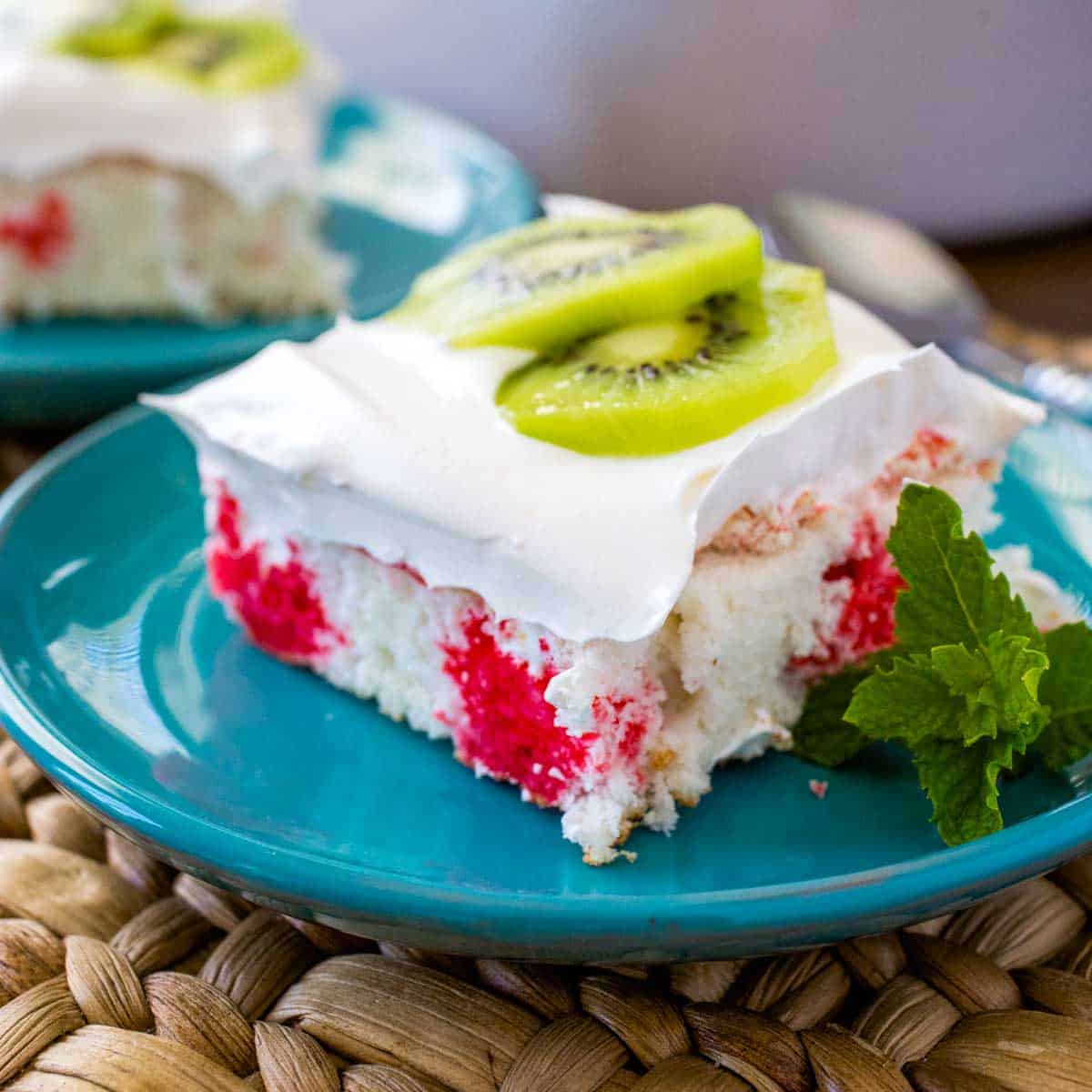 This summer's heat has been just brutal. When it comes to entertaining family in the high season temperatures, I need any dessert I make to be light, refreshing, and COLD. 
I don't often think of cake as a "cold dessert" but this strawberry kiwi poke cake fits the situation perfectly!
A light and fluffy angel food cake is carefully poked with a few holes and easy strawberry Jell-o mix is poured over the top.
Chill the cake to set the Jell-o and top it with cold and creamy whipped topping and sliced kiwi fruits for a refreshing dessert your guests will love!
Jump to:
Ingredients
If you've never made a strawberry poke cake before, you'll be so happy to see just how easy it is.
It all starts with a very simple list of ingredients:
Egg whites
Sugar (Or the sugar-free variation mentioned below)
Cake flour
Cream of tartar
Vanilla & Almond extracts
Salt
Strawberry gelatin: Regular flavor or the sugar-free variety as needed.
Whipped topping: Regular or sugar-free.
Fresh kiwis
Prepare the Angel Food Cake
The angel food cake is super easy to make from scratch, especially if you have a stand mixer with a whisk attachment.
Egg whites are whipped together to form a light meringue and then folded in gently with the remaining cake ingredients.
The batter is light but thick and easy to spread in your baking pan.
I love the texture and flavor of homemade angel food cake, but if you want you could also buy a boxed angel food cake mix from the store and just follow the ingredients on the package to bake it in a 9x13-inch pan.
Sugar-Free Variation
To make this strawberry kiwi cake sugar-free, you'll definitely want to make the cake from scratch so you can control the sweetener.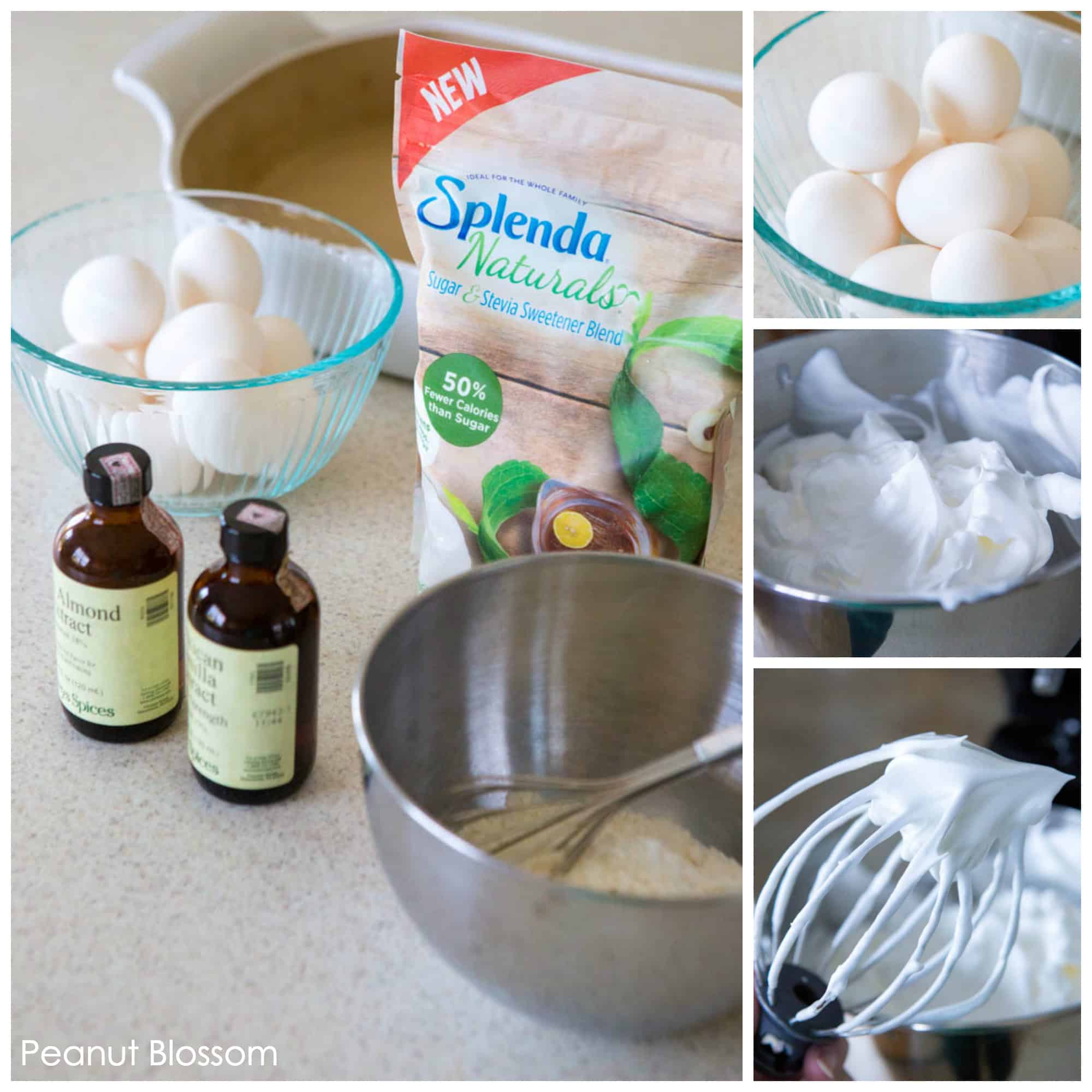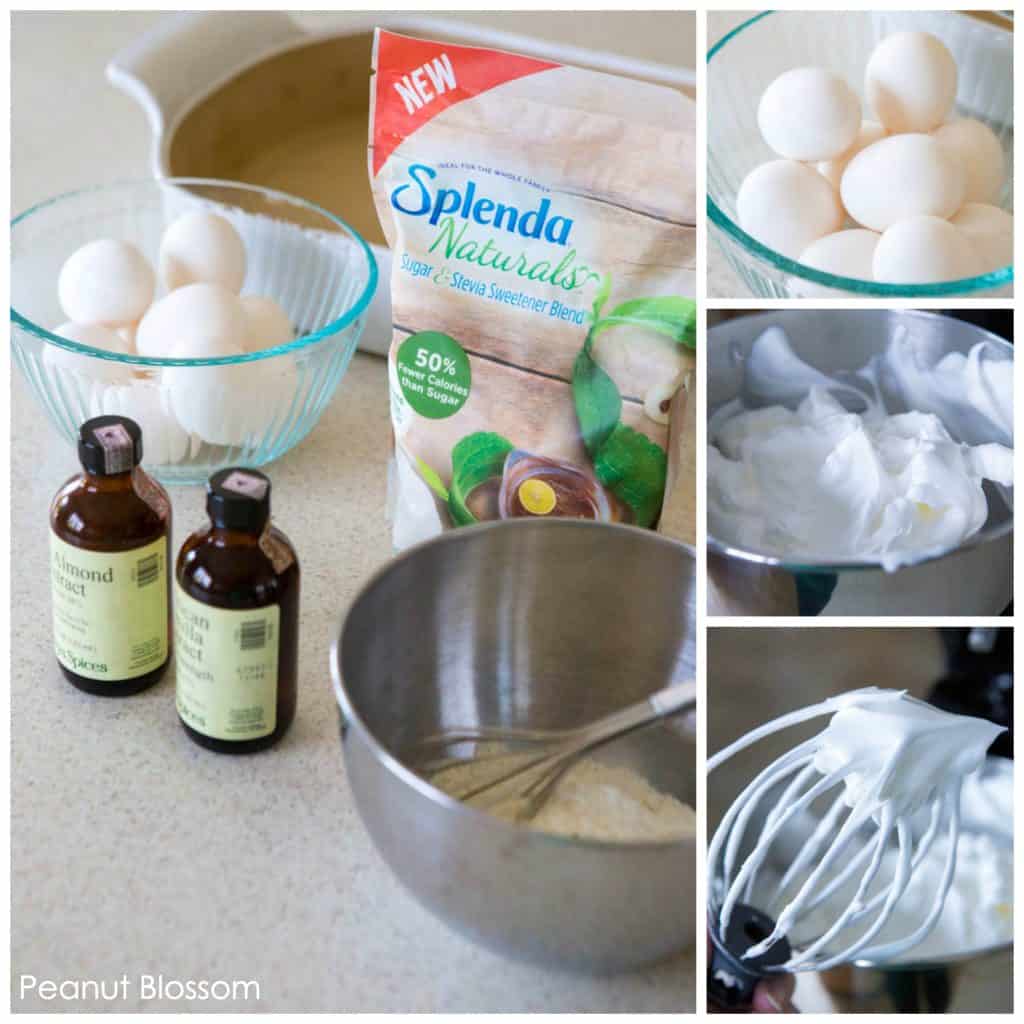 The cake recipe I used called for 1 ½ cup of regular sugar but I was able to substitute just ¾ cup of the SPLENDA® Naturals Sugar & Stevia Sweetener Blend. 
The instructions for substitution come right on the packaging.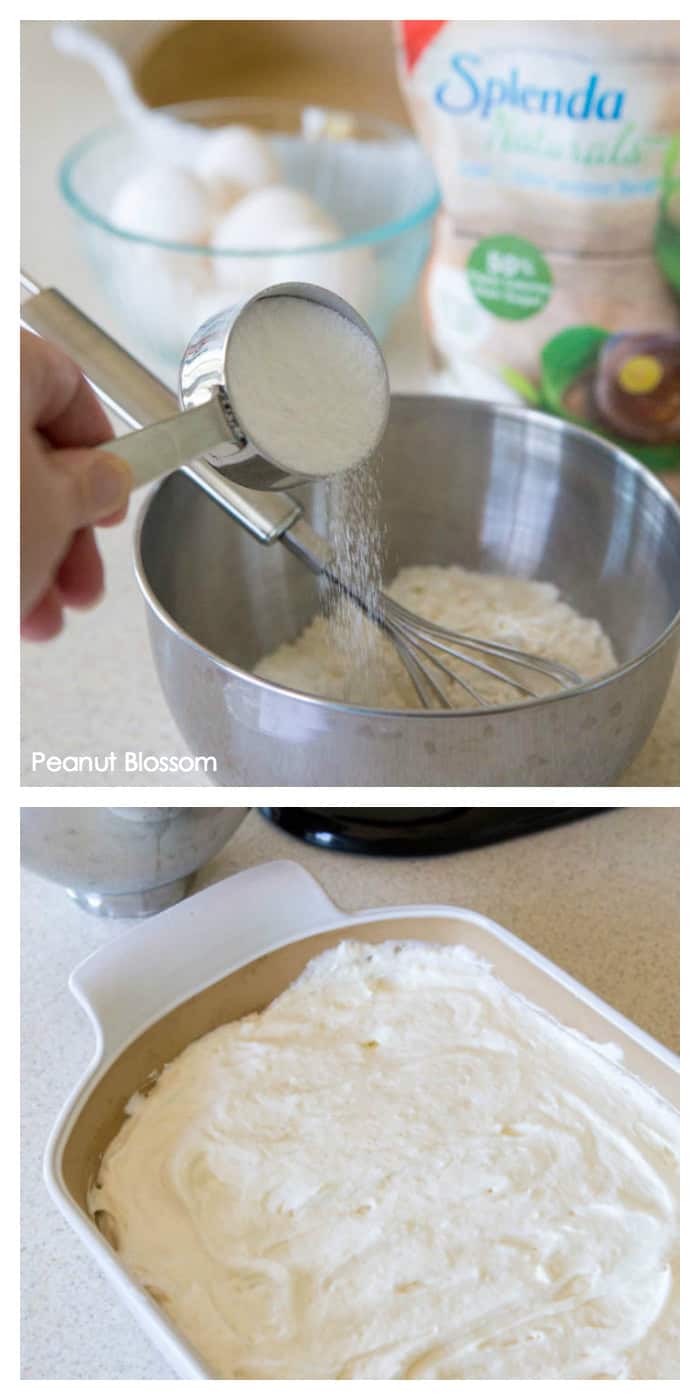 Assemble the Poke Cake
The cake turned out perfectly with a gorgeous light golden toasty color.
Once it cooled, I used a straw to poke holes over the entire surface so that the pretty bright red sugar-free strawberry gelatin I used would pour down into the white cake.
I chilled it in the fridge to let everything set and then frosted it with sugar-free whipped topping and fresh kiwi slices.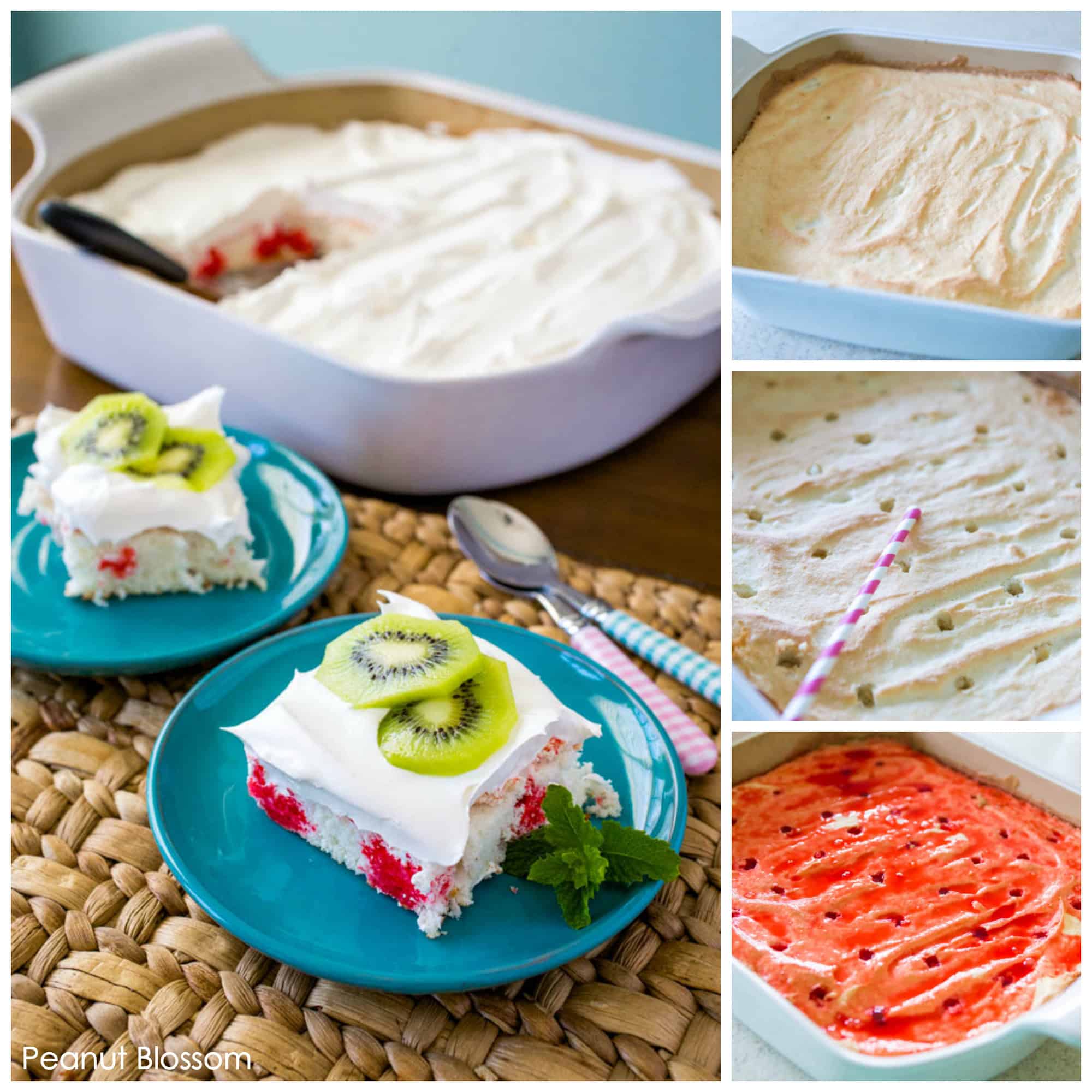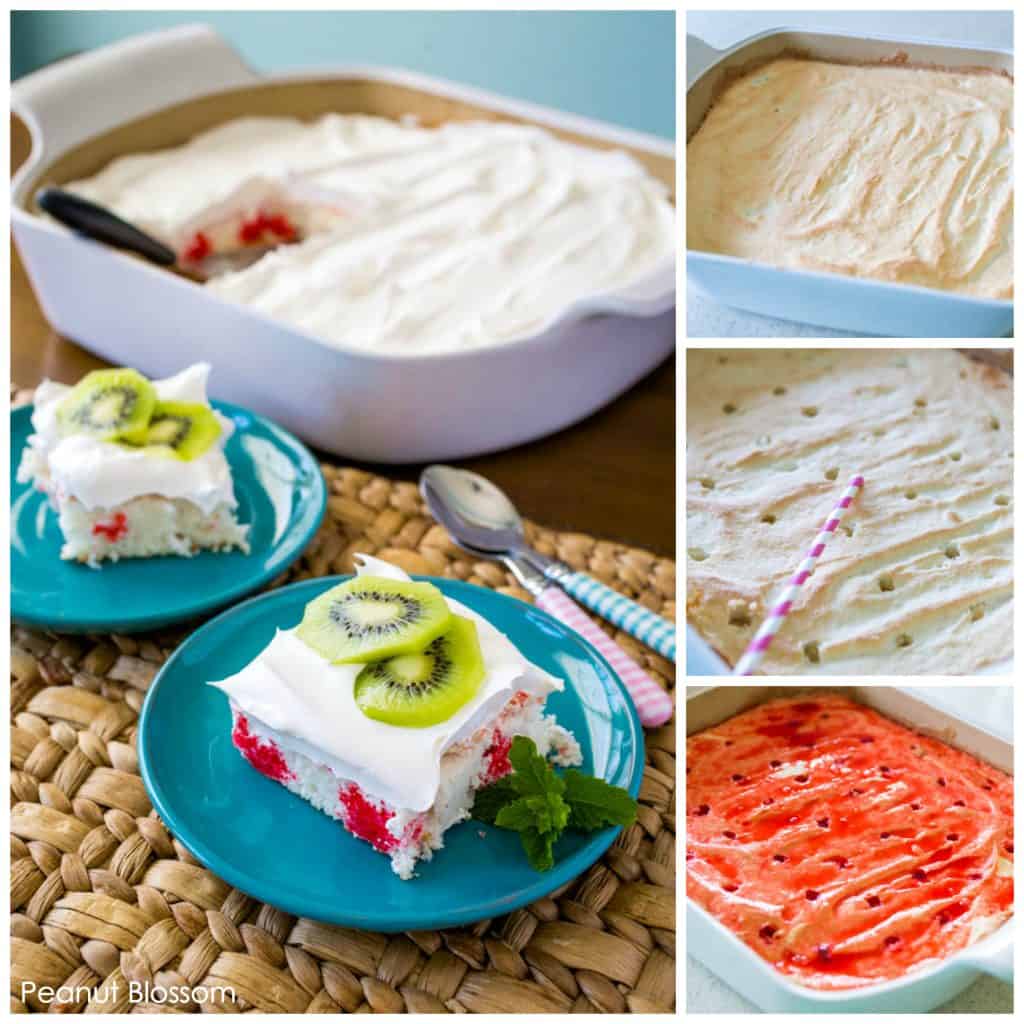 The cake was perfectly light and fluffy like a traditional angel food cake would be even though I baked it in a 9x13 pan.
Everyone loved how satisfying a single slice of the cake was without making you feel weighted down in the summer heat. It was the perfect ending to our meal.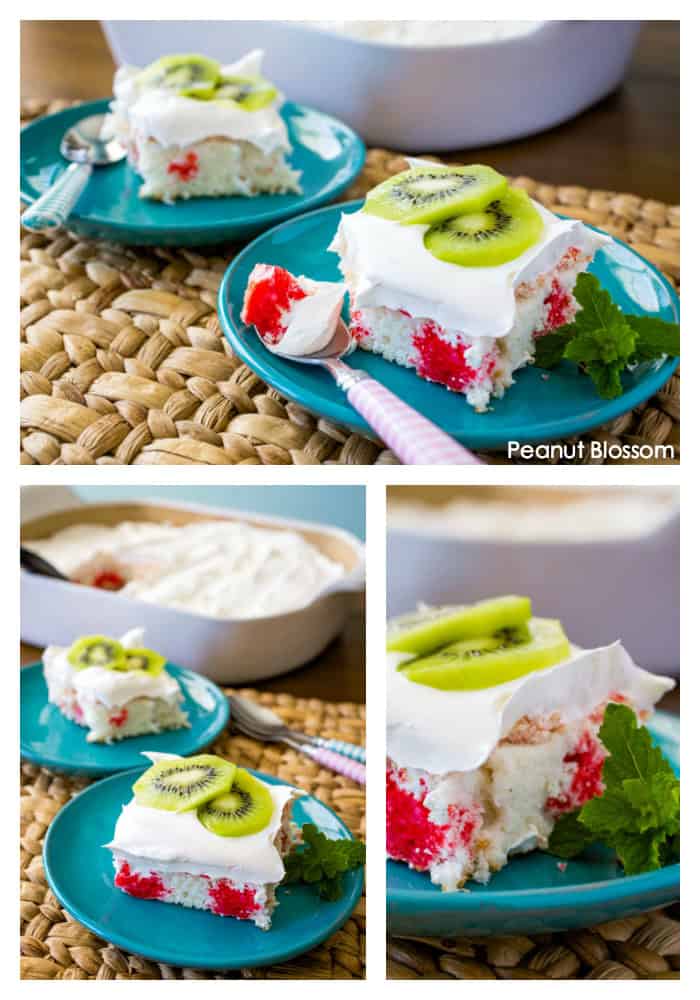 More Easy Dessert Recipes
Need more dessert ideas that will help you beat the heat? These are some of my favorite cold, chilled dessert recipes to serve in warm weather: