This kiwi strawberry poke cake recipe is the perfect easy summer dessert. Cool and refreshing, just minutes to make.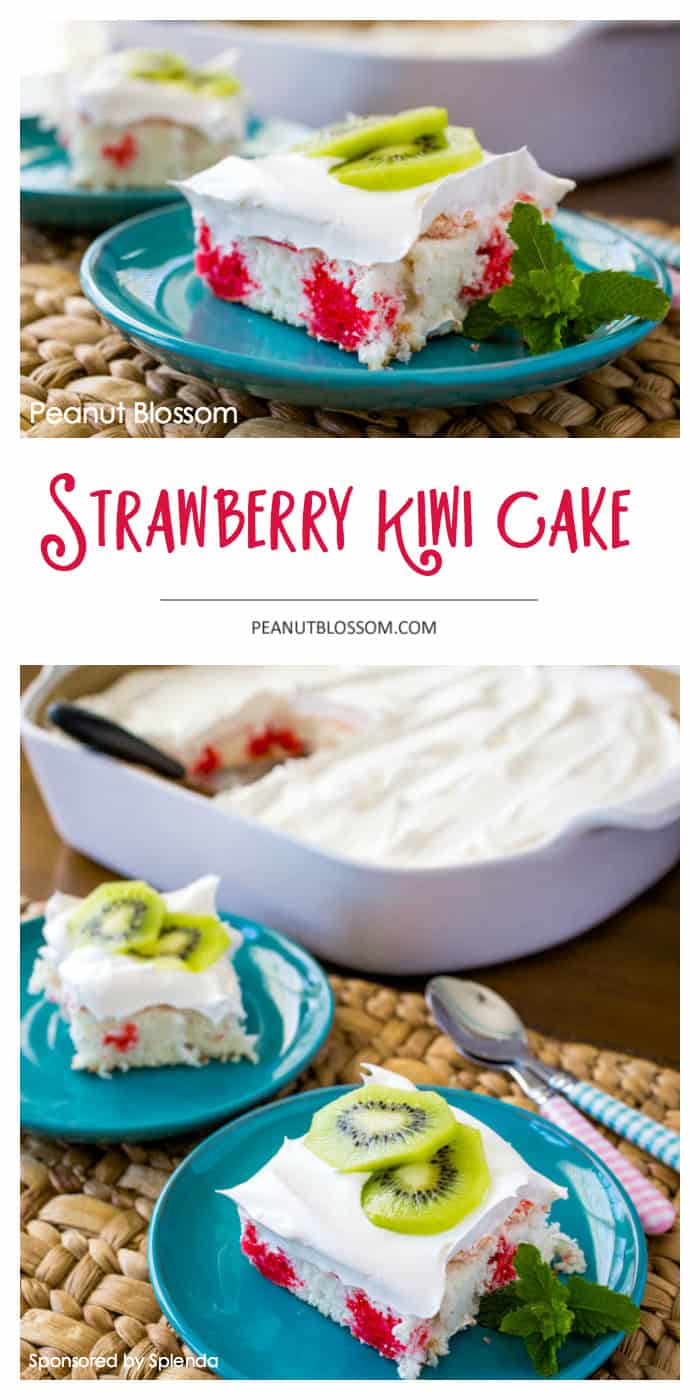 This summer's heat has been just brutal. We spent a week of our family vacation time in Charleston with my parents and sister and found temps climbing higher than 95 and humidity so thick you could scoop it with a spoon. When it comes to entertaining family, I need my dessert to be light, refreshing, and COLD.
When I thought about what to make for our little mini family reunion at the beach, I wanted something that both the kids and my parents would love. My mom is known for having a deep love of all things angel food cake so I immediately considered doing a lighter spin on a strawberry poke cake using an angel food cake base with strawberry gelatin and fresh kiwis for a traditional flavor combo I remember loving when I was a kid.
My dad is really watching his sugar intake so I was excited to see the new SPLENDA® Naturals Sugar & Stevia Sweetener Blend that is made with 50% fewer calories than just regular sugar but is made to be used in traditional baked recipes. Mixing the regular sugar with the stevia sweetener helps baked recipes retain their proper texture and SPLENDA® even includes a really helpful substitution chart right on the package.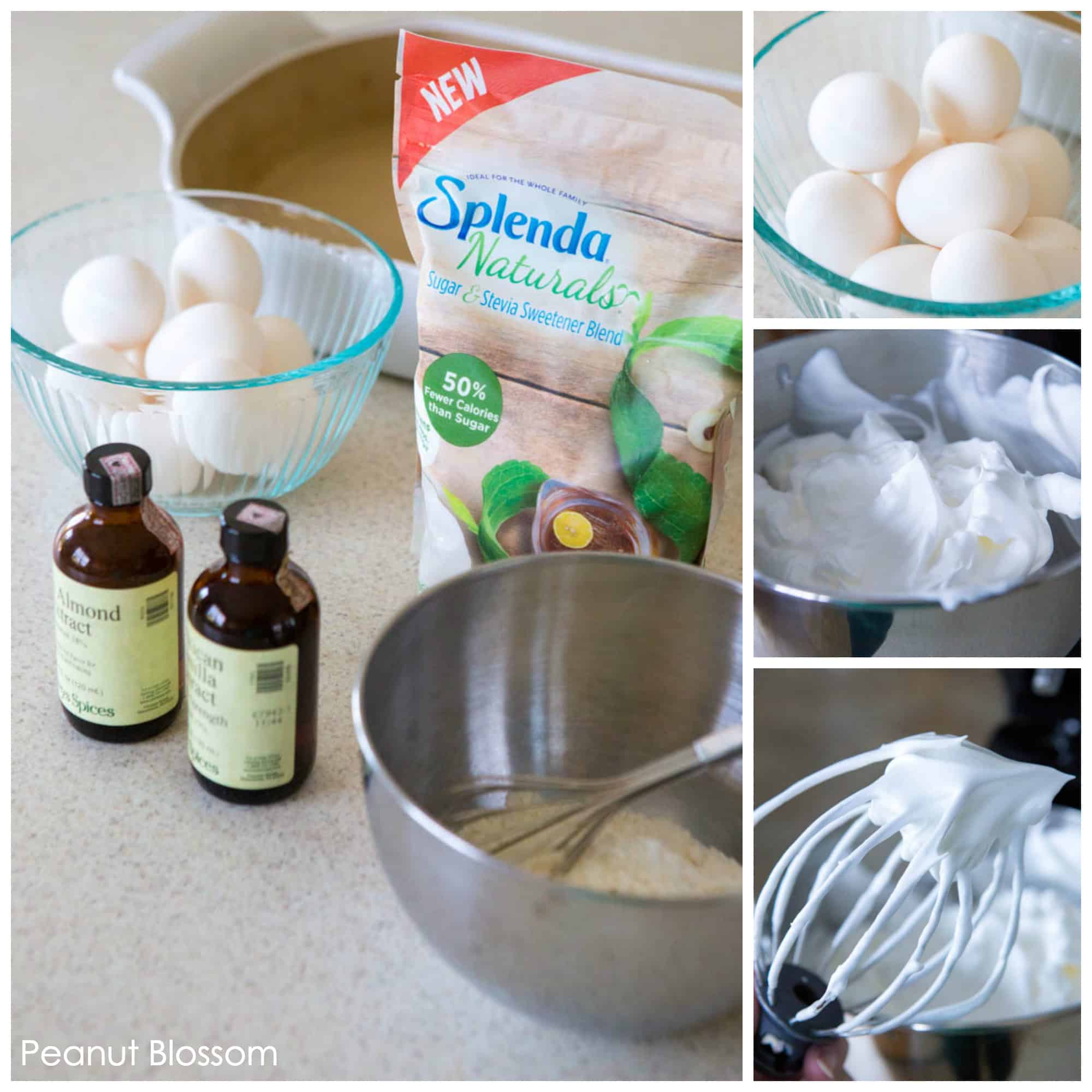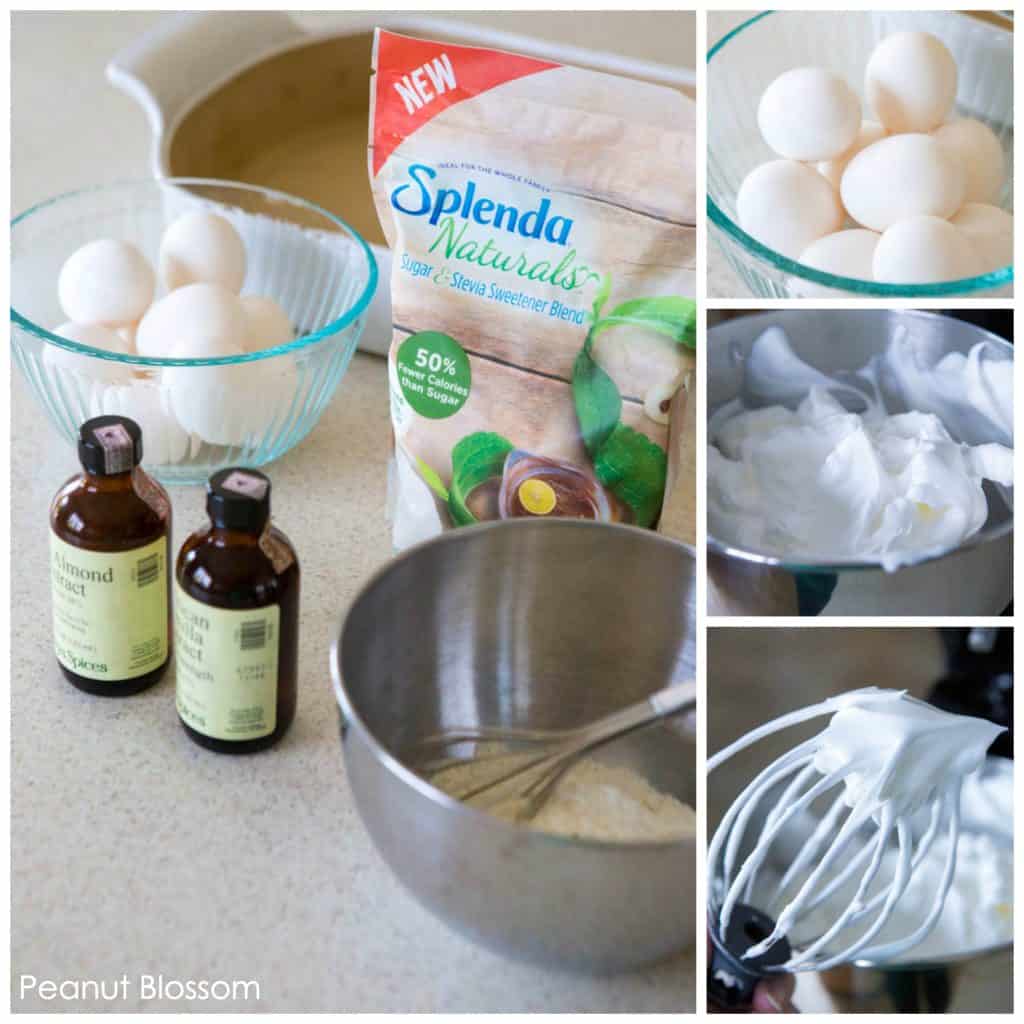 The angel food cake is super easy to make from scratch, especially if you have a stand mixer with a whisk attachment. Egg whites are whipped together to form a light merengue and then folded in gently with the remaining cake ingredients. The batter is light but thick and easy to spread in your baking pan.
The cake recipe I used called for 1 ½ cup of regular sugar but I was able to substitute just ¾ cup of the SPLENDA® Naturals Sugar & Stevia Sweetener Blend.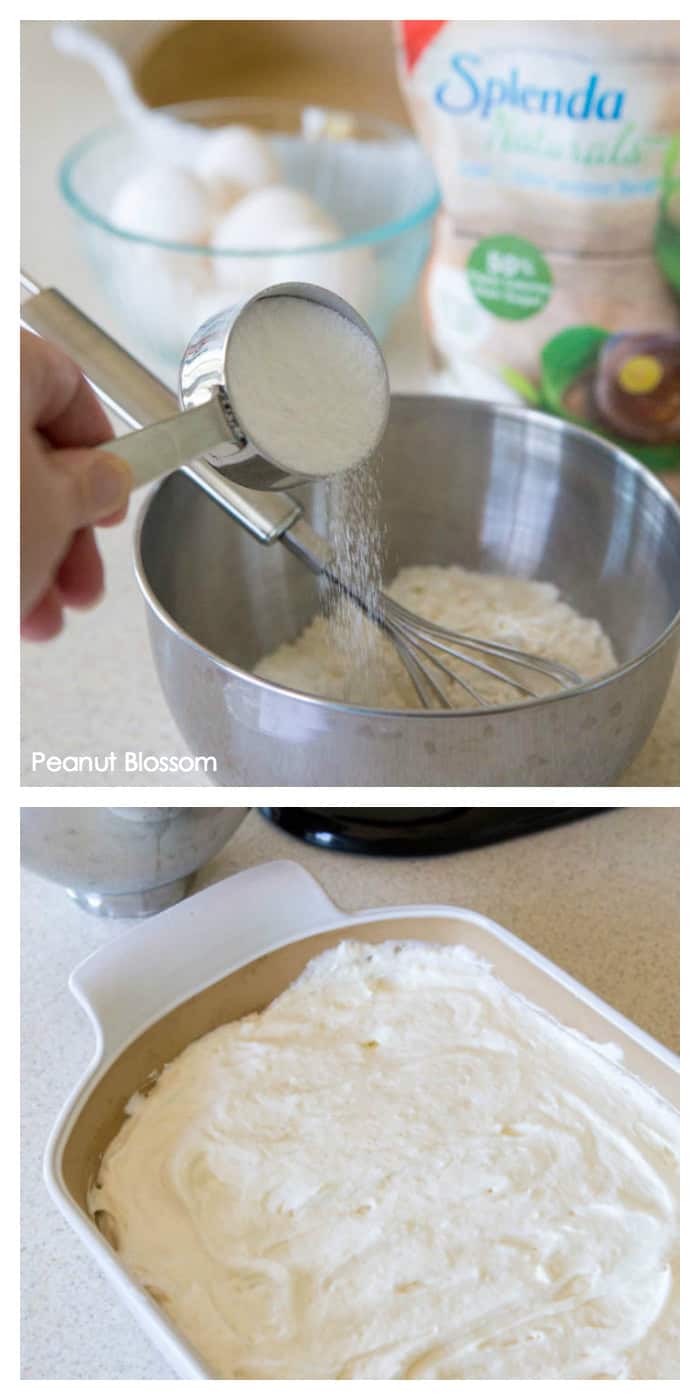 How to assemble the kiwi strawberry poke cake:
The cake turned out perfectly with a gorgeous light golden toasty color. Once it cooled, I used a straw to poke holes over the entire surface so that the pretty bright red sugar-free strawberry gelatin I used would pour down into the white cake. I chilled it in the fridge to let everything set and then frosted it with sugar-free whipped topping and fresh kiwi slices.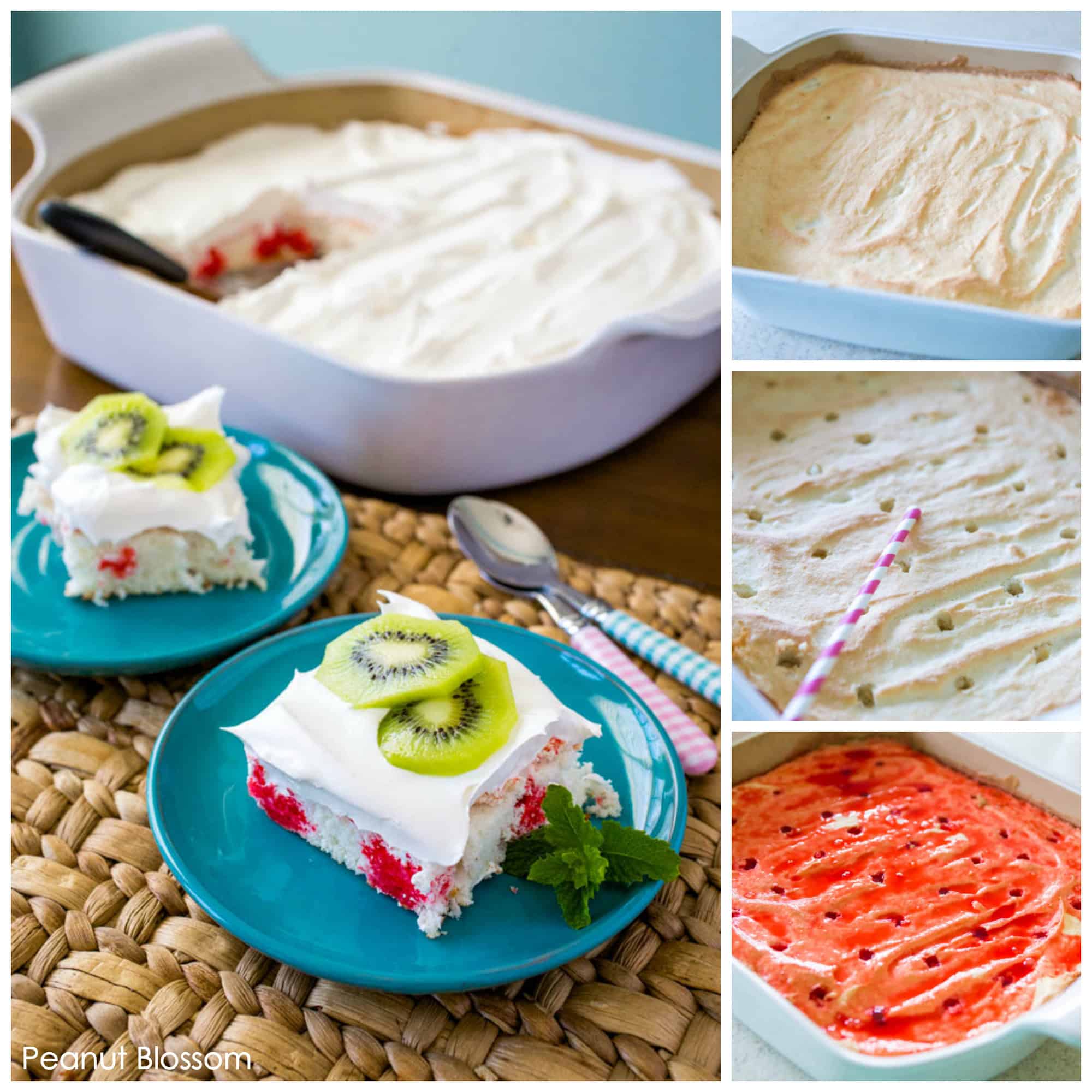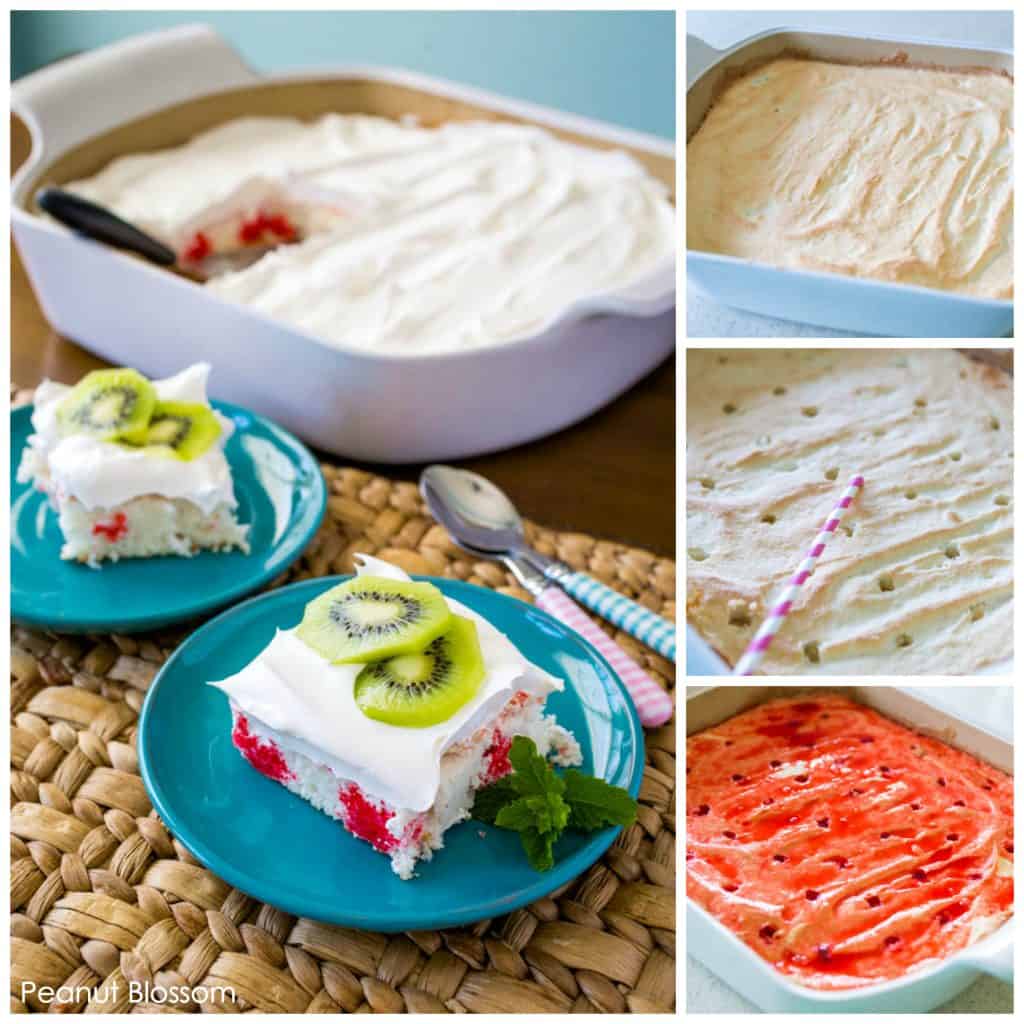 The cake was perfectly light and fluffy like a traditional angel food cake would be even though I baked it in a 9x13 pan. Everyone loved how satisfying a single slice of the cake was without making you feel weighted down in the summer heat. It was the perfect ending to our meal.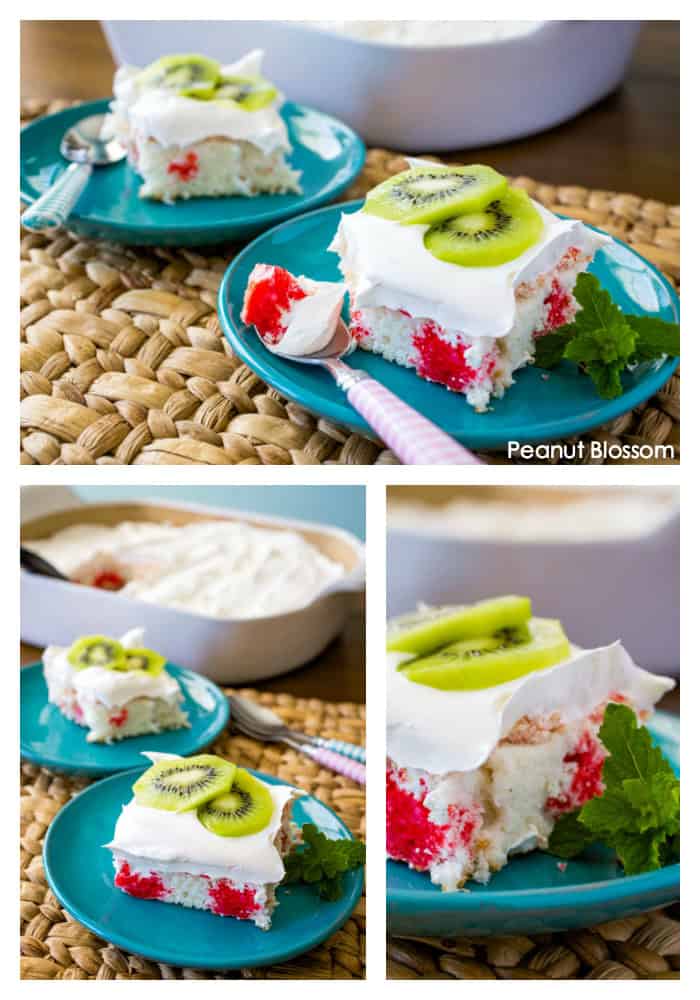 Our favorite Kiwi Strawberry Poke Cake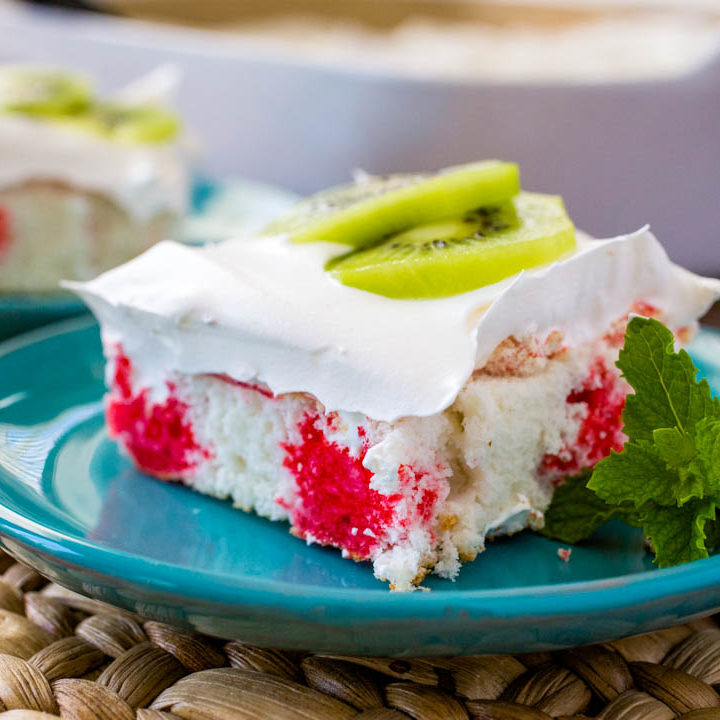 Kiwi Strawberry Poke Cake
Additional Time:
30 minutes
Total Time:
1 hour
15 minutes
Cool and refreshing, this fruity poke cake features Jell-o and a whipped topping and is perfectly delicious straight out of the fridge.
Ingredients
9 egg whites
¾ cup SPLENDA® Naturals Sugar & Stevia Sweetener Blend, divided
1 cup cake flour
1 ¼ tsp cream of tartar
1 tsp vanilla extract
½ tsp almond extract
¼ tsp salt
1 package sugar-free strawberry gelatin mix
¾ cup boiling water
½ cup cold water
1 container of sugar-free whipped topping
3-4 fresh kiwis, peeled and sliced thinly
mint for garnish (optional)
Instructions
Crack and separate the egg whites and let them come to room temperature for 30 minutes.
Whisk together ¼ cup SPLENDA® Naturals Sugar & Stevia Sweetener Blend and flour, set aside.
Preheat the oven to 350 degrees. Place egg whites into the mixing bowl of an electric mixer. Add cream of tartar, extracts, and salt and beat on medium speed until soft peaks form. Gradually add remaining ½ cup SPLENDA® Naturals Sugar & Stevia Sweetener Blend, about 2 tbsp at a time, beating on high until stiff peaks form. Gently fold in flour mixture and spread into an ungreased 9x13 pan.
Bake 35 minutes or until lightly browned and entire top of cake appears dry. Let cool completely.
Using a straw, poke holes over the surface of the cake.
Place gelatin mix into a medium bowl. Add boiling water and stir for 2 minutes until gelatin dissolves completely. Stir in cold water and pour the mixture over the surface of the cake. Make sure to fill all the holes you poked with the straw. Chill in refrigerator for 3 hours or more.
To serve: Frost with whipped topping and slice fresh kiwis.
Looking for more easy summer desserts that use strawberry?
We love using strawberries when they are season! Don't miss some of our other favorite strawberry recipes: