This easy ice cream sandwich cake comes together in under 10 minutes and is perfect for serving at a 4th of July or Memorial Day party or any simple backyard barbecue all summer long. Mix together vanilla ice cream sandwiches, sundae toppings, Cool Whip, and festive sprinkles for the tastiest dessert for a crowd.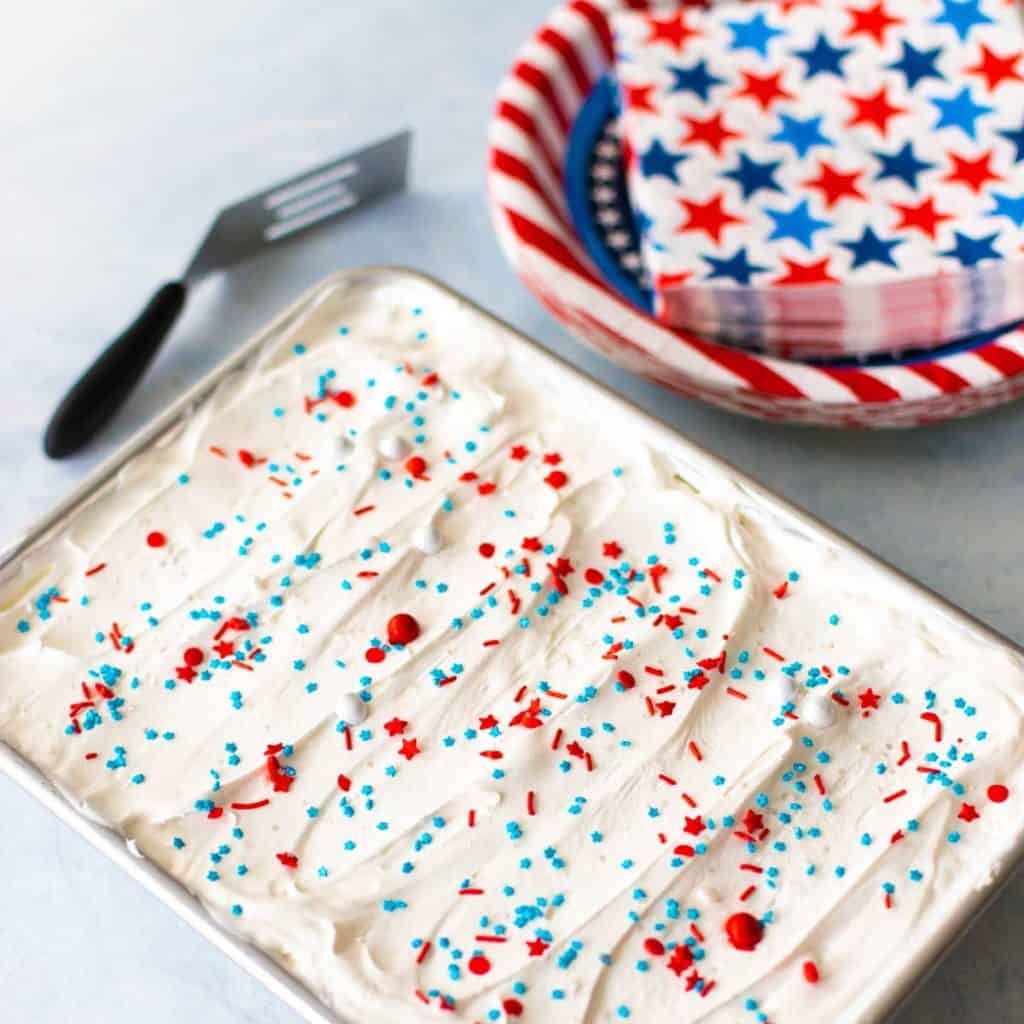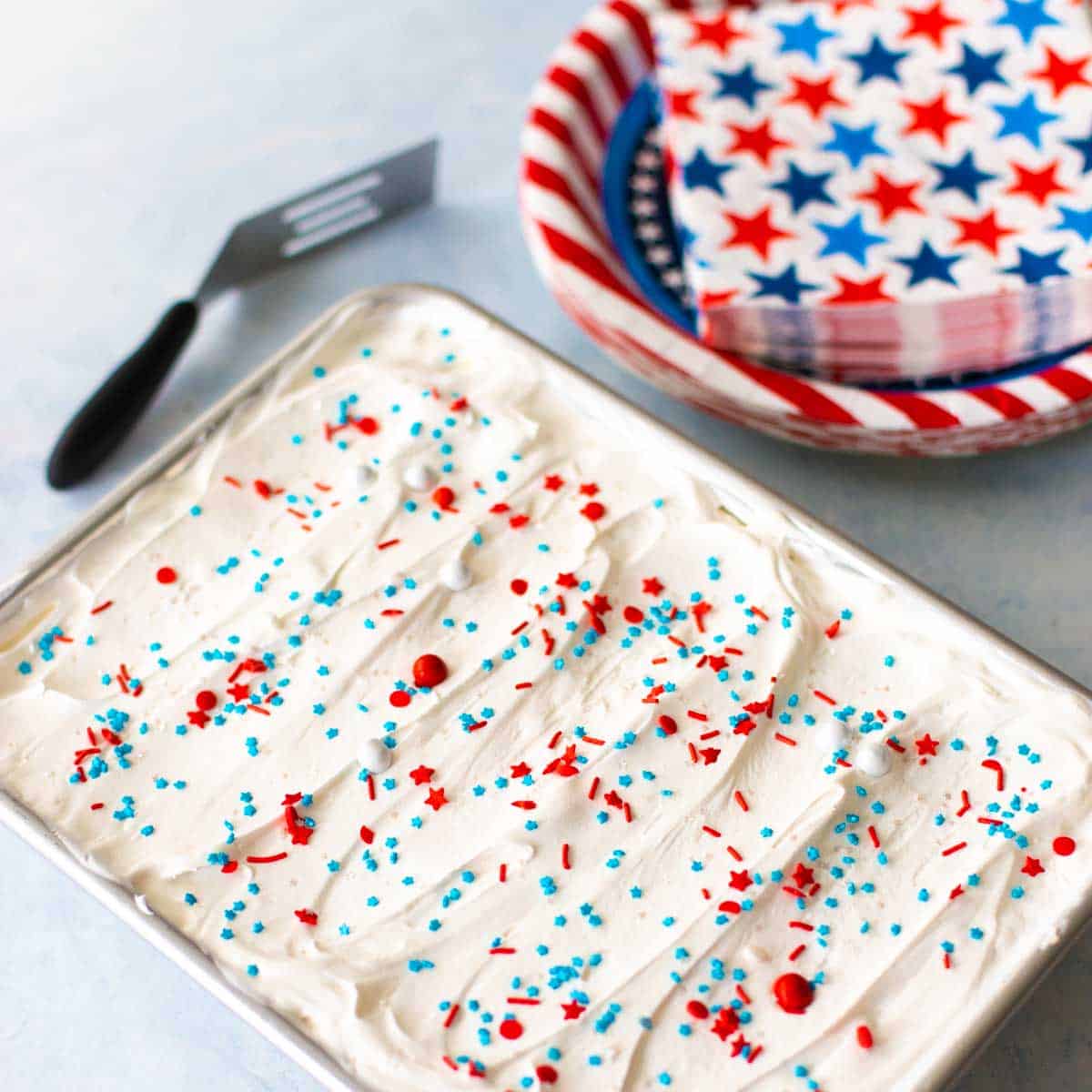 Summertime parties should focus on fun and not require you wasting away in the kitchen.
When the temperatures soar and you've got a backyard full of friends to entertain, nothing tastes better than an ice cold ice cream cake.
This layered ice cream sheet cake is perfect for feeding a crowd but comes together in just minutes because you don't have to wait for the different layers to freeze during assembly.
I combined our family's favorite flavors: Caramel and Chocolate sauce. But you could easily customize it to have other flavors or different colored sprinkles for another event. Be sure to check out my substitutions list at the bottom!
What You Need To Make This: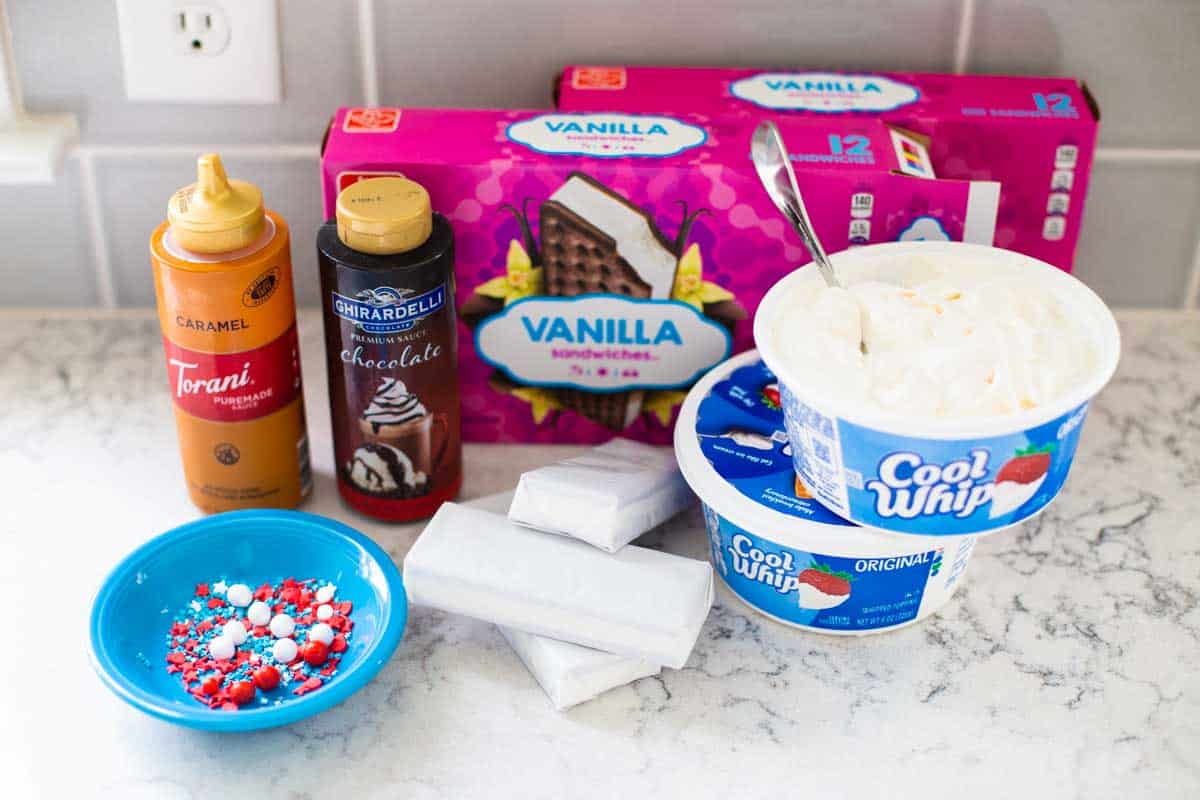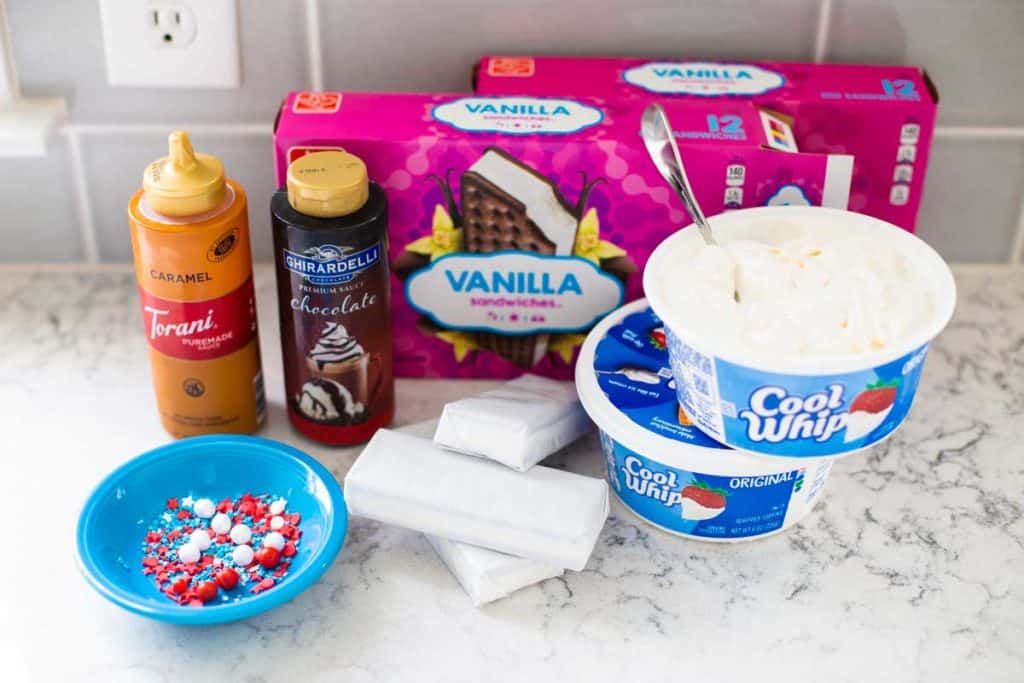 The ingredients for this ice cream cake couldn't be easier. They require no prep and you can keep everything on hand for an easy treat any time:
20 Vanilla Ice Cream Sandwiches: It doesn't matter which brand you use but they should be either square or rectangle. The circle-shaped sandwiches will be tricky to fit into your pan.
Bottles of Caramel and Chocolate Sauces: I prefer the bottles because it makes drizzling easier. If you can only find a jars of sauce, that's ok.
Cool Whip: Homemade whipped cream will not work here, you need the stabilization factor of the prepared Cool Whip for the cake to hold it's shape.
Festive Sprinkles: You can use whatever you have on hand or buy a cute packet at the store. We couldn't find red, white, and blue sprinkle mix one year so my daughter mixed up her own blend from leftover sprinkle jars in our pantry!
How To Layer the Cake:
The only prep you need to do before you begin to assemble the cake is to let the 2 containers of Cool Whip thaw on your counter until they are soft enough to spoon and spread.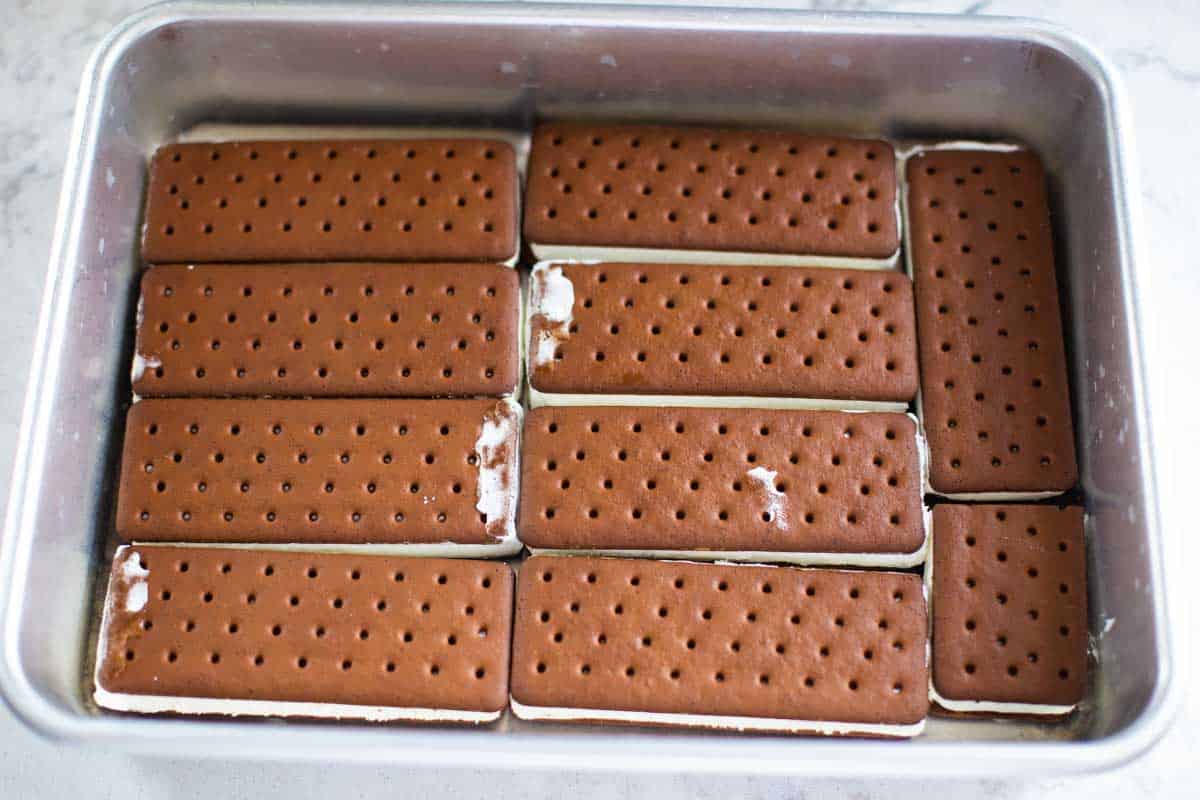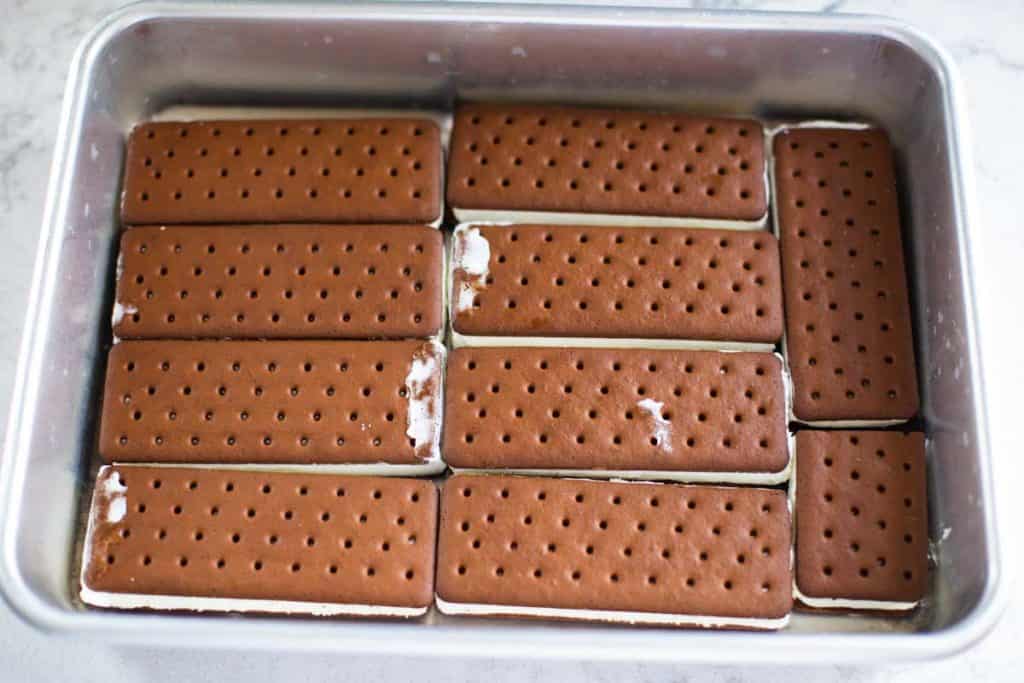 In a freezer-safe 9 x 13-inch baking pan, layer unwrapped ice cream sandwiches in one single, even layer.
You want the sandwiches to evenly cover the entire pan. If you have a corner where a sandwich doesn't fit, you can cut the sandwiches into smaller pieces to fill the space.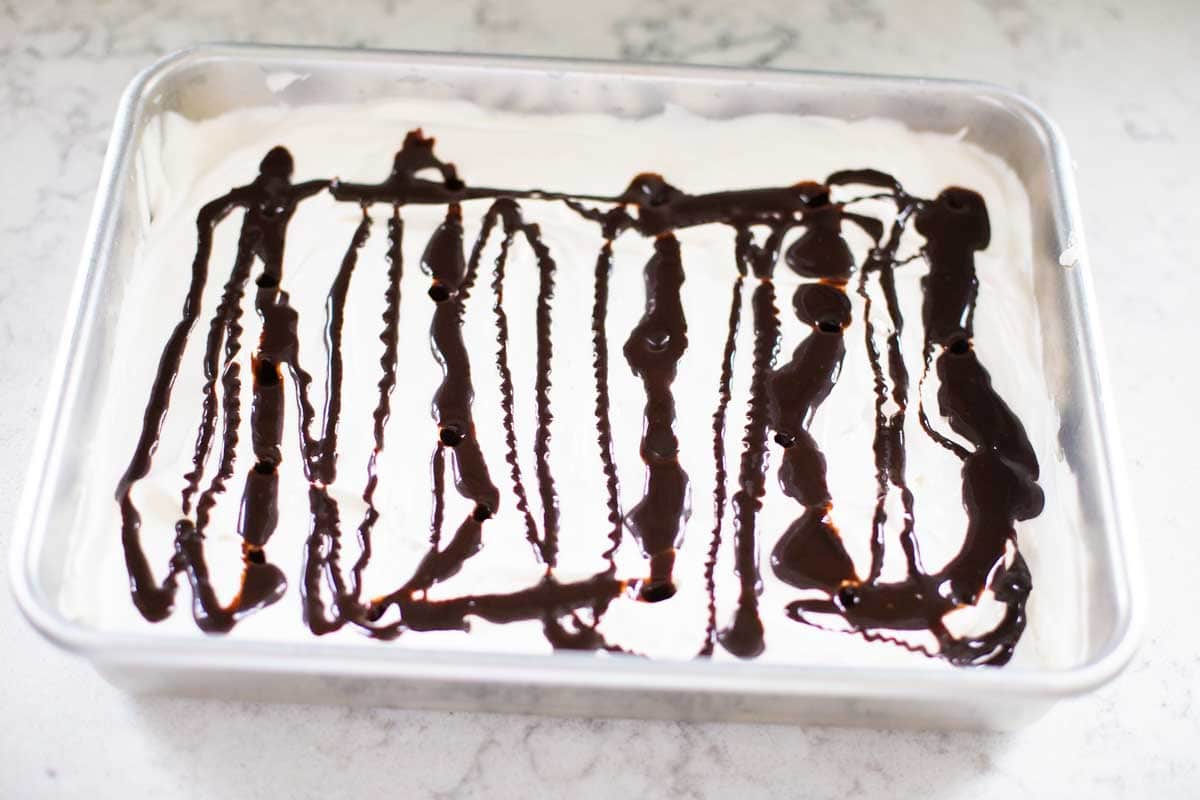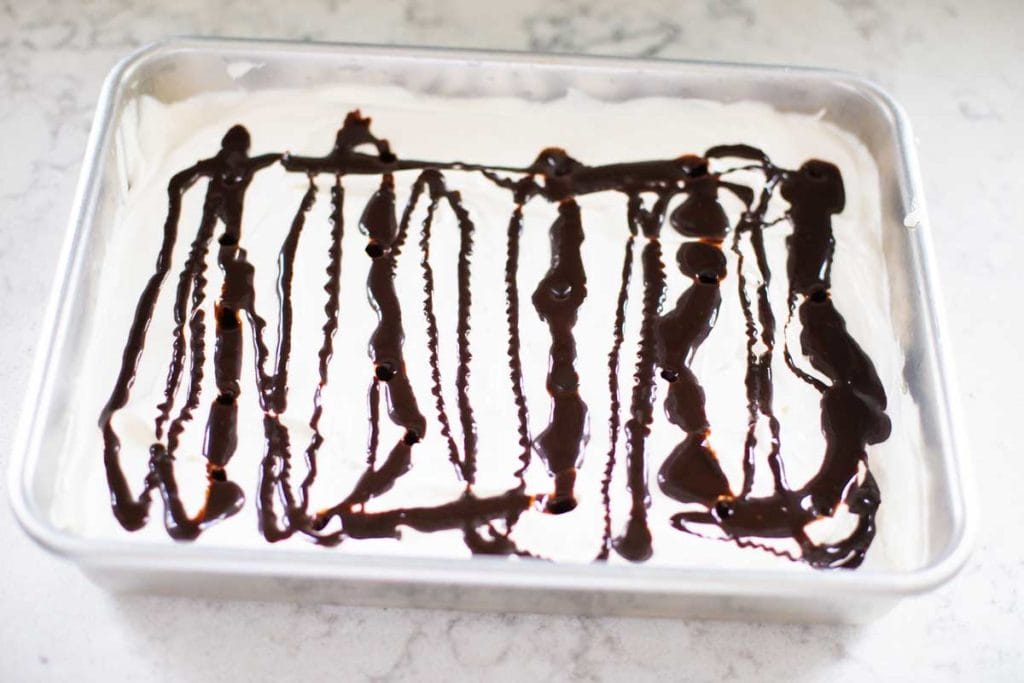 Spread 1 container of Cool Whip over the ice cream sandwiches and then drizzle with chocolate sauce.
Trick for spreading the whipped topping: Drop large spoonfuls of Cool Whip over the top of the pan. Then use a knife to "connect the dots" and spread it out. This is much easier than spooning the entire container out in one scoop and trying to spread from there.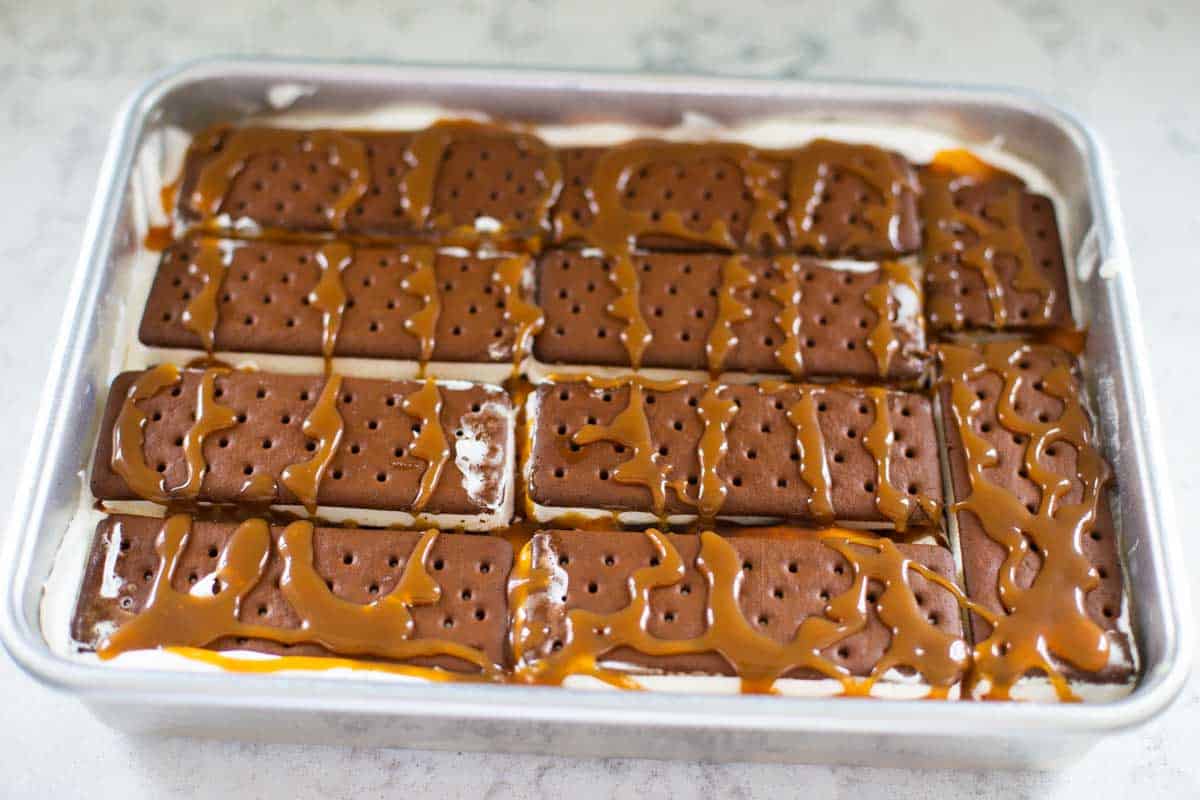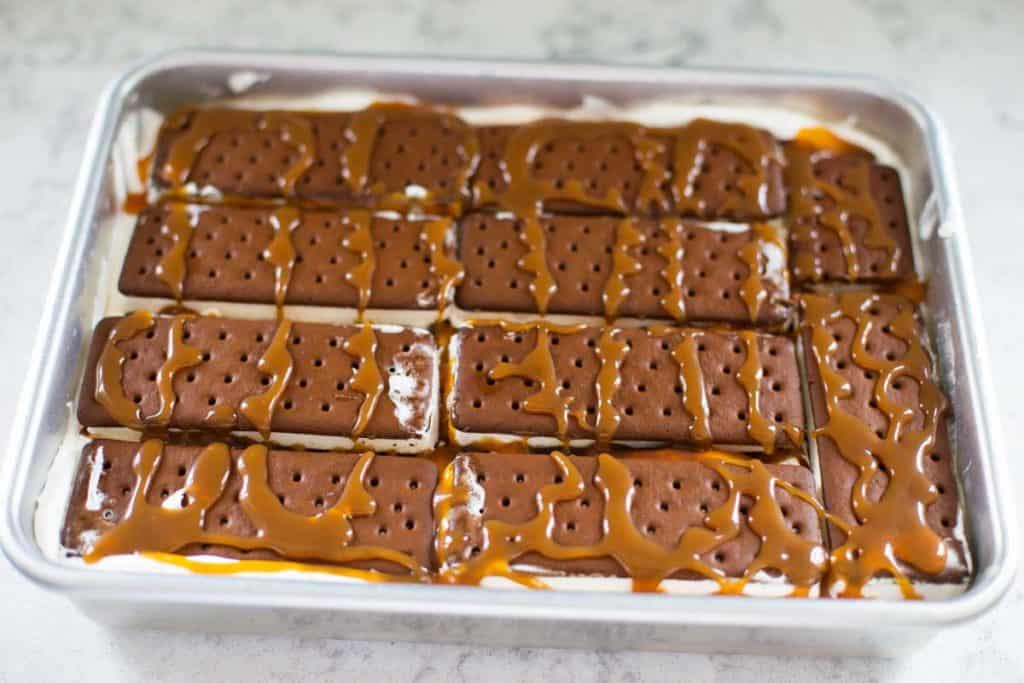 Top the layer of Cool Whip with another single layer of ice cream sandwiches. Drizzle with caramel sauce evenly over the top.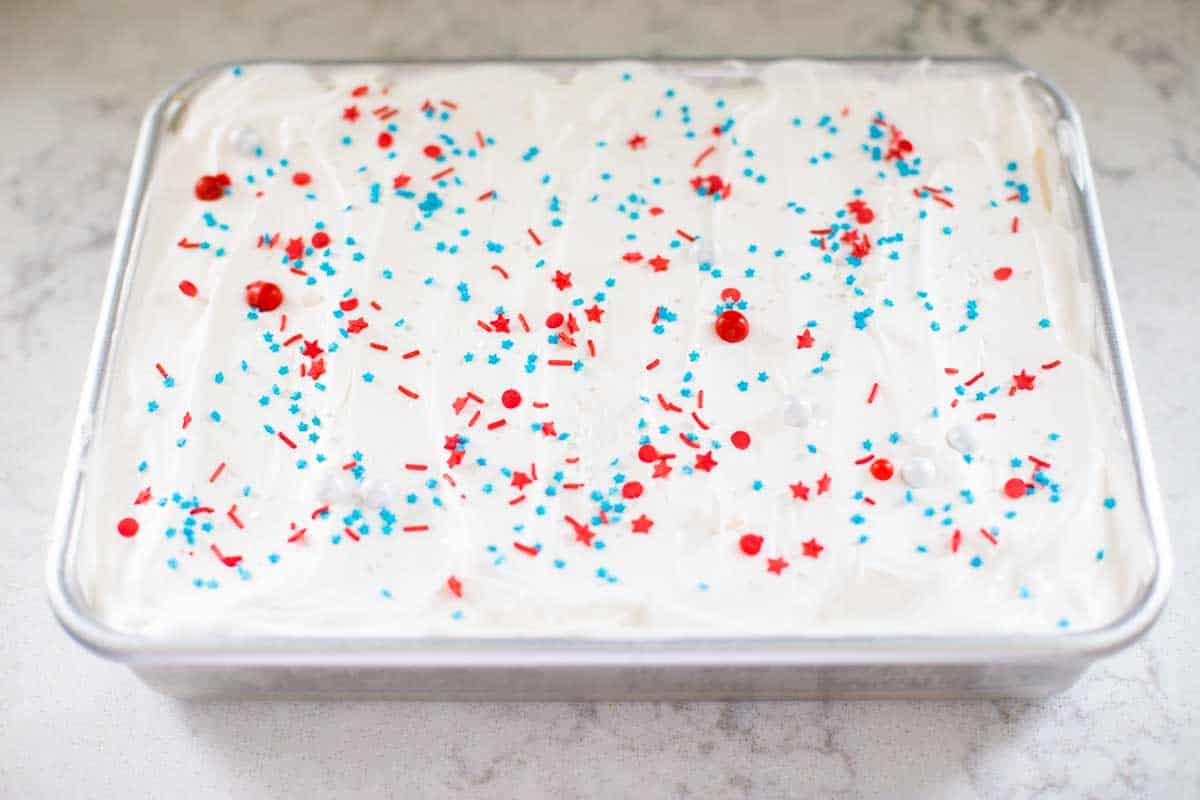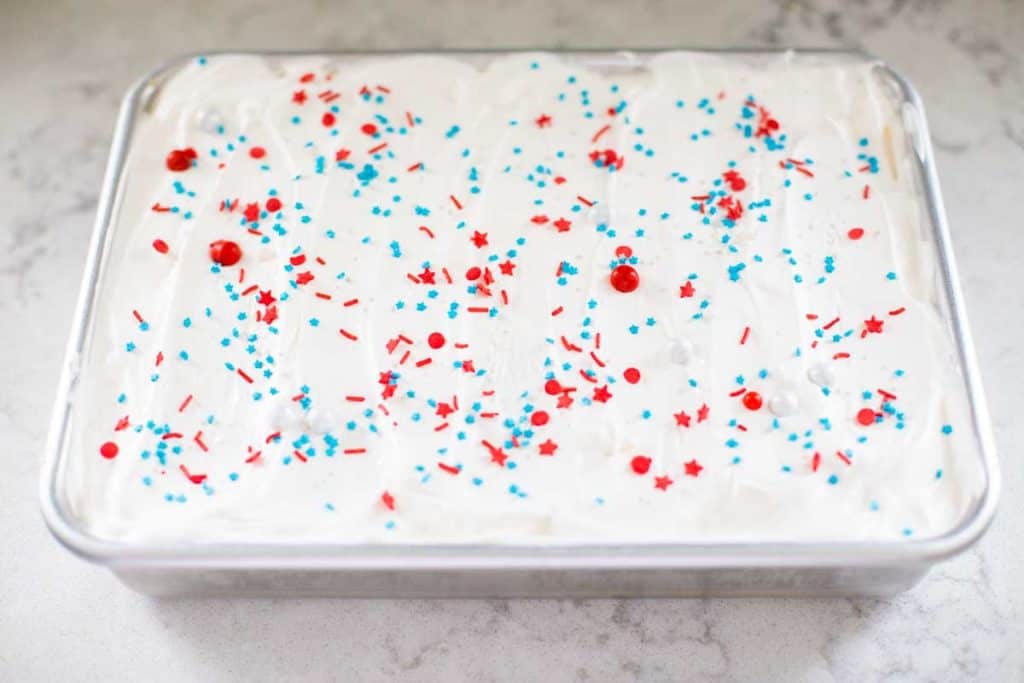 Finish assembling the cake by frosting the top with the remaining container of Cool Whip and decorating with sprinkles.
Be sure to add the sprinkles before you put it in the freezer or they won't stick.
Store the ice cream cake in your freezer for at least 1 hour before serving. This cake can be made many days ahead of time, just be sure to cover it with plastic wrap or a lid.
This is my absolute favorite 9 x 13 cake pan because it has a plastic lid for exactly this kind of dessert prep.
See?
This cake is so easy you could even pass this entire recipe off to the kids and let them prepare the whole thing all by themselves.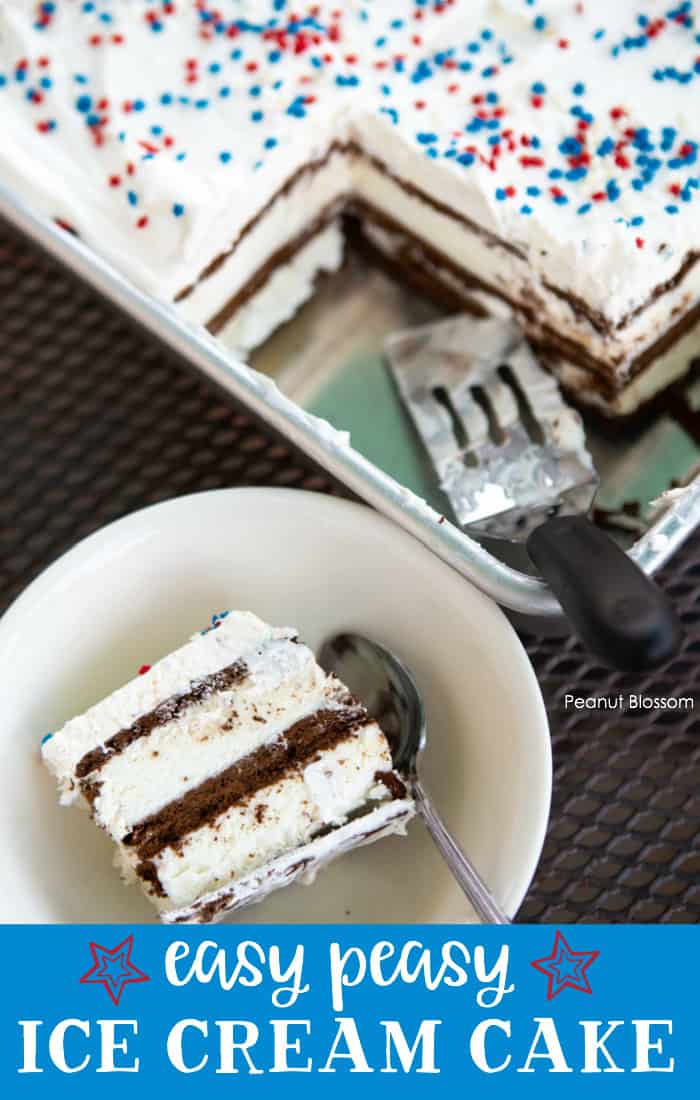 Recipe FAQs:
Can I use homemade whipped cream instead of Cool Whip?
No, I'm sorry. I love from-scratch cooking, too but Cool Whip has been stabilized and is essential to the layers holding their shape. Whipped cream will fall and your ice cream cake will be soupy.
What can I use instead of caramel sauce and chocolate sauce?
You could use essentially any ice cream topping or dessert sauce that pairs well with vanilla ice cream. Some excellent options include: strawberry sauce and pineapple sauce for a more tropical flair or butterscotch and a sprinkle of chopped Heath candies. This is a great recipe for letting the kids invent a new flavor.
How long should I freeze the ice cream cake after assembly?
Cool Whip freezes pretty quickly but you'll still need at least an hour for the cake to firm up in the freezer before serving. I love to make the entire dessert at least a day in advance just to make entertaining easier. But, if you forget it is an easy treat to whip together almost last minute.
More Ice Cream Recipes for a Crowd:
Want to give your guests more options for mixing up their own treat? These homemade ice cream sauces and serving ideas are super fun for entertaining.
📖 Recipe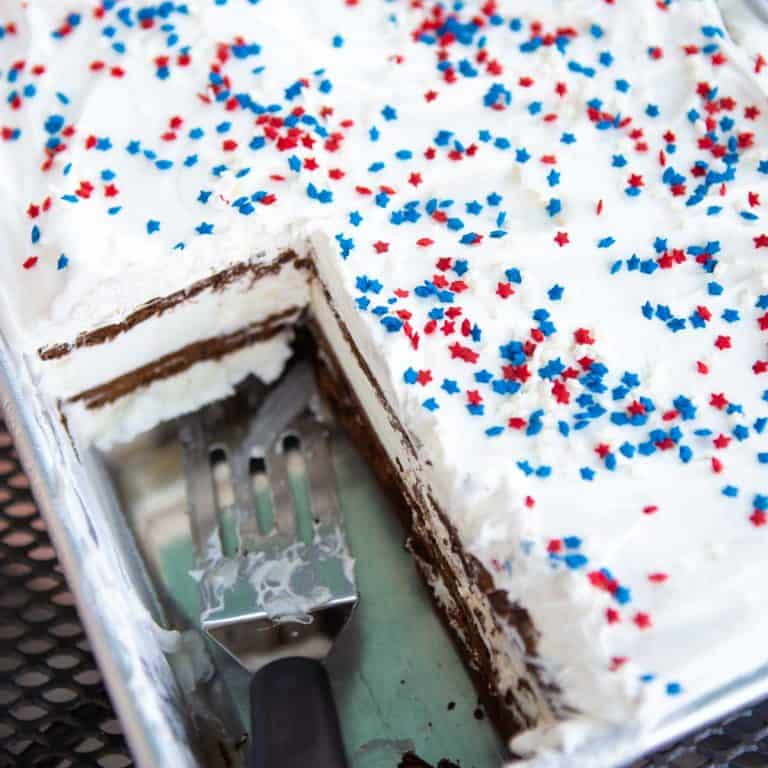 Easy Ice Cream Sandwich Cake
This easy peasy ice cream sandwich dessert is the perfect ice cream cake for a backyard party. 
Ingredients
24

ice cream sandwiches

We used the square Klondike sandwiches, but any brand will do.

2

containers of Cool Whip topping

thawed

1

bottle chocolate sauce

1

bottle caramel sauce

1

package sprinkles
Instructions
Before you begin, be sure your Cool Whip has been thawed for easy spreading.

Set out a freezer-safe 9 x 13 baking pan. Unwrap 10 - 12 ice cream sandwiches and place them in a single layer along the bottom of the pan.

Tuck them in corner to corner, to fill the entire bottom of the pan. If you need to cut one into a smaller shape to fill a gap, that's ok.

Frost the layer with one container of Cool Whip. Drop large spoonfuls over the top and use a knife to "connect the dots" and spread it into an even layer.

Drizzle chocolate sauce evenly over the Cool Whip.

Unwrap the remaining 10 - 12 ice cream sandwiches and gently place them in an even layer over the Cool Whip. 

Drizzle the caramel sauce over the sandwiches.

Frost the top with the second container of Cool Whip. Sprinkle your festive sprinkles over the top.

Freeze the dish for at least one hour or until you are ready to serve. This can be made several days ahead of time as long as it is wrapped or covered to prevent drying out.
Recipe Notes
Substitutions:
You cannot use homemade whipped cream, you need Cool Whip to stabilize the layers.
You can swap the chocolate and caramel with any sundae topping you love.
NOTE: Be sure to add the sprinkles BEFORE refreezing the cake or they will not stick to the frozen Cool Whip topping.
Save This Recipe to Your Recipe Box
Find this delicious recipe next time you visit by saving it to your very own recipe box on my site. All your favorites stored in one easy place!