An easy ice cream sandwich dessert is just one of the things that let you spend less time in the kitchen and more time with your family this summer. For your next Memorial Day or 4th of July party, don't forget to focus on the fun.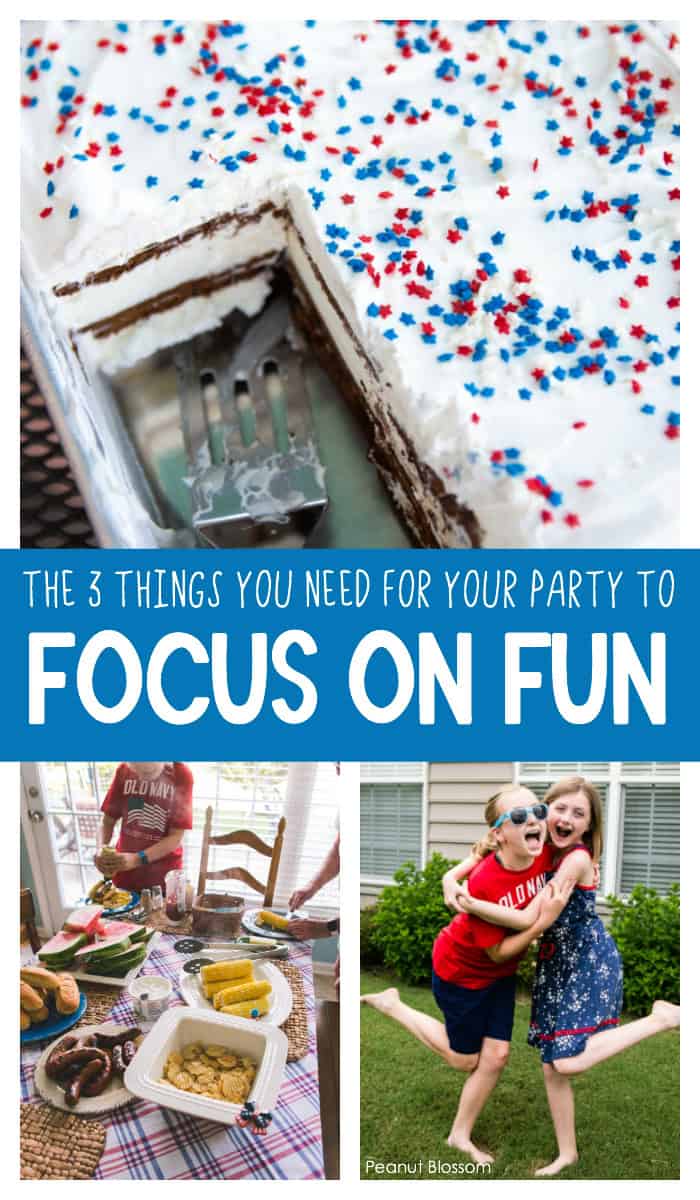 Raise your hand if your memories of childhood holidays are filled with mental snapshots of mom prepping food in the kitchen while you played somewhere else.
I love an awesome holiday feast more than your average mom. I readily admit I love to make desserts from scratch and tasty dishes for our holiday table.
But after two pretty solid years of crazy-busy work for my cookbooks, I'm ready to focus on what really matters in the coming months -- time with my kids having fun.
For Memorial Day weekend, I made the conscious choice to keep things EASY. Like ridiculously crazy easy. I wanted to be outside in the yard with my kids, not slaving away over food in the kitchen.
As we're about to dive head first into the summer party season, I wanted to share the three things I think you should keep in mind when it comes to entertaining with kids. I hope you are encouraged to relax and enjoy your family a little bit more than you otherwise would.

The three things you really need for an easy peasy backyard party: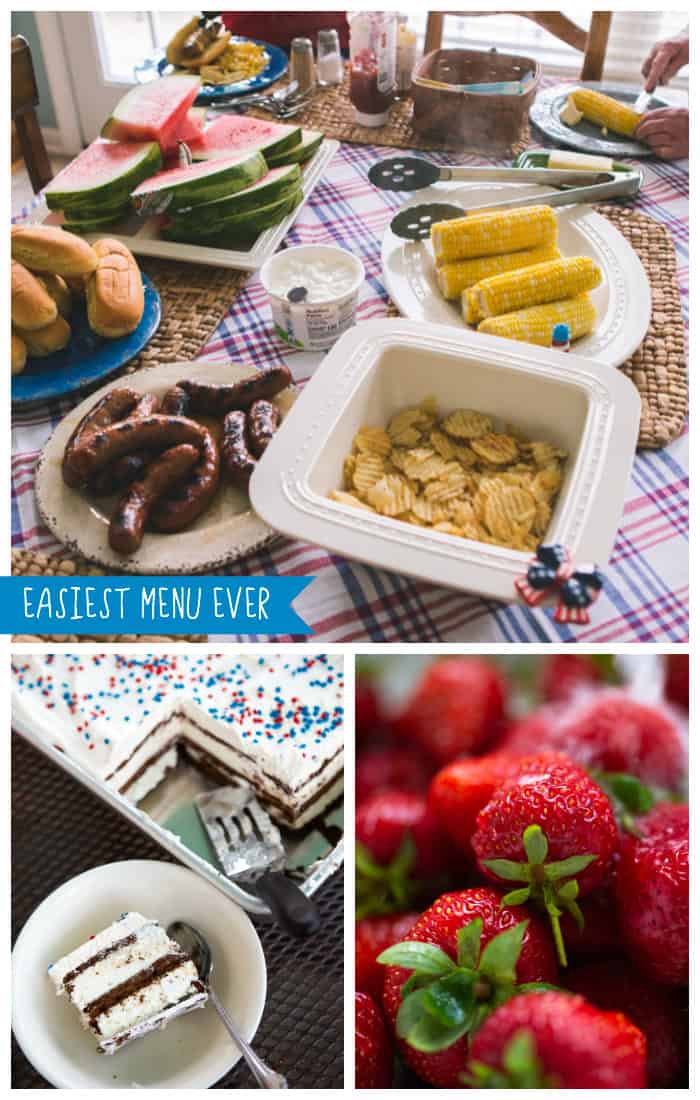 1. Plan a SIMPLE MENU, no I mean ACTUALLY Simple:
This is my downfall for sure. I *think* I'm planning easy foods and then when it comes time to execute it, it's not really all that easy after all. This year, I feel like we totally nailed our Memorial Day Menu.
Here is a list of everything you need for a simply perfect backyard party menu:
1 - 2 packages of brats or Italian sausages: even easier than hamburgers, no forming or prep work of any kind. Literally, just throw them on the grill.
1 -2 packages of long buns
Steamed fresh corn cobs: Bring a big pot of water to boil, add 1 tbsp of sugar and the corn. Let simmer for 12 minutes and then turn the heat off. The corn can keep warm in the water until the brats are ready to go.
Fresh watermelon: Cut into triangles, done.
1 container of cottage cheese
A bag of salty potato chips
Lemonade
The easiest ice cream sandwich dessert you've ever seen: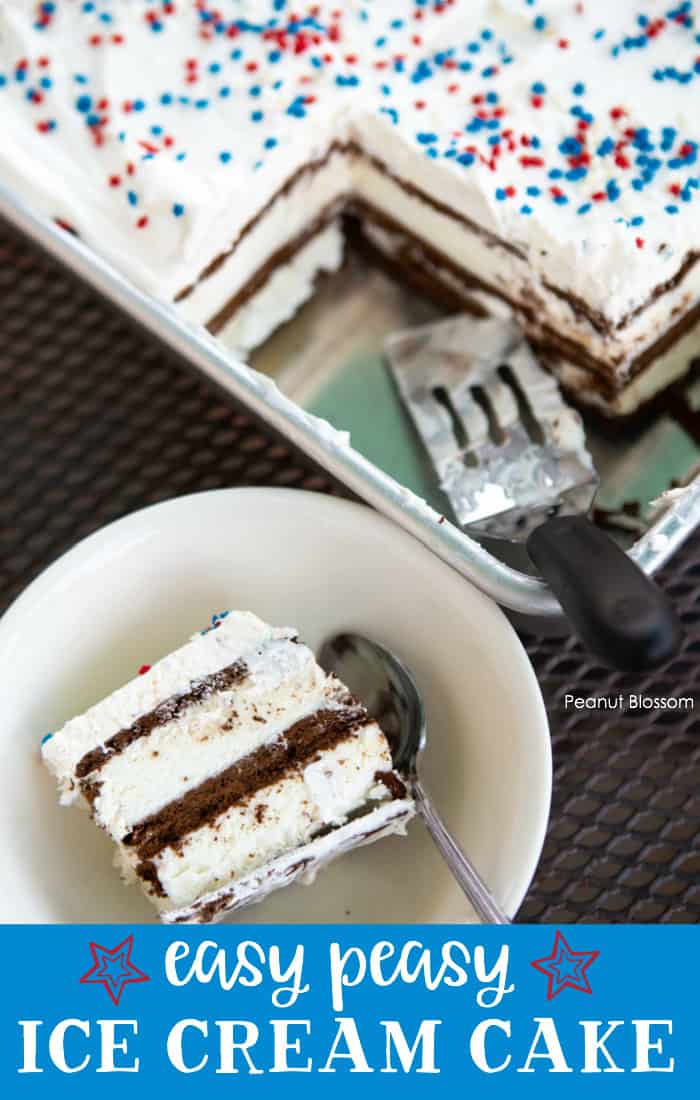 I felt sooooo guilty when I spotted this ice cream sandwich dessert recipe in The Beach House Cookbook and decided to make it for Memorial Day. It is so basic and simple I wasn't even sure it counted as trying!
I just finished up my holiday baking book: 60 recipes for kids to bake for the holidays all year long. I am SO terribly proud of the book and I can't wait for you to see it.
But was a woman who LITERALLY wrote a book on baking going to seriously present her family with a cake made out of store-bought ice cream sandwiches??
You bet your firecracker she did.
Friends, I love to bake. But I also love my kids. And this holiday? The kids won.
My family deserved to have me OUTSIDE of the kitchen spending time with them. Their jaws dropped when I pulled this beauty out of the freezer. The kids simply could not believe their luck that I was slicing into this over-the-top decadent treat.
We all love ice cream sandwiches, this cake turns them into simple slices of heaven. And takes less than 5 minutes to prepare.
You don't even have to measure anything.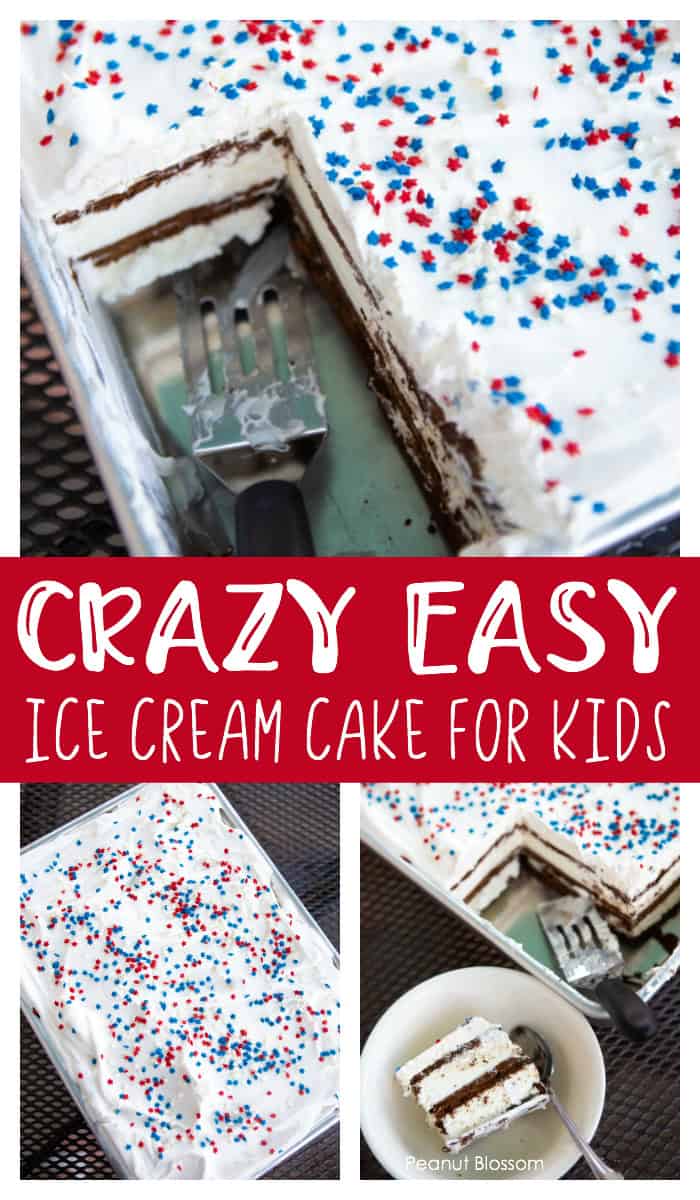 You could even pass this ice cream sandwich dessert recipe off to the kids and let them prepare the whole thing all by themselves. Make it the day before so it has time to set.
The easiest ice cream sandwich dessert for your party: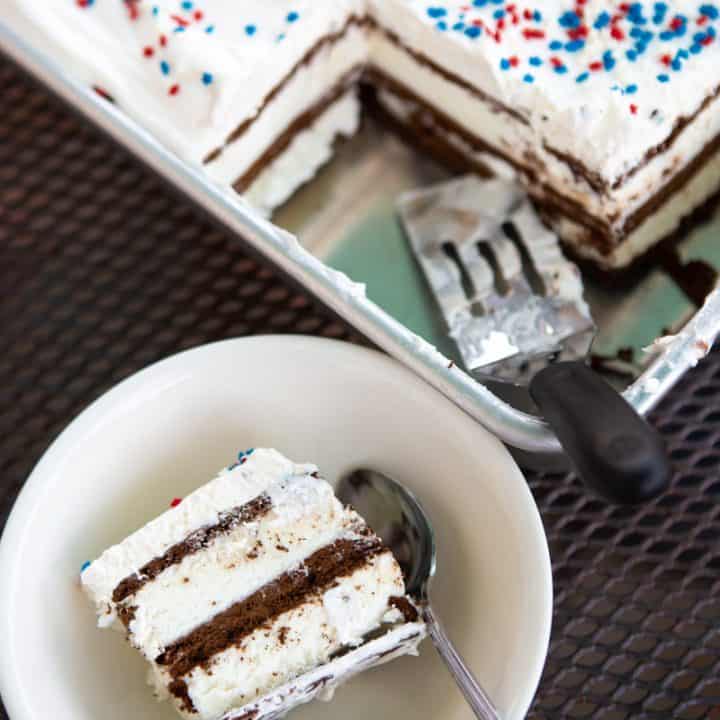 Easy Ice Cream Sandwich Dessert
This easy peasy ice cream sandwich dessert is the perfect ice cream cake for a backyard party. 
Ingredients
24 ice cream sandwiches (We used the square Klondike sandwiches, but any brand will do.)
2 containers of Cool Whip topping, thawed
1 jar chocolate sauce
1 jar caramel sauce
1 package sprinkles
Instructions
Set out a freezer-safe 9 x 13 baking pan. Unwrap 12 ice cream sandwiches and place them in a single layer along the bottom of the pan. It's ok to kind of squeeze them in, you want them in an even and flat layer.
Use the back end of a small cooking spoon handle to poke holes (2 - 3 per sandwich) evenly across the bottom layer. Drizzle chocolate sauce and caramel sauce over the sandwiches to fill the holes.
Spread one package of Cool Whip evenly across the bottom layer. Unwrap the remaining 12 ice cream sandwiches and gently place them in an even layer over the Cool Whip.
Poke more holes over the top layer and drizzle more caramel & chocolate sauce. Frost the top with the second container of Cool Whip. Sprinkle your festive sprinkles over the top. Freeze the dish until you are ready to serve.
2. Fun backyard games to play with your kids:
Now that you're out of the kitchen, what do you do with the kids?? To be perfectly honest, I spent a lot of Memorial Day visiting with my mom on the patio while the kids played catch. But we are always prepped for a little fun together.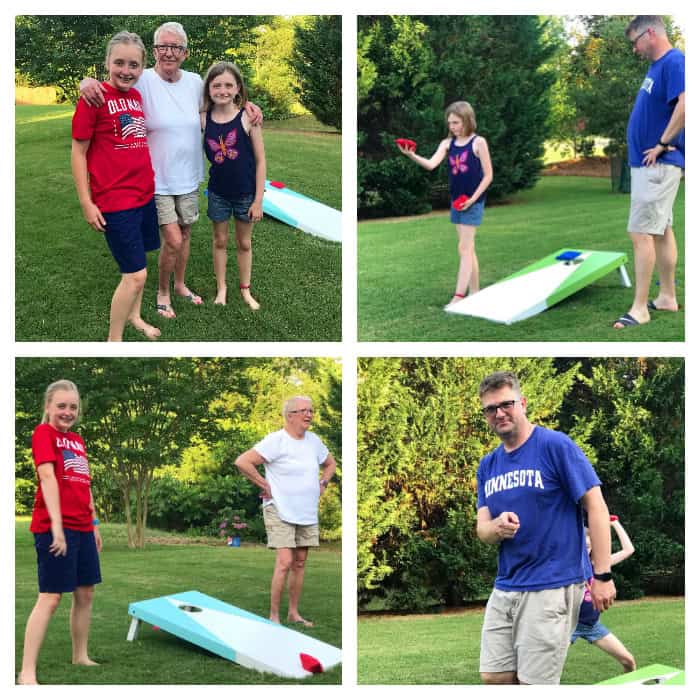 Our top 5 family games for the backyard include:
Cornhole: We keep the rules easy with teams of 2 against each other. A beanbag goes in the hole = 1 point. The first team to 5 points wins. We bought a wooden set we were able to paint with our own designs just like this one.
Catch: We keep balls of varying sizes and now baseball gloves in a bin outside. This is a simple go-to game that lets everyone keep chatting.
Checkers: I'm the reigning champ. Checkers is my superpower and the kids have yet to beat me. They're getting close, though. Little Pea nearly crushed me yesterday. We love a sturdy wooden set I bought years ago just like this one. It's perfect for playing under the umbrella on the patio when the sun is still really hot and strong.
Bocce ball: This was one of my favorites as a kid. I love that it requires almost zero set-up. We haven't played it with our kids yet, but I have my eye on this set here.
Badmitton: I don't know why this game is so addictive, but I love the backyard tennis-themed game. This portable set has a pop-up net that folds back down into an awesome carrying case. This would even be fun to take to the beach house this summer!
3. Crank up the tunes!
What's a party without a little music? We love the playlists on Spotify. This Backyard BBQ list is perfect for families.
We just hook up to a
portable bluetooth speaker
and set it on the patio table.
Looking for more easy backyard party recipes?
Don't miss these family favorite recipes: