This delicious homemade cherry ice cream has sweet chocolate chips and makes the perfect summertime dessert.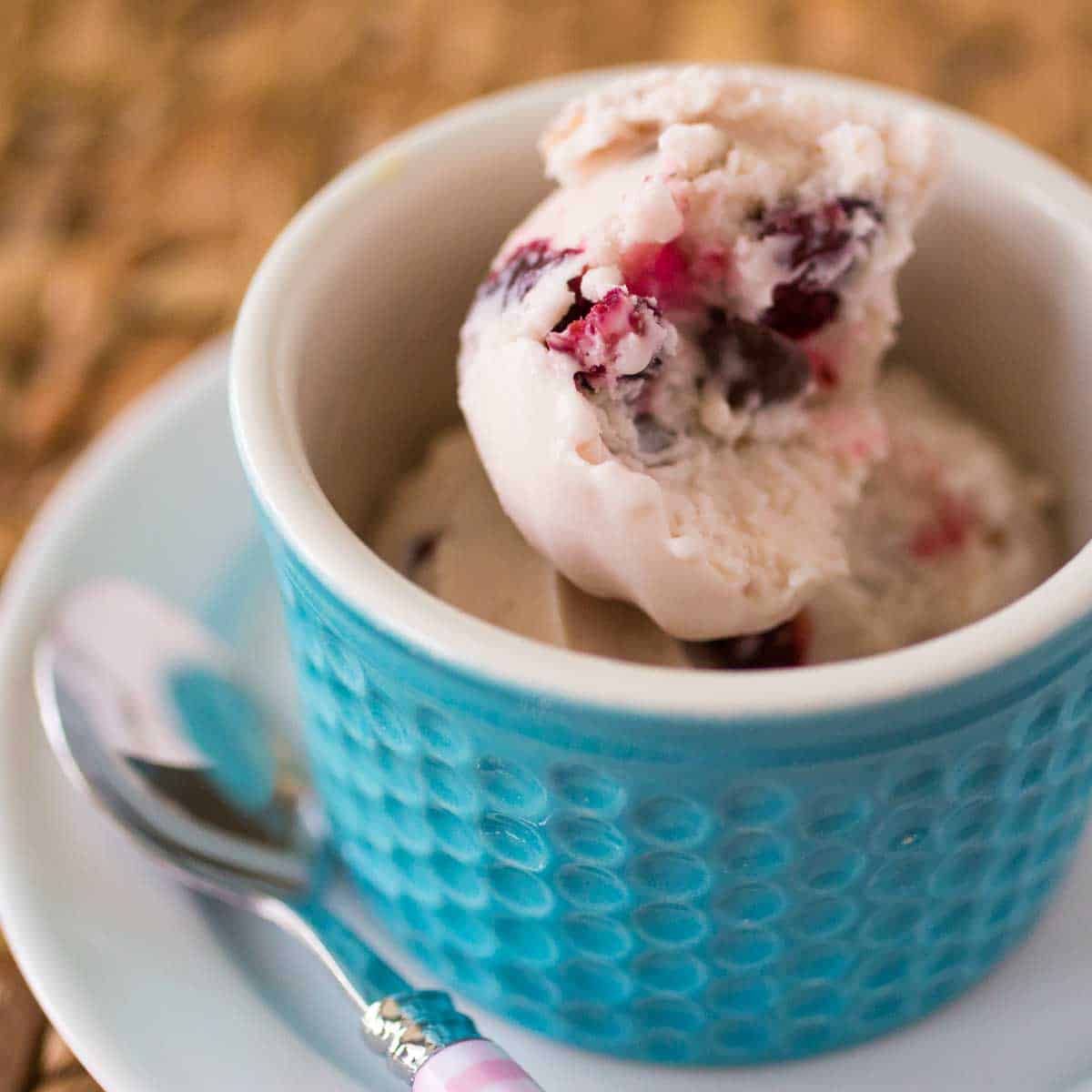 A few years ago I purchased a Cuisinart ice cream maker to try our hand at homemade ice cream. We used it a few times that first year and then I confess it has sat pretty much untouched ever since. This year I've adopted a "Use It or Lose It" attitude towards my kitchen so I dragged the machine out from the cabinet to give it another try.
I've settled on two major takeaways from our experiment this week:
Making homemade ice cream is time consuming for a fairly small batch of ice cream. Not difficult, but definitely messy.
Homemade ice cream is ABSOLUTELY worth the effort.
We used fresh cherries to make a homemade roasted cherry chocolate chip ice cream that was absolutely To Die For.
Just when I thought I knew every fresh cherry recipe there was, the roasted cherries blew my mind. The ice cream base was creamy, smooth, and delicious. Then I mixed in plump juicy roasted cherries, crunchy roasted almonds, and sweet chocolate chips for the perfect summer flavor.
Jump to:
Ingredients
To make the homemade ice cream, you will need:
Whole Milk
Cream Cheese
Heavy Cream
Sugar
Light Corn Syrup
Cornstarch
Vanilla Beans
Roasted Cherries
Roasted Almonds
Chocolate Chips
Tools You'll Need
Roast the Fresh Cherries
The first step to homemade cherry ice cream is to prepare these easy roasted cherries so they are extra concentrated: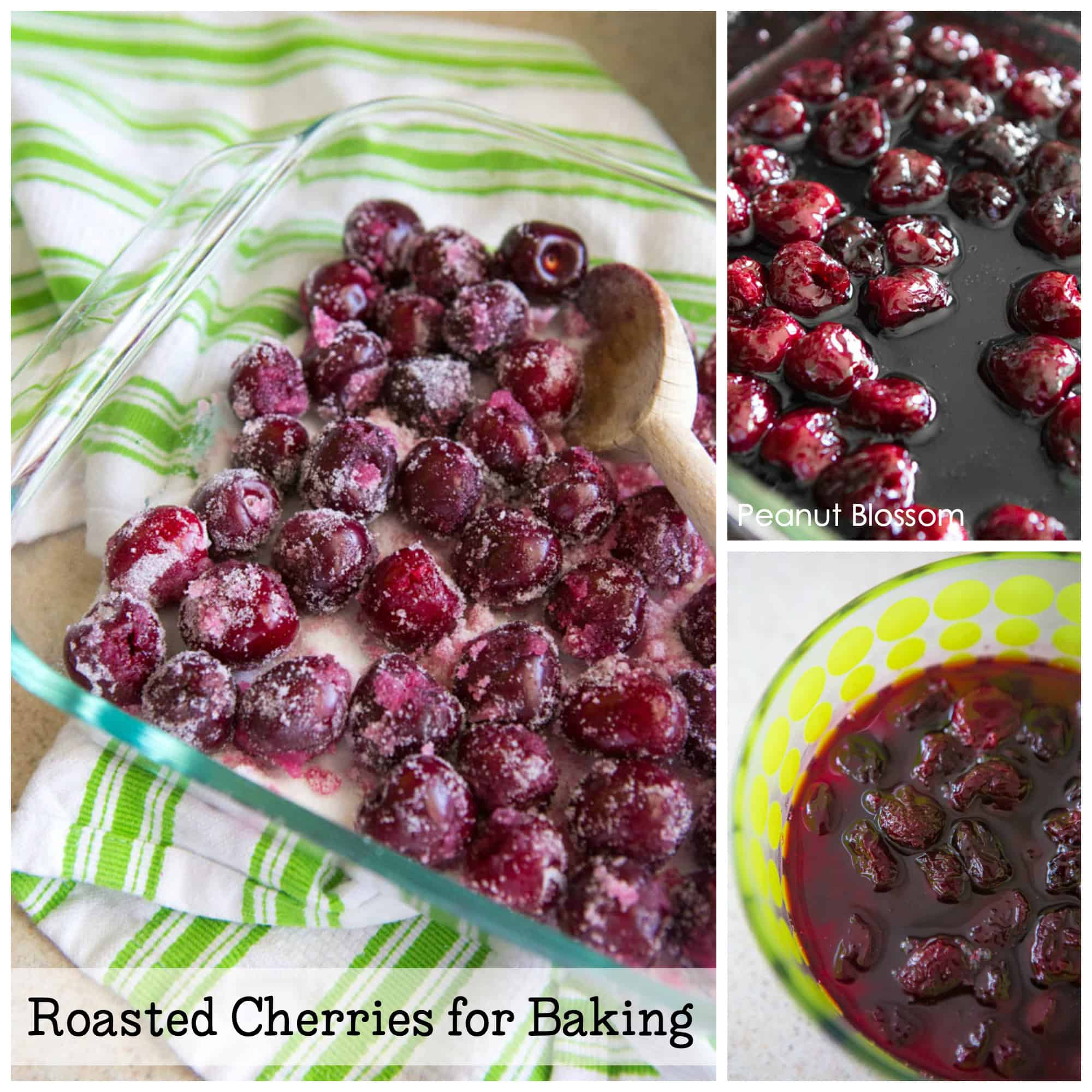 Rinse and dry 2 cups of fresh cherries. Remove the stems and pits. Preheat the oven to 400°F.
In a 9x9 glass baking dish, toss the cherries with ⅔ cup sugar and 2 teaspoon cornstarch. Bake for 45 minutes, stirring every 15 minutes.
The roasted cherries become extra concentrated in flavor and the sauce is thick and sweet.
Just by itself the sauce would make an amazing ice cream topping if you wanted to stop here and just use some vanilla ice cream from the grocery store.
But I highly recommend you keep going . . .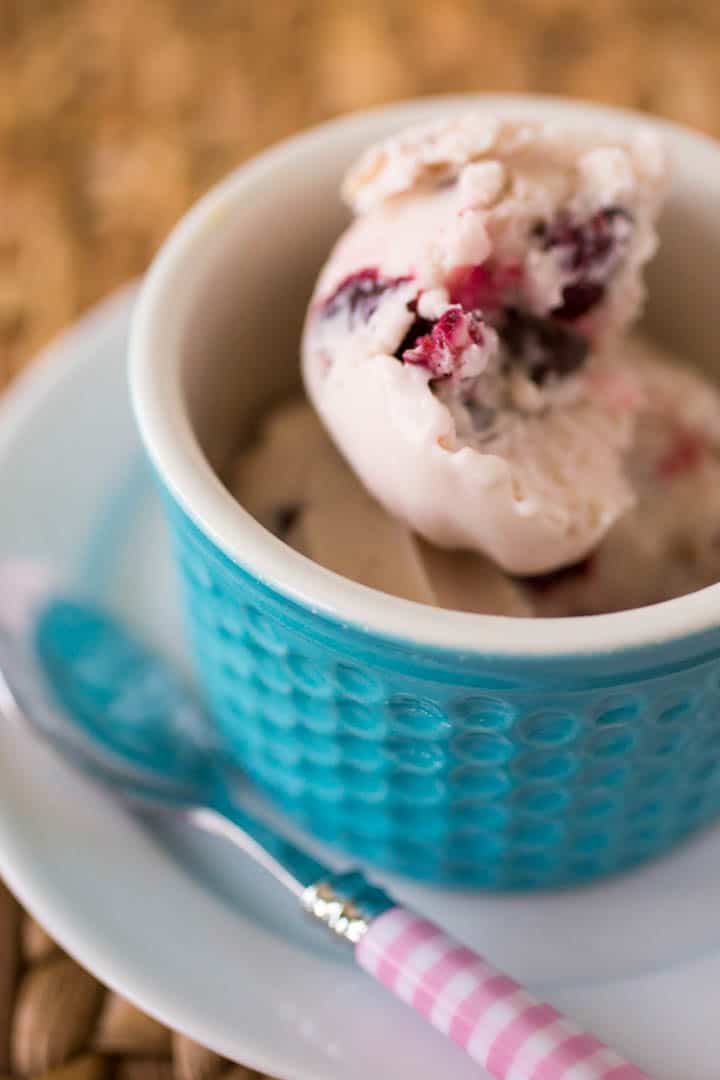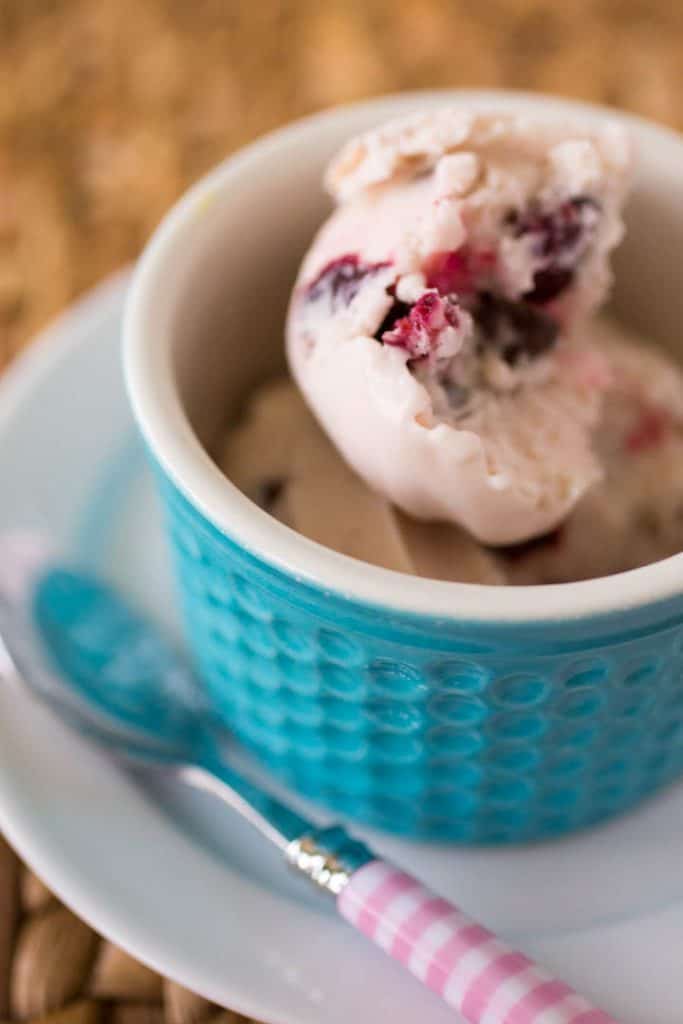 Make the Vanilla Ice Cream Base
I doubled the vanilla ice cream base so there would be plenty, placed it into our chilled ice cream machine and let it process for 20 minutes.
I added the roasted cherry mixture, ½ cup of roasted almond slices (instructions here), and ½ cup of chocolate chips and let the ice cream machine stir them to combine for 2-3 minutes.
More Ice Cream Recipes
📖 Recipe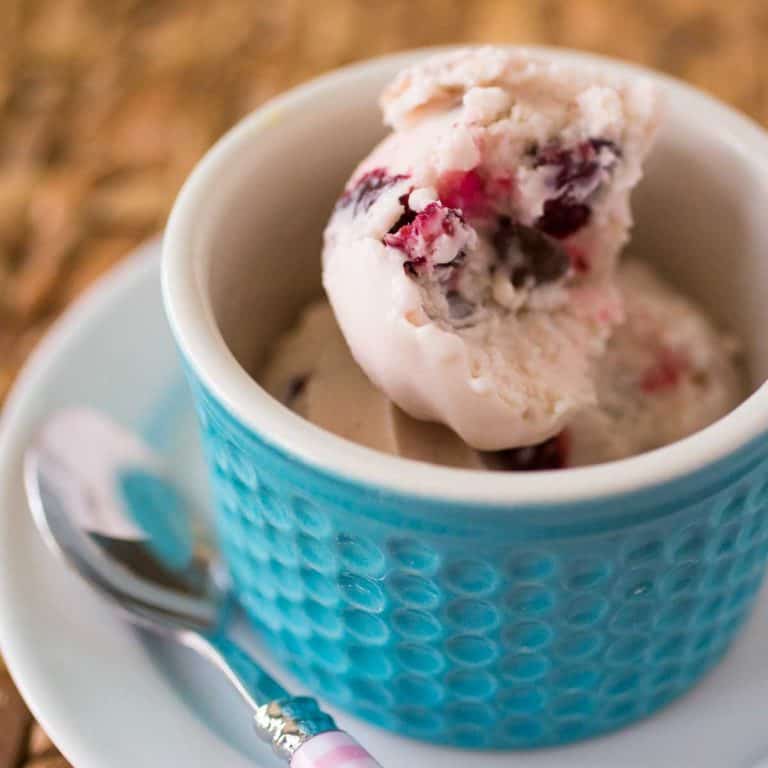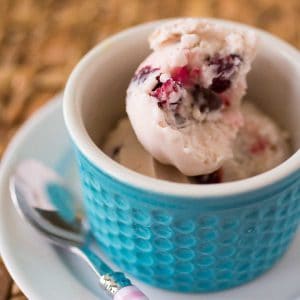 Roasted Cherry Chocolate Chip Ice Cream
This sweet and creamy cherry ice cream is studded with roasted almonds and chocolate chips.
Ingredients
4

cups

whole milk

2

tablespoon

cornstarch

3

oz

cream cheese

softened

3

cups

heavy cream

1 ⅓

cup

sugar

3

tablespoon

light corn syrup

2

vanilla beans

split and seeds scraped

¼

teaspoon

kosher salt
For the Roasted Cherries
2

cups

pitted fresh cherries

can be completely fresh or can be used directly from frozen

⅔

cup

sugar

2

teaspoon

cornstarch
Mix-ins for the Ice Cream
½

cup

roasted almond slices

½

cup

chocolate chips
Instructions
Roast the Cherries:
Preheat the oven to 400°F. Stir together the cherries, sugar, and cornstarch in a square baking dish. Roast for 30 - 40 minutes or until the juices are thickened and bubbly. Be sure to stir every 15 minutes so they don't burn. Cool completely and chill in the fridge for at least an hour before using in the ice cream recipe.
Prepare the Ice Cream Base:
Prepare an ice bath: Fill a large bowl with ice water and set aside. This will help to chill the ice cream before using.

Dissolve the cornstarch: Take 2 tablespoon of the milk and combine it with the cornstarch in a small bowl. This will prevent lumps.

In a large mixing bowl, beat the cream cheese until smooth and set aside.

In a large saucepan, combine the remaining milk, heavy cream, sugar, corn syrup, vanilla bean and seeds, and stir them together. Over moderate heat, bring it gently to a boil so the sugar dissolves, about 4 minutes. Whisk in the reserved cornstarch mixture and cook until the mixture is slightly thickened, about a minute more.

Slowly whisk the hot milk into the cream cheese until everything is smooth. Add the salt and whisk it in. Set the mixing bowl into your prepared ice water bath. Stir the mixture occasionally until it is chilled, about 20 minutes.

Strain the ice cream base into your ice cream maker.
Finish the ice cream:
Following the instructions for your ice cream maker, add the reserved roasted cherries, almonds, and chocolate chips during the mix-in phase of the machine's cycle.
Save This Recipe to Your Recipe Box
Find this delicious recipe next time you visit by saving it to your very own recipe box on my site. All your favorites stored in one easy place!