Roasted cherries have a deep cherry flavor, delicious soft texture, and rich cherry sauce that can be made either sweet or savory. Sweet cherries are perfect for spooning over a cheesecake, ice cream, or pound cake while savory cherries can be served with chicken or pork.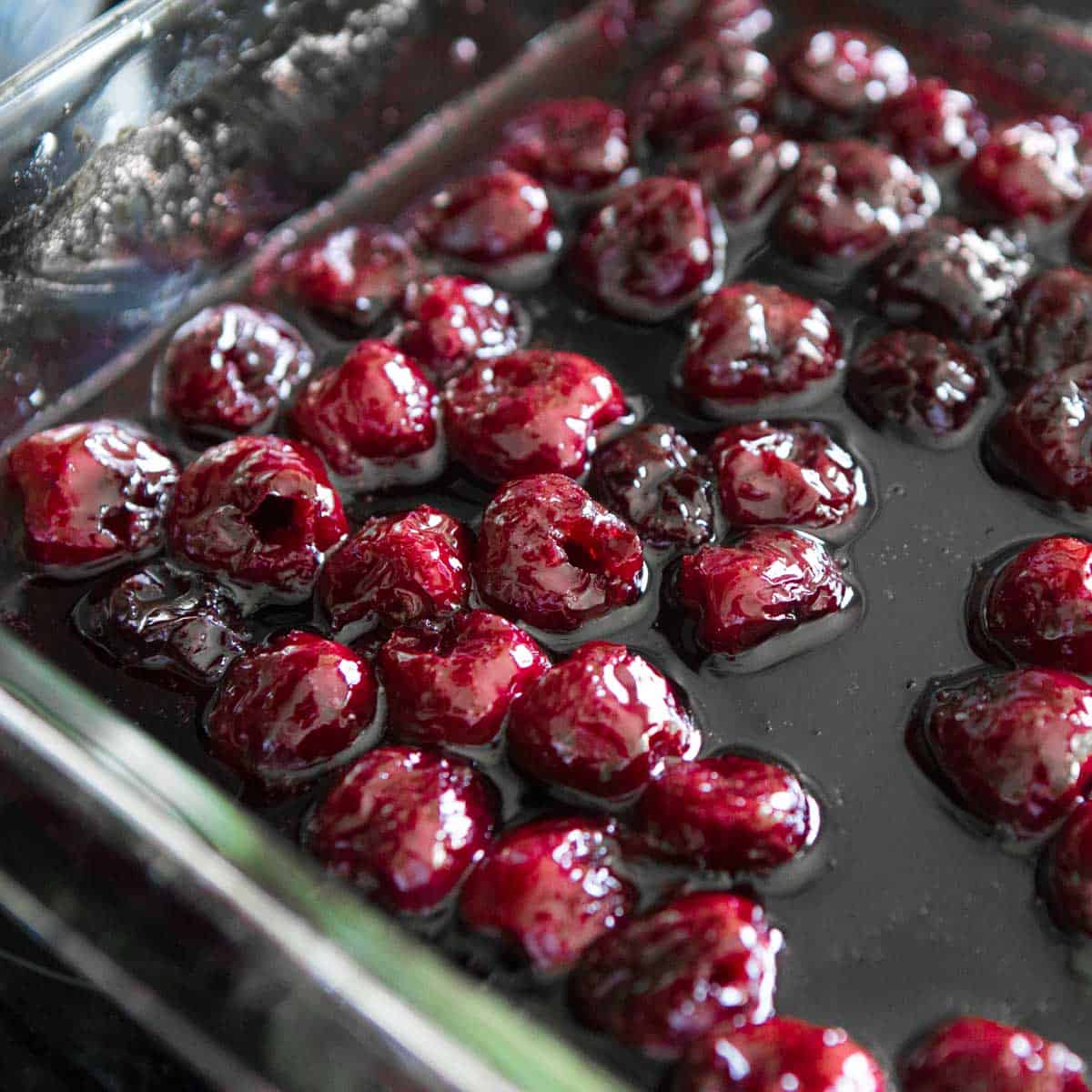 When you try as many fresh cherry recipes as I've done over the years, you realize that sometimes it is the simplest of ideas that are the big winners.
As much as I love cherry pie and cherry crisp, this easy roasted cherries sauce is the perfect quick recipe for spooning over a plain cheesecake, bowl of vanilla ice cream, or slice of pound cake with whipped cream.
All it takes is one little ingredient swap and you can make savory roasted cherries that taste amazing spooned over chicken or pork for an easy dinner.
With just 3 ingredients and 5 minutes of hands-on time, you can make this whole cherry recipe in a pinch for a fast and easy summery dessert or a weeknight dinner.
Ingredients for Sweet Cherries
I love how this roasted cherries recipe uses just 3 ingredients and keeps the focus on the star of the show -- the cherries!
All you need to make it is:
Fresh Cherries: You could use frozen cherries from the grocery store if it isn't cherry season.
Sugar
Cornstarch: This helps to thicken the cherry sauce and makes it rich and spoonable.
Savory Roasted Cherries Variation
I prefer the sweet roasted cherries recipe but you can also turn your berries into savory roasted cherries for spooning over chicken or pork.
Omit the sugar and instead toss the cherries in a tablespoon of olive oil and sprinkle with salt & pepper.
Cook the fruit as directed and then add up to 1 tablespoon of your favorite fresh herbs: basil, thyme, or rosemary would all be perfect additions to the savory roasted cherries.
How to Roast Cherries
Preheat the oven to 400°F.
Toss the cherries, sugar, and cornstarch together in a baking dish. (Or, cherries with olive oil and salt and pepper.)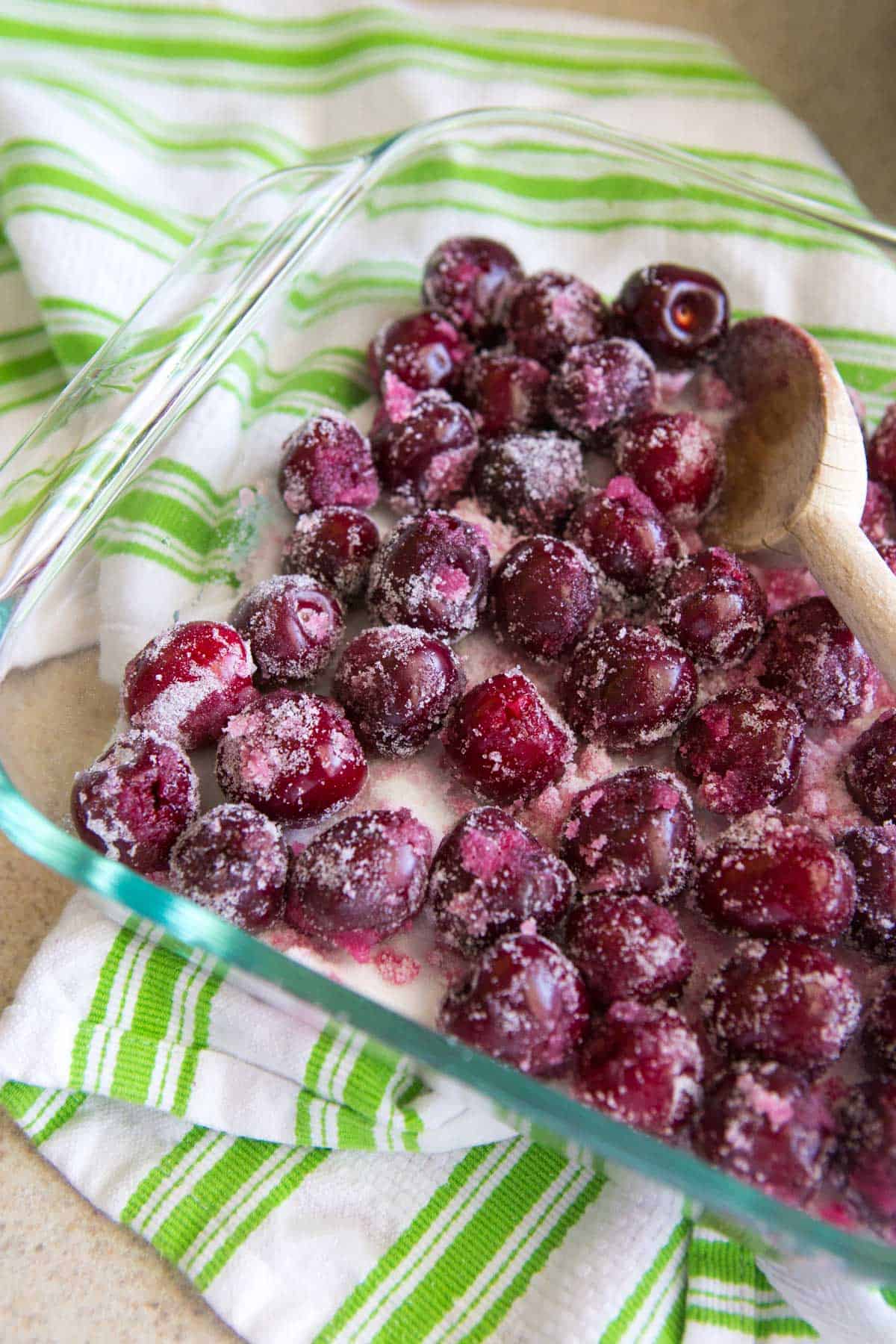 Bake for 45 minutes, stirring every 15 minutes.
Sweet Cherries Serving Suggestions
You can serve roasted cherries warm from the oven or you can cool them completely and chill if you prefer them cold.
Warm roasted cherries would be delicious spooned over:
vanilla ice cream
pound cake
a vanilla bundt cake
plain coffee cake
Chilled roasted cherries would be delicious paired with:
Savory Cherries Serving Suggestions
You can turn a savory cherry sauce into an easy dinner with my healthy chicken tenderloins or delicious pork tenderloins and a side of herb butter rice.
You might also enjoy using the savory cherries on a hearty green salad with crumbled goat cheese or blue cheese.
Storage Tips
You can make roasted cherries in advance and store them in an airtight container in your fridge up to one week.
You can freeze the roasted cherries sauce in a freezer-friendly container for up to 1 year. Simply thaw in the fridge overnight.
To reheat the roasted cherries, simply place the sauce in a saucepan and gently heat it over Low heat until it is warmed through.