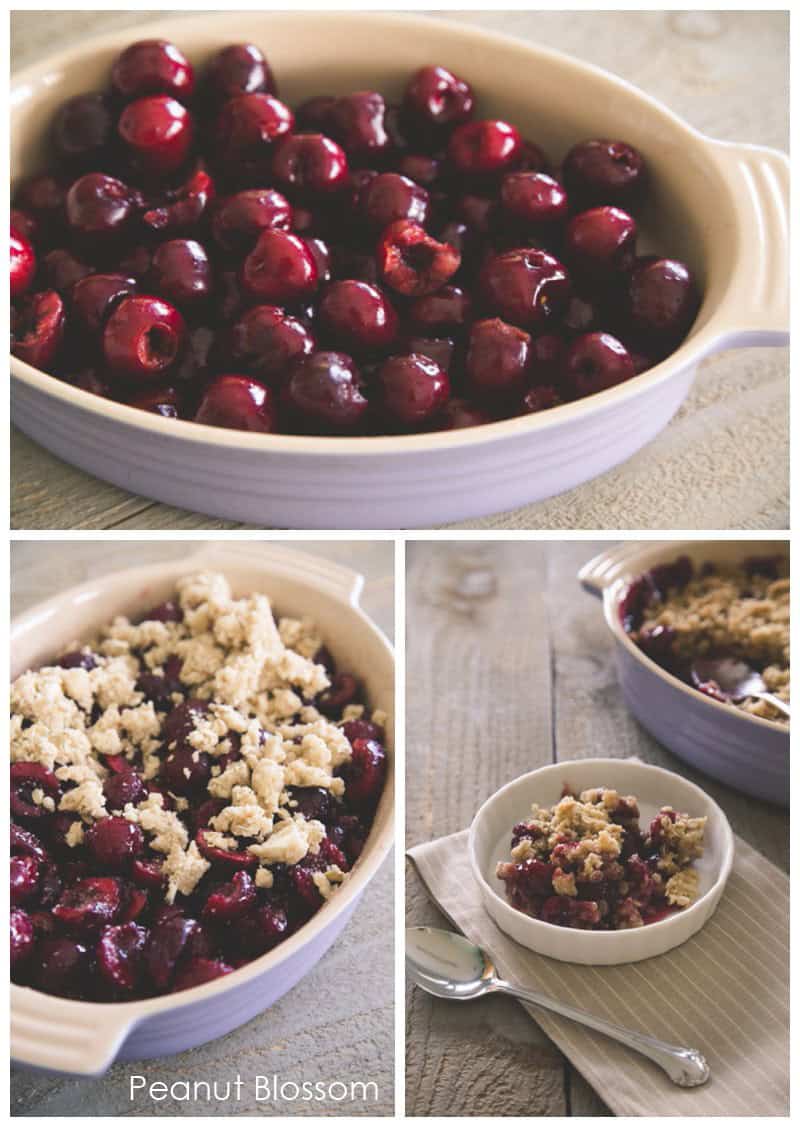 When I discovered that this month's food photography challenge theme was simply "Seasonal," I paused a moment to consider the possibilities. There were so many directions I could take it. Then I remembered the 8 Pound Box of fresh cherries sitting in my fridge and the choice was obvious. We are blessed to have annual shipments of these amazing fruits from Tim's Uncle Tim and cousin Gabe's orchard in the Dalles, Oregon.
When we first started receiving these enormous boxes years ago, I struggled to figure out what to do with 8 pounds of cherries. Even if we devour as many fresh as possible, there still seemed to be a bottomless container in our fridge! So every year a good portion of cherries make their way into my very very favorite summer recipe–a cherry crisp I developed specifically with this annual tradition in mind.
I first wrote about the crisp recipe in 2009. I still had just my point and shoot camera back then. I wanted so desperately to capture how pretty the cherries were but just couldn't manage to do it. I tried again in 2010 after I had my DSLR for a while and then again in 2011. The cherries are dark little light suckers–they absorb every ounce of light around them and appear black in most of my attempts. Once they are cooked into a crisp, they become darker still.
My photography style tends to lean towards light and airy. With this challenge, I finally realized after all these years of trying that the only good way to actually capture the cherries is to move towards a more "dark and moody" look for the images.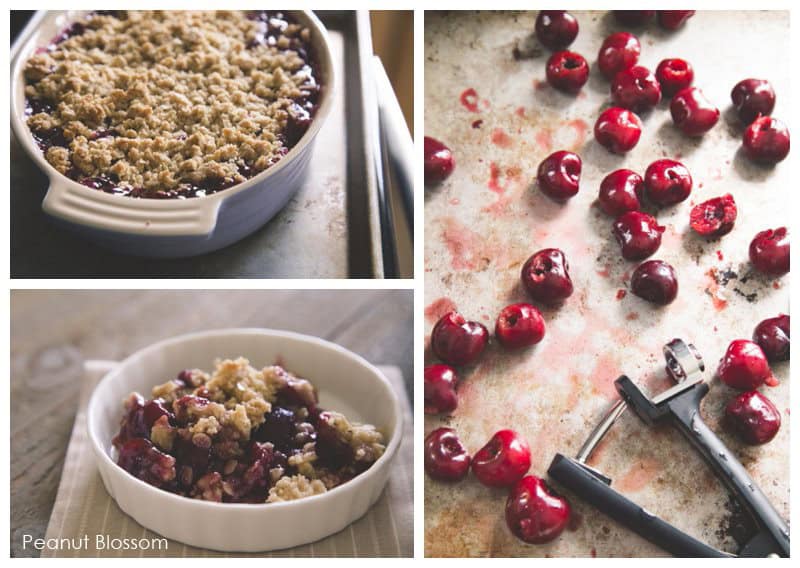 I finally feel like I managed to capture them in all their plump juicy fleshy glory. I also managed to tweak the recipe just a bit from the original. It makes a slightly smaller crisp and is quite a bit less sweet–perfect for adding a big scoop of vanilla on top.

__________________________________________________
Uncle Tim's Fresh Cherry Crisp
Ingredients:
For the filling:
4 cups fresh pitted Bing cherries, sliced in half
3/4 cup sugar
2 tbsp tapioca
1/2 tsp almond extract
For the crisp topping: (Makes enough for 2 crisps. You'll be using only half of this batch, the other half can be frozen for future use.)
1 1/2 c all-purpose flour
3/4 granulated sugar
3/4 cup light brown sugar
1/2 tsp kosher salt
1 cup oatmeal
1/2 pound cold unsalted butter
healthy sprinkle cinnamon
Method:
Preheat oven to 350 degrees.
In a large bowl, combine the filling ingredients. Toss to coat and let sit for 15 minutes.
Meanwhile, combine the topping ingredients in an electric mixer with the paddle attachment. Mix on low speed until the mixture is crumbly and the butter is the size of peas. Divide the bowl of topping in half. This recipe only requires one portion of it. You can save and freeze the other half for another fruit crisp another day.
Pour filling into a baking dish and spread half of the topping evenly over the cherries. (Mine was larger than an 8×8 but smaller than a 9×13. The smaller the pan, the thicker the filling is. The larger the pan, the more spread out and crispy the topping is. Just use what you have!)
Place on a rimmed cookie sheet and bake for 1 hour until the top is golden brown and the filling is bubbling.
Serve warm or room temperature with ice cream or whipped cream.