Southern peach cobbler is one of the best fresh peach recipes to make in summertime. This homemade peach cobbler recipe uses fresh peaches from the farmer's market and a quick and easy cobbler topping. This classic southern dessert is so good it will have your guests hollering, "Yes, Ma'am!"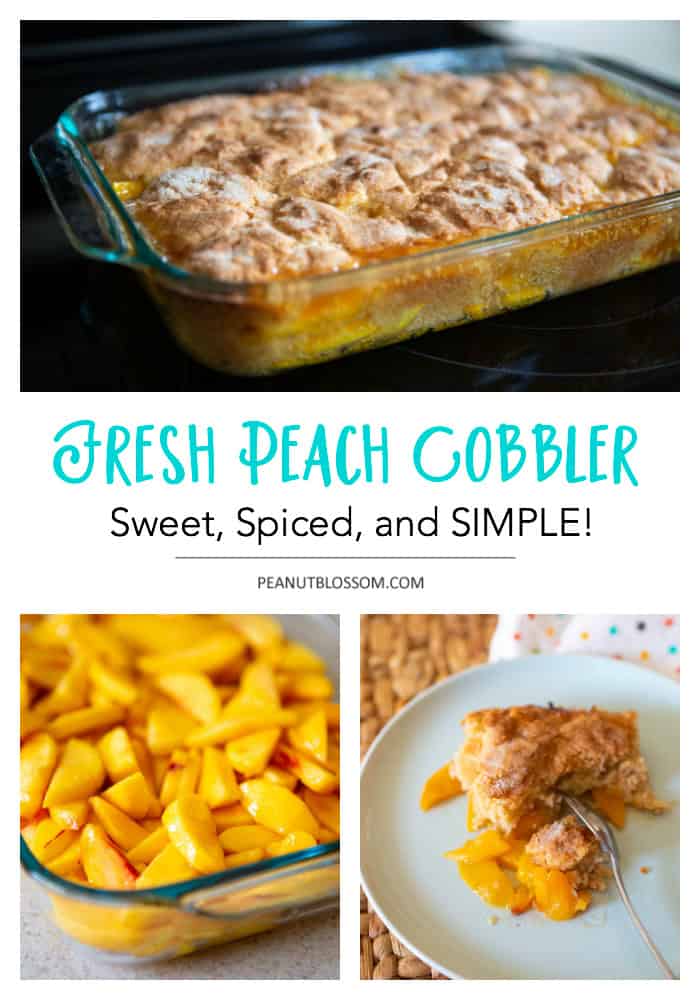 Women can get a little competitive over their favorite recipes, don't you think? Or is it just me?
My mom mentioned a friend of hers made a "to die for" peach cobbler that used canned peaches but she absolutely refused to share the recipe. She was sworn to secrecy from the friend who originally shared the recipe with her.
Listening to my mom share this funny tale, all I could do was shake my head and assure her: "Don't worry, it's ok that she won't share her recipe because I have the BEST peach cobbler recipe you will ever taste. And mine uses real fresh peaches."
Normally I wouldn't be snobby about fresh vs. canned fruit, but since we live in the south and have access to the most amazing local fresh peaches, it would be a crying shame to not put them to use in this classic southern peach cobbler recipe.
I could tell my mom was skeptical that my recipe would be better than her friend's so I couldn't rest until I finally proved to her the truth.
My birthday was just last week and since it fell during the first week of school, our celebration got a little side tracked. I had to make my own birthday treat and I just couldn't bring myself to make a cake. I decided it was the perfect opportunity to make my homemade peach cobbler for my mom to try.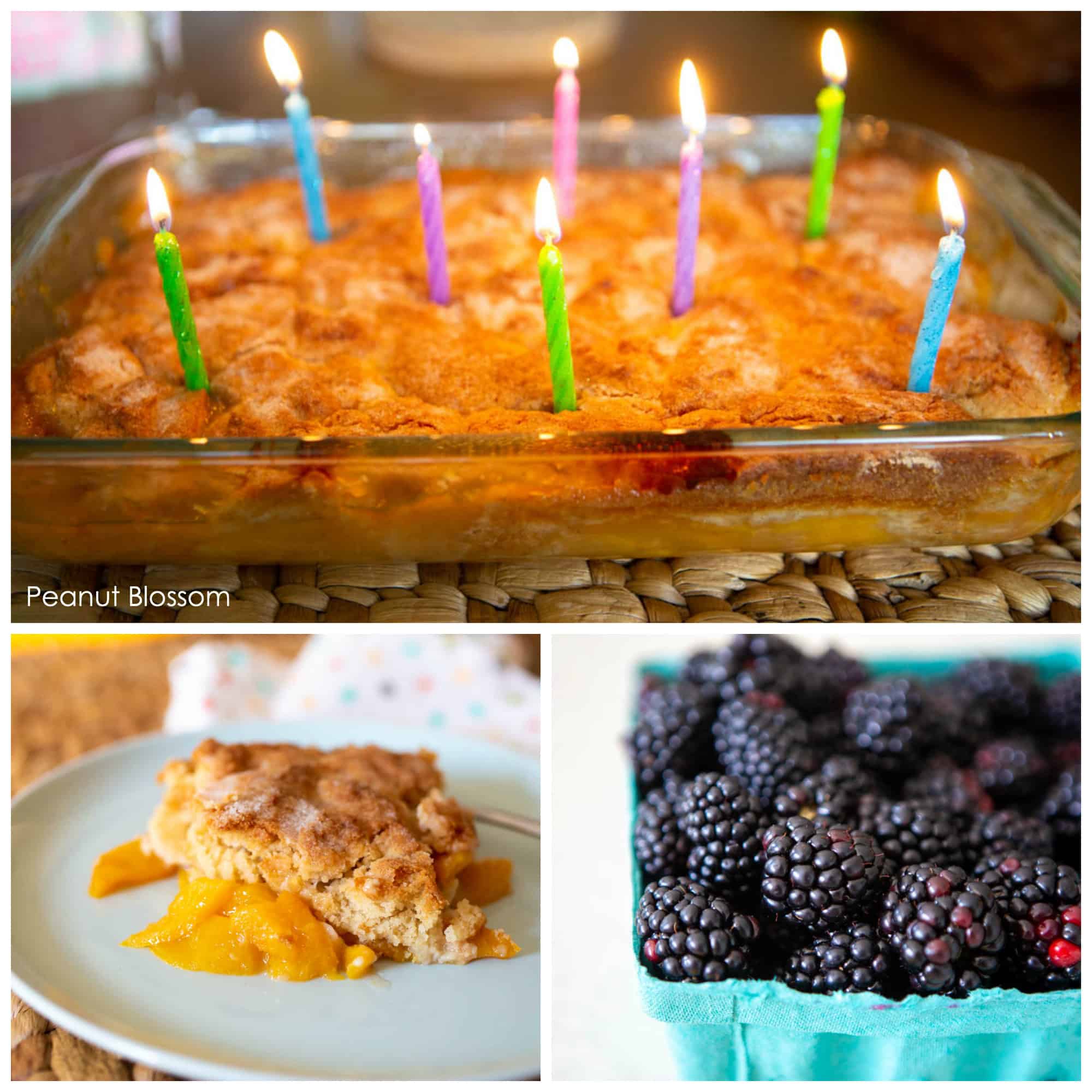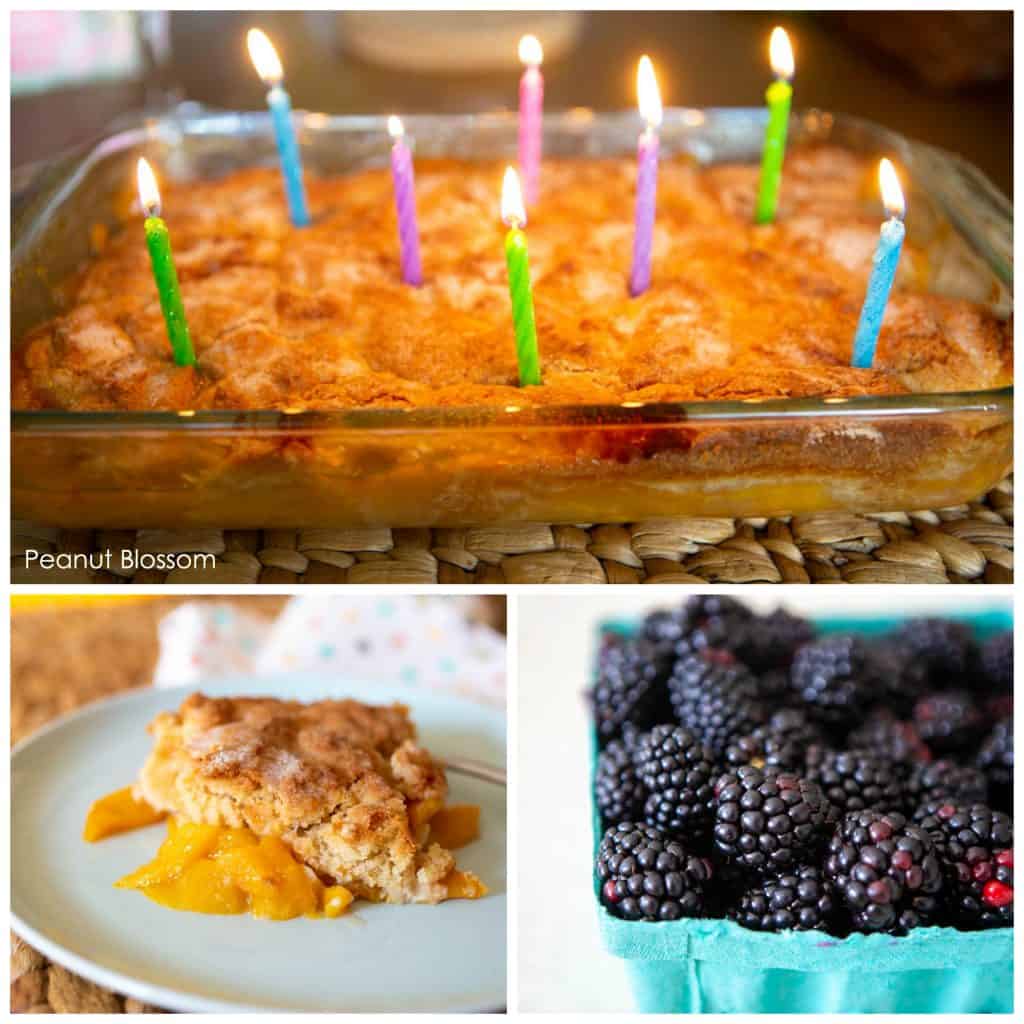 When I stopped by our local farmer's market to get my fresh peaches, they were overflowing with the most amazing summer produce. I came *this close* to adding in a cup or two of those sweet blackberries, but I wanted my mom to test the peach cobbler as it was originally intended. I think next time I might add some berries to the mix, either blackberries or raspberries would be amazing!
How to make this easy peach cobbler recipe: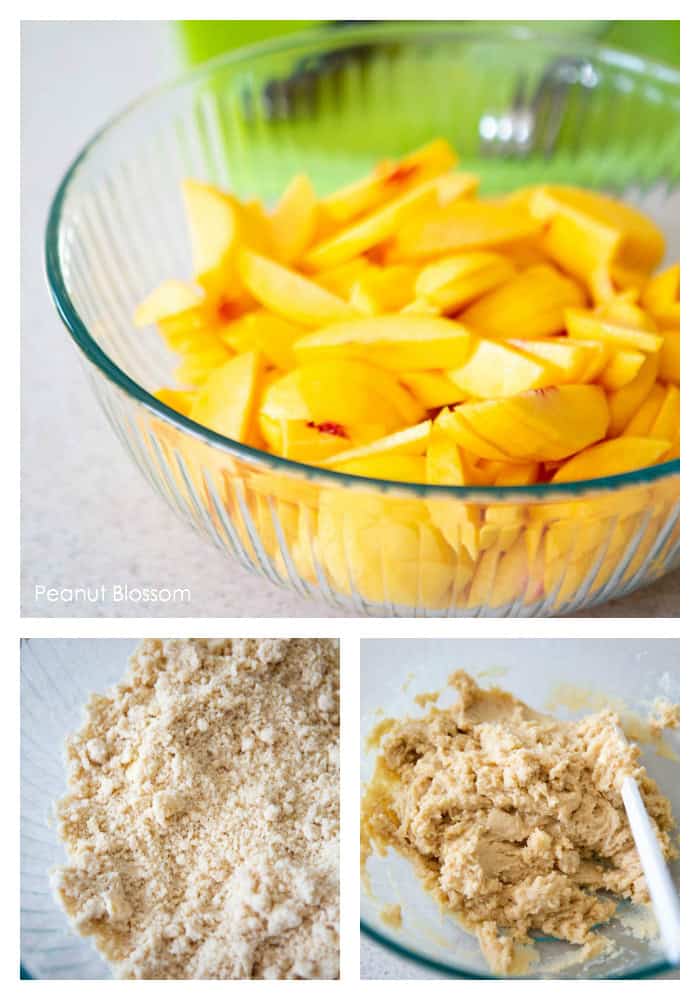 I know that using fresh peaches might sound like it is a lot more work than using canned peaches, but if you can get real southern peaches it is so worth the minimal extra effort.
I quickly and easily peeled the peaches using my regular veggie peeler and then sliced them into wedges with my chef knife. It maybe added 8 minutes to the recipe but the peaches were firmer, juicier, and sweeter than the canned would have been.
When it comes time to prepare the easy cobbler topping, you need to cut the cold butter into the flour. If you're fancy, you have a pastry cutter but if you're like me you don't have room in your kitchen to store such a single-purpose gadget. I just washed my hands and stuck them right in there and pinched the butter into the flour with my fingers until it looked coarse and crumbly like that photo on the left.
You pour the boiling water in and stir to combine with the flour and butter mixture until it is no longer "wet" and the dough has just come together. It should look like the photo on the right.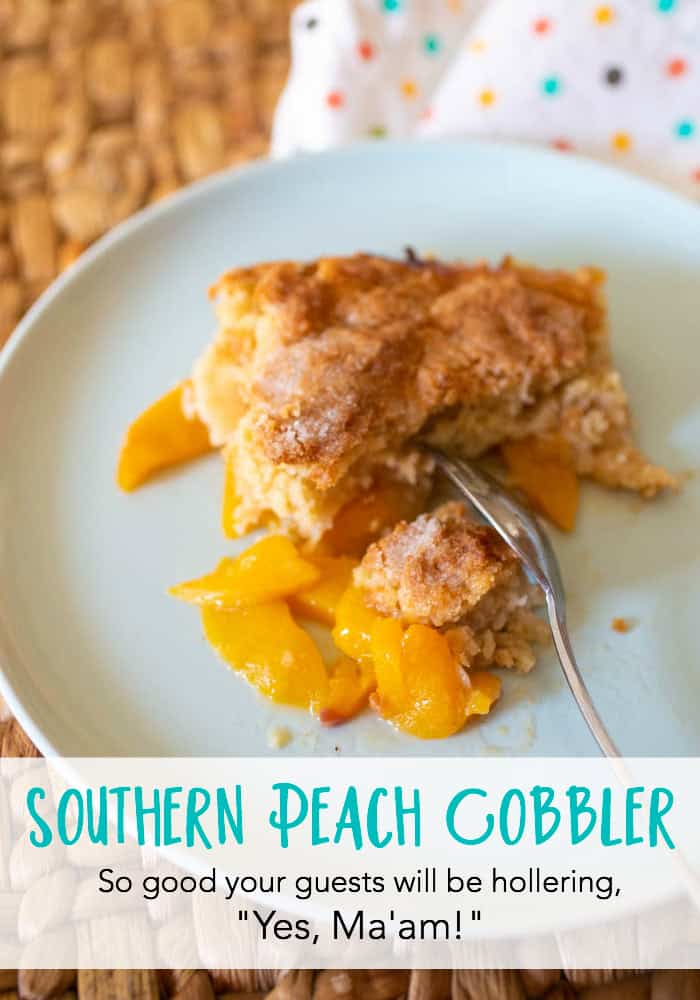 Did the southern peach cobbler beat the peach cobbler with canned peaches?:
After I blew out the candles on my "birthday cobbler" and scooped a heaping spoonful of vanilla ice cream on the fresh out of the oven dessert, I watched to see my mom's reaction. For the first few minutes, she was too busy eating to even say anything.
I finally asked her, "So how does this compare to your friend's peach cobbler? Was it worth it to use the fresh peaches?" My mom is not prone to gushing so I think I can safely summarize her response with a hearty "Yes, Ma'am!"
Mom eagerly accepted a large portion of the peach cobbler to take home and enjoy the next day. And unlike her friends, I'm more than happy to share the recipe.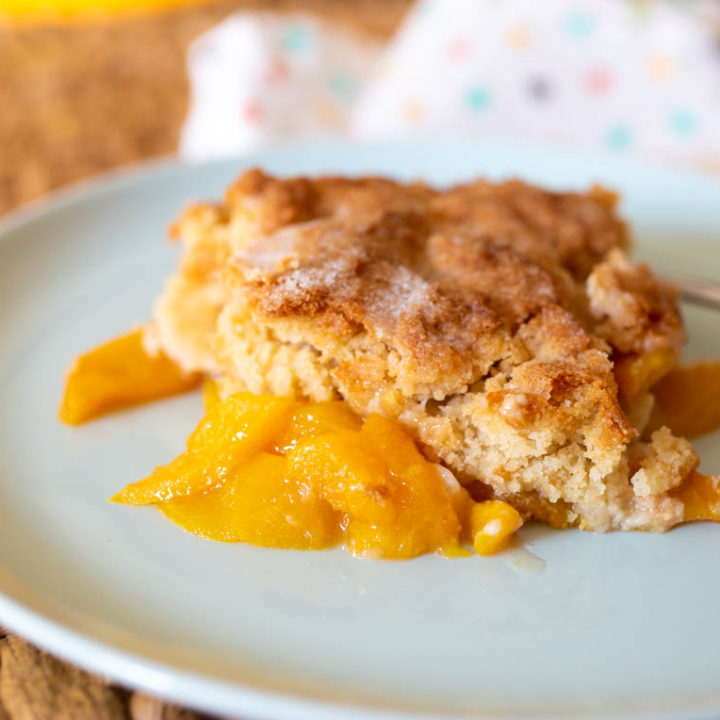 Southern Peach Cobbler with Fresh Peaches
This classic southern peach cobbler made with fresh peaches is a quick and easy dessert to make for summer. Serve it topped with vanilla ice cream for an unforgettable treat.
Ingredients
8 fresh peaches, peeled by hand with a peeler and sliced into wedges
¼ cup sugar
¼ cup brown sugar, packed
½ tsp pie spice
1 tsp vanilla extract
1 tsp fresh lemon juice
2 tsp cornstarch
For the easy cobbler topping:
2 cups flour
½ cup white sugar
½ cup brown sugar, packed
2 tsp baking powder
1 tsp salt
12 tbsp cold butter
½ cup boiling water
3 tbsp sugar for dusting the top of the cobbler after assembly 
Instructions
Preheat the oven to 400 degrees.
In a large bowl, combine the fresh peaches, both sugars, the pie spice and vanilla extract, lemon juice, and cornstarch. Gently fold all the ingredients together until the peaches are evenly coated with the spices and the cornstarch has dissolved into the juices. Pour the fruit into a 9 x 13 inch baking dish and bake for 10 minutes.
While the peaches are heating up in the oven, prepare the easy cobbler topping.
In a large bowl, mix together all the cobbler topping ingredients except for the boiling water. Use a pastry cutter or your hands to work the butter into the flour until the mixture becomes coarse and crumbly. Slowly pour in the boiling water and stir it into the butter mixture until the dough comes together and is no longer wet.
Place the baking dish with the peaches on the stove top and carefully drop large spoonfuls of the cobbler dough evenly over the top. You want the dough to be uneven and "dollop-y" but there should be enough batter to completely coat the surface of the peaches.
Sprinkle the surface of the cobbler with 3 tbsp of sugar and place the dish on a cookie sheet to help avoid spills in your oven. Bake the peach cobbler for 30 minutes or until the topping is golden brown and the peaches are bubbling.
More fresh peach recipes you may enjoy: