Southern peach cobbler is one of the best fresh peach recipes to make in summertime. This homemade peach cobbler recipe uses fresh peaches and a quick and easy cobbler topping. This classic southern dessert features a crispy sugared crunch topping over a juicy filling that pairs just perfectly with vanilla ice cream.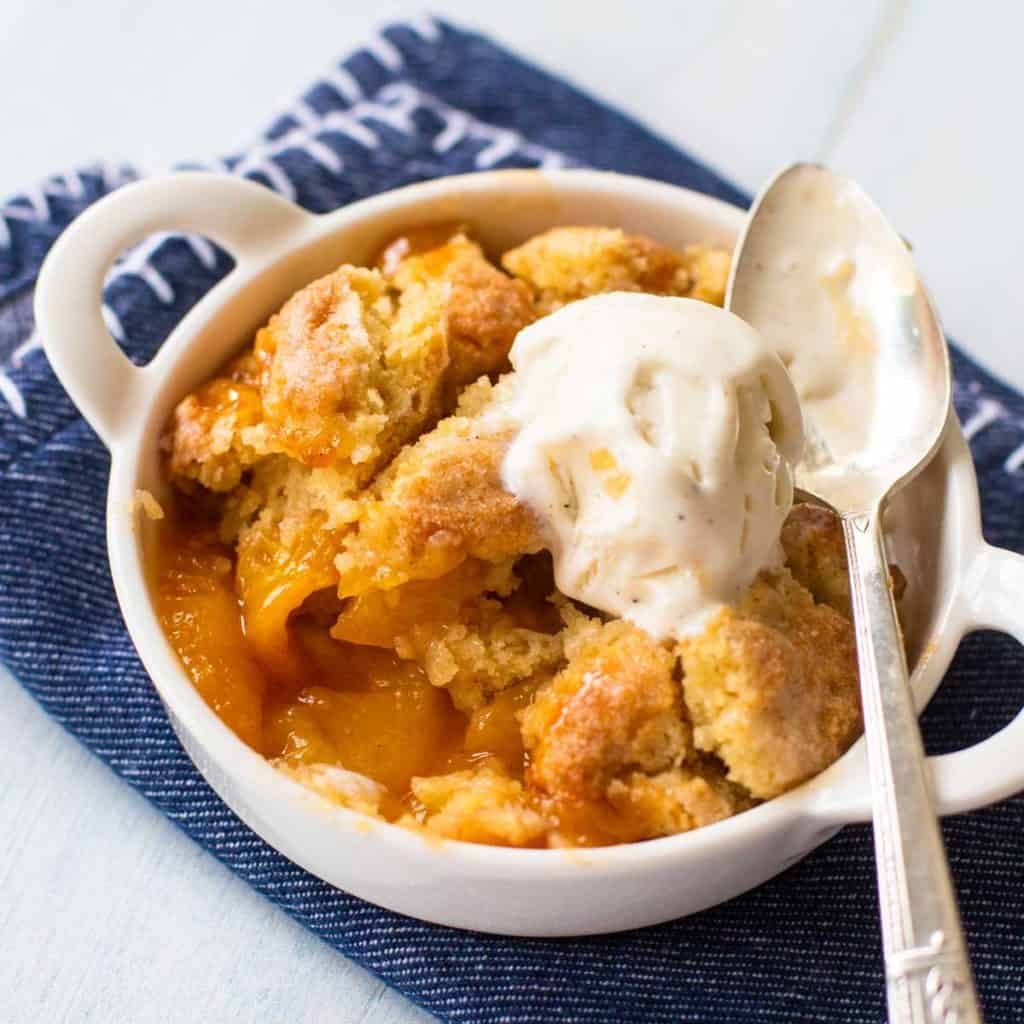 My mom mentioned a friend of hers made a "to die for" peach cobbler that used canned peaches but she absolutely refused to share the recipe.
All I could do was shake my head and assure my mom:
"Don't worry, it's ok that she won't share her recipe because I have the BEST peach cobbler recipe you will ever taste. And mine uses real fresh peaches."
Normally I wouldn't be snobby about fresh vs. canned fruit, but since we live in the south and have access to the most amazing local fresh peaches, it would be a crying shame to not put them to use in this classic southern peach cobbler recipe.
But if you can't get your hands on fresh southern peaches, no worries. I included the instructions to make this with canned peaches, too!
Jump to:
Why This is the Best Recipe
There are a lot of delicious peach dessert recipes out there, but I think this is the best southern peach cobbler recipe because:
You don't have to wait for your fresh peaches to be perfectly ripe. In fact, I prefer firm peaches because they hold their shape.
The prepared fruit filling gets a quick pre-bake in the oven for 10 minutes that will help even the firmest peaches to soften up.
The cobbler topping is so easy, you can prep the entire crust during those 10 minutes.
The texture of the baked cobbler is absolutely amazing. It's a cross between a crispy cookie and a cake.
It's so delicious, I even made it for my own "birthday cake" one summer!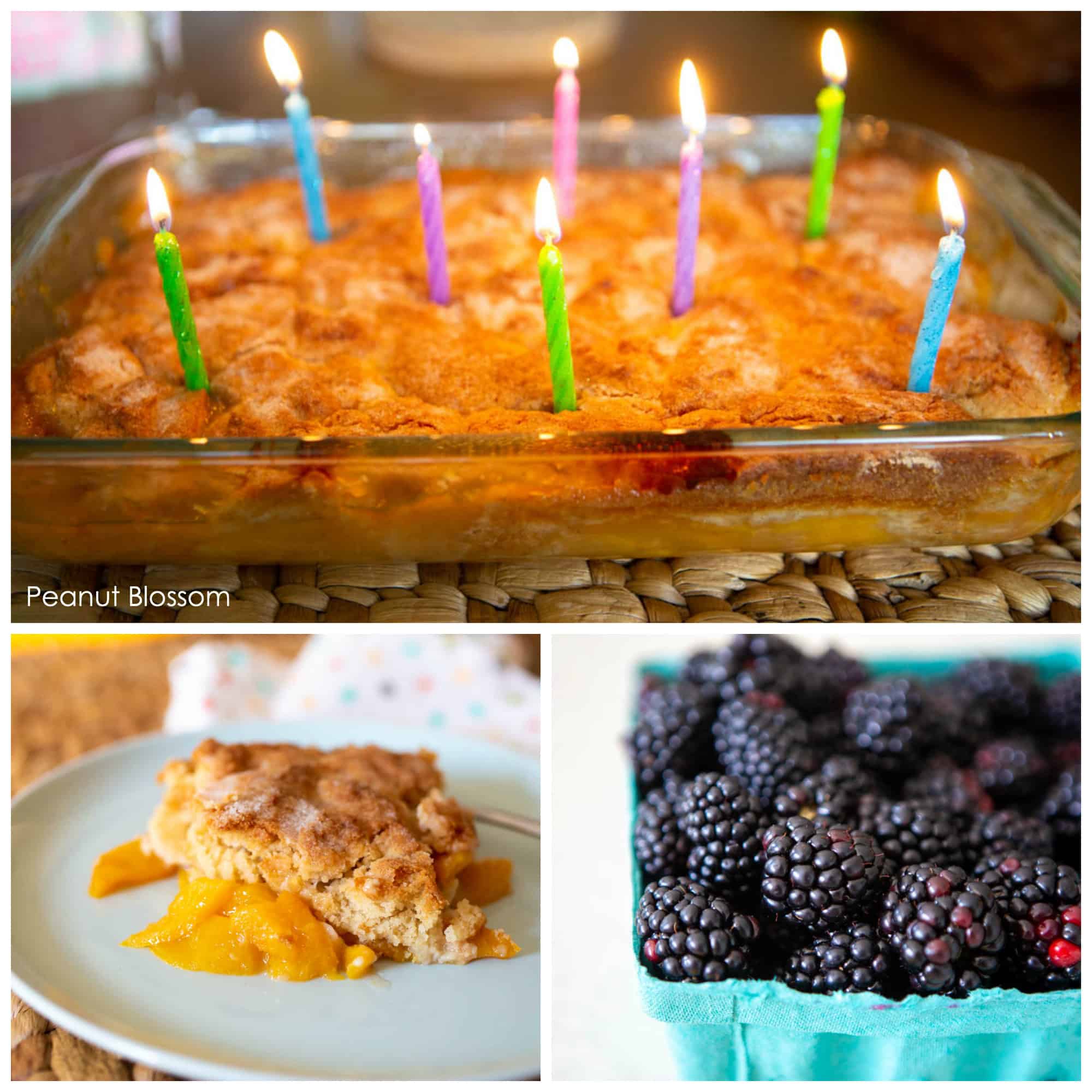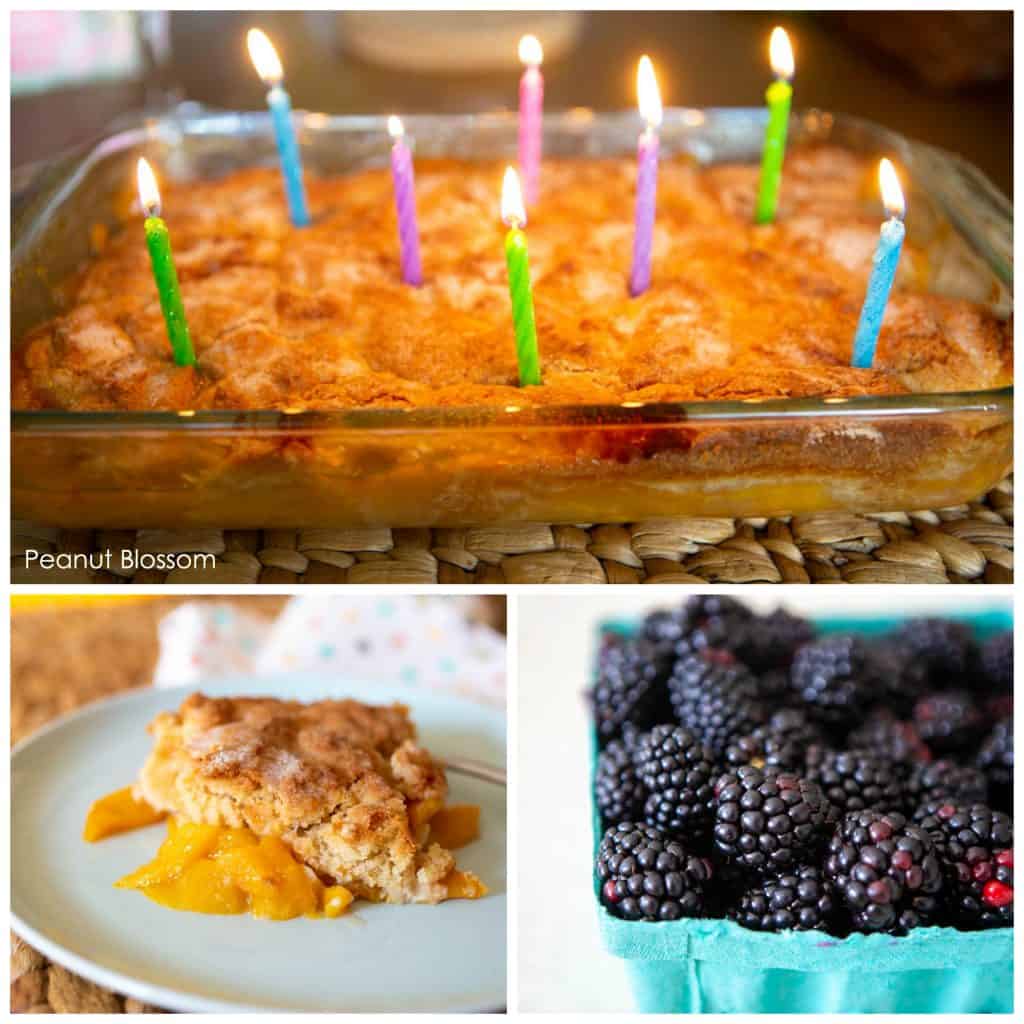 Ingredients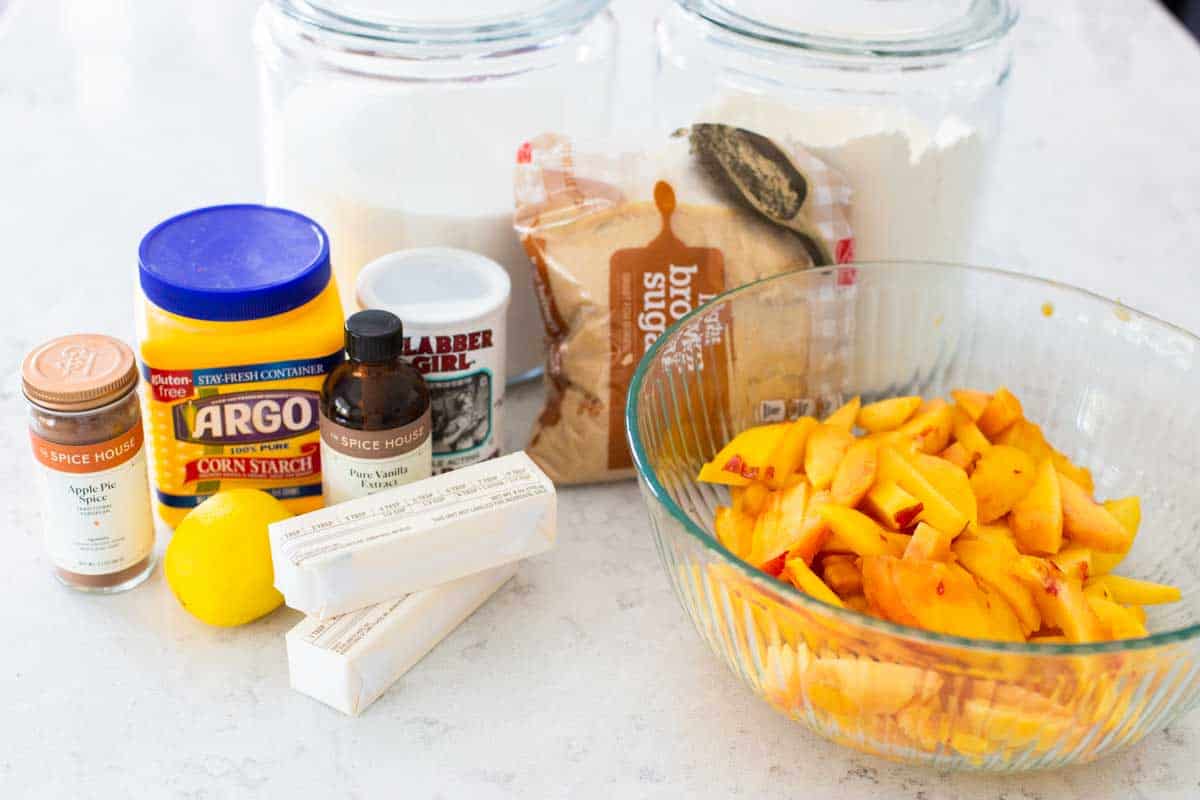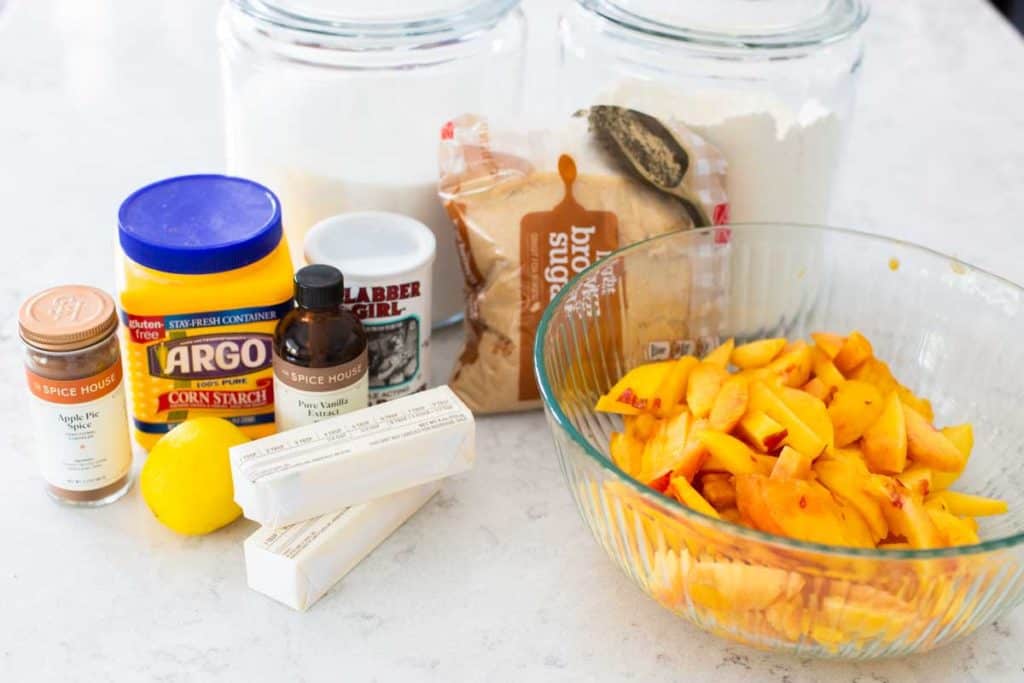 The ingredients for a classic peach cobbler are very simple.
It's likely you have almost everything but the peaches in your pantry right now:
Peaches: I use fresh peaches, specifically from my favorite farm in South Carolina. You can substitute 4 cups thawed frozen peach slices. If you want to use canned peaches, they require a few more substitutions, be sure to see the FAQ section for more details.
Flour
White Sugar
Brown Sugar
Butter
Baking Powder
Cornstarch: This helps to thicken the peach sauce while it bakes.
Vanilla Extract
Pie Spice: I love to use a spice blend for my fruit desserts because it saves some time with measuring. Apple Pie Spice is the most readily available and has cinnamon, nutmeg, and cloves mixed with a few other things you may not have in your pantry.
Fresh Lemon: A squeeze of lemon juice helps to keep the pie filling from being too sweet.
Salt
How to Make The Peach Filling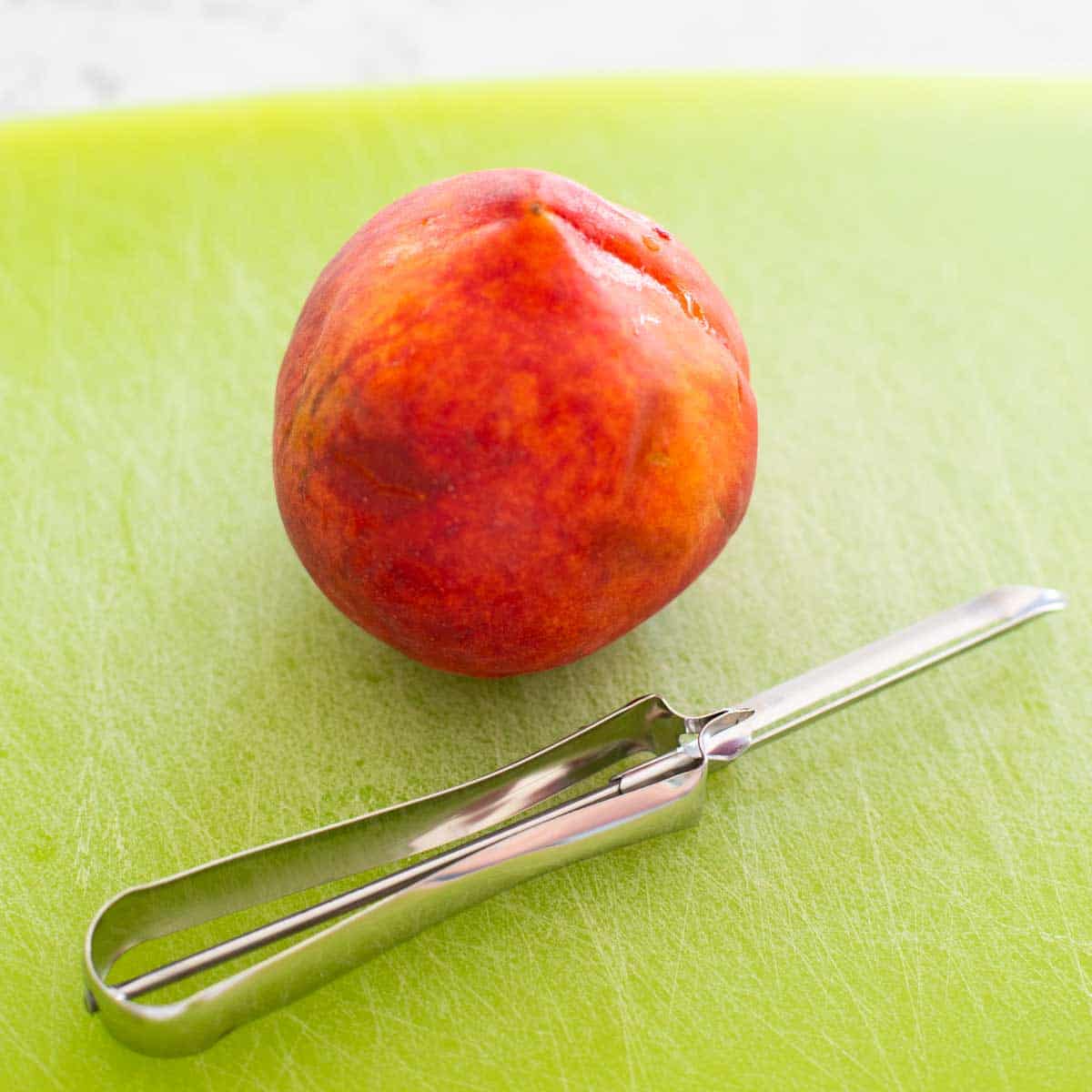 Using fresh peaches might sound like it is a lot more work than using canned peaches, but if you can get real southern peaches it is so worth the minimal extra effort.
Step 1: Peel the Peaches
You can quickly and easily peel peaches using a regular veggie peeler.
Use a gentle see-saw motion to get the blade under the skin of the peach and slice away from your hands.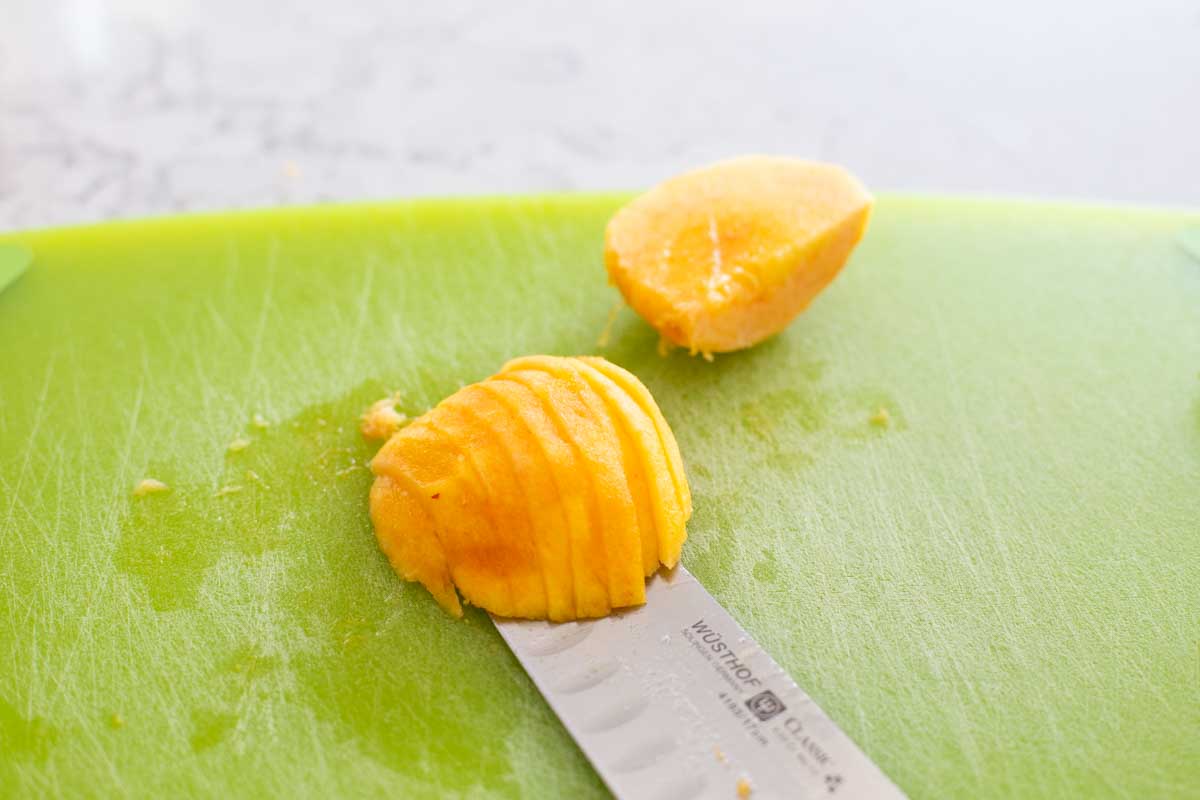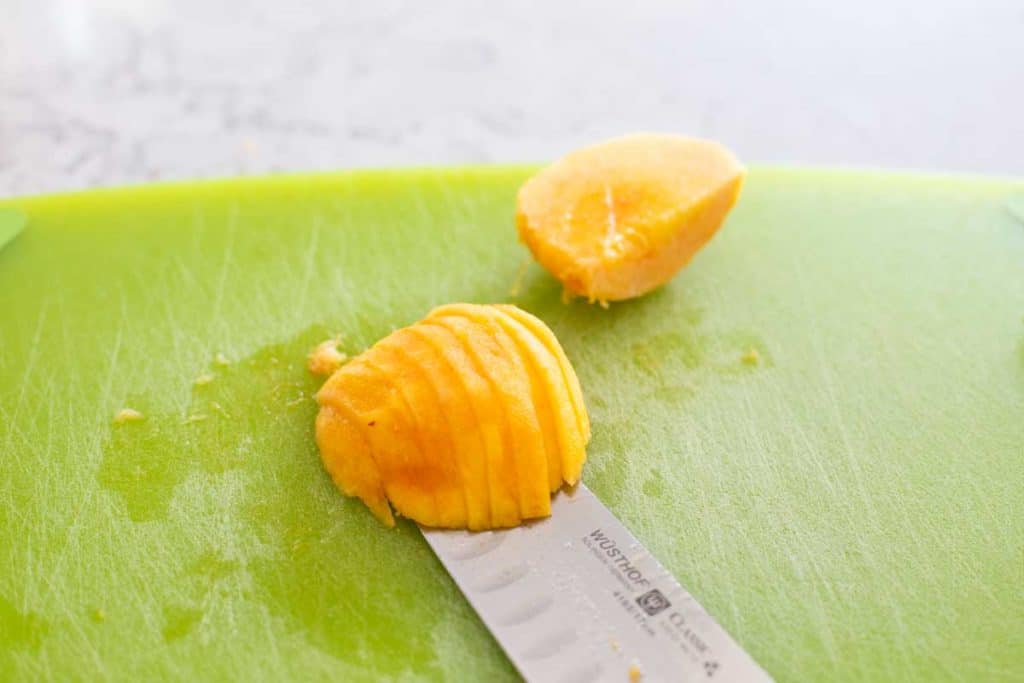 Step 2: Slice the Peaches
Cut the fruit away from the pit and then slice the halves into wedges with a chef knife.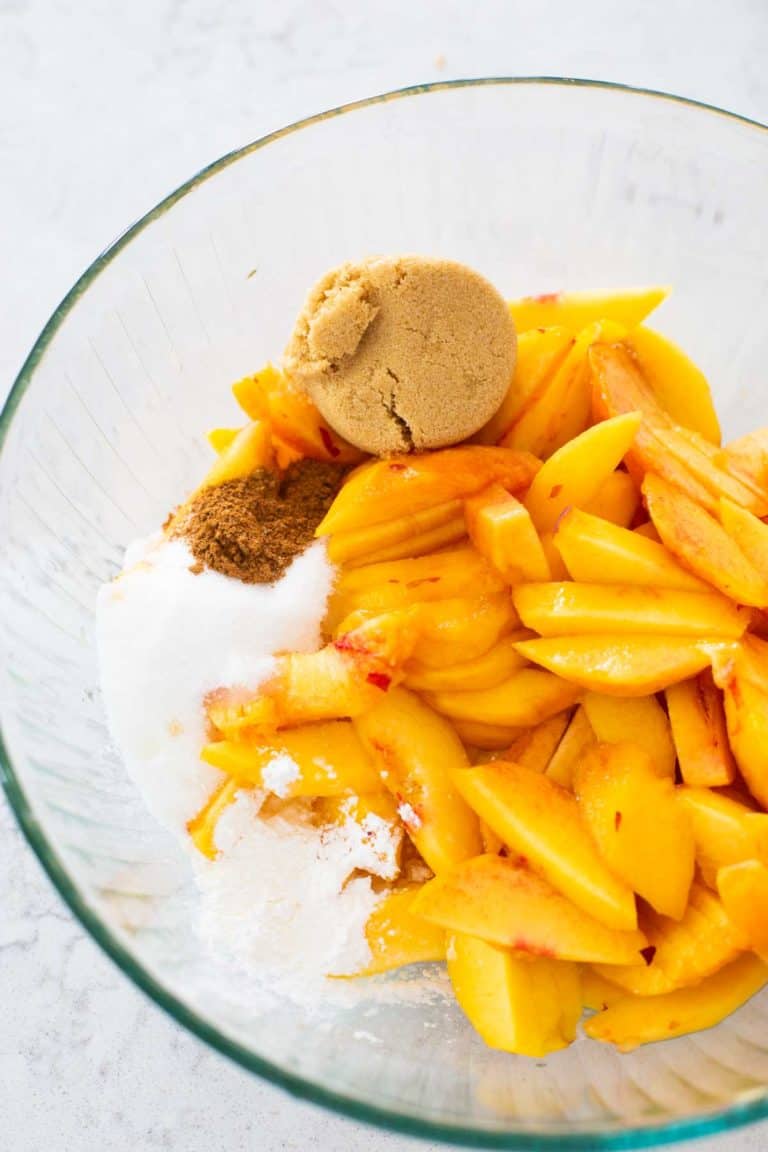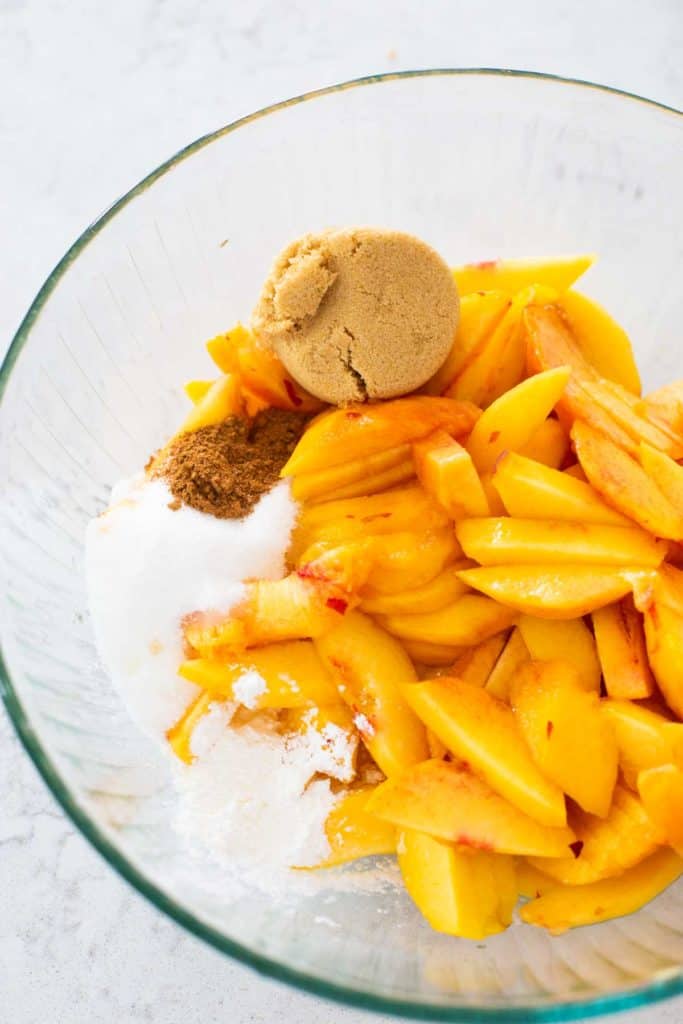 Step 3: Season the Peaches
Toss the peaches with sugar, brown sugar, cornstarch, pie spice, vanilla, and lemon juice until evenly coated.
Place them in an even layer on the bottom of a 9 x 13-in baking pan.
Step 4: Prebake the Peaches
Bake the peaches at 400°F for 10 minutes. This helps very firm peaches to soften up and to release their juices.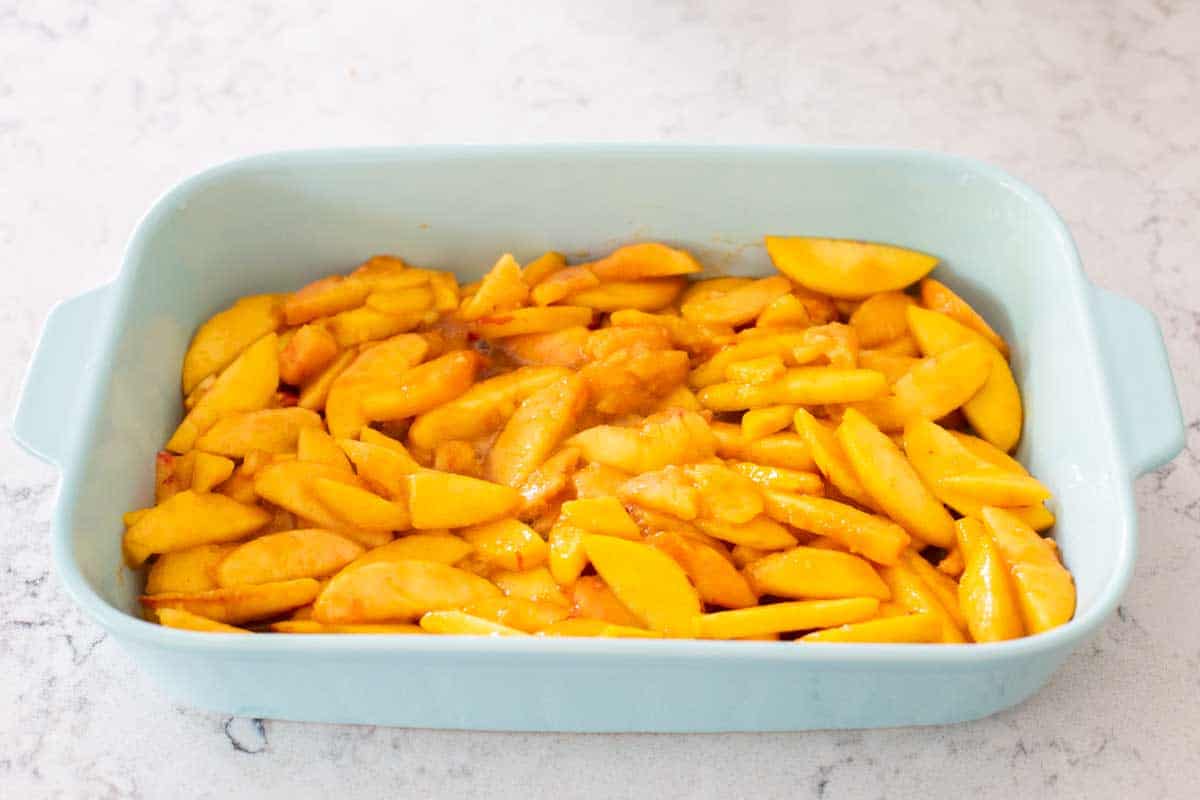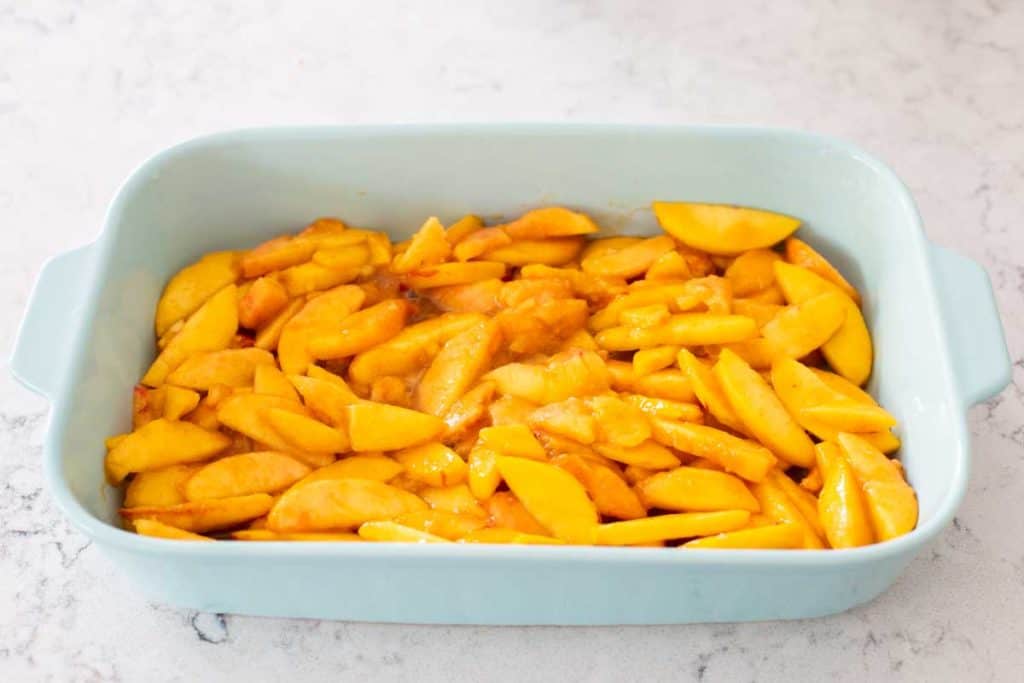 How to Make the Cobbler Topping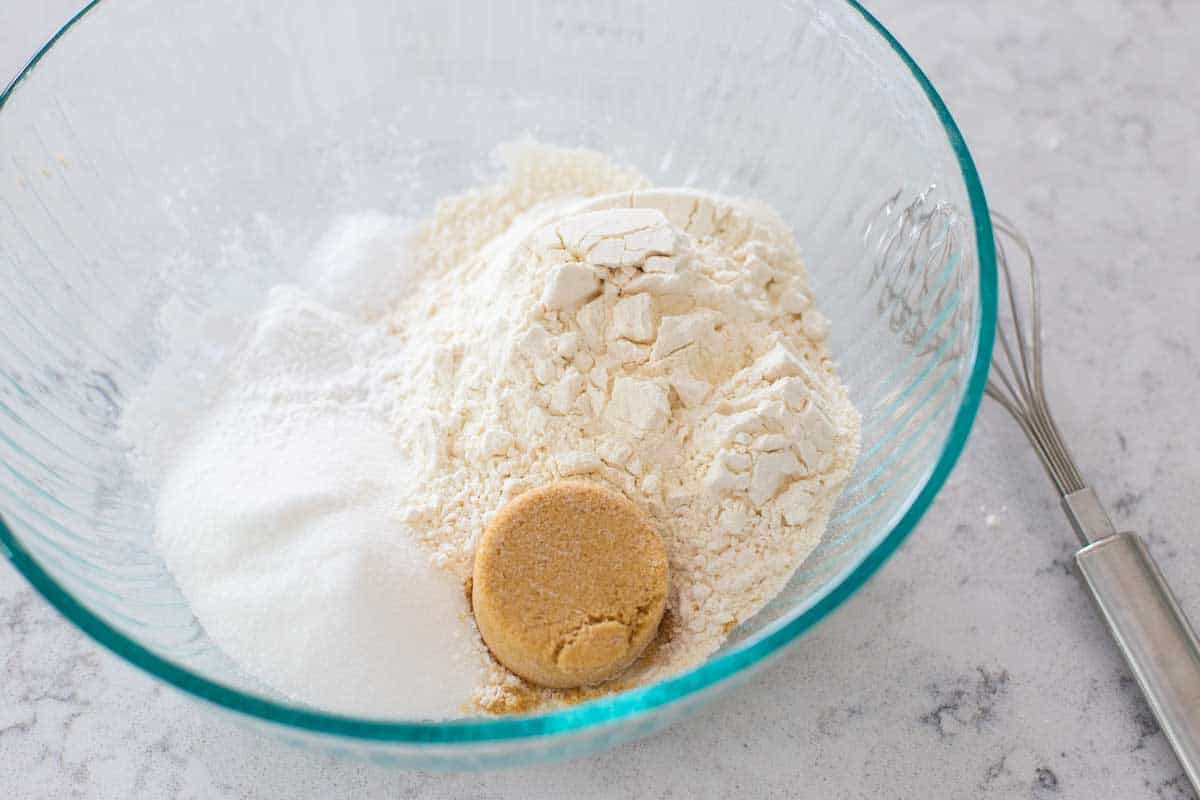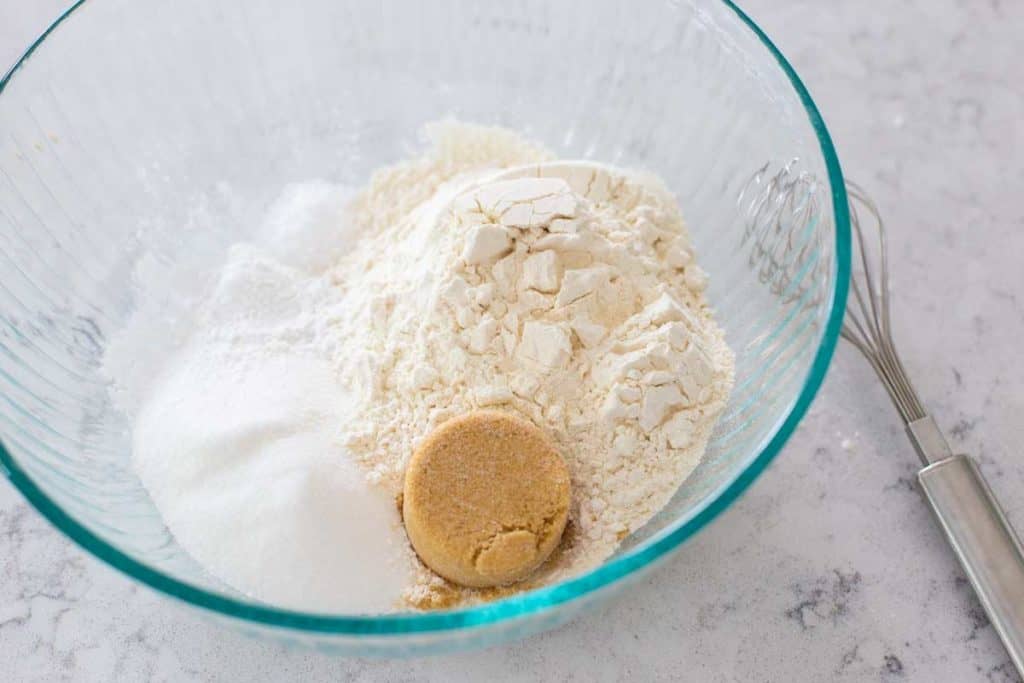 Whisk together the dry ingredients for the cobbler topping: flour, brown sugar, sugar, baking powder, and salt.
Cut the cold butter into the flour.
If you're fancy, you have a pastry cutter but if you're like me you don't have room in your kitchen to store such a single-purpose gadget.
I think it is easiest to just wash your hands and stick them right in there to do it yourself!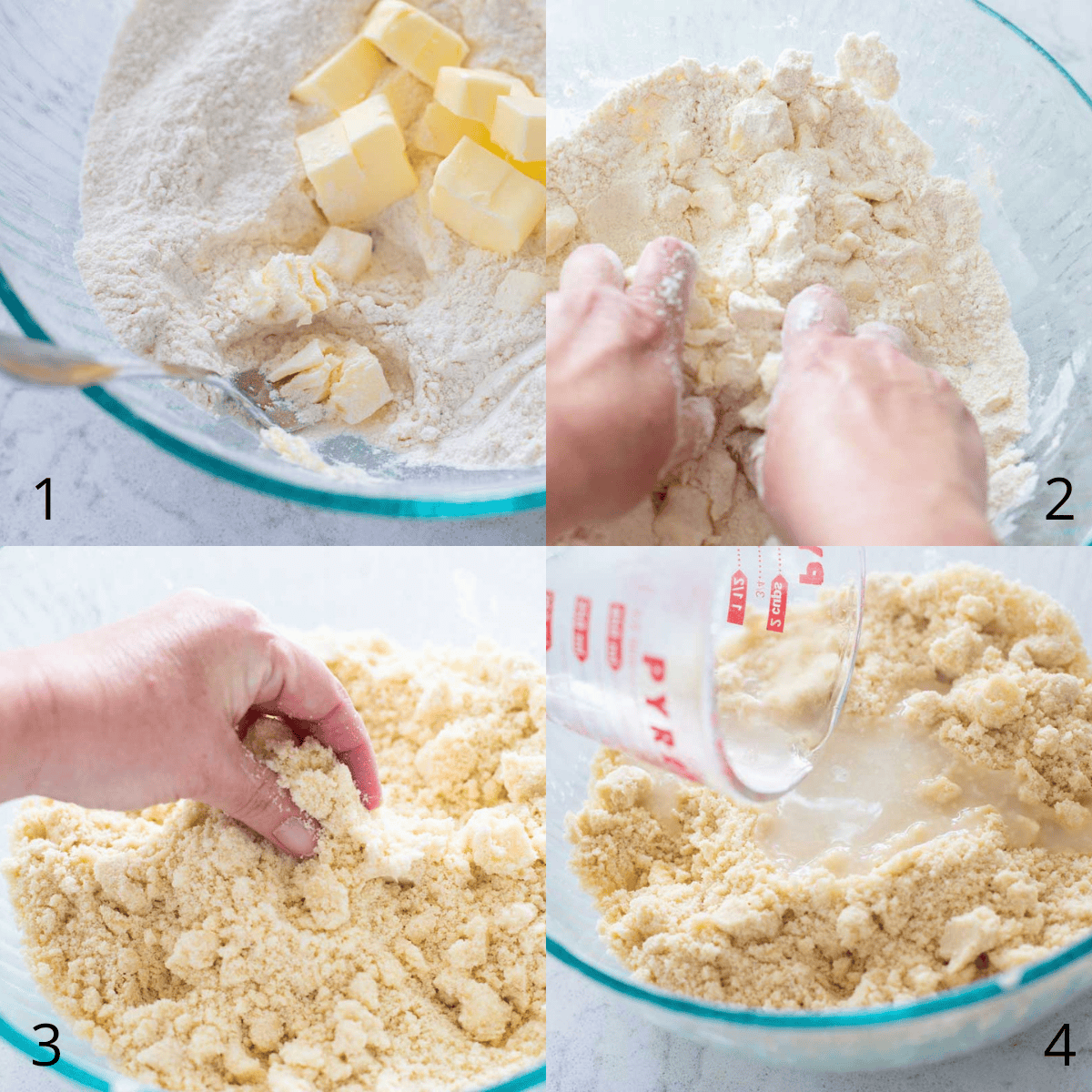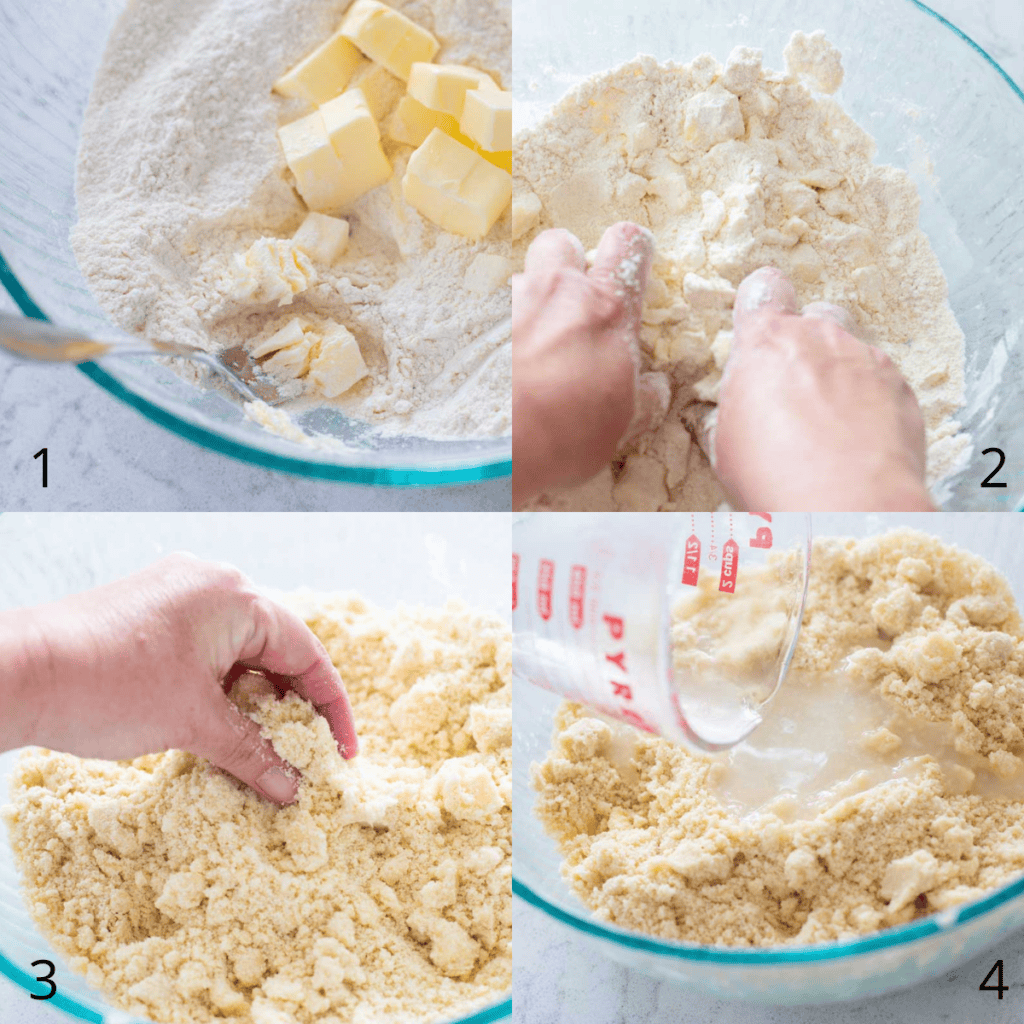 Cut the cold butter into cubes and smoosh them into the flour with a fork.
Use your hands to pinch the butter into the flour.
You'll know when the butter is fully incorporated into the flour because it will all feel slightly dampened and it will start to stick together in clumps when you pinch it.
Bring the water to a boil in your microwave and pour it into the prepared flour mixture.
Stir the boiling water into the flour until a very firm but wet dough forms.
It should look like this: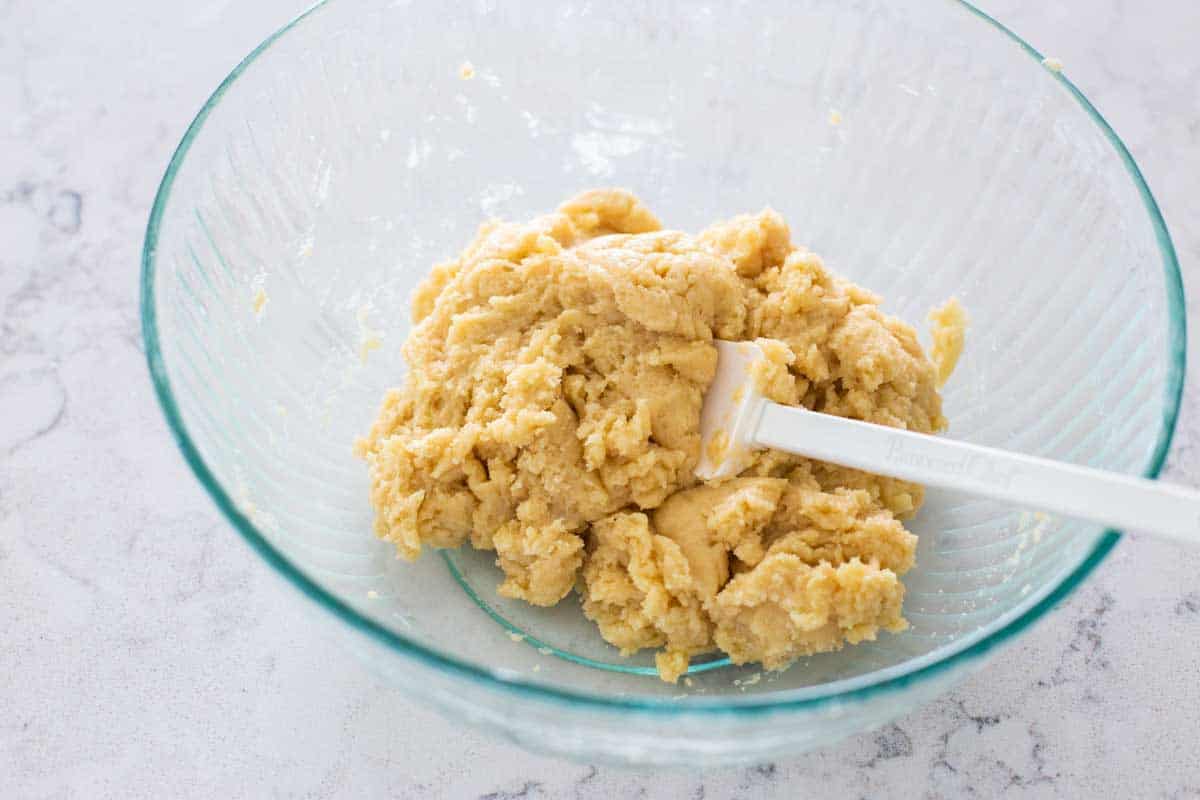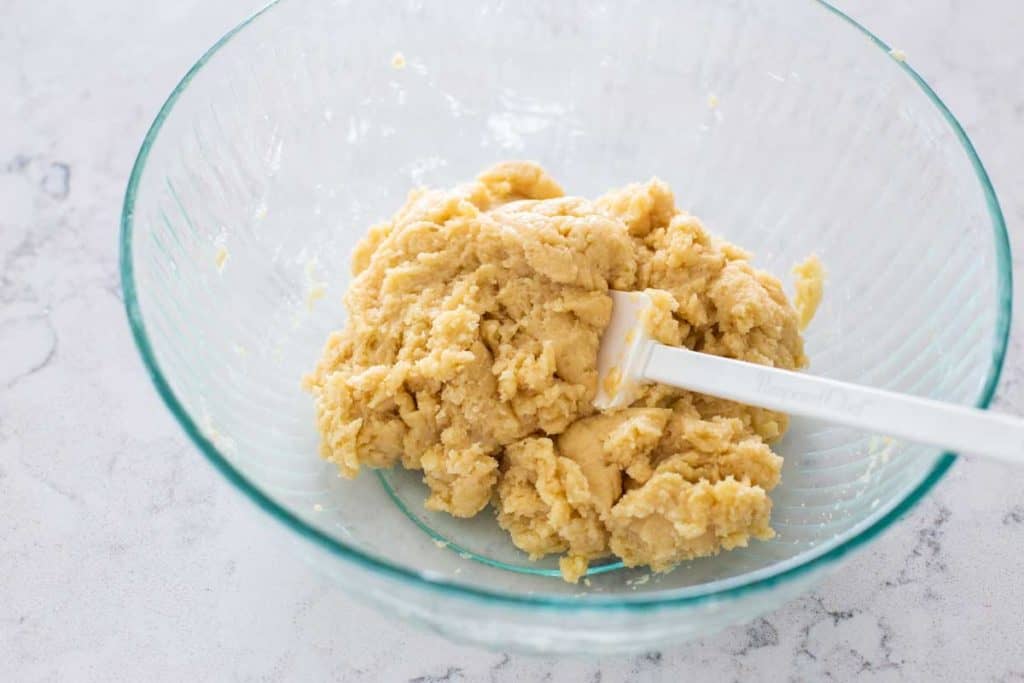 How to Assemble and Bake the Cobbler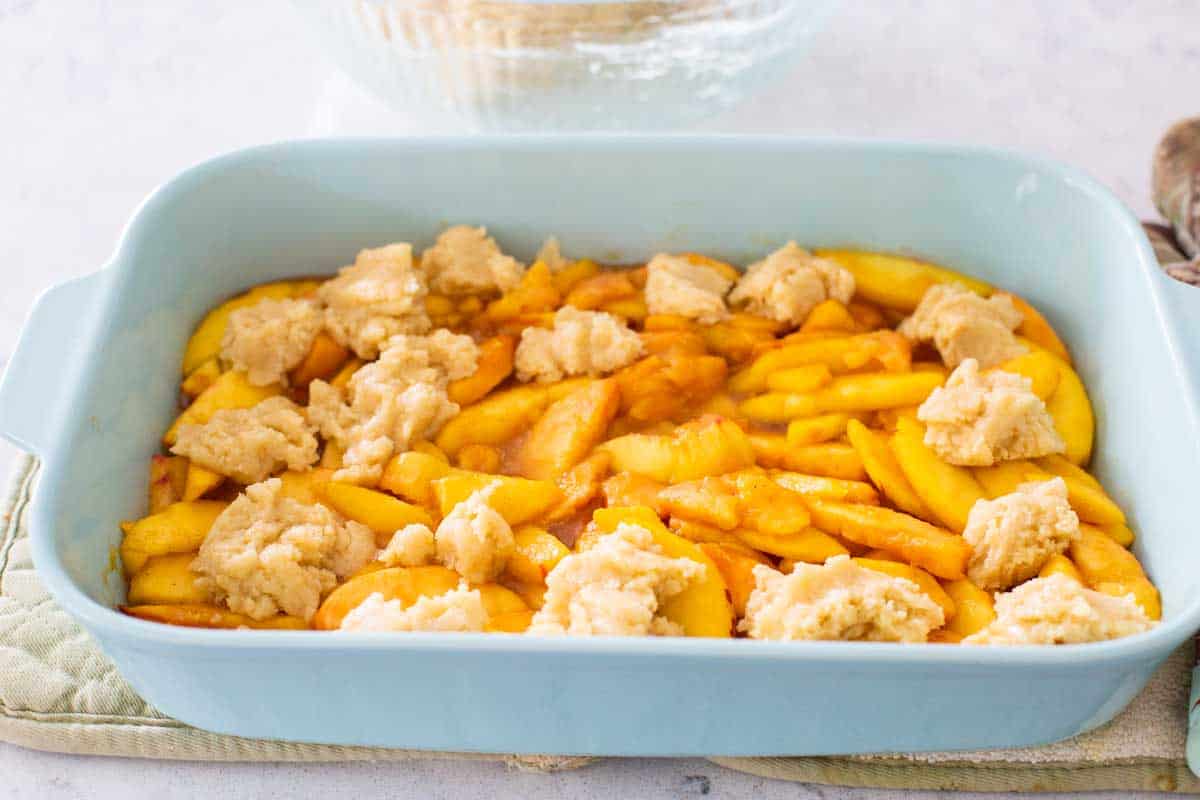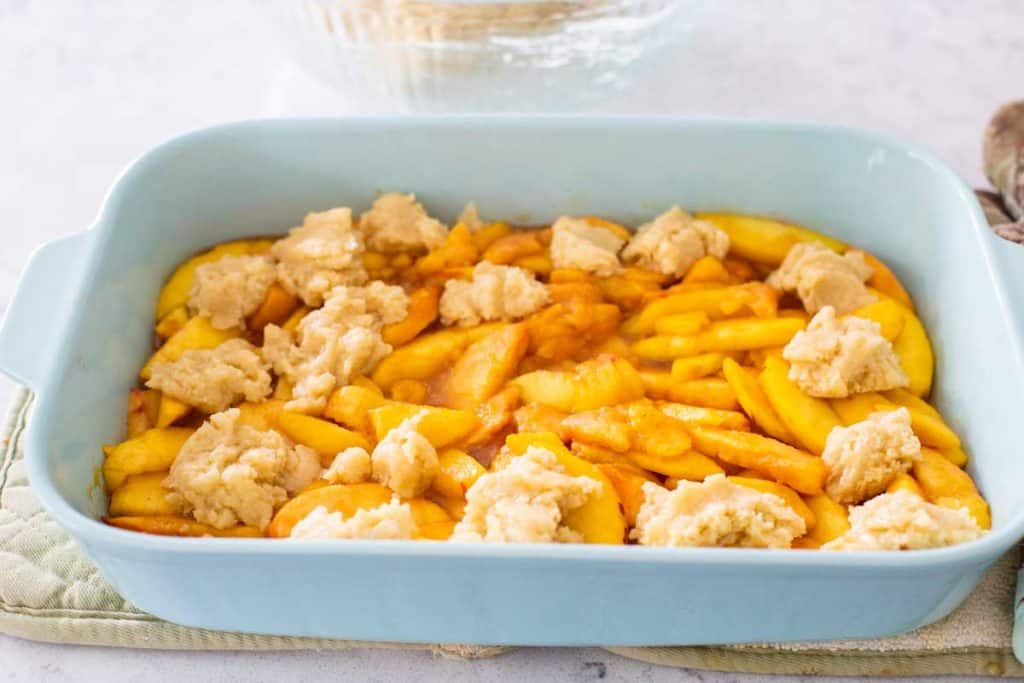 Once the peaches have finished their prebake, drop cobbler dough by spoonfuls over the top of the peach filling.
The name "cobbler" describes the cobblestone look of the top crust once it is baked. The topping does not need to be even or smooth.
I use a spoonula to scoop portions of dough for scattering over the top, but you could also simply pinch off portions with your fingers and drop them into place.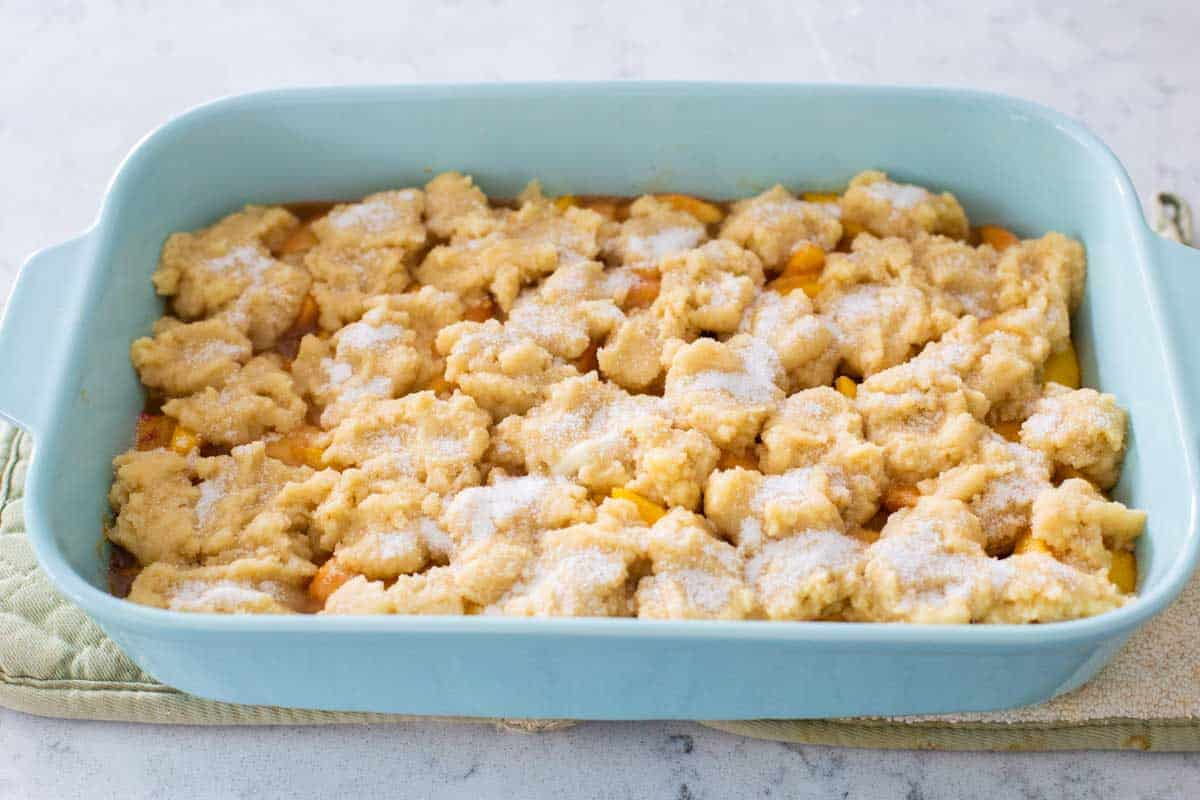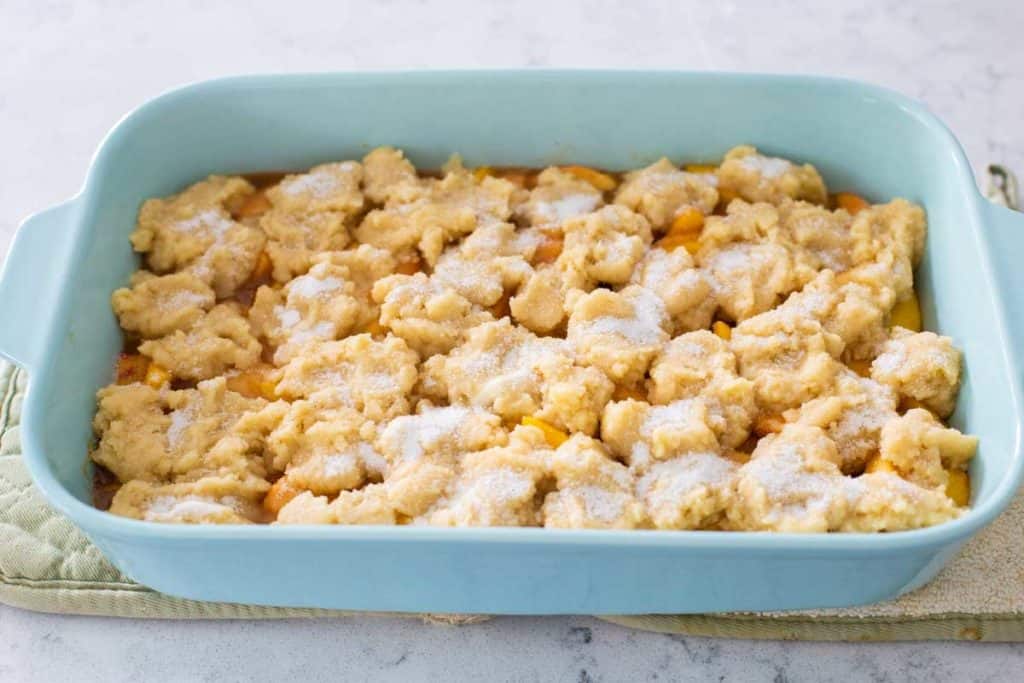 Once the cobbler topping is evenly spaced over the peaches, sprinkle 3 tablespoon of sugar over the top. This will form an amazing crunchy coating.
Bake for 25 - 30 minutes at 400°F or until the cobbler topping is golden brown and the peach filling is bubbling up at the sides.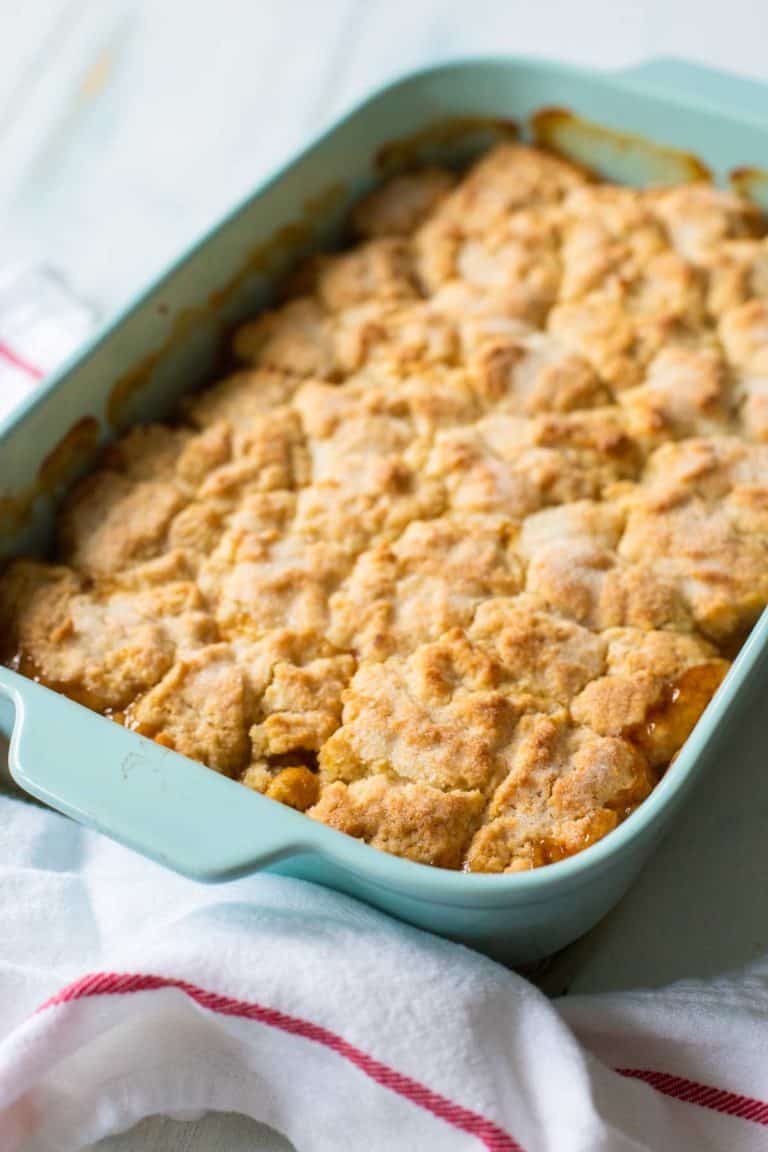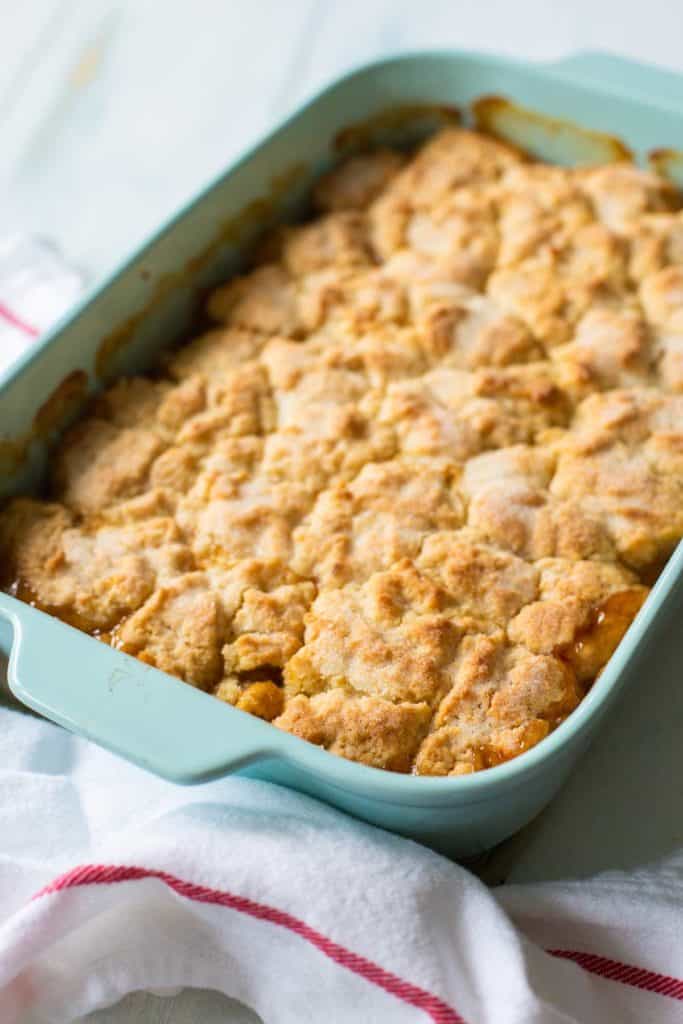 Serving Suggestions
I like to serve this fresh from the oven and still warm with a scoop of vanilla ice cream over the top.
You can also make it earlier in the day, store it on the counter, and serve at room temperature.
It is best served fresh the day you bake it. It will keep, covered with foil, in the fridge overnight but will lose some of the crispness that makes it so good.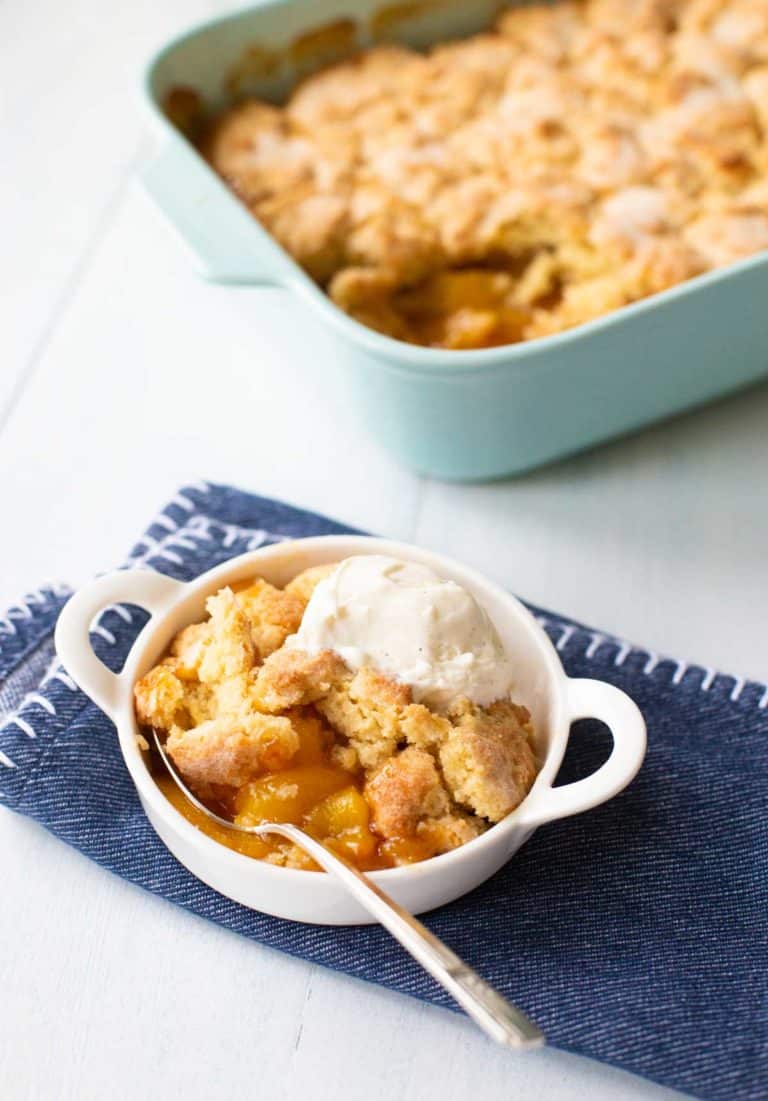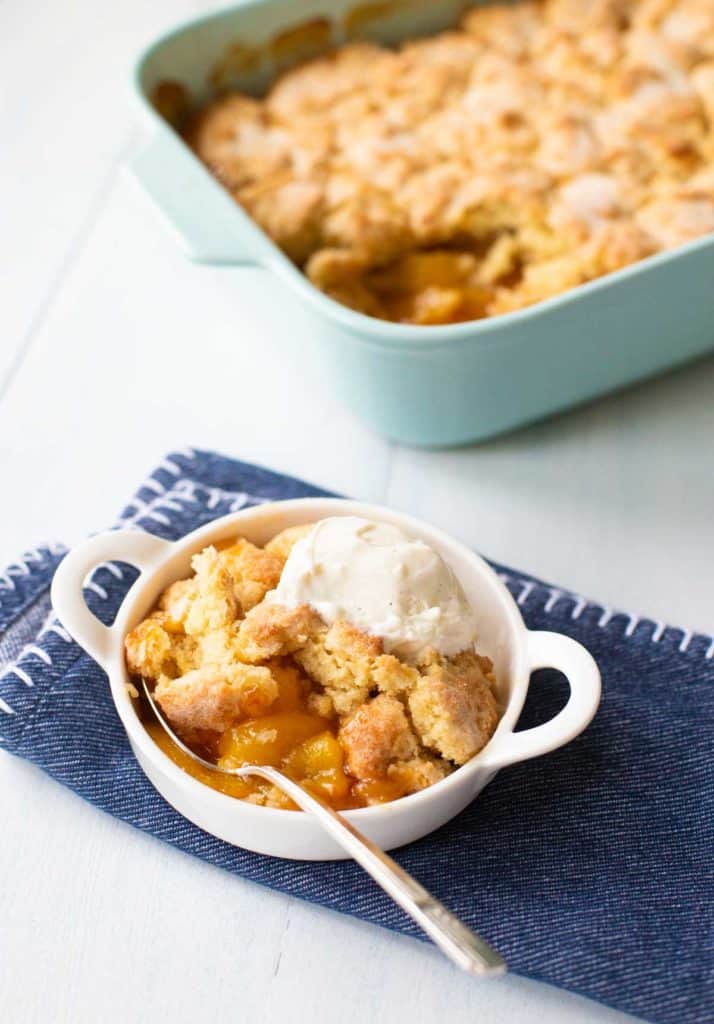 Fresh Peaches vs Canned Peaches
After I blew out the candles on my "birthday cobbler" and scooped a heaping spoonful of vanilla ice cream on the fresh out of the oven dessert, I watched to see my mom's reaction.
For the first few minutes, she was too busy eating to even say anything.
I finally asked her, "So how does this compare to your friend's peach cobbler? Was it worth it to use the fresh peaches instead of canned peaches?"
Not only did mom agree that the fresh peaches were better, but this dessert quickly became the #1 most requested dessert every summer during our annual family reunion.
I pack up the ingredients to make the peach cobbler at our beach rental every year!
Substitutions
When baking in a rental kitchen on vacation, you may not always have everything available to you at the local store. When I baked this treat during this year's summer trip, I didn't have access to several of the ingredients.
Here are a few easy substitutions:
Vanilla Extract: I didn't want to buy a bottle of vanilla on vacation just for the 1 teaspoon I needed. I did a 1:1 ratio swap with a splash of bourbon we had on hand instead.
Lemon Juice: I completely omitted the lemon juice this year because I didn't have a lemon. I do think the acid keeps the recipe from being too sweet but my fresh peaches were very underripe and didn't need that help this time.
Cornstarch: I didn't have cornstarch and baked the dish without a thickener for the peach sauce. It was definitely thinner than we like. Next time, I'd stir in a tablespoon of flour if I didn't have cornstarch on hand.
Recipe FAQs
Can I substitute canned peaches for the fresh peaches?
This recipe is best made with fresh (or frozen) fruit because fresh peaches have a firmer texture and will hold up to baking. Canned peaches are likely to fall apart in the filling but will still taste yummy. If you prefer to use canned peaches, be sure to buy peaches in 100% juice, not a sugared syrup. Drain all the juice from the can. Season the peaches as directed but do not prebake them. Proceed directly to assembling the cobbler topping and then bake for 25 - 30 minutes.
How can I tell if the peaches are ripe?
There are several ways to pick the perfect fresh peaches for this recipe. Find fruit that is heavy for it's size, firm to the touch when you give it a very gentle squeeze, and smells like a peach when you sniff it. Too-soft peaches are harder to slice but can still be used. Too-firm peaches really hold their shape during baking and can still be used. This cobbler is a very forgiving recipe, so almost any peach will do.
What can I substitute for pie spice?
If you don't have pie spice in your pantry, you can replace it in this recipe with the same quantity of cinnamon and a sprinkle of nutmeg.
More Peach Recipes
Still have some fresh peaches leftover from making your cobbler?
These are some of my favorite peach recipes to use up fruit during peach season.
More Southern Recipes
Peach cobbler is such a classic southern recipe but don't miss these other favorites:
📖 Recipe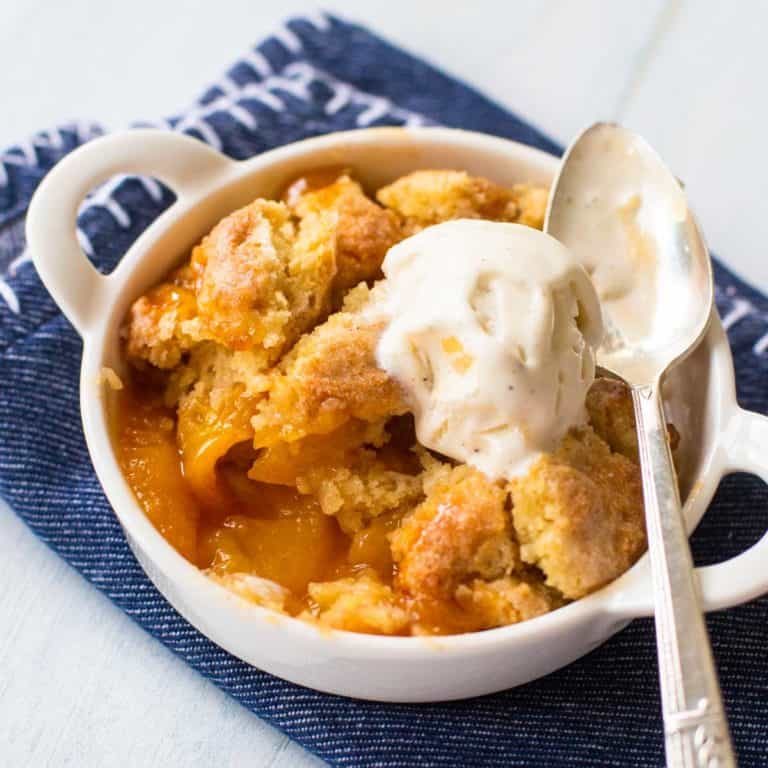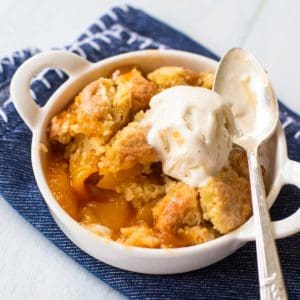 Southern Peach Cobbler
This classic southern peach cobbler made with fresh peaches is a quick and easy dessert to make for summer. Serve it topped with vanilla ice cream for an unforgettable treat.
Ingredients
For the Peach Filling:
8

fresh peaches OR 4 cups frozen peach slices

thawed

¼

cup

sugar

¼

cup

brown sugar

packed

½

teaspoon

pie spice

1

teaspoon

vanilla extract

1

teaspoon

fresh lemon juice

2

teaspoons

cornstarch
For the Cobbler Topping:
2

cups

flour

½

cup

white sugar

½

cup

brown sugar

packed

2

teaspoons

baking powder

1

teaspoon

salt

½

teaspoon

pie spice

12

tablespoons

(1 ½ sticks) cold butter

½

cup

boiling water

3

tablespoons

sugar for dusting the top of the cobbler after assembly
Instructions
Prep the Fresh Peaches:
If you are using fresh peaches, you'll need to season them with pie spice and sugar and do a quick prebake. If you want to use canned peaches, see the easy variation notes at the bottom.

First, preheat the oven to 400°F. 

Peel the fruit with a vegetable peeler using a gentle see-saw motion to get the blade under the skin and remove it.

Slice the peaches into ¼ inch slices.

In a large bowl, combine the peaches, both sugars, the pie spice and vanilla extract, lemon juice, and cornstarch.

Gently fold all the ingredients together until the peaches are evenly coated with the spices and the cornstarch has dissolved into the juices.

Pour the fruit into a 9 x 13 inch baking dish and spread into an even layer. Bake for 10 minutes.
Prepare the Cobbler Topping:
While the fresh peaches are softening in the oven, prepare the easy cobbler topping. In a large bowl, whisk together all the dry cobbler topping ingredients: flour, both sugars, baking powder, salt and pie spice.

Cut the cold butter into cubes and then cut it into the flour using a pastry cutter or your fingers. First, smash the butter against the side of the bowl with a fork. Then finish the process by pinching the butter into the flour with your hands. The mixture should feel slightly damped and begin to stick together when you pinch it.

Bring ½ cup water to boil in the microwave on HIGH heat for 3 minutes. Slowly pour the boiling water into the flour mixture and stir it until the dough comes together. It will be very firm and there should be no more dry pockets of flour.
Assemble and Bake the Peach Cobbler:
Place the baking dish with the peaches on the stove top and carefully drop large spoonfuls of the cobbler dough evenly over the top. You want the dough to be uneven and "dollop-y" but there should be enough batter to completely coat the surface of the peaches.

Sprinkle the surface of the cobbler with 3 tablespoon of sugar and place the dish on a cookie sheet to help avoid spills in your oven.

Bake the peach cobbler for 30 minutes or until the topping is golden brown and the peaches are bubbling.
Recipe Notes
How to Use Canned Peaches in an Easy Variation:
Be sure to buy peaches that are packed in 100% juice and not syrup. Drain all the liquid from the peaches and then prepare the peach filling as directed by tossing the canned peaches together with the sugars, pie spice, vanilla extract, lemon juice, and cornstarch.
Do NOT prebake the canned peaches. Proceed directly to preparing the cobbler topping and bake for 25 - 30 minutes.
Save This Recipe to Your Recipe Box
Find this delicious recipe next time you visit by saving it to your very own recipe box on my site. All your favorites stored in one easy place!