This is the perfect homemade sugar cookies recipe to bake with kids. The whole family will enjoy baking holiday treats together!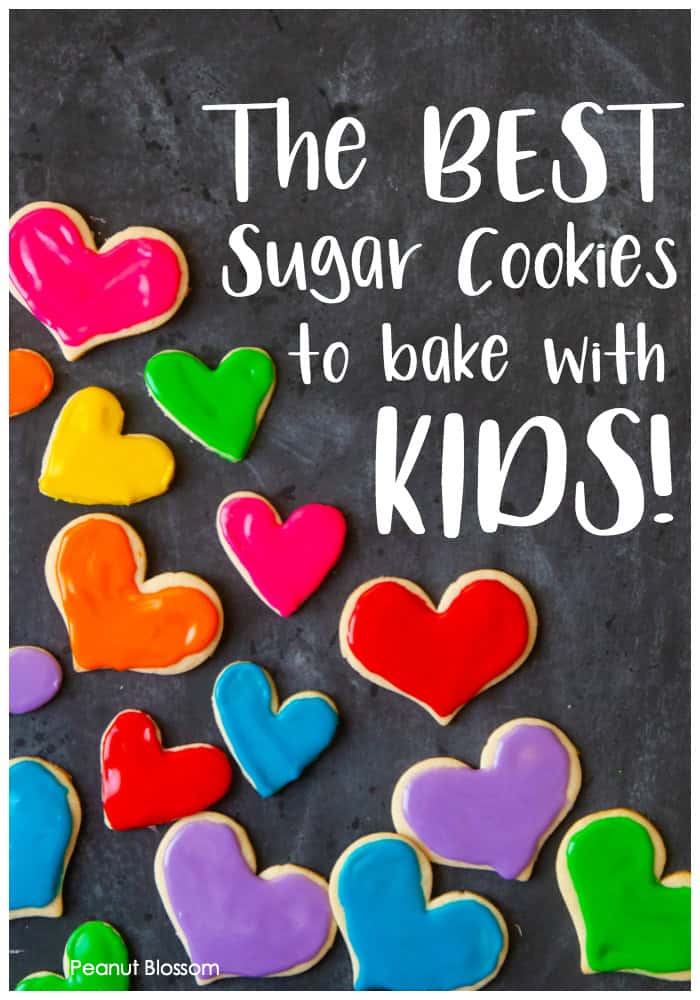 Last year I set out to teach myself how to bake and decorate fancy-schmancy homemade sugar cookies for the first time in my life. I'm not sure what sparked the inspiration, but I know I felt frustrated that festive and pretty cut-out cookies were not an easy part of my repertoire.
My timing was perfect, we spent half of September housebound during hurricane season and I needed something to do with the kids home from school. Check out the adorable hurricane cookies we made during that time!
What I didn't expect, was just how much the kids would end up loving our sugar cookie project. Little Pea, in particular, became obsessed with doodling decoration ideas in a notebook.
If your kids (or you) are going to really get into sugar cookie decorating, then you absolutely need to start with the best sugar cookie recipe! This not-too-sweet, buttery sugar cookie recipe is so amazing, I ended up including it in The Ultimate Kids' Baking Book.
Why are these the best sugar cookies?:
When looking for the very best cut out sugar cookie recipe, I had a few specific requirements:
Must use just butter and no shortening. I don't keep shortening in the house, so I wanted just a basic butter recipe.
Must be easy to roll out -- not too sticky.
Must hold it's shape when baked -- nothing's worse than a puddled shape you don't recognize after baking!
Must have a crispy texture but still be chewy in the center. I feel that holds up better to decorating far better than an overly soft sugar cookie.
Must bake evenly and not get overly-brown edges before the middle is completely baked.
But most importantly: Must be easy enough for the kids to mix up, roll out, and bake all on their own.
This recipe was inspired by the sugar cookies found over on Sweet Sugarbelle, so I knew they had to be good. It turned out, they are pure perfection and everything we needed in a sugar cookie recipe.
RELATED: The only gingerbread cookies recipe you'll ever need

How to make ahead sugar cookies:
One of my very favorite things about baking sugar cookies is the fact that you can easily make them ahead of time for your event. You have three choices for make-ahead sugar cookies:
Prep (& Freeze) the dough: If you want your cookies to be fresh-baked, you can make the dough ahead of time and store it in the fridge for a few days or in the freezer for several months. Just thaw in the fridge overnight before rolling out.
Bake the cookies and freeze them undecorated: To really cut corners and save yourself oodles of time, you can prep the dough, roll it out, and cut and bake the cookies. Store them in single layers between wax paper in a hard-edge container in the freezer to avoid breakage. Then you can just thaw and decorate right before your event. This is a perfect way to prep make-ahead Christmas cookies so your kids can just enjoy the fun part: Decorating!
Freeze the fully decorated cookies: I have not tried it yet myself, but I have been told by several hardcore baker friends that you can fully decorate your sugar cookies and then freeze them for later. This works best with royal icing and is especially handy if you want to make a more complex decoration that requires lots of time. It's also a perfect Christmas in July project for you and the kids!
RELATED: How to make sugar cookies with kids without losing your sanity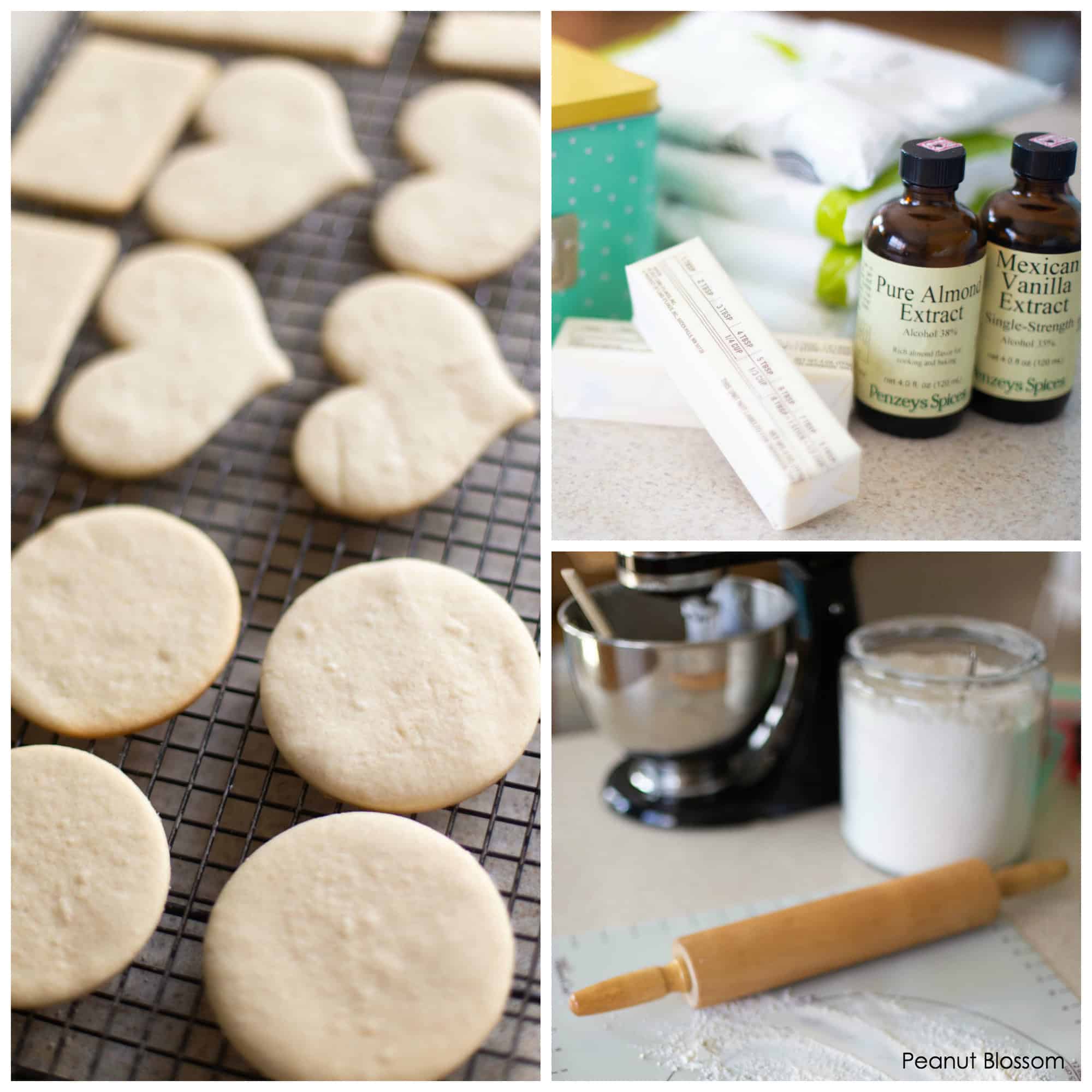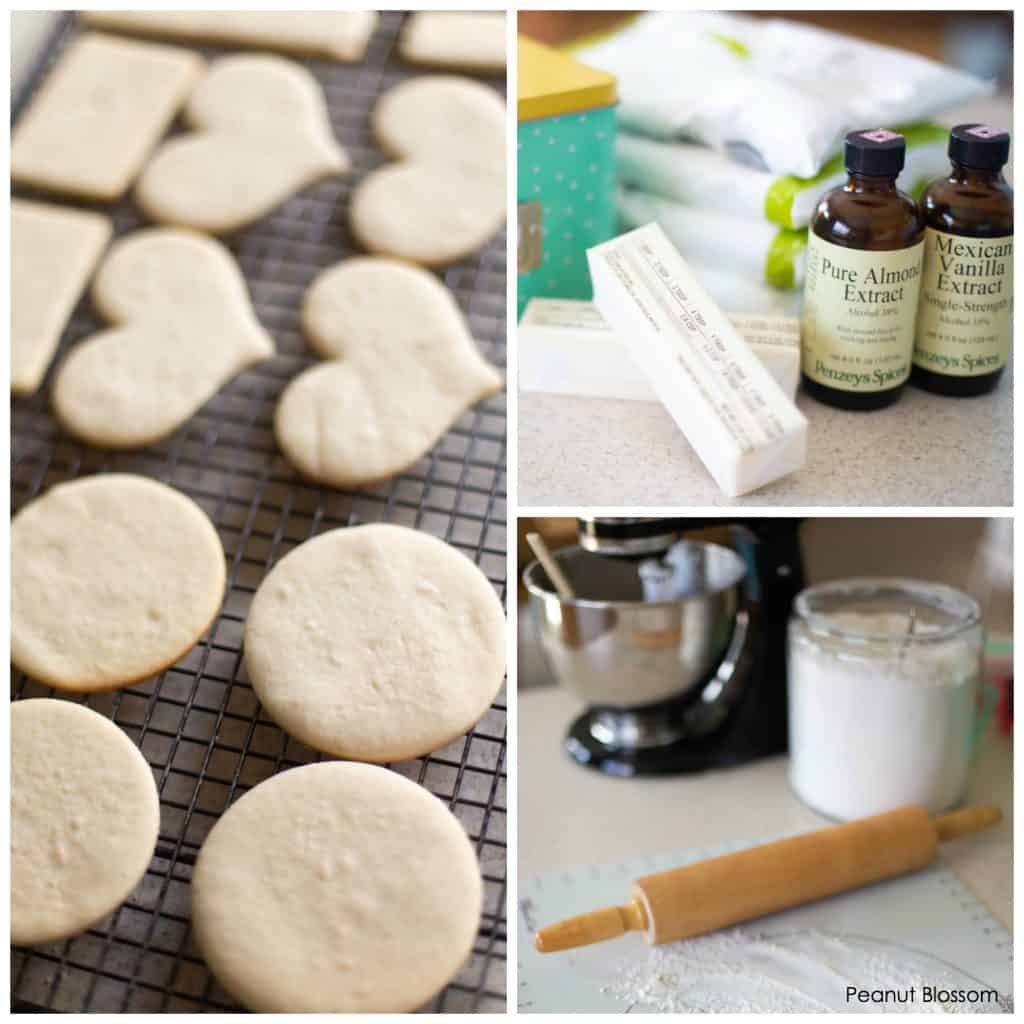 What are the best cookie cutters to use for sugar cookies?
In my opinion, one of the more annoying parts of baking cut out sugar cookies is the cookie cutters themselves. Years ago, in a fit of frustration, I tossed out all of our bent and wonky metal cookie cutters during a kitchen purge. I hated how they got all tangled up and lost their shapes.
I also couldn't stand how the cookie cutter shapes were so super-specific. How many times a year was I going to use a Christmas tree shape? Did that really earn a place in my limited kitchen cabinet?
When my girls expressed interest in learning how to decorate sugar cookies, I knew we needed to get a few cookie cutters to do the job. I dreaded having that clutter in my cabinets again.
And then I discovered Sweet Sugarbelle cookie cutters at our local Michael's. I seriously stopped dead in my tracks and my jaw hit the floor. Y'all. These cutters are the BEST thing to happen to my kitchen in years. I've been obsessively snapping up designs for the last year and it is an addiction I just can't seem to quit.
Why do I love Sweet Sugarbelle so much?
They are made from very durable plastic, they don't bend or lose their shape and yet they are sturdy enough to cut through thick dough.
She designs her shapes to be "shape shifting" cookies. Turn it right side up and it is a heart, turn it upside down and it becomes a puppy dog. Each cookie cutter set comes with decorating instructions and tips for shifting your designs. This way you can get more cookies out of less cutters. BRILLIANT!
Her sweet and simple shapes still look absolutely adorable as single-color cookies and are perfect for the newest of beginners to cookie baking.
Our favorite Sweet Sugarbelle cutters to use with this sugar cookies recipe:
Want to see more Sweet Sugarbelle cookie cutters in action?
What kind of icing to use with sugar cookies?
The girls and I have been known to sneak a few of the sugar cookies just as-is without any frosting on top! Ha. But, assuming you want to dress them up, you have several options for decorating sugar cookies.
1. Buttercream frosting: For beginner bakers, just making the cookie is an accomplishment. You can slather a bit of homemade or canned frosting on top and decorate with sprinkles or candies. Cream cheese frosting is also very delicious on sugar cookies.
2. Royal icing: This is the most traditional sugar cookie icing. It can also be one of the trickiest to master. Overall, royal icing isn't difficult, but it can be fussy. You don't want to overwhelm your kids too fast. Wait to introduce royal icing until they are ready for a little challenge.
3. A simple cookie glaze: Knowing that beginner bakers want to have a pretty finished cookie, I created an easy cookie glaze for topping sugar cookies that I included in The Ultimate Kids' Baking Book. It gives the look of royal icing but can just be spread on with a knife and is very forgiving. It's perfect for a single-color sugar cookie with or without sprinkles. You can pre-order the book right here and it will arrive just in time for holiday baking!
RELATED: Get our favorite buttercream frosting here and our favorite cream cheese frosting here.
How to freeze sugar cookies:
If you want to freeze sugar cookies, it is best to store them in single layers between waxed paper in a hard container to prevent breakage. Homemade sugar cookies freeze so well and will taste just as delicious once thawed as they did when you baked them. They are perfect for making ahead for holidays or special events.
When should I make sugar cookies?
The girls and I agree that homemade sugar cookies are a perfect treat for practically any holiday all year long!
I created a fun holiday recipe index for The Ultimate Kids' Baking Book with ideas for every holiday your kids would ever want to bake something special for. Sugar cookie shapes appear again and again throughout the index. Simply change the shape and the colorful decoration on top and sugar cookies are ready to match whatever holiday you're in the mood to bake for.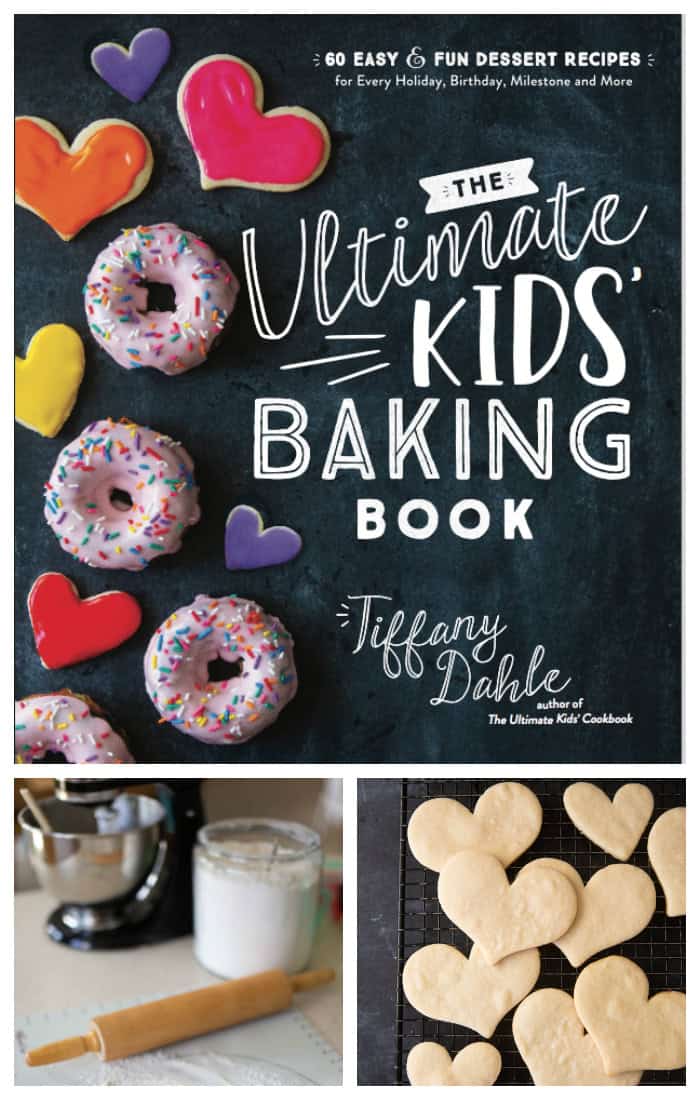 The Best Sugar Cookies Recipe to Bake with Kids:
Here's a sweet sneak peek of the sugar cookie recipe from inside The Ultimate Kids' Baking Book. Each recipe in the book is crafted to meet the needs of a beginner baker who wants just a little more hand-holding than a traditional recipe might give.
I think any beginner baker -- whether they are a kid or not! -- will love baking with our book!
Want more easy cookies to bake with kids?
Don't miss some of our other favorite easy cookie recipes to bake with your kids: