Decorating cookies with kids requires a few pro tips for success. Keep your holiday cookie decorating session fun with these easy make ahead tips and decorating ideas.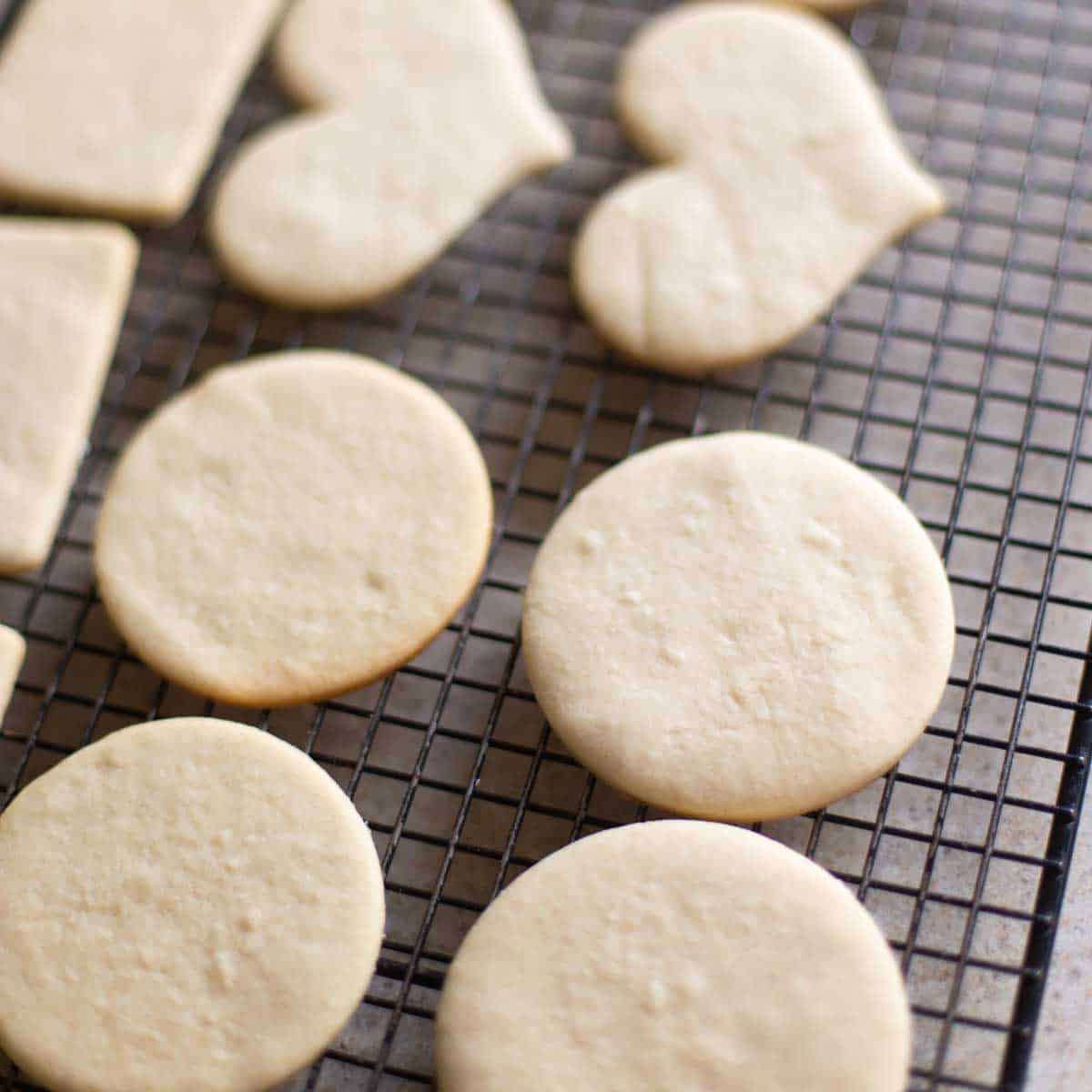 Every Christmas for the last several years, I've planned a special sugar cookie decorating day for my girls and their friends.
We invite a couple kids over to decorate a tray of sugar cookies to take home for the holiday.
This fun annual tradition has taught me several easy tips for planning how to bake sugar cookies with kids.
With a little bit of prep work and planning, you can enjoy a fun and relaxing baking day with your own kids this holiday season.
Jump to:
The Challenge of Baking with Kids
Fancy sugar cookie cutouts can be challenging to make with kids.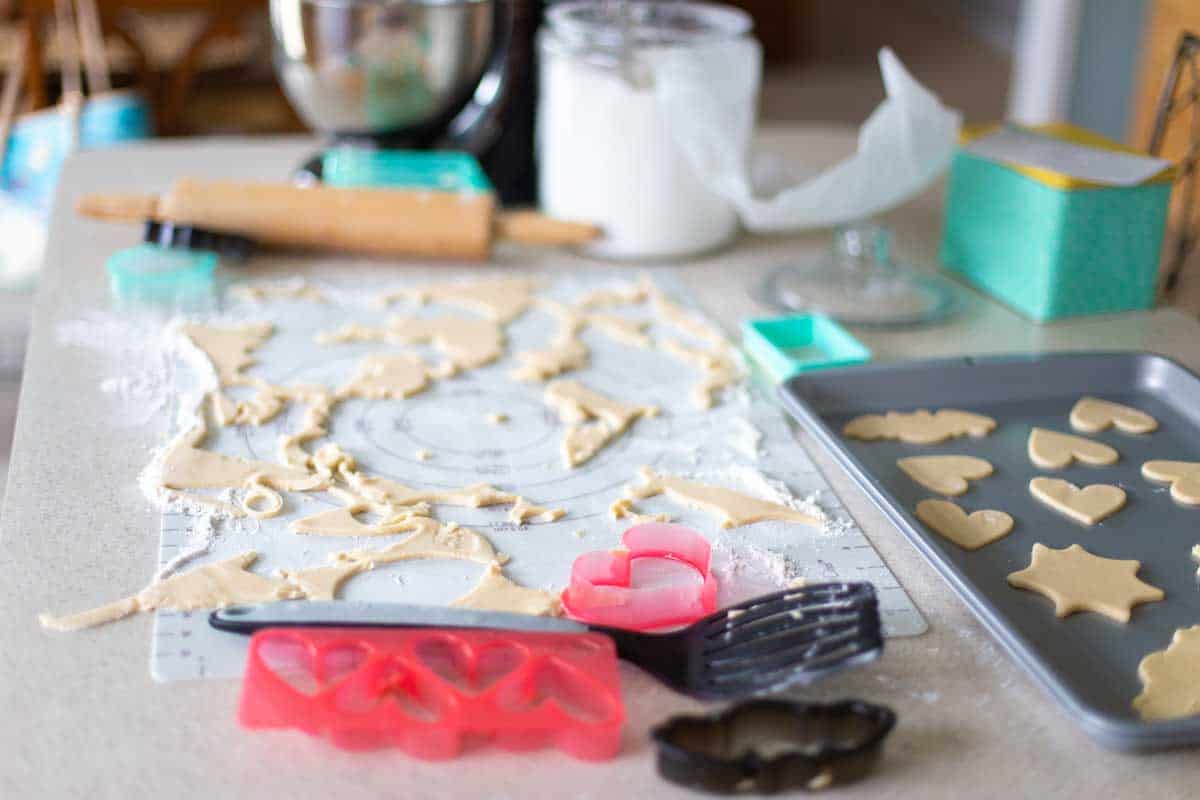 It does take a good amount of time to:
make the cookie dough
roll and do the cookie cut-outs
bake the cookies
mix the royal icing
dye the icing and fill the pastry bags
set all the decoration tools out
So what happens when you go through all that prep and end up with kids who decorate one or two cookies and are ready for another activity.
If they've been by your side that entire time, they invested too much of their energy in the baking process by the time it comes to decorate!
If you want to have a successful cookie decorating day with your kids, you simply need to shift your focus.
Put the emphasis on the decorating, not the baking.
Break the work down over the course of a few days so that both your kids AND YOU have enough energy and enthusiasm for the project come Decorating Day.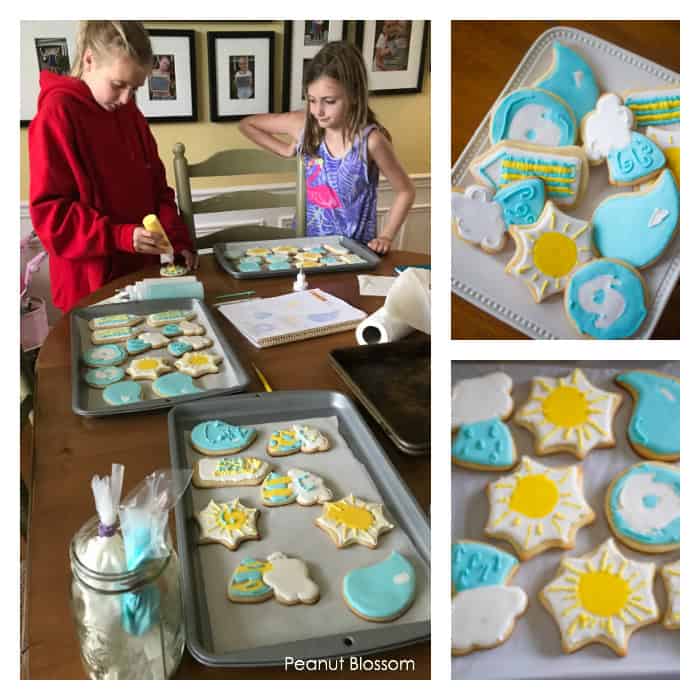 Best Timeline for Baking Sugar Cookies
Follow this simple timeline for decorating cookies with kids and you'll be amazed how much more fun cookie decorating can be!
Before You Begin
Before you even start any of the recipe prep, think through the designs you want to make together.
I highly recommend picking cookie designs that only require 2 - 3 colors of icing total.
Why Just 2 Colors?
Saves Time: the icing will be much easier to prepare since each color will require a piping consistency and a flooding consistency.
Focus on Imagination: You'll be amazed at the fun designs you can create with just 2 colors.
Less Frustration: Simple designs are the easiest to replicate, this helps ensure your kids don't get frustrated with their beginner icing skills.
Just Add Sprinkles: If the kids need more color, consider adding flair with colorful sprinkles on top.
Simple cookie designs can be absolutely stunning on a cookie tray. Less is more when baking with kids for sure.
Day 1
For the freshest cookies, you'll actually start by prepping the royal icing. It lasts longer than the cookies do so get this task out of the way first.
Mix up 1 - 2 batches of this royal icing recipe.
Do not tint it yet, just make the white base recipe and then store in air-tight containers with plastic wrap covering the surface of the icing inside the container to prevent it from drying out.
Simply store the icing on your kitchen counter away from the heat of your oven.
Day 2
Bake this cut out sugar cookies recipe.
Make the dough, roll it out, do the cut-outs, and bake the cookies.
If you prefer, you could break this step down into two days:
Day 1: Make the dough and then store in the freezer or fridge. Could be done the same day you prepare the icing.
Day 2: Roll the dough out and bake the cookies.
Personally, I find once I've made the sugar cookie dough I prefer to just keep going and finish doing the cut-outs and bake them.
Day 3
Tint and prepare the icing.
Consider your designs and decide which colors require both the piping and flooding consistency.
Tint the icing as needed and prepare your icing bags and bottles with the colors you need.
Storage Tip: You can store tinted royal icing in the prepared pastry bags and squeeze bottles on the counter overnight if you don't plan to decorate the cookies until the following day.
Extra-Helpful Tip for Kids:
I made just one set of piping & flooding containers for each color and the girls did bicker a bit about who got to use which one and for how long.
If your design has one predominant color, I highly recommend preparing individual sets of icing bags/bottles for the most-needed colors so each decorator can have their own set.
Accent colors will work just fine with only one set.
Tips for Decorating Cookies with Kids
On the day you're ready to decorate the cookies, set out separate cookie pans lined with parchment paper for each kid and evenly distribute the baked sugar cookies among the pans.
Then be sure to share these three simple sugar cookie rules:
1. Pace Yourself
The cookies on your tray are YOURS to decorate however you want.
Going faster doesn't mean you'll get more cookies to decorate. Once you are done, you're done.
You are welcome to go as slow or as fast as you like with your own cookies.
This relieves pressure from the kids who want to really take their time with fancy designs but also releases antsy kids who want to finish early.
2. Accent Colors vs. Big Batch Colors
We all agreed to the general designs before I tinted the icing.
Some colors only had a very small batch because they were meant to be accent colors, not base flooding colors.
The kids knew which colors they could use with reckless abandon vs. which one they had to be more careful to pace themselves with so they didn't run out.
I always make a TON of white because it can be decorated with sprinkles easily.
3. Practice Being Patient
Royal icing tastes significantly better once it has dried and completely set.
We set a timer for FOUR HOURS after we were finished with the decorating before we were allowed to eat the cookies.
You can feel free to skip this rule, but I loved the fun lesson in patience for my girls. We raced to the table once our timer beeped and the cookies were ready.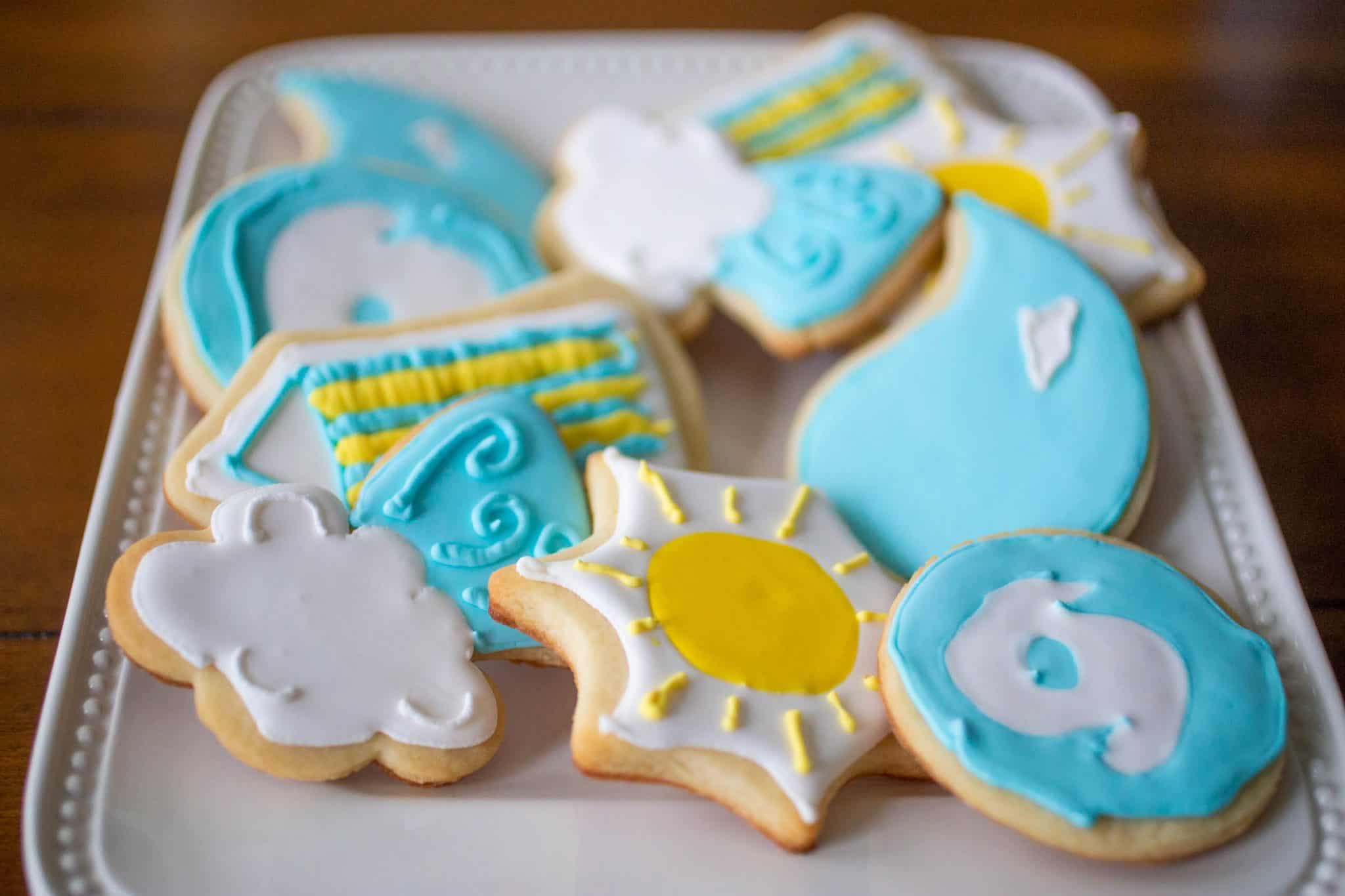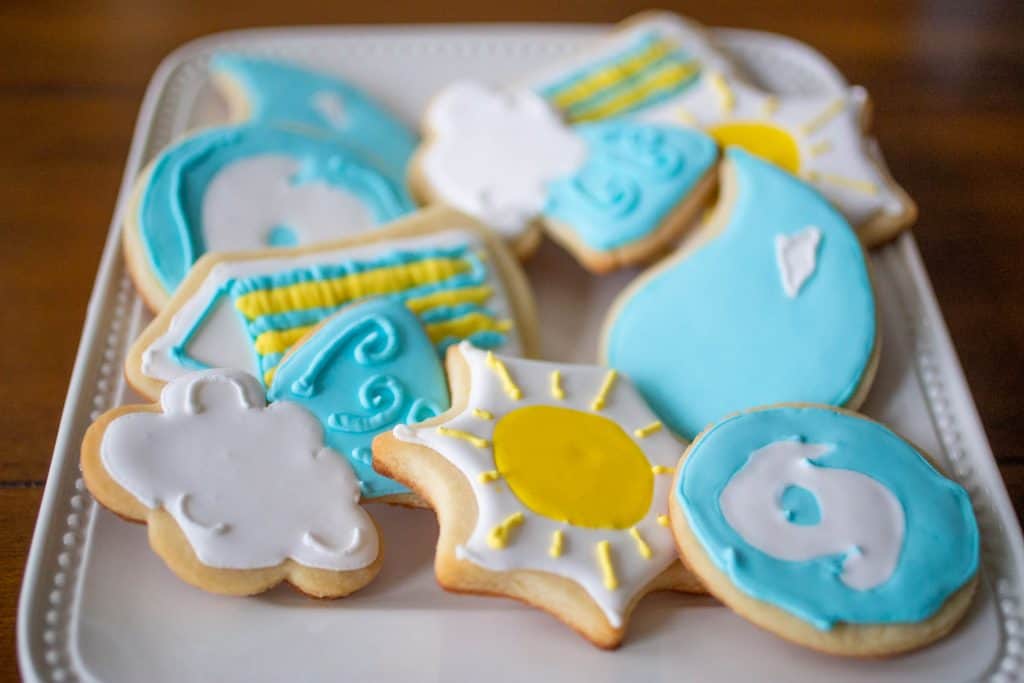 How to Keep It Fun
If this all sounds like too many rules to you, just know that baking with kids always goes more smoothly when you manage expectations before you begin.
When everyone knows what to expect, we are able to relax more and there's more room for fun:
Play some music while you decorate.
Ask each other advice for your designs.
Compliment one another on the work you're doing.
Mistakes will be made, spills will happen, use this as an opportunity to turn them all into "happy accidents."
My youngest was initially frustrated that her cookie didn't look as polished as mine did.
We encouraged her to just add more frosting because it would hide the mistakes and be way more delicious with the thicker coating!
That inspired her to turn around and make a "chaos cookie" that had a wild splattering of all the colors in fun squiggles and swirls.
Sugar Cookies for Kids to Decorate
Looking for some inspiration on cute cookies to bake with your kids?
Here are some of the designs we've had fun with together:
Easy 2-Color Designs for Holiday Baking
If you're decorating cookies with kids for Christmas, Easter, or another holiday, you'll love these easy 2-color designs your kids can easily replicate: