Tired of going through all the work to make sugar cookies with kids only to have them lose interest after decorating just one or two cookies?? These great tips for baking with kids will help ensure their interest holds for the whole decorating session and makes cookie decorating with kids so much more fun!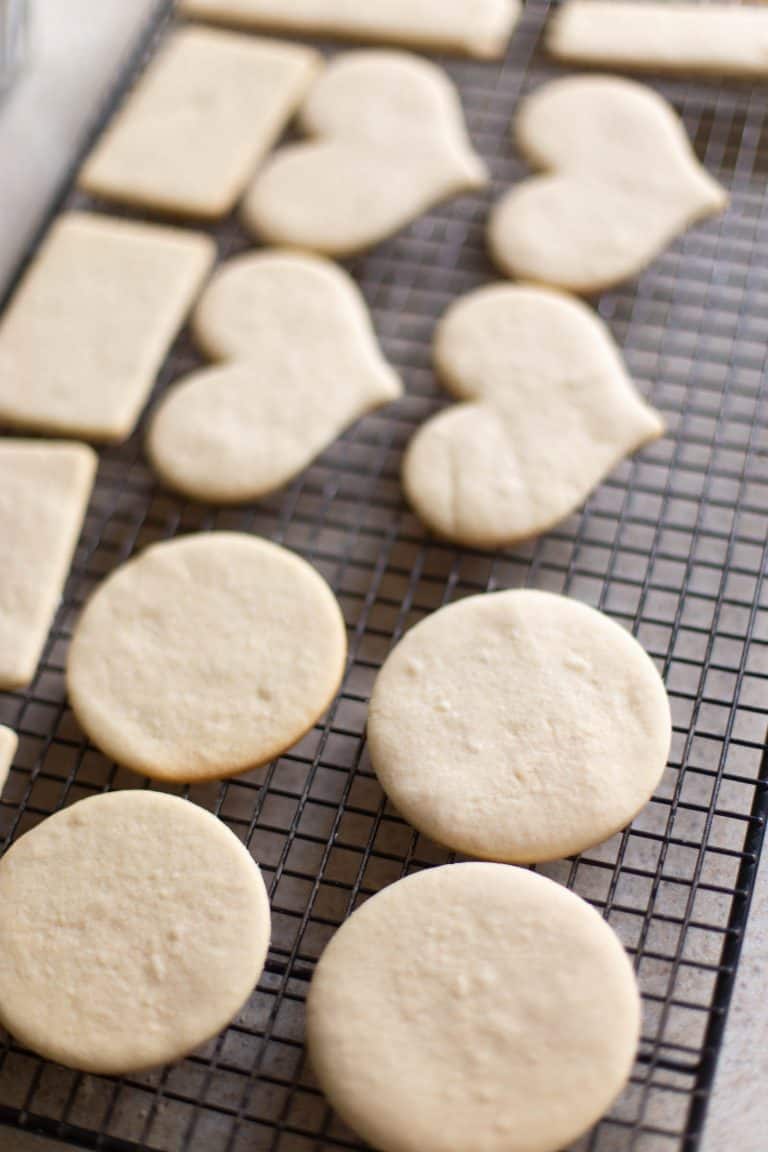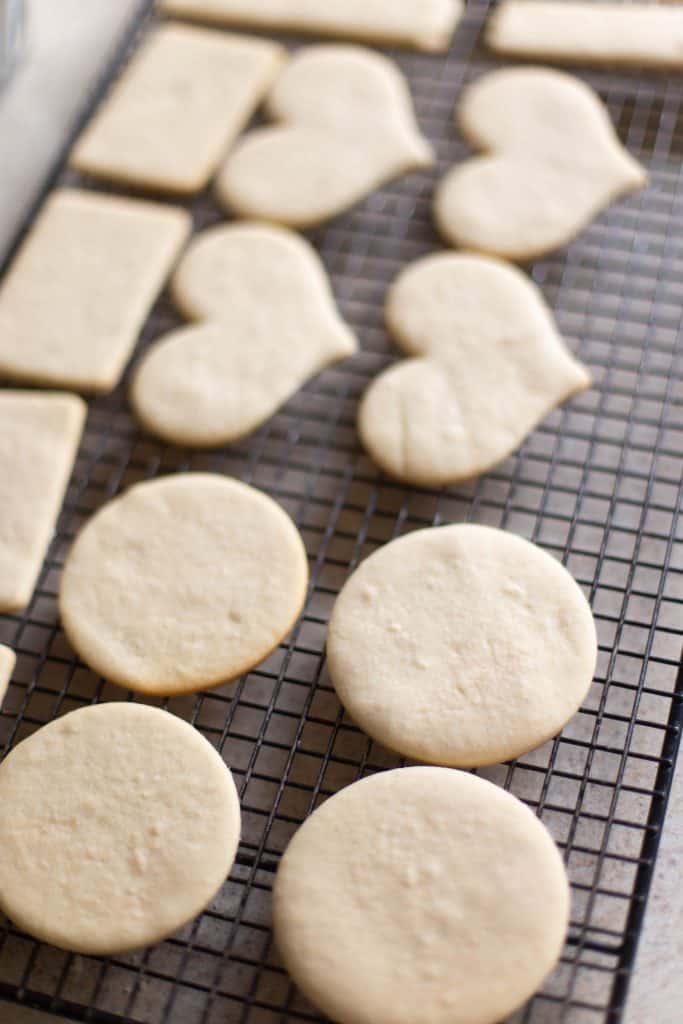 My friend Chrissy makes the most gorgeous sugar cookies. I'm always so amazed at the designs she whips up for celebrations for family and friends. You might remember her fantastic Wellie Wisher inspired Christmas sugar cookies from last year.
For months I've wanted to try my hand at sugar cookie decorating but every time I pulled out the supplies, my girls would beg to decorate some, too. I felt awful and ridiculous telling them, "No, these are cookies for ME to decorate all by myself" so most of the batch would end up disappearing under their playful hands.
It's hard to improve on a new skill without practice, but since I wasn't willing to hide the cookies from my kids and only work on them when they aren't home, any time I try to practice I faced a constant battle against the moths to the flame in my kitchen.
I finally decided, if you can't beat 'em, join 'em.
Knowing we'd be cooped up in the house for days while Hurricane Florence passed through, I decided to prepare all the supplies we needed while we still had electricity for a weekend of sugar cookie decorating with my kids.
The results were spectacular.
Not only did we make super fun and gorgeous cookies together, but it was a Team Project my girls cannot wait to repeat this holiday season.
We had such a great time, I wanted to share all my tricks for keeping things peaceful when baking sugar cookies with kids.
Do your kids enjoy baking? What's their favorite treat to make? Leave me a note in the comments, I'd love to know.


How to make sugar cookies with kids without losing your sanity
Fancy sugar cookie cutouts can be exhausting to make with kids. By the time you've made the dough, done the cut-outs, baked them, mixed up the royal icing, and set everything out, your kid might decorate one or two cookies and lose interest. They've invested too much of their energy in the baking process by that point!
Put the focus on the decorating, not the baking. Break the work down over the course of a few days so that both your kids AND YOU have enough energy and enthusiasm for the project come Decorating Day.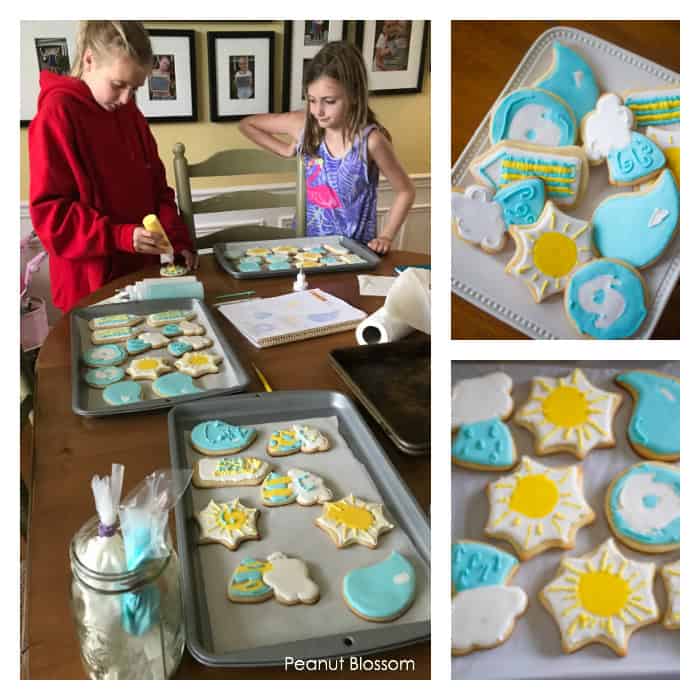 The sugar cookie timeline:
NOTE: Before you start anything for the sugar cookies with kids, think through the designs you want to make together. I highly recommend picking cookie shapes and designs that only require 2 - 3 colors of icing total. You can always add additional colors with sprinkles or candies.
Day 1: Mix up 1 - 2 batches of royal icing. Do not tint it yet, just make the white base recipe and then store in air-tight containers with plastic wrap covering the surface of the icing inside the container to prevent it from drying out. Simply store on your kitchen counter (away from the heat of your oven.)
Day 2: Bake the sugar cookies. Make the dough, roll it out, do the cut-outs, and bake the cookies.
You could break this step down into two days: 1 where you make the dough and then store in the freezer or fridge, 2 where you roll it out and bake it. But, I find once I've made the dough I prefer to just keep going and finish this step.
Day 3: Tint and prepare the icing. Consider your designs and decide which colors require both the piping and flooding consistency. Tint the icing as needed and prepare your icing bags and bottles with the colors you need.
Avoid My Rookie Mistake: I made just one set of piping & flooding containers for each color and the girls did bicker a bit about who got to use which one and for how long. If your design has one predominant color, I highly recommend preparing individual sets of icing bags/bottles for the most-needed colors so each decorator can have their own set. Accent colors will work just fine with only one set.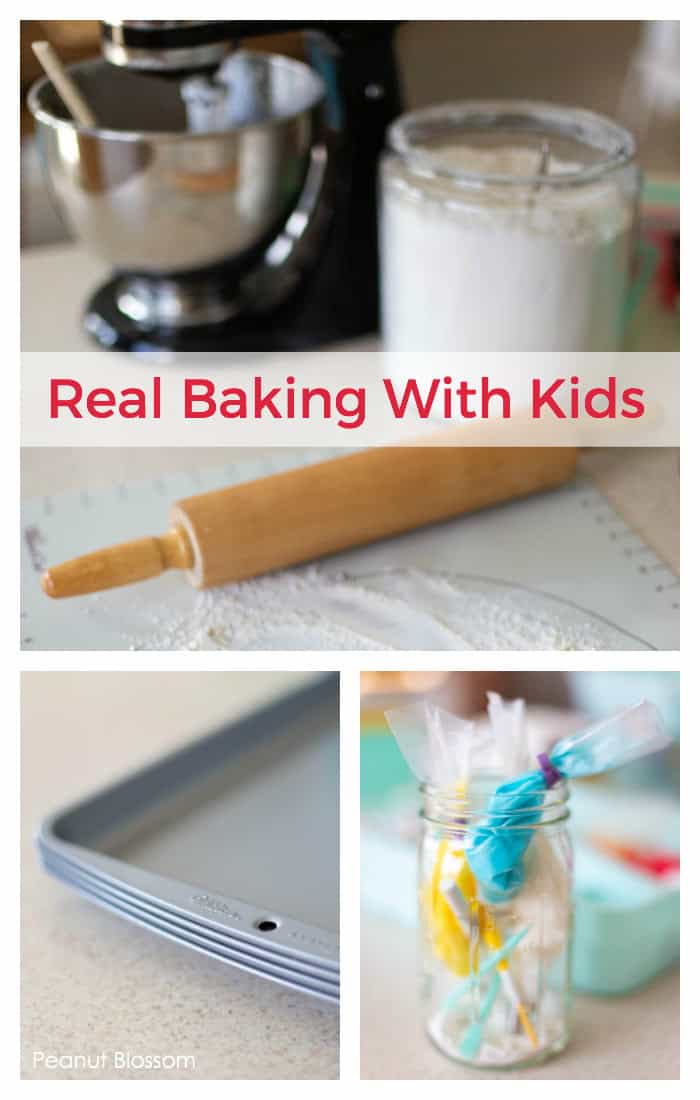 Decorating Day Arrives! Divide the cookies and set the rules:
I set out separate cookie pans lined with parchment paper for each of us and evenly distributed the baked sugar cookies among the pans.
Then I announced these three simple sugar cookie rules:
Going fast doesn't mean you get more cookies: The cookies on your tray are YOURS to decorate however you want. Once you are done, you're done. You are welcome to go as slow or as fast as you like with your own cookies.
Don't be greedy: We agreed to the general designs before I mixed the icing, so there was to be no using a small batch accent color to flood whole cookies and use it up. The kids knew which bottle they could use with abandon vs. which one they had to be more careful with.
Be patient: Royal icing tastes significantly better once it has dried and completely set. There was to be no taste-testing the cookies for FOUR HOURS after we were finished with the decorating. You can feel free to skip this rule, but I loved the fun lesson in patience for my girls. We set a timer and raced to the table once it beeped and the cookies were ready.

Keep it lighthearted:
You might be thinking at this point that it sounds like too much work and too many rules but I have learned that baking with my kids always goes much more smoothly when expectations are managed right from the beginning.
When everyone knows how it will all play out, we relax more and find more room for fun:
Play some music.
Ask each other advice for your designs.
Compliment one another on the work you're doing.
Mistakes will be made, spills will happen, use this as an opportunity to turn them all into "happy accidents." 
My youngest was initially frustrated that her cookie didn't look as polished as mine did. We encouraged her to just add more frosting because it would hide the mistakes and be way more delicious with the thicker coating! That inspired her to turn around and make a "chaos cookie" that had a wild splattering of all the colors in fun squiggles and swirls.
Interested in making our hurricane cookies?
You can find the full instructions on the cutters and supplies we used to make our hurricane sugar cookies here.