These adorable Halloween sugar cookies are inspired by the equally sweet Vampirina from Disney Jr. The perfect not-too-spooky festive treat for kids this season.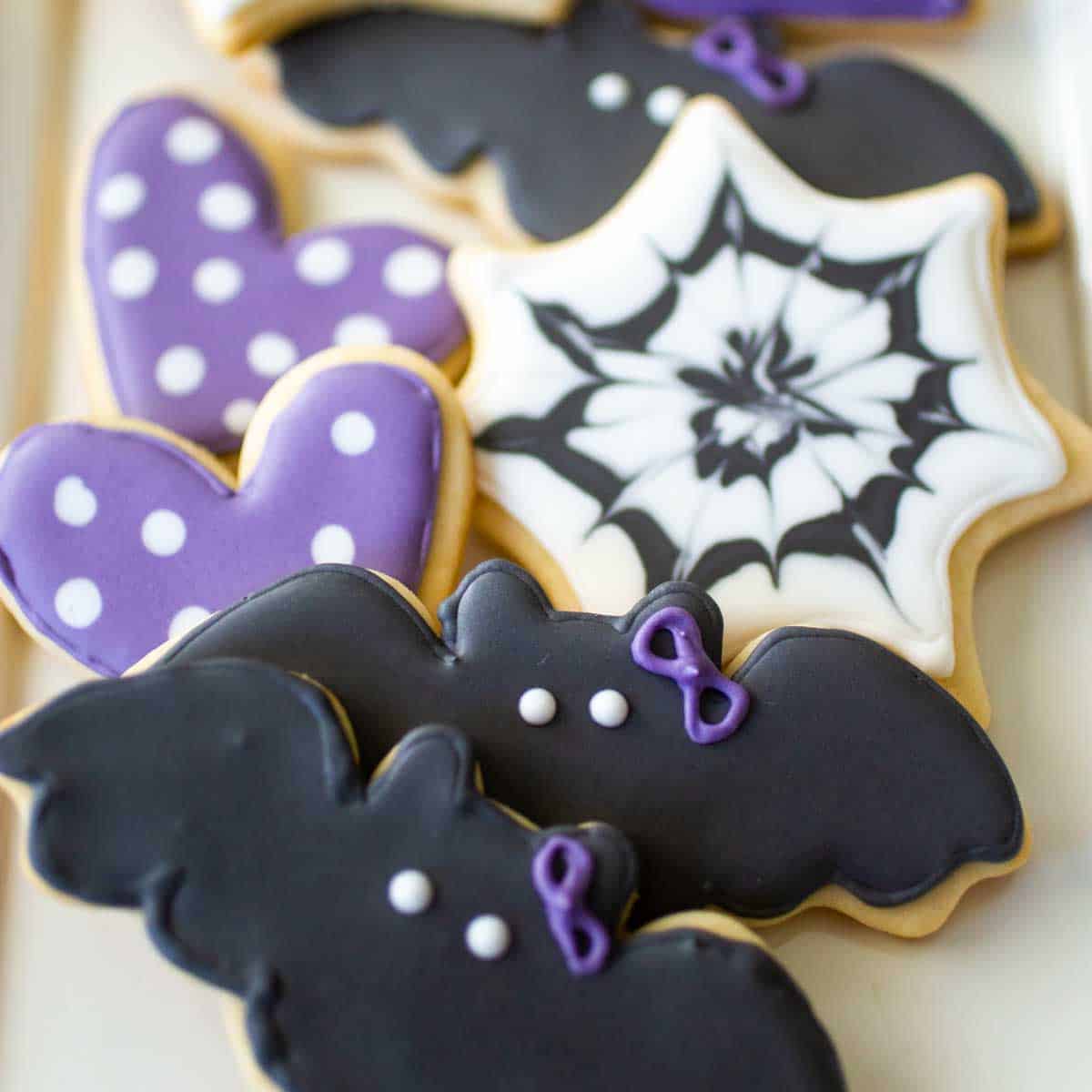 Even though my girls are getting bigger, I love that the occasional Disney Jr. show still hits the rotation once in a while.
Little Pea fell in love with Vampirina when it first launched and thanks to the Hotel Transylvania movies, she has been obsessed with friendly vampires.
She chose to go as a sweet (not scary) girl vampire for her Halloween costume this year.
I thought it would be fun to make a platter of sugar cookies together that was a twist on the season's spookier themes.
These playful purple polka dot and black bat cookies are inspired by Vampirina's colors and the spider web motif of her dress.
They are part of our 2-color Cookies collection--my way of making fancy sugar cookies with kids without losing your mind!
Even if you are a sugar cookie beginner, I promise you can make these impressive Halloween sugar cookies with just a few simple tricks.
Jump to:
Ingredients
To make these adorable sugar cookies, you will need:
Supplies You Need
Cookie Cutters
The cookie cutters I used are no longer available, but I found nearly perfect substitutions. You can find the best cookie cutter options here:
Special Cookie Decorating Tools
Mix the Perfect Colors for the Icing
The white is just the base color of the royal icing recipe so I don't count that towards our 2-color rule.
For the black, I used AmeriColor's Super Black food gel.
For the purple, I used 2 drops of AmeriColor's Violet, 1 drop of Tulip Red, and 1 drop of Fuscia Pink.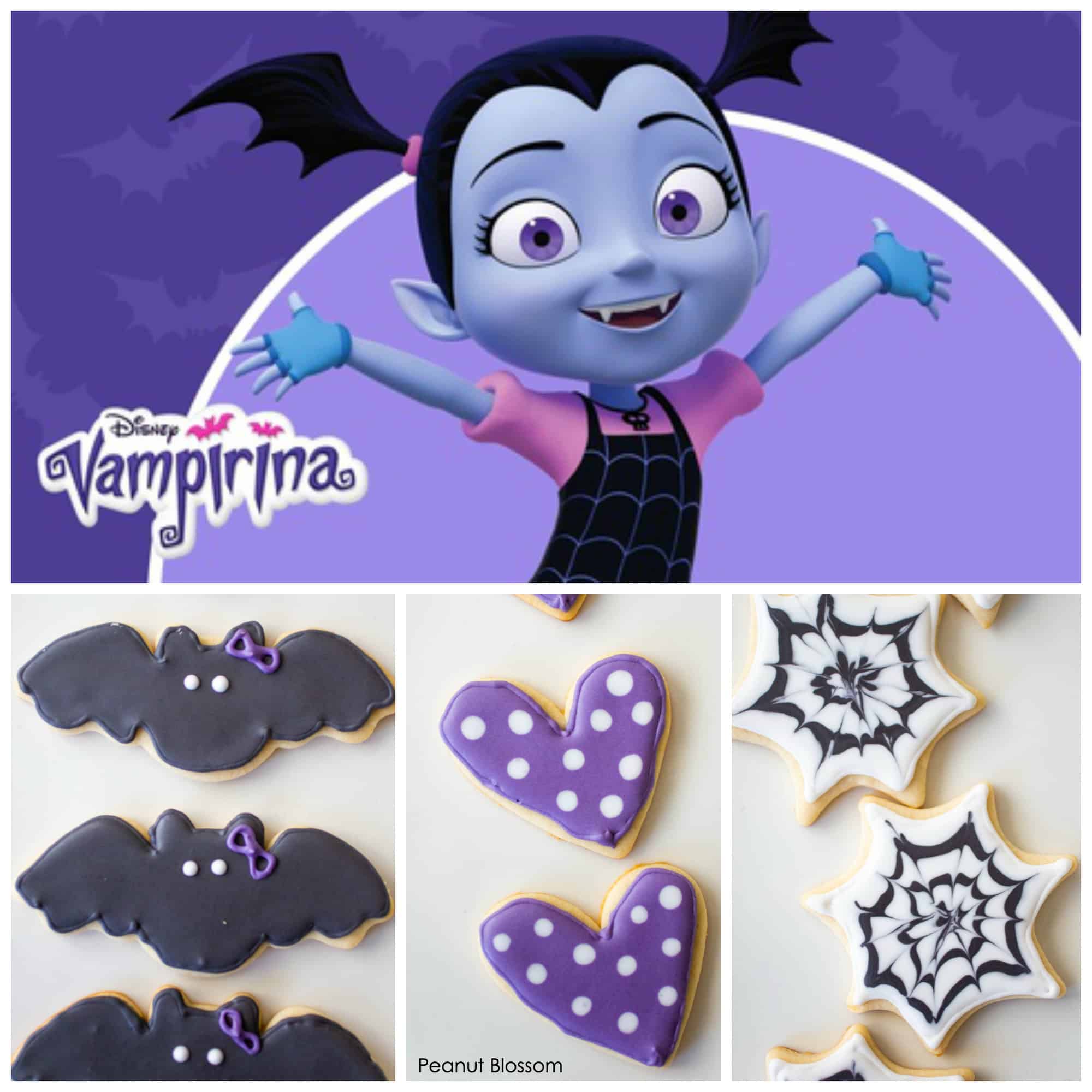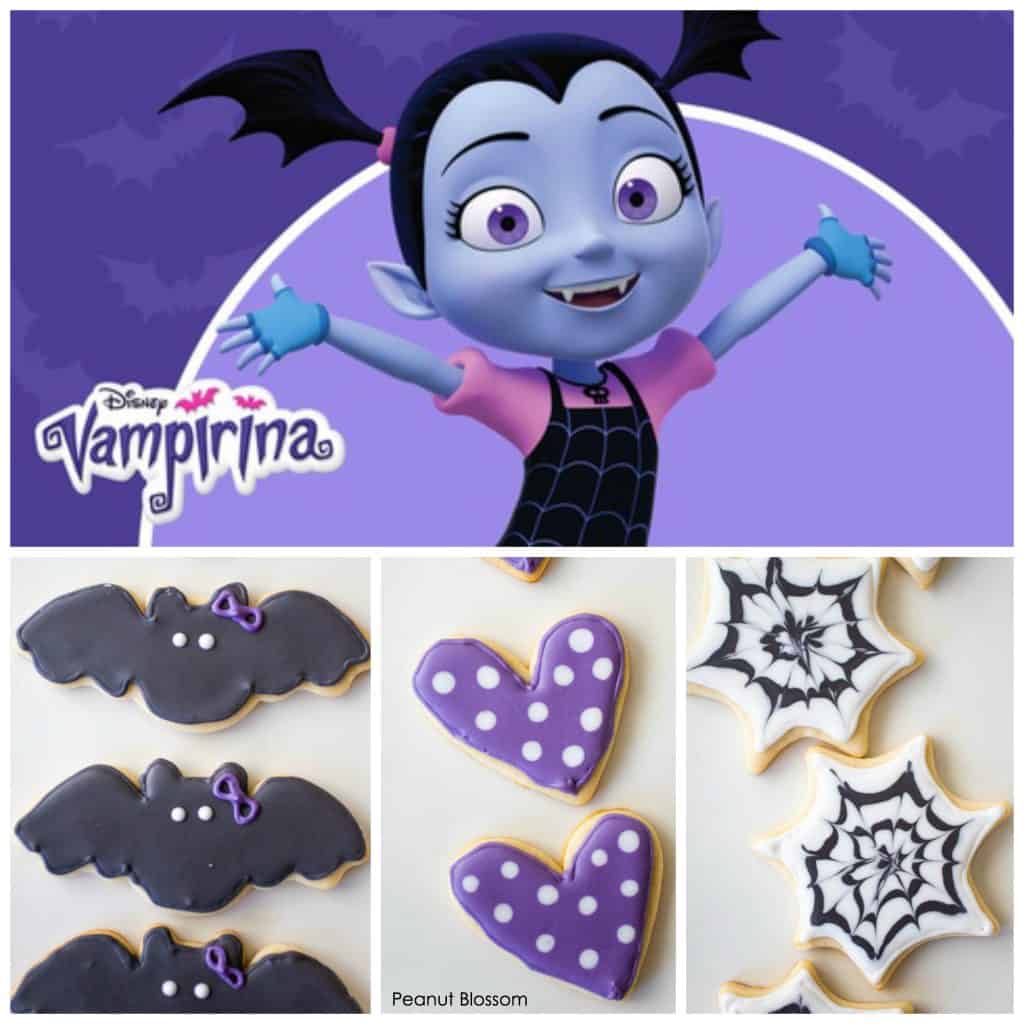 How to Decorate Vampirina Cookies
Since creating a Vampirina look-alike cookie requires a depth of skill a beginner baker usually doesn't have, I wanted to make this an "inspired by" cookie platter.
I used three adorable designs for the cookie set all to mimic the adorable Vampirina color palette and theme: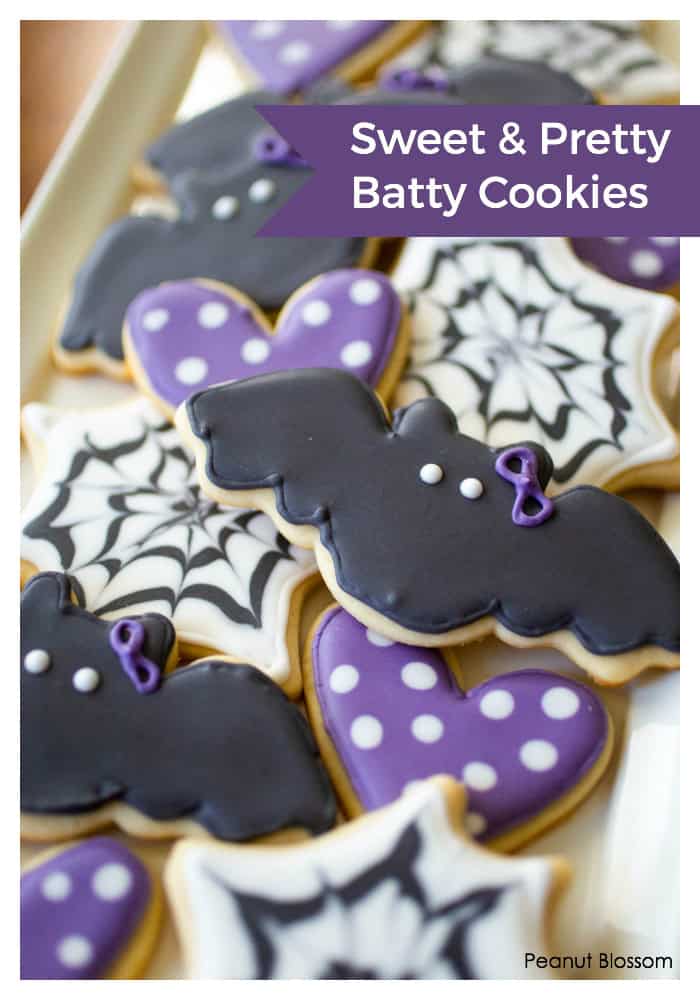 Black Bat Cookie with Purple Bow
I piped and flooded the bat cookie all-black and let it dry for several hours before piping on the dots for the eyes and the little purple bow with a #1 tip.
Purple Polka Dot Heart
I piped and flooded the cookie in purple and then added the white polka dots using the easy wet-on-wet method.
It is SUCH a satisfying way to decorate, the kids LOVE this one.
Black and White Spider Web Cookie
I piped and flooded the cookie in white and then used the wet-on-wet method to add a scalloped line of black that matched the outline of the cookie for the outer row and a second scalloped line a little farther in toward the center.
I added a tiny squiggle of black directly in the middle. I used the scribe tool to pull through the icing back and forth to make the thin delicate lines between the rows of black.
NOTE: You could use a toothpick instead of the scribe tool, but in my experience there is a huge difference and the scribe is absolutely worth the money.
It is more precise and doesn't cling to the icing the same way a toothpick does. You can get your own scribe here.
Baking with Kids
As I mentioned before, these sugar cookie creations are a collaborative effort between my girls and me.
We imagine our projects and plan them out before we begin. Little Pea, in particular, has really enjoyed the outlet for creativity.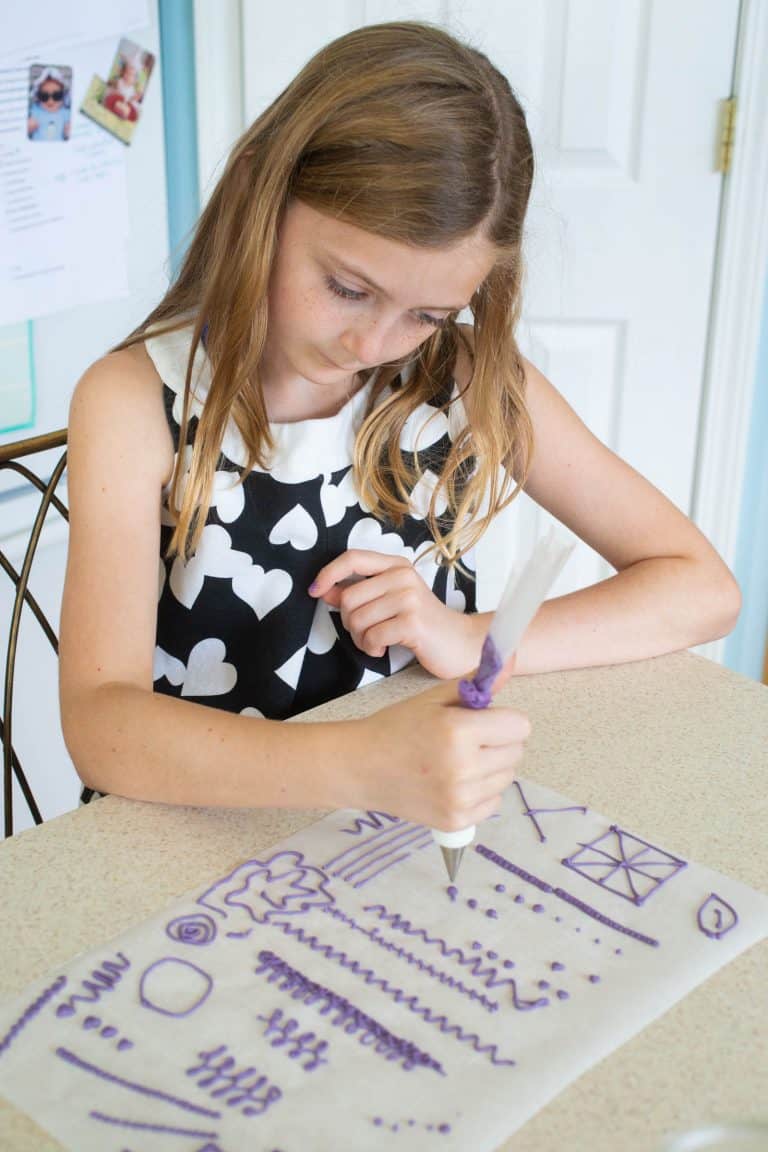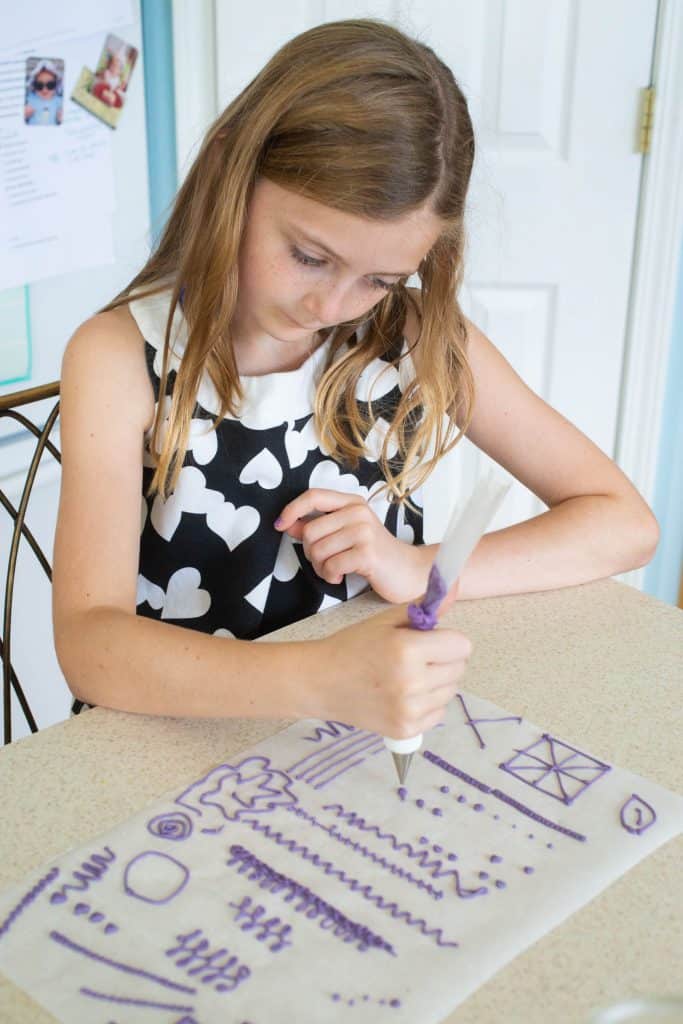 Our designs have been super simple to start, but we use the leftover piping icing to practice our handiwork so we can slowly increase the difficulty of the designs.
When we run out of sugar cookies but still have leftover frosting, I break out squares of graham crackers and let the kids go wild. Little Pea enjoyed making these designs so much, she asked me to post them here for you to see!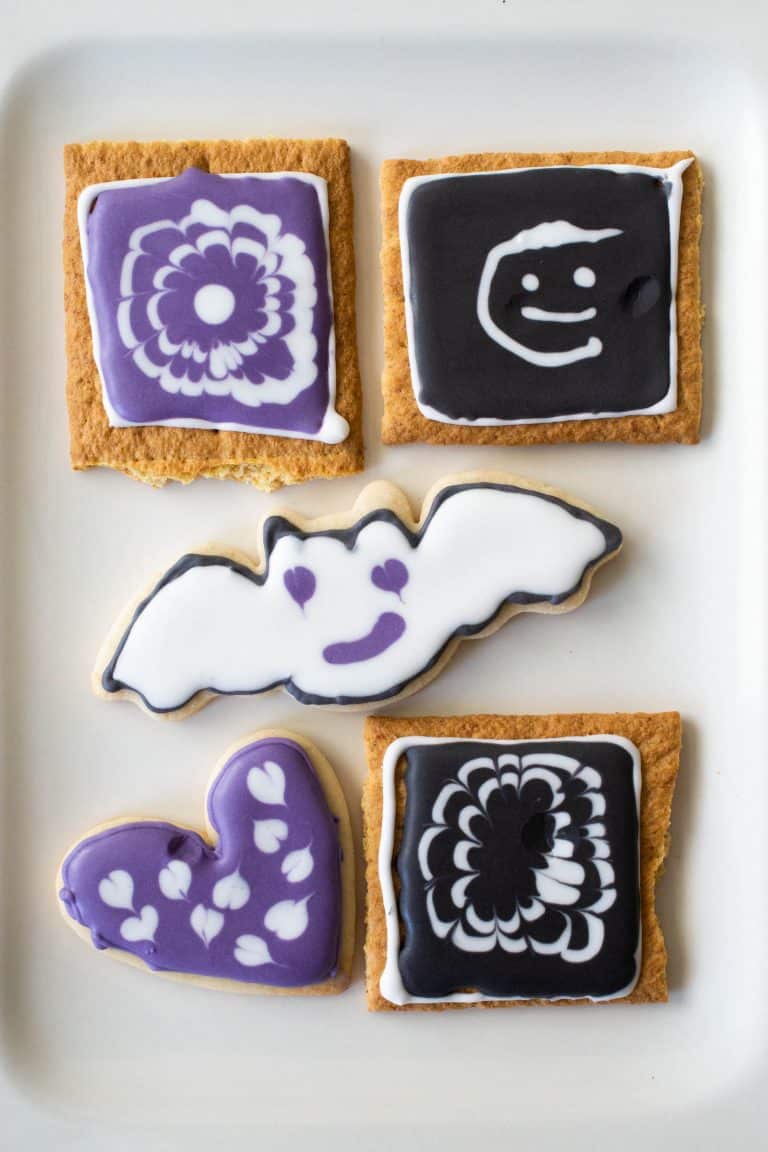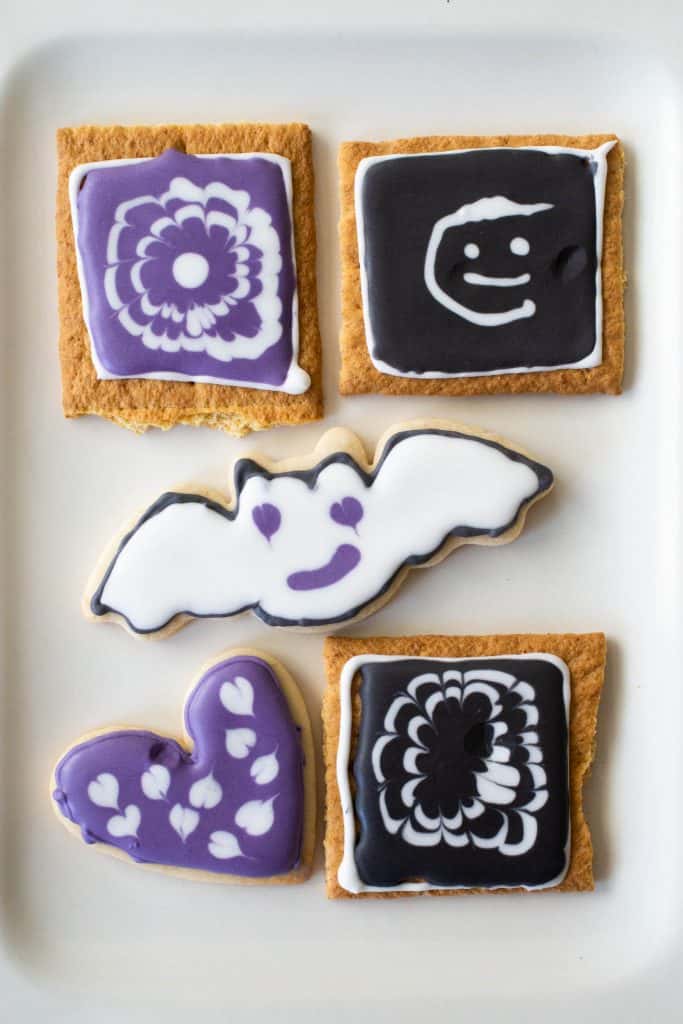 Before she started on her bat cookie, she told me: "Mommy, there is such a thing as white bats, they are very rare."
Be sure to take a close look at her heart cookie--she used the scribe tool to turn her polka dots into little hearts!
That was all her idea and I LOVE it. We'll definitely be using that in a future design.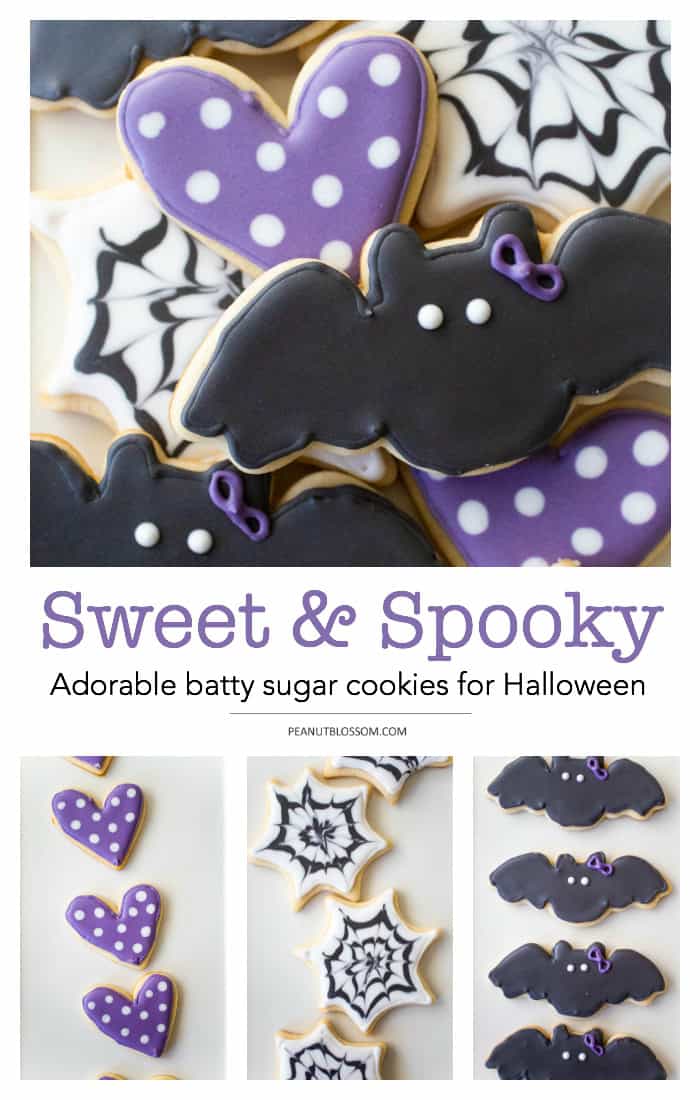 More Sugar Cookie Design Ideas
I believe that baking sugar cookies and decorating them should be easy and fun. I love to collect simple decorating ideas for beginner bakers:
Halloween Recipes for Kids
Looking for more not-so-spooky Halloween treat ideas for kids? Here are some of our family favorites:
📖 Recipe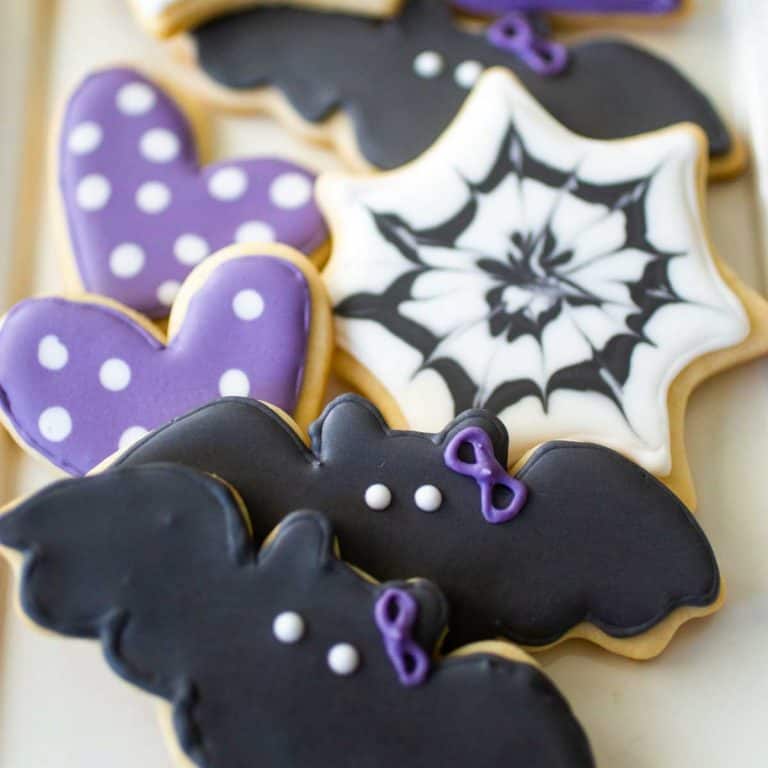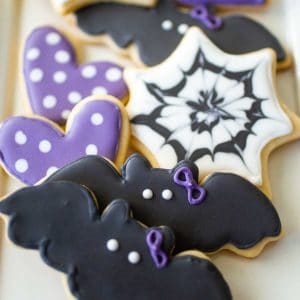 Vampirina Cookies
Adorable sugar cookie platter inspired by Disney Junior's Vampirina. These adorable bat cookies, spiderweb cookies, and purple heart cookies would be perfect for a Vampirina birthday party or Halloween party treat.
Instructions
Bake the Sugar Cookies
Prepare the sugar cookie dough as directed and roll it out to ¼ inch thickness.

Cut a variety of cookie shapes including bats, hearts, and spider webs.
Prep the Royal Icing
Prepare the royal icing as directed. Separate the batch into three bowls. Leave one plain white, tint one black and tint the other one purple.

Place piping thickness royal icing into piping bags for all three colors.

Thin the remaining royal icing to flooding consistency and add them to three separate icing bottles.
Decorate the Vampirina Cookies
To make a vampirina inspired cookie tray, you will include designs for black bats with purple bows, a spider web cookie, and a purple heart with white polka dots.
Black Bat Cookies:
Pipe black around the perimeter of the cookie and flood the cookie with black. Once dry, use the purple piping icing to decorate with a purple bow.
Spider Web Cookies:
Pipe white icing around the perimeter of the cookie. Flood the cookie with white icing. Drop black flood icing in a spider web shape and pull the connecting lines with a toothpick. (See photos in post for visual instructions.)
Purple Heart Cookies:
Pipe purple icing around the perimeter of the heart cookie. Flood with purple icing. While it is still wet, drop white flood icing in polka dot patterns.
Save This Recipe to Your Recipe Box
Find this delicious recipe next time you visit by saving it to your very own recipe box on my site. All your favorites stored in one easy place!