Halloween donuts are as easy as grabbing a box of donuts at the grocery store, along with a few extra easy supplies, and you're ready to make the cutest, easiest Halloween treats with your kids.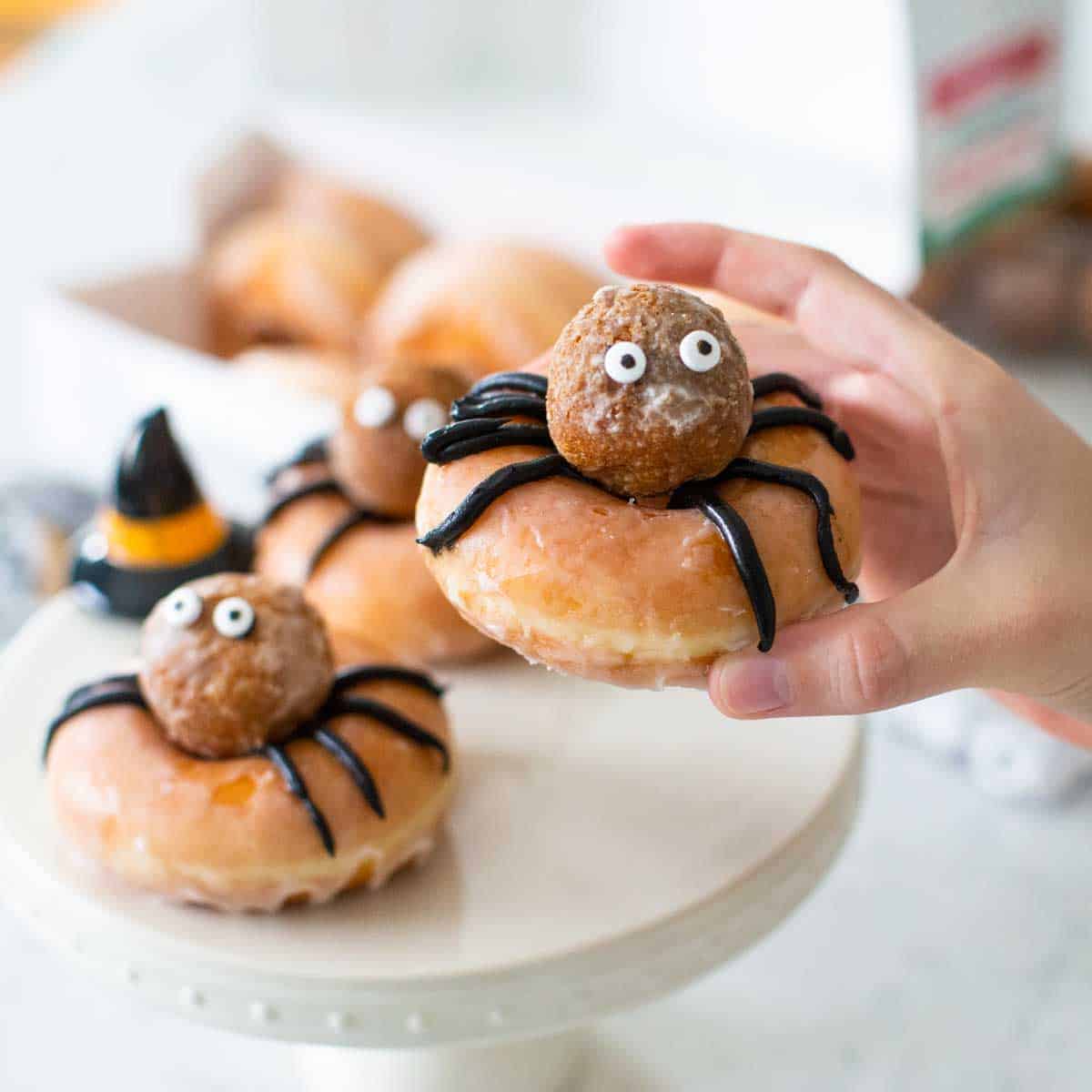 My kids are pretty obsessed with donuts. We all love indulging in them as a special weekend treat.
For years, donuts have been the birthday treat the kids love to share with their friends at school.
Though I love baking things from scratch, sometimes it is nice to have a sweet treat that doesn't require quite so much work.
I love that I can pick up a box of donuts from the grocery store or donut shop when I want something to serve quickly.
This fall, I've been on the lookout for extra-easy treats that we can make in very small batches. I want to be able to spoil my girls with something festive and fun without the need for baking up an entire batch of something that will sit around.
We played around in the kitchen this weekend using donuts as the base for fun Halloween treat ideas and the girls had SO much fun.
All you need to do is stock your pantry with a few key supplies and you could play with just a single donut or two from the bakery when your kids need something a little more special this holiday season.

P.S. If you prefer to make homemade donuts from scratch, I included several recipes for easy homemade donuts in The Ultimate Kids' Baking Book. The apple cider donuts recipe would be just perfect for any of the Halloween ideas listed below!
The cutest, easiest Halloween donut ideas to make with your kids: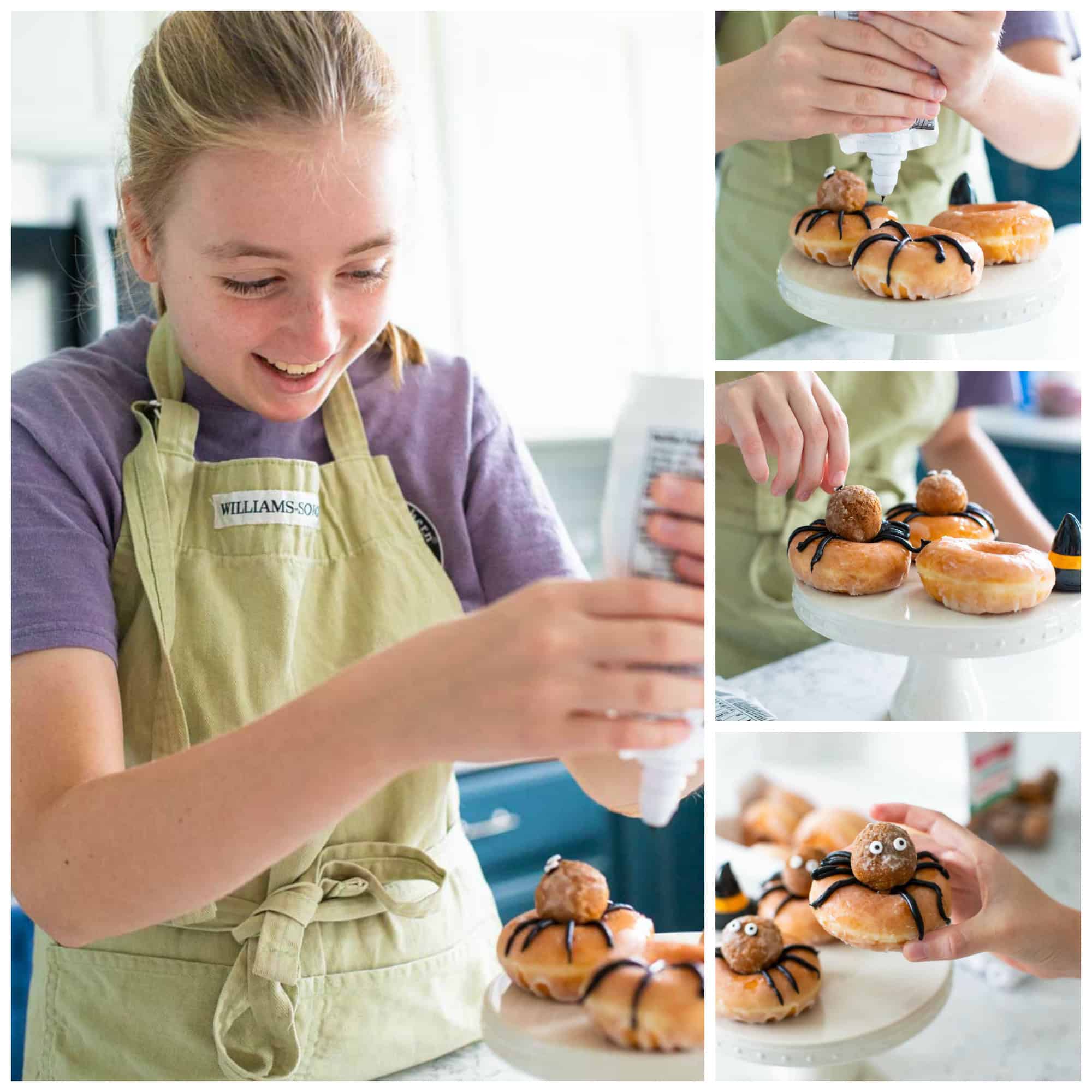 Step 1: Stock your kitchen with a few simple supplies
Pick a few of these items up next time you're at the grocery store or Michael's and just keep them ready for the easiest holiday baking that will get you through the next several months.
Prepared icing in a variety of colors: I discovered that there is a particular prepared icing by Wilton that has a nozzle compatible with ANY decorating tip as long as you use a coupler. Mind Blown! You can get a variety of icing colors in one easy set here. If you plan to use your favorite decorating tip, get a set of couplers here.
Googly eye candies: There is absolutely nothing easier or more hysterical, than adding a few funny eyes to your Halloween treats. We got the most use out of this sized eyeball candy.
Festive sprinkles: When in doubt, just add sprinkles! Draw a cute doodle with the icing and then just top with sprinkles. The kids will even love doing it on their own. This is a fun Halloween sprinkle set to add to your supplies.
Step 2: Buy a box of donuts at the store
This is the best part! You don't have to bake anything if you don't want to. Simply grab a box of donuts at the store in whatever flavor your kids love the most.
Plain cake donuts give you the most options decorating-wise but we found that plain glazed donuts worked like a charm, too. I found a package of pumpkin spice donut holes to work with to make the cutest little donut spiders you've ever seen: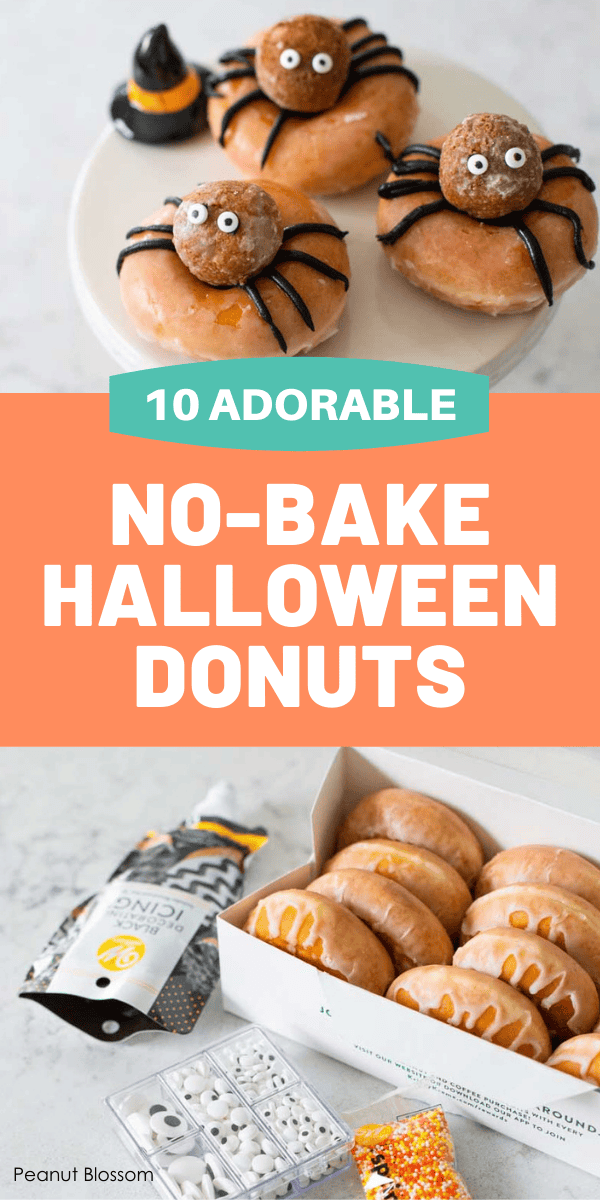 Step 3: Pick a Halloween donut decoration idea and get to work
If our silly donut spiders don't float your boat, we found 10 of the easiest, cutest Halloween donut ideas for you to make with the kids. Be sure to check out our suggestions and easy tips under each of the ideas in the list below.
In the instances where the donut is glazed with frosting, you may prefer to make our popular vanilla donut glaze recipe and just tint it the color you prefer.
Have fun!
Looking for More Halloween Recipes?