These easy Halloween cupcakes are SO cute and can be made with your favorite boxed cake mix and prepared frosting. Just add sprinkles and a few easy Halloween treat decorations for a stunning cupcake tower for your party.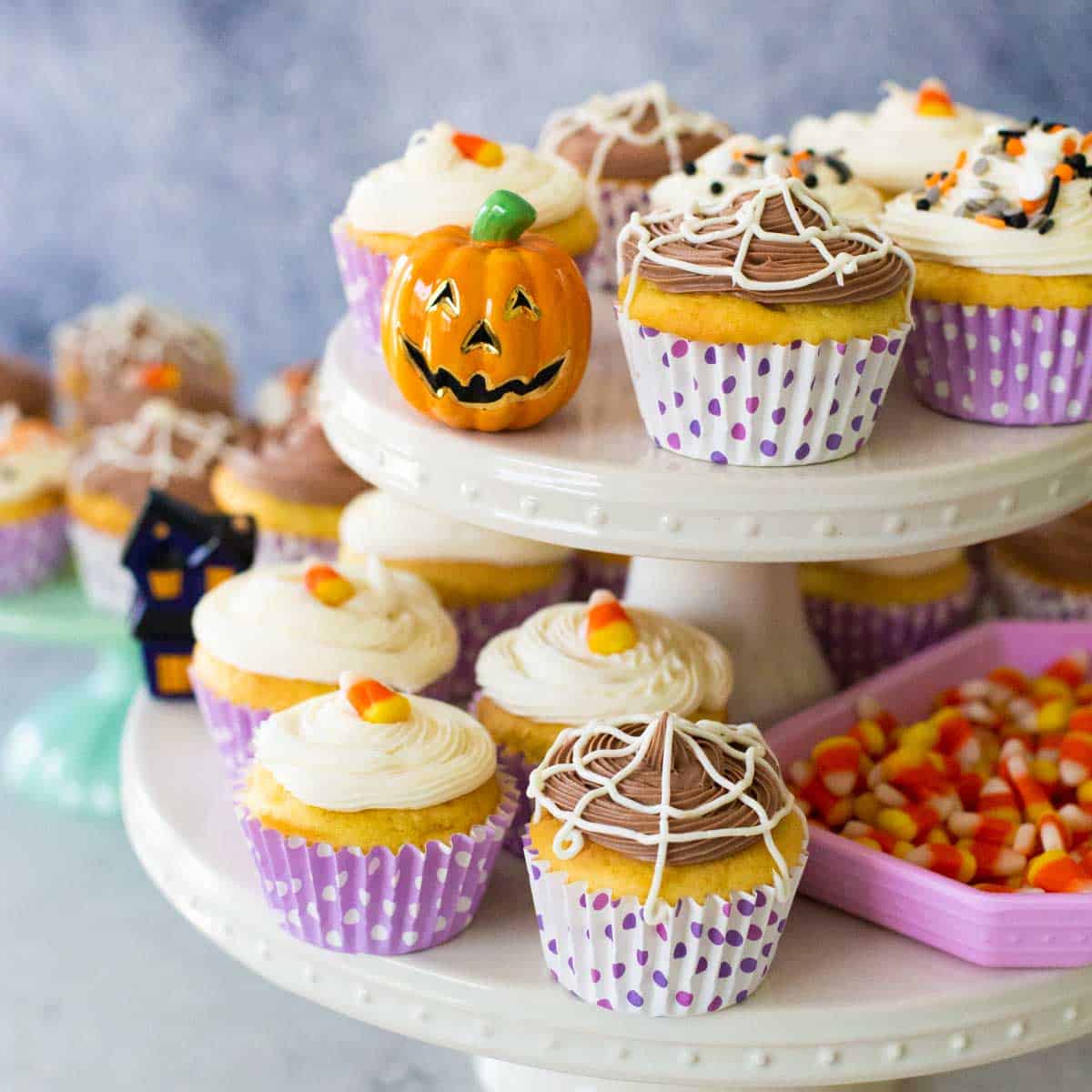 If you want to bake Halloween cupcakes for your Trick or Treat party for the kids, it is so simple to make a stunning tower filled with three easy designs that your guests will love.
With just one box of cake mix and one tub of vanilla frosting and one tub of chocolate frosting, you can mix and match these festive Halloween designs and have a super fun baking session with your kids.
My girls loved the variety of cupcake decorations on our tower. Each one got more squeals from the last.
Add in a cup of candy corn or a bowl of candy googly eyes for your friends to decorate their cupcakes as much or as little as they want.
Jump to:
5 Halloween Cupcake Designs
To make this adorable Halloween cupcake tower, you only need two batches of frosting and a box mix of cupcakes.
With a few simple decorating supplies, you'll be able to make:
Chocolate Frosted Cupcakes with White Spider Webs
Chocolate Frosted Cupcakes with Candy Corn Topper
Vanilla Frosted Cupcakes with Candy Corn Topper
Chocolate Frosted Cupcakes with Sprinkles
Vanilla Frosted Cupcakes with Sprinkles
Ingredients
To make these cute Halloween cupcakes, you only need a handful of ingredients: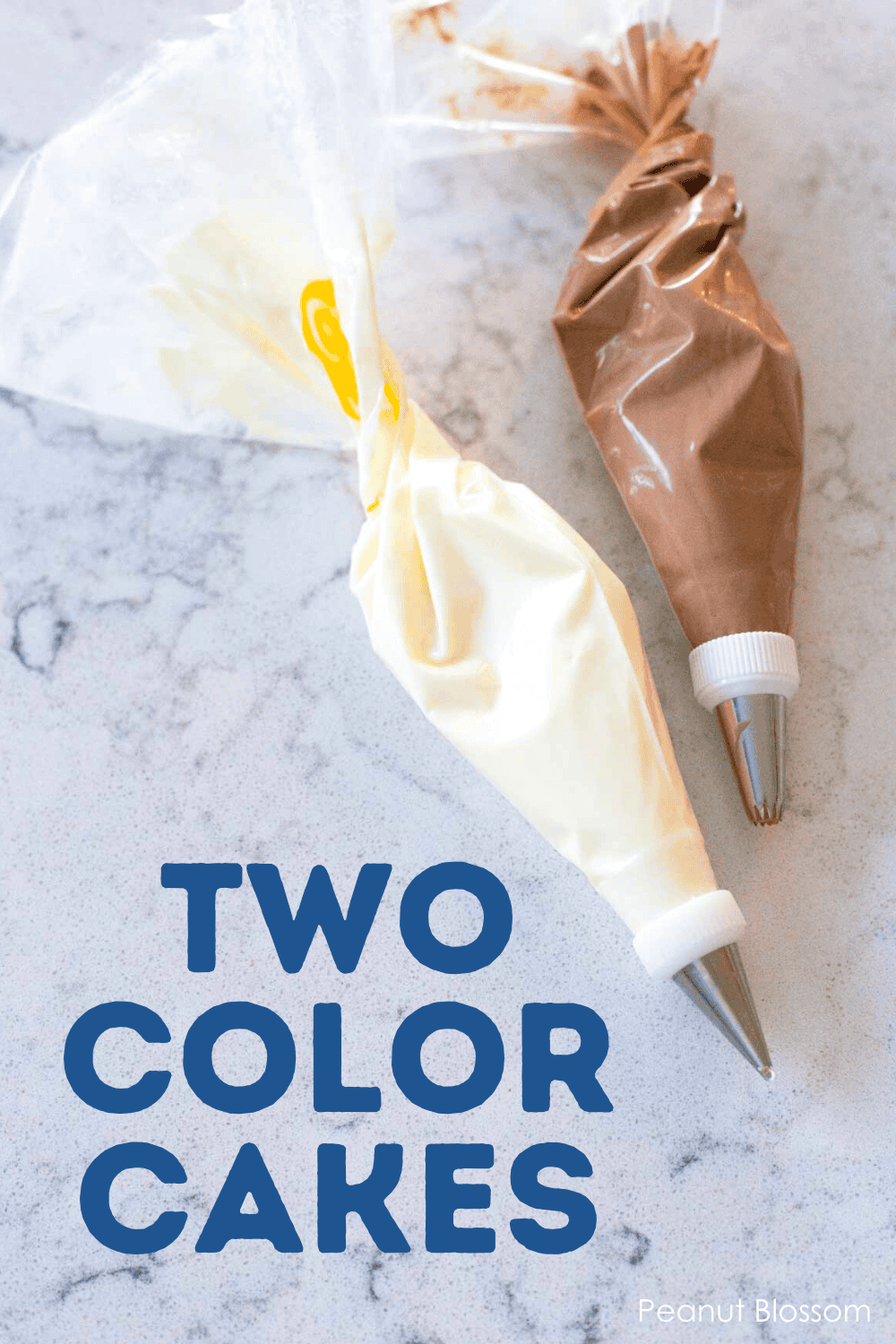 To keep everything super easy, you can use canned frosting if you prefer. But I'd like to step in and say that homemade cream cheese frosting is SO EASY and once you've tried it, you'll never go back to the can again.
Canned frosting can have a weird smell and flavor while real cream cheese frosting is bright and tangy and can be sweetened just as much as you want.
It's only one step farther to make easy chocolate cream cheese frosting. For these Halloween cupcakes, you'll need to make a single batch of each of these two recipes:
You can even do it back to back: make the plain cream cheese frosting first and there's no need to even wash the mixing bowl before making the chocolate frosting!
1. Spider Web Cupcakes
Frost half of the cupcakes in the chocolate frosting.
For the first design, make the spiderweb cupcakes. You will need a chocolate frosted cupcake for your base and also:
Vanilla frosting in a frosting bag fitted with a small circular piping tip. I used Wilton tip #2 from this piping tip set.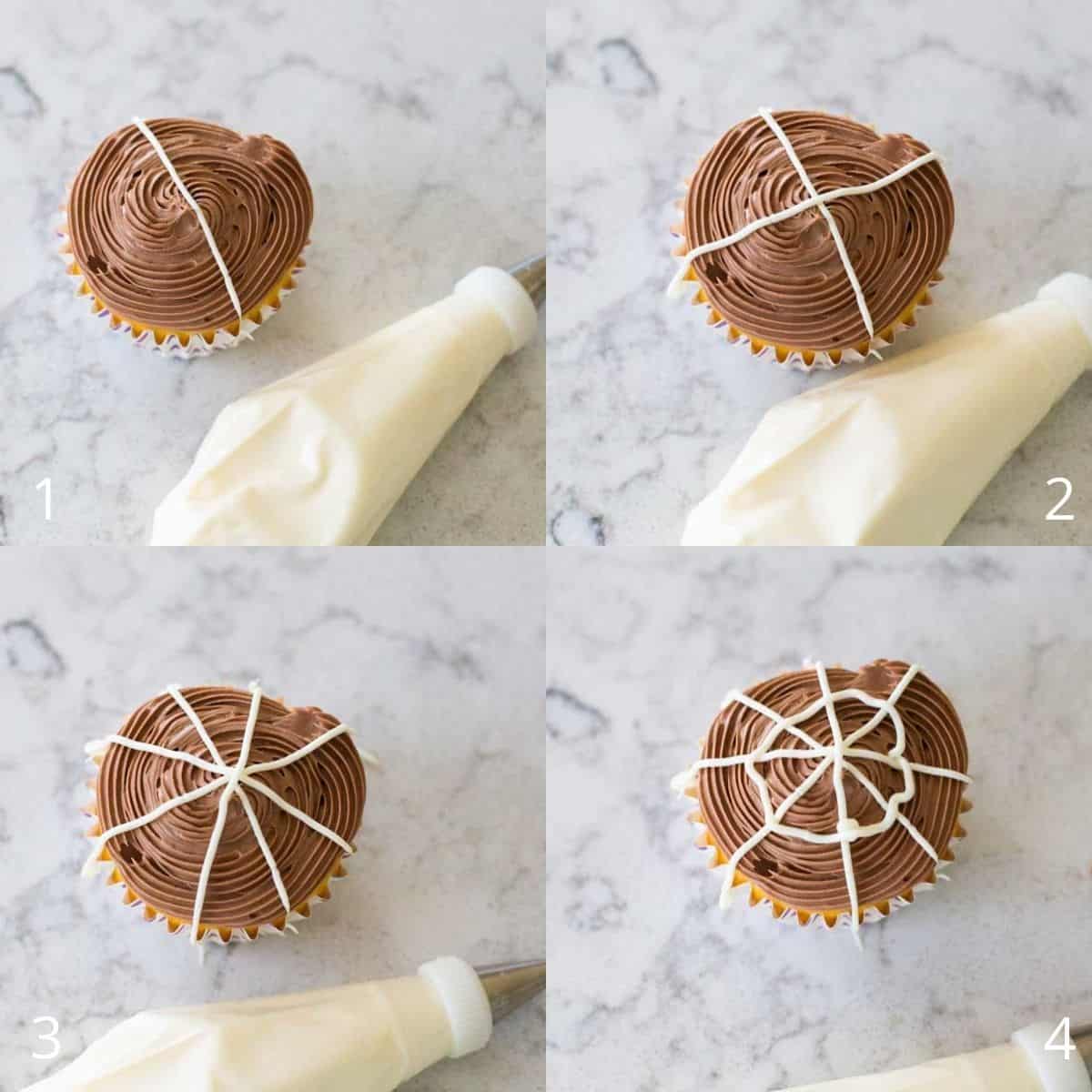 Pipe a single line of cream cheese frosting over the center of the cupcake from one edge over to the other.

Now pipe another line of frosting straight across, forming a cross.

Add two more lines of frosting to form a pinwheel pattern.

Draw a circle of frosting that touches half way from the center point to the edge. This forms the first part of the web.

Draw the final circle around the edge of the cupcake to form the second layer of web.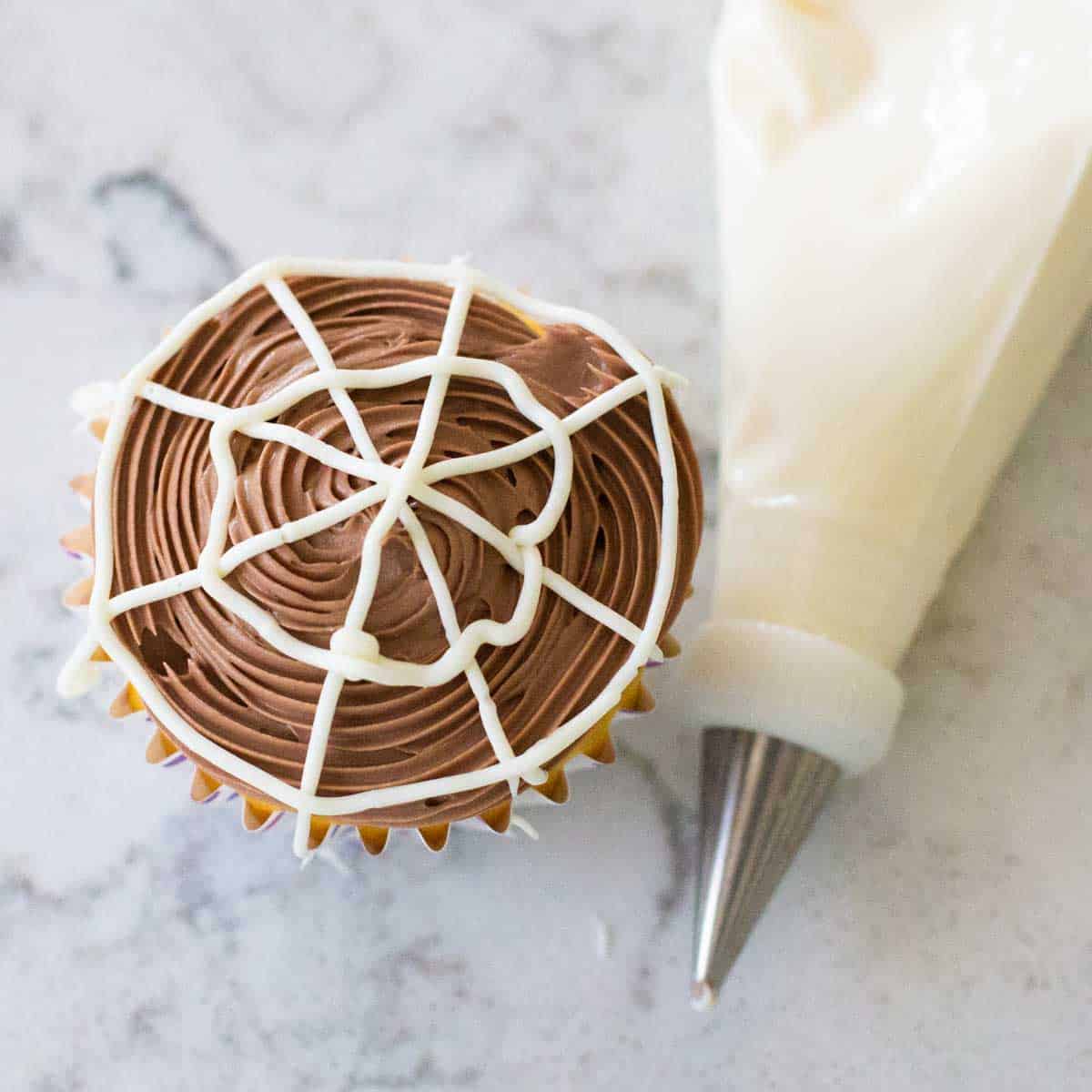 2. Halloween Sprinkles Cupcakes
The second design is perfect for baking with your kids. Put them in charge of this easy set of cupcakes.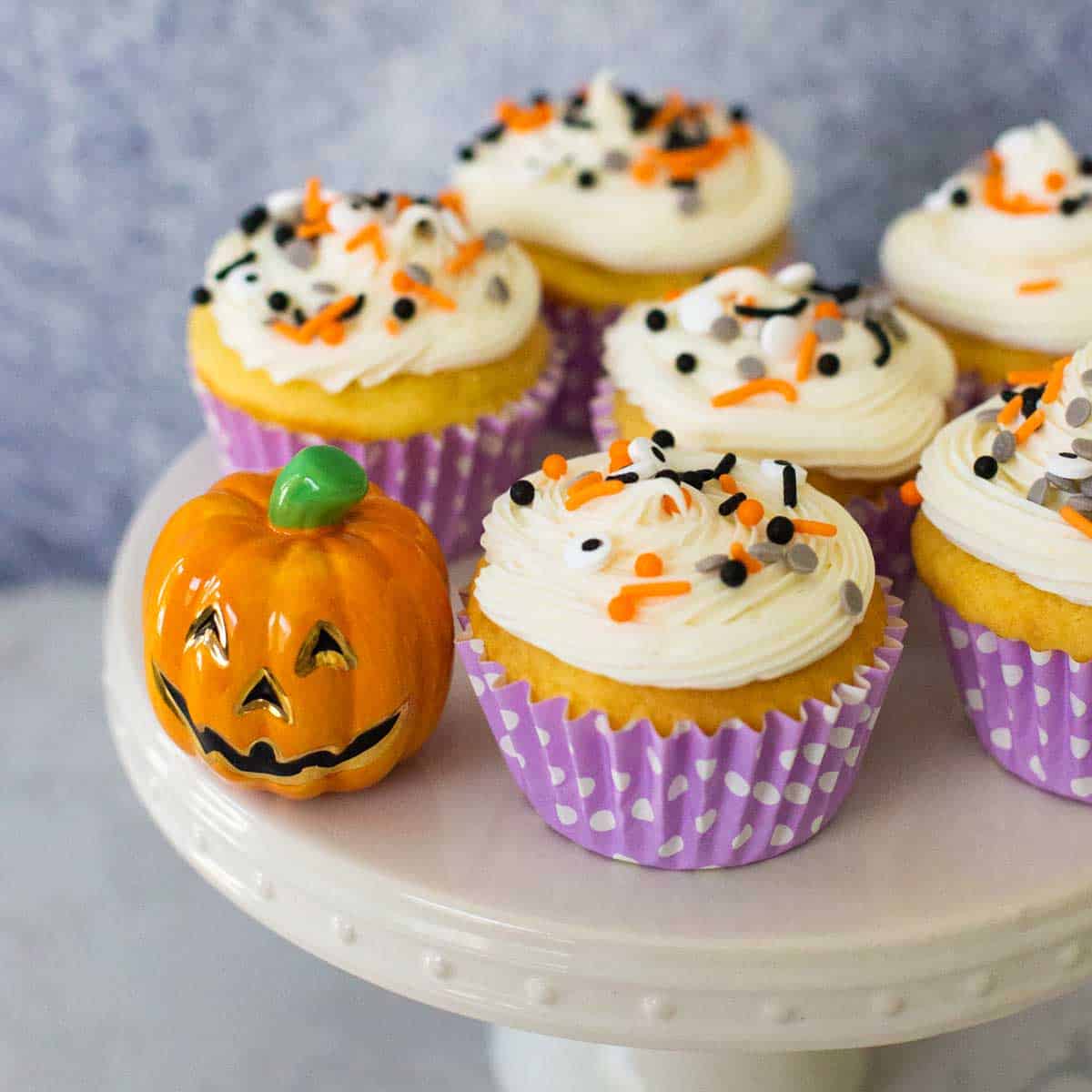 I used a flowered icing tip to swirl cream cheese frosting over the second half of the cupcakes.
We sprinkled orange and black Halloween sprinkles over the top of a few vanilla and leftover chocolate cupcakes.
We added fun candy googly eyes to the mix to be extra spooky but this Halloween sprinkle set has it all in one.
3. Candy Corn Cupcakes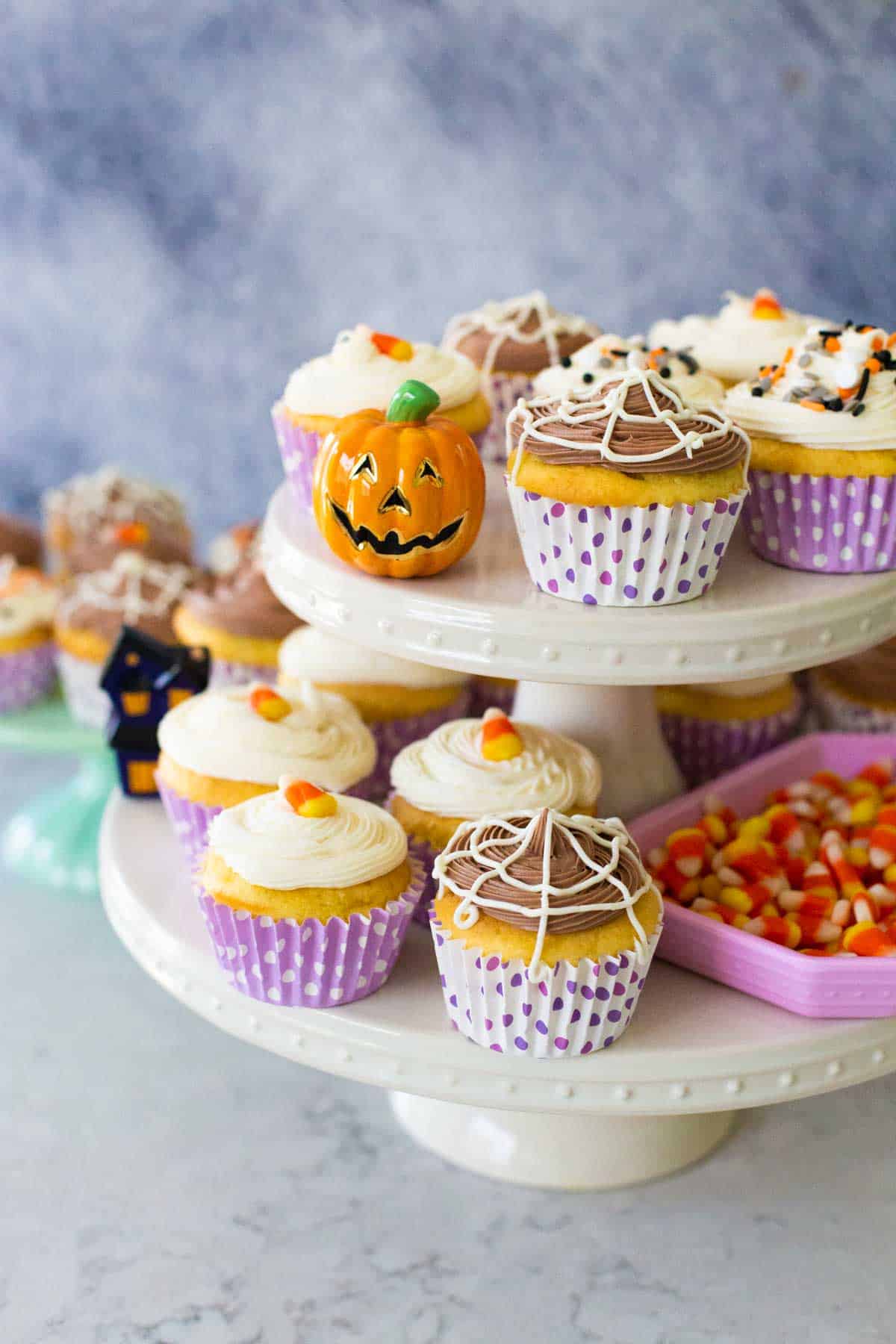 The third cupcake design is the easiest but also surprisingly pretty.
Simply top all the remaining cupcakes with a cute candy corn decoration right in the center.
My kids loved how those elegantly decorated and simple cupcakes stood out on the cupcake tower against the fun and wild sprinkles and spider webs.
More Halloween Treats
Looking for more sweet Halloween desserts for your party? Or maybe you just want to bake with the kids. In that case, be sure to check out my You've Been Booed kit for all your cupcake leftovers!
📖 Recipe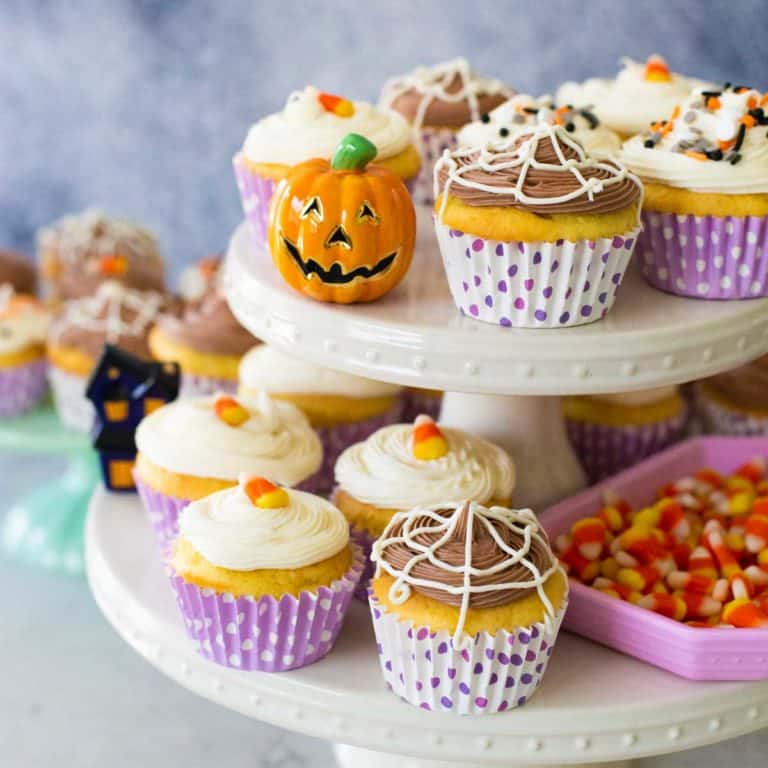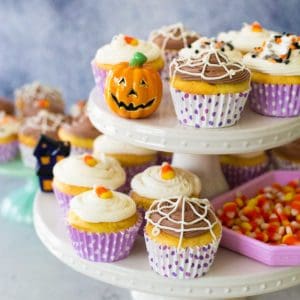 Easy Halloween Cupcakes
These adorable and easy Halloween cupcakes are perfect for making for your Trick or Treat Party. With just one box cake mix and easy frosting, you'll be ready with the cutest cupcake tower ever.
Ingredients
1

box cake mix in your favorite flavor baked into 24 cupcakes according to the directions on the package

1

container of prepared cream cheese frosting OR 1 batch of homemade frosting

See Notes

1

container of prepared chocolate cream cheese frosting OR 1 batch of homemade frosting

See Notes
For Decorating:
Mini Candy Corn

Festive Orange & Black Sprinkles

Candy Googly Eyes
Instructions
Bake the boxed cake mix into cupcakes according to the directions on the package. You should get 24 cupcakes in total.

Spread the vanilla cream cheese frosting over 12 cupcakes and chocolate frosting over the other 12.

Sprinkle the festive sprinkles over 6 each of the chocolate and vanilla cupcakes.

Place one candy corn on top of the remaining 6 vanilla cupcakes.

Pipe cream cheese frosting spider webs over the remaining 6 chocolate frosted cupcakes. (See post for detailed photos.)
Recipe Notes
You can mix and match these festive designs as you prefer. Any one of the three easy Halloween cupcake designs would make an adorable platter for the party.
STORAGE TIPS:
If using cream cheese frosting, be sure to refrigerate your cupcakes until serving time.
Save This Recipe to Your Recipe Box
Find this delicious recipe next time you visit by saving it to your very own recipe box on my site. All your favorites stored in one easy place!