Easy vanilla glaze is perfect for topping cupcakes, a bundt cake, or a simple quick bread for that finishing touch. Just add sprinkles for a stunning dessert.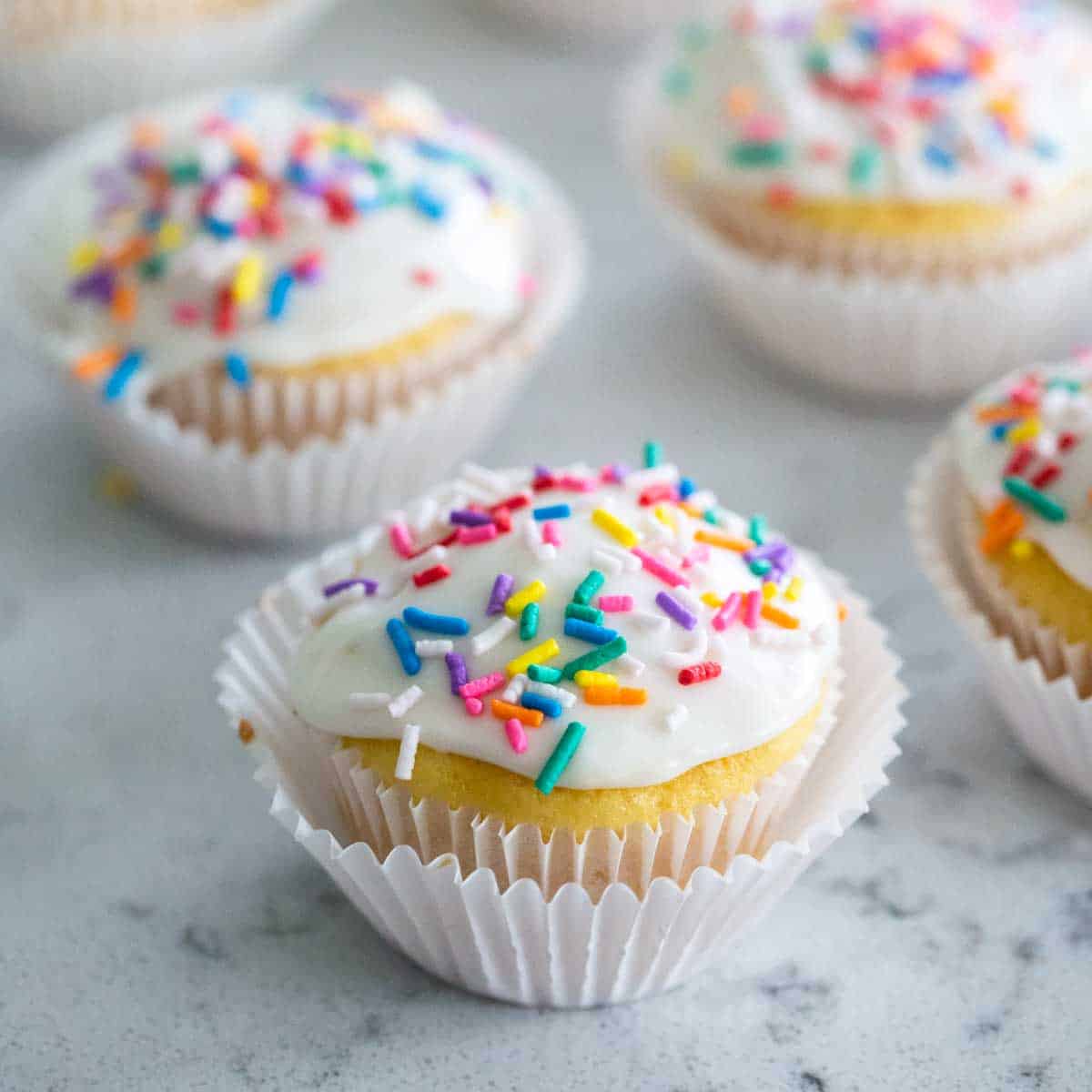 I love cupcakes with sky-high piles of frosting just as much as the next girl, but what happens when you have to bundle up the goodies to take to a party?
If you've ever tried to travel with cupcakes, you know how tricky it can be to get them from Point A to Point B without the frosting getting smooshed and messy.
We recently ran our own little cupcake delivery service to several friends' houses for Little Pea's virtual birthday party. We dropped off cupcakes, a couple of birthday candles, and some party supplies for our friends to enjoy while we met together on Zoom.
I covered each care package with aluminum foil to keep the cupcakes clean since I was leaving them on the front step of each house.
To make sure that each cupcake was just as clean and pretty as it was when I frosted it in my kitchen, I decided to make "Vanilla Donut Cupcakes" with birthday party sprinkles.
You can check out how we hosted an awesome virtual birthday party with friends here.
Jump to:
Ingredients
This vanilla glaze is perfect for frosting cupcakes, a bundt cake, or an easy quick bread. You only need a few ingredients:
Powdered sugar
Milk
Softened butter
Vanilla extract
Kosher salt
The softened butter helps the vanilla glaze to keep shape and adds a lovely shine to the finished cupcake.
The Easiest Cupcakes
First, I baked up a batch of vanilla cupcakes from a box mix.
Yep. The author of a baking book for kids used a BOX MIX for this batch of vanilla cupcakes. Not every treat has to be overly complicated! Shh. . . box mixes are actually quite tasty!
PRO TIP:
When you want to save time, use a box mix for the cake but always make your frosting from scratch.
The frosting is the part that makes the biggest difference in the final flavor and it only takes a few minutes!
Make the Glaze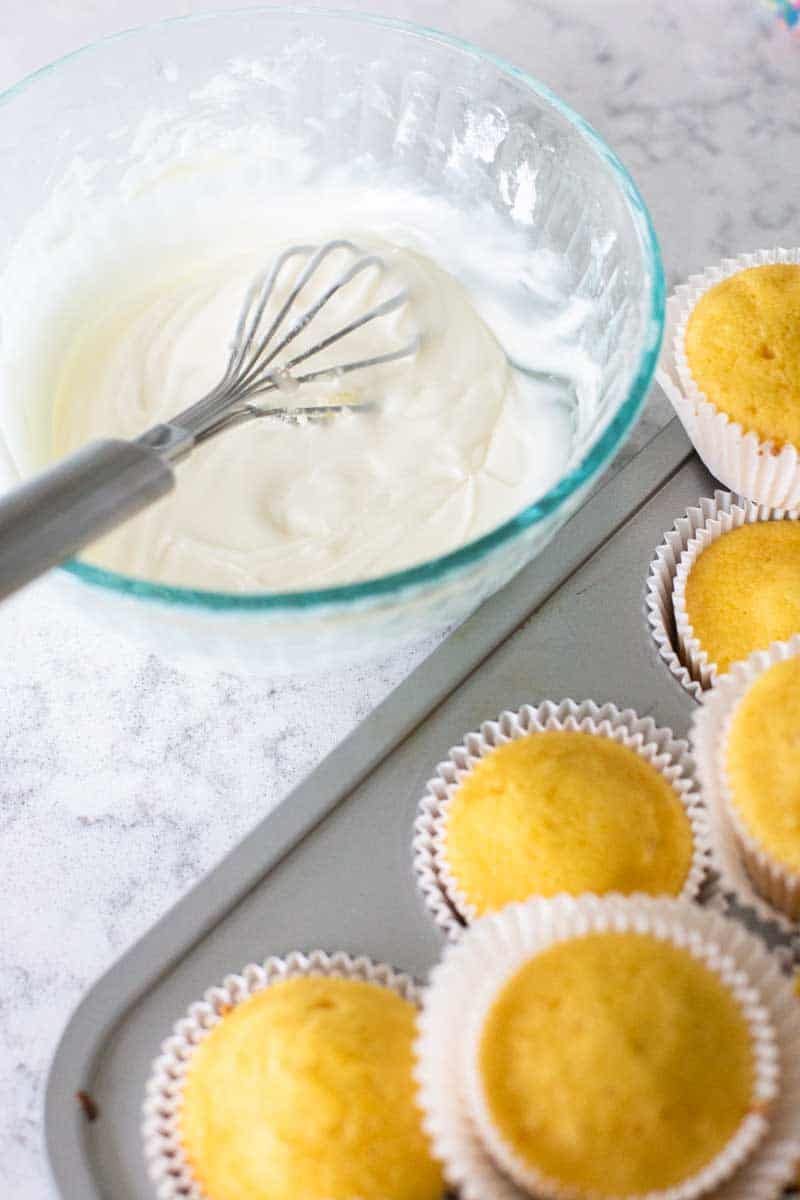 Once the cupcakes were totally cooled, I whisked together a super easy, super thick vanilla glaze.
This easy glaze recipe features just a tiny bit of softened butter to help it hold shape and give it some extra shine.
How to Glaze the Cupcakes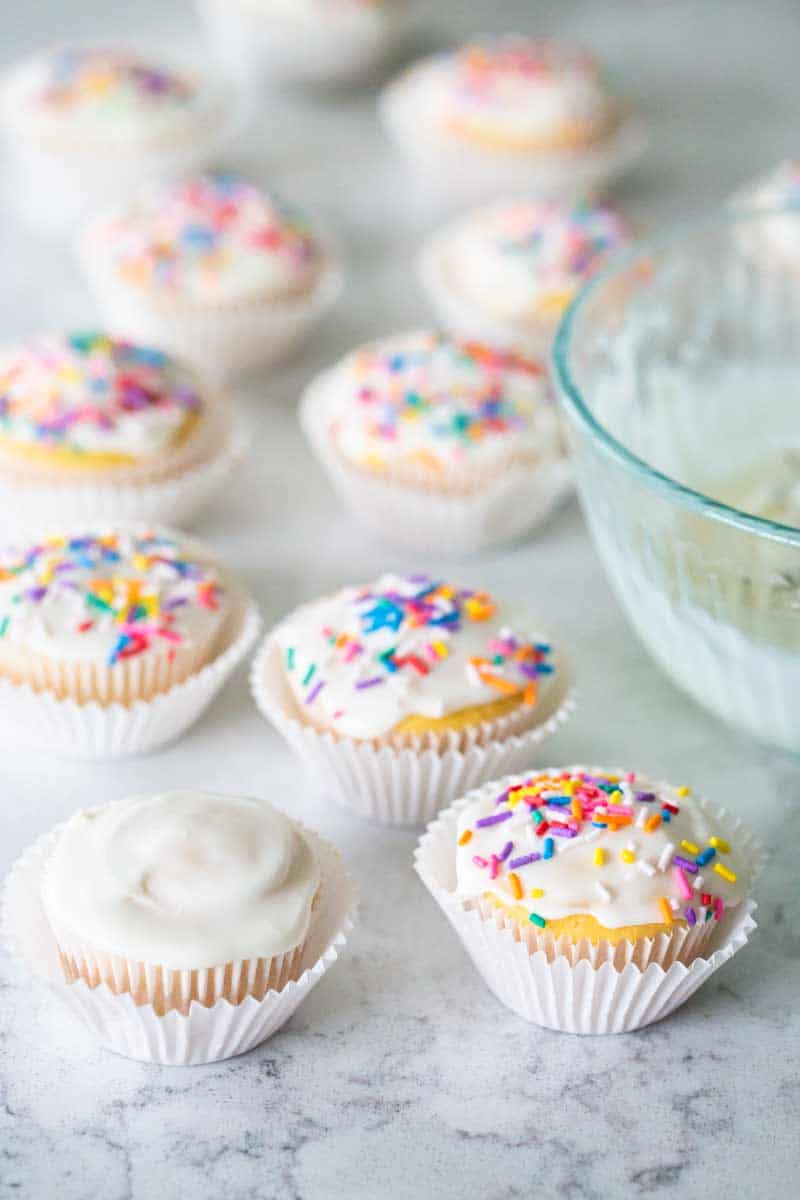 The final vanilla glaze texture is very thick and spreadable. Once it has set and dried, the texture and appearance look just like the frosting you'll find on a bakery donut!
Making the vanilla glaze only took a couple of minutes to measure and whisk together.
I spread it with a butter knife over the top of the vanilla cupcakes and immediately added a pinch of rainbow sprinkles to mimic the look of vanilla sprinkled donuts.
If you wait to add the sprinkles, the glaze will dry and the sprinkles will just bounce off. Make sure to add them immediately while the glaze is still wet.
Travel Tips for Cupcakes
I let the glaze on the cupcakes set for an hour while we got other party supplies ready.
When I was ready to deliver them to our friends, I placed the cupcakes onto a double-layer paper plate and then loosely covered with aluminum foil.
The sprinkles definitely helped to protect the glaze from the aluminum foil covering. If you want just plain cupcakes without the sprinkles, I would consider adding a birthday candle as a "tent post" to prop up the foil.
The frosting sets pretty firm, but even donuts can get crackles in the glaze if they get knocked around too much.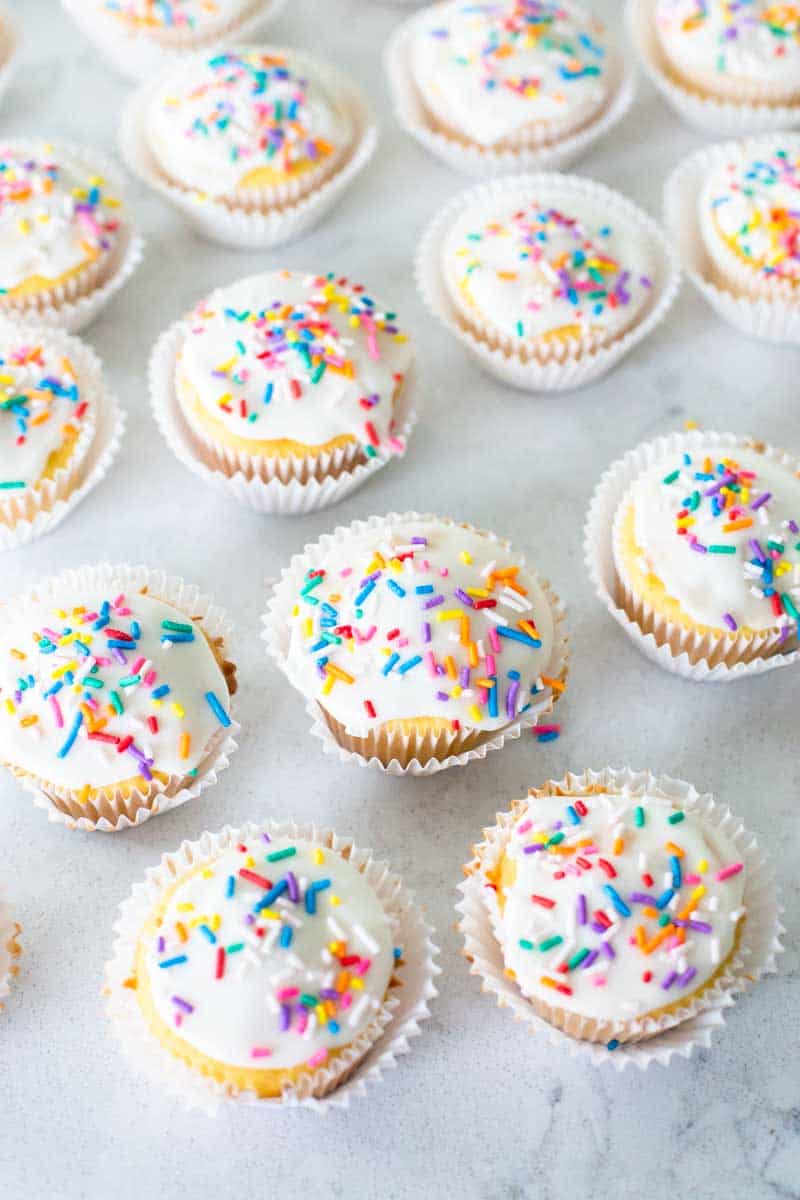 These easy-bake treats were a huge hit with our friends. They are especially perfect for kids who don't like too much frosting.
There's just enough of the glaze to make the sprinkles stick so the focus is on the light and fluffy cake of the cupcake.
Save this recipe as a perfect option for your next bundt cake or coffee cake, too!
More Easy Frosting Recipes
Looking for more easy ways to ice your cupcakes, cake, or cookies? Don't miss our favorite frosting recipes here: